Whether you're a weekend warrior or a full-time production guru, MIG (Metal-Inert Gas) technology offers a fast and effective way to achieve the perfect weld. But fusing molten metal is serious business, so you must get the right gear for the job.
Multiple manufacturers market a wide range of MIG welders to suit varying budgets and needs, making it challenging for the uninitiated to identify an appropriate product.
In this article, we'll demystify the complex world of MIG welding in our in-depth guide. And to help you pinpoint the perfect product for your needs, we've reviewed the top 10 contenders on the market today.
Finding the Perfect MIG Welder
Before you start perusing our recommendations, it's worth obtaining a fundamental understanding of the key MIG welding features. If you feel you need more in-depth information, skip ahead to our detailed complete guide.
Weld Type
While we're discussing MIG welders in this guide, almost all our recommendations offer both MIG and flux core functionality—some even do TIG and stick, too. For less demanding projects, a cost-effective flux core welder might do the trick.
Weld Size
MIG welders are rated to function at a specific width, with the pricier options suitable for thicker sheets. Ensure you grab a welder that's appropriate for your needs, but avoid going overboard—you'll end up paying a premium for something you won't use.
Voltage
MIG welders work on 120V, 240V, or both (dual voltage). 120V is ideal for hobby welders working on home projects, while 240V is suitable for industry workers with access to a professional workshop. Dual voltage gives you the best of both worlds.
Max Amps
For heavy-duty welding gigs, you'll need a powerful machine with a high output. If you're only looking to weld thin sheets, you could save significant dosh by opting for a low amp model.
Duty Cycle
This refers to the time you must wait for your machine to cool down between welds. For the hobbyist, a fast-acting welder isn't crucial as you're not in a rush. But for the professional, time is money, so paying extra for a high duty cycle makes financial sense.
Weight
MIG welders range from 20 pounds to 200+, the latter being too cumbersome to transport. If you need to move your welder around frequently, choose a model with an appropriate size and weight.
By now you've got the basics down, so let's get into our picks.
Top 10 Best MIG Welders 2022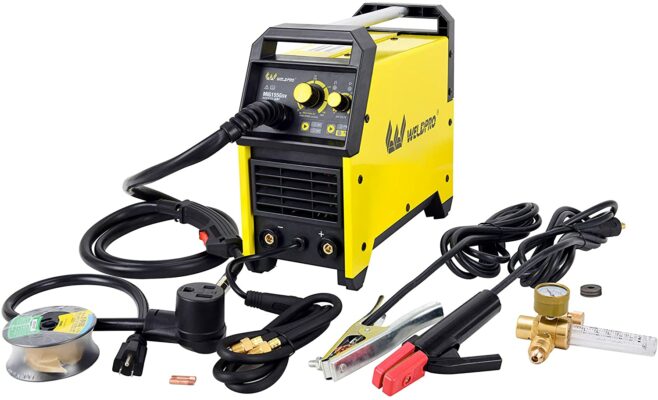 Why we like it:
It's versatile, powerful, light, and affordable—a winning combo for a wide range of workers.
Editor's Rating:
Quick Facts:
Type: MIG/Flux
Weld Size: ¼-inch mild steel
Voltage: Dual voltage
Max Amps: 155
Duty Cycle: 30 @ 155A
Weight: 2 pounds
It might not be the best option for heavy-duty industrial welding, but the Weldpro MIG155GSV ticks all the boxes for general use.
Capable of running on both 120V and 240V systems, the welder is adaptable to home and workshop use. It's ultra-light, too: at a mere 21 pounds, you can pick it up and plonk it down in your truck. A slew of handy features like no tapped controls and a 4T mode (no need to hold the trigger on long welds) add to the appeal.
In terms of power, the 155 amp unit welds well enough on mild steel up to ¼-inch thick. And with a 30% duty cycle at maximum power, it's a sturdy workhorse that won't keep you waiting during those extra-long gigs. You get to choose between flux and MIG welding, and there's even a scratch arc TIG option for advanced users—talk about versatile!
Best of all, you won't have to mortgage your house to afford this device; the Weldpro MIG155GSV is priced to appeal to the Average Joe.
All in all, it's an excellent all-rounder for a very reasonable price. But if you're thinking of going pro, you'll need to upgrade to a more heavy-duty device—try the Hobart Handler 210.
Pros
Dual voltage

Lightweight

High duty cycle

TIG option

Good value
Cons
Not suitable for heavy-duty welding
---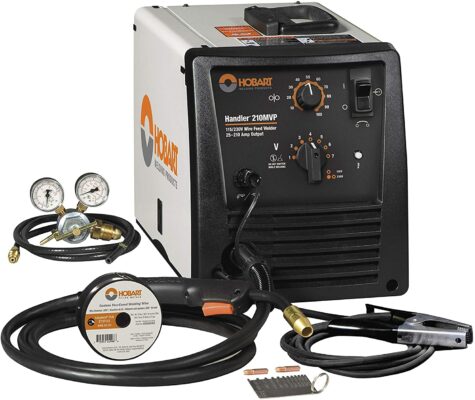 Why we like it:
It packs a serious punch and works on both 115V and 230V for enhanced flexibility.
Editor's Rating:
Quick Facts:
Type: MIG/Flux
Weld Size: ¼-inch steel
Voltage: Dual voltage
Max Amps: 210
Duty Cycle: 30% @ 150A
Weight: 79 pounds
If you're happy to fork out over a grand for a new MIG welder, you can't go past the Hobart 210 Handler.
Capable of handling metal up to ¼-inch thick, this powerhouse machine is suitable for semi-industrial use. Plus, it's both 120V and 240V compatible, meaning you can fire it up at home as well as the workshop.
The beefy 210 amp rating makes this machine appropriate for autobody repair and construction welding. Its duty cycle is pretty impressive, too. At 30% @ 150A, that means less time waiting and more time welding.
A dual-gauge regulator and built-in gas solenoid let you adjust the gas flow rate with ease—perfect for precision welding. This high level of control over the output parameters helps minimize splatter and results in a cleaner weld overall.
On the downside, the unit is chunky. At 79 pounds, you'll have a hard time lugging it between your garage and the workshop; that kind of defeats the purpose of a versatile dual voltage device. Check out the Lincoln Electric Powermig 210 Mp if you want a more portable heavy-duty device.
It's also a bit on the pricey side—not one to appeal to casual welders, in any case.
Pros
High duty cycle

Powerful high-amp welder

Works on ¼-inch steel

Output control for precision welding

Dual voltage device
---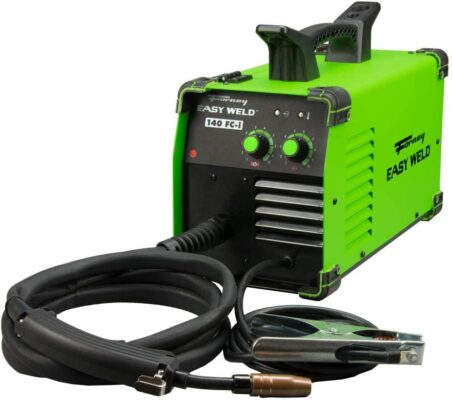 Why we like it:
This cost-effective little unit does a brilliant weld and is portable enough to whisk around town.
Editor's Rating:
Quick Facts:
Type: Flux Core MIG welding
Weld Size: ¼-inch steel plate
Voltage: 110V
Max Amps: 140
Duty Cycle: 30% @ 90A
Weight: 19 pounds
One of the most popular welders on the market, Easy Weld lives up to its name: no-nonsense welding for the novice workman.
This is a flux core MIG welder, which means it doesn't require gas. And while that's convenient, it also means you won't get the nice clean weld you'd expect from a fully-fledged MIG device. Nonetheless, it does a good enough job on ¼-inch steel plate (that's sufficient for the average home welder), and boy-oh-boy is it easy to use.
The big drawcard, however, is cost. Retailing at a fraction of our other recommendations, the savings are enticing for the everyday home user. Another neat bonus is the weight, which is a mere 19 pounds—easy enough to lug around.
Note that it's 115V; it won't be compatible with most professional workshops. Of course, if you're a serious welder who plans to use a 240V workshop, then you'd want something more powerful like the Hobart Handler anyway.
Pros
Cost-effective welder

Sufficient for most home users

Lightweight design

Easy to use for beginners
Cons
No gas (more splatter)

Not suitable for heavy-duty welding
---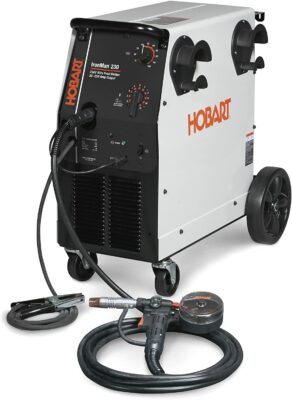 Why we like it:
This top-of-the-range MIG device is ideal for serious welders who demand maximum power.
Editor's Rating:
Quick Facts:
Type: MIG / Flux Core
Weld Size: ½ -inch steel
Voltage: 230V
Max Amps: 230
Duty Cycle: 60% @ 175A
Weight: 250 pounds
It's not portable and doesn't come cheap, but if you're a professional welder who needs top-end equipment, then this premium unit from Hobart is for you. Not one for the welding novice, the high-powered device blasts out 230 amps, enough to weld a full ½ inch of steel.
As powerful as it is, you'd think the duty cycle would suffer on those astronomic amps. But no, Hobart has somehow wrangled a 60% cycle at 175A, meaning you won't have to sit idle on long welding jobs.
It's super versatile to boot, with adjustable voltage settings to tweak the power and an aluminum wire drive system for fine-tuning your feed speed. Another neat bonus is the in-built cylinder rack to stash your gas.
It's 230V, so don't try plugging this one in at home (not that you need something this beefy for DIY welding jobs). It's also outrageously heavy, clocking in at a cumbersome 250 pounds. At least you get wheels to cart the unit around—forget about lifting this beast.
If—heaven forbid—you want something even beefier, Hobart does offer a 280 amp version, too.
The final verdict? While it's overkill for the everyday handyman, it's an absolute weapon for the welding pro.
Pros
High amp rating

Welds up to ½ inch of steel

High duty cycle

Versatile design

Cylinder holder
---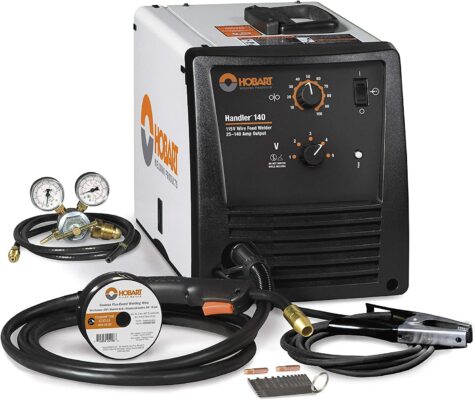 Why we like it:
It's superb value for money and suitable for beginner welders dipping their toes into the craft.
Editor's Rating:
Quick Facts:
Type: MIG/Flux
Weld Size: ¼-inch steel
Voltage: 110V
Max Amps: 140
Duty Cycle: 20% @ 90A
Weight: 57 pounds
If you're relatively new to welding, you want an easy-to-use machine that runs off 110V yet still pumps out plenty of amps.
Sound like too much to ask?
Guess again, because the Hobart 140 offers all those things—and then some. The high-quality device isn't the cheapest 110V welder on the market, but its user-friendly design and smooth welding arc make it a worthy investment, even for those just starting out.
A novice welder can achieve great results on a range of tasks with minimal fuss, including automotive work, trailer frames, and general repairs. It welds wonderfully for steel up to ¼ inch thick thanks to its 140 max amp rating.
As it's only functional on 110V, this isn't one for the workshop crowd—it's more a DIY-type tool for small to mid-sized projects. Also, note the cable is relatively short at five feet, so you'll need to factor positioning into the equation—or if you don't want to do that, buy a portable alternative instead.
Pros
Easy to use for beginners

Smooth welding arc

140 max amp rating

Good for various jobs

Suitable for ¼-inch steel
Cons
Only works on 110V

Not ideal for large projects

Short cable
---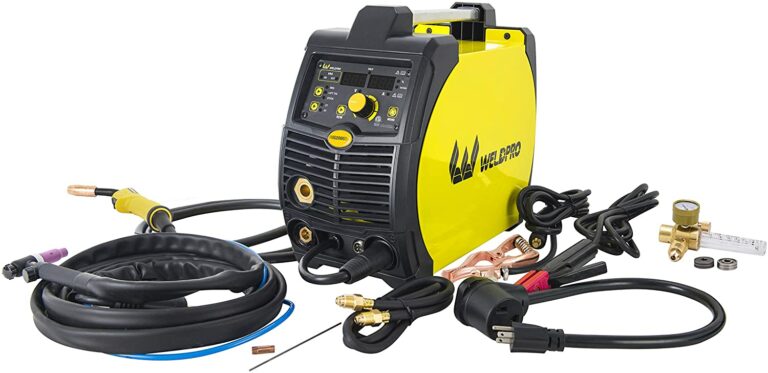 Why we like it:
This multi-purpose welder from Weldpro goes beyond stock-standard MIG functionality.
Editor's Rating:
Quick Facts:
Type: Flux/MIG/TIG (stick compatible)
Weld Width: Up to ¼ inch steel
Voltage: Dual voltage
Max Amps: 200
Duty Cycle: 30% @ 200A
Weight: 55 pounds
While we adore MIG welding for its splatter-free finish and easy learning curve, sometimes our gas-powered friend doesn't cut the mustard. In some projects—think bike frames, lawnmowers, door handles, and the like—TIG is a far better option. Or, if you're welding rusty metallic joints, then stick welding is a far better bet.
The problem is, under normal circumstances, you'd have to purchase three separate welders—and that would set you back a pretty penny.
But the Weldpro 200 isn't "normal"—for this multi-purpose device effortlessly handles flux, MIG, Stick, and TIG projects. Should you fancy working with aluminum, the Weld Pro has an optional spool gun, too.
The price point is very reasonable once you factor in its impressive functionality, and the thing only weighs 55 pounds. That saves you money, time, and space.
It's got a high-duty cycle at 30% when running at maximum power, and it works on both 120V and 240V electrical grids. However, the welder doesn't do anything thicker than ¼ inch (precise width depends on weld/metal type), so look elsewhere if you need a heavy-duty machine.
If you're happy to fork out a little more, there's an LCD version with a touch screen for optimal control over the settings.
For those starting out in the welding world, this machine is more than you need—stick and TIG are trickier to learn than MIG. But for the experienced welder who works on multiple different project types, its outstanding versatility makes the Weldpro 200 a winner in our book.
Pros
Multi-purpose device

Dual voltage

High duty cycle

Reasonably priced

Optional spool gun
Cons
Not suitable for beginners

Max ¼-inch welds
---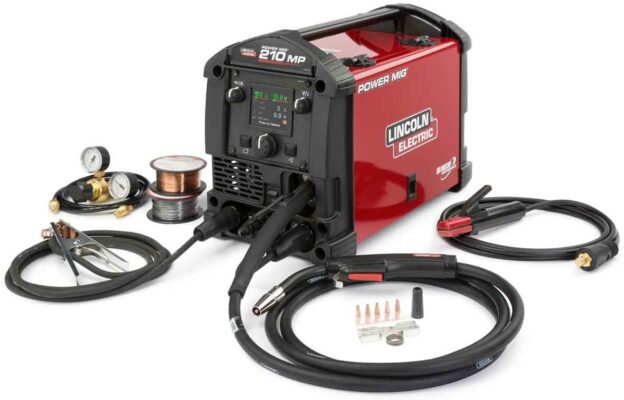 Why we like it:
If you want power, versatility, and portability in one, Lincoln has you covered with the 210 MP.
Editor's Rating:
Quick Facts:
Type: Flux/MIG/TIG/Stick
Weld Size: Up to 5/16 inches
Voltage: Dual voltage
Max Amps: 210
Duty Cycle: 25% @ 200A
Weight: 40 pounds
As a multi-purpose welder, the 210MP does stick, TIG, MIG, and flux welding on the one device, a fierce competitor to the Weldpro 200. But while the Lincoln 210MP is undoubtedly the better machine, it has one substantial drawback: it retails at double the cost.
Not only does the 210MP do a cleaner weld overall, but the device is easier to use thanks to its intuitive interface. A big color LCD features a whole host of push-and-turn controls to simplify the set-up process and allows you to tweak all the appropriate variables with ease.
The dual voltage device has a high duty cycle (25% @ 200 amps) and works beautifully on stainless steel MIG welds up to 5/16 inches thick.
Despite being more powerful, precise, and user-friendly than the Weldpro 200, it's also lighter. The 210MP weighs just 40 pounds (as opposed to 55), making it much easier to pick up and plop down.
If you've got a generous budget and need a versatile, powerful, and portable unit, then this tidy little device is your best bet.
Pros
Multi-purpose welder

Lightweight

Dual voltage

High duty cycle

Easy to use interface
---
Why we like it:
It doesn't cost a fortune and handles chunky 5/16-inch welds at 190A with ease.
Editor's Rating:
Quick Facts:
Type: MIG
Weld Size: 5/16 mild steel
Voltage: 230V
Max Amps: 190
Duty Cycle: 30% @ 130A
Weight: 79 pounds
If you've been considering purchasing a low-powered MIG welder but you're worried you'll need to upgrade later on, we've found the perfect solution. This mid-range version of the Hobart Handler pumps out an impressive 190 amps for mild steel welds up to 5/16 thick.
It won't break the bank—investing just a little more on this machine will futureproof your welding career (or hobby). You don't need any more power unless you're doing heavy-duty industrial-type gigs.
Running for 30% at 130A, the duty cycle is sufficient for those long welding days. It's highly adjustable, too, with seven separate voltage settings to tweak output parameters and fine-tune the optimal welding arc. Plus, user-friendly configuration controls make it simple enough for the novice user to enjoy.
Be aware this unit only runs on 230V, so you won't be able to plug it in at home. The fact it weighs a whopping 79 pounds means you wouldn't want to transport it from the garage to the workshop anyway.
Pros
Good value mid-range option

Suitable for 5/16-inch mild steel

High duty cycle

Simple configuration

Beginner-friendly device
---
Why we like it:
The Lincoln Handy MIG Welder does an impressive job for such a small and nimble device.
Editor's Rating:
Quick Facts:
Type: MIG / Flux
Weld Size: 1/8-inch mild steel
Voltage: 115 V
Max Amps: 70
Duty Cycle: 20% @ 70A
Weight: 26 pounds
Hobby welders who don't need to do heavy-duty jobs should consider the Lincoln Handy MIG Welder, an agile and affordable machine that works well for home use.
The welder doesn't compare to the high-end options in our list in terms of raw power—it maxes out at 70A and is only suitable for 1/8-inch welds. But if that's all you need, then this can't be beat for its low price point and outstanding portability (it's only 26 pounds).
The welder is a single voltage (115V) device, so you won't be able to plug it in at the workshop. But as it's designed for DIY welders working on hobby projects and minor repairs at home, that shouldn't be an issue.
The duty cycle could be better at 20% @ 70A, but again, that's not a big deal for casual welders who aren't in a rush.
No shielding gas is required for light work (flux core will do), which means less stuffing around and more time welding. It is a proper MIG welder, though, so you can hook it up to a gas cylinder for those nice clean welding arcs.
Pros
Affordable welding device

Lightweight design

Perfect for hobby projects/repairs

MIG functionality
Cons
Not suitable for big gigs

Low duty cycle
---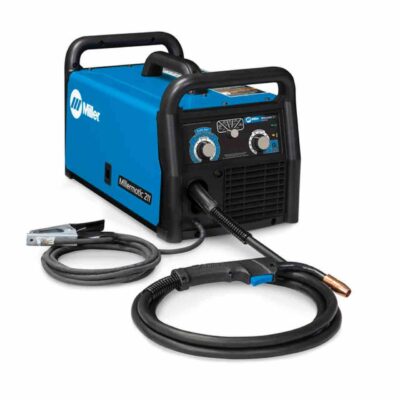 Why we like it:
This high-powered welder has the most detailed yet user-friendly input interface on the market.
Editor's Rating:
Quick Facts:
Type: Flux / MIG
Weld Size: Up to 3/8-inch stainless steel
Voltage: Dual voltage
Max Amps: 230
Duty Cycle: 40% @ 150A
Weight: 38 pounds
As a potent 230A machine weighing a mere 38 pounds, the Miller Electric MIG is a serious contender to the Lincoln 210 Mp in the heavy-duty portable field. And while the Lincoln might have it beat, the Miller has one key advantage: adjustability and control.
We love the user-friendly Advanced Autoset feature on this device, which lets you start welding pretty much straight out of the box.
You need only input the process type, thickness, and wire size and then let the computer figure out all the rest. If you like to fine-tune the controls yourself, that's possible. However, the Autoset function works well enough that you don't need to—a massive time saver.
Much like the Lincoln 210 Mp, it's a lightweight, dual voltage, and high-amp device with an impressive duty cycle (40% @ 150A) to keep you welding all day long. At just 38 pounds, it's portable enough to move around town and small enough to fit in the trunk.
The machine doesn't come cheap (neither does the Lincoln), but it's a worthy investment if you desire a portable, high-performance welder with easy-to-use Autoselect controls.
Pros
Advanced configuration settings

High-performance welder

Lightweight design

Dual voltage

High duty cycle
---
Complete Guide to MIG Welding

If you're new to the world of MIG welding, it's worth doing some research before purchasing one of your own.
These high-tech industrial machines vary widely in features and functions, not to mention the cost. Understanding the basics will help you make a better-informed decision and pinpoint the perfect product for your needs.
But don't worry; it won't take long to get up to speed. And to simplify the learning process, we've carefully constructed this informative and easy-to-understand buyer's guide.

What Is MIG Welding?
Let's start with the basics, shall we?
MIG welding is a commonly used arc welding process, where a solid wire electrode feeds through the welding gun to the welding pool to fuse two metals. MIG stands for "Metal-Inert Gas," which refers to the inert gas that flows through the welding gun to protect the weld pool from potential contamination. The process is technically known as "gas metal arc welding" (GMAW), or colloquially as "wire welding."
MIG welding is particularly popular with hobbyists as the process doesn't require (overly) expensive equipment or specialist training. With rudimentary online research, a competent DIYer could quickly learn the relevant techniques and kick-start a MIG welding project at home.
Although a hit with hobbyists, MIG welding also has a range of industrial applications. Automotive workshops, for example, commonly use MIG welders to repair damaged vehicles and parts.
Flux Compatibility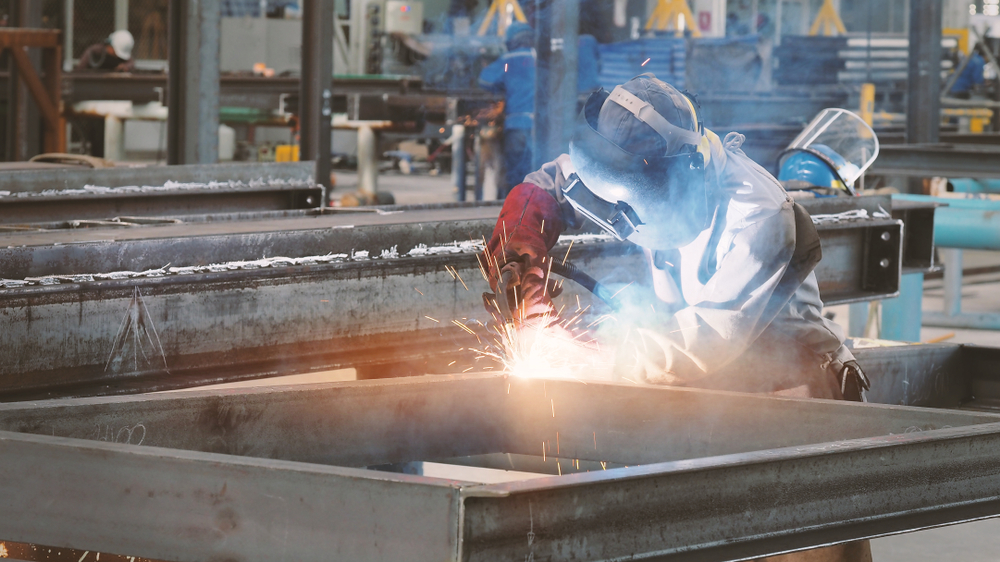 As we know, MIG welders regulate a flow of inert gas to shield the weld pool. A welding device that lacks this functionality isn't technically a MIG welder; rather, it's a flux-core wire feed machine.
Although we're primarily discussing MIG welders in this guide, many of the top products serve as flux-core welders as well. This method sees a welding flux embedded into the core of the wire. When the wire comes into contact with the arc, it melts the metal and releases flux as a vapor to create a shielding gas.
Ultimately, both methods achieve the same ends: protecting the weld pool from contamination.
The advantage of flux-core welding is you don't have to hook the welder up to an external gas cylinder. Flux-core welding is also preferable in windy conditions when sudden gusts can disperse the protective gas shield.
On the downside, the flux core creates a fine layer of slag, which you'll need to chip away for a clean weld—factor extra labor time into each job. Flux-core welding also isn't appropriate when working with aluminum or stainless steel, which requires a proper Metal-Inert Gas shield.
Ideally, aim for a MIG welder that includes flux-core compatibility. That way, you can switch between the two methods as required—it's the best of both worlds.
Some highly versatile machines also include TIG and stick compatibility, allowing workers to undertake a wide variety of welding tasks.
Understanding Voltage
In simple terms, voltage refers to the pressure applied to an electrical circuit.
American homes use 120V (technically 114 to 126 volts as there's often some variation), which is plenty powerful enough to run your everyday appliances. However, for industrial applications such as heavy-duty welding, many workshops install a 240V (variation also applies) system. These take in half as much current and don't suffer as severely from power loss.
MIG welders are compatible with 120V, 240V, or both. If you're planning to do all your welding at home, opt for a 120V or a dual voltage device, which will be compatible with any standard residential outlet.
If you're expecting to weld in specialist workshops, however, then 240V or dual voltage is your best bet—these places often don't have access to a 120V outlet.
Power Output
More amps mean more raw welding power, enabling you to cut through thicker metal. For example, high-end 120V welders are currently capable of running up to an impressive 140 amps, which is enough to weld 3/8-inch of steel. 240V machines can achieve even higher amp outputs, thus work well for thicker sheets.
The big drawback to a powerful, high-amp welder is the elevated price. You can expect to pay a premium for the privilege of doing thicker welds.
Another downside to consider is the duty cycle. High-intensity welding will heat the unit rather quickly, which means you'll need to wait longer for it to cool down.
Duty Cycle
The duty cycle refers to how much time you need to spend waiting for your welder to cool off.
The metric is measured as a percentage of a 10-minute period with a specific amp output. For example, a welder with a duty cycle of 30% @ 150A can safely be used for three consecutive minutes on a 150 amp setting. After three minutes, the welder must wait seven minutes for it to cool down.
It's not a huge concern for hobby welders with stacks of time on their hands. But for production welders seeking to optimize their hourly output, having an efficient duty cycle is essential.
Note that duty cycle figures are measured against a specific amp rating, which isn't necessarily the maximum output of the welder. If you've got a beefy 140 amp machine, for example, the advertised duty cycle of 30% could be rated for a much lower setting, such as 90 amps. Try turning it up to 140 amps, and the duty cycle could drop as low as 10%.
Intense, high-amp welding will reduce the duty cycle, thus entail more waiting time. The top welders include fancy cooling systems such as in-built fans, which improve the duty cycle significantly.
Some even come with thermal overload protection. These prevent accidental damage by automatically switching the welder off once the recommended duty cycle has been reached.
Weight
Weight can be a key consideration when shopping for a MIG welder. If you need to transport your welder around town, it's essential to opt for a portable model.
Top-end industrial welders can weigh as much as 250 pounds—you certainly don't want to try lugging those around. Although it's possible to position such a welder onto a cart with wheels, it's still going to be rather cumbersome to move. Nonetheless, if you're happy to permanently leave your welder in the workshop, there's no harm in having a big, bulky device.
Portable models, on the other hand, can be as light as 20 pounds, thus easy enough to lift into your car or truck.
As you'd expect, high-power options for industrial use tend to be heavier, while low-end MIG welders for home use are typically more portable.
Temperature and Speed Settings
For the novice welder, the ability to control temperature and speed will significantly simplify the welding process. Some MIG Welders, like the Miller Electric MIG are specifically designed to be user-friendly, and these welders are best for beginners.
Most modern MIG welders incorporate a knob or cooling vent to control temperature and speed. If you're new to MIG welding, it's worth confirming whether your welder of choice has these features. Not only will this level of control allow you to achieve a cleaner weld, but it will help you avoid nasty accidents too.
Proper MIG Welding Maintenance
Although taking care of a MIG welder is relatively straightforward, there are a few things you should know.
Use a Cover
It's worth putting a cover over your MIG welder, especially if you're storing it in a dusty environment. Particle debris can find its way into the delicate mechanical components and cause significant damage over time.
Most manufacturers sell a custom-made cover that fits perfectly over the device.
Clean the Drive Rolls
Regardless of how careful you are to cover your welder, dirt can accumulate on the drive rolls due to the wire that's continuously fed through them.
Keeping the drive rolls clean is simple enough: either brush them down or blow air over them after each use.
Clean the Contact Tips
Splatter can sometimes stick on the contact tips, which inhibits the gas flow and leaves the bead vulnerable to contamination.
Applying some nozzle dip over the contact tip will stop splatter from adhering to it.
Essential Safety Gear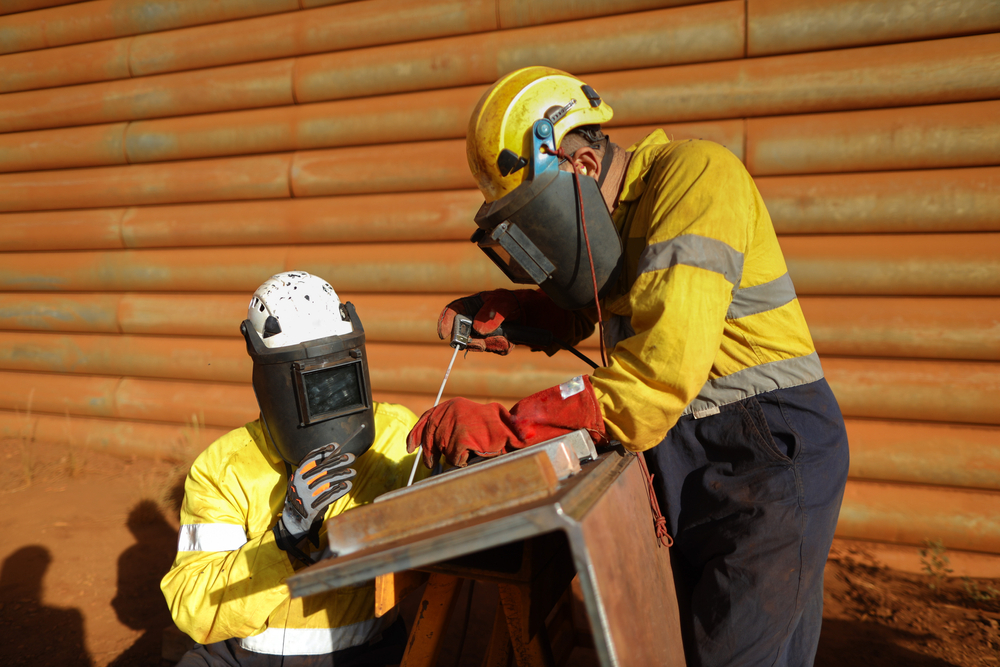 Even a seasoned professional welder will tell you the process is hazardous without the proper safety gear. Invest in the following items and wear them every time you reach for the welding torch.
Welding Mask
Stray sparks fly everywhere when welding, including straight into your face. What's more, the welding arc is eye-scorchingly bright, enough to cause permanent damage to your retinas.
A welding mask is a crucial piece of PPE every welder must wear. The top-end options, such as the YESWELDER, come with a fancy auto-darkening feature that lets you quickly see the welding arc and position the torch accordingly.
Welding Gloves
As there are so many hot molten sparks flying around, there's a good chance some will end up on your hands. The easiest way to protect yourself is by donning a proper pair of welding gloves.
These specially designed accessories are thick enough to provide adequate protection yet nimble enough to let you position the torch. Stacks of competing products are available to choose from—we recommend RAPICCA as a good overall option.
Cotton or Leather Clothing
When welding, you need to cover exposed skin to safeguard yourself from wayward sparks.
A heavy-duty pair of coveralls is your best bet. Failing that, any cotton or leather clothing will do in a pinch. Just make sure you've got long-sleeved apparel as you don't want to scorch your forearms or shins.
Also, avoid wearing synthetic garments like polyester as these will melt and scald your skin.
MIG Welding Accessories
You're not done shopping just yet.
MIG welding can require a range of accessories, depending on the type of project you're working on. Consider adding the following items to your welding war chest.
Gas Cylinders
MIG welders require gas to operate and don't come with a cylinder as part of the package—you'll need to buy one separately.
The ideal gas depends on your budget and what you plan to weld. Good ol' carbon dioxide is the most common, a cost-effective option that works well in most welding applications.
Serious welders tend to prefer a CO2 and Argon mix.  Although more expensive, it achieves a better quality result with less splatter than standard CO2.
Another premium option is Pure Argon, which is perfect for welding titanium and magnesium. Avoid using the stuff on ferrous metals, however, including cast iron and alloy steel.
Gas Regulators
In addition to a gas cylinder, you'll also need to purchase a regulator. Not only does the device help you maintain optimal flow for a nice clean weld, but it also reduces wastage—and that's crucial when working with the pricier gasses.
Gas regulators come in three types: gaugeless, single gauge, and dual gauge.
Although inexpensive, gaugeless regulators don't provide any information on flow rates or how much gas remains in the bottle. Single gauge regulators, on the other hand, let you see what you've got left and view the current flow rate. Dual gauge regulators offer the above functions and let you set the flow rate according to the gas type.
If you're working with anything other than CO2, it's worth investing in a dual gauge regulator.
Spool Gun
A spool gun is a special device that hooks into the torch handle to control the metal movement speed. The add-on is essential when working with aluminum.
Some MIG welders come with a spool gun included as part of the package, but many do not. If you plan to work with aluminum, grab a product with a pre-equipped pool gun or a compatible MIG welder.
Not all MIG welders work with all spool guns, so it's crucial to double-check these details with the manufacturer beforehand.
MIG Welding FAQ
If you've still got questions about MIG welding, take a look through our FAQ.
Should I Buy a MIG or Stick Welder?
Stick welders are more affordable and preferable if you're working on basic welding projects. But if you're doing variable welding gigs that require adjustable settings, then a MIG welder is your best bet.
If you're not sure, you could always get a versatile welder that can do both.
Is Gasless MIG Welding Any Good?
Although MIG welding with gas affords a cleaner weld with less splatter, gasless (flux-core) welding comes with two distinct advantages: there's no need to acquire a gas cylinder, and you can continue working in windy conditions.
Is TIG Stronger Than MIG?
Tungsten Inert Gas (TIG) welding creates a cleaner and more precise weld than MIG, especially when joining small pieces of metal such as steel wiring. However, MIG welding is preferable in certain situations, such as when you're working with thick metal.
Is Stick Welding Harder Than MIG?
MIG welding is a much easier process to learn, which is why it's such a hit with the home improvement crowd. Having said that, once you've learned the fundamental techniques behind stick welding, it's the quicker and easier option as there's less set up (and pack down) time.
Why Do My MIG Welds Look so Bad?
There's a wide range of reasons why you're MIG welds don't look the part: low wire feed speed, low amperage, and slow travel speed, among others. But don't give up; with time, you'll master MIG and start welding like a pro.
The Best MIG Welders: Final Thoughts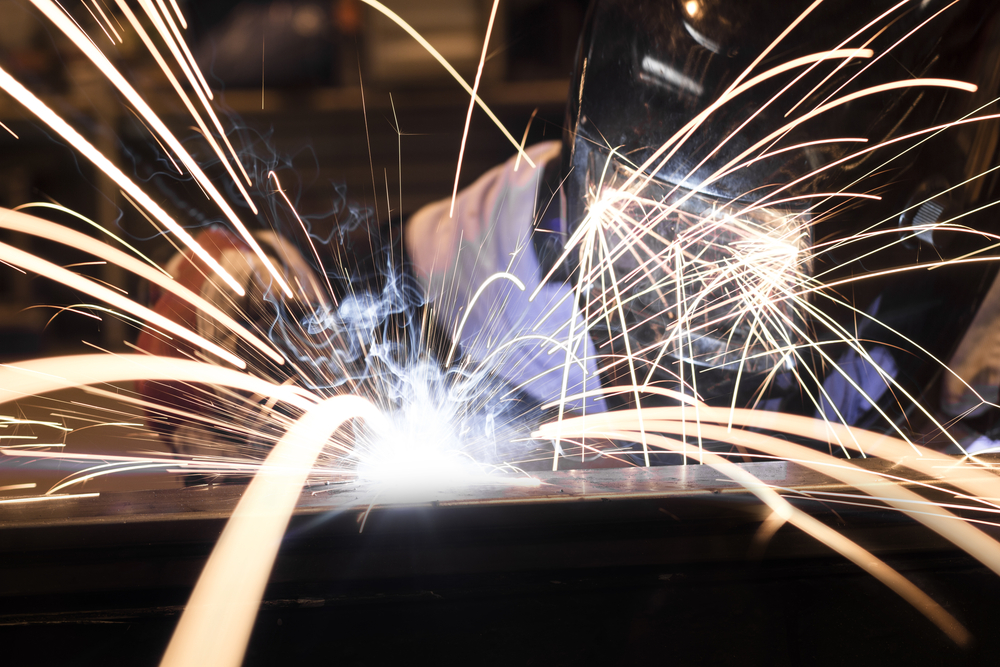 MIG welding offers a beginner-friendly entry point for novices plus a high level of performance for the pros. Whether you're dabbling into the welding world or you're an established industry veteran, a MIG welder offers the ideal solution for a wide range of projects.
But because these nifty machines cater to so many skill levels and needs, it can be challenging to pinpoint the perfect product.
We've done our bit to demystify the technology by providing an in-depth Buyer's Guide and reviewing the Top 10 Products on the market today.
Take the time to read up on the fundamentals, then start browsing through our recommendations. We're confident you'll find a quality MIG welder that's suitable for your needs.