Are you looking for protective clothing to withstand the rigors of your workplace? Then look no further than the humble coveralls: a tough and durable workwear staple across all sorts of hands-on professions. Whether you're a mechanic, a farmer, a rail worker, or any number of things, coveralls keep you clean, comfortable and safe from harm in the most inhospitable working conditions.
Yet not all coveralls are created equal; some models come specially designed for specific environments and tasks. So how does one sort the wheat from the chaff? Our in-depth buyer's guide will show you just that. In this article, we'll guide you through everything you need to know about buying coveralls and highlight the top 10 pairs on the market for your consideration.
Features to Consider in Good Coveralls
What makes a pair of coveralls good? Well, that depends entirely on the task at hand. The best coverall for a mechanic in Arizona will vary vastly from the best one for an oil rigger in Alaska. Let's take a quick look over what we need to consider:
Are They Suitable for My Job?
Coverall designs are built to suit all sorts of situations. For example, welders need special protection against intense heat, while Canadian lumberjacks must ward off the bitter cold.
How Heavy Are They?
Thick rugged coveralls provide a lot of protection and insulation but are far too hot to wear in warm climates, especially during the summer months. In the coverall universe, we measure weight in ounces per square yard, with 5oz/ sq yd being light and 10oz/sq yd being heavy.
Will They Fit?
The perfect fit is imperative for a comfortable pair of coveralls, so you want to make sure you've got the dimensions right. Think about whether you plan to wear clothes underneath when getting your measurements done, as that will greatly affect the final fit.
Are They Comfortable?
Do you need the most rugged pair of coveralls on the market? Or will a soft fabric do the job? Given you'll be wearing these things at least 40 hours per week, it's crucial to invest in a comfy pair.
Will They Last?
A professional worker should invest in a high-quality pair of coveralls that'll do the job for decades to come. A DIY tool man, on the other hand, probably only needs to suit up in his coveralls once in a blue moon so he can get away with a cheaper pair.
Top 10 Best Coveralls 2023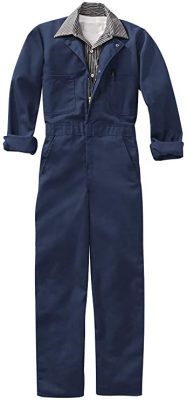 Why we like it:
An affordable price point, sturdy but lightweight material, and superb comfort and range of motion make these the best coveralls overall.
Editor's Rating:
Design
Red Kap's Twill Action Back gets the coveted 'Best All-Rounder' award from us for one simple reason: they deliver the goods in terms of functionality, comfort, and affordability.
There are five pockets in these coveralls—two in the front, two on the hips, and one rule pocket on the side—providing ample room to stash your most essential tools. The cover buttons and zippers keep your tools firmly in place.
Back pleats afford the worker a full range of motion, which allows them to bend, stretch, or crawl around in tight workspaces with ease.
What's more, Red Kap's workwear is proudly American-made, and this particular model is as robust as they come. It may feel a little bit stiff straight out of the bag, but it'll quickly soften up and should last you for years to come. Cleaning is a breeze as they are machine washable and don't tend to shrink.
Fabric
For us, the thing that makes this model such a superb all-round option is the fabric. Red Kap makes these coveralls from a robust blend of 65% polyester and 35% cotton twill, a light and breathable combination that's suitable for most working environments. Best of all, Red Kap's lovely Touchtex technology makes all their apparel feel soft on the skin.
It comes in at 7.25 ounces, which isn't exactly heavy duty. However, unlike the sub-6-ounce models in our list, these coveralls can withstand a substantial amount of wear and tear. Seven ounces is pretty much the sweet spot for an all-rounder: not too heavy nor too light.
Suitable for
Red Kap has long been the brand of choice for mechanics, with grease monkeys the world over donning this particular model. However, it's durability, breathability, and a wide range of motion make it an excellent choice for numerous other professions as well.
Just bear in mind there's no insulation here, so forget about cold weather work. Seven ounces is also a little too light for anyone doing a heavy-duty job.
Pros
Durable and breathable material

Excellent all-round option

Affordable price point
Cons
A little stiff straight out of the bag

Doesn't fit over large work boots
---

Why we like it:
A no-nonsense and ultra-affordable coverall that gets the job done without breaking the bank
Editor's Rating:
Design
As the flagship coverall of the behemoth workwear designer Dickies, the Men's Basic provides the everyday laborer with an affordable coverall that works like a charm for most professions.
Aside from the price, one of the things we love most about Dickies Basic is its simplicity. Forget about all the bells and whistles you'll find on some of the more expensive options on our list because you won't get them here. Instead, you'll find a stock-standard coverall that does exactly what you need and nothing else. That's why this model is so affordable.
You'll get a roomy fit for optimal range of motion, elastic waist inserts for extra comfort, and a heavy-duty 2-way front zipper made from solid brass with double snaps to prevent those annoying snags.
Fabric
The Dickies Basic comes in 35% cotton and 65% polyester, a durable yet breathable blend that's remarkably resistant to stains. The fabric is easy to take care of with a simple hot water machine wash and tumble dry.
Suitable for
Probably the reason Dickies Basic is such a standout success is its versatility, as these coveralls serve brilliantly across a wide range of professions. The lightweight and breathable material make it an excellent choice for budget-minded buyers in hotter climates. However, it's not going to be warm enough in winter throughout most of the U.S. Also note there are no special safety features here as it's more of a generalist option.
Pros
Incredibly cheap

Lightweight and comfortable

Versatile
Cons
A little too loose-fitting

Not warm enough for cold climates

Could be more durable
---

Why we like it:
A robust flame resistant coverall that has excellent safety features.
Editor's Rating:
Design
Workers willing to fork out a little extra for a premium product might consider Bulwark's Deluxe Twill coverall, especially if fire exposure is a possibility in their job. This high-end fire-resistant garment exceeds the NFPA 2112 Standard and has an Arc Rating of ATPV 11 calories/cm², making it one of the safest coveralls on the market. Two-inch front and back reflective striping makes you highly visible from 360 degrees.
You'll also get plenty of pockets to make use of, with two front swing pockets, two patch hip pockets, one left sleeve pocket, and a rule pocket on the right leg—ample space to store all your everyday tools.
The range of motion here is superb thanks to its deep-pleated action back and elastic waistband, which let you move freely despite the thickness of the fabric. You'll also get side vent openings and snap closures to provide easy access to your pockets underneath.
Bulwark builds its gear to last, which is evident in this coverall design. From the sturdy topstitched design to two-way Nomex taped breakaway zipper, this is a garment you can count on to last the test of time.
Fabric
Made from 100% cotton and weighing in a bulky 9 ounces, this heavy twill coverall is just about as thick as they come.
Yet despite its rugged nature, the soft cotton fabric feels luxurious on the skin, so it's comfortable to slip into each morning. And don't worry about taking it to the dry cleaner because you can throw it straight in the machine instead.
Suitable for
Bulwark's Deluxe Twill model is perfect for the safety-conscious worker who takes pride in rocking the best gear on the market. Given its thick fabric and top-end flame-resistant credibility, the coverall is hard to beat when it comes to protecting you from the heat.
Of course, it's far too thick to put on in a warm-weather workplace, so give this one a miss if you're after something lightweight.
Pros
Heavy-duty 9-ounce fabric

Tough topstitched design

Comfortable and safe
---

Why we like it:
Airy and breathable coveralls where a full range of motion is guaranteed
Editor's Rating:
Design
You won't want to wear these once the first frost of the year hits because Red Kap's specially designs its Speedsuit to provide optimal comfort in a hot and sweaty workplace. Exceptionally airy and breathable thanks to Red Kap's touchtex technology, these light 'n' easy coveralls promote airflow to prevent your body from overheating. Meanwhile, action back pleats and elastic side bands complement the fabric to afford a full range of motion to your limbs. That enhanced level of comfort allows you to focus your energy on getting the job done.
The Speedsuit affords ample functionality too, with two chest pockets, two set-in front pockets, and two patch-hip pockets—all you need to keep your tools close at hand.
A two-way zipper makes it easy to slip into, and the coveralls are machine washable.
Fabric
A clever blend of 35% cotton and 65% polyester is the secret to the Speedsuit's success, allowing ample airflow inside to keep you cool. We're also looking at a 5-ounce poplin fabric, which explains why these coveralls are so wonderfully light.
Yet given their lightweight nature, the Speedsuit is surprisingly durable; it'll withstand the worst most workers will throw at it. Of course, heavy-duty tasks will require a thicker fabric. On the plus side, these coveralls are inexpensive, so you could always grab them as an extra set and sub them in for a thicker pair if required.
Suitable for
The Speedsuit is a superb all-round option for anyone in warmer working conditions who values having a full range of motion. This model doesn't have any specialist safety features, so it mightn't be ideal for some situations. Also, note that the lightweight nature of its 5-ounce fabric means it won't be as durable as the other coveralls on our list.
Pros
Comfortable and easy to move around in

Very reasonable price tag
Cons
Not suitable for more heavy-duty workloads
---

Why we like it:
A durable all-rounder with plenty of insulation to ward off the cold
Editor's Rating:
Design
Workwear stalwart Dickies has come up with the goods yet again with this superb all-round option in the insulated coverall niche. An extra thick and waterproof fabric safeguards you from the elements while a plush interior lining feels silky smooth on your skin.
Aside from being comfortable yet tough, these coveralls get extra marks for their functionality, with multiple pockets both inside and out. Outside, you'll get a chest pocket and back pocket, both with zips for securing your stuff, as well as a hammer loop. Inside, there's a hidden side-entry chest pocket for keeping your valuables close to your heart.
Fabric
This Dickie's model comes in 100% 10-ounce duck cotton, perfect for keeping you warm and resisting the rigors of the workplace. The material is water repellent as well, so you'll stay dry after a nasty spill. Best of all, the fabric and lining are both non-allergenic, which plays a pivotal role in preventing the build-up of bacteria and its associated odors. You will have to wash your pair eventually, though—but don't worry; these are machine washable.
The nylon and polyester inner lining is what makes these coveralls so toasty and warm. These are the preferred insulation fabrics on the market because they're sturdy, warm, and feel lovely on the skin.
Dickies' trademark Scuffgard technology provides a double knee for added comfort while crawling around in tight spaces, while arge pulls and heavy brass two-way zippers make getting in and out of these a cinch.
Suitable for
Dickies premium insulated duck coverall is a reliable all-round option for workers after warm and durable workwear for cold weather climates. Note these don't have any special safety features such as flame-resistance, so you'll need to double-check if they're suitable for your workplace.
Pros
Warm 10-ounce fabric

Comfortable nylon lining

Water repellent

Multiple pockets

Reasonably priced
Cons
The zippers sometimes break too soon
---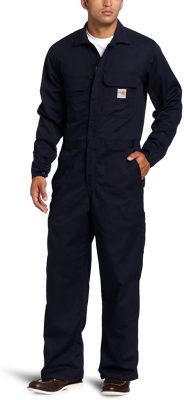 Why we like it:
A sturdy and durable flameproof coverall to keep you safe when it matters most
Editor's Rating:
Design
It may look like a pair of ordinary everyday coveralls, but it's what's under the hood that counts, and this flame-resistant option from Carhartt delivers. A heavy-duty design that boasts both NFPA 70E and NFPA 2112 compliance helps you stay safe when disaster strikes.
The functionality is good too, with two pass-through pockets, a utility pocket, and two chest pockets giving you ample space to stash your tools. And given how safety-orientated this model is, we were pleasantly surprised to find out it's quite comfy to wear. As a nifty bonus, the pleated bi-swing back gives you a generous range of motion, and the extra-wide leg openings will fit comfortably over your boots.
Fabric
This Carhartt Flame Resistant coverall has been made out of 100-per cent cotton with 9-ounce thickness, while its heavy-duty insulation is excellent at keeping you warm. Because cotton is one of the more luxurious feeling coverall materials on the market, this model is a pleasure to put on.
The garment is simple enough to clean through a standard machine or hand wash.
Suitable for
Above all else, the coverall has been designed to protect workers exposed to flames. Also, its sturdy design and versatility make it ideal for several different industries: mechanical work, construction, farming, industrial, etc.
It's rather well-insulated, though, so it's not going to be comfortable in hotter climates.
Pros
NFPA 2112 and NFPA 70E compliant

Surprisingly comfortable for such a functional coverall

Heavy insulation is excellent for cold weather
Cons
Can be challenging to find the right fit

Too hot for warm weather environments
---
Why we like it:
A super sturdy mid-range bib from Carhartt built to provide protection and warmth in frigid environments
Editor's Rating:
Design
This uber-tough bib from Carhartt features thick fabric and ample inner lining, enough to keep your lower body warm and safe from scratches while crawling around inhospitable winter terrain. Although the cozy quilt-lining in the leggings does a top job at fending off the freeze, you're still better off wearing thermals when it gets icy outside.
Ankle-to-thigh leg zippers make getting in and out of these a breeze, while its protective wind flaps add another layer of protection from the elements. The bib can accommodate knee pads if extra comfort there is required.
Fabric
The most significant selling point here is its fabric: 12-ounce cotton duck that's 100% ring-spun for extra sturdiness and strength. Inside and from the waist down, you've got a thick nylon quilted polyester lining that feels lovely on the legs and keeps you nice and warm.
Suitable for
Make no mistake about it: this classic Carhartt bib is built for icy cold environments, so definitely give these a miss if you're in one of the southern states. They're incredibly thick and quite versatile, though, meaning these are suitable for a wide range of winter gigs. Finally, good news for hunters: these are ideal for deer hunting in the snow.
Pros
Strong and durable fabric

Stylish design

Warm outerwear
Cons
Too much insulation for summer
---

Why we like it:
A simple, no-fuss option for DIY tool men who don't need a heavy-duty set
Editor's Rating:
Design
While we wouldn't recommend an industrial worker go out and buy these, the Dickies Basic Cotton is an excellent option for home use. The sturdy fabric provides ample protection for doing everyday home maintenance chores, and it's not unusually heavy, so you won't have to worry about overheating as the mercury rises. If you do happen to need something a little warmer, then order a few sizes larger and put some clothes on underneath.
Two large back pockets and a ruler pocket provide space to store your household tools. And getting in and out of the thing is easy enough for a novice with the two-way zipper.
Fabric
Dickies makes this model from 100% cotton, which comes in at a rather light 6 ounces. As a result, you'll find it easy to move around, and you won't overheat. The fabric here is machine washable—another plus for your everyday DIY dad.
Suitable for
What makes these coveralls so great for your run-of-the-mill DIY dude? The price. These are so affordable most homeowners won't balk at the thought of buying a pair. In the long run, you'll probably save money, considering all the clothes you'll save from ruin. And as a nifty plus, you'll look like a competent handyman in front of the wife and kids.
Now, the Dickies Basic is probably a little too basic for folks who need to be wearing top quality coveralls every day. Therefore, we recommend professionals invest a little more money and grab a premium option from our list instead. The Dickies Basic Blended Coveralls (see above), for example, offer extra strength and durability for a negligible additional cost.
Pros
Affordable

Lightweight and breathable fabric

Full range of motion
Cons
Not as durable as others on our list
---

Why we like it:
An irreplaceable piece of PPE for workers in a high-risk job
Editor's Rating:
Design
High-risk jobs require a high-tech solution. And to keep hazardous contaminants from doing you harm, DuPont delivers the goods with these industrial-grade coveralls.
The suit is a hit for its ability to safeguard against hazardous particles as small as one micron. The attached hood can be fitted with a respirator face mask via an elastic opening around the face, thus providing complete protection for the neck, chin, and face. On your feet, Tyvek FC boots complete the set and come with a skid-resistant coating to stop accidental slips.
Fabric
Durable puncture-resistant material keeps your body safely hidden away from the nasty particles floating around your workspace. And given its airtight ultra-protective nature, the DuPont is quite easy to move around in. Sure, the range of motion here can't compete with the lightweight coveralls on our list, but it's still pretty decent under the circumstances.
Suitable for
Although the DuPont is an industry-leading PPE suit for industrial workers, scientists, and Breaking Bad-style "home chemists," it's also quite useful for the DIY dad. The suit works like a charm for tasks like spray painting, asbestos removal, and mold reduction, among others. Of course, you'll need to attach an appropriate mask as well.
Pros
An effective PPE solution

High level of protection
Cons
Can be expensive due to its disposable nature
---

Why we like it:
A versatile hunting coverall to don in varying types of terrain
Editor's Rating:
Design
We've covered a wide range of work coveralls today, but what should you wear when it's time to play? These durable bib coveralls are specially designed with the hunter in mind.
Truth be told, there are only a few subtle differences between a workplace and a hunting coverall. First up, you'll get a more strategic selection of pockets, with easily accessible compartments on hand to stash your knives and other tools.
Another significant difference here is the double pleated knees, which let the hunter crawl through even the most rugged terrain in relative comfort.
Fabric
The fabric in play is a blend of 58% Cotton, 39% Polyester, and 3% Spandex—a clever combination that optimizes comfort and durability in the great outdoors. It also rustles much less than other coveralls to allow the hunter to move more stealthily through the shrub.
Suitable for
This bib is a superb option for hunters in all sorts of different terrains, from wooded hills to wetlands and everything in between. Do note, however, that these are relatively lightweight and lack insulation, so they're not going to keep you warm when you're trudging through the snow.
Pros
Several cool camo designs

Double knees for crawling through the woods

Tough fabric blend
---
Guide to Buying the Best Coveralls
Now you're familiar with the top 10 coveralls on the market; we'll throw a few pro tips at you to help you find the perfect pair for your needs.
Design
Coveralls are made to suit a wide range of environments, so it's crucial to pick a pair that can withstand the rigors of your worksite. Some jobs require extra protection from hazards such as fire, while others see you crawling around on your hands and knees, which is where double pleated elbows come in handy.
Some professions, on the other hand, don't have much in the way of special safety requirements, so a versatile pair of budget coveralls will do the job just fine. And workers who don't require protection for their upper body may prefer bib coveralls for the extra comfort and convenience they afford.
Think about the specific requirements of your workplace before investing in a new set of coveralls. And if in doubt, ask your boss for recommendations regarding this crucial piece of PPE.
Size
Bring out the tape measure because you're going to have to size yourself up to find the perfect fit. Specifically, most manufacturers will want to know your waist size (be honest, nobody is judging here). Depending on the brand, you may get to choose from long to standard-sized coveralls, which refers to whether you're an above-average height for your weight.
Although it may sound complicated, the vast majority of online shoppers are happy with their fit, so don't be afraid to pick up a pair online (the savings are worth it). Furthermore, plenty of suppliers offer a money-back guarantee under certain conditions so you can often send your coveralls back if they're not a good fit.
If in doubt, always opt for a size that's slightly bigger than what you think you might need. It's much better to have a little extra room than tight coveralls that restrict your movement on the job.
Comfort
You're going to spend a significant portion of your life in these things, so it pays to ensure they're comfortable enough to wear each day. An uncomfortable worker is also less productive and satisfied with their job, so this is clearly of great importance.
The most significant factor when guaging comfort is fit, so take note of the section above to ensure you're ordering the correct size. Most of all, you need to have a free range of movement in all your limbs to achieve peak performance at the worksite.
Another vital point is insulation. Some coveralls are designed for cold weather while others are intended for tropical climates, and choosing the wrong one is going to leave you in considerable discomfort.
And finally, fabric comes into play here as well. Cotton is the softest on your skin, but may not be appropriate in your specific workplace.
Fabric
A wide range of coverall fabrics are available to choose from, with options like cotton, polyester, and polyethylene catering to different budgets and needs. The most important thing is to choose a fabric that's suitable for your workplace. Lightweight and breathable fabrics are crucial for those working on high-temperature conditions, while colder environments require thicker fabrics. Likewise, workers exposed to water or hazardous liquids need to wear a non-porous material at all times.
Comfort-wise, cotton is the most pleasant fabric on the skin, although it may be a little too hot in warmer climates. If durability is your primary objective, then go for something like polyethylene, which is hard, ductile, has low impact strength, and tends to stretch instead of break. It's a plastic super-fabric that's a top choice for workers in challenging conditions. These days, lots of coveralls come in a blend of different synthetic materials that draw on the positive qualities of each and serve their user well in a range of working environments.
Having trouble deciding on the best fabric for you? Try asking your colleagues what fabrics they're working in and how comfortable they feel on the worksite.
Thickness
In the world of coveralls, we talk about thickness in terms of how many ounces per square yard the fabric weighs. Those working in warm environments prefer wearing lightweight materials such as poplin. Colder conditions, however, warrant a heavier material between 6 and 10 ounces per square yard. The added advantage here is that thicker materials are far more resistant to rips and tears.
Durability
Think of your new coveralls as an investment in your future. Although a high-quality pair will cost you more upfront, they'll last for decades and save you money in the long run. If you're expecting to use your coveralls every day, purchasing a cheap pair is a bad idea because they'll quickly wear out and require replacement.
If, on the other hand, you only plan to use your coveralls every so often to do odd jobs at home, then there's no point splashing out on a top-of-the-range pair. Getting the most durable—and therefore expensive—pair of coveralls only makes financial sense if you expect to use them all the time.
Durability is also a key factor depending on the type of work you do. High demand jobs that see you constantly crawling into tight spaces, such as a mechanic or electrician, will find their coveralls will wear out faster than other professions. If that sounds like you, then invest in a durable pair to avoid forking out for a replacement in the near future.
Flame Resistance
If you work in an environment where you're regularly exposed to sparks such as a wielder, or where you could potentially be exposed to flames such as a firefighter, then flame-resistant (FR) coveralls are a must. In fact, if you work for a larger company, chances are your HR department already mandates their use as part of its Occupational Health and Safety (OH&S) policy.
FR coveralls tend to cost considerably more than your run-of-the-mill options, but offer vital burn protection for almost the entire body. Expect to be wearing bulky fabrics like Kevlar, Nomex, or a combination of the two.
Bib Coveralls
Folks who work in less hazardous conditions, such as farmers, often opt for bib coveralls, which leave the arms exposed and buckle up over the shoulders with suspenders.
Of course, bib coveralls don't offer any protection to the upper body. However, the worker does get to enjoy increased airflow, comfort, and range of movement. These pros far outweigh the cons for professions such as the lumberjack.
You can wear bib coveralls over the top of your clothes, making them a quick and convenient option to slip in and out of. And if you're particularly proud of your buff physique, then going shirtless in a pair of bib coveralls will make you look the part.
Reflective Webbing
Folks who work in low lighting conditions or situations where they simply need to be seen, such as sewage maintenance technicians and highway construction workers, should opt for coveralls with reflective webbing. As the name suggests, these coveralls come with little sections of webbing spread evenly over the suit that reflects light to make the user easier to see.
It's a common safety feature that's crucial to some workers and entirely unnecessary to others, so consider what's best for your personal needs. Most coveralls with reflective webbing come in vibrant colors like fluorescent yellow or orange to make them even easier to see.
Insulated Coveralls
Folks who predominately work in cold climates will want to ensure their coveralls are on the thicker end of the scale and they have adequate insulation to keep them cozy and warm on the job. Insulation typically comes in the form of an inner lining stitched inside the coveralls to provide extra protection from the elements.
The ideal thickness or insulation of your coveralls varies depending on the temperatures you're exposed to. You should generally aim for somewhere between 6 to 12 ounces per square yard to ensure your core body temperature will adequately heat the air that gets trapped under the lining.
Multiple Zippers
Coveralls designed to be used in freezing conditions that put the worker at risk of hypothermia may come equipped with multiple zippers. Instead of just having one zipper over the front, these models will have another on the legs as well. The idea is workers in these extreme conditions will have to occasionally put on extra layers underneath, and having only one zipper requires them to take off the whole coverall, thus exposing them to hazardous temperatures.
Multiple zippers also sometimes appear on models in which clothes are worn underneath so the user can quickly access them.
Final Words
Coveralls are useful for so many different activities in life, and a good set will make doing those activities so much more comfortable, safe and therefore enjoyable. This list has coveralls that are best-in-class at what they're designed for. Think about your needs and your planned usage of the coveralls using our buyer's guide and then you can be confident you're getting the ideal workwear for your job or hobby.