Let's face it: unpainted concrete is bland.
While the drab gray surface might suit an industrial-chic design, concrete is just plain uninteresting in the average American home.  But a fresh lick of paint can make all the difference, transforming a dreary concrete surface into a vibrant centerpiece.
Whether you're looking to revitalize a patio, driveway, or garage, your best course of action is to lather on some paint. But you can't just use any old product; you need to pick the right concrete paint for the job.
To help you do just that, we've painstakingly researched the top 10 products on the market.
And if you're new to bewildering the world of concrete paint, we recommend you first check out our in-depth guide.

How to Find the Right Concrete and Cement Paint
Before you start perusing our recommendations, it's essential to work out precisely what you're after. Concrete paint comes in various forms, not all of which will be suitable for your needs. Keep the following factors in mind when shopping for concrete paint.
Color
First and foremost, you need to consider what color would best suit the space you plan to paint. Factor in the overarching color theme of your home and choose a complementary shade. Avoid colors that mimic or clash with what you've already got in place.
Tin Size
Purchase a can that's too small, and you'll run out of paint halfway through. Get one that's too big, and you'll needlessly waste money on an over-abundance. Work out the surface area (square footage) you're painting and purchase a can that slightly exceeds that figure.
Recommended Surface
Some concrete paints are specially designed for specific areas of the home, such as the basement or patio. While many types of paint will suffice for numerous locations, you'll likely find you'll get the best results using a specialized product.
Coverage Area
Manufacturers provide a square foot per gallon coverage estimate to give consumers an idea of how much paint they will need. Note these figures only apply to one coat of paint. If you require two coats, as is often the case, you'll need to half that amount.
Anti-Slip Coating
Accidents happen. And if you're worried about the little ones running amok and slipping on your concrete floor, then it's worth springing for a concrete paint with a non-slip coating. These products don't guarantee to prevent any accidental falls, but they do make the surface easier to grip onto.
Weather Exposure
If painting a surface outside, you need to choose exterior-grade concrete paint. Some products can withstand the rigors of Mother Nature, retaining their like-new appearance through rain, hail, and shine.
Durability
High-quality paints last for longer but will cost you more upfront. If you don't fancy repainting your concrete surface any time soon, you'll need to splash out for a premium product with enhanced durability. As usual, you get what you pay for with paint.
Protection
If you're working on an area that gets plenty of use and abuse, then it's worth opting for premium paint that will stand the test of time. For example, consider grabbing a stain-resistant concrete paint for spots like the garage floor—this makes it so much easier to mop up those oil spills.
Now you're ready to look at the best products available today—just keep the above considerations in mind and we're sure you'll find the right one for you.
Top 10 Best Concrete and Cement Paints 2022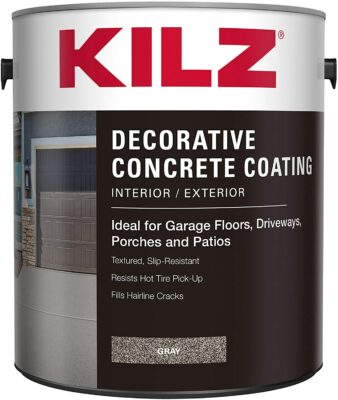 Why we like it:
This killer option from KILZ comes with a nifty non-slip formula and works beautifully both indoors and out.
Editor's Rating:
Quick Facts:
Colors: Tan and gray
Non-slip: Yes
Size: One gallon
Coverage: 100 square feet per gallon
Surface Recommendation: Floors
An outstanding all-around option, KILZ Decorative Concrete Coating offers stacks of versatility for a reasonable price. As an exterior/interior grade product, the paint is suitable for use on all concrete corners of the home—think patios, porches, garages, pool decks, driveways, and more.
Do note, however, that it works best on ground-level surfaces, so look elsewhere if you're planning to paint a ceiling or wall—try the Rust-Oleum Painter's Touch Latex Paint instead.
The stuff is especially effective in driveways, as the formula seeps into hairline cracks and protects against hot tires and dripping oil. It's also a good option for high foot traffic areas like pool decks and walkways because it comes with a grippy non-slip coating.
For best effect, you'll need to apply two coats, which means this one-gallon can will only cover 50 square feet or so. That doesn't make it the most cost-effective option on our list, but it's worth the investment for the pleasing result.
You also only get two colors to choose from: tan and gray. While these soothing neutral tones suit many spaces, they won't necessarily be the best options for you.
Pros
Non-slip coating

Versatile product

Exterior and interior

Great for driveways and porches

Attractive finish
Cons
Only covers 50 square feet

Limited colors
---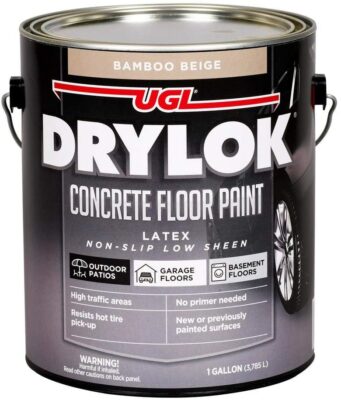 Why we like it:
You get up to a staggering 600 square feet of coverage from this concentrated one-gallon can.
Editor's Rating:
Quick Facts:
Colors: Beige
Non-slip: Yes
Size: One gallon
Coverage: Up to 600 square feet per gallon
Surface Recommendation: Concrete floors
If you need to paint a large concrete area on a budget, it's essential to opt for a high-efficiency product. And this heavy-duty offering from Drylok covers a monumental 600 square feet with the one tin, making it among the best value paints ever. Add to that the fact it doesn't require a primer, and you save even more.
The first thing you need to know is that it's only suitable for concrete floors, specifically garages, basements, and patios. The formula won't stick to ceilings or walls, so grab something else if you're painting these areas — Rust-Oleum Painter's Touch Latex Paint should work.
Another notable downside is it only comes in one color: beige. As much as we love the cool neutral look, this distinct lack of choice is a big turn-off for many consumers. While the formula does include a non-slip component, this product isn't anywhere near as grippy as our other non-slip recommendations.
On the plus side, it works well on all types of masonry floors, so feel free to smother it on bricks and building stones as well. The specially formulated product holds up well to regular washing and severe weather, plus it provides adequate protection from acids and alkalis.
The stuff dries pretty quickly, too. You need only wait four hours between coats or light pedestrian use, 24 hours for vehicle traffic, and five days to achieve optimal resistance.
Pros
Covers up to 600 square feet for optimal value

Doesn't require priming

Works on all masonry surfaces, including concrete

Durable, long-lasting formula
Cons
Only suitable for floors

One color to choose from

Non-slip formula isn't as grippy as others
---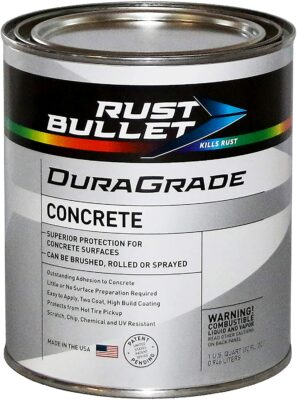 Why we like it:
It's super easy to apply and will look fantastic on your concrete floors for decades to come.
Editor's Rating:
Quick Facts:
Colors: 18
Non-slip: No
Size: One quart
Coverage: 300 square feet per gallon
Surface Recommendation: Concrete floors
If you're happy to spend up big on a heavy-duty concrete paint that will stand the test of time, look no further than DuraGrade.
This high-quality product has been specially formulated for durability, boasting optimal protection against scratches, chips, and adverse weather. In other words, you won't have to repaint your driveway any time soon.
What's more, if you had a specific color in mind, you'll be delighted to hear this product comes in 18 unique shades. That's stacks of choice than most competitors.
The paint is only formulated for use on floors and works well in garages, driveways, sidewalks, and patios. Note it doesn't include any anti-slip aggregates. If you're looking to paint a potentially hazardous area such as a pool deck, it's worth switching to FIXALL, our top non-slip paint.
The patent-pending formula doesn't require any topcoat, basecoat, or primer and is suitable for application with a brush, roller, or paint sprayer. That all means it's easy to apply, and the process will take less time than other concrete paints.
While the paint efficiency—300  square feet per gallon—and the price per unit is on par with our other recommendations, pay close attention to the size of the can. You're only getting one quart rather than a whole gallon here, so you'll end up paying much more than other products.
Nonetheless, if you're happy to throw extra cash at a high-quality, long-lasting product, then Rust Bullet DuraGrade is well worth considering.
Pros
Optimal protection

Long-lasting formula

18 distinct shades

Easy to apply
Cons
Expensive

Doesn't prevent slippage
---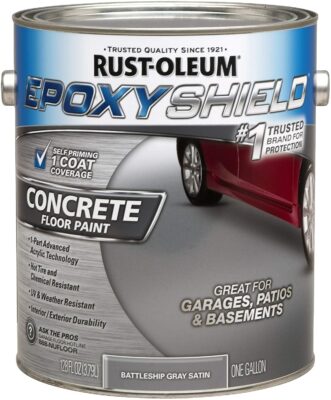 Why we like it:
This advanced acrylic formula is durable enough to withstand heavy vehicle traffic for years on end.
Editor's Rating:
Quick Facts:
Colors: Battleship Gray Satin
Non-Slip: No
Size: One gallon
Coverage: 844 square feet per gallon
Surface Recommendation: Concrete garage floors
When you're constantly moving a vehicle around a confined space, you need a concrete paint capable of withstanding heavy traffic. Hot tires, oil spills, and constant pressure wreak havoc on ordinary paint, which is why you should spring for a specially formulated solution like Epoxy Shield from Rust-Oleum.
This high-end product has been designed specifically with garage floors in mind, using advanced acrylic technology to create a durable long-term solution. Hot tires and spills won't leave any permanent stains, and it's easy to wash down the surface with soapy water.
The product works best indoors, but it's also rated for exterior use—that comes in handy when you want to paint the driveway to match the garage. You'll get a good 800 square feet out of this one-gallon tin, plenty of coverage to paint both spaces in one go.
Sadly, it only comes in one color: Battleship Gray. In case you're wondering what that is, expect a standard gray with a faint light-blue tinge to it. We think it looks pretty slick.
Pros
Specially designed for garage floors

Hot tire and oil resistant

Easy to clean

Durable design
---
5.

Cement Paint With Best Color Selection:

KILZ Interior Paint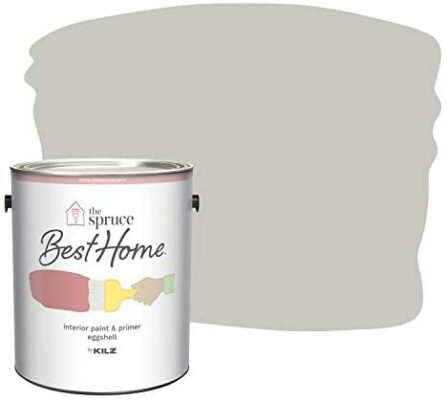 Why we like it:
It's easy to apply, cost-effective, and comes in a bewildering array of colors.
Editor's Rating:
Quick Facts:
Colors: 32
Non-slip: No
Size: One gallon
Coverage: 250-400 square feet per gallon
Surface Recommendation: Walls in bedrooms, kitchens, bathrooms
Having trouble finding the perfect color for your concrete paint job?
Then this gorgeous interior paint from KILZ could be just what you're after. Not only does it have a mind-boggling selection of 32 distinct colors, but you also get to choose from three different sheens—matt, satin, or semi-gloss. No matter what hue you had in mind, you'll find it (or something close) here.
Buyer beware, though: the colors don't precisely match what you see on the screen. But if you're happy to accept some variation, that shouldn't be a big issue.
Although this interior paint isn't designed for concrete, the formula does work well on our gray porous friend. It's not suitable for floors, though, so you'll have to relegate it to walls and ceilings instead. For your walls, Rust Bullet DuraGrade Concrete Coating comes in quite a few colors, if not nearly as many.
The one-gallon can covers a generous surface of up to 400 square feet, and there's no need to spend additional money on a primer—you will need to remove old paint and smooth down any imperfections, though). The manufacturer does recommend using at least two coats (three is probably ideal), so factor that into your cost calculations.
The specially formulated mixture works wonders at warding off mold and mildew, making it a popular choice for high humidity zones like bathrooms. Opt for a satin or semi-gloss finish if you're applying it in these wet regions.
The paint is easy to apply with a roller or brush, and it's ready for a re-coat within two hours.
Pros
32 colors to choose from

Three unique finishes

Good for interiors

Doesn't require priming

Protects against mold and mildew
Cons
Not specially designed for concrete

Not suitable for floors

Requires multiple coats
---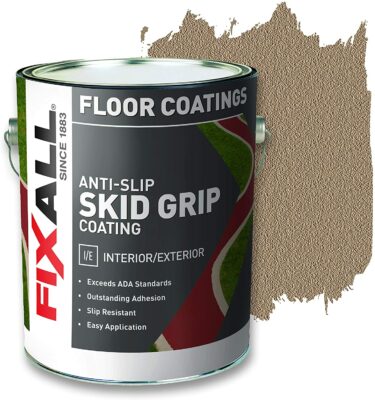 Why we like it:
This quality acrylic non-skid paint comes with a contoured texture to reduce slippage.
Editor's Rating:
Quick Facts:
Colors: Six
Non-Slip: Yes
Size: One Gallon
Coverage: 60-80 square feet per gallon
Surface Recommendation: Interior and exterior floors
If safety is your top consideration, then you can't go past this powerful anti-slip paint from FIXALL. It might not be the cheapest non-slip option out there, but FIXALL goes the extra yards to manufacture a high-quality product that works.
This specially formulated acrylic paint is textured to turn any slippery surface into a high-grip zone. Whether it's a pool deck, patio, ramp, playground, or basketball court, the slip-resistant coating does an outstanding job at preventing accidental falls.
The stuff isn't intended for exclusive use on concrete, so feel free to use it on your wood, stone, or brickwork as well. And as it comes in six attractive colors (camel, cobalt, crimson, emerald, jet, and sate), it's easy to match with your interior or exterior design. The colors aren't quite the same as they appear in the samples, however, so be prepared for some minor shade variation.
Like all non-slip paint, this product isn't designed for walls or ceilings. It's also quite expensive as it covers just 60-80 square feet per gallon on concrete surfaces. Sure, you'll get a higher degree of efficiency should you lather it onto something smooth—but you're here to paint porous concrete, right?
That said, anyone looking for something cheaper or suitable for walls might want to look elsewhere.
Pros
Outstanding non-slip properties

Comes in six different colors

Suitable for multiple surface types
Cons
Coverage per gallon is low

Color may vary from samples
---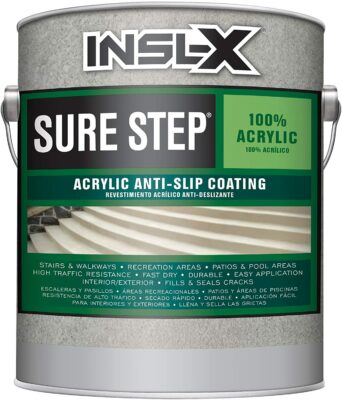 Why we like it:
It's an affordable concrete floor paint that's great whenever preventing unintentional slips is the aim of the game.
Editor's Rating:
Quick Facts:
Colors: Six
Non-slip: Yes
Size: One gallon
Coverage: Up to 120 square feet per gallon
Surface Recommendation: Foot traffic floors
Although the can costs around the same as other non-slip options,  the product covers a whopping 120 square feet per gallon. And that little fact makes INSL-X among the best value non-slip concrete paints on the market.
First and foremost, this is a non-slip floor paint designed for high foot traffic areas of the home. If you've got a treacherous concrete porch or pool deck and you're worried about nasty falls, it's a cost-effective solution to your fears. The melted rubber-like texture also enhances grip on surfaces such as tennis courts, patios, walkways, and stairs.
But if you're after something to cover walls and floors, you might want to look elsewhere—try Rust-Oleum Painter's Touch Latex Paint.
The formula contains less water than other paints, which means it dries quickly and is easy to apply (fewer soppy splashes). You can also start using the area with light foot traffic after just 24 hours and five days for heavy use—that means less waiting around.
We love how it comes in a wide array of colors. You get five pre-mixed options plus a stand-alone clear finish to choose from, much more variety than most.
The can provides detailed instructions on applying the product, making the painting process easier for novice DIYers.
The main downside here is durability as it won't last as long as the premium non-slip concrete paints like FIXALL. Nonetheless, for light residential use, INSL-X Sure Step will get the job done just fine.
Pros
Good value for money

Excellent non-slip properties

Easy to apply and quick to dry

Detailed instructions included
Cons
Less durable than others

Only suitable for floors
---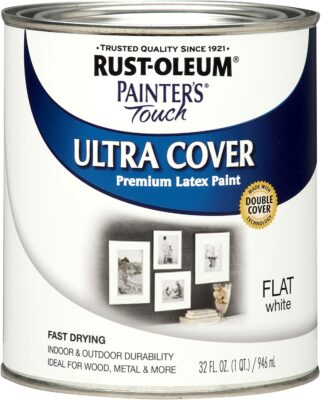 Why we like it:
This smooth and pleasant-looking paint easily adheres to concrete walls and provides long-lasting protection.
Editor's Rating:
Quick Facts:
Colors: White
Non-Slip: No
Size: One quart
Coverage: 480 square feet per gallon
Surface Recommendation: Exterior or interior concrete walls and ceilings
We've given you a slew of incredible options for painting your concrete floors. But what about your ceilings and walls?
Wall and ceiling paint is chemically unique as it must be extra adhesive to stick onto the surface. Otherwise, gravity does its thing, and you'll get big gobs dripping everywhere.
The top specially formulated paint for concrete walls and ceilings is Painter's Touch by Rust-Oleum, which looks fantastic on numerous surface types. Aside from masonry like concrete, feel free to use it on wood, unglazed ceramic, and plaster, both indoors and out—versatility is a strong point here.
Although you might balk at the tiny one-quart tin, you'll be pleased to see the product has a coverage of 120 square feet (that's 480 square feet per gallon!). And that means the stuff is super cheap, especially when you factor in the quality of the smooth flat finish.
As with any wall or ceiling painting gig, you'll need to sand down the surfaces, scrub them clean with a degreaser, and then prime. Give plenty of time to dry before you get stuck in.
There's one downside to this product, and it's a doozy: choice, or lack thereof. It comes in a single shade of white, so you'll have to look elsewhere if you're after a vibrant hue. But don't stress, we've got the perfect recommendation: KILZ Interior Paint.
Pros
Adheres to walls and ceilings

Works on numerous surfaces, including concrete

Large coverage area for a tiny tin

Good value for money
---
Why we like it:
This premium waterproofing paint from KILZ prevents moisture from ruining your concrete foundations.
Editor's Rating:
Quick Facts:
Colors: White
Non-Slip: No
Size: One Gallon
Coverage: 75-125 square feet per gallon
Surface Recommendation: Basement floors and walls
Basements are a breeding ground for mold and mildew, those tiny little problem-makers that provoke respiratory issues and a whole host of other ailments. And the best way to stop the nastiness from proliferating underground is to seal your basement with an appropriate waterproofing product.
Although there's fierce competition, KILZ makes the best option with its Basement Waterproofing Paint.
The premium product uses advanced nanotechnology to seal porous concrete surfaces, both inside and outside your home. Without delving too deep into the nitty-gritty details, it essentially forms a protective seal to stop moisture filtering through. Consequently, it can withstand water pressure up to an impressive 12 PSI.
What's more, it comes with a potent alkali-resistant component to give it a durable and decorative topcoat.
Although the product works wonderfully on porous concrete, you can also use it on other surfaces like masonry walls, stucco, retaining walls, and brick. Just don't try to apply it on anything with an active water leak as the stuff won't bond properly.
You only get one color: plain old ordinary white. But as it's explicitly designed for your basement and other seldom-seen surfaces, that's no big deal.
Bear in mind you'll need to fill in any cracks or imperfections and then prime the surface before painting can begin. You also need to splash on two coats to achieve the optimal effect—it's a fair bit of effort but worth it in the long run.
Pros
Great at waterproofing concrete surfaces

Can be used on various construction materials

Durable, long-lasting design
Cons
Only comes in white

Requires significant preparation work
---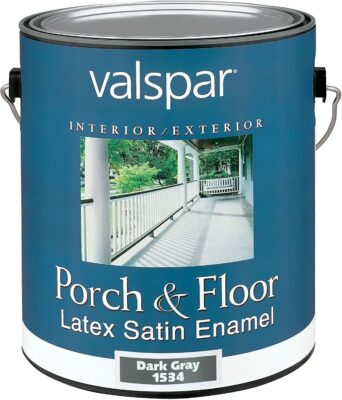 Why we like it:
This pretty product from Valspar glides on smoothly and looks fantastic on a concrete porch.
Editor's Rating:
Quick Facts:
Colors: Three
Non-Slip: No
Size: One gallon
Coverage: 360 square feet per gallon
Surface Recommendation: Porches
As the second thing guests see upon entering your home (after the driveway), your porch is an essential part of your curb appeal. And having flaky paint out front will ruin the entire aesthetics of your property—it's worth getting the job done right.
Thankfully, Valspar has come to the rescue with this Latex Satin Enamel Paint formulated with porches in mind—whether they're wood, metal, or concrete.
The multi-purpose product boasts superior weather-resistant properties to help it withstand the elements over the years. And should you have a bit left over, the paint works beautifully on interior applications as well.
Note this product doesn't have non-slip properties, so avoid it if you're worried about someone falling over on your porch (FIXALL would be a solid alternative in that situation).
Also, you only get three colors to choose from: white, light gray, and dark gray. Nonetheless, each of these neutral tones looks sleek on a minimalist style porch (vibrant hues are typically too boorish for an exterior paint job).
Like most acrylic latex paints, it's easy to apply and doesn't have an offensive odor. You can start using the porch lightly within one hour of application and resume regular foot traffic 24 hours later.
Pros
Specially formulated for porches

Durable weather-resistant design

Sleek neutral colors

Dries fast and easy to apply
Cons
Limited color selection

Lacks non-slip additives
---
Complete Guide to Concrete Paint

If you've never painted concrete before, it's worth taking the time to do some research. To simplify the process, we've compiled everything you need to know about concrete paint into a single, easy-to-understand guide.
Choosing a Concrete Paint for a Specific Area of the Home
Not all concrete paint is created equal. Most manufacturers formulate and market paints for specific areas of the home.
Garage and Driveway
Take concrete garage and driveway paint, for example. These products are designed to adhere to the rough concrete surface of your driveway, which typically contains coarser aggregates than concrete found in other areas of the home. Also, you get enhanced protection against tire marks and oil spills.
Our favorite concrete paint for driveways and garages is Rust-Oleum Epoxy Shield. If that's not to your liking, you'll find plenty of other options on our list of the Best Garage Floor Paints.
Basement
Another good example is basement concrete paint, which is tailor-made to provide adequate waterproofing properties. Basements tend to attract moisture, especially in wetter parts of the country like the Pacific Northwest. Using an appropriate concrete paint could save you from potential water damage down the track.
Our favorite concrete paint for basements is KILZ Basement Waterproofing Paint.
Outdoors
And if you're painting outdoors—say, a patio or porch—then you're going to need an 'exterior grade' concrete paint. These products have been specially formulated to provide exceptional protection from the elements, especially prolonged exposure to sunlight.
Our favorite concrete paint for porches and exterior use is Valspar Latex Satin Enamel.

How to Calculate How Much Paint You Need for Concrete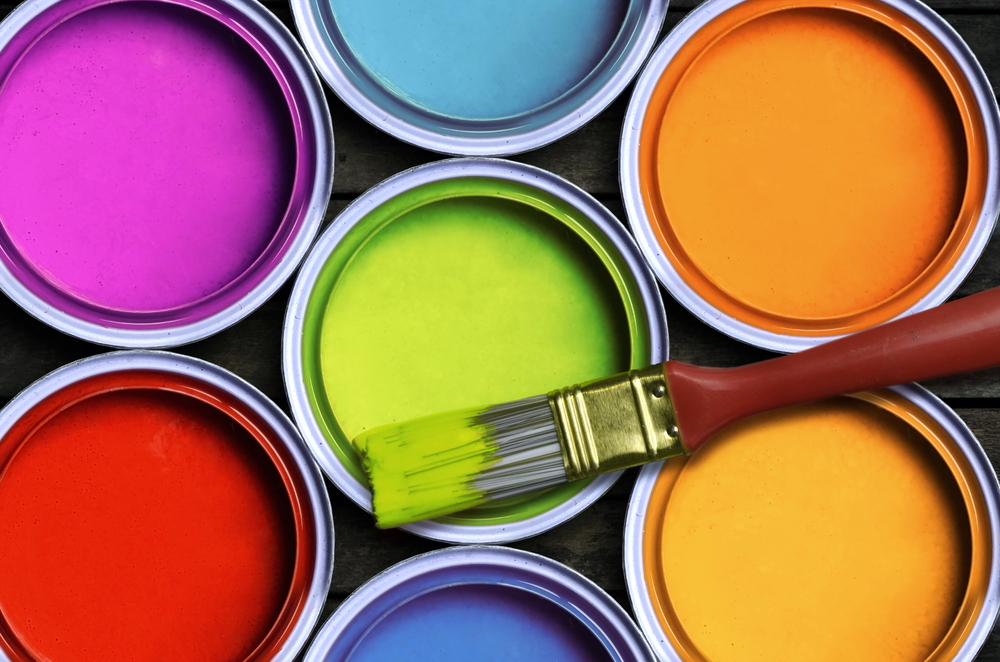 Paint can get pretty expensive, especially if you're covering a large area using a top-of-the-line product.
Avoid purchasing much more than you need, as you'll end up wasting your hard-earned dosh. But at the same time, you don't want to buy too little because you'll need to dash over to the hardware store to pick up more halfway through.
Ideally, aim for around 20% more paint than you think you'll need, which gives you enough wiggle room to get the job done correctly without excessive wastage.
So how can you calculate the correct amount?
You could do it the old-fashioned way, multiplying the width and length of every concrete surface you plan to paint, then subtracting the relevant square footage for windows and doors. You'd then have to compare your total surface area with the coverage provided per can to determine how many you need to buy.
But there's an easier way: the online paint calculator.
With this nifty tool, you can add in your measurements and have the computer do the math. It lets you do other cool tricks, too, like adjusting the number of coats, setting the paint efficiency (number of square feet per gallon), and obtaining a price estimate based on your inputs.
Trust us, using an online calculator is so much easier.
How to Determine Coverage Area
It's easy to work out how many square feet you'll get from a gallon of paint: it says right there on the can (or in our Quick Facts section of every review).
However, these estimates aren't always entirely accurate. Discrepancies occur when you apply extra-thick coats or lose paint to spillage. Plus, porous surfaces like concrete require more paint than smooth surfaces like ceramic because the liquid seeps deep into the pores.
More importantly, however, is that these estimates are only valid for one coat of paint.
If you require two coats of paint, then you'll need to halve the coverage area. For example, a product that advertises 200 square feet per gallon suddenly becomes 100 square feet per gallon if you need two coats. And that's a big difference to your bottom line.
The ideal number of coats varies from surface to surface, so it's often hard to determine at face value. Sometimes you'll get an accurate recommendation on the tin, but other times you won't know until you've finished the first coat and feel displeased with its lackluster opacity.
Want to be especially sure you've got enough? Buy more than you need, or get a concentrated product like Drylok Latex Base Concrete Paint.
How to Choose the Perfect Color
The most crucial step in the painting process occurs long before you pick up a brush: choosing the right color.
And with so many attractive options in the rainbow, how do you select the ideal tinge?
Consider the following tips for finding the right color for your space:
Narrow down your options. The most challenging part of choosing a color is deciding between too many options at once.
Seek inspiration by perusing magazines, catalogs, and image-based social media content like Instagram and Pinterest.
Paint retailers often include photos of their products splashed up on walls and floors so you can gauge how they'll look.
Grab a color wheel to visualize how varying shades complement or contrast from one another. Even a basic understanding of color theory goes a long way.
Neutral tones can look fab on concrete exteriors and add a soothing sensation to the space—experiment with different shades of beige and gray.
Match your color theme to the natural environment. If you've got an oceanfront property, consider using light hues like ochre or turquoise to reinforce the breezy beach theme.
Try a lighter or darker shade. If your dream color doesn't quite feel right, tweaking the shade might help you find the perfect match.
Compare paper samples. Grab a few sheets of common shades on paper from your local hardware store and hold them up to your wall to determine how they'll look.
Furthermore, don't just think about yourself. While it's essential to opt for a color you like, it's equally prudent to choose a color that future homeowners won't hate. As much as you love your glitzy hot pink patio, it could make the property harder to sell.
Understanding Non-Slip Paint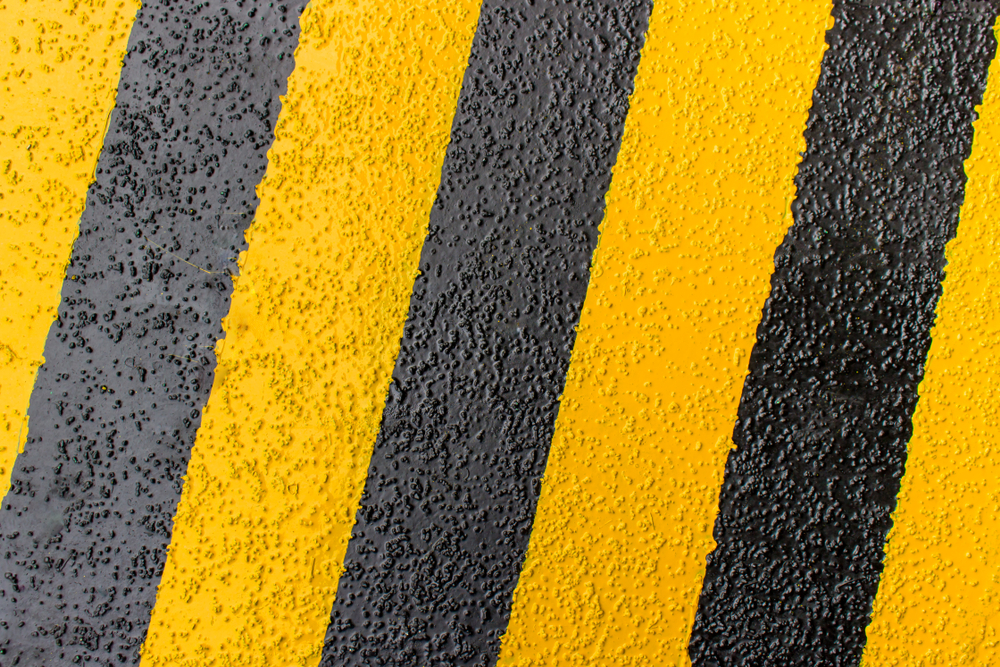 If you've never worked with non-slip paint before, it's worth understanding how the product works.
Interior non-slip paint includes aluminum oxide aggregates that lend a bumpy texture to the paint. This texture makes the floor more grippy, even when wet, and is especially useful in places like kitchens and bathrooms
Non-slip paint intended for exterior use comes with a modified chlorinated rubber compound made from triclinic mineral aggregates. The result is similar, a coarse easy-to-grip texture that reduces slippage, especially when wet. Exterior concrete surfaces like car parks, walkways, basketball courts, and pool patios benefit immensely from non-slip paint.
At the risk of stating the obvious, non-slip paint isn't intended for walls and ceilings (we don't tend to walk there, after all). Although you can use non-slip paint on these surfaces, you'd be wasting your money because these products come at a premium.
Cement and Concrete Paints FAQ
If you've still got questions about concrete paints, take a look at the following FAQ.
How Long Does Concrete Paint Last?
The shelf-life of a fresh coat of concrete paint varies significantly depending on the product in question and how the area is used. Most manufacturers recommend reapplying a new coat every 3-5 years, although you can usually get away with doing it far less often than that. Paint on highly trafficked areas like driveways will fade far faster than in hidden, out-of-the-way spots.
Is It Better to Paint or Stain Concrete?
It depends on the look you're going for. Staining concrete imbues the surface with a semi-translucent color to add extra oomph. Painting, on the other hand, creates an entirely opaque appearance to transform its aesthetics. Note that staining is quicker and cheaper than painting.
Do I Need to Prime Concrete Before Painting?
Although some concrete paints include a primer in the formula, it's usually a good idea to apply one beforehand. Primer helps paint stick to the surface and enhances durability in the long term. If in doubt, check the label on the can.
What Is the Color of Concrete?
Traditionally, concrete comes in a light gray tone. However, in recent decades, builders have started substituting a small quantity of latex paint for water in the cement mix. This method colors concrete before it's poured and can save time and money on painting—worth considering if you're building a home from scratch.
What Happens if You Paint Wet Concrete?
Painting a wet surface is a recipe for disaster, so be sure to give your concrete sufficient time to dry. Put simply, paint won't bond to water, and you'll need to start the process all over again. If working outdoors, wait for a warm and sunny day.
Final Thoughts
Whether you're sprucing up an exterior patio or painting your dull basement walls, there's a concrete paint out there for every job.
We've recommended the top 10 products for various concrete applications to help you pinpoint the perfect option for you.
Remember to read through our Key Considerations and complete guide to get you up to speed.
Then, all that's left to do is start revitalizing those drab gray concrete walls and floors.