Sometimes, despite your best efforts, your lawn just doesn't thrive. You can water, aerate, grade, replant, or even put down sod, and it's still possible that after a season or two your lawn goes from a bright, luscious green to a dirty shade of brown. So what do you do?
Proper fertilization can take nearly any lawn from lackluster to thriving in just a couple of applications, but you need an effective way to evenly distribute it. This is where a fertilizer spreader comes in. Fertilizer spreaders are the best way to create an even and useful layer of chemical fertilizers, organic fertilizers, or topsoil that will aid with the growth of your lawn.
Finding the Right Fertilizer Spreader
Fertilizer spreaders, considering they all accomplish the same purpose in the end, vary wildly in design and approach. When you're shopping, consider your personal needs as well as the requirements of your lawn.
Type of Spreader
There are five primary types of fertilizer spreaders used, from small, handheld spreaders to larger ones that require a powered lawn tractor to function properly. You can read more on the way fertilizer spreaders differ below, but we'll give a rough definition of each here.
Handheld Fertilizer Spreaders have no wheels and rely on manual action to spread fertilizer. They're typically designed with small hoppers and should be used to distribute fertilizer in small "problem" areas or across small yards.
Drop Fertilizer Spreaders only deliver fertilizer directly between the wheels, making for a targeted pattern, but taking more time to spread fertilizer over a large area.
Broadcast Fertilizer Spreaders use centrifugal force to sling fertilizer out from the hopper. They are a bit faster, as they have a wider radius, but they're less accurate than drop fertilizer spreaders.
Tow-Behind Spreaders use a wide hopper to feed into a spreading mechanism powered by the spinning of the wheels. They're large, heavy, and require motor power, typically getting towed by a lawn tractor or ride-on mower to be used effectively.
Chest-Mount Spreaders use a hopper and a hand crank to distribute fertilizer. Since it's attached to your body with a strap system, it improves accuracy over a broadcast spreader, but it has limited capacity. Since it spins out fertilizer in 360 degrees, though, prepare to get a little dirty.
Hopper Size
The hopper in a fertilizer spreader is the part that holds fertilizer, and a bigger one means you can hold more fertilizer, which in turn will cover a larger area of grass. A small hopper size isn't the end of the world, as you can always refill it, but it's a bit more inconvenient. Some prefer a smaller hopper for its light weight and increased maneuverability. Some manufacturers measure it in pounds, others in square feet.
Spread Pattern/Radius
Spread pattern and radius refers to the size and the pattern in which fertilizer is delivered to topsoil from a fertilizer spreader. Two things to look for: an adjustable radius, which will help control the concentration of fertilizer delivered, and a consistent pattern, which makes sure you won't end up with some spots over-fertilized and other spots without fertilization.
Ease of Use
It's important that your fertilizer spreader is easy and convenient to use. There are a couple things that might affect this: materials and durability, for one, as you want a fertilizer that will hold up over time. Secondarily, look for a simple distribution mechanism and comfortable, padded handles.
Whether you're looking for a simple fertilizer spreader to get your small yard some early-season nutrition or you need something with a large capacity that can take care of large areas of grass, there's a fertilizer spreader on this list for you.
Top 10 Best Fertilizer Spreaders for Lawns 2023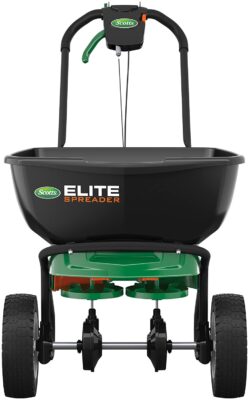 Why we like it:
This mid-range broadcast spreader is an economical option for homeowners that need a simple yet efficient fertilizing method.
Editor's Rating:
At a Glance
Type: Broadcast Spreader
Hopper Size: 20,000 square feet
Spread Pattern / Radius: 6 feet
When talking about residential lawn care, the brand Scotts always comes up, and for good reason. While it's certainly not the least expensive option available on the market, it's both more effective (in terms of an accurate and consistent spread pattern) and more user friendly (a reliable mechanical mechanism) than discount products.
The hopper rests on never-flat tires that are filled with foam, not air. This is important as the broadcast mechanism spins on gears that move as the wheels are pushed forward: no forward movement, no fertilizer spreading. When everything is working, however, the fertilizer flows through the hopper smoothly, hitting one of two spinning broadcasters and spinning out a thin layer of fertilizer over a 6-foot radius.
It's got a remarkable capacity as well: the fertilizer spreader holds a baffling 20,000 square feet, almost half of an acre. As with most fertilizers, it can be used with grass seed, salt, ice melt, and organic fertilizers as well as typical fertilizers. It's even got a smartphone holder incorporated into its comfortable foam handle.
The only downside we can see is the fact that it requires some assembly, more than other competitors, and it's a bit of overkill if you've got a very small lawn. If that's you, you'd probably be better of getting the Scotts Whirl Hand-Powered Spreader for a more affordable price.
Pros
Radius of six feet spreads fertilizer quickly

20,000-foot capacity can fertilize a full half acre

Can hold grass seed, salt, ice melt, organic fertilizers, and typical chemical fertilizers

Smartphone holder incorporated into foam handle
Cons
Requires some assembly

Not the most economical option in the lineup
---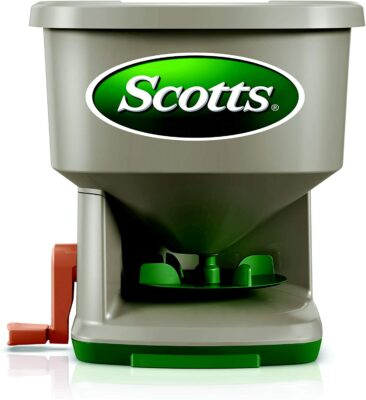 Why we like it:
This lightweight hand-powered fertilizer spreader has a hand crank that improves the consistency and the radius of the spread pattern.
Editor's Rating:
At a Glance
Type: Handheld Spreader
Hopper Size: 8 pounds
Spread Pattern / Radius: 3 feet
This handheld spreader isn't meant to accomplish the same thing as large hopper spreaders like the Scotts Elite Spreader or tow-behind spreaders like the Agri-Fab 130-Pound Tow Behind Broadcast Spreader. Instead, it's meant for ultra-small lawns, 4,000 square feet and under. The hopper, in fact, only holds about 1,500 square feet of product.
The 8-pound hopper broadcasts fertilizer or seed across 180 degrees using a hand crank. A hand-powered spreader isn't just effective for small yards, but also for precision application of fertilizers in corners and around curved or offset flower beds.
If you pay close attention to your lawn, it is probably worth considering having one of these as well as a push-along broadcast or drop spreader, and definitely worth considering if you've only got a tow-behind broadcast spreader.
Pros
Handheld spreader meant for small lawns

Good to be used alongside other types of spreaders

8-pound capacity

Broadcasts fertilizer or seed over 180 degrees using a hand-crank
Cons
Hopper only holds 1,500 square feet of product

Not efficient for larger yards
---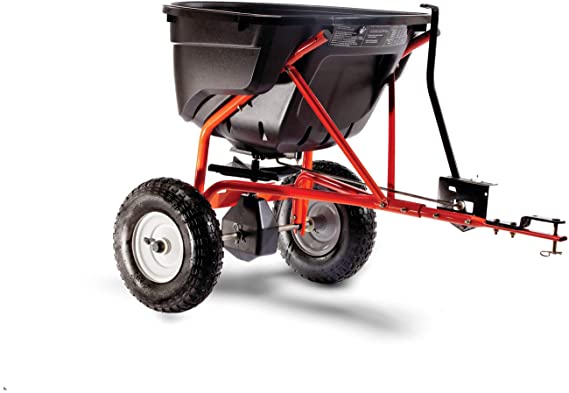 Why we like it:
This burly spreader hooks up to any type of lawn tractor, spreading up to 130 pounds of fertilizer that can cover up to three acres of grass.
Editor's Rating:
At a Glance
Type: Tow-Behind Spreader
Hopper Size: 130 lbs / 3 acres
Spread Pattern / Radius: 10 – 12 feet
While some homeowners are just looking for a simple handheld fertilizer spreader, others are looking to purchase a product with a serious emphasis on efficiency. These discerning buyers typically have lawns of over an acre and use a ride-on lawn tractor or even a lawnmower to cut their lawns. That's an important point to note here—if you need the efficiency of a tow-behind spreader, you'll need some type of lawn tractor with a universal hitch.
But let's get down to the details, and there's plenty to talk about here. A 130-pound load capacity is about as good as you can get if you're not looking for something with a 'commercial' designation. The flow rate is controlled by an on-off rod control that permits flow from the hopper.
It's even got a gearbox, which serves the purpose of adjusting the flow rate as you speed up or slow down. When you connect that to a rust-proof metal mechanism that throws fertilizer (or even seed) out from the hopper using centrifugal force, you get a lawn tool that can last for years and years.
If you don't have a lawn tractor, though, it just won't work. If you need a high-capacity fertilizer spreader but don't have a vehicle to tow it with, check out the Earthway 2150 Commercial 50-Pound Walk-Behind Broadcast Spreader instead—but keep in mind it'll mean a lot more walking around when you work on your lawn.
Pros
Large-capacity tow-behind spreader

Phenomenal 130-pound capacity covers about two acres

On-off control rod lets you control flow from the driver's seat

Gear box can adjust flow rate as you speed up or slow down
Cons
Requires a lawn tractor with a universal hitch

Not good for smaller lawns
---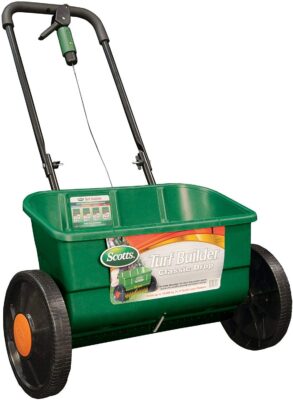 Why we like it:
This simple fertilizer spreader delivers fertilizer incredibly accurately, minimizing the amount of wasted product and runoff that can be harmful to the environment.
Editor's Rating:
At a Glance
Type: Drop Spreader
Hopper Size: 20 lbs
Spread Pattern / Radius: 22 Inches
The first thing to pay attention to with this drop spreader is that it's much slower than other options: as a drop spreader, fertilizer only falls in between the wheels. That's incredible for accuracy, and in scenarios where you're hugging a curve or a tight line, but it means it's slow. Precise application also helps prevent runoff and excess fertilizer use, but reduces efficiency. Compared to items like Scotts Elite Spreader, with a radius of six feet, you'll be about ten times as slow. That's a notable difference.
But the purpose with drop spreaders like this isn't necessary to be efficient. This spreader a specialized tool, only used for small areas or used for accurate placement. The inexpensive spreader has a twenty-pound capacity, good for about 20,000 square feet depending on what fertilizer you're using. It comes pre-calibrated for Scotts' fertilizers, but only to Scott fertilizer recommended specs.
Like other Scotts' fertilizer spreaders, it's also great to use with grass seed, organic fertilizers, and even salts in the wintertime. Make sure you give it a good wash when switching from salt to grass, as you can mess up the chemistry of your lawn with even a small amount of salt).
Pros
Incredibly accurate hopper is good for curves and tight lines

20-pound capacity covers about 20,000 square feet of grass

Can be used with grass seed, organic fertilizers, and even salts
Cons
Needs to be rinsed out well if you're using it to spread salt

Only calibrated to Scotts' specifications

Much slower than broadcast spreaders
---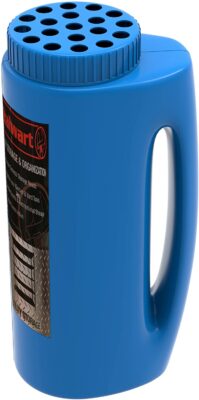 Why we like it:
This simplistic fertilizer spreader finds success in its plain, inexpensive design.
Editor's Rating:
At a Glance
Type: Handheld Fertilizer Spreader
Hopper Size: 2.3 liters
Spread Pattern / Radius: N/A
Looking for something cheap, durable, easy-to-use, and effective? This simple two-liter bottle could be a good choice for you. More than anything, it's an oversized salt shaker, but its simplicity isn't necessarily a disadvantage. With no gear mechanism, there's nothing to get stuck, jam, corrode, or break: the 19 pea-sized slits regulate fertilizer and seed flow, and everything else takes care of itself. The flow rate isn't adjustable, however, and the amount of fertilizer that slips through the holes is probably a bit more generous than we'd like.
The construction is completely plastic with a screw-top lid. As far as spread pattern and radius go, a handheld spreader is relatively limited. If you head out with the intention of going quickly and getting some work done, and you're not afraid to sweat a little bit, you can cover a pretty good area. Still, though, it'll be tough to spread fertilizer faster with this contraption than while using anything with wheels.
Pros
19 pea-sized slits regulate flow

One of the most efficient hand spreaders

Simple design means it's durable and long-lasting

Two-liter fertilizer or seed capacity
Cons
Flow-rate isn't adjustable

Only way to adjust speed is to work harder

Completely plastic construction
---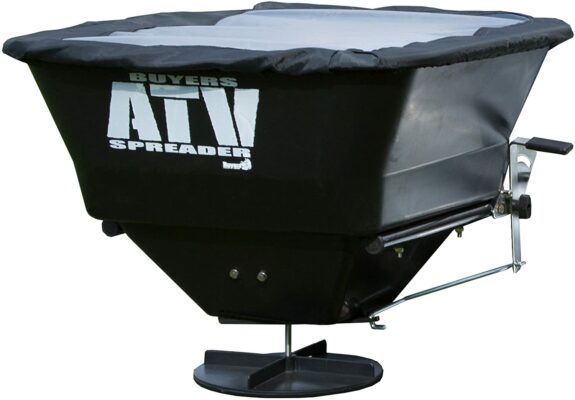 Why we like it:
This high capacity spreader performs strongly with all fertilizers in all terrains, although you'll need your own ATV to enjoy it.
Editor's Rating:
At a Glance
Type: Tow-Behind Spreader
Hopper Size: 100 lbs
Spread Pattern / Radius: Approx. 15 feet, adjustable
This fertilizer spreader isn't handheld or hand-pushed. It's not even a wheeled, tow-behind mechanism. Instead, it mounts on the trailer hitch of an ATV/quad and stays well above the ground, impervious to imperfections in the ground and with a wide-spreading radius. It's got an incredible 100-pound hopper, good enough for more than a few acres (or applications, if you've got a smaller yard). A rain cover protects materials from moisture; the hopper can spread anything from seed to feed, fertilizer, or road salts.
Since the spreader doesn't have any wheels that turn the spreading mechanism via forward movement, the device relies on an internal 12-volt electric motor to spin the dispersal mechanism.
This design has its pros and cons. A motor means reliable, consistent spreading, but it's one more part to break. The wheelless-format has its pluses and minuses as well. It raises the height of the hopper, creating a wider distribution radius.
Unfortunately, the fact that it's mounted high up means that a lot of fertilizer gets thrown against your ATV, disrupting the pattern. Over rougher terrain, there are no wheels to get stuck or caught up, but there are definitely better options than this one, like the Scotts Turf Builder Classic Drop Spreader if you've got a well-manicured lawn.
Pros
Impervious to imperfections in the ground

Can spread seed, fertilizer, feed, and road salts

100-pound hopper has an enormous capacity

Internal 12-volt motor creates a consistent spread pattern
Cons
Some fertilizer gets thrown against the ATV, messing with the radius

Reliable, consistent spreading

No-wheel design requires a motor that can break down easily
---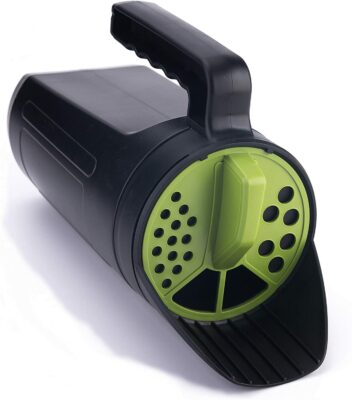 Why we like it:
This handheld spreader uses three differently designed slots to adjust pouring speed.
Editor's Rating:
At a Glance
Type: Handheld Spreader
Hopper Size: 5 pounds
Spread Pattern / Radius: Handheld, 3 spreading methods
This hand spreader is efficient, relatively inexpensive, and has a clever, efficient design. It's versatile, functioning with everything from small-diameter particles like grass seed all the way to larger-diameter fertilizers and even winter products like salts. The innovation in this $20-ish product (slightly expensive for a handheld spreader) comes in the form of three different slot openings that all can spread particulate at different rates.
It gives a lot more control over the fertilizer than with other handheld spreaders like the Stalwart Fertilizer Spreader, although we still prefer tow behind and bucket spreaders for maximum control.
A screw-on lid makes it incredibly easy to control, although there's no mechanical mechanism for spreading nor a method for slowing downflow in case of 'over pouring' (some competitor devices can reduce flow rate). Thankfully, it's got an ergonomic handle for comfort and a lip that helps control fertilizer flow. It's made of a sturdy plastic that's resistant to degradation and includes a lifetime warranty from the manufacturer.
Pros
Three types of spreading methods from three slots

More control over fertilizer than with other handheld spreaders

Can effectively spread particles of different sizes
Cons
Difficult to control flow rate

Relatively expensive for handheld spreaders

Tow-behind and bucket-spreaders offer better control and accuracy
---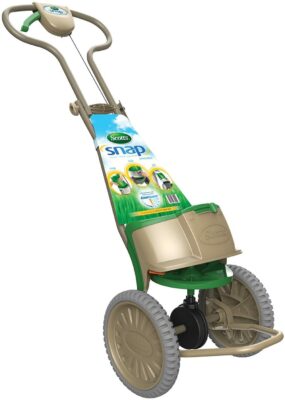 Why we like it:
With this device, Scotts combines their mechanical expertise with their chemical expertise, creating a one-stop solution for lawn care.
Editor's Rating:
At a Glance
Type: Broadcast Spreader
Hopper Size: 12 pounds
Spread Pattern / Radius: 6 feet
Does Scotts have a monopoly on fertilizer spreaders, or do they just make the best products on the market? The answer is a little bit of both: Scotts is a recognized name in the space, but the fact that they've got a product for every lawn care purpose is what really makes them popular. And it's not just the spreaders themselves, but the seed, fertilizers, and even pesticides that keep them looking good. With this product, Scotts integrates all of their fertilizer products together: a spreader, fertilizer, and added synergy between both of them.
The broadcast spreader is designed to be used with proprietary bagged Scotts products like fertilizers, pesticides, seeds, and lawn food. They lock into the spreader, open up, and flow through the plastic broadcasting mechanism. Each bag is around 12 pounds, good for about a quarter acre of grass. They're not reusable, but the fact that they're sealed means they're impervious to rain and moisture: that means no mold and no clumping. You also don't have to mess with cleaning out a hopper, a big pro in our book. The bags are quite a bit more expensive than buying fertilizer or seed in bulk.
Pros
12-pound disposable packs clip in automatically

Scotts uses years of experience to create a high-quality product

Spreader, fertilizer create a great synergy

Broadcast spreader has a six-foot radius with a plastic broadcasting mechanism
Cons
Only designed for proprietary Scotts products

12-pound capacity
---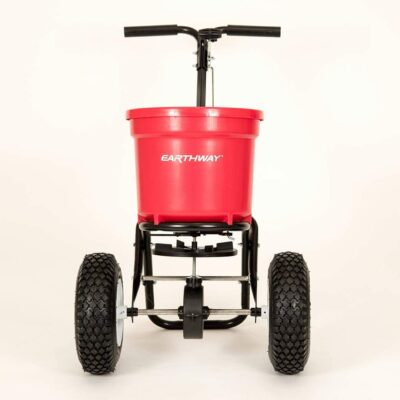 Why we like it:
This pricey spreader will hold up to extensive commercial use, holding and spreading 50 pounds of fertilizer, seed, or compost at a time.
Editor's Rating:
At a Glance
Type: Broadcast Spreader
Hopper Size: 50 pounds / 50,000 square feet
Spread Pattern / Radius: 5 – 10 feet
If you want commercial capacity and reliability in a broadcast spreader and you're willing to pay for it, this broadcast spreader a phenomenal option. As a walk-behind spreader, capacity is impressive for the category. 50 pounds covers about 50,000 square feet, a little over an acre. The bucket is lined with a liner that helps break up clumps in whatever material you're spreading, from fertilizer to soil. Make sure that whatever material you're working on is dry as wet soil or fertilizer can really gum up the works.
The device is made up to commercial specs with a solid metal frame and able to accommodate any 50-pound pail with minimal modification. We're fans of the fact that it's made in America, providing a bit of additional confidence in the product itself. Unfortunately, there is no warranty.
Want a broadcast spreader but you don't need this much capacity or brawn? Consider the broadcast spreader from Scotts that's equally reliable but is a bit more maneuverable and lightweight thanks to its smaller capacity.
Pros
Accepts any type of 50-pound pail

Liner breaks up clumps in fertilizer or soil

Made to commercial specs for long-lasting use

Made in the United States
Cons
No warranty provided

Trying to spread wet material can jam up the mechanism

Smaller-capacity spreaders are a bit more maneuverable
---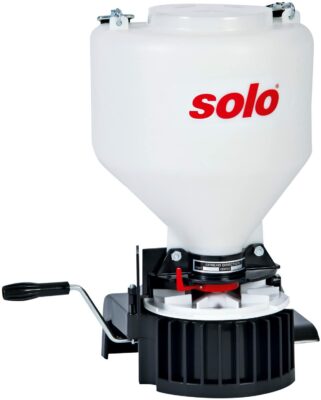 Why we like it:
This fertilizer spreader maximizes both spreading speed and accuracy, a phenomenal compromise for those who like the small format of a handheld spreader but want more capacity.
Editor's Rating:
At a Glance
Type: Chest-Mount Spreader
Hopper Size: 20,000 square feet / 20 pounds
Spread Pattern / Radius: 6 feet
For unbeatable accuracy combined with relatively quick spreading, there's nothing like a chest-mounted spreader. This version from Solo Inc is held against the user's body with a cross shoulder strap, spreading the weight and making the 20-pound weight a bit easier to manage. Capacity is a bit limited, however, compared to tow-behind spreaders: 20 pounds of fertilizer is enough to cover about 20,000 square feet of grass, under a half-acre.
The spreading mechanism is similar to broadcast spreaders, using a mechanical set of gears with a hand crank to push out fertilizer using centrifugal force. An internal agitator breaks up any clumps of fertilizer, meaning that the layer spread across the lawn is incredibly even. Drop rate and direction are adjustable, but as the mechanism spreads fertilizer across 360 degrees, you'll end up with quite a bit of whatever you're spreading on your clothes at the end of a long day.
Pros
Agitator breaks up fertilizer clumps

Limited capacity of only twenty pounds

Held with a comfortable cross-shoulder strap

Adjustable drop rate and direction
Cons
Capacity is relatively limited

You'll end up covered in fertilizer
---
Guide to Buying the Best Fertilizer Spreader for 2021
The quickest and easiest way to jump-start your lawn is fertilizer application, and the best way to deliver that fertilizer is a dedicated fertilizer spreader. There are plenty of variations on these products. We'll explain some of the biggest differences and most common types below.

Types of Fertilizer Spreaders
There's more than one way to fertilize a lawn: different spreaders have different features, price points, and designs that make them useful for different purposes. Below, we'll dive into our favorite (and the most effective) types.
Drop Spreader
A drop spreader is perhaps the most accurate fertilizer spreader, only delivering fertilizer directly below the hopper. By only dropping the fertilizer below the hopper, it can be used to fertilize along the edges of lawns and fertilizers. It also reduces waste and the potential of runoff.
Our favorite drop spreader is this one from Scotts that can hold up to 10,000 square feet of fertilizer or compost. The only drawback is the fact that these types of spreaders are quite a bit slower than competitors.
Handheld Spreader
Handheld spreaders are pretty self-explanatory, using a small hopper to deliver fertilizer over a small area. They're accurate but time-consuming, good for detail work but not for a whole lawn.
They're also typically quite inexpensive: take our favorite handheld fertilizer spreader, for example, the Scotts Whirl Hand-Powered Spreader which only costs about $20.
Broadcast Spreader
Broadcast spreaders mechanisms function mechanically, typically using the forward motion of wheels to power a spinning mechanism that spins fertilizer outward over a 6 to 15-foot radius.
If you're looking for efficiency and have a large lawn, the Scotts Elite Spreader is probably a great option.
Tow-Behind Spreader
A tow-behind spreader is the biggest type of spreader and has the largest soil capacity, with large troughs, designed to be towed behind a motor-powered lawn tractor. Oftentimes, they hook up with a universal hitch, other times you'll need to purchase a separate adaptor.
Our favorite tow-behind spreader is this one from manufacturer Agri-Fab equipped with a stunning 130-pound hopper.
Chest Mounted Spreader
A chest-mounted spreader is virtually a front-facing backpack, using a strap system to hold a hopper to the front of your body. To distribute fertilizer, it uses a mechanical gear system similar to a broadcast spreader. Since it's hooked up to your body, you can get a little dusty and dirty, although it's both accurate and quick.
Our favorite is the Solo Inc Portable Chest-Mount Spreader.
Types of Fertilizer
Gone are the days of purely synthetic fertilizer: now there are a wide variety of options, with organic, inorganic, natural, and conventional fertilizer. They've all got their advantages and disadvantages, but even if you're not typically a fan of fertilizers, there are plenty that can keep your yard healthy without much environmental impact at all.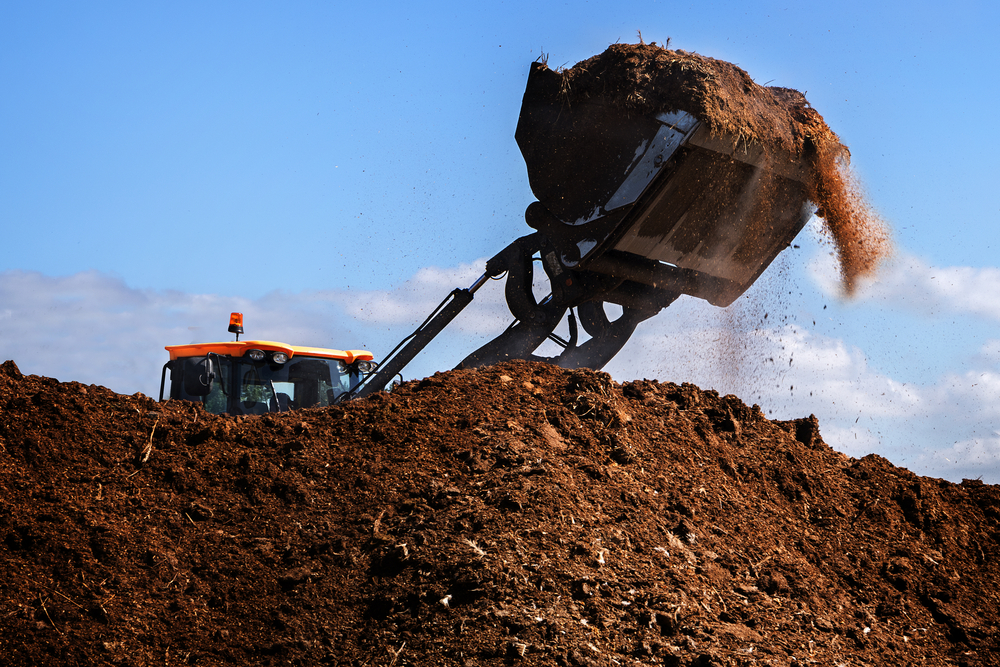 Organic Fertilizers
Organic fertilizers have become more popular and more universally available in recent years after studies showed that many traditional chemical fertilizers can be damaging to humans, animals, and the surrounding environment. Organic fertilizers aren't necessarily as nutrient-rich as chemical ones, and they can be more expensive. They typically come in one of two forms, manure or compost.
Manure-Based Fertilizer: Manure-based fertilizers are made of manure which is aged to further decompose. Fresh manure is quite potent and can harm your lawn. When aged, though, and prepared for consumers, it's incredibly effective, contains an already-blended recipe of nutrients, and can be used as a fertilizer or as a mulch. It's also quite environmentally friendly. A mild con, though? It can get pretty stinky, although the aging process should take out most of that farm-fresh musk.
Compost-Based Fertilizer: Compost-based fertilizer can be made from household waste inexpensively or purchased. If you're using compost you've created yourself, make sure it's relatively dry or well-decomposed into small pieces or you run the risk of jamming the mechanical mechanism in your fertilizer spreader.
Phosphate Fertilizers
Phosphate fertilizer is a very popular type of chemical fertilizer, most effective in the early phase of a plant's development. All plants need phosphate, but it's typically relatively abundant in soil. You'll often see it spread over a lawn right after it's seeded; it's also a component included in sod to get grass started off on the right foot.
If you've got a well-developed grass that's been doing well for 5-plus years, phosphate probably won't do much for your lawn, but if you're just planting, it can work miracles.
Nitrogen Fertilizers
Nitrogen fertilizers are the most common fertilizers used in the United States: those white balls in the soil when you purchase a potted plant are nitrogen-based fertilizers. Nitrogen fertilizers are credited as one of the main reasons for increased agricultural productivity in the last 100 years, but overuse can cause 'nitrogen burn' and kill your grass. Just make sure you're using manufacturer recommendations (they should be listed on the packaging) to avoid negative effects.
Fertilizer Spreader FAQ
Utilizing a fertilizer spreader in the right way can be tricky: you don't want to upset the balance of your yard, nor do you want to waste money on overfertilization. We answer the following frequently asked questions below.
Can You Seed Grass With a Fertilizer Spreader?
You can spread just about anything that doesn't clump together with a fertilizer spreader, grass seed being one of the many practical functions. If the seed ever gets damp, take it out of your spreader as it could really gum up the mechanical spreading mechanism, mold, or prematurely germinate.
How Do You Calibrate a Fertilizer Spreader?
Drop spreaders need to be calibrated to spread an even, consistent layer of fertilizer across your yard. Each fertilizer has a different optimal concentration. When you're spreading topsoil, you'll put more down per square foot than when spreading a chemical fertilizer.
That's where calibration comes in. While some spreaders can't be adjusted, most on our list do have that functionality, although different materials are dropped down onto the soil at different rates for the shape and size. This means you'll have to do a test on a patch of soil if you want to get an accurate spread, taking the results from the spread and using some simple math to adjust your hopper and its flow rate. It just requires some simple math.
Can You Use a Drop Spreader for Topsoil?
Drop spreaders are not just used for fertilizers, they can spread other gardening substances as well. Instead of using a shovel, load your hopper with topsoil and take off across your lawn, leaving an even coating as you go. There are a couple things to watch out for: the smaller the distribution mechanism/spreader you have, the more trouble you'll have with the machinery jamming up. With bigger gears and a larger radius drop spreader, you'll have a better time.
What's the Difference Between a Drop Spreader and a Broadcast Spreader?
Drop spreaders and broadcast spreaders differ not just in form, but in functionality as well. Starting with the practical aspects of a fertilizer spreader, both can spread anything that doesn't clump, from compost to manure to chemical fertilizers.
A drop spreader is basically a hopper with a slit, filtering fertilizer slowly through the bottom, delivering concentrated and accurate doses to your lawn. A broadcast spreader uses a mechanical mechanism to deliver fertilizer over a larger radius, meaning accuracy isn't as impressive but delivery is quick and concentration is even.
Can I Use Soil Improver With a Fertilizer Spreader?
This is really two questions in one: first, we've got to address soil improver. Soil improver is a chemical compound that improves the structure of the topsoil, similar to the way that physical soil aerators improve airflow. This also helps improve the root size and structure of the grass, as well as reducing the likelihood of experiencing rotting roots in your lawn.
As soil improver comes in pellets, most people presume that it will work fine in a fertilizer spreader, but that's generally not the case. This is because soil remover needs to be mixed in with the topsoil layer to function properly. When it's not mixed in, it won't help the soil improve by creating structure.
Do You Need a Fertilizer Spreader?
No, you don't need a fertilizer spreader; you don't need any lawn maintenance equipment, for that matter. If you care about how your lawn looks, though, it's probably a good idea. If you live in harsh, dry, or cold climates, using a fertilizer can help your lawn thrive. If your lawn is doing well without fertilizer, you might not need a fertilizer spreader.
How Often Should I Fertilize My Lawn?
Some lucky homeowners in fertile, lush areas don't ever need to fertilize their lawns, but most people looking for a fertilizer spreader need some intensive nutrient help for their yard. A general recommendation for an average lawn is about once a season where it freezes and twice a year where grass grows year-round. If you've got a lawn that's strongly lacking in nutrients, you can nutrient, at most, about once every six weeks.
Wrapping Up
While a single layer of fertilizer won't completely transform your lawn, proper maintenance combined with the right tools and chemical or organic fertilizer can, over time, work to great effect. To effectively distribute and spread these fertilizers, you'll need a fertilizer spreader that can create an even coating across your lawn surface.