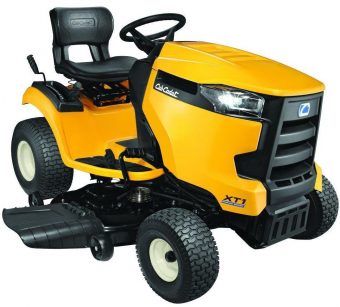 CUB CADET XT1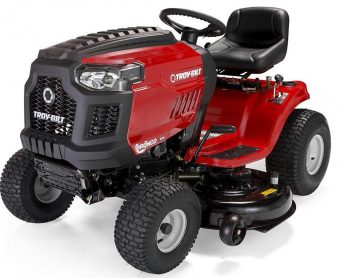 Troy-Bilt 540CC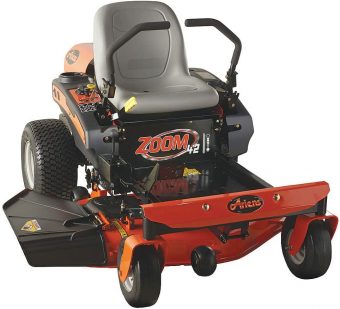 Ariens Zoom 42
Previous
Next
Homeowners all around the world struggle to maintain their yards and lawns to keep them well-groomed and visually appealing. But this doesn't have to be difficult if one happens to find the best riding lawn mowers in the market. Unlike the walk-behind mowers, these machines are easier to use, more efficient, and more convenient too.
Riding lawn mowers make mowing tasks a breeze making them perfect for everyone. In this article, we've reviewed some of the best products available now. Also, we've come up with a handy buying guide to help make your choice easier.
There are different products to choose from and knowing what to look for will make the task a lot simpler. Read on to learn more about riding lawn mowers and what to consider when choosing one.
Features to consider in Good Riding Lawn Mowers
Cutting blades
The cutting blades of the mower are key since they are the ones which cut the grass. If you have a big lawn with a lot of grass or you even have tough weeds growing in your yard, then it's a good idea to select a mower which comes with more than a single cutting blade.
Some of the smaller models only have a single blade, but there are riding lawn mowers which have 2 to 3 blades. Of course, the number of blades won't matter as much if the engine of the mower isn't powerful enough. Let's discuss that next.
Engine's horsepower
The engine's horsepower or HP is a measure of the engine's power output. The higher the HP value, the more work the mower will be able to perform. This means that machines which have a higher horsepower will accomplish tasks faster and can also handle uneven terrain. So, if you need a powerful mower, check the HP of the engine before moving on to the other specifications.
Turning radius
This is another important feature to look out for. A mower's turning radius would describe how tightly the mower can turn. If a mower has a small turning radius, this means that you will be able to perform sharper turns with it. This is very useful especially if you have a lawn with a lot of tight corners and obstacles.
The size of your lawn
Before choosing a mower, it's also important to consider the size of your lawn. The various models on the market target various yard sizes as well. That's why it's important to make sure that you get a machine which will perform well on your own yard. Otherwise, you'd just end up wasting your money.
If your lawn is small to medium in size and has an even, flat terrain, then you can go for the standard models which have basic features. But if you have a medium to large sized lawn, you may need to consider a bigger model as well. You can find out the size of the area that the mower can handle in the product's specifications.
Furthermore, there are various motors meant for areas of different sizes. If you have a smaller-sized area to mow, then you can choose a mower with around 16 HP or less. Medium-sized areas would require about 20 HP while larger areas would need about 25 HP or more to work well.
Your own terrain
Generally, mowers prefer flat and even surfaces with fine or thin grass. Unfortunately, this isn't always the case. Often, there would be slopes in the lawn, thicker patches of grass, thick weeds, and rough terrain. If you have such a lawn, you will still benefit a lot from acquiring a riding lawn mower.
If you have heavier or thicker grass on your lawn, choose a mower that has at least 4 different blades. If there is a slope in your lawn, choose a model with a smaller-sized deck as these are a lot easier to maneuver. Also, these would have a lesser likelihood of digging into the ground. So, when you choose a mower, consider the terrain of your lawn.
The Best Riding Lawn Mowers 2020
Guide to Buying the Best Riding Lawn Mowers
These various products come with their own specifications and features. Your choice should depend on your needs, preferences, and a number of other important factors. We've provided you with a better idea of the best riding lawn mowers available so now it's time to learn about the factors to keep in mind when making a choice.
You have to be wise while choosing the right lawn mower. It's not just a necessary equipment for maintain the garden, but it has some mental and physical benefits as well.
What important factors should you consider when buying riding lawn mowers?
Durability and comfort
As you try to determine which riding lawn mower is the best one for you, durability will come to mind. These machines are quite expensive, so it's important to choose one which will last for a long time. Choosing a durable mower made of high-quality materials will also ensure its reliability and longevity, so you don't have to purchase another one after just a short period of time.
Comfort is also an important factor to look out for; no matter what the size of your lawn is. The good news is that the new models come with comfort-oriented features and all you have to do is choose the ones that appeal to you.
A common feature for the comfort of users is the seat. Some models have high-back seats, mid-back seats, bucket seats, and even roomier ones which are perfect for those with a larger build. The comfort level is essential if you want to use your mower for long periods of time. Since riding lawn mowers should make the task easier, comfort is key.
Transmission
Just like cars, lawn mowers have varying transmissions. With such machines, you would have a choice between three main types of transmission systems namely automatic, hydrostatic, and manual. Automatic and manual transmissions are just like those in cars. Manual transmission only needs gears to change manually while an automatic transmission only requires the gas pedal.
Conversely, hydrostatic transmissions differ slightly. They work like automatic transmissions in a sense that you won't need to change gears. But unlike the automatic ones, they use a fluid instead of a belt to transfer the power between the wheels and the engine. Your personal preference will determine your choice of transmission.
If you need an extra movement as well as speed changes, then you should consider a mower with an automatic transmission. But if you want a smoother ride, then go for the ones with a hydrostatic transmission.
Deck size
The next factor to consider is the mower's deck size. There is a number of choices available and the specifications of the deck size vary among brands. If you have a small lawn, then a deck size of 42-inches would be enough for you. For a medium lawn, you'd be better off with a model with a 48-inch deck size or more.
Basically, the bigger your lawn is, the bigger the deck size you would need. Check the specifications of the product because that's where you will find out the deck size. If you don't find this information, then you can contact the seller or manufacturer and ask for it.
What handy mechanical and operator specifications should you look out for when choosing a riding lawn mower?
Aside from these factors, it would also be important for you to consider the mechanical and operator specifications before you make a choice. These include:
Cruise control
Just like the transmission, this feature serves the same purpose for mowers as it does for cars. If you want to reduce the stress felt while driving the mower, then choose one with a superior cruise control feature. This will allow you to maintain your speed while you mow an entire stretch of land.
Anti-scalping wheels
Not all models come with anti-scalping wheels. But this is another feature to look out for because it provides better traction. Therefore, a mower with such wheels would be perfect for those with a sloped or uneven terrain.
Extra attachments
Some mowers allow for the fitting of extra attachments. Such products enable you to perform additional tasks with the machine such as ridging, edging, and mulching. Also, there are models which have the same functions as tractors. This means that you can use them to clear your driveway or attach a trailer to them.
Operator-comfort features
We've already discussed the basic comfort features available. But some mowers have additional features which are handy and which will make your work easier. These include extra legroom, headlights, cup holders, easy-access control panel, and more.
Warranty information
Finally, you should learn about the product's warranty information. Just like any machine, the best riding lawn mowers should come with a warranty in case anything goes wrong.
The Verdict
Riding lawn mowers are powerful and convenient machines. They come in different sizes, and they each have their own features. Since these machines cost more than the walk-behind mowers, you need to consider a lot of things before making a decision. To help you narrow down your list, we've reviewed some of the best riding lawn mowers for you.
Also, we have provided relevant information to help guide you as you look through the specifications and features of each product. The buying guide contains all the information you may need, but the final decision remains with you. But if you choose any of the products on our list, you're definitely getting a superior mower.