The router table has become indispensable for almost every modern workshop. From carpentry to the everyday casual hobbyist, routing has come a long way since it began in 1915. What's the right route for you, though, and where should you turn when looking to fix yourself up with a quality router table to fit into your working schedule?

What to Consider When Buying a Router Table
Buying a router table is no small task, and there's plenty you need to keep in mind. To start with, we'll take a quick look at what you should consider before heading off to make any kind of purchase, and then we'll get down to reviewing the tables themselves.
Table Specifications
You need to consider each model of router table general specifications, seeing how it fits in with your requirements.
Measurements
Measuring the table in inches, you will want to see how much of your workspace the unit will be taking up. From a benchtop with storage to a bulkier industrial setup for more precise cuts, balancing practicality with professionalism is vital.
Weight
Similar to measurements, you need to take into account how many pounds the table will be and whether you're looking at larger jobs or something more portable for work on-site.
Material
From an MDF laminate surface allowing the wood to maneuver comfortably to steel legs over plastic providing stability, the material used is an essential component to consider.
Table Parts
Most router tables are intricate systems made up of several different components, and here are a few of the basic ones to inquire about before handing your money over.
Table Guard
The aim of this is to cover the router bit, keeping your hands from going too near while preventing any shrapnel from flying up. It's also ideal for ensuring wood chippings are kept to a minimum, guiding them into the dust extractor if available.
Insert Plate
Your insert plate is crucial for holding the router itself in place, as it sits in the table's center. The router bit then protrudes through the middle, and it's essential it's kept stable while remaining level with the rest of the table, ensuring smoothness all the way.
Table Fence
Sitting vertically atop the table, this operates as your guide when working, holding the wood in place, making it a smoother, more precise cut. You can also fit other accessories, as there's typically a horizontal T-slot running across it, allowing you to get creative with those shapes.
No-Volt Release Switch
If there's a temporary loss of power, it can become a danger if the machine starts to back up again without warning, and the no-volt release prevents that. Easy to access, the router itself plugs directly in, providing control over when it does and doesn't start.
Miter Fence Slot
Running parallel to the table's edge, these fit in a miter fence, and this is usually provided, sometimes along with a gauge. However, this is typically for a table saw, but you can use it to cut at different angles.
Dust Extraction Port
Vacuuming your router by hand is a huge resounding no, and this is where an extraction port for the dust comes in. Sucking up the shavings and dust as you work, a tube behind the router will draw it all in and away from your face and lungs.
Dealing With the Router Itself
Finding the right combo is essential when it comes to fitting a router into the table itself. You need to make sure that the insert plate will take it, and sometimes it's the case that some tables will only accept specific routers. Always check beforehand what's going to be available to you, although many tables do provide leeway.
We'll go over all this and more in closer detail below, but now we have a rundown of the best router tables currently on the market and what you can expect from them.
Top 10 Best Router Tables 2022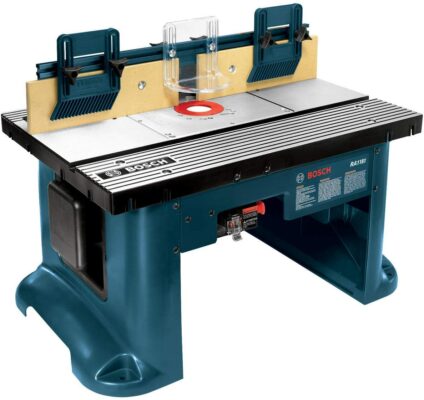 Why we like it:
The Bosch Benchtop Router is an all-round professional piece of equipment accessible to everyone, both in terms of price and ease of use. It offers everything you need from a straightforward router.
Editor's Rating:
Quick Facts
Measurements: 22.75 x 27 x 14.5 inches
Weight: 30 lb.
Material: Aluminum
When it comes to Bosch, you know what you're getting. This German manufacturer is one of the leading brands of power tools. It's a compact and lightweight table that's easy to manage, slotting into any workspace with ease. While this may mean it's not always up to larger tasks, it comes out on top with more everyday use.
Who Is It Ideal For?
From hobbyists to professional carpenters, it's ideal when looking for an accessible router table that will get the job done. If you decide you want that extra precision while taking on larger jobs, then the Kreg PRS2100 might be up to the task, although it's not as cheap without the added convenience and storage space. The Bosch Benchtop fits most routers, so it's perfect for first-time use.
Ease of Use
It takes some assembling, but nothing too strenuous, fitting together easily. The table itself is pretty roomy with plenty of space to work, and there are adjustable feather-boards provided, ensuring the wood glides along safely. With its dust port as well, it's more than capable of keeping the area clean. One downside is its plastic legs, which aren't always the best when it comes to stability. This means you'll need to ensure it's secure when working.
Pros
Adjustable feather-boards allows cutting of multiple boards

Lightweight for its size

2.5-inch dust port ensuring a fast clean-up

Storage pockets for convenience
Cons
Plastic legs aren't so sturdy for precision cuts

Compact size not the best for larger tasks
---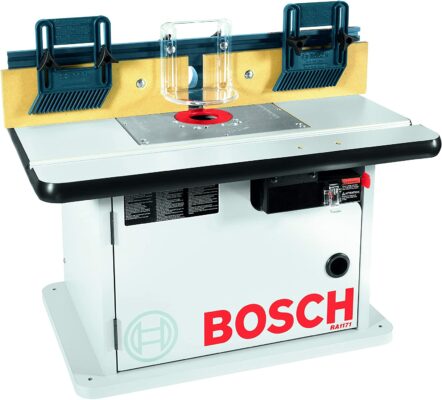 Why we like it:
There's plenty of storage here, as this table combines a cabinet and router, allowing it to easily fit into any workshop space with a minimum of fuss.
Editor's Rating:
Quick Facts
Measurements: 15.88 x 25.5 x 18 inches
Weight: 35 lb.
Material: Aluminum
First and foremost is the simplicity of its design, something which Bosch excels at, having been in the DIY game a long time now. With its heavy-laminated MDF surface, it's a router table for professionals looking for something long-term. Offering an assortment of features, including feather-boards and a fence that's more than satisfactory, you'll find it up to the task of most routing jobs.
Who Is It Ideal For?
This table will well serve anyone looking for some hardware capable of dealing with larger projects. If you're looking for something more portable, there's another Bosch ideal for those on the go, but this is great for anyone looking to build up their workshop.
Ease of Use
Mounting the routers can be a little tricky when setting it up, but you should be able to manage it with a bit of guidance. It's also the case that occasionally, when adjusting the fence, the dust port can be affected, meaning you may have to double-check to ensure it's running smoothly. Once you do have it running, though, the mounting plate itself is secure, with its convenient height adjustment operating efficiently, along with its two AC outlets making it safe and easy to manage.
Pros
Storage space is well organized

Rigid mounting plate and height adjustment

Two AC outlets and a switch-lock

The base can screw onto any surface
Cons
Fence adjustment is not too smooth with dust port interference

Mounting routers sometimes tricky
---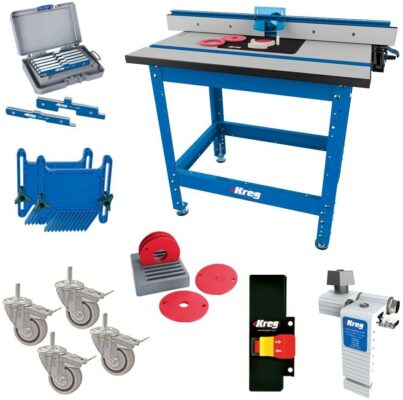 Why we like it:
You get what you pay for in terms of quality and precision, with the Kreg Table Fence Kit. It's a heavy-duty, easy to customize fence kit, providing a fast and effective routing system.
Editor's Rating:
Quick Facts
Measurements: 9.1 x 9.1 x 9.1 inches
Weight: 78 lb.
Material: Steel
When it comes to precision tables, you get what you pay for with Kreg's PRS1045, with its fully customizable router system making it one of the most versatile models on the market. It may be one of the more expensive setups currently out there, but you get complete control over every facet with its intricate system. Nothing has been spared from the table's height to its fence, providing you with a durable, sturdy setup.
Who Is It Ideal For?
This table is a no-nonsense piece of hardware for the seasoned veteran, as it doesn't leave anything out when it comes to precision and accuracy. If the price-tag isn't an issue, though, you may want to go the full distance and pay up for the JessEm router table covering all your bases. One thing Kreg excel at above everyone else is durability, making it a must for anyone looking to put their router table to work, allowing you to create some fine looking furniture.
Ease of Use
Allowing materials to slide along its surface quickly enough, the MDF is also highly resistant and shouldn't pose any problems when routing. Its sturdy frame safely handles most larger jobs without too much hassle or noise while also keeping its fence locked securely in place. All that said, it doesn't provide a dust collection box, which is a problem when operating at this price level.
Pros
One of the most versatile models

Resistant MDF surface that's easy to slide materials along

Strong and sturdy, being resistant to vibrations and noise

Heavy-duty fence with secure locking
Cons
Fairly expensive compared to benchtop routers

No dust collection box
---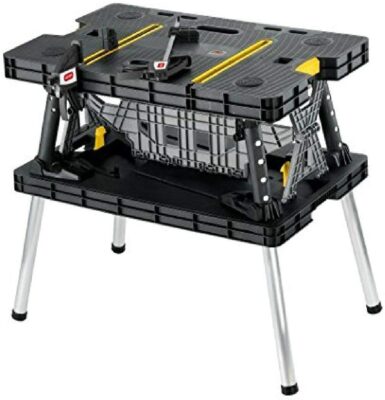 Why we like it:
While it may not be a router table in the official sense, it's still an exceptional table for anybody trying their hand at it for the first time, with its built-in routing system.
Editor's Rating:
Quick Facts
Measurements: 21.7 x 33.5 x 29.7 inches
Weight: 27 lb.
Material: Plastic
Anyone wanting to get started in the world of woodworking, and DIY in general for that, can't go wrong with a Keter table. It's not technically a router table with a fully functional fence, but it has a routing system integrated. If you want an actual routing table that's entry-level, then the Skil might be better suited. However, the Keter offers versatility for any novice, with its lightweight yet reliably sturdy setup.
Who Is It Ideal For?
The keyword here is adaptable, as the Keter offers a variety of uses beyond basic woodwork. So those that want a few quick basic routing jobs completed before moving onto various other DIY tasks around the home might find this a good fit, such as quickly fixing up that stubborn door. Also, folding down to just 4.4 inches, it's compact, making it ideal for packing away in the back of any workshop or garage.
Ease of Use
As mentioned, it doesn't come with any usable fence, with it not being a router table in the traditional sense. Its build can hold up to 1,000 pounds, though, which means with a bit of ingenuity, such as using it with the Dremel table, you can get a decent and cost-effective router running. Buying a fence elsewhere, the table itself is a quick and easy setup, folding out in seconds.
Pros
Routing system integrated

Versatile table for multiple uses

Lightweight folding down to 4.4 inches

Surface holds up to 1,000 pounds
Cons
Not a traditional router table

No usable fence
---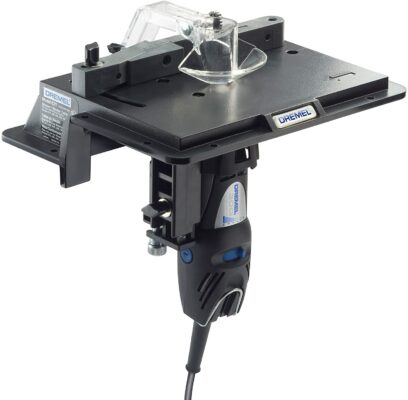 Why we like it:
It converts any table into a surface for your router, making it ideal for anyone looking for something cheap and easy.
Editor's Rating:
Quick Facts
Measurements: 8×6 inch worktable
Weight: 2.15 lb.
Material: Plastic, metal
This inexpensive solution to routing from Dremel is ideal for anyone working on a budget or doing odd jobs around the home. It is primarily for use with Dremel's routers, so this might limit you somewhat, but you can use it on pretty much any surface you are working on. Perfect for small tasks, it's excellent for those starting up in woodwork or anyone looking for a little extra flexibility alongside their other tables.
Who Is It Ideal For?
Although it's primarily for use with Dremel branded routers, this mini-table does offer a lot of room for creativity. You could even combine it with another table, such as the Keter Table, to get the most out of it. While it may not be ideal for larger jobs, it's perfect as a budget option for those looking for some fast and effective routing in the shed.
Ease of Use
The smooth surface is excellent when it comes to edging, slitting, and grooving work, dealing with all irregular shapes you decide to send its way. Harder wood will pose some trouble, so you can't put too much stress on it. However, this nifty tool can potentially help you out with its quick and easy setup when it comes to basic woodwork.
Pros
Inexpensive option

Can use it almost anywhere there's a surface

Smooth surface posing no problem with edging, slitting, and grooving

Able to handle irregular shapes
Cons
Only compatible with the Dremel rotary

Not so great on harder wood
---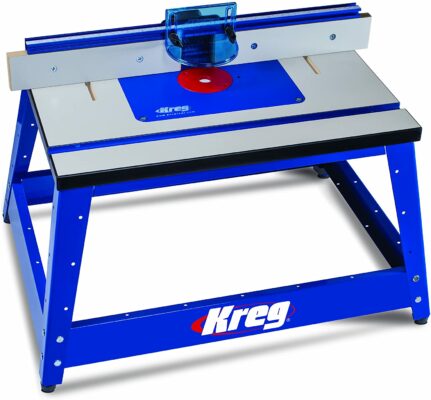 Why we like it:
One of the sturdier entries here, this router provides strength for those larger jobs, with its robust frame that's both tough and durable.
Editor's Rating:
Quick Facts
Measurements: 19.25 x 30 x 4.75 inches
Weight: 26.1 lb.
Material: Aluminum, steel
Offering an industrial table router in an accessible price range, Kreg has gone all out on strength and durability here. Assembling it is also effortless, being fairly portable, with its quick and easy setup. Its fence is easily adjustable too, the insert plate more so to the point of being a slight issue, in that it often needs to be readjusted after each use.
Who Is It Ideal For?
When it comes to the PRS2100, you're looking at professional quality routing for a variety of larger jobs, given its steel frame being able to endure heavy loads so that work on the extension doesn't have to wait till tomorrow.
Ease of Use
The setup itself is simple enough, with its full customization, including its reducing rings and full dust-port. One exception to this is the fence, which unfortunately can be a little tricky getting around at first. When it's running, though, it offers plenty of space to maneuver, with its smooth MDF surface and its sturdy base.
Pros
Durable with reducing rings offering customization

Fence has adjustable faces

Portable setup

Full dust-port provided
Cons
Constantly adjusting the insert plate

Fence can be a little tricky
---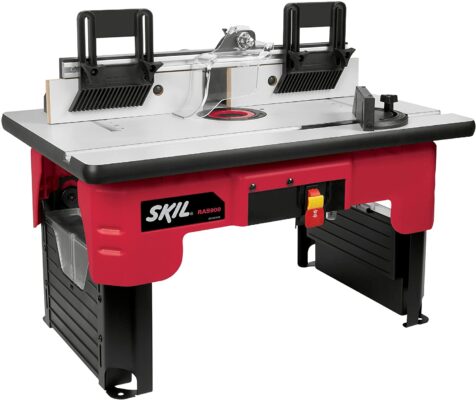 Why we like it:
This is a straightforward table offering the basics, providing everything you need for a router table setup fitting into any workshop.
Editor's Rating:
Quick Facts
Measurements: 28 x 9.25 x 17.75 inches
Weight: 31.7 lb.
Material: MDF, metal, plastic
The RAS900 Router Table is one of Skil's older models, and it's still one of their best after all these years, providing an all-round reliable router table. The table is easy to maintain at full size, with it being fully portable, setting up conveniently in any workshop or space. Offering all the basics, from the guard and starter pins to its adjustable fence, everything you need is here for some everyday routing.
Who Is It Ideal For?
Aimed more at the casual user or hobbyist, this probably isn't ideal for professional use but is perfect for the home, maybe even arts and crafts. It can easily fit into any garage or shed at an affordable price that won't alienate too many users, with plenty of storage compartments provided.
Ease of Use
The lightweight MDF laminate surface should allow you to maneuver your wood without any issues, as anything you're routing will just glide along. The table is hampered slightly in its folding legs, which aren't all too stable, especially after managing any bit changes. There's no dust-port either, so you'll need to clean up after yourself, but for any beginners, it's all more than adequate.
Pros
Inexpensive pricing

Portable full-sized router table

Storage compartments provided

Guard and starter pins with an adjustable fence
Cons
No dust-port provided

Folding legs unstable and surface are not level after bit changes
---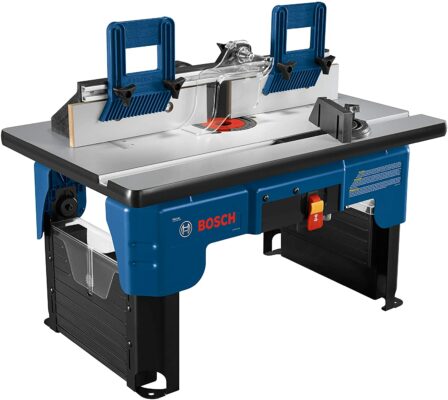 Why we like it:
It folds up easily, allowing you to pack it away or take it with you, setting up your router table almost anywhere, making it ideal for those on the go.
Editor's Rating:
Quick Facts
Measurements: 16.5 x 26 x 14.5 inches
Weight: 33 lb.
Material: MDF, metal, plastic
Sometimes you need to take your work home with you, and this is the router table for precisely that. With its collapsible plastic legs, you can easily pack it up and carry it with you, as it folds out pretty much anywhere there's space. Arriving pre-assembled, it's the hassle-free portable option from the ever professional DIY stalwarts Bosch.
Who Is It Ideal For?
A carpenter on the go could potentially make excellent use of this particular router, taking it with them and unpacking wherever they go. Some professional-grade work might be out of the question, with its unsecured legs needing proper mounting, but it will suffice for simple jobs. If you want to trade portability for stability while sticking to Bosch, their benchtop router model is relatively similar.
Ease of Use
Its smooth laminated table surface and fence will ensure that wood glides along, although you need to be careful when working outdoors, as the MDF is not water-resistant. As mentioned, it's also essential you sufficiently mount it before use, which you can do with the holes provided. When it's all installed, you don't need to level the router itself, while the bit changes remain accessible, and the starter pin and guard make this fully rounded for any on-site work.
Pros
Guard and starter pin provided

Leveling not required

Smoother laminated aluminum fence and table

Table comes pre-assembled
Cons
Unstable legs require securing

MDF isn't water-resistant
---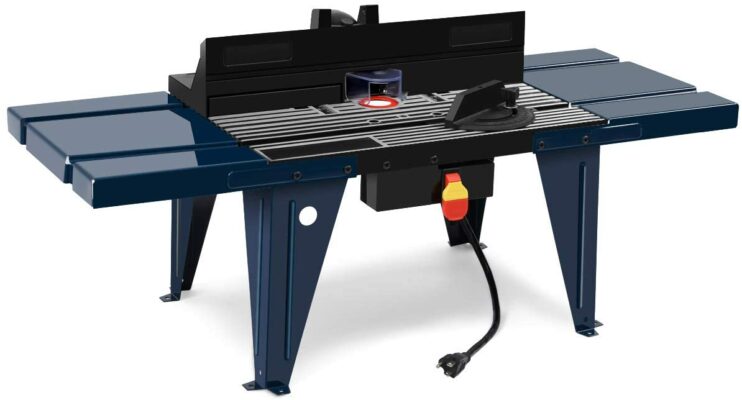 Why we like it:
Cutting out all the unnecessary extras, the appeal of this router table lies in its simplicity, allowing pretty much anyone to pick it up and start routing.
Editor's Rating:
Quick Facts
Measurements: 18.7 x 14.3 x 5.9 inches
Weight: 13.02 lb.
Material: Aluminum, steel
You need a stripped-down router that does the job, and GoPlus offer just that with their electric aluminum table router. One surprising feature of this particular table is its versatility, given the low-cost, allowing you to negotiate vertical projects with the jointing fence provided. Using its miter gauge, you can cut at various angles, finding whatever's best for you.
Who Is It Ideal For?
This table is sufficient for most amateur projects you have on the go, and you don't have to break the bank to do it. If you decide you want a slight step-up, then the Skil is another accessible, inexpensive option open to you. You may find this necessary depending on the router you're planning on using with the table, as the GoPlus is limited to six-inch routers.
Ease of Use
With its clear rust-proof surface, which this video shows is very much an issue, the table handles well both in and outdoors, gliding through a variety of smaller jobs you may have around the home. It does vibrate quite a bit, though, especially with its plastic fence and parts, so you'll need to secure it down before working. That said, it does have extendable table surfaces, so you won't be too limited for space when it comes down to the job in question.
Pros
Vertical projects with jointing fence

Comes with a miter gauge

Table surfaces are extendable

Rust-proof top
Cons
Plastic fence and parts with high vibration

Six-inch routers only
---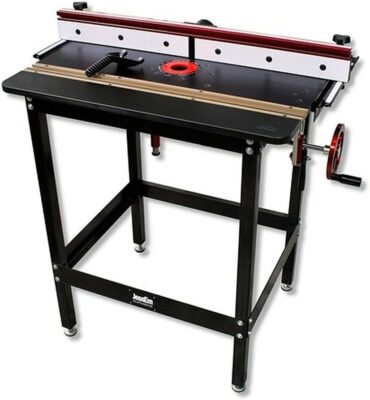 Why we like it:
Directed at those intensely passionate about their DIY, this professional router table leaves nothing out, as you get what you pay for in terms of precision and accuracy.
Editor's Rating:
Quick Facts
Measurements: 39 x 9.6 x 40.2 inches
Weight: 96.7 lb.
Material: Steel, aluminum
Hitting a high-mark in professional router tables, the JessEm is a serious tool for those who want to make sure nothing is left to chance. Given that it has a high price tag, it's probably best you check it out in action first, but rest assured you do get your money's worth. Every detail has been paid attention to throughout, offering extreme precision with its stable, sturdy base.
Who Is It Ideal For?
This unit is no entry-point router table, with it being aimed solely at those looking to step up their game when it comes to professional routing. If you don't want to go the full distance but still want some of that high-quality, then the Kreg may suffice. Once you've got a JessEm, though, you definitely won't want to go back. It's just a case of being sure you want to make that commitment.
Ease of Use
The top of the table is seamless, plus there's no need for a separate insert plate, allowing the wood to glide along effortlessly. Its steel stand also provides extra strength, ensuring there are no vibrations whatsoever. Collection of larger excess chunks and dust can cause an issue, so you need to be wary of that, but all in all, it's a reliable product if you're willing to pay for it.
Pros
Stable and sturdy

Steel stand ensuring extra strength

Extreme precision

Seamless top without needing a separate insert plate
Cons
Very expensive

Larger dust collection and chunks can be a problem
---
Guide to Buying the Best Router Tables in 2021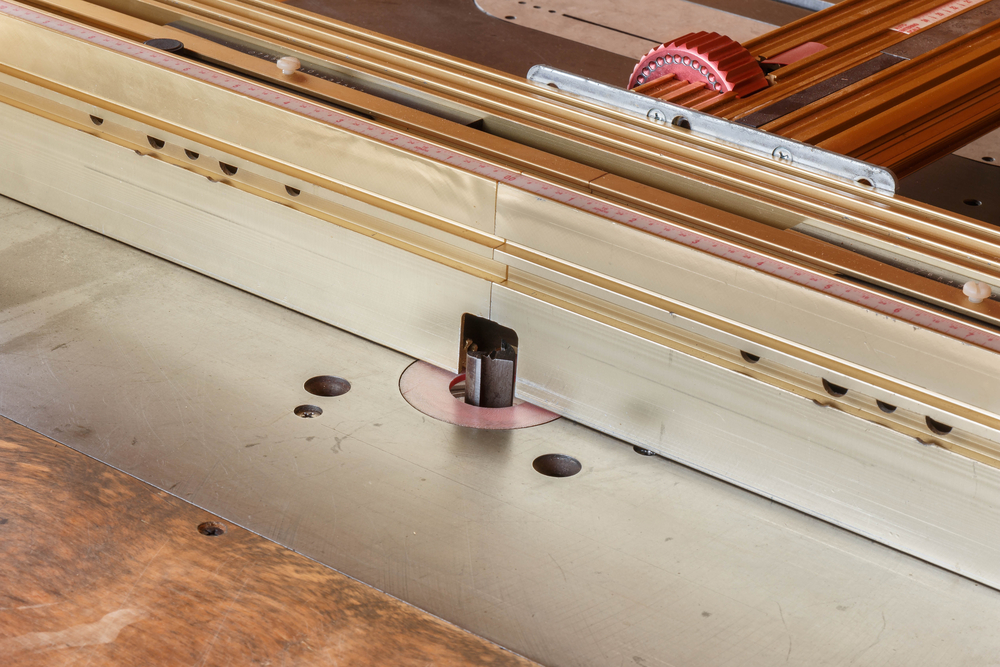 Whether you're just starting or you're already a seasoned pro, there's a lot to put on the table when it comes to buying a router…table. As we discussed above with the details and specifications, you need to carefully plan your purchase. Now we'll break down the router table itself and how you can get the most out of yours.
Purpose of a Router Table
Simply put, a router table is a machine for woodworking whereby it holds the router in place, with the router bit protruding from the middle. You can then pass wood across the surface against the bit, which typically runs between 3000 and 24,000 rpm, shaping the wood however you want. The work can be anything from door frames to creating unique designs.
So far, so simple, but the big question remains, what do you want out of your router table, and what jobs are you looking to manage? It could be that you're a hobbyist looking for the basics, in which case a table with a minimal design might be sufficient.
On the other hand, if you're a professional, then you may want to give it everything you've got and purchase something top of the line. It's all about tailoring it to your needs.
Safety Pointers
Many of you out there are already well versed in the world of routing, whether you're a casual hobbyist or a professional. When beginning, though, safety needs to be drilled in from the outset. So, terrible puns aside, here's a quick look at some of the basic rules to remind you.
Before starting it up, make sure that the bit is adequately sharpened and not in contact with the work itself.
Sufficient protective eyewear can't be stressed enough, as there's nothing more blindingly painful than sudden flying splinters. Hearing protection wouldn't go amiss as well.
Maintaining a safe distance from the bit is vital, and good featherboards can help secure the wood against the fence.
Guiding the router from left to right is best while avoiding climb-cutting as much as possible, as this is a fast way to cause an accident.
Try to use lighter cuts wherever possible to avoid any kickback, and keep to bigger stock and materials as often as you can.
Make sure you have a guard with your fence, whether it comes with it, or you can purchase it on its own.
Never force anything if it doesn't want to go, ultimately overloading the router. Allow the work to guide itself.
Fasten the motor securely in the base before starting, and also ensure the bit is fully inserted while backing off by roughly 1/16 of an inch.
You'll likely find plenty more safety pointers of your own as you progress, but these will help foster good working habits.
Routers and Router Tables
The simple answer to 'are all router tables universal?' is, unfortunately, 'no,' but fret not as there's more than enough leeway when buying a table and router. Some tables may advertise themselves as being 'universal,' which is often not the case given the range of options available when it comes to routers. It's best to make your purchase with a router and table combo based on personal requirements before paying up outright.
Start with the router itself, asking questions such as whether it's a plunge or a fixed-base you're looking for, and then work from there. This cross-examination should then tell you what you need to know when choosing a table. It may even work out for you to use a plunge with the Keter.
Finding the Right Parts
Considering all the individual components is essential, as every feature is essential when creating a quality table. Each table is equal to the sum of its parts, as you don't want to leave anything to chance. With that in mind, here's a quick recap of everything you should consider when creating your setup.
Surface: there's no question a quality solid top is instrumental in ensuring the wood glides along without too much fuss. MDF with a high-pressure laminate is preferable, which is popular with most decent tables.
A Steady Base: it can't be stressed enough, but you don't want to be overlooking the base of the table, as it needs to remain firm and steady. Steel legs are ideal for ensuring the table itself doesn't turn to jelly while attempting to route anything substantial.
T-Slots and a Miter: a lot of it comes down to guiding the wood itself, and accuracy is vital here. With a proper miter, you can secure your featherboards more effectively. some tables even come with t-slots allowing you to fasten your featherboards in place.
Precise Fence: routing the wood, a quality fence will help guide it, positioning it securely. There's the choice of one-piece or two-piece fences, providing what's needed. A two-piece, or 'split' fence offers two adjustable sections, while the one-piece is a single solid fence.
Firm and Flat Base Plate: base plates need to take the router's weight while remaining flat. It needs to stay compatible with your router, holding it in place steady and stable. There's also the question of fast router access, allowing its prompt removal when required.
No single component defines a router table, so it's best to fit it into what you need. Not every routing job is the same, so make sure to customize it around your requirements.
Router Table FAQ
Do You Really Need a Router Table?
A router table isn't always necessary, but it does make working with wood far less complicated. Some jobs require precision, and a router alone just isn't going to provide that, such as raised panel doors and cutting dovetails.
A router table won't instantly make you a professional overnight. Still, it will get you a lot closer to creating consistently high-quality work with its combination of safety and practicality. They can also complement your workspace, fitting in, and making life a whole lot easier.
How Deep Can a Router Cut?
The cut will typically be around 3/8 inches, as any more tends to strain the router motor, putting unnecessary pressure on the bit too. You can avoid any issues by adjusting the fence, thereby removing more wood on your first pass. The final cut needs to be faster, readjusting the fence again, making your job as quick as possible with minimal strain.
How Thick Should a Router Table Be?
When looking at a fully sized MDF router table surface, you need it to be at least 1 inch thick. It's best to make sure that it's two, though, just to be on the safe side. It's not only the wood you're holding, but the router itself.
Can a Router Table Be Used as a Jointer?
The straightforward answer to this is a resounding 'yes,' and there are many different ways you can go about doing this. Setting your table up as a jointer, you'll need a straight bit with an offset fence, and then, making multiple passes, you cut at the left side until the edge is jointed finally.
This option is especially welcome if you're operating on a budget, cutting those costs as well as that wood. However, you may need a sturdy table setup if you're planning on doing this.
Can You Put q Plunge Router in q Router Table?
You can do it, but it's going to be a little tricky, as it can be awkward when adjusting the height. This setup can help to cut back on costs when buying different routers. It may also require a custom build made with the table itself.
The Route to Success
At the end of it all, it's about meeting your needs when choosing a router table, whatever they may be. From a professional business to a personal hobby, it's not just a tool but an investment for the future. Take the time to weigh up all your options to ensure that your final choice is precise as your cut.