Poking holes in your backyard probably isn't the first thing that comes to your mind when you think about lawn maintenance, but it just might be the difference between incredibly healthy grass and the dry, discolored sparse growth that many homeowners struggle with. By aerating a lawn, you allow fresh air, water, and fertilization to seep in, encouraging growth and health. It's not difficult or expensive, but it can lead to incredible positive effects.
Features to Consider in a Lawn Aerator
There's more than one way to aerate a lawn, and at the end of the day you'll have to make your own decision how you want to accomplish the chore. Any aerator is better than nothing, but the more you can choose a specific tool based on the unique characteristics of your lawn, the better results you'll have.
Type of Lawn Aerator
There are as many types of lawn aerators as there are lawns: while city gardeners might prefer handheld, two-prong aerators, there are bigger aerators for motor-powered vehicles as wel. In fact, there are even aerator attachments for farming tractors that can measure ten feet across. Those aren't typically used for grass, but it goes to show how aeration is valuable for just about any crop.
Tow-Behind Lawn Aerators
Designed to hook up to a ride-on mower, tow-behind lawn aerators strap onto a hitch, typically on a ride-on mower, and can be dragged around a lawn to aerate it. Some have trays that can be filled up with weight to create deeper, more consistent aeration.
Handheld Lawn Aerators
With a similar form factor to a pitchfork or a shovel, handheld lawn aerators are used organically and require some effort. While they're not good for larger areas, they're precise and can be used to great effect when specifically targeting problem areas.
Spiked Lawn Aerator Shoes
Not just a gimmick, these plates of nails hook up to the user's shoe as they walk around their lawn. While they're inexpensive and easy to use, they don't aerate as effectively as larger devices.
Powered Dethatchers
While not technically a lawn aerator, as dethatchers do more than just aeration, they provide the same result as a conventional aerator: a thicker, more lush lawn. While they're expensive, they offer some of the best results for the category with the least effort. They look like a conventional motor-powered motor.
Liquid Lawn Aerators
Not the first thing to come to mind when thinking of garden tools, liquid lawn aerators use chemicals to break up dense soil. Be careful with these, as overapplication can be more harmful to grass than helpful with soil.
Power Source
While powered dethatchers and tow-behind lawn aerators both rely on engines to move earth, there are plenty of handheld lawn aerating devices powered by pure elbow grease. While motors are more efficient in terms of time, human-powered implements are more efficient in terms of the environment and your wallet.
Whether you're looking to aerate a tiny patch of grass or a vast green lawn, we've got an aerator below that should meet your needs.
Top 10 Best Lawn Aerators 2023
Why we like it:
This aerator is classified as a combination electric scarifier and dethatcher, fulfilling multiple lawn aeration purposes.
Editor's Rating:
At a Glance:
Type: Powered Dethatcher
Power Source: Electric Motor
This electric scarifier and lawn dethatcher isn't one of those handheld lawn aerators meant for tackling small problem areas in your lawn with poor drainage. No, it's a tool to give your lawn a complete overhaul, tearing up root structures so that they can regrow into a stronger, more interconnected network. The device also provides the normal benefits of aeration, such as better drainage, more oxygen exposure, and better fertilizer/organic nutrient penetration.
The motor, cord-powered device has five depth levels, the lowest one good for grass health maintenance and the deepest one meant for beginning/end-of-season lawn resets. It'll work wonders, but use it sparingly. The electric motor makes it easy to use, but tempting to go too far as well—if you need milder aeration, something manual like the Yard Butler Lawn Coring Aerator would probably be easier to dial in just right.
As with all products by manufacturer Sun Joe, this product offers a powerful and impressive two-year warranty with no questions asked. Any issues and Sun Joe's attentive customer support team will fix, replace, or send replacement parts for your dethatcher. That's a huge plus in our book, even though they've already got an incredibly reliable product.
Pros
Electric power makes the mower easy to operate

Incredibly reliable action and function

Customer support team can repair, replace, or send parts

Five depth levels control the penetration

No questions asked two-year warranty
Cons
Electric motor opens the possibility of over-aeration
---

Why we like it:
This sturdy lawn aerator is phenomenally sturdy, although it will take a bit of effort to aerate a full lawn with this two-pronged lawn corer.
Editor's Rating:
At a Glance:
Type: Handheld Lawn Aerator
Power Source: Human Power
This lawn aerator has two prongs, using a coring action to aerate the lawn. These cores are about a half-inch wide each, digging down about 3.5 inches, below the root structure of the grass. While this approach isn't quite as efficient as a powered aerator like the Sun Joe Electric Scarifier and Lawn Dethatcher, it's still plenty effective, especially if you target use to the problem areas of your lawn.
It's got a foot bar, similar to those seen on shovels, to help you fully grab the cores of dirt and maximize the leverage of the tool, although even with these features an afternoon of aeration can really tire you out. A tall 37-inch handle is just about the sweet spot for a person of average height, and its hardened steel construction means it won't bend over time or break outright.
The 'coring' approach to lawn aeration is particularly effective when dealing with drainage issues, as even a single pass over with the tool can promote fractures in over-packed soil that self-propagate over time, meaning just one treatment will pay dividends. The tool's also available in a spiked format, which is better for maintenance in already healthy lawns than addressing major issues.
Pros
Foot bar helps give you leverage when digging

Single pass can promote fractures that propagate over time

Available in a spiked format

Hardened steel construction won't bend or break
Cons
Isn't as time-efficient as electric or tow-behind aerators
---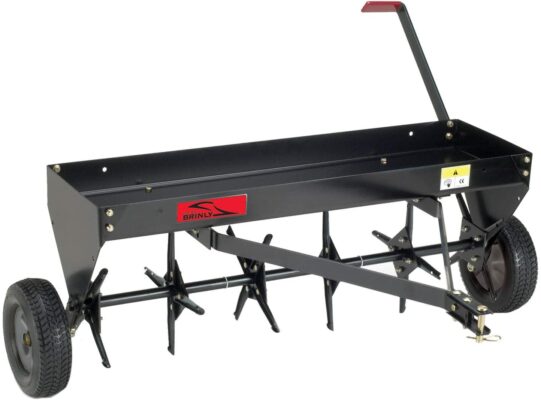 Why we like it:
This forty-inch tow-behind aerator is universal, quick, provides a reasonable aeration depth, and is equipped with features that make operation intuitive and simple.
Editor's Rating:
At a Glance:
Type: Tow-Behind Aerator
Power Source: Ride-on Lawnmower
This tow-behind aerator made of heat-treated steel is meant to hook up to a riding lawnmower, its 16-gauge steel spikes digging out dirt cores as it moves across the lawn. Its 40-inch width is hooked up via a universal hitch. This makes it easy to use with nearly any ride-on mower, from consumer versions to high-end commercial ones.
While it's 64-pound weight makes it pretty challenging to hook up, it actually helps with lawn aeration as the durable steel easily digs into hard-packed surfaces, especially with a 3-inch aeration depth. This would be a problem for crossing cement surfaces like sidewalks and driveways, if not for a simple, easy-to-operate lever that lifts the coring tool up when it's not in use.
While being simple to use, it's still got a couple of clever features: firstly, you can hook it up as you mow the lawn, saving time while aerating the lawn. This can only be done with a tow-behind version such as this one.
Secondly, it's got a weight tray that holds up to 150 pounds of ballast, maximizing the depth of the coring action, although using ballast increases the odds of bending the coring devices. Use the device immediately before a fertilizer application, as the nutrients you add afterwards will inevitably fall into the holes created by the device, minimizing runoff and maximizing penetration.
Pros
Holds up to 150 pounds of ballast in a tray

Can effectively be used immediately before fertilizer application

64-pound weight makes it difficult to hook up

16-gauge steel spikes dig out large chunks of soil
Cons
Ballast increases likelihood of bending the 16-gauge steel spikes
---

Why we like it:
A solid iron handheld aerator takes thick cores out of the dirt, improving root structure, but isn't rust-resistant and it's slower than motor powered options.
Editor's Rating:
At a Glance:
Type: Handheld Lawn Aerator
Power Source: Human Power
Unlike many other aerators, the Gray Bunny has dethatching features to remove the layer of dead grass that often accumulates on lawns. There are two coring plugs on the tool, each measuring .5 inches wide and 3.5 inches long. The two cores are spaced out 9 inches apart, close enough to provide consistent aeration, but spread out enough to make the tool efficient. Still, though, if you've got a large space to aerate, we'd recommend a tow-behind or motor-powered aerator, as something handheld will only get you so far.
But how does it stack up when compared to other handheld lawn aeration tools? Well, there's some good and some bad to talk about. Of handheld aerators, it's got one of the most comfortable and easy to use handles and interfaces. A 36.5-inch height still provides sufficient leverage while being short enough to use by shorter users.
That leverage is helped out by a T-shaped bar handle and a foot bar that helps the user fully get the cores inserted into the ground. The deeper, the better, as the cores promote a more interconnected root structure along with better water and fertilizer absorption, and even drought protection.
Unfortunately, an iron construction isn't rust-resistant, meaning this device might last as long as similar tools. There's no warranty, either.
Pros
Half-inch cores do a good job of providing an aerating effect

Dethatching features alongside ½-inch corers

36.5-inch height provides good ease of use in a compact package

Additional leverage provided by a T-shaped handle and a foot bar
Cons
Larger aerating jobs will require a tow-behind aerator

Iron construction will rust over time
---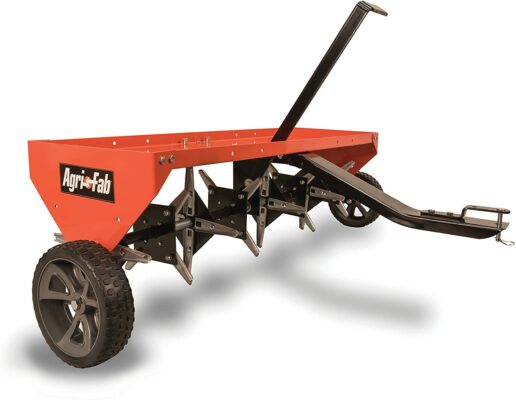 Why we like it:
This heavy-duty tool is more than sturdy enough for demanding agricultural duty, giving us plenty of confidence that it'll hold up to years of residential use.
Editor's Rating:
At a Glance:
Type: Tow-behind Lawn Aerator
Power Source: Ride-on Lawnmower
Agri-Fab is a reputable manufacturer of lawn care equipment, producing products that punch above their price class for years. That's not to say this tow plug aerator is inexpensive: it's not, but with a solid metal construction, flat-free rubber tires, 32 galvanized coring tools, and a three-year warranty, it's fair to say that the company backs up their (admittedly expensive) products with high quality.
While a 48-inch (4 feet, if you're doing the math) sized format is incredibly efficient for aerating a large area quickly, it's simply not good for smaller lawns. If you're looking to be efficient in a smaller lawn format while maintaining the accuracy necessary for maneuvering around flower beds and front walks, take a hard look at Sun Joe Electric Scarifier and Lawn Dethatcher.
The top tray has a 140-pound capacity so that you can weigh down the device to yield deeper soil penetration. The tool has a transport handle that can adjust the coring devices based on your preferred depth; it can also lift them up completely to cross cement surfaces. The aerating corers themselves don't require sharpening, as they automatically maintain an edge as long as they're frequently used thanks to a self-sharpening design.
Pros
Agri-Fab produces reliable and durable equipment

32 galvanized coring tools have a self-sharpening design

140 lbs capacity can help weigh down the device

4-foot format is incredibly efficient
Cons
Not great for smaller lawns

Hard to maneuver around lawn furniture and landscaping
---

Why we like it:
This unique four-tonged lawn aerator is simple and nearly unbreakable with a solidly welded structure and a single-piece construction.
Editor's Rating:
At a Glance:
Type: Handheld Lawn Aerator
Power Source: Human Power
If there was one way to describe this simple yet effective tool, it'd be "unbreakable." The welds on this aerator's thick, steel tubing are about as brawny as the metal itself, making the tool virtually unbreakable. It won't rust either, as it's got a layer of corrosion-resistant paint keeping it protected.
Ergonomically, it's fantastic as well. Compared to the Yard Butler Lawn Coring Aerator, the stirrup handle is not only easier to use, less slippy, and more comfortable to grip, but it also prevents hand and finger fatigue. Add to that a 36-inch height, which is about average for the category, and you get a device that's not only comfortable for all ages, but usable for gardeners with all kinds of physical abilities or challenges.
While the ergonomics and the durability are well thought out, the most important part of the tool, the aerating spikes, are unfortunately overlooked in this design. They aren't hollow, which means they don't dig cores out of the ground itself like more expensive models (Brinly's 16-gauge aerator is a good example of an effective coring design). This means you'll have to use it more frequently and it won't be as practical for aeration, drainage, and fertilizer penetration.
Pros
Welded structure with thick welds is nearly unbreakable

Corrosion-resistant paint protects steel frame

Ergonomics are well thought out with a stirrup-style handle

36-inch height fits all kinds of users
Cons
Hand aerator doesn't pull out dirt cores, instead using solid spikes

Requires more frequent use to be effective
---

Why we like it:
Best for heavy-duty tilling when starting off a bit of yard from scratch, this aerator is good for a reset, but not great for lawn maintenance.
Editor's Rating:
At a Glance:
Type: Handheld Lawn Aerator
Power Source: Human Power
Made in the format of pitchfork-style aerators like the Yard Butler Lawn Coring Aerator, this aerator is less of a handheld aerator and more of a tilling or cultivating tool. This means it's meant to help agitate soil and give problematic, overpacked, nutrient lacking areas a complete reset by digging up everything, not just providing minor aeration improvements.
So, while this is an excellent way to completely start from scratch if you've got a major issue with lawn health, it shouldn't be used for routine maintenance. The most effective way to use this is on raw soil or on unhealthy areas where you want to seed new grass. Don't use this on a healthy, lush lawn, as you'll damage it—something gentler like the Sun Joe's electric aerator is a better choice for day-to-day aeration.
As far as ease-of-use goes, the ergonomic design is comfortable in your hands, but the 38-inch design is better for taller users than shorter ones. No matter your size, it will give you good leverage to agitate the soil. This device, when used properly, will turn your soil from hard-packed clay into fertile ground, especially if you add compost or a micro-biome encourager like Covington Liquid Lawn Aerator.
Pros
38-inch handle gives great leverage

Ergonomic design is comfortable on users' hands

Design gives a complete reset to any lawn problem areas

Good way to start seeding a lawn from scratch
Cons
Completely tears up the lawn, meaning it can't be used for routine maintenance

Height isn't great for shorter users
---

Why we like it:
This 36-inch tow-behind aerator is a bit smaller than others with the same forrmat, but it's equally potent with 10-gauge steel spikes, and it couldn't be easier to use.
Editor's Rating:
At a Glance:
Type: Tow-Behind Lawn Aerator
Power Source: Ride-On Lawnmower
This model is another tow-behind version, similar to our favorite trailer aerator from manufacturer Brinly. It's got a format that's slightly smaller than average for the category at 36 inches, although that's still plenty efficient to get larger areas aerated, and it has a number of features that make it perhaps the easiest lawn aerator to use on a large lawn.
While the frame itself is made out of an impressively strong 10-gauge steel, the aerating action itself comes via nine star-shaped spikes that aren't as strong or as impressive as other aerating/coring devices that come on other tow-behind aerators. This leads to them bending slightly out of shape over time, leading to lower efficacy, although the problem can be solved with a simple pair of pliers.
While the aerating spikes are a bit of a let down, other aspects of the trailer are not. The trailer has an 80-pound weight capacity that can be used to increase the depth, while a universal hitch means you can switch this between mowers with little (or no) trouble. It's adjustable in height as well, which helps with swapping it around. All in all, ease of use is particularly impressive with this format.
Pros
Frame is made out of an impressively durable 10-gauge steel

Thin metal spikes can be repaired with a pliers

80-pound weight capacity helps weigh down the trailer

Universal hitch means this works with almost all consumer mowers

Incredibly easy to use effectively
Cons
36-inch width is a bit narrower than other tow-behind models

Aerating spikes can bend out of shape over time
---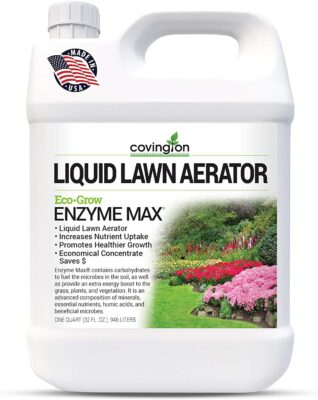 Why we like it:
This chemical-based aerator breaks up thick, compacted dirt and clay-filled soil with gentle chemicals that aren't harmful to the earth.
Editor's Rating:
At a Glance:
Type: Liquid Lawn Aerator
Power Source: Chemical Action
The best part of this lawn aerator is undoubtedly its ease of use: no backbreaking labor pushing a pitchfork-style coring aerator into the earth over and over again, no lawn-mower style back-and-forth, and no towing behind a gas-guzzling ride-on mower. Just evenly spread the contents across problem spots, and wait. The formula is specially formulated to break up chunks and penetrate soil without harming the top layer of grass.
The way it works is by actually stimulating the soil's microbiome, fueling bacterial growth, which then in turn digests the soil. While it's a clever idea, experts generally recommend avoiding messing with these bacterial colonies. It gets the job done, but you run a slight risk of putting the microbiome off balance in the long term. Thankfully, though, it's 100% non-toxic for humans, pets, and the environment, meaning you can feel good about throwing this on your lawn.
For best results, though, we'd still recommend a once-over with some type of physical aerator after application to help even out the spread of the compound. While not fully necessary, this will even out any inconsistencies. And although just one application is quite inexpensive, over time the cost adds up.
Pros
Incredible ease of use compared to other aerators

Doesn't require physical labor

Chemicals don't harm the top layer of grass

Chemical makeup is predominantly natural
Cons
Best results require chemical applications as well as a physical aerator

Can mess with the bacterial colonies in your soil

Costs add up over time
---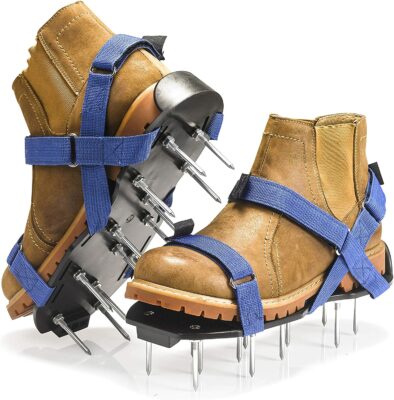 Why we like it:
These clever lawn aerators strap directly onto your shoe, connecting with a piece of velcro and helping you maintain your grass with minimal effort.
Editor's Rating:
At a Glance:
Type: Spiked Lawn Aerator Shoes
Power Source: Human Power
One of the most stereotypical tools that comes to mind when thinking about lawn aeration is one of these made-for-TV spiked devices that straps onto your shoes. These, from company EnvyGreen, are easy and low-effort, requiring just a simple walk around the lawn to create an aerating effect, although it's quite a bit less effective than heavy-duty powered lawn aerators like this tow-behind version from Brinly, or even a standard, handheld aerator.
While those heavy-duty aerators dig large 16-gauge cores up to six inches deep, these shoes use thin-gauge spikes to agitate the soil, keeping soil penetration well under two inches with the 48mm spike design.
For topical aeration, it works, but for heavy duty soil break-up, you'll need something a bit more heavy-duty. Add on to that a slight sturdiness issue with the sole and spikes and it makes these even more difficult to use.
For casual users and smaller lawns with soft soils, this type of aerator shoe can be quite effective, but for more serious lawn care, it's simply insufficient. More than anything, the biggest problem is the shoe's minimal footprint. While a tow-behind trailer can get through up to a couple acres per hour, these, in a perfect world, can only get a couple thousand square feet done in the same amount of time.
Pros
Easy to use: just strap the shoes on

Low-effort, doesn't require much physical strain

Great for softer soils and casual users
Cons
Construction is a bit flimsy

48mm spike design creates relatively small aeration holes

Good for smaller lawns but time-consuming for bigger areas
---
Guide to Buying the Best Lawn Aerator for 2021
Lawn aeration can have a huge effect on the health of your lawn, but only when executed properly with the right tools. Make sure to do your research and plan adequately before purchasing a lawn aeration tool, as picking the right one can pay dividends.
Lawn Aerator Size Guidelines
If you've got a golf course, you'll find a handheld aerator completely inadequate. In the same vein, if you've got a 1,000 square foot lawn and live in an urban area, a ride-on lawnmower is completely impractical and a handheld aerator or spiked lawn shoe is the way to go.
Some loose guidelines to follow: sub-2,000 square feet and a spiked shoe is your go-to choice. If you don't like the idea of aerating your lawn with a shoe or have a larger yet sub-5,000 square foot lawn, choose a handheld aerator.
Below an acre, a motor-powered dethatcher/aerator like the Sun Joe Electric Scarifier and Lawn Dethatcher is perfect.
At around an acre, a ride-on mower combined with a tow-behind aerator provides the best combination of efficacy and time savings.
How Do Lawn Aerators Work?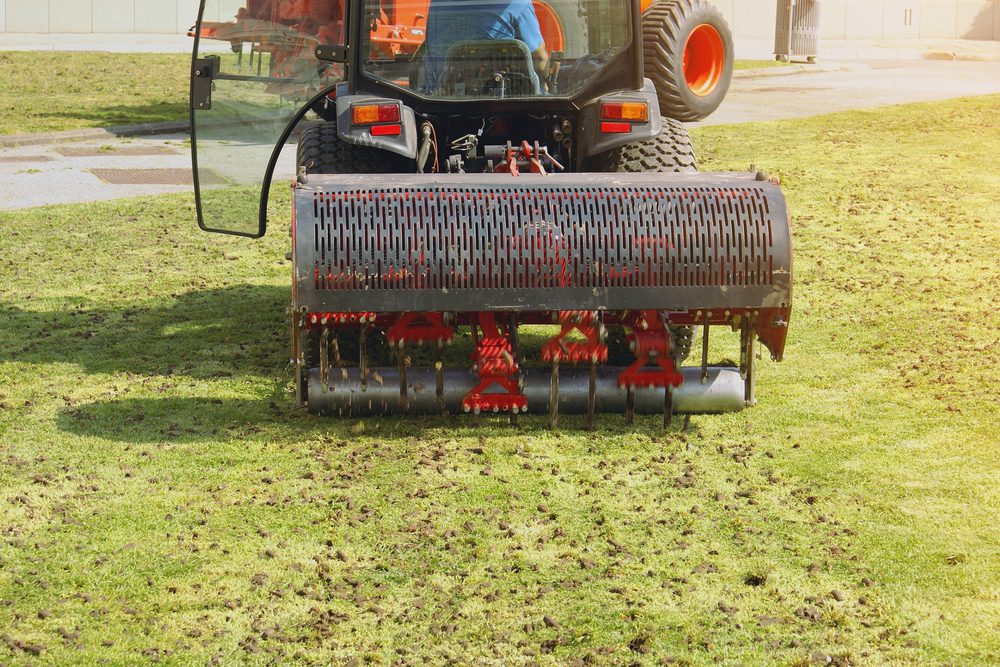 Lawn aerators are remarkably effective at solving common lawn problems, helping with drainage, breaking up over-packed soil, and encouraging aeration of clay soil types. Proper aeration can even help even out with the grading of your lawn over time, slowly lowering high points that cause nutrient runoff.
Drainage
By creating slits of air space (as with a dethatcher) or small holes (other lawn aeration devices) in your yard, you allow standing water to sink into the lawn, nourishing the roots instead of drowning the plants. Especially in high-rain environments, water can saturate the soil, packing it down over time, which exacerbates the problem of poor drainage. Another problem is water that stays in the top layer of the soil, making it easier for root structures to rot.
All of these aspects may have a part to play in your grass's health, and addressing how water influences grass health is one of the most important parts of lawn maintenance. Creating space in your lawn for drainage isn't necessarily 'aeration,' but it's one of the main benefits of going over your lawn with an aerator.
Root Structure
Counterintuitively, lawn aerators, especially dethatchers, actually break up root structures, causing a temporary pause in growth, but a long term benefit as roots find new paths, branch out, and grow more interconnected. This loosening or cutting of roots is also known as 'teasing' or 'resetting' the roots.
Because this process is traumatic to the grass plants themselves, you must do it at the right time. Target the peak growing season, during warm weather (early to mid-summer), specifically after heavy rains. This will help your grass bounce back quickly from the trauma of a broken-up root structure.
Dethatching
As grasses grow, they die as well. Even if you've got a mower with a bag to collect lawn detritus, cutting your lawn will still cover your soil with a small layer of clippings known as thatch. This is the dead grass that accumulates around the base of your lawn, and it can nourish your lawn, protect it from extreme weather, and help keep the soil moist in dry periods. It's an important part of your lawn ecosystem.
Unfortunately, though, as it gets too thick over time, it can prevent oxygen from reaching the soil and provide nesting grounds for insects. This means that, if thatch (that dead layer of grass) grows up to over an inch, the problem needs to be addressed. Keep in mind that most handheld lawn aerators don't dethatch, you'll need a powered dethatcher or a rake. Some tow-behind aerators also get the job done.
Aeration
While some experts say lawn aeration (that is, actually exposing soil to air) is a secondary benefit behind the main benefits of improving root structure and drainage, it still provides marked benefits for soil health, allowing the microbiome to thrive and preventing anaerobic bacteria from taking over the soil, eroding root structures.
Tips for Lawn Health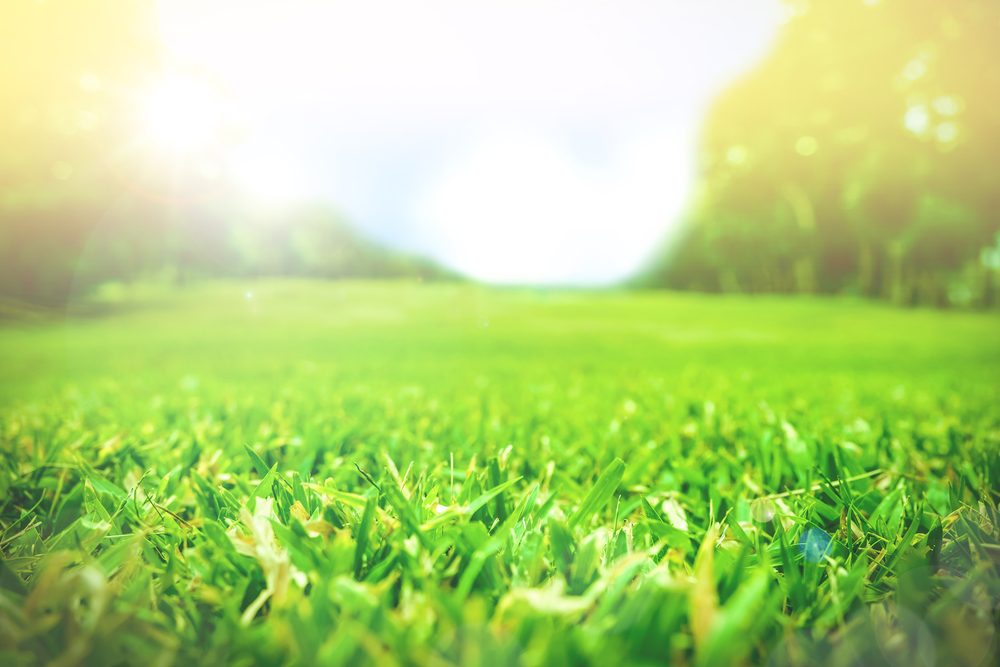 Along with lawn aeration, there are plenty of simple tips that can yield really positive results for your yard. To maximize your lawn health, consider the following aspects and tips of lawn growth.
Proper Height Maintenance
Cutting your lawn isn't just about thoughtlessly giving it a pass over with your lawnmower. Lawnmowers, whether they're hand-powered, motor-powered, or ride-on, have height adjustment for a reason. Different species should be cut to different height recommendations, but as a general rule: spring grasses can be cut to low heights for a reset, summer is about height maintenance, and in the fall, it's a good idea to be more conservative with your cuts due to cold temperatures that can damage grass ecosystems.
Understanding Weather
Grass does not grow linearly, seasonally, or even predictably in most cases. In fact, there is a whole profession called 'turf science' in which trained environmental scientists manage an enormous crew trying to maintain lush, beautiful grass properly: and even they mess up sometimes. So if you occasionally feel overwhelmed, don't feel too bad. Turf scientists sometimes joke that lawn maintenance is more of an art than a science.
The top tips these turf scientists offer are related to a close awareness of the weather. Some of this is common wisdom, like remembering to mow when it's dry out, ideally after a short period of rain. With closer monitoring, you can do more complex things related to height, shade growing and fertilizing, but you can have a lot of success by keeping things simple.
The top three hacks (besides regular cutting and aeration) offered by turf experts for a healthy lawn? Cut short in the spring, cut about one-third of the height in summer and fall, and leave leftover thatch/grass clippings in the winter to insulate grass root networks.
Other Lawn and Home Tools
Landscaping and lawn care is a big part of home ownership. Some HOAs and neighborhoods even mandate a minimal level of lawn attention, and can fine or charge you for a third party service if you don't take care of things properly. Home ownership is easier with the right tools:
Ride-On Lawn Mowers: Ride-on lawnmowers are more accessible and even more efficient than you might expect, both in terms of your time and your money. Even if you've got a smaller lawn, you might find a ride-on lawn mower effective.
Reel Lawn Mowers: On the other end of the spectrum are reel lawn mowers, ultra-efficient and ultra-small-format mowers that are completely powered by elbow grease and are actually surprisingly easy to use. They're perfect for a teenager or anyone else with a small lawn.
While you obviously don't need a full set of brand new power lawn care tools to keep the block, if you're smart with your shopping, you can get a full set of tools to take care of your home's exterior for an economical price.
Wrapping Up
A healthy lawn is a big point of pride for many homeowners, and maintaining one requires a lot of work and the proper tools. A little bit of effort and knowledge over time can yield a lush, beautiful lawn. Without a proper strategy for lawn aeration, your lawn's health will suffer. With the right one, the lawn of your dreams is just a tool purchase away.