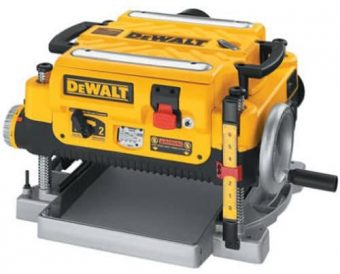 DEWALT DW735X Two-Speed Thickness Planer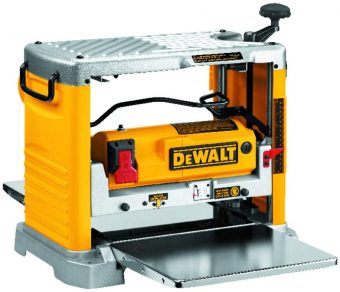 DEWALT DW734 15 Amp 12-1/2-Inch Benchtop Planer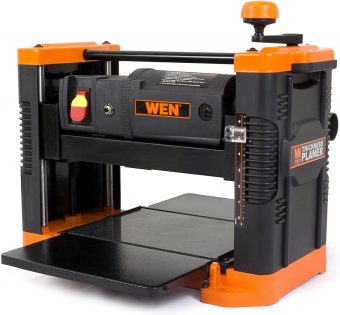 WEN 6550 Benchtop Thickness Planer
Previous
Next
Although wood planers come at a hefty price, they're not as costly as they were in the past. Nowadays, a lot of the models will allow you to convert stock wood into boards of the same thickness. Since these machines are very handy, you can think of the best wood planers as an investment.
Of course, choosing the right wood planer can be a challenge especially if you don't know what to look for or where to start. With so many brands and models available, you need all the information you can get to make a wise choice. In this article, we'll help you out by providing you with relevant information about wood planers and a review of some of the best products available now.
Features to consider in Good Wood Planers
Thickness and width capacity
Before you choose a wood planer, you need to know what thickness you need. Usually, electric planers have a capacity of 6-inches, but there are other machines available with a higher thickness. Also, most models come with a depth stop so you can adjust the machine to the width you commonly use.
The maximum width that a planer can handle is its width capacity. Again, choose the wood planer according to what you need. Normally though, wood planers have a capacity ranging from 12-20-inches.
Voltage
This is the next feature to look out for when choosing the best wood planer to suit your needs and preferences. In the US, standard jacks pull 110V while it's 220V in Europe and all other parts of the world. When choosing a machine, learn about its electrical specifications, so you're sure that it will run in your home or workspace.
Knives and blade speed
When it comes to wood planers, they can have 2, 3 or 5 knives on the cutterhead. If the machine has more blades and a faster speed, it will deliver more strokes. This, in turn, will provide you with a more refined and smoother finish. The blade speed is important too, and it's a good idea to choose a machine with an adjustable blade speed for better versatility and control.
Type of wood planer
There are different types of wood planers available, and they each have their own distinct purpose. They have advantages over others and their drawbacks as well. Before you choose a wood planer to buy, it's also important to learn these different types so that you know which one you need.
Benchtop – These have similarities to portable planers, but they're a bit bigger. If you work with a benchtop planer, you should do so on a flat surface. These are powerful, they can perform deeper cuts, and they can handle thicker materials too. They're moderately powerful, and they can handle hardwood.
Hand – This type is the one of the first to come out. They come with a serrated edge that's parallel to the surface of the wood. With a hand planer, you move across the wood's surface by starting from the thinner end. In doing this, you'll shave the wood until you've leveled it completely.
Jointer – This type will allow you to perform 2 tasks at a time. Purchasing a jointer planer would cost you less than getting separate machines. This type of wood planer is perfect for small workshops and DIY enthusiasts.
Portable – You can set this type of wood planer on automatic then push the material in and expect a consistent thickness from it. Portable planers are just smaller versions of stationary planers, and they're a lot more portable. Just like a hand planer, you should place this on a flat surface while working.
Thickness – This type of wood planer will shave a couple of inches off your wood plank so you can achieve the thickness you need. Thickness planers are generally compact and portable, but you need a lot of space to use them.
The 10 Best Wood Planers 2020
Guide to Buying the Best Wood Planers
As you can see, there's a lot to learn about wood planers. We've also reviewed some of the best wood planers available now and choosing any of them will guarantee you a superb purchase. But before you make your choice, it's best to consider a few important things.
What important factors should you consider when buying a wood planer?
Motor
A wood planer's motor is always rated in Amps and the more Amps, the more powerful the machine is. For instance, hand planers don't have as many Amps as the larger models. The machine's motor is important to consider. The best models have 2 types of motors, induction or universal.
Induction motors are perfect for stationary workshops, industrial setups, and static installations. They're also more durable than universal motors. Conversely, universal motors are more lightweight, and they're more suitable for portable applications, lightweight constructions, and smaller-sized wood planers.
Size
The next factor to consider is the size of the wood planer. Normally, this refers to the maximum width of material that the wood planer can handle. Wood planers come in different sizes, and you should first decide if you need one of the smaller models or one of the larger wood planers.
Practical features to look out for when choosing a wood planer
There are also some practical features to consider when choosing such a machine. If you want to get the best wood planer available, these factors will go a long way for you.
Accessories
Some wood planers have common accessories such as chip or dust bags, fences, wrenches, and guides. Some models also come with an extra set of high-quality blades. There are wood planers which are fully-loaded with features while others don't come with any extras so choose wisely.
Weight
The machine's weight is important especially if you plan to purchase a hand planer. The weight will also determine the wood planer's maneuverability. Find a product with a good balance of power, feel, and weight as this may increase your productivity.
The Verdict
Having a wood planer in your home or workspace will allow you to perform your woodworking tasks more efficiently and productively. Choosing one is not an easy task but we hope this guide will make your purchase easy. If you want to get the best wood planer to suit your needs, then you have to consider a lot of things.
Wood planers are very useful machines, and you can think of them as an investment. Since you're going to spend some good money on the wood planer, you should choose one which has all the features you need. Consider all the important factors and features first then you can consider the products we've reviewed for you.