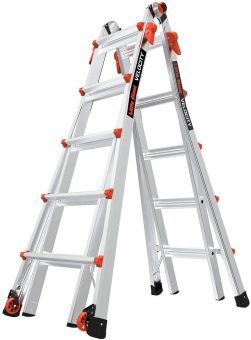 Little Giant 22-Foot Velocity Multi-Use Ladder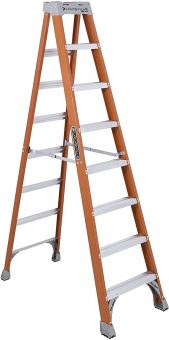 Louisville Ladder 8-Feet Fiberglass Step Ladder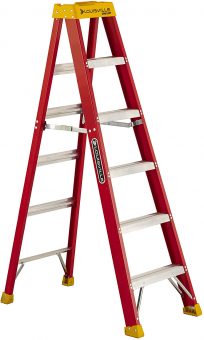 Louisville Ladder L-3016-06 300-Pound Duty Rating Fiberglass Stepladder
Previous
Next
Ladders are an essential part of every home and job site. Although there are many products available, you should invest in one of the best ladders if you want to acquire a superior product. Generally, ladders share similar features and functions, but in fact, no two ladders are identical. That's why you should first consider a few important factors before making a purchase.
A lot of tasks require a good ladder that's tall enough to complete them. Because of this, you need to choose a ladder with an appropriate height so you can perform all the tasks you need to. However, this isn't the only factor for you to consider. You can think of a ladder as an investment and not just a tool that comes cheap.
In this article, we'll go through some of the best ladders in the market along with a buying guide to help make your choice much easier. From the features to look out for to some of the best products available, there's a lot to learn if you want to choose the best product to suit your needs.
Features to consider in Good Ladders
Height
This is the very first feature for you to lookout for. There are a few types of ladders for you to choose from including articulated ladders, stepladders, extension ladders, and more. Some ladders have a low height, and they're meant for simpler projects while other have a taller height so you can use them to reach higher areas such as ceilings, roofs, trees, and others.
Before you choose a ladder, you have to determine the height you need. This would depend on the tasks you plan to perform using the ladder. If you just need the ladder to reach for items in your home or office, then you may go for a stepladder. But if you do a lot of repairs and outdoor tasks, then an extension or multi-purpose ladder may be the best for you.
Again, think about the height you need to reach so you can determine the ladder height to choose. When using the ladder, you shouldn't have to stand on your tiptoes or strain your arms just to reach for the objects you need. You have to feel comfortable while working on your ladder, and you can only achieve this with the appropriate ladder height.
Material
The next thing to think about is the ladder's material. The most common materials include aluminum, fiberglass, and wood. A lot of people prefer aluminum ladders because they're lightweight, and they resist corrosion. But this material conducts electricity which means that it's not suitable for those who perform electrical tasks.
Fiberglass ladders are heavier than aluminum. This material is more versatile, it's stronger, and it's non-conductive making it safe for non-electrical and electrical applications. Both aluminum and fiberglass are very popular and are better choices than wood. Of course, people prefer wooden ladders too mainly because they're the most economical. However, they're also weaker and become electrically-conductive when they get wet.
Accessories
Ladders have come a long way since the past when they were simple tools made of wood. Nowadays, modern ladders come with accessories already built into them for various purposes. These include the reduction of strain, boosting the storage capacity, and protecting the ladder's nearby surfaces. Some of the best ladders come with handy accessories you can choose from.
Some of the more popular ladder accessories include a pail shelf which extends from the back rail for holding buckets or other utensils. Some ladders have ladder caps which can slide over the rail ends preventing damage to the surface you prop the ladder against. There are also podiums or big platforms which replace one or more of the ladder's steps to allow for extra foot room for intensive or long projects.
Price
Just like any other tools and equipment, ladders come in varying price ranges. Stepladders are the cheapest, but they're also the shortest in height. Next on the price spectrum are the A-frame ladders, the extension ladders, and finally, the articulated ladders which you can configure to multiple positions and heights.
If you have a budget, then it's important to stick to it. However, it's not a good idea to choose the cheaper products if that means you're sacrificing the quality. Consider all the other factors and select a ladder which you can afford, will last longer, and will keep you safe while you work.
Guide to Buying the Best Ladders
There you have it, some of the best ladders available on the market now. No matter which one you choose, you're guaranteed a great buy. Before you select though, it's important to consider some key factors to be sure that you've chosen one which will suit your own needs and preferences, and can provide you safety.
What important factors should you consider when buying a ladder?
Construction
We've already discussed the common materials used for making ladders. By far, the best ones are fiberglass and aluminum as these are the most durable. Fiberglass ladders are perfect for outdoor use while aluminum ladders resist rust. Even though these materials are lightweight and easier to move from one place to another, they tend to feel a bit wobbly when you extend the ladder fully.
A ladder made of an anodized aluminum alloy is highly durable but very heavy. This means that you might find it challenging to move it around for different tasks. If you perform a lot of electrical work, then it's best to choose a non-conductive ladder to ensure your safety while you work.
Weight rating
Ladders have different weight ratings, and this indicates the maximum weight they can carry or support. The weight rating depends on the type of ladder and the material it's made of. Usually, the maximum weight includes the user and all the tools or accessories you're working with. This is another important factor to consider especially if you're planning to choose a ladder with extra height.
Types
Although there are many different kinds of ladders, they usually come in some common designs. Each of these serves their own purposes and they have their own features too. If you want to determine which is the best ladder for your needs, you should first need to know about the different types:
Low stepladders
These are the shortest ladders available and they're perfect for those who want quick access to low and medium height wardrobes or cupboards. These are also great for those who need to trim low trees or bushes outside. Every home and office needs this type of ladder since it's very handy and versatile.
Low stepladders have sturdy and wide steps along with a gripping handle so you can carry it around wherever you go. You can fold these ladders to a more compact size and store them in your home or in your vehicle while you travel.
A-frame ladders
This type of ladder has a simple design, but it's also very useful. A-frame ladders have two legs attached to a spreader that's positioned within the ladder to improve its stability. These ladders have good heights making them great for tasks like changing light bulbs, painting walls, pruning trees, and more.
Sometimes, A-frame ladders have extra features such as an accessory area or a tool slot on the ladder's top shelf where you can store your paint tins or your tools. These ladders have a good weight rating too, but they're more rigid than others which means they're not as versatile as the other types.
Articulated ladders
Multi-use articulated ladders are very versatile. This is because they have a convertible design making them perfect for DIYers, professionals, and everyone in between. Having this type of ladder is just like having 5 or more different ladders in one convenient tool. Multi-use articulated ladders come with articulated hinges or joints which you can lock into different positions.
This means that you can use such ladders as a single ladder, an extension ladder, an A-frame ladder, a scaffolding system, and more. You can use this type of ladder around or over obstacles and even on uneven ground. The downside of this type is that they're bulkier and heavier than other ladders and you may need more time to set them up.
Telescopic extension ladders
Rounding up our list of common ladder types, this one is also very versatile and provides high flexibility for various tasks. A telescopic extension ladder is great for washing windows, painting the interior and exterior of homes, building or home maintenance, and so much more.
This type of ladder will provide you with an extended reach making it perfect for anyone from homeowners to commercial contractors who need to access the areas which are hard-to-reach. Just like the multi-use articulated ladders, this type of ladder tends to bend or wobble when you extend it fully.
The Verdict
There's a lot for you to consider if you want to purchase a ladder for your home or workplace. You need to think about your safety and the tasks that you need to perform with it, whether you plan to use the ladder frequently or not. Whether it's for fixing an old fused bulb, or some DIY project, it will be a good addition to your garage equipment.
We've reviewed some of the best ladders in the market now, and you can choose any one from our list to make sure that you have a superior product.