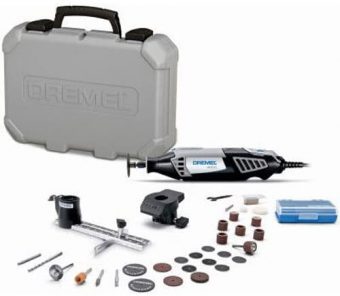 Dremel 4000-2/30 120-Volt Variable Speed Rotary Tool Kit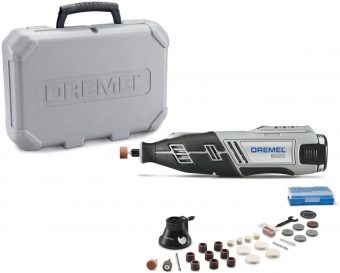 Dremel 8220-1/28 12-Volt Max Cordless Rotary Tool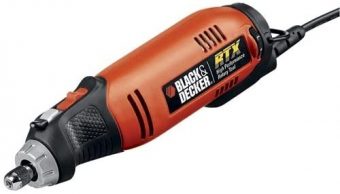 BLACK+DECKER RTX-B 3 Speed RTX Rotary Tool
Previous
Next
Whether you need to perform a DIY project at home or carry out major renovations in your home, it's very useful to have a rotary tool on-hand. With such a tool, you can do different things such as polishing, grinding, cutting, and more. A rotary tool is compact, lightweight, and it usually comes with attachments for various purposes.
Aside from the versatility of rotary tools, they're also high-speed and extremely portable. The best rotary tools are easy to use as well but choosing the right one requires a lot of consideration. If you're looking for a versatile tool which you can use for various projects, then you're in the right place.
Before exploring the market of rotary tools, you should first know where to start and what to look out for. Otherwise, you might end up spending a lot of time looking at different products. Later on, we'll review some of the best products available now to narrow down your options. We've also come up with a short buying guide to help you out. Read on!
Features to consider in Good Rotary Tools
Ease of use
If the rotary tool you choose has this feature, you'll be able to use it more effectively. When it comes to rotary tools, ease of use means that changing the accessories and bits is a simple and straightforward process. For convenience, don't go for models which need a wrench or other types of tools just for attachment changes.
Instead, choose one which will allow you to change the bits with just a twist and a lock or something equally simple. This will save you time and effort while you work.
Corded or cordless
When choosing the best rotary tools, also check whether you want one that's corded or cordless. With corded models, you need to plug them into an outlet, and this means that there's some limitation in terms of the tool's mobility and the venue where you may use it. But a lot of people prefer such models because they tend to provide a lot of power.
On the other hand, cordless rotary tools are battery-powered. This means that they're highly portable and you may use them in different workspaces, even those which don't have outlets. However, cordless models aren't as powerful as their corded counterparts. They also need more maintenance in the sense that you have to keep changing the batteries to make sure that the tool keeps working well.
Portability
This is another feature to look out for when planning to purchase a rotary tool. In fact, this is one of the most important features especially if you work in different venues and workspaces. In such cases, cordless rotary tools are more useful as you can move around while working without having to worry about the cord getting unplugged.
Keep in mind though, that if you work with a cordless tool, you may have to bring along its charger or an extra set of batteries, especially if you plan to work for a long time. Also, think about whether you will work on a lot of heavy projects or you plan to focus on small-scale tasks. But if you only plan to use the tool at home, then you may go for a heavier tool which offers more power.
Purpose
For those who need to use a rotary tool every day, then the best way to go is with an electric model. This will ensure that you have unlimited power and you will be able to use it for various applications even for cleaning, sanding, and cutting. But if you only need the tool for odd jobs or simple DIY projects, then you can consider a simpler one.
Your purpose for using the rotary tool is another thing to think about so you can get the most out of the product you choose. Also, the type of work can help you determine how much power you need.
Price
Finally, also look at the rotary tool's price tag. The best rotary tools come at various prices. Usually, the price would also determine the quality of the product. Of course, this doesn't mean that you have to break the bank to purchase a great tool. There are some great choices for those who have a smaller budget too.
Sometimes, the price of the rotary tool would depend on its brand. The more well-known brands come with higher price ranges while the more obscure brands are more affordable. Think about how much you're willing to spend on the rotary tool, and this may help narrow down your options.
The 10 Best Rotary Tools 2020
Guide to Buying the Best Rotary Tools
There you have it, a review of the best rotary tools available on the market now. Choosing any one of these products will guarantee you a superior buy. But before you make your choice, there are some things you need to consider first. Let's take a look:
What important factors should you consider when buying a rotary tool?
Power
The power of a rotary tool is normally measured in volts or amps. For a very effective tool, opt for a model with a minimum of 1.6-Amps. When looking at the voltage, select a model with a minimum of 4.8 volts. Such a tool would be ideal for hobby or DIY projects. But if you need it for heavy-duty tasks, then choose one with at least 12 volts of power.
Weight
The tool's weight will help determine whether it's comfortable to use or not. If you plan to use the tool for long periods at a time, then choose a lightweight model over a heavy one. For rotary tools, it's best to choose those which don't weight more than 1.5 lbs as these are easier to maneuver, and they won't cause fatigue.
Speed
When it comes to speed, consider the tool's revolutions per minute or RPM. Some models only have a single speed while others have varied speed options. The latter would be the better choice as variable speeds make the rotary tool more versatile.
Practical features of rotary tools
There are also some practical features for you to look out for when choosing a rotary tool. Although these aren't a must for some people, it's handy to have these features especially if you're willing to spend on the high-end or full-featured models.
Ergonomic design
The design and shape of the tool can go a long way especially in terms of reducing fatigue while you work. A rotary tool that has a contoured body and a comfortable grip will provide better balance for when you hold it.
Attachments and accessories
Most of the time, rotary tools are only as useful as the attachments, accessories, and bits that it comes with. If you want to use the tool for different purposes, then go for a model that includes a wide range of accessories. These attachments and accessories will make the tool more versatile too.
Verdict
Rotary tools are highly versatile which makes them a must-have item in any home or office workshop. You can use this type of tool for various purposes from grinding, sanding, polishing, and more. But choosing the best rotary tools requires a lot of effort and consideration. To help you out, we've provided a buying guide and a review of the best products available on the market now.
The best rotary tool for you would depend on your own needs and preferences. From the brand of the tool, its size, your budget, and more, considering all the relevant factors will go a long way for you. Once you've chosen a rotary tool, you should also learn how to use it appropriately and maintain it so the tool will last for years to come.