Wood carving is a very inclusive hobby that anyone of any age or skill level can take part in. Part of the reason for this is that it is incredibly varied, including everything from small-scale whittling to spoon carving, relief carving, and large-scale sculptures. In this guide, we discuss all the tools needed for whichever type of wood carving that interests you.
Welcome to the World of Wood Carving
If you are just starting on your wood carving journey, it is often recommended to buy a small kit or just the tools you need for one project. For example, if you are interested in carving spoons or bowls, a spoon-making set with a sloyd knife and a hook knife are all you need to get started.
As you get better at carving and want to try out different projects like relief work or sculpting, you can add to your tool collection and end up with that dragon's hoard of tools every woodworker dreams of.
Some of the sets reviewed below, like the Schaaf wood carving tool set, contain a wider variety of carving tools if you've experimented a little already and want to branch out to different projects.
What to Look For When Buying Wood Carving Tools
With such a wide variety of tools used in wood carving, there are a few universal qualities to consider when looking for the best tools for your needs. Mostly, the types of tools you need will depend on the type of projects you enjoy or are wanting to try. However, no matter the specific tool you buy, you should consider the quality of the metal, the quality and comfort of the handle, and the weight and shock absorbency of your mallet.
Types of Wood Carving Tools
Depending on the type of wood carving you do, you will likely need at least one if not all of the following types of tools. For a more detailed description of the tools you might need for specific projects as well as optional extras, jump to Wood Carving 101 to see the tools you'll need for the various types of wood carving.
Knifes
Carving knives are very versatile, and you can complete a wide range of projects without the need for any other tools. Wood carving knives are used for whittling (making small 3-D items like figurines or whistles), chip carving, or to shape bowls and spoons using a hook knife.
Chisels and Gouges
Chisels generally have a flat tip like a screwdriver. It might be set at an angle, but the sharp edge that contacts the wood is flat. They are used to make straight or slightly angled cuts used in chip and relief carving, and for clearing large flat areas of relief carving.
In contrast, gouges have a curved tip, often in a U or V shape, depending on which one is needed. U-shaped gouges are also known as veiners. Gouges and veiners are used to make curved or rounded cuts while carving.
Chisels and gouges are used for projects like decorative relief work, sculpting (usually larger items than you can whittle easily), and large bowls. They are often used with a mallet to help control the cuts made or to dig into harder wood more easily.
Mallets
While you can get by without a mallet (just check out those amazing village woodcarvers who use an old plank or log as a mallet), it does make it a lot easier to work on harder wood and create deeper cuts on projects where you need to clear large chunks of wood quickly. It is also easier to remove consistent shavings and chips using a mallet than it is working only by hand.
Metal Quality and Sharpness
As with many tools, wood carving tools are safest when they are sharp. Look for knives, chisels, and gouges made of high-quality metals, as these will retain a sharp edge for longer than poorer-quality tools. It is also worthwhile to buy sharpening stones and strops.
Most woodworking tools require sharpening before the first use, even good quality ones, so it is not a failing on the manufacturer's part if this is needed. Learn how to sharpen your tools so you can maintain a good, sharp edge. It'll be safer and help you work faster with fewer frustrations.
Shock Absorbency
Wood carving mallets are generally more shock absorbent than regular hammers to avoid damaging your tools and woodwork projects. Look for tools made of wood, plastic, or rubber that will give enough of an impact but won't be too heavy for you to control easily.
Handle Quality and Comfort
If you can, try to find tools with handles that fit comfortably in your hands. Not only will a good grip give you better control over the cuts you make, but the repetitive percussive shock could cause blisters if you have a poor-quality or ill-fitting handle. Also, look for how well the blade is fitted to the handle. The last thing you want is a blade breaking or coming loose halfway through a project.
With these criteria in mind, here are our picks of the best wood carving tools currently on the market.
Top 10 Best Wood Carving Tools 2023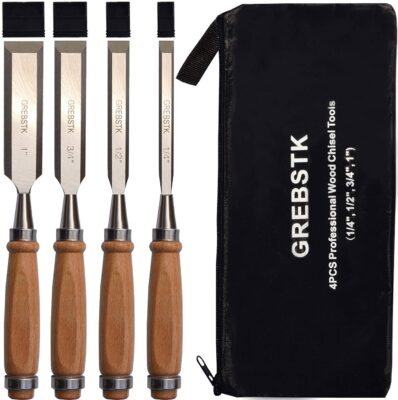 Why we like it:
These versatile chisels are made of good quality steel with comfortable beechwood handles for an affordable price.
Editor's Rating:
Quick Facts:
Set of 4 chisels: 1-inch, 3/4-inch, 1/2-inch, and 1/4-inch
Beechwood handles, chrome vanadium steel blades
Plastic covers to protect blade tips
Includes storage case
Chisels are very versatile and can be used for all types of carving, from chip carving to sculpting. This set comes with four sizes of chisels so you can choose the one that best suits your needs as you work.
The high-quality chrome vanadium sharpens well and holds an edge for longer. As with all sharpened woodworking tools, you will need to hone these chisels a little before using them for the first time to get the best results—although there is a slight edge that can be used straight out of the packaging. One con is that some of the tips may not be square, so it is worth checking and adjusting this before you start using them.
This set is the perfect start to your collection. When combined with a quality mallet and some carving knives, you'll be able to handle nearly any project.
Pros
High quality, comparable to more expensive chisels

Affordable

Variety in sizes for completing projects

Easy for beginners to use

Great for a variety of projects from chip carving, relief carving, and sculpting
Cons
Bevel ends/tips not square
---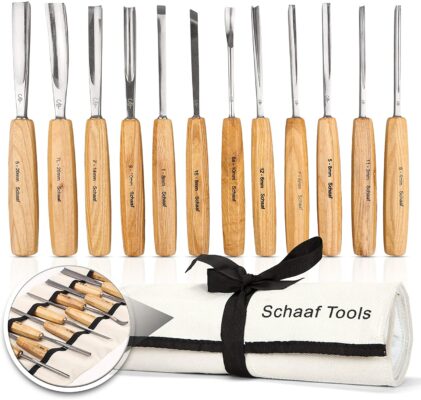 Why we like it:
These are high-quality tools that can be used for most types of wood carving.
Editor's Rating:
Quick Facts:
12 full-size chisels and gouges in various sizes
Includes canvas tool roll
Chromium Vanadium blades, ash handles
eBook included – Beginner Guide to Carving
This tool set is ideal for those looking to get into relief carving and sculpting as it includes a wide range of chisels and gouges. The blades are made of high-quality steel and hold an edge well once sharpened. The handles are comfortable and octagonal to prevent them from rolling off your workbench.
The set includes a canvas tool roll for easy storage and transportation while protecting your tools. Also included in your purchase is an eBook, "Beginner Guide to Carving," sent to your email address.
Schaaf clearly states that the tools need to be sharpened before use, as do most woodworking tools. However, sharpening equipment is not included and must be purchased separately. While they do not take complaints about dull tools (having stated the need for the buyer to sharpen), Schaaf will replace any tools that have an uneven edge or are damaged upon arrival.
Pros
Wide variety of chisels and gouges

High-quality steel

Canvas storage pouch included

eBook included

Comfortable handles
Cons
Sharpening required before first use

Sharpening equipment not included
---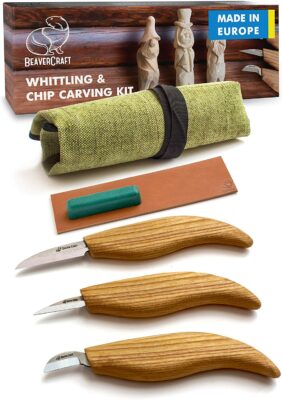 Why we like it:
This set is great for whittlers or those wanting to do chip carving, no matter your skill level.
Editor's Rating:
Quick Facts:
Sloyd/Whittling knife, roughing knife, and chip carving knife
Includes leather strop, polishing compound, and roll-up storage bag
Ashwood handles, high-carbon stainless steel
The tools in this set are best used for chip carving and whittling and can give you an idea of whether you'd like to try more detailed relief carving and sculpting at a later point.
The knives are great value for the price and, like most tools, require some sharpening before use which is a bit of a learning curve if you have never done it before. However, the kit includes sharpening equipment, and the seller sends an emailed set of instructions on how to do this. The tools hold their edge well after sharpening, reducing the need to sharpen too frequently unless you are working with hardwood.
Pros
Great value for an affordable price

Versatile – for whittling and chip carving, some sculpting

Great for beginners, comes with instructions on how to use and sharpen

Includes sharpening equipment

Hold their edge well after sharpening
Cons
Need to be sharpened before using – learning curve for beginners
---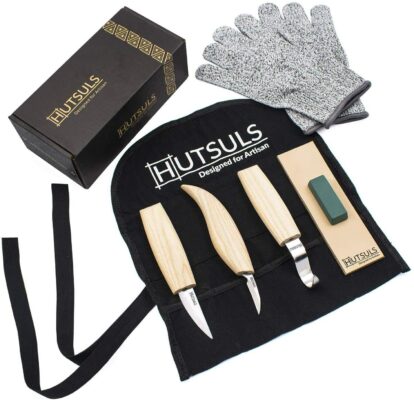 Why we like it:
This tool set includes all the basic wood carving tools you'll need for a variety of projects, from spoon carving to whittling and chip carving.
Editor's Rating:
Quick Facts:
Sloyd/Whittling knife, chip carving knife, and hook knife
Ashwood handles, stainless steel blades
Includes leather strop, polishing compound, cut-resistant gloves, and roll-up storage bag
This tool set is ideal for beginners and kids who are just starting to develop their wood carving skills. Included is everything you need for spoon carving, whittling, and chip carving providing you with several options for experimentation and building your skills to eventually move on to relief carving and sculpting if that interests you.
The knives are full tang, meaning the metal blade goes all the way through the handle making them very sturdy and less prone to breaking or coming apart from the handle. One downside is that the blades occasionally arrive with nicks that need to be ground out before you can use them. They arrive at varying levels of sharpness. Other than that, the knives are of good quality with comfortable handles, even for smaller hands.
Along with the tools you receive sharpening equipment, an essential component as you'll need to learn how to sharpen and regularly maintain your tools. There is also a pair of cut-resistant gloves; you will probably appreciate the extra protection they provide while you learn to control the knives. Unfortunately, they only come in a medium size, which doesn't work for every buyer.
Pros
Full tang blades, very sturdy

Comfortable handles

Great for beginners, including kids

Includes sharpening equipment
Cons
Blades occasionally have nicks

Only medium-sized gloves available – not suitable for all buyers
---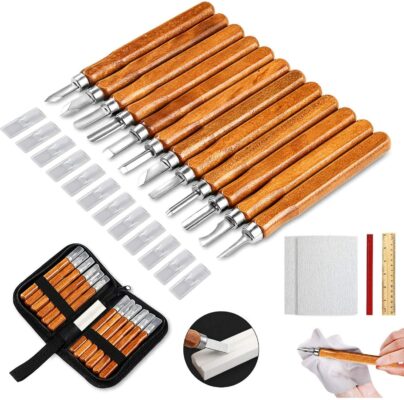 Why we like it:
This tool set has great variety for the price and is ideal for children and beginners who want to start on smaller projects and softer materials like pumpkins.
Editor's Rating:
Quick Facts:
12 carving knives in various sizes and shapes
Includes a whetstone, storage case, carpenter's pencil, small wooden ruler, sandpaper, and wipe cloths
Carbon steel blades, wooden handles
Pre-sharpened
If you are a beginner or mostly interested in small projects, this set will work well for you. There are many carving knives in various shapes to experiment with whittling and some relief carving. However, as the blades are not very big or strong, they are not meant for larger projects and are best suited to softer materials like soap, clay, or pumpkin carving. The blades may break or chip if used on hardwoods as you need to apply more pressure.
These tools do require some sharpening, but a whetstone is included in the kit. The frequency of sharpening depends on the materials being carved.
The handles are comfortable and easy for kids to use, making this a great set for younger beginners.
Pros
Wide variety of tools

Includes sharpening equipment

Comfortable handles

Good for beginners including kids
Cons
Best suited to softer materials as blades often break or chip

Lose their edge quickly
---

Why we like it:
This specialized wood carvers' mallet is ideal for fine detail work but has enough weight for deeper cuts and carving hardwoods.
Editor's Rating:
Quick Facts:
Urethane head
Hardwood handle
18 ounces
Carvers' mallets differ from joinery or general woodworking mallets primarily in shape. They are cylindrical rather than cubic like the CROWN joiners' mallet. Both can be used while carving, but a carver's mallet is better for fine detail work as you have a little more control over the movement of your tools.
The Wood is Good mallet has a comfortable, well-shaped handle, with a plastic (urethane) head. The plastic cuff is strong enough to withstand heavy blows but soft enough that it won't damage your wooden-handled tools. It also makes less noise than a traditional wooden mallet which is preferable to some woodworkers. One downside is that the handle is unfinished, and you might prefer to sand or oil it a little before using it.
You can buy Wood is Good carvers' mallets in different weights, such as 12-ounce, 20-ounce, and 30-ounce, depending on your preference. These are a similar size but weighted with metal plugs in the head to give extra weight in the head for harder strikes. Occasionally these weights can come loose and rattle, which can be annoying but doesn't affect the weight of the mallet. The 18- and 20-ounce mallets are a good standard size if you are just starting and unsure of what to buy.
Pros
Well-shaped handle

Specialized carving mallet for fine detail work

Quiet – good absorbency but heavy enough to make deep cuts
Cons
Unfinished handle

Weights in head can come loose and rattle
---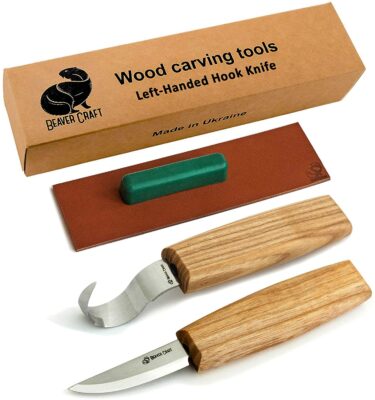 Why we like it:
This set is for anyone interested in whittling and spoon carving, even if you are left-handed.
Editor's Rating:
Quick Facts:
Sloyd/Whittling knife and left-handed hook knife
Includes leather strop and polishing compound
Wooden handle, high-carbon stainless steel
Even lefties should be able to carve spoons but unfortunately most hook knives available on the market are right-handed, forcing left-handed carvers to work with their non-dominant hand or forgo spoon carving. BeaverCraft has come to the rescue by making both left0 and right-handed knives available.
The knives in this set are generally ready to use straight out of the box. The kit includes a sharpening kit to help you maintain your knives for optimum use. Unfortunately, the blades do not always hold their edge very well, requiring you to sharpen more frequently than you might prefer.
The blades and handles are sturdy, although occasionally the blade of the sloyd knife breaks. The seller should replace the knife if this happens to you.
Pros
Left- and right-handed hook knife available

Ready to use straight out of the box

Sturdy blades and handles
Cons
Blade doesn't hold an edge well

Blade occasionally snaps off
---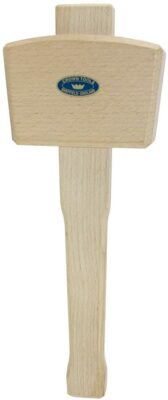 Why we like it:
Beechwood is a durable but lightweight wood, making this mallet ideally suited to giving and receiving hard knocks without taking or causing damage to your wood and tools.
Editor's Rating:
Quick Facts:
Beechwood handle and head
5 inches (head length)
12-inch handle
20 ounces
This traditional woodworkers' mallet is perfect for a variety of woodwork projects, not only carving. While it is generally used for joinery, it can also serve as a carving mallet. If you are interested in other forms of woodworking in addition to carving, this is a great option.
Beechwood is a lightweight hardwood, making it ideal for use in tools where durability is important like tool handles and mallets, but where a heavy wood would make the tool unwieldy. The flat, wooden head limits slipping when striking your tools. It is slightly shock-absorbent, ensuring control over the movement of your chisels and gouges while applying enough force to help you make deep cuts into even the hardest woods.
A 20-ounce mallet such as this is a standard weight to consider when purchasing a mallet. If possible, however, it is a good idea to visit a hardware store to test out the weight of mallets as what is manageable to one person might be too heavy for another.
This mallet is well-balanced, which is important to ensure you have control over your strikes. However, it is unfinished, so you might need to spend some time sanding down the edges, shaping the handle, and applying a finish like linseed oil before using it on a long-term basis.
Pros
Well balanced

Useful standard weight

Versatile for use in carving and other types of woodwork
Cons
Unfinished, rough edges

Handle might need some shaping to be comfortable
---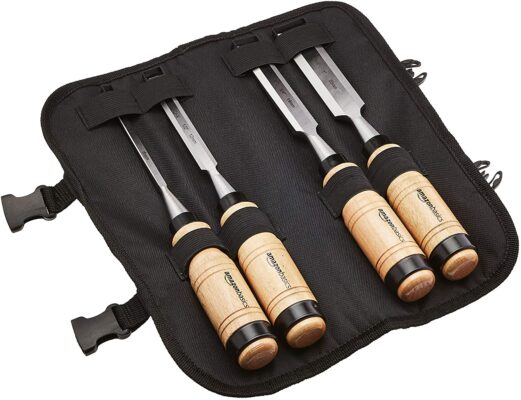 Why we like it:
This chisel set has large, comfortable handles and comes with a roll-up storage pouch for easy use and transportation.
Editor's Rating:
Quick Facts:
Set of 4 chisels: 1-inch, 3/4-inch, 1/2-inch, and 1/4-inch
Wooden handles, chrome vanadium steel blades
Includes storage case
This chisel set is similar to the GREBSTK chisel set with four chisels ranging from 1-inch to 1/4-inch with a roll-up storage pouch for easy access. While the storage case is very useful, the quality of the stitching may vary.
The steel quality is not quite on the same level as the GREBSTK chisel set but the blades sharpen up and hold their edge well. These chisels have been known to come with nicks or burrs, but it is a good general practice to sharpen all new tools before using them.
The handles are slightly larger than other tool sets, which is more comfortable for those with larger hands and can allow you to have more control and better accuracy while carving.
Pros
Sharpens well

Affordable/great value for money

Large, comfortable handles
Cons
Not very high-quality steel

Occasionally nicks and burrs

Poorly made storage case
---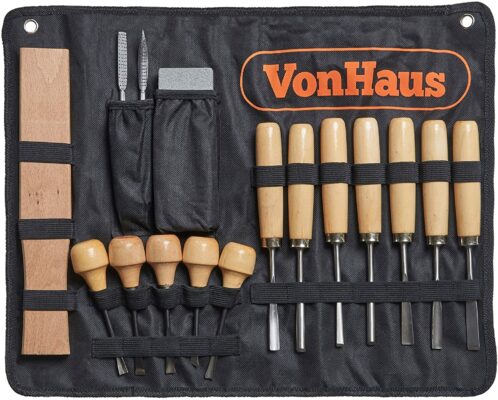 Why we like it:
This set has everything you need for all types of wood carving, with no need to buy anything else.
Editor's Rating:
Quick Facts:
5 short palm carving knives, 7 chisels and gouges
Includes 2 files (a rasp and a riffler), sharpening stone, small mallet, canvas storage pouch
Chrome vanadium blades, wooden handles
Pre-sharpened
As this tool set has a wide variety of knives as well as chisels and gouges, it is a great option for beginners who are unsure of which type of wood carving they are interested in. As with all tools, it is best to sharpen them before using them for the first time. This is especially necessary with this set as the tools often come with nicks, burrs, or uneven edges.
Unfortunately, you might need to sharpen fairly frequently as the tools don't hold their edge very well, but this will also depend on whether you are primarily working with harder or softer wood.
The quality is also lower than if you had purchased these tools separately, so you're probably better off getting high-quality individual packages like this dedicated whittling set if you're planning to carve often.
Pros
Wide variety of tools for all types of wood carving

Includes sharpening equipment

Great for beginners
Cons
Nicks, burrs, and uneven edges in blades

Require sharpening before use

Require frequent sharpening/don't hold their edge well
---
Wood Carving 101

Many types of wood carving use the same tools, so you don't need to invest in a wide array of tools to find your preferred style, only to leave half of them unused. If you are just starting it's a great idea to buy tools that can be used for several different types of wood carving, like carving knives that can be used for whittling, spoon-making, and chip-carving.
When starting out, it's a good idea to find a project you would like to try and buy the tools needed for that project. Then expand as you find more projects that need other tools.
Each type of wood carving has a list of the tools you can use for that style, however, in many cases you don't need everything on the list. You can choose which tools you are most comfortable using or choose tools that can be used for the different types and styles of wood carving you are interested in.
Beginners would probably be most comfortable starting with chip carving, whittling, and spoon making. More advanced woodworkers who are familiar with these styles or beginners with an artistic background might prefer to try relief carving and sculpting as these use advanced techniques and artistry.

Chip Carving
Chip carving and relief carving are similar in that they are incisions made onto a flat piece of wood to create a 3-D pattern or image. Chip carving, however, is generally restricted to geometric patterns and designs with angled edges. Historically this carving method was also used in metalwork as the facets catch the light well, although it is unclear whether this method originated in woodwork or metalwork.
Chip carving is probably the simplest style of wood carving, as you can trace a pattern onto a piece of wood and work methodically to create your piece. Other methods, like relief carving and sculpting, require a little more artistic technique to get the correct proportions and perspectives.
Tools and Equipment

Relief Carving

Like chip carving, relief carving is usually done on a flat wooden surface, but it can also be used to decorate curved surfaces like bowls and chair legs. Where chip carving is generally pattern-based and geometric as seen in the left-hand panel of the image above, relief carving is more free-hand like a 3-D image as shown below—although it can also be pattern-based like the right-hand panel of the image above.
Tools and Equipment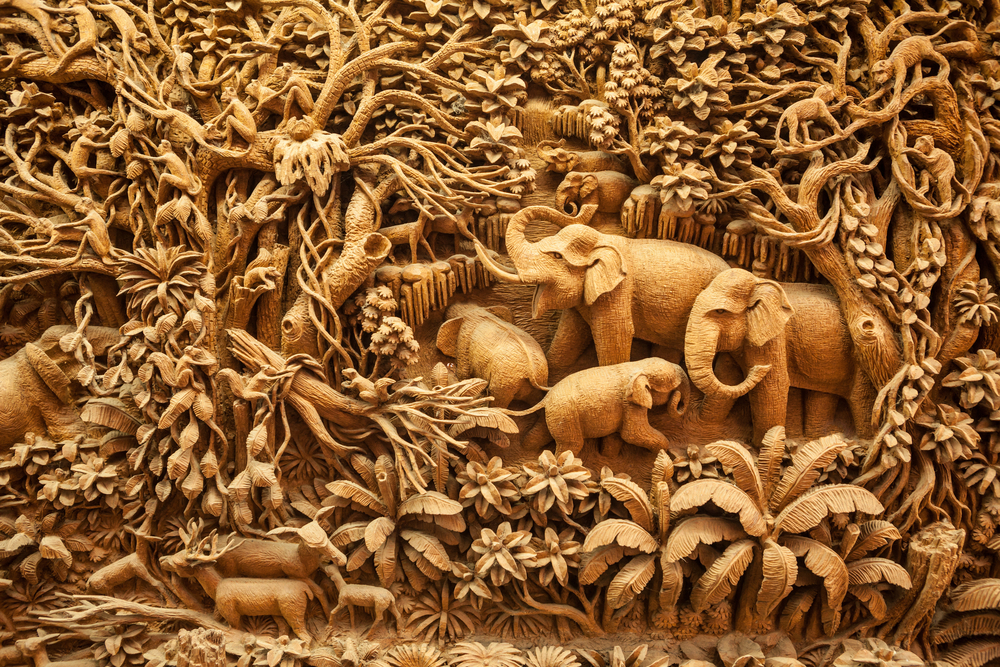 Whittling

Whittling is a simple form of sculpting that is great for beginners. It is mostly practiced as a hobby rather than conducted on a professional level. In general, whittled pieces are much smaller than carved wooden sculptures, although some sculptures can also be very small. The primary difference is in the techniques and tools used.
In whittling, carving or whittling knives are used to remove small pieces of wood to create an item like a spoon, whistle, or miniature figure. Some purists prefer to "whittle away" at the use of excessive tools and use a pocketknife to whittle, creating pieces from any bits of wood or sticks they find lying around.
Tools and Equipment
Sculpting

Sculpting is the bigger, more technical brother of whittling. In both, the primary outcome is a figure or object made of wood, but sculpting is usually on a much larger scale and uses more advanced wood carving techniques than whittling.
Sculptors mostly use chisels and gouges of various sizes paired with a mallet to create their pieces, however, there is a branch of wood sculpture where the artists use chainsaws. These pieces are generally very large and use a tree trunk, stump, or large branches as their starting block.
As with all art forms, there are numerous styles used when sculpting, from the more realistic pieces to stylistic ones such as Scandinavian flat-plane carving. You will likely develop your own style as your skills progress. The common thread between all types of sculpture remains the same: start with a hunk of wood and remove everything that doesn't look like the figure you want to end up with.
Tools and Equipment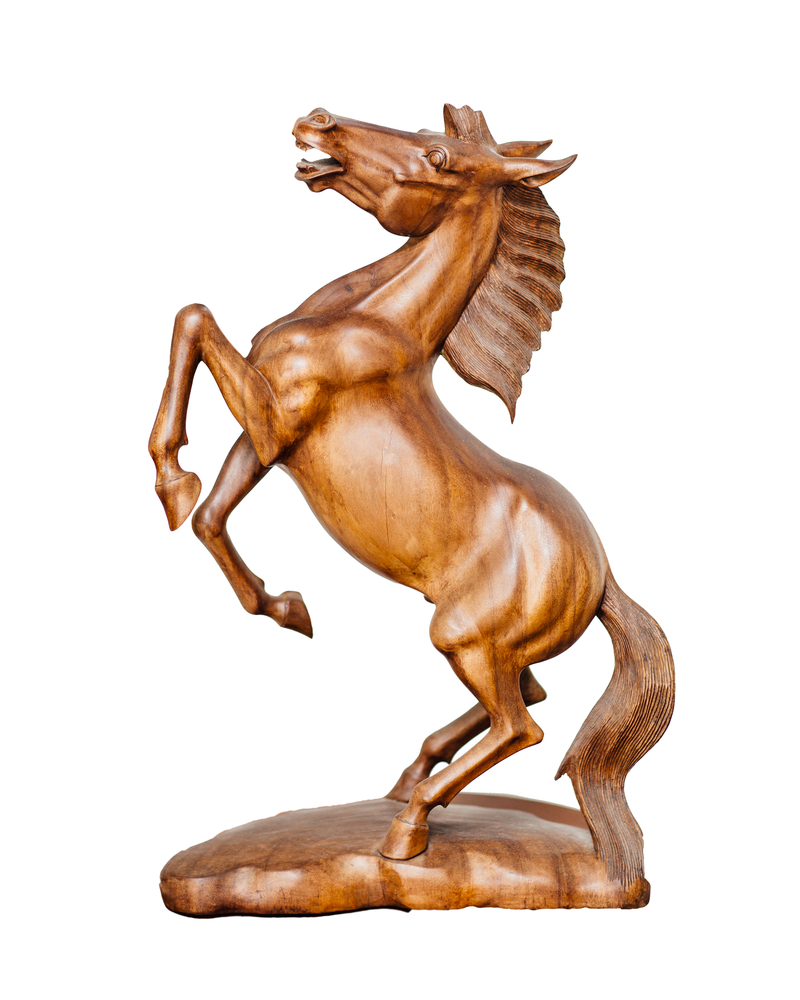 Spoon and Bowl Carving

Spoon and bowl carving is a very popular craft and can often be seen at woodworking shows and craft markets. It is fairly easy, requiring few tools no matter your skill level. Another attraction is that projects can range from very simple designs for beginners to including more intricate details as your carving skills progress. It can also be combined with chip or relief carving and whittling to create decorative handles and patterns on your spoons and bowls without the need to buy additional tools.
Some woodworkers prefer to create bowls by turning wood on a machine called a lathe. In this method, the wood is spun on an axis while the woodworker removes wood using chisels and gouges. The result is a symmetrical object like a bowl, goblet, tool handles, candlesticks, chair legs, and the like. However, a lathe is not required to carve wooden bowls. It can be done by hand although the result will not necessarily be symmetrical which is part of the charm to some.
Tools and Equipment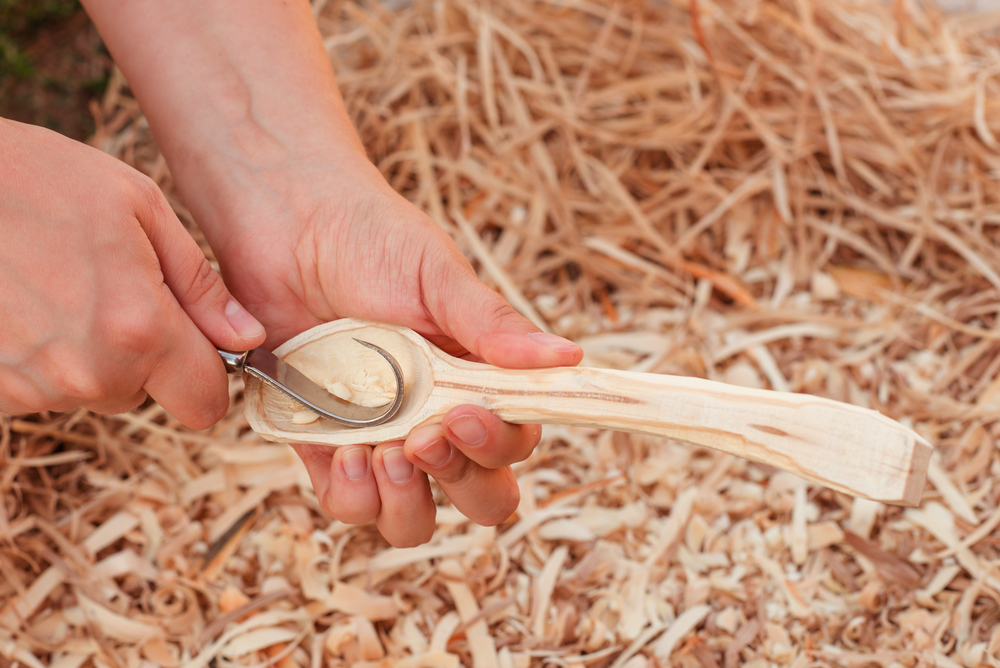 Safety First
While it may seem contrary to reason, tools are safest when they are sharp. Dull tools require more pressure to be applied, creating a higher risk of the tool slipping and cutting you. To reduce the risk even further, ensure that the sharp edge of your tool is facing away from you and that your hands are always behind the sharp edge. There are some techniques and ways to hold the wood, especially when whittling or spoon carving, where one can cut towards oneself, but use care when doing this.
This way, if your tool does happen to slip, it is less likely to stab or cut you. Luckily, hand tools like chisels, gouges, and knives will do a lot less damage than power tools if you do get injured but it's still best to avoid drawing blood.
Whether you are an amateur woodcarver or do it on a full-time basis, it's a good idea to learn how to sharpen and maintain your tools for optimum safety. It is very easy to sharpen by hand using a sharpening stone and strop and only takes a couple of minutes. An electric grinder is not necessary unless your tool is very damaged and needs to be ground down to remove large chips or deep scratches.

Finishing Touches
Once you have carved your piece you will need to finish it. This might mean sanding it down to remove gouge or chisel marks or just applying a finish like oil, wax, or varnish to make it shine and protect the wood from weathering.
Some carvers like the rough effect of chisel and gouge marks as it highlights the handcrafted nature of their piece. Others like to smooth these out for a more professional look. You can use rasps or rifflers, which are types of files that come in a variety of shapes and sizes for fitting into small spaces and are well suited to smoothing curved surfaces. Sandpaper is a great alternative for those who don't want to invest in too many expensive tools.
Finishes to protect the wood and create an attractive shine include oils, waxes, and varnishes. Bowls and spoons should be finished with food-safe finishes like coconut oil or beeswax.
Carve out a New Hobby
No matter your skill level, wood carving is a great pastime that can be done with minimal equipment – although it is almost inevitable that you will end up with an overflowing tool chest as you get deeper into the craft. The important thing to remember is that sharp tools are safe tools, and high-quality blades hold an edge the best so it doesn't generally pay to buy the cheapest version of the tools you will use most often.