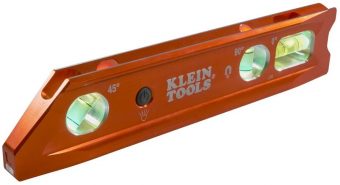 Lighted Level, Magnetic Torpedo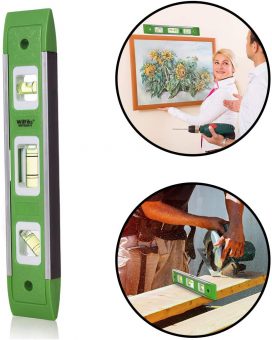 WilFiks Torpedo Level, 9" Inch Leveling Tool

Swanson TL043M 9-Inch Savage Magnetic Torpedo Level
Previous
Next
Torpedo level is an essential tool which has versatile uses and is irreplaceable when it comes to any construction jobs, no matter if you're a professional or a rookie. Whether it's for DIY projects or for high-level work, you need the best torpedo levels to make it a successful project. It's highly important that you buy a quality product as it helps you see if the work surface is in satisfying shape, or if the angles are right.
With the torpedo level tool, you can monitor your building performance and see if there are any crucial things you need to do so you can get everything in balance and improve the quality of your work. Therefore, we are going to review the high-quality products you can find online so that it can be easier for you to make a good investment.
Features to Consider in Good Torpedo Levels
There is a wide range of torpedo levels available in the market right now. These products have many differences between them. This buying guide will help you know what to look for when choosing the right torpedo level.
What is a Torpedo Level?
A torpedo level is a smaller version of a spirit level and it's meant to be used in tight spaces. It gets its name from its long, thin torpedo-like shape. Some brands even have tapered edges and look even more like a torpedo, designed to easily slide the level into your pocket.
Do You Need a Torpedo Level?
A torpedo level is great for plumbers, electricians, and carpenters. However, you can find countless ways to use it around the house. You can use it for simply hanging photos, putting up shelves, building flat pack furniture, or anything else you need a level for. Unless you're a contractor who uses one every day, a torpedo level is one of those things that you do not think about until you need it. They are relatively inexpensive and will always come in handy.
Features of Torpedo Levels
Although torpedo levels are generally pretty simple tools, there's still a decent range available. Not all are created equal, which is why it's important to know what features to look for.
Vials
All vials are not made the same. The material used can be plastic, glass, or acrylic. Glass is tough and less likely to leak, crack, or fog over making it one of the best choices. If you're looking for something that will last for a long time, glass will hold up better.
Some companies use vials that are UV resistant. This is important if you do a lot of work outside. It means the coloring in the liquid won't fade and the material won't be damaged by exposed sun. The level will last longer and its performance won't suffer.
The vials are filled with liquid, most commonly diluted ethanol. There's an air bubble that moves as you adjust the level which is how you read the angle. Most levels have a bright greenish yellow liquid filling the vials but some do attempt to make the bubble more apparent. There are some that comes equipped with LED lights, too.
Material
Torpedo levels have been made to handle working in more strenuous environments. When it comes to durability, the most important thing is the material of the frame. They're most commonly made of ABS plastic or an aluminum alloy. Both of these materials are lightweight and durable but there are some differences. The biggest one is that plastic can be molded into just about any shape and is not effected by heat or cold areas. Aluminum will get hot and cold depending on the temperature of the environment.
Magnets
If you work with metal, get a torpedo level equipped with magnets. It lets you use the level hands-free and is one of the most convenient features you'll find. Rare earth magnets are more powerful than strip magnets and are a more popular choice but strip magnets are still available, too.
V-Groove
A V-groove is basically a way to help you guide pipes and conduits into place quickly and accurately. It's a pretty simple concept. One side of the level is shaped like a V. The material fits into the groove which gives you more control. It helps stabilize the material and makes the job easier.
Thumb Screw
Thumb screws are essential if you're working with conduits. The thumb screw attaches the level to a piece of conduit so you can use the level while bending. If you're not planning to bend any conduit, the thumb screw isn't necessary. Please note that that the thumb screw will not get in your way if you're not planning to use it.
Digital
Digital torpedo levels are a perfect choice for anyone who has a hard time reading the measurements using vials. Usually, these levels have a large screen that displays the angle. Some even include other measurements, like inches per foot, millimeters per meter, or even slope.
If you use a level a lot or if you're the kind of person who loves gadget and like to have the newest tech, you'll appreciate the digital level. They are nice to use and perform well but they work just as well as low-tech torpedo levels.
The 31 Best Torpedo Levels 2020
Guide to Buying the Best Torpedo Levels
Now that you have seen the top 30 best torpedo levels, you now need to choose one that is best for you. Here are some of the most important things you need to consider when you want to find the best torpedo level.
Quality of Materials
In most cases, the material that the torpedo level is made out of is going to determine its quality and overall value. Generally, the results and the success of the job will depend on the materials that your torpedo level is made out of.
Usually, the most common materials that torpedo levels are made out of are ABS plastic and aluminum. Both of these materials are good and they determine the torpedo level's durability and performance as well. The ABS plastic torpedo levels are less durable, but way more convenient and easier to use.
On the other hand, the aluminum torpedo levels are durable, but they are not convenient for every job. Nonetheless, both these materials are lightweight which makes torpedo levels, tools you can easily work with.
Accuracy and Precision
Accuracy is one of the most important things to consider about torpedo levels. Simply speaking, if you want to get a great quality torpedo level, the accuracy should be your number one priority.
A good torpedo level will provide you with the assurance that your measuring is precise and accurate. Accuracy is quite an important thing, especially where 1/100th of an inch means a lot of difference.
Easy to Operate
It is quite easy to operate a torpedo level. All you need to know are the basics and how to read the vials. However, there are some torpedo levels that makes every job pretty easy. Usually, look out for torpedo levels with more than one vial. This means that torpedo levels with 0 degree, 45 degree, 90 degree, and even a 30 degree vials are better and easier to use.
Besides, there are torpedo levels that have magnets equipped on them making it quite easy to use. You can basically attach the torpedo level on the metal surface and use both of your hands to level the object perfectly.
Convenience
When it comes to convenience, it's quite important to look out for special features. The difference between the valuable torpedo levels and the ones that are a bit cheaply built is the convenience.
The features of a torpedo level make it quite convenient for any kind of job. A torpedo level with lots of features is a better choice than any other regular one. Also, some of the torpedo levels are built for only one type of a job and for that reason they only serve one purpose.
The Verdict
This thorough review had a goal to provide you with insights into the relevant factors you need to consider before investing in a new torpedo level tool. It's important that you understand the nature of the work that needs you to use the specific kind of torpedo level as such understanding improves the quality of your choice.
Each of the reviewed levels has its own specific advantages in certain working conditions, so check the review closely to see which sort of levels will best suit your needs. The most important feature is accuracy, so make sure that the torpedo level you choose to buy can provide you with a satisfying level of precision in its performance.