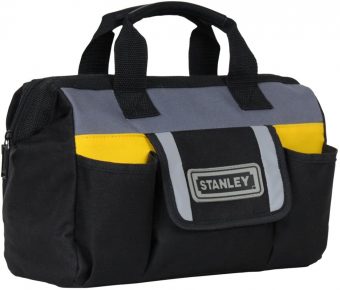 Stanley 12-Inch Soft Sided Tool Bag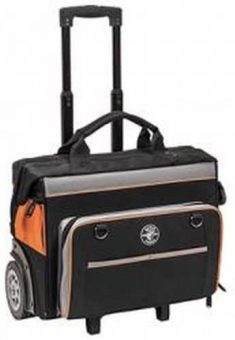 Klein Tool Rolling Tool Bag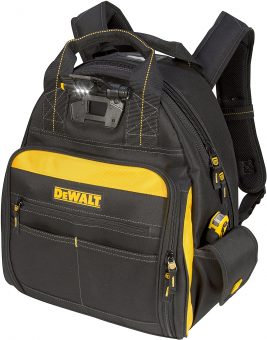 DEWALT Lighted Tool Backpack Bag
Previous
Next
You are probably one of those professional handymen or the DIY enthusiast who loves to watch 'Home Improvement' and can't stop admiring Tim's power tools. After all, tools are a lovely possession and therefore, storing them nicely is a must. Buying a tool bag is a wise investment.
Your tool bag holds everything you might need for the most common jobs and protects them from rust and dust. Besides, it also helps in preventing the loss of the tools. The best tool bags lets you bring your most used tools direct to work, all in one convenient package. The tool bags are affordable and will provide you with years of useful service. This review will present some of the best tools bags on the market that you can choose from.
Features to Consider in Good Tool Bags
There are a large number of tool bags that you can choose from as you can see from the list below. This might look very overwhelming but the buying guide below will help you narrow down your choices and help you select the right tool bag for you.
How to Spot a Good Tool Bag
The best tool bags should have the following features:
Rugged Construction
Tool bags are bound to go through a lot when you take them to the job site. Therefore, they need a rugged construction to survive. You can get away with a lighter construction if you are going to put smaller tools like screwdrivers and wrenches in the bag. However, if you need to pack comprehensive sized toolkits or larger tools, you should look for rugged materials with double or triple stitches, reinforced bases and handles.
Weather Resistant
The material used to make the bag should be water resistant to protect your tools inside. You should know whether the bag is going to get wet or not. Choose a weather resistant bag if you are going to work in all weathers.
Comfortable to Carry
Tool bags come with different designs for carrying them. There are tool bags with shoulder straps like backpacks whereas others have handles. Whichever design you prefer, it should be comfortable for you to carry around.
Storage Capacity
The size and number of tools you need to fit inside the tool bag will determine the size of bag you will choose. Do not buy a bag that's too small to carry everything. Also, don't buy one that is too big that cause you 5 tools to rattle around inside.
Types of Tool Bags
There are three distinct styles of design when it comes to tool bags. These are:
Standard Bag
This bag looks like the standard bags and most tool bags will be of this design. These bags feature handles for carrying instead of straps like in backpacks. They offer the best middle ground between comfort and carrying capacity.
Backpack Style
The backpack style bags feature straps that enable you to carry the bag on your back. They distribute the weight across your back making them quite comfortable to wear. These bags often can't pack in quite as much as a standard design bag.
Bucket Bag
These bags look a little bit funny and will never be as comfortable as a backpack style bag. However, they are extremely simple and straightforward to use whilst having an excellent carrying capacity.
Why Do You Need a Tool Bag?
With tool bags, you no longer need to tote your tools around in a dirty brown bag from the grocery store. The following are reasons why you should get yourself a tool bag.
The fact that you only have two hands means that there is a limit to the number of bags you can carry from one point to another. Instead, you can chuck these tools inside a tool bag meaning you can carry much, much more stuff.

Tool chests have been the traditional storage for tools at home and work. However, you can't carry them with you and it's tedious to pack and unpack frequently. A good tool bag gives you a way to organize your most used tools whilst on the move.

You could have the option of wrapping your tools in an old blanket and chuck them in the trunk of the car. Having such junk in the trunk would be a very daft idea since tools are quite expensive to buy and replace. It's important that you look after them when you're carrying them around. A good tool bag provides extra protection that you need.
The 30 Best Tool Bags 2020
Guide to Buying the Best Tool Bags
The above 30 tool bags featured in this review are some of the best bags that will give you value for your money. However, they don't instantly guarantee your full satisfaction as you have to see what makes the best tool bag. The following are some of the things you should always consider before buying a tool bag.
Material
Since there are different types of tool bags manufactured by different tool companies, the material utilized in the production of these are also distinct. However, it's a fact that strong tool bags are constructed of canvas, nylon, and poly fabric materials.
You should ensure that the bag you have is made of quality and durable material so that it can withstand the weight of the tools you'll be carrying. The stronger the material used, the longer the bag will last for your benefit.
Zipper
Just like the material used to make the tool bag, zippers should also be heavy duty. Once the zipper breaks, it will be impossible to make use of the bag anymore as you won't be able to close, and the tool might get lost when you bring it with you. The ideal zippers are heavy duty and double-pull.
Pockets and Compartments
Tool bags have been designed to accommodate tools that come in different shapes and sizes. The best tool bag will have many pockets, interior or exterior, and compartments.
Make sure that the outer pockets are placed where you can easily reach while you're on the go. These pockets should also be zippered or be deep enough so you don't lose tools, particularly small ones like screws. When a tool bag comes with a number of pockets, this automatically means that you can put more tools in it.
Bottom Padding Support
It is easy to avoid the wear and tear when a tool bag comes with padding or feet on the bottom. Make sure that the pad or feet placed on the bottom of the bag are thick enough to protect the tools from dirt, water and other surfaces.
Wheeled or not?
A normal tool bag will be okay if you are carrying an average number and size of tools. However, if you're carrying big tools, it's ideal that you use a tool bag that has wheels on the bottom. Having to carry big tools may strain your shoulders or arms so using such bag is a convenient way to travel with heavy tools.
Maximum Tool Number and Weight Capacity
It's important that you consider the number of tools you will carry with you in the workplace. The tool bag you choose should have a number of pockets and compartments and be spacious enough for your tools.
It should have a wide range of weight capacity so that it can accommodate and withstand the weight of your tools. The weight capacity of a tool bag is usually given, so ensure you check this before buying one.
Ergonomics
You should settle for a bag that is ergonomically designed considering that your job is tough enough, with an additional stress of carrying tools with you. The strain on your shoulder can be very harmful. The shoulder sprain from the weight of the tools can be avoided if the bag will be easy to carry and handle, with the pockets conveniently placed so that the ease of accessing your tools provided.
Durability
Durability is one of the most important points to look out for before buying. You should always keep in mind that the key to making something last long is checking its quality.
Bags made of high-quality materials are more likely to have a high level of durability as well. The best tool bag is made of high-quality and durable materials. The zippers and straps should also be heavy duty.
The Vedict
The review above has provided the top 30 best tool bags in the market right now. The bags reviewed will serve as your basis for what an ideal tool bag is. You should consider what brand the bag is and its features as well. The bags above have different features and each will suit individuals differently depending on their use for the bag.
Therefore, the best tool bag should be affordable, have a very tough and long-lasting construction, and provide you with enough space to store your tools and accessories. Besides, the bag should be convenient to carry around without weighing you down. With the review of the products above, you can easily select a tool bag that will suit your needs.