Top 30 Best Tool Bags 2023
The Stanley Soft Sided Tool Bag features adjustable straps that allow for easy access to contents. It's ideal for carrying hand tools and other small-medium items. It has a nice solid base that is made of rubber foam compliments. This protects it against sagging when you have a lot of tools inside and also provides a cushioned base to protect the tools when the bag is placed down on the floor. The carry handles are cotton-padded for a little extra comfort. There are enough pockets and pouches, both inside and mounted externally to provide ample storage for smaller tools, fastenings, nuts, and bolts.
---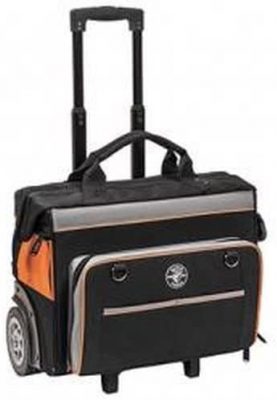 This tool bag is ideal for individuals looking for a strapless bag and do not wish to carry anything at all. It's spacious enough so you can pack a lot in. This tool bag has 24 pockets dotted throughout the bag. However, the most impressive feature is the central compartment. It's huge enough to store a range of tools. Besides, it has an orange interior that makes it easy to spot smaller bits and pieces stored in the bag. If you have a large load of tools that you need to move as easily as possible, this bag could be worth the investment.
---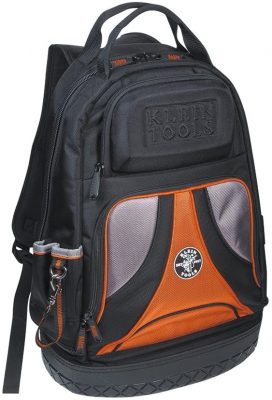 The Klein Electricians Tool Bag has no less than 39 small pockets that are great for storing small and fiddly bits and pieces. This makes it great not only for electricians but equally great for home carrying mechanics tools too. It's a nice sturdy bag with a molded bottom to increase the carrying capacity, prevent sagging, and provide a nice solid base when you place the bag onto the floor. This bag also features a protective, molded pocket mounted to the front. It has been designed to protect safety glasses but could be used to store anything that's quite delicate.
---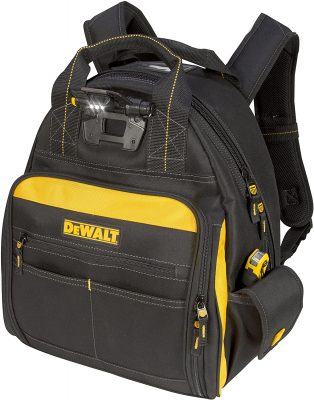 The DEWALT Lighted tool bag has 48 internal plus 9 external pockets and pouches that makeup 57 individual storage areas. The construction of this bag is nice and rugged with padded handles or adjustable straps that provide you with two ways to transport the kit. The base has durable pad feet to prevent abrasion and prolong product lifespan. What's more, DEWALT has included a built-in LED light that runs on an internally mounted AAA battery power pack. The light can help you in identifying tools and parts.
---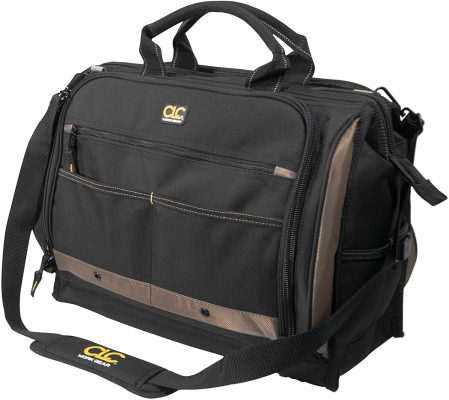 The Multi-Compartment bag has no less than 50 individual pockets and pockets ensuring that you should be able to find a home for every tool in even an extremely comprehensive tool collection. The side panels are a really neat feature that makes it easy to organize your tools, and also makes them within your reach. It has a nice big central storage space that can handle larger tools like hammers, spanners, and even power tools. The whole bag has a very tough and sturdy construction too. The design and construction to justify its high price.
---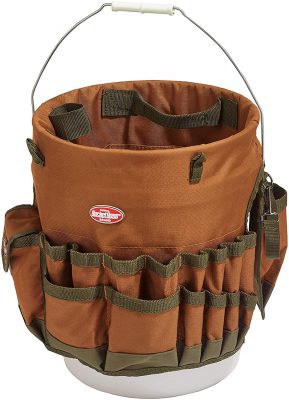 The Bucket Boss the Bucketeer provides a multitude of pockets, as well as the bucket itself that provides a wealth of storage. It has a very simple design that is also very tough and cheap. It's one of the most affordable tool bags in the market but also extremely effective. The bag features 3 interior loops for hammers, drills, pry bars, and other long-handled tools. However, you have to supply the empty bucket for yourself.
---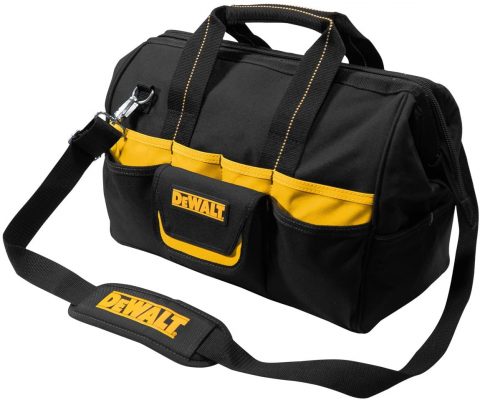 The DEWALT 16-Inch Tradesman's Tool Bag is a very well-designed, and very tough tool bag that has been built for just about anyone. It features a very smart snap opening mounted to the top of the main compartment. This design feature helps the bag to open extra wide, really letting you make the most of the internal space. It has been made from Poly Fabric material as well as rubberized feet to prevent scuffing to the base. An adjustable strap and carry handles make it easy to lug around. The 33 pockets have been included to provide a wide range of storage options.
---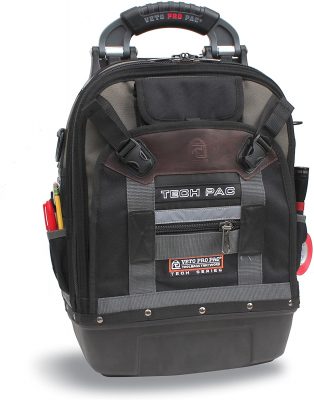 The Veto Pro Pac Technician Bag has its inside taken up with around 56 pockets and pouches split between 4 distinct areas of the bag. Therefore, it's quite similar to the electrician tool bag reviewed above because it provides a lot of small but well-designed storage spaces to take smaller tools and bits and pieces. The bottom of the bag has a 3mm polypropylene base that prevents sagging. This stops the bad from tipping over beside providing a bit of extra cushioning to the tools being carried. The bag has a molded, ergonomic back padding to make it comfortable during wear.
---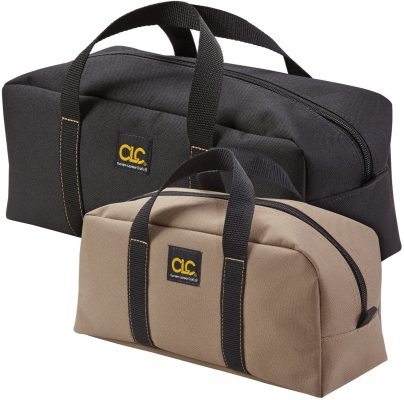 The Custom LeatherCraft Tote Bag Set features a handle of a durable, weave style construction that will be capable of standing up to the rigors of hauling tools. The design of this bag is simple but very effective. It's a two pack as well, with one large and one medium sized bag combining to provide a product that gives you good value for your money. It features durable construction with reinforced bottom panels. This Tote Bag set has been designed for electricians, plumbers, maintenance personnel, paint, and general contractors. You can stay organized by separating your small parts and hand tools with this bag set.
---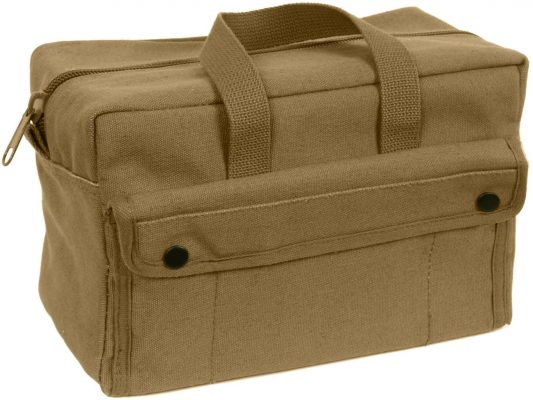 The Rothco Mechanics Tool Bag is an old school, military-inspired mechanics bag. The bag has quite a number of practical features built into it. The central compartment is huge with plenty of space for individual, larger tools. There are 8 internal and 2 external pockets that provide additional storage options for smaller bits and pieces. The handles are nice and wide for a little extra comfort. It's a very well designed, well built, and interesting looking tool bag that stands out from the rest of the tool bags. However, beware that canvas is not very water resistant, so do not go dumping this down in puddles or leave it out in the snow.
---
This tool bag is suitable for large tools and boasts of very tough construction, complete with a rigid waterproof plastic base. It has padded carry handles and a shoulder sling to help you haul it around. Besides, it has a nice understated blue and black design and includes various mesh pockets and pouches for a little extra storage. The bag has been made from 600D polyester fabric that provides unmatched durability and reliability. The double fabric with fine stitching of the entire tool body makes the bag extremely tough and long-lasting. The bag boasts of 8 interiors pockets and 13 exterior pockets for versatile storage of wrenches, pliers, screwdrivers, and accessories.
---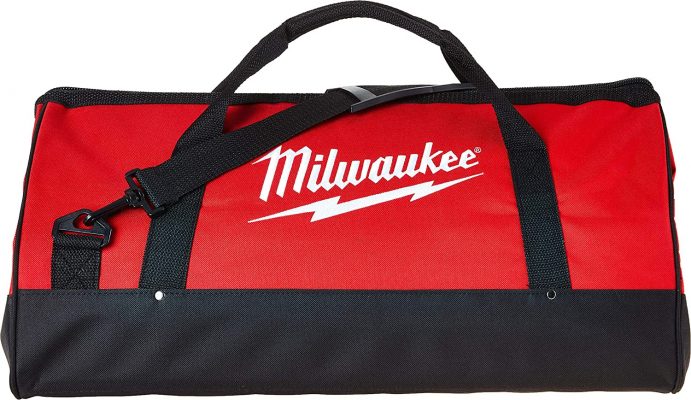 Milwaukee has a solid reputation for producing high-quality power tools and has now stepped into the accessories market with this bag. The bottom of the bag is reinforced with extra thick material to prevent sagging and keep out water and dust. Inside, the bag is huge with a massive central storage section designed to be filled to the brim with larger scale tools and multiple accessories. This makes it necessary to have the reinforcements on the handles and the base because this bag has been designed to carry a lot of stuff. Also, the zipper system is extra-long, letting you pack this bag tight and still be capable of closing it with the help of the robustly constructed metal zippers.
---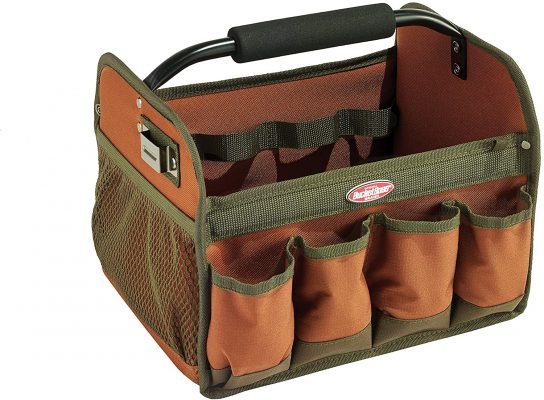 The Bucket Boss Gatemouth Tool Bag has a big central space that will provide an area for storing larger hand tools. There are 23 individual pockets and pouches to provide even more storage options. It has a metal carry handle for added durability, whereas the foam padding on the handle makes it comfortable on your hands. This is a very simple but very effective design that is still very affordable. The bag has been made from poly ripstop 600d poly materials and has three external mesh pockets.
---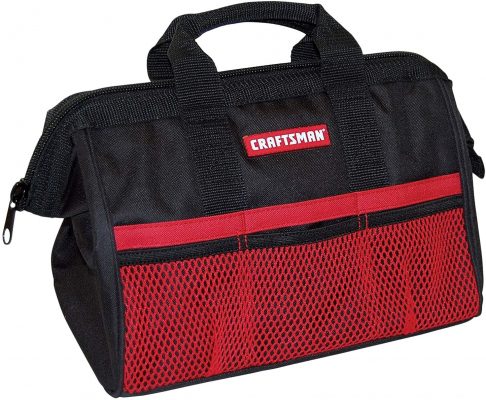 This tool bag has 6 external pockets – 3 solid material, 3 mesh. The availability of many pockets helps in organizing your tools. However, this bag does not have a lot of pockets on the interior. Therefore, it's suitable for people who operate in a state of organized chaos. It has a reinforced base and a wide opening design for easy access to your tools. This tool is quite affordable, which gives you good value for your money for a well-built design of a tool bag that may be extremely simple but is also extremely effective.
---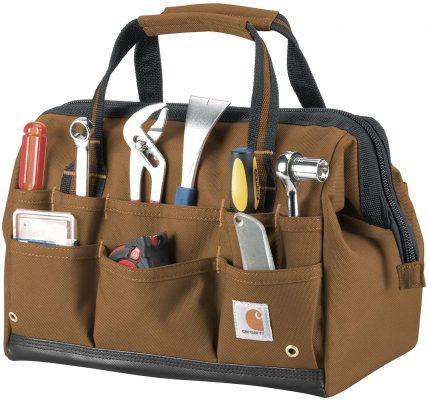 The Carhartt Legacy tool bag has a very tough construction. It has been made of a very strong synthetic material that is both tough and water repellant. The bag has been built with a triple stitch style construction too, and also boasts of an internal metal frame and an abrasion resistant reinforced bottom. This makes it extremely durable and will offer you years of useful service. In addition to the 17 external pockets, it has a10 interior pockets and a large zippered main compartment for storing larger tools.
---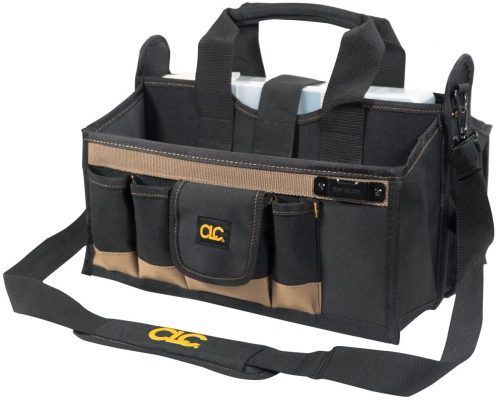 The Custom Leathercraft (CLC) bag features an extra padded carrying handles and adjustable shoulder straps that make it comfortable to carry. It has 16 pockets for storage – 8 pockets outside and 8 inside to organize a wide range of tools and accessories. There is a plastic parts tray for organizing small parts. This multi-compartment plastic tray stores into the middle compartment for easy access to the rest of the bag. It's ideal for holding larger tools with the main pocket having web loops to accommodate such tools.
---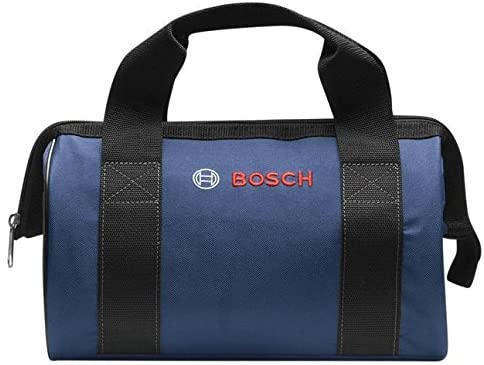 The Bosch CW01 Contract Tool Bag features a durable construction built to withstand the demands of the job site. It has a 13-inch wide mouth and base that can hold tools that are shorter than that. The wide mouth also allows easy access to tools but what makes it great is the fact that it can hold Bosch tools. It provides a handy and secure way to pack along a couple of other tools.
---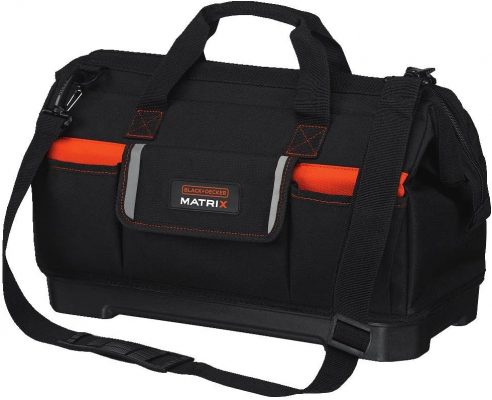 The Black and Decker is another great addition of tool bag with its zipper closure and wide mouth. It features an easy-store, wide-mouth opening with a durable hard plastic base. There are two rigid dividers on the inside to keep tools separated. This tool bag can be carried either by the top handle or with the adjustable shoulder strap. This tool bag comes with a storage bag, shoulder strap, and two rigid dividers. It's the ideal tool bag for Matrix systems and accessories.
---
This tool bag is reminiscent of the classic doctor's kit, complete with the padded bottom and wide mouth opening. This tool bag from Bucket Boss has been constructed with a double wall 600 denier ripstop poly water-resistant fabric. It has been equipped with the traditional zippered Gatemouth opening, which maintains its shape while open and making it easy to locate content inside. It features durable webbing carry handles and webbing reinforced bottom.
---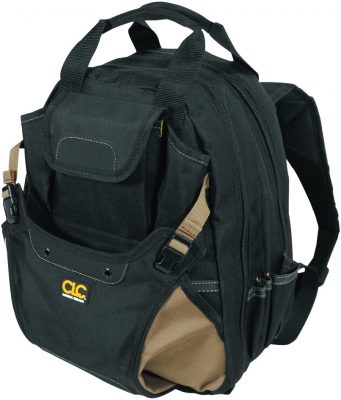 This Custom Leathercraft (CLC) backpack takes toting your tools to a whole new level. This bag features two main zippered compartments, one for tools and parts, and the other for a cordless drill and battery. The adjustable compression pockets can accept bulky items. Besides, it features convenient exterior pockets and dual handles at the top. There are 41 pockets on the inside and 7 pockets on the outside to organize a wide variety of tools and accessories. It's ideal for projects that take you off-road, the backpack has padded back support and straps, an exterior pocket and dual handles at the top.
---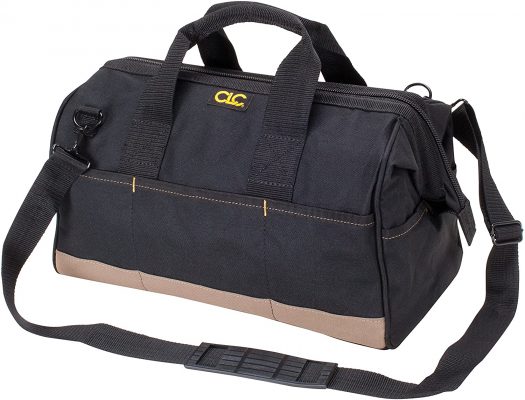 The Custom Leathercraft Large Bigmouth Tool bag has an amazing 22 additional compartments and pockets for tools and accessories. It features a 600D polyester construction sewn together with heavy stitching for maximum durability. This tool bag has 12 multi-use pockets inside and 10 outside to organize tools and accessories. The bag opens wide for easy access to the tools inside. It's comfortable to carry because of the padded web carrying handles and adjustable shoulder strap. The heavy-duty stitching and bar tacking at all stress points ensure that it will last you for long. The 16-inch bag makes toting sharp and pointed tools a snap.
---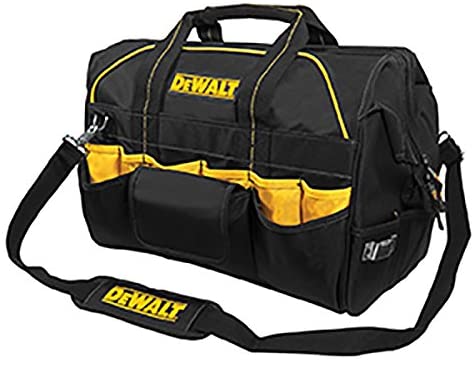 The DEWALT 18-Inch Contractor's Tool Bag was designed with professionals in mind. It's a closed top bag with a pop up central compartment for easy access. It has 28 exterior pockets including 3 flap-covered pockets plus one drawstring pocket to keep small parts from spilling out. The bag has been made from heavy-duty poly and ballistic poly fabric construction that make it durable. It also includes base pads to protect the bottom from water and debris. The adjustable, non-slip padded shoulder straps make it comfortable to carry.
---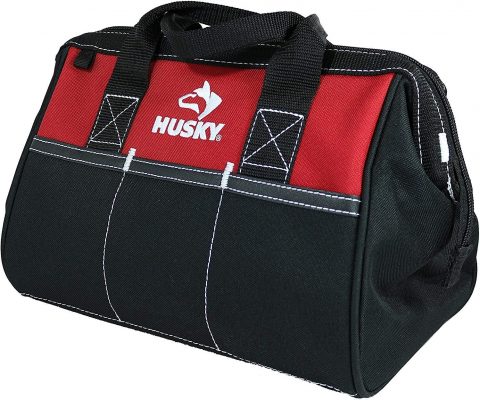 This Husky 12-inch tool bag is what you should expect from a company known for its sturdy design and no-frills approach. This tool bag has been made from 600 denier weatherproofed polyester fabric making it an excellent bag for storing tools anywhere. It features three external pockets to maximize storage efficiency. The bag has been reinforced with industrial quality bartec stitching ensuring that you do not have to worry about repairing torn pockets or loose, flappy material. There are two handles on this bag with cross stitching making it the ideal bag for the job site.
---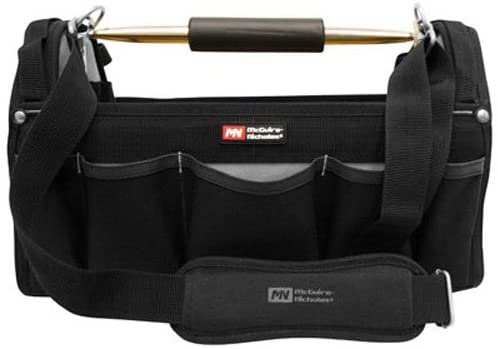 This universal tote bag from McGuire Nicholas is ideal for individuals looking for a bag that gives the stability of a rigid frame and access of an open top. This tool bag features a rigid frame with a padded handle for comfort when carrying. It has multiple inner and outer pockets for organizing your tools. The top straps have been designed to secure 2-foot levels or blueprints. It features adjustable shoulder straps and has been constructed using durable polyester Toughwear material that makes this tote bag ideal for the job site.
---
This tough little bag in classic Milwaukee red is a no-frills option for someone looking for a sturdy bag. It has been constructed with a tough, water resistant 600 denier material. The bag features a durable zipper closure and is ideal for storing tools and accessories. The bottom has been padded to protect your tools from dust and water. The open top makes it easy to access your tools and accessories.
---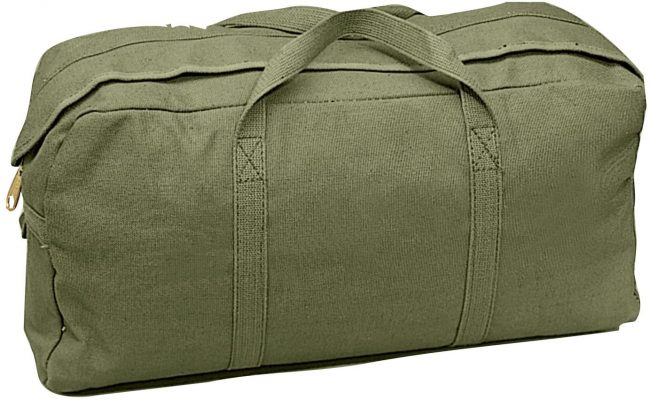 The Rothco Tanker Style Tool Bag is the perfect bag for storing your barbecue tools or a seven-inch grinder. It's sleek and features a no-frills design that makes it tough. It has been constructed using a rugged heavyweight cotton canvas material that makes it durable. The bag features heavy duty web carry handles and a large zipper main compartment with storm flap. The bag measures 9-inches by 9-inches by 6-inches. This classic military tool bag has a solid construction and can hold many tools.
---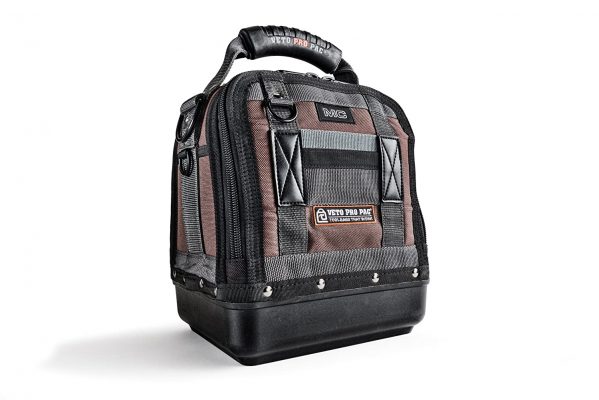 The Veto Pro Mc Tool Bag is the perfect tool bag for diagnostic jobs. Its sleek, vertical design allows you to set up in tight spaces with easy access to all of your tools. It offers 20 interior and exterior pockets for handling tools, Meter, and a compact cordless drill/driver compartment. It allows technicians and contractor's to set up multiple job specific bags that can also feed out of their LC. The Mc has a waterproof base with 3mm injection molded polypropylene. The waterproof body and tools pockets have been made using PVC impregnated denier fabric that makes it durable. This bag holds plenty of essential tools for different types of work and is convenient enough to carry everywhere.
---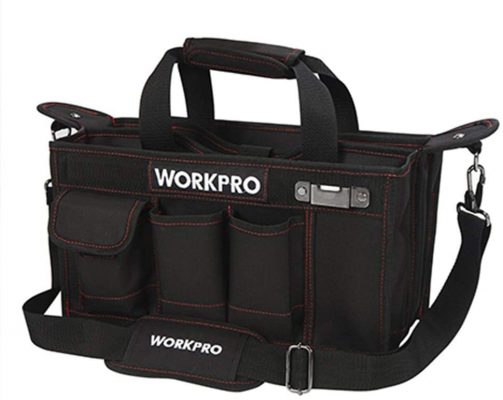 WORKPRO has designed this 15-inch collapsible tool bag to be rugged enough for any hardworking man. It has been constructed from 100% polyester for long lasting durability and features an open-top design for easy access to contents. There is a reinforced handle protector for comfortable and maximum durability. The outer mesh pockets can be used for storing personal belongings, small tools, and accessories. The WORKPRO has 14 multi-use pockets inside, and 8 outside for organizing your tools. Besides, it comes with a multi-components storage case for hardware storage. The shoulder straps allow for the easier carrying of heavy loads.
---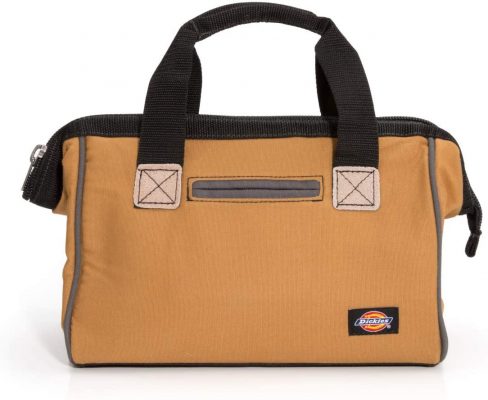 The Dickies Work Gear Work Bag has the durability that Dickies is known for ensuring that it will give your full service. This tool bag has been constructed using a durable rip-resistant canvas. It has a wide-mouthed main storage compartment for easy access to stored tools. There is an exterior slip pocket for frequently needed small tools and items. The Dickies work bag has a webbing reinforced heavy-duty zipper closure. The stitching and leather-reinforced webbing handles provide comfort when hauling heavier loads.
---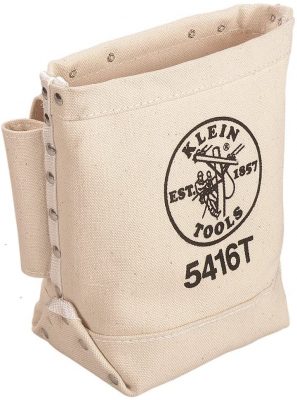 The Klein Tools Canvas Tool Bag has been built from sturdy canvas with a double layer of canvas on the bottom. The bag has been riveted and stitched for added strength and durability. This is a bolt bag with a bull-pin loop on each side.
---