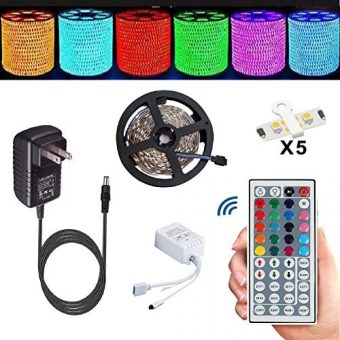 Topmax 5050 RGB Led Strips Lighting Kit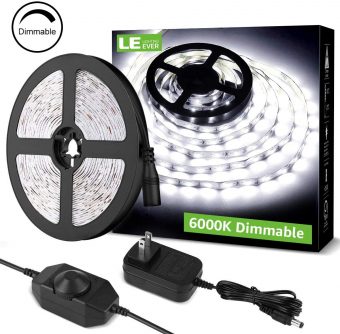 Lighting EVER LE LED Light Strip Kit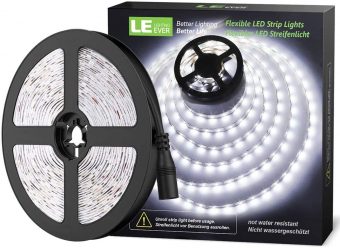 Lighting EVER LE Flexible Strip Light
Previous
Next
LED strip lights give you the option of a much-customized lighting solution anywhere, whether it's at home, office, or in your car. They have become the most popular option for home and office lighting. What makes them more popular is the fact that they are more efficient, brighter, and more flexible in their uses. This is in comparison to traditional incandescent, halogen, or fluorescent lights.
The best LED light strips allow you to light up small areas such as behind furniture, wall hangings, and under cabinets. They are inexpensive, compact, and easy to install and come in every color in the rainbow. There are programmable options that let you change the color remotely. They not only look great, but they are also very practical and can be used in vehicles as well.
Features to Consider in Good LED Light Strips
How LED Light Strips Work
LED light strips have an infinite range of potential applications. They range from basic illumination to decorative features to health and safety improvements. They have a slender and flexible board to which the LEDs are mounted on the surface. It more often than not has an adhesive coating or layer of tape that is easily installed by mounting the tape on the back of the strip. Finally, passing an electric current through the long and thin circuit board enables the LEDs to illuminate accordingly. They are relatively cheap, the RGB strips can make any color, and they are small and easy to hide. They are easy to install in cars or boats since they run off 12-volts.
Reliability
You may ask yourself how long do LED lights last, well as is the case, LED lighting features and fixtures in general, high-quality LED strips light have the potential to last as long as 50,000 hours. This is a guarantee to the user because of the initial purchase of the premium LED strip lighting being high. In most cases, LED represents the kind of lighting technology that continues functioning flawlessly for many years often decades on end.
How do I Connect LED Strip Lights?
The LED strip lights typically need to be connected to a 12v or 24v power supply. This, in turn, means installing a constant voltage LED driver to step mains AC voltage down to 12/24V DC. The best part about this is that this doesn't have to be difficult or expensive nor will you need to install any complex feature to house, support or power your LED lights.
Construction and Design
LED light strip lighting is made up of a slender and flexible circuit board to which the LEDs are mounted on the surface. It has an adhesive coating or a layer of tape that's placed on the back of the strip for easy installation. Passing an electric current through this long and thin circuit board makes the LED to illuminate accordingly.
Do LED Strip Lights get Hot?
Whether they get hot or not depends on the quality of the LED strips in question. Whenever you buy LED lighting technology on the market, it means you are investing in the kind of LEDs that remain cool to touch at all times. This makes them the safest and most energy efficient LEDs money can buy. With prolonged use of substandard LED lights, they stand a chance to become hotter. It is therefore essential to consider the quality of LED lights you choose very carefully.
Do LED Strip Lights Require a Driver?
They require a driver unless you have a fully compatible power supply up and running in your home.
The 30 Best LED Light Strips 2020
Guide to Buying the Best LED Light Strips
The LED light strips stated above are the best sold out in the market since they are of high quality and highly reliable. The user is free to select the best suited LED light basing on their various uses. Some of the factors to be considered before buying a LED light are stipulated below:
The Type of LED Strip
Depending on how you plan to use your LED strips, you may need one type over the other. Some of them include:
DC LED Flex Strips are powered from 12V DC and are flexible strip lights, which have an adhesive backing for easy mounting and can be cut over 2-inches. They're offered in waterproof options and come in 30 LEDs/m or 60 LEDs/m.
AC LED Flex Strips are flexible strip lights that run straight from your outlet. All you need to do is plug in and they are ready to go.
LED Rope Light is an encased, Omni-directional LEDs in the standard rope light packaging.
High Output LED Strips are high power LEDs from Cree, Luxeon and Nichia mounted to rigid strips with on board drivers and circuitry.
The Length of The LED
To get a brighter output and higher light quality one needs to look for the strip lights with the highest number of LEDs per foot. LEDs that are spaced too far apart across the strips could produce spotty lighting instead of clean, constant line of light. Stick to a certain measurement and then convert all other measurements to see what strip has the most LEDs per set unit of measurement.
The Brightness of The LEDs
The brightness of LEDs is measured in lumens and depending on how you use the strips, you will probably want a certain level of lumens. For accent lighting, you will not want anything brighter than 200 lumens per foot, but for other applications where you want more light, it depends on your personal preferences on how bright you want them.
Ensure you note the lumens/length along with the LEDs/length as this will have a strong effect on light quality and the type of light the strip gives off.
LED Strip Colors
The LED strip lights come in a wide range of single colors as well as multi-color strips (RGB). The most basic strip lights are the single colors that only emit one fixed light color. They are offered in Warm white, Neutral white, Cool white, Red, Green, Blue, Yellow and Ultra Violet (UV).
The color changing strips RGB strips that make the LED lights display Red-Green-Blue combination color. The strips require a controller to change colors, flashes or stay on one selected solid color.
How To Install LED Strip Lights
For some strips like the DC LED Flex Strips, it is as easy as exposing the adhesive backing and sticking them onto a clean surface. For other installations it is more difficult to mount, cut and wire strips together. Some of the factors to keep in mind are:
Know the total length of LED strips needed.
Know how many breaks will be in the lights or how many separate strips you need.
Know your strips power and voltage requirements.
Flexibility of the LED strip lights.
Durability of the LED strips: Need Waterproofing?
Decide whether their components such as connectors or extra wire are needed.
Decide how you will dim, control, or program the strips you set up.
The LED Strip Wattage
It is crucial for you to know the wattage of the system you want to set up. Finding total wattage not only helps you find an adequate power supply but also lets you know how much electricity you will be using with your new setup.
Once you know the total wattage, you are ready to find a power supply. Plug and play strips have a power built onto them with a switching transformer in line, so there is no need for an added power supply.
Knowing the input voltage of your LED strip is the first thing to do. Strips at LED supply can either be plug-in, 12V OR 240V DC powered. Secondly, ensure that the wattage of the power supply is at least 10% higher than the wattage your LED strips will consume.
The Verdict
The above LEDs light strips have been reviewed based on their quality, efficiency, and cost. The review has covered all recommendations for individuals looking for long strips that will cover their entire car or living room. Also, there are multiple strips that are much smaller in size for specific usage.
The best-LED strips are rich in quality and will provide you with great experience in your house or vehicle. Some of the best come with a mobile application or simply can use remote control. These strips not only look great but are also very practical and can be used anywhere you want.