DEWALT DWS779 12" Sliding Compound Miter Saw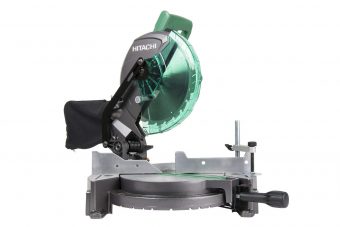 Hitachi C10FCG 15-Amp 10" Single Bevel Compound Miter Saw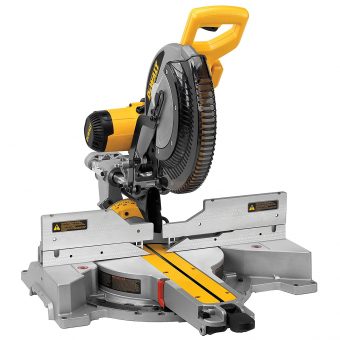 DEWALT DWS780 12-Inch Double Bevel Sliding Compound Miter Saw
Previous
Next
No workshop would be complete without a good sliding compound miter saw. The best sliding compound miter saws will allow you to make different kinds of cuts. You can even use it to cut wider pieces of wood and other types of materials compared to the non-sliding saws.
Arm yourself with this type of saw, and you'll be able to deal with even the toughest of jobs. With it, you will also have the additional rail element of a sliding saw. This element allows the cutting heads and blades to track along a fixed and straight path effortlessly.
Features to consider in Good Sliding Compound Miter Saws
Safety features
Safety is the main issue when it comes to handling machines like sliding compound miter saws. One feature to look for is a safe blade guard which protects you from the blade while you use the saw. Also, check for a safety switch which will prevent the saw from accidentally starting up when you're not yet ready. All these features and more will help ensure that you're working with a safe tool.
Guiding features
If you want a saw which will ensure precision, check for its guiding features. The saw must have scales which are clearly marked and properly aligned. This will make it easier for you to read the scales while cutting. Also, see if the saw has a cutting guide. Most saws have laser guides which will help you visualize your line of cut for better accuracy. This feature will also make cutting a lot easier as you use the indication line to guide you.
Convenient features
Finally, check for other convenient features which will make cutting jobs easier. A saw which delivers a smooth sliding action would be great. It will be much easier to use a carving knife which moves smoothly. Also, find a saw with great fence support so you can adjust it easily.
Finally, a dust-collection system would also be very convenient so you can work dust-free. There's nothing worse than working with all the dust flying around, right? So this last feature is definitely one to look out for.
Guide to Buying the Best Sliding Compound Miter Saws 2020
Guide to Buying the Best Sliding Compound Miter Saws
It's essential to have a sliding compound miter saw in your workshop since they have the versatility of compound miter saws plus the convenient sliding feature. This means that you can move the blade in different directions to allow for more cutting applications.
What key factors should you consider when buying sliding compound miter saws?
Size
These saws come in various sizes. The size of the saw refers to its blade's diameter which will also determine its cutting depth. The most lightweight saws available are 7 ¼-inches in size. These are more portable, and you can use them for smaller cutting applications.
The 10-inch saws are very popular with homeowners and DIYers because they can handle the most common renovation projects. Finally, the 12-inch saws are the most versatile because you can use them to cut larger-sized materials. However, because of their size, you would also need a bigger space to store them.
Positive stops
Any woodworker would know that there are certain angles which you use repeatedly. This is where positive stops come in handy. The best sliding compound miter saws have enough positive stops so that you won't have to keep on adjusting before you start cutting. If you want to find one of the best sliding compound miter saws available, make sure it has enough possible stops.
Laser guide
This is another important feature to look for. If you want to ensure accuracy, then search for a saw with an efficient laser guide feature. This will show you where you need to make your cut and serve as a guide while you're cutting. Although this isn't a necessity, it's a very handy feature to have.
What should you know before you purchase the best sliding compound miter saw?
Sliding compound miter saws are better, more useful counterparts of the stationary miter saws. They have a swivel arm which moves in various directions, so you can make different cuts. If you want to find the best product out there, ask yourself these questions first.
Would you require a dual bevel?
If you want to make bevel cuts, you need to consider whether you need a single or dual bevel saw. Single bevel saws can only move in one direction while dual bevel ones can go either way. Think about your own needs before deciding on a saw to purchase. If you aren't sure of what you need, you can do some research about this feature.
Where do you plan to use the saw?
If you're planning to set up your saw in your workshop and keep it there, you don't have to consider the portability. But if you're planning to work in different places, choose a saw which you will be able to carry around with you.
How much accuracy do you require?
If you're a homeowner who needs to make rough cuts, then you don't have to go into the details of the blade's TPI. However, for professionals who need precision in their work, there are blades available which will provide you with better accuracy.
Conclusion
You can find the best sliding compound miter saw for your needs if you know what to look for. There are so many various products out there, but now you're armed with enough information to make a wise choice. From the safety features to the design, the construction, and the size, there's a lot to consider.
Whether you're a DIYer, a professional or a homeowner who wants to build good artillery at home, there's a sliding compound miter saw on the market. We've reviewed some of the best products available now, and all you must do is make a choice based on your preferences. No matter which one you choose from the list, you're guaranteed a superior purchase.