No workshop would be complete without a good sliding compound miter saw. The best sliding compound miter saws will allow you to make different kinds of cuts. You can even use it to cut wider pieces of wood and other types of materials compared to the non-sliding saws.
Arm yourself with this type of saw, and you'll be able to deal with even the toughest of jobs. With it, you will also have the additional rail element of a sliding saw. This element allows the cutting heads and blades to track along a fixed and straight path effortlessly.
Features to consider in Good Sliding Compound Miter Saws
Safety features
Safety is the main issue when it comes to handling machines like sliding compound miter saws. One feature to look for is a safe blade guard which protects you from the blade while you use the saw. Also, check for a safety switch which will prevent the saw from accidentally starting up when you're not yet ready. All these features and more will help ensure that you're working with a safe tool.
Guiding features
If you want a saw which will ensure precision, check for its guiding features. The saw must have scales which are clearly marked and properly aligned. This will make it easier for you to read the scales while cutting. Also, see if the saw has a cutting guide. Most saws have laser guides which will help you visualize your line of cut for better accuracy. This feature will also make cutting a lot easier as you use the indication line to guide you.
Convenient features
Finally, check for other convenient features which will make cutting jobs easier. A saw which delivers a smooth sliding action would be great. It will be much easier to use a carving knife which moves smoothly. Also, find a saw with great fence support so you can adjust it easily.
Finally, a dust-collection system would also be very convenient so you can work dust-free. There's nothing worse than working with all the dust flying around, right? So this last feature is definitely one to look out for.
Top 10 Best Sliding Compound Miter Saws 2021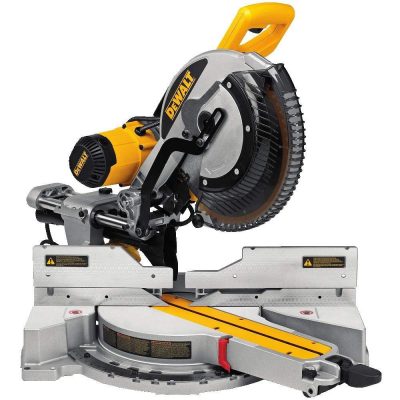 Why we like it:
The saw has a 3800 rpm, 15-Amp motor which delivers durability and extended power. It's one of the best sliding compound miter saws because of the powerful motor. The saw has a back fence exclusive design which allows you to cut materials at 45° and 90°. Not only that, this also has a super-efficient system of dust collection which collects more than 75% of the dust generated. This means that you can use this saw without having to worry about dust and other particles flying around.
Editor's Rating:
Value for money
This is one of the best sliding compound miter saws available because of all its superb features. It's a 12-inch piece of equipment that's suitable for professionals and homeowners alike. It has a lot of excellent features, it's easy to use too, and it comes at a reasonable price. With this saw, you'll get great value for your money.
Efficiency
When it comes to efficiency, this machine truly delivers. It combines top speed with a smooth operation to help you work more productively in a safe and fast way. The saw will provide you with unparalleled strength with its powerful motor. It also has a high-grade blade which cuts through different materials effortlessly. The machine's efficiency is truly unmatched since it comes from one of the best brands on the market.
Enhanced precision
With the exclusive design of the back fence, you can cut dimensional lumber at 45° and 90°. It miters to the left and to the right giving you the capacity to perform professional applications. The saw also has sliding fences which are tall to support crown and base molding for bevel cuts. As you can see, this saw will give you the ability to perform different cuts as your job requires.
Pros
It's easy to use, and it's ideal for beginners and professionals alike.

Combines top speed along with smooth operation which will help you work a lot faster.

Has a powerful motor and a high-grade blade made of carbide.

Comes with 10 positive stops to ensure accuracy and productivity.
Cons
There are a lot of complaints about customer service.
---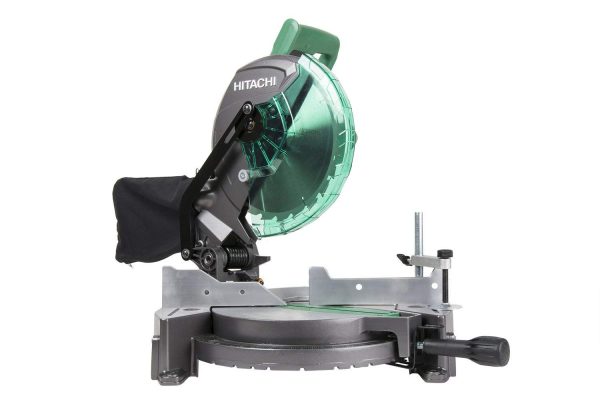 Why we like it:
This is another superb saw for you to consider. You can enjoy increased flexibility with this saw because of its miter angle range. Particularly, the left bevel range provides clean and precise bevel cuts. The saw also has positive stops which are thumb-actuated for quick and easy miter adjustments. Also, the saw is fairly lightweight to improve maneuverability.
Editor's Rating:
Convenience
This particular saw has a wide miter angle range to increase flexibility to the left and to the right. The range to the left allows you to make accurate and clean bevel cuts. The saw also permits you to make fast miter adjustments, and its weight allows for portability and easy maneuverability. Also, another convenient feature of this saw is that it comes with an attachment that collects dust.
Power
The saw has a powerful motor which will permit you to perform even the tough cutting tasks. It has a big table for improved material support with a vice clamping system to secure the material you're working on. Despite being extremely powerful, it's a lightweight machine that's easy to use. Because of this, you won't have any difficulty using the saw for your cutting applications.
Versatility
This sliding compound miter saw's size makes it easy to transport. Therefore, you have the choice to keep it in your workshop at home or bring it with you to your job site. You can use the saw to make miter cuts and crosscuts easily. It's designed for woodworking professionals and DIYers who need reliability, versatility, and precision for various kinds of cutting jobs.
Pros
You can move the angle range to the left and right for enhanced flexibility.

Easy to adjust and provides accurate, clean bevel cuts.

It's lightweight making it easy to maneuver and transport.

Has a powerful motor as well as a large table.
Cons
The fence isn't covered by the warranty.
---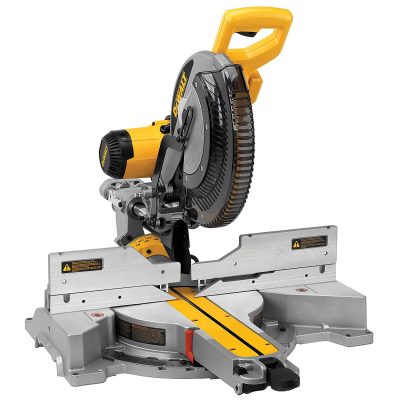 Why we like it:
What sets this saw apart from the rest is its new miter system that ensures precision. This distinct feature makes it a popular machine among DIYers, professionals, and everyone in between. It has a unique handle design which adds portability to the machine. The saw also has an XPS positioning system conveniently integrated into it for crosscutting.
Editor's Rating:
Accuracy
This saw is one of the most accurate sliding compound miter saws available now. It has an integrated positioning system for making crosscuts. It's an amazing machine which performs better than other miter saws with laser systems. With it, you're sure to make accurate cuts no matter what material you're working with.
Construction
The saw has a powerful 15-Amp motor and an indication for the cut line that's accurate and adjustment-free. It has tall support for the sliding fences as well as a distinctive design of the back fence. This machine features a miter detent plate of stainless steel along with a cam lock that allows for easy adjustment to ensure repeatable accuracy.
Efficiency
When it comes to sliding compound miter saws, high-capacity for cutting is a huge feature. It's an efficient saw which you can use for bevel cuts, and it provides enhanced cutting capacity. It also offers a hassle-free operation as you can bevel using the positive stops in both left and right directions. With all these features, you're sure to enjoy using this saw for various cutting applications.
Pros
Comes with a new accurate miter system and a handle design for improved portability.

The integrated positioning system will provide you with an indication for cut lines that's adjustment-free.

The adjustable miter detent plate has 10 positive stops to ensure accuracy and improve productivity.

Has a system for dust collection which is super-efficient.
Cons
It's quite expensive and it tends to get clogged.
---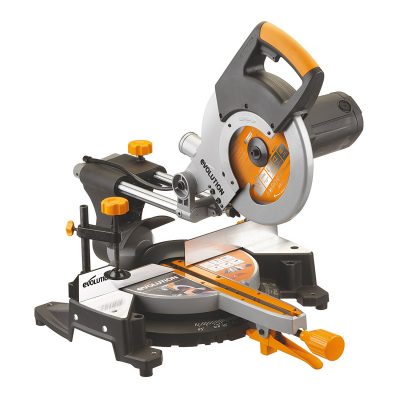 Why we like it:
This is another excellent sliding compound miter saw for those looking for an affordable option. Don't be fooled by the reasonable price though, because this saw still includes a lot of excellent features. It comes with a multipurpose technology for cutting that's patented. The saw also has a motor that makes it capable of cutting materials other than wood. It also has a laser guidance feature for maximum accuracy.
Editor's Rating:
Versatile
This machine offers multipurpose cutting applications. It's made with patented technology for cutting, and it can cut various materials with the blade included with the saw. With this saw, you can even cut through mild steel with no burrs, heat, and minimal sparks. This, in itself, shows how efficient the saw is. The saw also works with different blades for additional versatility.
Accurate
This saw is fairly simple to use, but it still allows for accurate cutting. It has a 45-degree left and right miter system and a bevel tilt as well for making the compound and bevel cuts. This saw has a slide mechanism which allows for 45 and 90-degree cuts. It also has a laser guidance feature for enhanced accuracy.
Construction
Finally, this machine is also well-made. The saw's blade has a tungsten carbide tip. It's a 28-toothed blade which will allow you to perform miter cuts through different materials such as wood, aluminum, mild steel, and more. It's a reliable machine with a high-torque motor which makes it powerful.
Pros
The clear and accurate settings for the angles will allow for precise and complex angled cuts.

Provides a huge cutting capacity with precision and power.

Has a durable miter stand that's easy and quick to set up.

Comes with some handy accessories to enhance the functions of the saw.
Cons
The plastic material, as well as the material of the base, are fairly thin.
---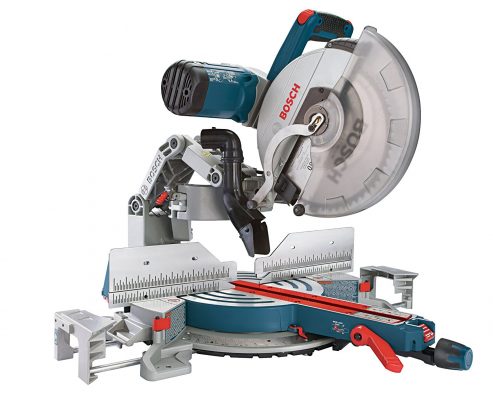 Why we like it:
This compact saw has an axial-glide system that's patented and is exclusive to Bosch. This allows for complete control, durable precision, and it also allows you to work in narrower spaces. It has a horizontal, vertical, and crown capacity which means that you can use it to make different cuts. This makes the machine perfect for different kinds of workers, even professionals. It's easy to adjust too, making it highly convenient.
Editor's Rating:
Innovative
The saw has a lot of innovative features along with its superior design. In fact, this has a reputation for being one of the best sliding compound miter saws available. It's a high-performance machine with amazing accuracy. The saw's design provides you with complete control over the cutting action which is super-smooth.
Construction
Although it's not as affordable as the other saws on our list, it's still one of the best. It even comes from a famous brand which is well-known for producing high-quality tools and equipment. It's an efficient saw with impeccable construction and high capabilities. The saw has an oversized capacity for cutting, detailed, easy-to-read miter scales, and more. What more are you looking for?
Superior features
The saw features a smooth motion when cutting. It's also very accurate and has a space-saving design so you can place it in narrow or tight spaces. It has Squarelock fences which are pre-aligned, and which help maintain the precision of the saw even as time goes by. The ambidextrous handle has a soft grip, and it also has a vacuum adapter and a dust chute for additional comfort.
Pros
Durable, well-built, and is very accurate.

A compact saw which will allow you full control.

Easy to adjust and has scales which are large for easy reading.

It has a smooth and precise cutting motion making it comfortable to handle.
Cons
The pivot mechanism tends to get jammed.
---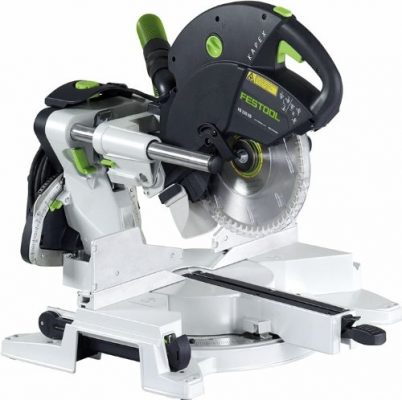 Why we like it:
This saw has a rail forward design which produces a compact footprint, increases precision, and prevents head play to allow for more accurate cuts. With this saw, you can easily align your cuts from the right or left side with the dual laser. This feature makes cutting a lot easier. The saw also has a rotary knob along with fine pointers to set accurate angles precisely.
Editor's Rating:
Lightweight
The manufacturers engineered this saw with a compact and lightweight design. Therefore, you can use it in your workshop or bring it along to your job site. The size and weight of the saw also make it easier to maneuver while you work. The saw has fine pointers and a huge bevel scale so you can set accurate angles for bevel cuts.
Precise
If you need a saw which will allow you to make precise cuts, then this is the one for you. It has high-quality components, easy adjustments, and other features which make it suitable even for professional tradesmen. The rail's forward design and the dual lasers also increase the precision of the saw.
Design
In the hands of a skilled woodworker, this saw will allow for even the finest of trim work. This potential is mainly because of the machine's design. It's compact and lightweight without compromising the efficiency and accuracy. It also has the capacity for dust extraction of more than 90% so you can work in a clean environment.
Pros
It will provide you with unmatched precision, and it comes with features that will save you time.

Because of the advanced dust extraction feature, you can perform your work in a dust-free environment.

Comes with dual lasers to allow you to align your cut easily.

Also, it's easy to set accurate bevel angles using the fine pointers and the huge bevel scale.
Cons
The motor may not last for very long.
---
Why we like it:
This is a powerful saw that has a direct drive motor which delivers 4300 rpm and doesn't require much maintenance. Therefore, you can use it for various tasks and to make different cuts. It has left and right miter angles with a range of positive stops. The saw also has a linear system for the ball bearing so you can make accurate cuts. The bevel lock on the rear handle is easy to access and adjust too.
Editor's Rating:
Professional-grade
The professional-grade saw offers both superior performance and durability for any kind of user. It's made to perform incredibly right out of the box and very few saws available can compete with it. You can use this saw for general construction, woodworking, carpentry, and so much more. So whether you're a professional or you just like doing cutting tasks at home, this is the saw for you.
Design
Makita built and designed this saw with convenience and efficiency in mind. It's not like other sliding compound miter saws which come with belt-driven motors that tend to run rough and start jerking after some time. This has a motor which allows the saw to run smoothly each time you use it. The design will permit you to do your work faster and more effectively.
Efficient
This is another efficient saw with an enormous cutting capacity and superb accuracy. With this saw, you can get the cutting performance you require without the added weight. It's quite portable, but it's strong enough to handle cutting jobs such as crown molding and cutting baseboards.
Pros
Starts up smoothly because of the soft-start feature.

Has an ergonomically-designed handle for comfort and a better fit.

It has a large aluminum base that's precision-machined to allow for enhanced efficiency.

Also, it has an electric brake and a see-through system for the blade guard.
Cons
Some customers claim that the angle marker isn't very accurate.
---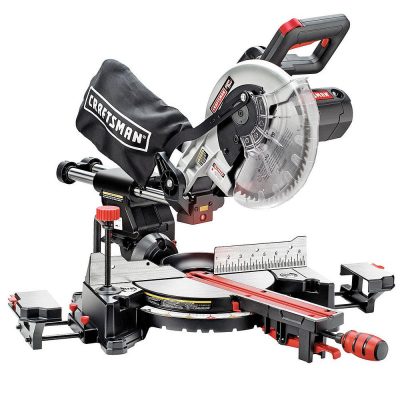 Why we like it:
This is an excellent sliding compound miter saw for beginners because it's easy to use, affordable, and lightweight. But this doesn't mean that professionals and seasoned woodworkers can't use it too. That would be a waste because it has a lot of great features. For one, the saw has a laser indicator for the cut line to make cutting faster and more precise. The motor runs at 4800 rpm which means that you can cut through soft and hardwood with any blade.
Editor's Rating:
Construction
This saw will help you perform your cutting applications smoothly and precisely with laser-guided precision. It's a portable machine which seamlessly slices even through thicker materials. It's well-constructed, and it's perfect for home use and use at job sites alike. You can even leave tight corners and sharp edges each time you cut.
Convenience
If you want to save time and effort when performing different jobs, then you should invest in this reasonably-priced saw just like this one. The saw makes use of smaller blades which are a lot easier to maintain. Still, it can cut boards which are up to 12-inches in width. It's also lightweight so you can bring it with you as needed.
Extras
One of the best things about this saw is that it comes with a few handy extras. First of all, the saw comes with an Owner's Manual written in English as well as a general warranty. It has a spindle lock, a table extension, a stop block, and clamps. Also, the saw comes with a bag for dust and a blade wrench.
Pros
It's easy to use, lightweight, and affordable.

Has a laser indicator to show you the cut line making your job faster and more accurate.

With the 4800 RMP, you can cut through hard and soft wood.

Utilizes small blades which are easier to maintain.
Cons
You need to recalibrate it before using it.
---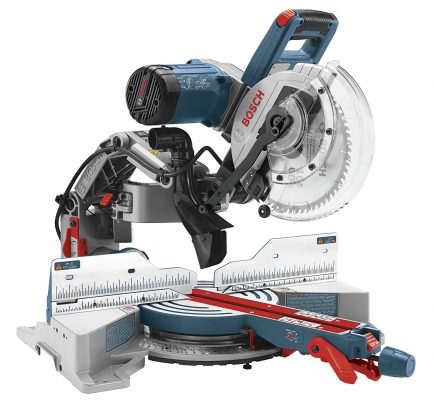 Why we like it:
This is another superb saw from the Bosch brand. It's durable and it also allows for consistently accurate cuts. You can use it even in compact workspaces while enjoying its smooth cutting operation. The saw has large miter and bevel scales which are easy to read as well. Finally, it ensures accuracy as well as cutting control even at different angles.
Editor's Rating:
Easy to use
Ease of use is one of the standout features of this saw and it's one of the features which a lot of customers appreciate. This makes it suitable for professional workers as well as for DIYers and homeowners. It comes from a well-known and trusted brand which produces professional-grade products and this saw is no different. It has an adjustable base, a clamp that's tool-free, and other such features.
Innovative
This is another innovative machine that has a miter angle range that's extra-wide. Just like all the other machines on our list, this saw boasts a lot of standout features. It has a tall fence which you can adjust, table extensions, and scales which are etched along with other thoughtful details. All these make the saw very practical and efficient.
Convenient
As far as convenience goes, this saw has got you covered too. The large miter scales allow for easy, quick, and accurate adjustments. It even comes with a vacuum adapter and a chute for dust collection making cleanup a breeze. With this saw, you can also control your cutting applications completely and with precision.
Pros
It will provide you with consistent accuracy, durability, and unmatched smoothness of operation.

The miter scales are big to make it easier to read.

No matter what cutting angle you need, you're ensured control and precision.

Has a compact design so you can use it in tight workspaces.
Cons
Some customers have experienced issues with the glide setup of the saw.
---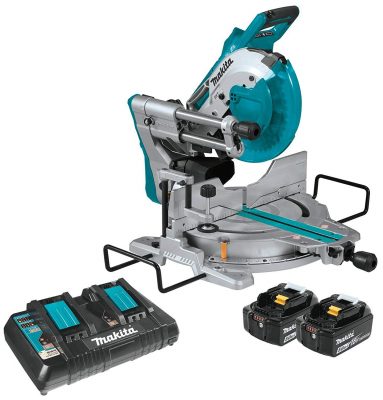 Why we like it:
Finally, this saw is efficient, powerful, and so much more. The power of this saw comes from the 2 LXT batteries. The LXT technology provides more speed, run time, and power without the hassles of dealing with a cord. This means that you can use the saw in different locations, even in workspaces which don't have sockets. It has a BL motor that's electronically controlled delivers 4400 rpm for smoother and faster cutting.
Editor's Rating:
Convenience
Another convenient saw, this product is cordless while still providing enhanced performance and precision while cutting. The saw has a system for dust collection that's a lot better than most of the other sliding compound miter saws available on the market. The motor runs more efficiently and cooler to allow for longer life. But even with all this convenience, the saw still comes at a reasonable price.
Power
This effective saw is reliably powered y Lithium-ion battery packs. It has a brushless motor that's engineered for longer running time, increased speed and power, as well as longer life of the tool. Also, it has a special technology which allows for speed change that's automatic for superior performance.
Accuracy
When it comes to saws, accuracy is one of the most important features. Fortunately, this saw has a unique sliding system design with two steel rails, and it delivers a slide-glide operation for smooth and precise cutting applications. It also has an overall footprint that gets reduced which will allow you to position flush the saw against a wall.
Pros
Since it runs on a lithium-ion battery, you won't have to deal with the hassle of the cord.

Has a long run time and provides excellent precision.

With this saw, it's easy to adjust the torque under load and the cutting speed for enhanced performance.

Runs on a slide-glide operation which allows for smooth cutting.
Cons
The battery doesn't perform as well when the weather is cold.
---
Guide to Buying the Best Sliding Compound Miter Saws
It's essential to have a sliding compound miter saw in your workshop since they have the versatility of compound miter saws plus the convenient sliding feature. This means that you can move the blade in different directions to allow for more cutting applications.
What key factors should you consider when buying sliding compound miter saws?
Size
These saws come in various sizes. The size of the saw refers to its blade's diameter which will also determine its cutting depth. The most lightweight saws available are 7 ¼-inches in size. These are more portable, and you can use them for smaller cutting applications.
The 10-inch saws are very popular with homeowners and DIYers because they can handle the most common renovation projects. Finally, the 12-inch saws are the most versatile because you can use them to cut larger-sized materials. However, because of their size, you would also need a bigger space to store them.
Positive stops
Any woodworker would know that there are certain angles which you use repeatedly. This is where positive stops come in handy. The best sliding compound miter saws have enough positive stops so that you won't have to keep on adjusting before you start cutting. If you want to find one of the best sliding compound miter saws available, make sure it has enough possible stops.
Laser guide
This is another important feature to look for. If you want to ensure accuracy, then search for a saw with an efficient laser guide feature. This will show you where you need to make your cut and serve as a guide while you're cutting. Although this isn't a necessity, it's a very handy feature to have.
What should you know before you purchase the best sliding compound miter saw?
Sliding compound miter saws are better, more useful counterparts of the stationary miter saws. They have a swivel arm which moves in various directions, so you can make different cuts. If you want to find the best product out there, ask yourself these questions first.
Would you require a dual bevel?
If you want to make bevel cuts, you need to consider whether you need a single or dual bevel saw. Single bevel saws can only move in one direction while dual bevel ones can go either way. Think about your own needs before deciding on a saw to purchase. If you aren't sure of what you need, you can do some research about this feature.
Where do you plan to use the saw?
If you're planning to set up your saw in your workshop and keep it there, you don't have to consider the portability. But if you're planning to work in different places, choose a saw which you will be able to carry around with you.
How much accuracy do you require?
If you're a homeowner who needs to make rough cuts, then you don't have to go into the details of the blade's TPI. However, for professionals who need precision in their work, there are blades available which will provide you with better accuracy.
Conclusion
You can find the best sliding compound miter saw for your needs if you know what to look for. There are so many various products out there, but now you're armed with enough information to make a wise choice. From the safety features to the design, the construction, and the size, there's a lot to consider.
Whether you're a DIYer, a professional or a homeowner who wants to build good artillery at home, there's a sliding compound miter saw on the market. We've reviewed some of the best products available now, and all you must do is make a choice based on your preferences. No matter which one you choose from the list, you're guaranteed a superior purchase.