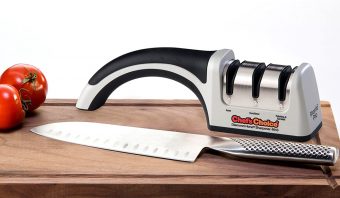 Chef'sChoice Pronto Pro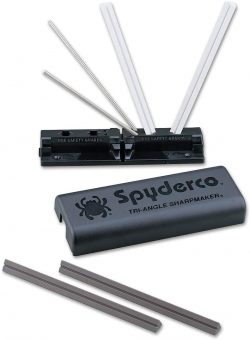 Spyderco Sharpmaker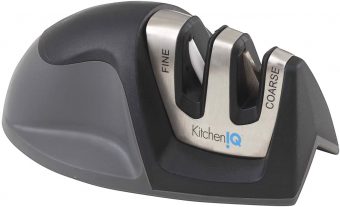 KitchenIQ Edge Grip
Previous
Next
Humans have been using tools to help us overcome our limitations since the beginning of our species. While many of the tools we use today are complex contraptions that our ancestors would find impossible to decipher or otherwise useless (like fidget spinners), one of the first tools of civilization remains relatively unchanged to this day: the knife.
Knives haven't seen much change since their beginnings as sharpened pieces of rock because there's no need to fix what isn't broken. Knives are incredibly diverse tools that can be used for a wide variety of purposes. The only problem with these wonderful tools is their tendency to become dull.
A knife is only as good as its cutting edge is sharp. A dull knife is frustrating to use and its inconsistent cutting performance can be dangerous for the user due to the need to use excessive force when trying to cut with a dull blade. Contrary to what many assume, a dull knife is actually more dangerous than a sharp one because it can become unpredictable and unwieldy.
While knives have remained relatively unchanged over the past several centuries, knife sharpeners are a different story. As essential tools for maintaining the edges on all kinds of blades, knife sharpeners come in a variety of styles and purposes.
Features to Consider in Good Knife Sharpeners
There are a number of factors worth considering when deciding on the right knife sharpener for you. Here is a brief rundown on the most important factors to keep in mind.
Cost
When making any purchase, one of the most important factors to consider is the cost. With knife sharpeners, the cost factor is a little bit more involved than many other products. This is due to the fact that you must consider not only the cost of the knife sharpener but also the cost of your knives—buying a top-of-the-line sharpener for a dollar-store knife would be overkill no matter how well it works.
We'll go into more detail later in the extensive buyer's guide section, but the general rule of thumb is that cheaper knife sharpeners are best for people who use inexpensive knives. Cheaper knives won't last as long as their fancier counterparts, so standard sharpening tools should do the trick.
Those who are looking to take better care of their high-quality knives and improve their longevity would be best served by buying premium knife sharpeners that do their job without causing unnecessary damage to the knives themselves.
Effort
Knife sharpening can be a hobby in and of itself. There are many different kinds of knife sharpeners (covered in detail later) and the different methods for sharpening knives can require more or less time and effort. More complex methods can lead to better results, but they aren't totally necessary if you're looking for a simpler solution. Generally, the order of difficulty looks like this:
Easy: electric/pull-through sharpener
Medium: honing/sharpening steel
Hard: whetstone
Very Hard: grinder
Utility
Some knife sharpeners can be used to sharpen things besides knives. If you work with various bladed tools that require honed edges such as axes, hatchets, chisels, and scissors, you may want to buy a knife sharpener that can service multiple types of edges.
With these factors in mind, here is our list of the best knife sharpeners.
The 10 Best Knife Sharpeners 2020
Guide to Buying the Best Knife Sharpener
Knife sharpening can be a tedious chore, a fun hobby, or even a lucrative business depending on the person you ask. And depending on how you feel about it, the right kind of knife sharpener for your purposes will be different.
As you can see from our list, knife sharpeners can come in a whole lot of shapes, sizes, and styles. All the different kinds of knife sharpeners have their own benefits and drawbacks. This makes finding the right one for you a case of deciding what makes the most sense for your needs and your commitment to learning the trade.
Types of Knife Sharpeners
Methods for sharpening knives and maintaining cutting edges are surprisingly varied. Each method has its own pros and cons that you must weigh to decide which is best for your purposes. This knife sharpener buyer's guide covers the most common kinds of knife sharpeners for home users.
The type of knife sharpener that most likely popped into your head when you began your search for one is probably the pull-through sharpener that is separated into two varieties: manual and electric sharpeners.
Manual and Electric Sharpeners
These sharpeners are the most common for home chefs and DIY hobbyists. They are designed with notches set in their top, which you can simply pull your knife through to sharpen and hone the edge of your blade.
Sometimes called V-sharpeners due to their v-shaped notches, these knife sharpeners are great for people that want something simple to use that will get the job done with minimal downtime. However, these pull-through sharpeners can cause nicks and impact the longevity of your blades due to the amount of material that they remove.
Manual or electric knife sharpeners are generally ideal for people who want to quickly and easily sharpen their inexpensive knives.
Steels
Steels (also called hones, kitchen steels, sharpening rods, or butcher's steels) are those metal rods you often see professional chefs on TV swiping their knives on like a crazed madman. A safer but equally effective (if considerably less flashy) method for using them is holding the steel vertically against the top of a work surface while running your knife down along the length of the steel.
Steels typically come in two varieties: honing steels and sharpening steels.
Honing Steels
A honing steel is the most common type of steel that professional chefs typically use on a daily basis. The reason for this is that honing steels aren't technically knife sharpeners but more like knife straighteners. This isn't a negative thing; in fact, it's why they can and are used on a very regular basis by people who make a living off of the effectiveness of their knives.
Generally, the reason your knife isn't cutting well isn't because the edge is dull, but is instead due to the fact that your edge has become bent, curled, or folded over itself. Honing steels realign the microscopic teeth of your blade to bring them back into the action without removing much if any of the metal from the knife.
Sharpening Rods
A sharpening steel, on the other hand, is designed to reset the edge of the blade by removing metal from the edge of the knife. They are typically either made from ceramic (which has a higher hardness rating than steel) or they have a steel core with a diamond coating.
Both ceramic rods and diamond steels are capable of grinding material away from the knife to reset the edge. Ceramic steels are slightly less abrasive than diamond rods, which allows them to sharpen blades more gently in comparison.
Whetstones
Sharpening stones, bench stones, oil stones, water stones, or whetstones—no matter what you call them, they all serve the same purpose: resetting cutting edges to make them sharper. Whetstones are versatile tools that can effectively and efficiently sharpen knives and all sorts of other tools like axes, chisels, and even screwdrivers.
They're called whetstones because most of them require liquid (typically water or oil) to activate their abrasive qualities. Using a whetstone properly can take practice to master but with some time and a steady hand, they produce fantastic results without negatively impacting the longevity of your knives by removing too much metal from your blades. Many whetstone users grow to relish the time they spend sharpening their blades thanks to the activity's calming, meditative effect.
Grinders
Grinders can make use of spinning wheels of stone or other hard materials, or belts of coarse materials like a belt sander uses. Belt grinders are the most common type of grinder, and they are capable of quickly resetting blade edges. For the most part, these tools are relegated to workshops for serious knife and bladed tool repair purposes.
The reason for this is that grinders tend to be large, expensive, and quite dangerous to use. The quickly spinning surface poses a risk, as does the excessive heat that can be generated from the high levels of friction that occur during use.
This guide is intended for beginners and hobbyists and, as such, we focused on practical and affordable knife sharpening tools which resulted in only one grinder making our list.
Picking the right tool for sharpening your knives is a matter of weighing the options against your preferences, skill level, and budget. This begs the question…
What Type of Knife Sharpener Is Best?
For general purposes, the best knife sharpener for you depends on what you do with your blades and how well you want to take care of them.
What Are the Best Knife Sharpeners for Cooks?
If you are a home chef that uses typical store-bought kitchen knives that can be replaced easily, standard pull-through sharpeners offer a quick and easy solution for fixing the cutting edge on your knives. For those who aren't terribly concerned about the longevity of their knives, the occasional V-sharpener usage combined with the regular use of a honing steel will keep your edges nice and sharp with minimal downtime and little fuss.
On the other hand, if you use more expensive knives that you want to maintain for longer, pull-through knife sharpeners may be a bit too harsh on your blades. If this is the case for you, you will want to use a honing steel regularly combined with an occasional sharpening steel or whetstone session when the blade has become dull.
What Are the Best Knife Sharpeners for DIYers?
Those who are looking to sharpen not only knives but also tools like chisels and scissors may be best served by using grinders or whetstones. The belt grinder found on our list is a great option for hobbyists and DIYers who need to sharpen a variety of bladed tools. Whetstones are also very versatile and can turn into a fun hobby on their own.
Pull-through sharpeners aren't ideal for DIYers because they are often restrictive in what angles they offer as well as the size and shapes of tools that can fit in them. For instance, scissors are typically too thick while also having varying edge angles, which makes them nearly impossible to sharpen with standard knife sharpeners.
How To Use a Knife Sharpener
Pull-through knife sharpeners are fairly straightforward to use. You generally place your blade in the correct slot, apply slight (but not too much) downward pressure, and drag the blade towards yourself across the notch. Many hand-held sharpeners have multiple stages, with each one gradually working the blade down to a finer polish or sharpness.
Depending on the type of manual or electric knife sharpener you get, the specific directions may vary. It's always best to check the manual provided with your purchase to ensure you are using the knife sharpener correctly. These manuals will also typically include information regarding cleaning and maintaining your knife sharpener.
This video gives a basic rundown of how hand-held knife sharpeners work and how to best use them.
How to Use a Honing/Sharpening Rod
Honing steels and sharpening rods are slightly different tools, but they are used in exactly the same way. The easiest and safest method is to place the steel vertically, upside-down on top of a flat surface.
You can then gently press your knife edge against the rod at the correct angle (a 20-degree angle for most blades) as you slide the blade down the length of the steel and towards your body. This motion should guide the blade against the steel from the heel of the blade all the way to the tip.
You repeat this motion on both sides of the blade for about 6 to 10 strokes. This honing process can be done as often as once a day for knives that are used regularly. You can see this technique, and the flashier chef's technique, in this short video.
How to Use a Whetstone
Whetstones are a bit more complicated and involved than the previously mentioned knife sharpening techniques. Whetstones are most often soaked in water for about 20 minutes prior to use. Some whetstones use oil instead of water.
Once you have a satisfactorily-soaked whetstone, you then place it on a surface that will prevent the whetstone from sliding around during the sharpening process. You then take your knife and press it gently into the whetstone at the correct angle (once again, roughly 20 degrees for most knives) while you drag the blade across the whetstone from the heel to the tip of the knife.
This process is repeated multiple times and across different grain levels of whetstone until the blade has reached the desired sharpness. Here is a brief video showing the process.
Final Thoughts
Knife sharpeners are essential tools for anyone who owns a knife (which is pretty much everyone). Keeping your knife sharp will reduce the likelihood that you injure yourself during use, while also making the knife better at its job.
Finding the right knife sharpener for you is all about considering how much time, effort, and money you want to put into the process. Some people love breaking out their whetstones or grinders and taking the time to carefully hone the edge of their steel to perfection. Other people simply want to sharpen their knife and move on to other things.
Regardless of which type of person you are, you should be able to find the perfect knife sharpener on our list. If not, our guide should have equipped you with the knowledge you need to find something even better. Happy hunting!