Work can be a real pain in the butt.
This is especially true if you can't find the right pants for the job. Work pants come in a vast variety of styles, colors, materials, and fits, so finding the best work pants for your job is no simple matter.
As such, we have created this buyer's guide and list of top ten work pants to help make your search for the right pants go much smoother. Before we jump into our top picks for work pants, let's briefly go over what things you should keep in mind when weighing the options.
Features to Consider in Good Work Pants
The two most important aspects of a good quality pair of work pants are comfort and durability. If the pants don't provide a good mix of both, you might as well wear nothing at all! Well, maybe that's not completely true, but you get the point—well-chosen work pants will make a world of difference.
Comfort
Whether or not you find your work pants comfortable is partially a matter of preference, and is difficult to know until you actually try them on. However, you can generally narrow down which pants will be comfortable based on a few things, such as the type of cut and the materials they're made out of.
A pair of comfortable house pants has very different qualities than a pair of comfortable work pants. You want your work pants to fit right, stay in place, and give you enough breathability to prevent you from overheating.
Durability
One of the worst things that can happen on a job site is having your pants tear in the middle of the workday. You want your work pants to be able to stand up to a beating without tearing or wearing out, but you also want to make sure the pants aren't too heavy or stiff as to ruin their comfortability.
Finding a pair of work pants with the perfect mix of durability and comfort will make your jobs go much more pleasantly. Aside from comfort and durability, there is one last factor worth considering for work pants: utility.
Utility
Work pants should keep you comfortable and safe throughout your time on the job, but they can also help make the work go a little easier. Tool belts can be heavy, cumbersome, and potentially dangerous for some jobs. This is why you may prefer to find pants that have the kinds of pockets or straps that allow you to keep essential tools on you without weighing yourself down with extra clothes or accessories.
The specific things you keep at hand vary depending on the work you do, so keep an eye on the pockets and tool loops available from the different offerings to find the right pair of work pants for your needs.
Without further ado, let's dive into the list.
Top 10 Best Work Pants 2021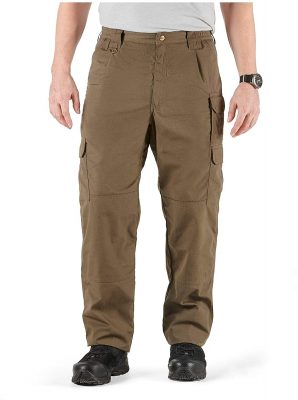 Why we like it:
5.11 Tactical's Taclite Work Pants have it all: comfort, durability, a large variety of colors, and some extra pockets for storing odds and ends throughout the day.
Editor's Rating:
Comfort
Made with a 65 percent polyester, 35 percent cotton blend, the ripstop fabric provides ample stretch for comfort without running the risk of tearing during work. The material is comfortable against the skin, moves well while staying put in the right places, and breathes well enough to keep you cool all day long.
Durability
5.11's ripstop fabric is sewn with triple-stitching and features a gusseted inseam that allows these Taclite Work Pants to offer great flexibility. Furthermore, the pants are coated with Teflon to provide the material with stain, soil, and moisture resistance. The seat and knees of the pants are double-reinforced, and the knees are kneepad-ready.
Utility
These work pants feature 8 separate pockets that are large enough to fit various tools and components. 5.11 Tactical's work pants also sport a hip-mounted D-ring situated above the right front pocket. The Taclite Work Pants also come in a surprising array of color options and sizes so you can dial in your style and fit to your liking.
Reviews
With over 7,500 Amazon reviews and a total rating score averaging about 4.5 out of 5 stars, the 5.11 Tactical Men's Taclite Work Pants are some of the best-reviewed work pants around. Reviewers are particularly enthused about the quality and durability of the material used to make these work pants.
Pros
The ripstop fabric is both comfortable and durable, allowing for great mobility and flexibility.

These work pants are available in a large number of colors so you can find the right one for your style.

5.11 Tactical's Taclite Work Pants offer great cargo pockets for storage.

The material is Teflon coated to help prevent stains.
Cons
These work pants are a little on the pricey side compared to some other options on our list.
---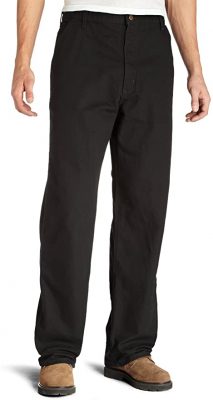 Why we like it:
Carhartt makes quality, sturdy clothes for serious workers and these Work Dungaree Pants are no exception to that rule. We especially like the fit and addition of hammer loop and tool pockets to these work jeans.
Editor's Rating:
Comfort
Made from 12-ounce 100 percent cotton denim, Carhartt's Work Dungaree Pants offer a solid, breathable material that should keep you comfortable throughout the day. The loose original fit is well balanced to provide mobility and comfort without looking overly baggy or unprofessional.
Durability
While these work pants aren't reinforced in key knee and seat areas, the 12-ounce denim should still stand up well to wear and tear over the course of long, hard hours at work. The belt loops are reinforced to help prevent them from shredding or tearing, which is especially important if you carry heavy tools or components in these pants.
Utility
Speaking of carrying heavy stuff, these Carhartt Work Dungaree Pants provide an attached hammer loop in addition to reinforced utility pockets situated on the outer backside of the legs. While the pockets on these pants aren't particularly deep, the additional utility pockets and hammer loop provide some good options for storage on the job.
Reviews
Over 3,000 Amazon reviewers have given Carhartt's Work Dungaree Pants an average rating score of more than 4 out of 5 stars. Amazon reviewers are happy with how heavy duty these pants are. They also like the reinforced belt loops.
Pros
100 percent cotton is always nice, thanks to how soft and breathable natural fibers tend to be.

Hammer loops are extremely handy for workers that can make use of them.

Carhartt is known for its durable, rugged products.
Cons
More expensive than most of the other options on our list, but not by much.

The 12-ounce weight denim might be a bit too thick for warmer climates.
---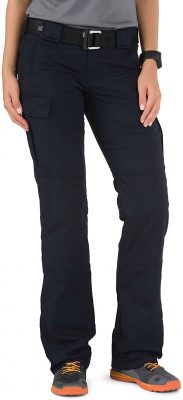 Why we like it:
5.11 hits the mark again with its best-in-class women's work pants, which offer all the marks of quality as their men's line in a lighter weight and female-friendly fit.
Editor's Rating:
Comfort
5.11's most popular women's work pants use a 63 percent polyester, 37 percent cotton blend to maximize comfort, flexibility, and durability. These pants are also coated with Teflon, making them resistant to water and all kinds of wear and tair.
Durability
These pants will last for years thanks to their multi-faceted approach to durability. Not only is the material of a very high quality, but it includes ripstop technology to prevent tears, and gusseted construction in problem areas to prevent blowouts over time.
Utility
Women in the trades rejoice! 5.11 bucks the trend of including too few (or not any) pockets on its women's pants with this excellent pair. Not only does it have a massive twelve pockets to carry everything you'll need along with you, but they're larger than average, and so well-constructed that they can handle a very heavy load for longer than most.
Reviews
After amassing over 1,000 Amazon reviews, these 5.11 Tactical Women's Stryke Covert Cargo Pants have earned a total rating score that's nearly a full 5 out of 5 stars. Reviewers rave about how these work pants manage to remain stylish in spite of their incredible carrying capacity and durability.
Pros
More functional than nearly any other women's work pants.

Surprisingly stylish and offered in seven colors.

Resistant to water, tears, and blowouts.
Cons
On the more expensive end of work pants.
---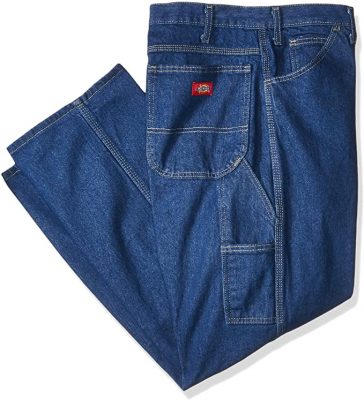 Why we like it:
Dickies and work pants are practically synonymous with each other. These Dickies Industrial Carpenter Jeans are sturdy, comfortable, and attractively priced to offer a fantastic bargain.
Editor's Rating:
Comfort
These work jeans are made from 100 percent cotton and use a rivetless construction to provide excellent comfort and avoid scratching and pinching. The Dickies Industrial Carpenter Jeans are soft and breathable and they offer a relaxed fit that allows for good mobility.
Durability
Made from thick, sturdy cotton (14-ounce premium denim), these Dickies Industrial Carpenter Jeans also boast triple-stitched side seams and seat seams. The heavy-duty materials and relaxed fit provide good protection from wear and tear without limiting flexibility.
Utility
An included hammer loop and dual side tool pockets provide good storage options for tools and components when on the job.
Reviews
Over 2,500 Amazon reviews have resulted in the Dickies Industrial Carpenter Jeans earning a total rating score around 4.5 out of 5 stars. One of the most commonly sung praises for these jeans is that they provide an excellent value thanks to their combination of a high level of quality with a low price point.
Pros
Extremely affordable, these are one of the lowest-priced offerings on our list.

These work jeans are especially sturdy thanks to the heavy-duty 100 percent cotton construction.

Comfort and flexibility are exceptional with these carpenter jeans.
Cons
The knees aren't reinforced, which can result in them wearing out faster.

Jeans might be too informal for some job sites.
---
Why we like it:
Wrangler Riggs Workwear Ranger Pants are sturdy, comfortable, and roomy enough to provide excellent mobility. We especially like the added loop on the hip that is ideal for hanging a hammer from.
Editor's Rating:
Comfort
These work pants walk the line with a relaxed enough fit for comfort, but not so roomy as to run the risk of snagging on objects. Made from 100 percent cotton, these pants are soft, flexible, and they breathe very well.
Durability
Crafted from 10-ounce 100 percent cotton ripstop fabric, the Wrangler Riggs Workwear Ranger Pants are long-lasting and sturdy. The knees and seams are also reinforced to provide extra strength in areas that are most prone to wear and tear.
Utility
The deep front pockets are handy for carrying around odds and ends, and the loop on the outside of the right hip is great for hanging a tool like a hammer for easy, secure access when on the go.
Reviews
Over 5,500 Amazon reviewers have graced the Wrangler Riggs Work Pants with a total rating score right around 4.5 out of 5 stars, proving that these pants can get the job done. Reviewers often remark that they have purchased multiple pairs of these pants over the years.
Pros
100 percent cotton is always nice, thanks to how soft and breathable natural fibers are.

These work pants do an excellent job of balancing comfort and usability with their relaxed-fit style.

These are available in a fair number of colors that can be matched well to uniforms or job types to avoid obvious staining.
Cons
Cargo pants aren't for everyone, and can look a little too casual for some jobs.
---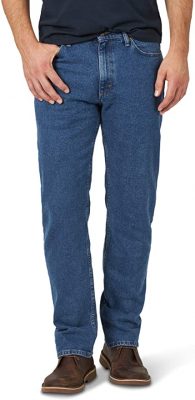 Why we like it:
Comfortable, inexpensive, classic—Wrangler's Regular Fit Flex Jeans is a great product offered at an appealing price.
Editor's Rating:
Comfort
By combining the rugged durability of cotton jeans with a splash of spandex flexibility, Wrangler managed to craft a pair of pants that can function as casual work pants and weekend pants equally well. Thanks to their cut and fit, these work jeans provide enough room in the right locations to give you the ability to work in comfort all day long.
Durability
Wrangler Authentics Men's Flex Jeans are made from a 99 percent cotton, 1 percent spandex denim blend that is sturdy and built to last. The denim material is durable, but these work pants are lacking reinforced knee and seat areas that many of the other products on our list have. That may or may not be an issue for you depending on the type of work you do.
Utility
These are standard jeans when it comes to pockets and utility-minded aspects, so you won't find much in that regard. There are always trade-offs when it comes to a price-to-performance ratio, and these are priced to sell at a bargain, so they don't sport much in the way of features.
Reviews
With over 5,000 Amazon reviews, these Wrangler Flex Jeans have accrued a total rating score averaging about 4.5 out of 5 stars. Reviewers are particularly happy with the comfort provided by these pants thanks to the slight stretch provided by the denim flex material.
Pros
Particularly comfortable and flexible thanks to the addition of spandex in the material blend.

Inexpensive but still durable.

Lots of color options in the standard jean washes you'd expect plus a khaki option.
Cons
These are pretty standard jeans, so they aren't geared specifically towards work, but they should still be suitable on most job sites.
---
Why we like it:
Another great pair of cotton cargo pants, Carhartt's Ripstop Cargo Work Pants are rugged and comfortable for long days on the job.
Editor's Rating:
Comfort
Like many items on our list, Carhartt utilizes 100 percent cotton ripstop fabric that offers a combination of comfort and durability. The cotton in these pants is 9.25-ounce weight, which makes these slightly less rugged than the Wranglers listed above. However, the lighter weight fabric also means these pants are a little less heavy overall, which may be preferred for some.
The relaxed fit of these pants provides extra space in the seat and thighs of the pants to make bending over and kneeling more comfortable.
Durability
The cotton ripstop fabric is built to resist tears thanks to the interwoven reinforced threads that criss-cross throughout the fabric. The knees and seat of these pants are also reinforced to provide extra protection from wear and cushioning for sensitive areas.
Utility
With ample pockets and an included hammer loop on the left hip, the Carhartt Ripstop Cargo Work Pants offer great storage options for tools and components alike.
Reviews
With roughly 3,000 total reviews and an overall Amazon rating score of roughly 4.5 out of 5 stars, these cargo work pants have impressed a lot of buyers. Reviewers are impressed by the sturdy yet lightweight fabric of these pants.
Pros
100 percent cotton ripstop fabric provides strength and comfort for long days of hard work.

The fit is relaxed in all the right places without becoming too baggy.

Pockets are large and well-positioned for great utility.
Cons
Color options are a bit disappointing.
---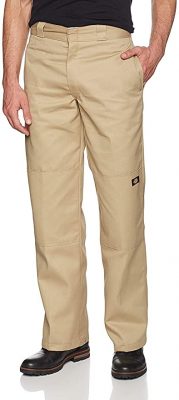 Why we like it:
These Dickies Loose Fit Double Knee Work Pants do a fantastic job of presenting a professional appearance while also providing comfort and durability where it's needed.
Editor's Rating:
Comfort
Dickies are known for their comfortable, wide waistbands and soft lining that provide a comfortable wear. These are no exception to that rule, and are rather comfortable on the skin. However, their flexibility is lacking compared to other work pants on our list, which can be a problem for jobs that require lots of mobility.
Durability
These Dickies Loose Fit Double Knee Work Pants are sturdy and rugged. They stand up well to a beating and are less prone to wear and tear. The reinforced knees are especially nice for added protection and strength in the areas that tend to get worn down fastest.
Utility
Dickies is known for putting especially deep front pockets on their pants. These work pants offer four roomy pockets on the front and back, as well as a single tool pocket on the outer backside of the right leg.
Reviews
Dickies' Loose Fit Double Knee Work Pants have accrued over 5,000 Amazon reviews for a combined rating score of a bit over 4 out of 5 stars. Reviewers are appreciative of the sturdy double-reinforced knees and the useful side leg pocket.
Pros
Soft liner and wide waistband provide a comfortable wear on the skin.

The extra-deep pockets and side tool pocket are handy for various jobs.

Reinforced knees provide additional strength and protection where it's needed most.

The loose fit offers comfort and mobility.
Cons
Color offerings are pretty limited and mostly look the same.

The material isn't as flexible as other products on our list.
---

Why we like it:
Dickies has made a fantastic pair of work pants with these Flex Slim Fit Work Pants. They are comfortable and provide great options for storing odds and ends throughout the workday.
Editor's Rating:
Comfort
These Flex Slim Fit Work Pantsare made from a 65 percent polyester, 35 percent cotton blend that offers durability and comfort for long days on the job. The 8.3-ounce stretch twill material is lighter than most work pants, and allows the pants to flex enough to not be overly restrictive despite their fashionable form-fitting appearance.
Durability
While these pants aren't made for hard days on the construction site, they are plenty durable for their intended use. These Flex Slim Fit Work Pants are built to the same high standards as all Dickies products, and should handle a lot of wear and tear.
Utility
Unlike many work pants marketed towards women, this product does not lack utilitarian features. Just like their men's equivalents, the Dickies Flex Slim Fit Work Pants for women include massive pockets and belt-loops that are suited for carrying everything you need to get the job done.
Reviews
Almost all Amazon reviewers agree that these are fantastic work pants. Earning a total rating score of about 4 out of 5 stars proves that these work pants are worth the reasonable asking price. Reviewers are especially happy about the numerous and well-sized pockets on these work pants. Many reviewers talk about buying additional pairs because they like them so much.
Pros
These women's work pants are far more practically built than most work pants that aren't designed for men.

The pockets are numerous and well-designed to provide lots of useful storage options.

The material is light and comfortable while also providing great durability and range of motion.
Cons
Unlike some more fashion-oriented women's work pants, these only come in black, navy, and khaki.
---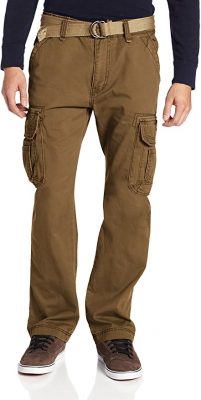 Why we like it:
Unionbay's Relaxed Fit Cargo Pants are 100 percent cotton, offer large side pockets for easy tool and component access, and come in a large variety of colors and sizes.
Editor's Rating:
Comfort
We love the breathable 100 percent cotton construction of these cargo pants. They are light, airy, and comfortable enough to wear at the house. These pants also come in big and tall sizes, so it should be easy to find the right size for any body shape.
Durability
These pants lack reinforced areas like most of the other items on our list, and the material is fairly thin. The cotton material is still sturdy, but they're less resistant to wear and tear than other work pants found on this list. This tradeoff does mean that these pants are quite light, which may be worth the drop in durability depending on your preferences.
Utility
The large side pockets situated on the outside of both legs are great for storing all sorts of things throughout the day. Front and rear pockets are also amply sized, giving these pants plenty of options for storing tools and components on the job.
Reviews
With over 4,500 Amazon reviews and a total rating score of over 4 out of 5 stars, these Unionbay Relaxed Fit Cargo Pants have earned a respectable rating from pleased buyers. Reviewers are particularly appreciative of the available big and tall sizes and by how comfortable these cargo work pants are.
Pros
Light, breathable cotton material offers comfort even in the heat of the day.

Large cargo pockets on the sides are great for organizing tools and components on the go.

Big and tall sizing is a plus for these Unionbay Cargo Pants.
Cons
The material is on the thin side and may be more prone to rips and wear than other options found here.

A lack of reinforced seat and knee areas puts these farther down our rating list when it comes specifically to pants for working in.
---
Guide to Buying the Best Work Pants
Shopping for clothing can be one of the most frustrating experiences for many people. Getting something that meets all of your criteria for comfort, style, and practicality is no simple task. This process is made even more difficult when you're looking for clothes to wear to work.
Work clothes can often have stricter requirements placed on them due to a large array of factors such as employer dress codes, safety standards, and the fact that you're not likely going to have the ability to change out of them until the end of your shift. As such, it's imperative that you find work pants that meet all of your needs and preferences.
There's nothing worse than being stuck at work all day in a pair of pants that are falling off of you or preventing you from moving the way you need to in order to perform your job. Finding the right clothes online can be even more difficult, because it can be difficult to get a good idea of how clothes will fit and feel by just looking at pictures.
This is where Amazon's Prime Wardrobe comes in handy.
What Is Amazon Prime Wardrobe?
Available for absolutely no extra fees to Amazon Prime members, Prime Wardrobe is a Try Before You Buy offer that allows you to order clothes online and have them shipped to you to try them on without paying anything upfront.
You may have noticed the Prime Wardrobe banner above many of the Amazon store pages for items we have on our list. Items that qualify for Prime Wardrobe can be added to your order (up to 8 total items per order) and then shipped to your home at no charge.
Once all of your items arrive, you have 7 days to try everything out and decide what you want to keep. Once you make your decision, you simply mark which items you want to keep and which you want to return. Then use the provided resealable shipping package and pre-paid return shipping label to send back what you don't want to keep.
It's a simple and completely free way to try out different work pants without paying a dime or leaving the comfort of your home. Learn more about the Amazon Prime Wardrobe program using this link.
What to Look for in Work Pants
We talked about our three key factors when finding work pants throughout the article. For us, the three most important factors are comfort, durability, and utility. We think that these three factors cover the key aspects necessary for finding the right pair of work pants, but that doesn't mean those are the only aspects worth considering.
Style and Color
Style and color options were mentioned here and there but not covered fully like the other topics in our guide. That's not because these aren't important considerations, but instead due to the fact that style and color can often be dictated by your job or your personal preferences.
You may be able to easily eliminate items off of your list of possibilities simply due to the fact that they are jeans or don't come in a color that matches your uniform or style. Factors like that should be the first thing you look out for so you can quickly eliminate options that won't work for you.
Material
Many people have strong preferences for their own comfort when it comes to material. Jeans may be an immediate dealbreaker no matter how nice the work pants are, or maybe you absolutely hate how Dickies can feel like slacks.
A great way to figure out what materials you prefer is by reading the labels of some of your favorite pairs of pants. If you've had a lot of success with certain materials or blends, then keep an eye out for those same materials when going over your options.
In general, cotton pants will be the most comfortable and breathable, while the addition of polyester will add durability. Pants that include a small percentage of spandex will be ultra-flexible, with a greater range of motion than other pairs of work pants.
Fit
Some people wouldn't be caught dead in a pair of relaxed fit work pants, and others would rather die than go to work in a pair of slim-fit jeans. The fit is often one of the most important factors when it comes to overall comfort, and is something you should keep a close eye on during your search.
Having said that, you should try to not immediately discard an option just because the fit type is something you wouldn't normally go for. Trying on different fits from different brands might help you find something you like better than what you always believed was your favorite fit.
This is especially true for work pants, as a pair of comfortable work pants is a lot different from a pair of comfortable sweatpants. You can spend all day sitting at the computer in a pair of sweatpants, but you would be miserable in those same pants while hauling rocks or digging ditches.
What Kind of Work Do You Do?
Perhaps the most important consideration is what you do for work. Knowing what the best kind of pants are for your work might seem obvious for some, but people who are starting a new job or moving to a different climate might have a harder time figuring out what would work best.
One of the best pieces of advice we can give for finding the right pants for your job is to ask others with experience in that line of work. Coworkers can be a great source of information, or you can always go to websites like Reddit and Quora, which are fantastic places for asking specific questions and getting responses from people with firsthand experience.
Bottom Line
Finding the right kind of work pants for your job might take a bit of time and effort on your part. You'll be glad you took that extra time after you spend a hard day's work in a pair of pants that kept you comfortable and safe from harm.
Work can be a nightmare even without being stuck in an awful pair of cramped pants all day. Finding the best work pants will allow you to control at least one aspect of your day so you can have a more enjoyable time at work.
We hope you found the right pair of work pants for you on our list, or at least gained some valuable insight that will help you find what you're looking for.