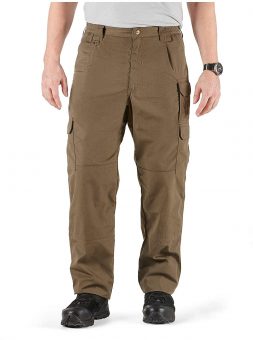 5.11 Tactical Men's Taclite Work Pants
Carhartt Men's Work Dungaree Pants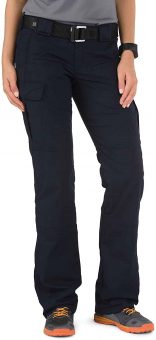 5.11 Tactical Women's Stryke Covert Cargo Pants
Previous
Next
Work can be a real pain in the butt.
This is especially true if you can't find the right pants for the job. Work pants come in a vast variety of styles, colors, materials, and fits, so finding the best work pants for your job is no simple matter.
As such, we have created this buyer's guide and list of top ten work pants to help make your search for the right pants go much smoother. Before we jump into our top picks for work pants, let's briefly go over what things you should keep in mind when weighing the options.
Features to Consider in Good Work Pants
The two most important aspects of a good quality pair of work pants are comfort and durability. If the pants don't provide a good mix of both, you might as well wear nothing at all! Well, maybe that's not completely true, but you get the point—well-chosen work pants will make a world of difference.
Comfort
Whether or not you find your work pants comfortable is partially a matter of preference, and is difficult to know until you actually try them on. However, you can generally narrow down which pants will be comfortable based on a few things, such as the type of cut and the materials they're made out of.
A pair of comfortable house pants has very different qualities than a pair of comfortable work pants. You want your work pants to fit right, stay in place, and give you enough breathability to prevent you from overheating.
Durability
One of the worst things that can happen on a job site is having your pants tear in the middle of the workday. You want your work pants to be able to stand up to a beating without tearing or wearing out, but you also want to make sure the pants aren't too heavy or stiff as to ruin their comfortability.
Finding a pair of work pants with the perfect mix of durability and comfort will make your jobs go much more pleasantly. Aside from comfort and durability, there is one last factor worth considering for work pants: utility.
Utility
Work pants should keep you comfortable and safe throughout your time on the job, but they can also help make the work go a little easier. Tool belts can be heavy, cumbersome, and potentially dangerous for some jobs. This is why you may prefer to find pants that have the kinds of pockets or straps that allow you to keep essential tools on you without weighing yourself down with extra clothes or accessories.
The specific things you keep at hand vary depending on the work you do, so keep an eye on the pockets and tool loops available from the different offerings to find the right pair of work pants for your needs.
Without further ado, let's dive into the list.
The 10 Best Work Pants 2020
Guide to Buying the Best Work Pants
Shopping for clothing can be one of the most frustrating experiences for many people. Getting something that meets all of your criteria for comfort, style, and practicality is no simple task. This process is made even more difficult when you're looking for clothes to wear to work.
Work clothes can often have stricter requirements placed on them due to a large array of factors such as employer dress codes, safety standards, and the fact that you're not likely going to have the ability to change out of them until the end of your shift. As such, it's imperative that you find work pants that meet all of your needs and preferences.
There's nothing worse than being stuck at work all day in a pair of pants that are falling off of you or preventing you from moving the way you need to in order to perform your job. Finding the right clothes online can be even more difficult, because it can be difficult to get a good idea of how clothes will fit and feel by just looking at pictures.
This is where Amazon's Prime Wardrobe comes in handy.
What Is Amazon Prime Wardrobe?
Available for absolutely no extra fees to Amazon Prime members, Prime Wardrobe is a Try Before You Buy offer that allows you to order clothes online and have them shipped to you to try them on without paying anything upfront.
You may have noticed the Prime Wardrobe banner above many of the Amazon store pages for items we have on our list. Items that qualify for Prime Wardrobe can be added to your order (up to 8 total items per order) and then shipped to your home at no charge.
Once all of your items arrive, you have 7 days to try everything out and decide what you want to keep. Once you make your decision, you simply mark which items you want to keep and which you want to return. Then use the provided resealable shipping package and pre-paid return shipping label to send back what you don't want to keep.
It's a simple and completely free way to try out different work pants without paying a dime or leaving the comfort of your home. Learn more about the Amazon Prime Wardrobe program using this link.
What to Look for in Work Pants
We talked about our three key factors when finding work pants throughout the article. For us, the three most important factors are comfort, durability, and utility. We think that these three factors cover the key aspects necessary for finding the right pair of work pants, but that doesn't mean those are the only aspects worth considering.
Style and Color
Style and color options were mentioned here and there but not covered fully like the other topics in our guide. That's not because these aren't important considerations, but instead due to the fact that style and color can often be dictated by your job or your personal preferences.
You may be able to easily eliminate items off of your list of possibilities simply due to the fact that they are jeans or don't come in a color that matches your uniform or style. Factors like that should be the first thing you look out for so you can quickly eliminate options that won't work for you.
Material
Many people have strong preferences for their own comfort when it comes to material. Jeans may be an immediate dealbreaker no matter how nice the work pants are, or maybe you absolutely hate how Dickies can feel like slacks.
A great way to figure out what materials you prefer is by reading the labels of some of your favorite pairs of pants. If you've had a lot of success with certain materials or blends, then keep an eye out for those same materials when going over your options.
In general, cotton pants will be the most comfortable and breathable, while the addition of polyester will add durability. Pants that include a small percentage of spandex will be ultra-flexible, with a greater range of motion than other pairs of work pants.
Fit
Some people wouldn't be caught dead in a pair of relaxed fit work pants, and others would rather die than go to work in a pair of slim-fit jeans. The fit is often one of the most important factors when it comes to overall comfort, and is something you should keep a close eye on during your search.
Having said that, you should try to not immediately discard an option just because the fit type is something you wouldn't normally go for. Trying on different fits from different brands might help you find something you like better than what you always believed was your favorite fit.
This is especially true for work pants, as a pair of comfortable work pants is a lot different from a pair of comfortable sweatpants. You can spend all day sitting at the computer in a pair of sweatpants, but you would be miserable in those same pants while hauling rocks or digging ditches.
What Kind of Work Do You Do?
Perhaps the most important consideration is what you do for work. Knowing what the best kind of pants are for your work might seem obvious for some, but people who are starting a new job or moving to a different climate might have a harder time figuring out what would work best.
One of the best pieces of advice we can give for finding the right pants for your job is to ask others with experience in that line of work. Coworkers can be a great source of information, or you can always go to websites like Reddit and Quora, which are fantastic places for asking specific questions and getting responses from people with firsthand experience.
Bottom Line
Finding the right kind of work pants for your job might take a bit of time and effort on your part. You'll be glad you took that extra time after you spend a hard day's work in a pair of pants that kept you comfortable and safe from harm.
Work can be a nightmare even without being stuck in an awful pair of cramped pants all day. Finding the best work pants will allow you to control at least one aspect of your day so you can have a more enjoyable time at work.
We hope you found the right pair of work pants for you on our list, or at least gained some valuable insight that will help you find what you're looking for.