Homeowners either love or hate lawn maintenance, but raking leaves is probably the most hated chore of all. Leaf mulchers make the job much easier – they suck up leaves, send them through the blades, and the little pieces are stuffed into a bag.
If you're looking to make your life much easier with a mulcher, you may be wondering what kind is the best. A quick search online will show you that there are several kinds of leaf mulchers, and no two are quite the same.
We'll explain the differences in this article and show you some of the best mulchers on the market.
What to Look For When Buying a Leaf Mulcher
Leaf mulchers are handy lawn care tools that you likely won't regret purchasing. As with any lawn care tool, you'll see that there isn't just one type. You'll have to do quite a bit of decision-making before you can pick out the perfect machine for your home.
Let's take a look at some of the aspects that make these machines different.
Types
There are three kinds of leaf mulchers. Each kind is handy in its own way, and the type you need will depend greatly on your personal needs and physical capability.
Handheld
Handheld mulchers are lightweight and are easy to carry around the yard. They typically also function as vacuums and blowers. The downside is that they don't usually offer a lot of storage space for mulched leaves. These are best suited for small yards.
Walk-Behind
Walk-behind leaf mulchers are another great option for small yards and will benefit those with back problems. Instead of carrying around the machine, you'll push it around like you would a lawnmower. It presents the same issue as a handheld: limited collection bag storage.
Stationary
Stationary leaf mulchers are meant to be plugged in and kept in one place. Some of these mulchers come with specific collection bags or bins, while others can be used with any trash bag or placed above a trash can for convenience. These are usually heavy, although there are some lightweight options. Any yard size can benefit from this type.
Power Supply
Powering leaf mulchers costs money, and the way you choose to do it may cause damage to the environment. There are three ways that leaf mulchers are powered:
Electric Corded
Stationary mulchers and some handheld models need to be plugged in with an extension cord. The power supply is constant, but it will limit your range if you have a large yard or inconvenient outlet placement.
Electric Cordless
This kind of power supply is almost exclusive to handheld mulchers. This kind uses a battery that needs to be charged after each use. It's ideal for a quick round of leaf mulching, but it's incredibly inconvenient for large jobs. Batteries can take 10 minutes to an hour to charge and may only offer as little as 20 minutes of usage, depending on your settings.
Gas-Powered Cordless
Gas-powered mulchers are falling out of usage since electric options are more eco-friendly. Gas-powered mulchers can be handheld or walk-behind, much like a push mower. Depending on local gas prices, these may be more expensive to use long-term than their electric counterparts.
Maximum Capacity
The leaves you pick up have to go somewhere, and where it goes is one of the determining factors of purchasing a leaf mulcher. Consider the work each kind of bag will require and how willing you'll be to do it. How many trips to the dumpster are you willing to take?
Walk-behind and handheld mulchers will have a bag attached to them to collect leaves. Since the bag goes with you, it's usually small; however, backpack-style bags are bigger and attachments that let a long tube connected to a bag you don't carry with you.
Stationary leaf mulchers are usually used for bigger jobs because they allow for more collection. You can use giant bags or regular trash bags or place the mulcher above a trash can. Or, if you're mulching leaves to use in a garden, you can let the leaves drop directly over the ground.
Total Weight
Look at the weight of the machine before you purchase it. You also need to consider how heavy it will be once it's filled with mulched leaves. If a handheld mulcher is slightly heavy on its own, it may be too heavy once you start using it. Walk-behind mulchers are also typically lightweight, but these are much easier to deal with since you push them instead of carry them.
Stationary mulchers are typically heavy because they need to stay in place while you use them. It's recommended that you bring them inside in bad weather or over the winter when you're not using them. You likely won't have to move it around much, so a heavy machine may not be much to worry about.
Noise Levels
Consider how loud the machine will be before you purchase it. Too much exposure to loud sounds can cause hearing loss or other damage. Sound is measured in decibels (dB), and the ears can only handle sounds up to certain points.
Lawn tools such as mowers and power saws are usually in the 90-124dB range. Leaf mulchers are typically quieter than mowers, especially the smaller handheld ones. Still, these are usually around 90dB, so hearing protection should be used when you're using the machine.
One other thing to consider about noise is if you live in a homeowners association that prohibits loud machinery. Check your HOA bylaws before you purchase to make sure you won't get yourself into any trouble.
With these factors in mind, you're now equipped to find the perfect leaf mulcher for your lawn.
Top 9 Best Leaf Mulchers 2022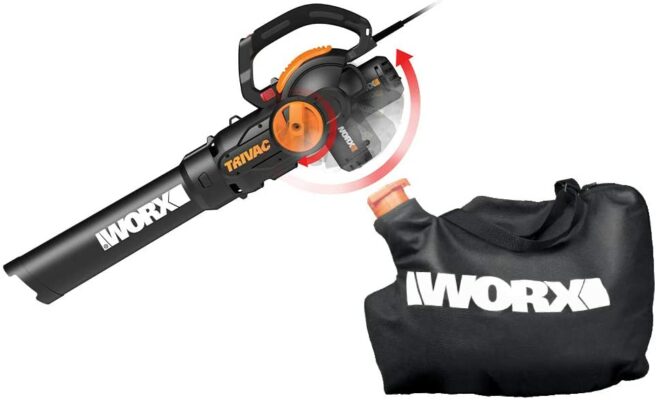 Why we like it:
This 3-in-1 leaf mulcher weighs nine pounds and only needs one hand to operate. Obsessive lawn lovers and casual upkeepers alike will find that this tool gets the job done at an incredibly reasonable price.
Editor's Rating:
Quick Facts:
Type: Corded electric
Capacity: 1.4 bushels (13 gallons)
Weight: 9 lbs
Noise Level: 79 dB
The WORX Trivac 2.0 is a handy machine that functions not only as a mulcher but as a vacuum and blower, too. The vacuum and mulcher work together and you can switch over to the blower when you need it. This 3-in-1 tool makes Saturday morning yard work a breeze.
This product offers two speeds, so you can pick the power level that will work the best for you. The collection bag is easy to detach and empty; all you need to do is unzip the bag and dump out the contents. The mulch ratio is 16:1, which means it can take 16 trash bags of leaves and turn them into one big bag. We explain the bells and whistles of leaf mulchers later on if you'd like to learn more about the small details.
This nine-pound machine will feel much heavier once it begins to fill up with leaves. If your upper body strength isn't where you want it to be, or you're a bit on the short side, you may find that this machine is a bit too heavy to use comfortably. It does come with a shoulder strap which will make it easier to use. Unfortunately, the collection bag may flop to the side you're holding the machine, making this machine not ergonomic.
Pros
Comes with a shoulder strap

Machine is only nine pounds

Noise level isn't super loud
Cons
Not ergonomic

A bit heavy when the bag is full
---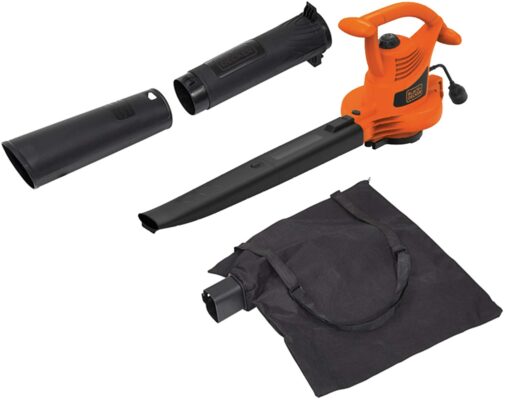 Why we like it:
This budget-friendly mulcher doesn't skimp on quality; it's lightweight, offers three functions, and has two speeds. It has everything you'd want in a mulcher without the extra zero.
Editor's Rating:
Quick Facts:
Type: Corded electric
Capacity: 1 bushel (9 gallons)
Weight: 7 lbs
Noise Level: 69 dB
Caring for your lawn on a budget doesn't mean you have to give up convenient features. This BLACK+DECKER leaf mulcher offers just about everything you'd expect to see in a mulcher that costs double the price.
It offers two speeds and can reach up to 210mph. The mulch ratio is 10:1, which is great but not the most impressive option on the market. What gives this mulcher an extra star is that the collection bag can hold the equivalent of 9 liquid gallons, or 1 bushel, and that's much more than what our premium recommendation can do.
This mulcher isn't the lightest, but at just 7 pounds when it's empty, most users shouldn't have a hard time using it. The collection bag has a shoulder strap that will come in handy as the bag fills up, but some users may struggle with the bag dragging on the ground.
Pros
Quiet machine

Sizable collection bag for the price

Lightweight

Budget-friendly
Cons
Collection bag may drag the ground

Shoulder strap is only on the bag
---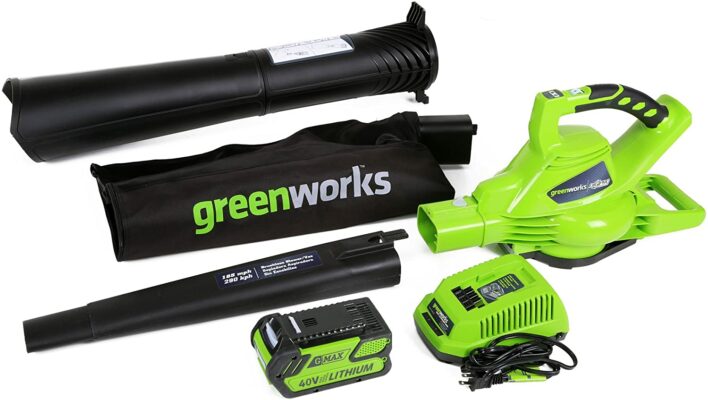 Why we like it:
This 3-in-1 lightweight mulcher offers ergonomic comfort and up to an hour of use after a short charging time. The lithium battery has a long lifespan, making this purchase a worthwhile investment.
Editor's Rating:
Quick Facts:
Type: Battery-powered
Capacity: 0.025 bushels (0.2 gallons)
Weight: 10 lbs
Noise Level: 70 dB
This mulcher from Greenworks is on the pricey side, but it should be well worth the investment. If you want an environmentally-friendly option that will make quick work of the leaves in your yard, then this is the product for you.
The battery needs up to 120 minutes to charge, which is pretty quick considering that it's a large battery. The working time may be a little too short, though – you get 20-60 minutes of usage, depending on the power settings you choose. It has six wind speeds, and the higher you go, the more power it requires, resulting in a shorter usage time.
The collection bag is on the smaller side, holding only 0.025 bushels (0.2 gallons). It's possible to attach bigger bags that are sold separately. It can't be beat for small and medium lawns, but this small capacity means its beat by something like the Husqvarna Gas-Powered Handheld Leaf Blower/Vacuum when it comes to big ones.
The mulcher offers an ergonomic grip design with a handy on/off switch and a cushioned handle so it won't be uncomfortable to use. It loses a few points because a shoulder strap isn't included on the machine, but the collection bag does have one.
Pros
Super quiet

Short charge time

Six speeds
Cons
Small collection bag

Battery is a bit heavy
---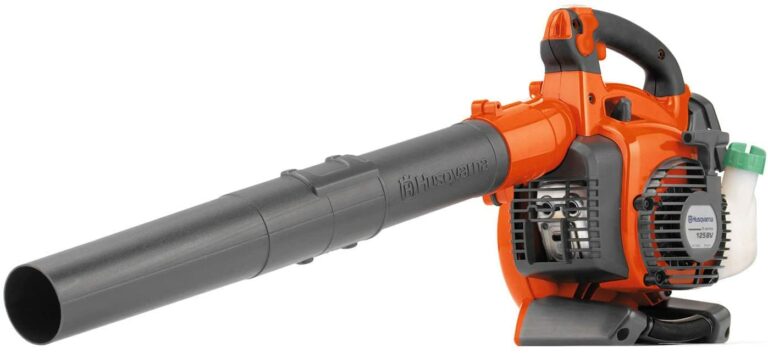 Why we like it:
This gas-powered leaf mulcher offers a "smart start" and cruise control that makes turning it on and keeping the same throttle a breeze.
Editor's Rating:
Quick Facts:
Type: Gas-powered
Capacity: 1.8 bushels (17 gallons).
Weight: 9.6 lbs
Noise Level: 107 dB
If you prefer the traditional method of gas-powered power tools, this is a great choice for a leaf mulcher. You still need to pull on a cord to start it, but it was designed with a "smart start" to make it start up faster with less hesitation. Some users may still get some smoke and sputtering, but that's to be expected with this type of power tool.
This product has a cruise control system that will keep the fan speed steady, so you don't have to struggle with it while you work. All the buttons and controls are kept together so you can easily control the machine while you use it.
The tank can hold 16.9 ounces of fuel that should last you a few hours before you need to fill it up again. Avoid using fuel that contains ethanol since it can ruin the insides of the mulcher.
Pros
Optimized to start up with few problems

Holds 16.9 ounces of fuel

Holds up to 17 gallons of mulched leaves
Cons
May be too heavy for some users

Louder than many electric options
---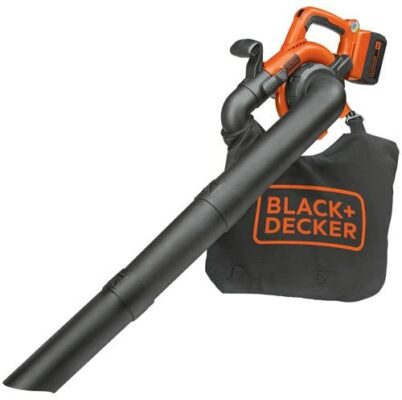 Why we like it:
The charging time for this leaf blower's battery can take as little as 10 minutes, which is super fast compared to other options.
Editor's Rating:
Quick Facts:
Type: Battery-powered
Capacity: 0.5 bushels (4.6 gallons)
Weight: 6.9 lbs
Noise Level: 65 dB
This battery-powered leaf mulcher charges incredibly quickly and will surely make any lawn chore a quick one. It only takes 10 minutes to charge and you'll get 20-30 minutes of usage on a full battery.
The working time may seem a little short, but take into consideration that the collection bag on this mulcher is on the small side. Since the battery only needs 10 minutes to charge, it's just enough time to empty out the collection bag and put it back on the machine. But, the small bag is still a downside to this machine since it only has a 6:1 mulching ratio, meaning that you'll need to empty it more often.
Since this machine is lightweight and forces you to take breaks to charge, it's the perfect machine for those who can't lift heavy objects for extended periods, or for parents who are introducing their children to the wonderful world of lawn maintenance.
Pros
Incredibly quiet

Fast charging time

Up to 30 minutes of usage

Lightweight – perfect for children or those who can't lift heavy objects
Cons
Only a 6:1 mulching ratio

Small collection bag
---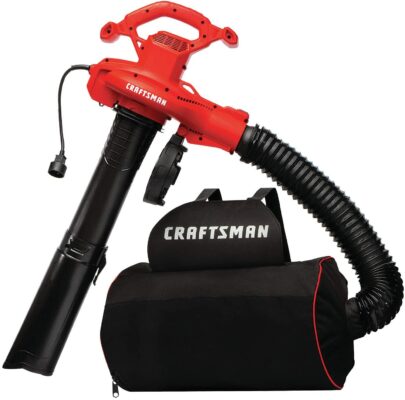 Why we like it:
This mulcher has a collection bag with backpack straps that holds up to 14.5 gallons of mulched leaves.
Editor's Rating:
Quick Facts:
Type: Backpack
Capacity: 1.5 bushels (14.5 gallons)
Weight: 11 lbs
Noise Level: Loud (ear protection required)
This doesn't come with a collection bag or container, so the maximum capacity will depend on what you use. The legs are adjustable, so you can make it taller or shorter depending on your needs.
The diameter of the bottom of the mulcher is 12 inches, so if you want to use a trash can, you'll need to be able to fit between the legs of the mulcher.
If your yard is large or you want to clean up your small yard in one trip, this is the mulcher for you. The collection bag has backpack straps so you don't have to fumble around with a bag hitting the ground. It's super spacious, holding 14.5 gallons of mulched leaves. It has a wide opening so you can easily empty out the bag.
This mulcher needs to be plugged in when you use it, so you'll need an extension cord. It has two speeds to choose from and both of them are powerful and loud; you'll definitely need ear protection with this product, although it's not specified just how loud it measures in decibels.
Pros
Backpack straps make it easier to carry

Holds 14.5 gallons of mulched leaves

Two wind speeds
Cons
Very loud – use ear protection
---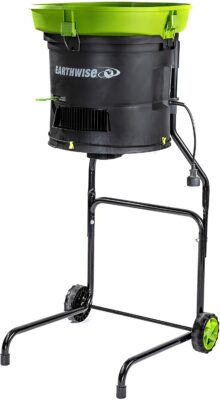 Why we like it:
This mulcher has wheels so you can easily move it around the yard. It also has a stand to prevent it from rolling around while you use it.
Editor's Rating:
Quick Facts:
Type: Corded
Capacity: 55 gallons per minute
Weight: 28.7 lbs
Noise Level: Loud (ear protection required)
Stationary mulchers are great for large yards or yards with many trees because they can mulch many leaves at once. But, large yards mean you have to move the mulcher around unless you want to rake all the leaves to one area.
The Earthwise leaf mulcher is perfect for this situation because it has a couple of wheels to make it easy to move. Tilt it back on the wheels and you can roll it around where you need it. It has a couple of legs on it to prevent it from moving. What's even better is that it can mulch up to 55 gallons per minute, making any large job a breeze. The noise level isn't specified, but it's definitely a noisy machine.
This is a portable mulcher, but take note that it weighs 28.7 pounds. It may be too heavy for some users, but the wheels will make it much easier to move around.
Pros
Wheels make it easier to move

55 gallons per minute

16:1 mulch ratio
Cons
May be too heavy for some users
---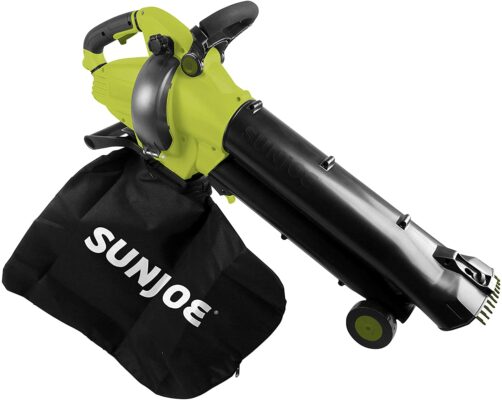 Why we like it:
This walk-behind mulcher is powerful, easy to use, and has an affordable price.
Editor's Rating:
Quick Facts:
Type: Corded
Capacity: 1.2 bushels (12 gallons)
Weight: 8 lbs
Noise Level: 104 dB (ear protection required)
This mulcher is the ideal power tool for homeowners who want to make hard work easy or have limited mobility. This mulcher is pushed on two wheels and sucks up the leaves underneath it, and mulches them before they go into the collection bag. You can adjust the height of the mulcher, which is great for those with back pain. It also functions as a blower for when you want to blow leaves out of the area, and you don't even have to switch tubes around.
The mulcher only weighs 8 pounds, and since you can push it, you'll hardly feel the weight of it. It has 6 wind speed settings, teeth on the end to make it easier to collect leaves, and an impressive 15:1 mulching ratio.
Pros
Wheels make it easy to move

Adjustable height

Six wind speeds
Cons
Collection bag isn't sturdy
---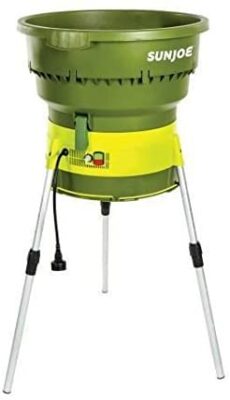 Why we like it:
This 13-pound stationary leaf mulcher is easy to move around but won't topple over while you use it.
Editor's Rating:
Quick Facts:
Type: Corded
Capacity: High
Weight: 13.4 lbs
Noise Level: 110 dB (ear protection required)
Lawn maintenance is already an unpleasant job for many homeowners, and lugging heavy equipment around makes it even more unfavorable. Fortunately, this stationary mulcher from Sun Joe is light enough to move it around the yard as needed, but it'll stay firmly in place while you work.
It's louder than handheld mulchers, but it mulches quickly, and it doesn't even have blades. Instead, it uses plastic cutting lines that you'll need to replace once they wear down from usage. Fortunately, you should be able to get a few months of use out of the lines that come with the mulcher, and they provide replacements for you to use.
This doesn't come with a collection bag or container, so the maximum capacity will depend on what you use. The legs are adjustable, so you can make it taller or shorter depending on your needs.
The diameter of the bottom of the mulcher is 12 inches, so if you want to use a trash can, you'll need to be able to fit between the legs of the mulcher.
This mulcher has a control dial, so you can choose how fine or coarse it mulches. The legs are adjustable, so you can move them up and down as needed. You can use almost any bag or container with this product as long as it fits under the machine. It has cords on the side to hold bags in place, but these aren't the most reliable and might tear paper bags or lose the grip on plastic bags.
Pros
Compatible with almost any kind of bag

Weighs only 13 pounds

Adjustable legs to fit over bags and trash cans
Cons
Doesn't hold on to bags too well
---
Everything You Need to Know About Leaf Mulchers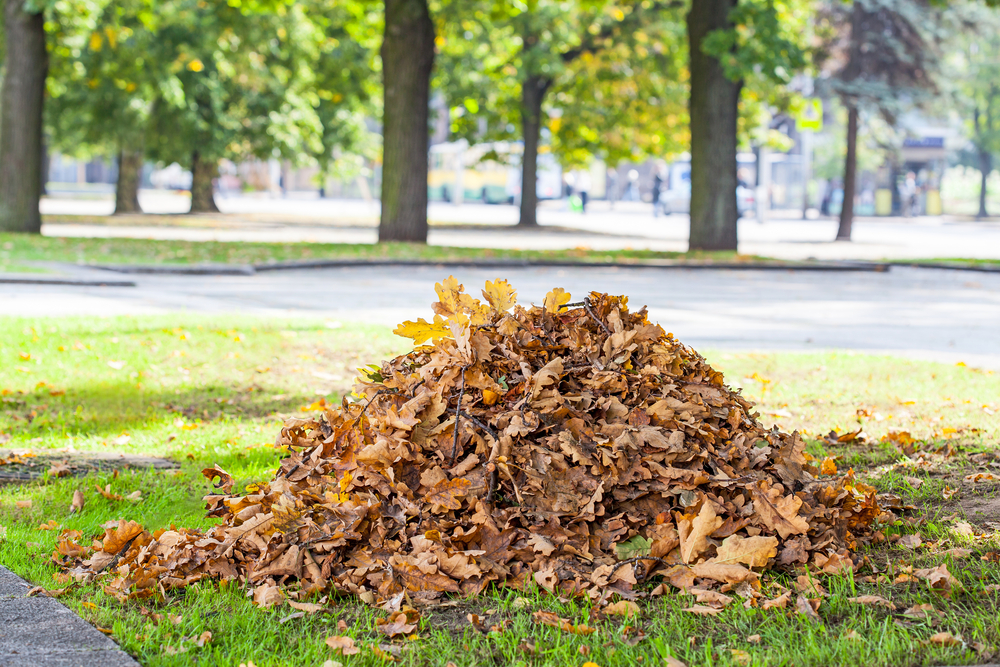 With so many different types of leaf mulchers at varying price points, how are you supposed to figure out which one is the best? It can seem overwhelming to figure out, especially if you're not well-versed in lawn equipment, but that's what we're here for. This guide will cover everything you need to know about leaf mulchers.
Get the Mulcher Suited for the Job
Not all mulchers are made equal, and for good reason. A small suburban yard with one tree doesn't have the exact needs as a 1-acre yard with several trees on the outskirts of town. The size of your yard is usually a good indicator of the size of the mulcher you need. But, if you have a large tree or several trees covering your small lawn with leaves every year, a larger size might be warranted.
Size isn't the only thing to consider, however. Your physical capability plays a big part in the kind of mulcher you should get. If you struggle to lift and carry large items, have back or joint pain or injuries, or you simply don't like to do manual labor, heavy machines won't do you any favors, and neither will stationary mulchers that require you to bring pile after pile to it.
Handheld mulchers often function as 3-in-1 devices, like the WORX Trivac 2.0. This means they function as mulchers, vacuums, and blowers. If you prefer owning fewer tools, this type of mulcher will make your life easier and will bring you the convenience you're looking for.
Different Mulcher Functions
We mentioned 3-in-1 mulchers, but what do they do? We won't go overboard and say they'll fix all your lawn problems, but we'll strongly imply it. 3-in-1 mulchers are three tools in one:
Blower: Leaf blowers allow you to remove leaves and debris from your yard by blowing them out. Yours doesn't come with one? You might want a separate backpack leafblower.
Mulcher: Mulchers shred leaves into little pieces so they take up less space and are easier to throw away or compost.
Vacuum: The vacuum part of the machine is usually used along with the mulcher function. This part is what sucks up the leaves and sends them through the mulcher.
Nozzle Design
Multifunction mulchers typically come with at least two nozzles. Usually, one is narrow, and the other is wide. Some may come with three nozzles that are small, medium, and large widths.
The size of the nozzle greatly affects the productivity of each function. The narrow nozzle is best suited for the blower because the small opening gives you good control over where the air blows. If you use the larger nozzle, it won't be as effective because the air is blown over a larger area instead of just one spot.
The wider nozzles are best suited for vacuum and mulcher functions. It allows you to suck up much more than the narrow nozzle and is therefore much more productive.
There are a few reasons why you may want to go against the general nozzle guidelines. If you're sucking up leaves in a flowerbed or garden, the smaller nozzle will prevent you from mulching the plants you want to keep. On the other hand, if you want to make quick work of blowing the leaves off your lawn, the wider nozzle will do just that.

Choosing the Right Bells and Whistles
All leaf mulchers come with "bells and whistles" that make it stand out from the rest. These are the things that may be super important to lawn equipment aficionados but aren't that big of a deal to those who just want to get their weekend chores over with.
Speed Adjustments
Many mulchers will come with speed adjustments. The most common is two, but some may come with six. This will allow the wind speed (suction) to be faster or slower. The slower speeds are best for when you need to be careful around other plants and the faster speeds are good for large areas.
Blade Types
There are three types of blades a mulcher might have:
Metal: This is the most common type of blade because of its productivity and durability. You can expect these to keep working for a long time.
Plastic: These aren't as durable, but they can get the job done just like the metal ones.
String-trimming line: This is the same type of string you'll see on most weed eaters. They work well and there isn't any chance of you getting injured when the machine is off.
Mulch Ratio
The mulch ratio is how many trash bags of leaves it can fit into one. Common ratios you'll see are 10:1 and 16:1. The bigger the ratio the better, since that means you'll have fewer trips to the dumpster.
Although it's not always the case, cheaper mulchers usually have lower ratios because of the battery's power or how fast the blades can spin. If you want a 16:1 or 18:1 mulcher, expect to see a higher price tag.
Leaf Bag Attachments
The leaf collection bag might make or break your decision. The bag that comes with the leaf mulcher might be on the small side. But, there are attachments you can buy separately that have bigger bags with longer connecting tubes so you can carry more.
Stationary leaf mulchers probably won't come with a bag; most will recommend a trash bag size, or it might come with a bin. Some mulchers are tall enough that you can fit a large trash can underneath it, which will make disposing the leaves much easier and less wasteful.
Potential Problems
Leaf mulchers are prone to a few problems, even if you buy the most expensive one on the market. The problems are easily avoidable and easy to fix.
Clogging
Read the manual before you use your mulcher to make sure you know how much it can handle. Reasons a mulcher might clog include:
Too much at once: Too many leaves sucked up or inserted at once can cause a jam. To avoid this, only mulch small amounts of leaves at a time and let them go through the mulcher before you add more. If it gets jammed, you'll need to turn off and unplug the machine and dislodge the clogged leaves. Be extremely careful working around the blades.
Large sticks: Leaf mulchers can't function like wood chippers, although they can take care of thin twigs. Mulcher manuals should specify the width of sticks and branches it can handle. Large branches may damage the machine, so don't force anything over the recommendation.
Wet leaves: Most mulchers are only meant to mulch dry leaves. Wet leaves may build up between the blades and clog the machine. Check the manual before you attempt to mulch wet leaves.
Power Supply
The power supply may cause a few issues such as these:
Cost of gas: In some parts of the country, gas prices can go sky-high. If this sounds like the stations in your area, a gas-powered mulcher may end up costing much more than an electric mulcher.
Charging batteries: Battery-powered mulchers may have a short life span; they usually last 20-60 minutes depending on your chosen power settings. If you have a long day of yard work ahead of you, you'll find that the 1-hour (or longer) charging time makes the day even longer.
Extension cords: Corded mulchers save you gas money and charging time, but they do offer their own hassles. Extension cords aren't included with mulchers, and you have to make sure you have the right type. You may end up with a cord that's too short and limits your work area, or a cord that gets tangled easily.
Final Thoughts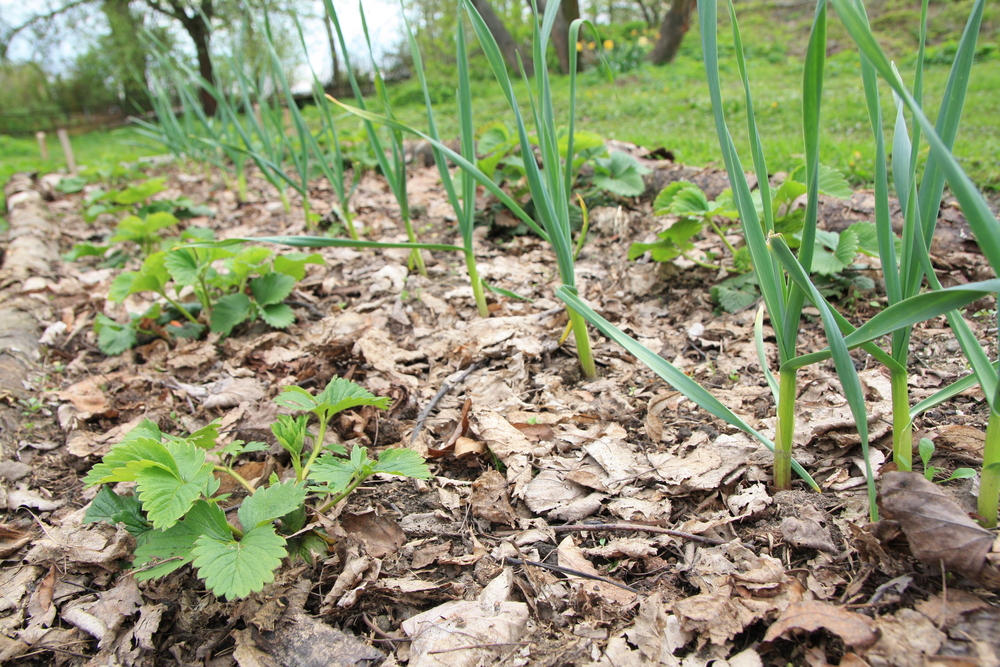 When it comes to choosing a leaf mulcher, take into consideration the size of your yard and your personal needs. Leaf mulchers should make your life easier, not harder. Pick your mulcher and get to chopping those leaves.