For anyone serious about cleaning organic debris off of their lawn, a small handheld leaf blower isn't enough: no, we need the real thing. A backpack leaf blower removes the motor out of the handle of a leaf blower and transfers it to the user's back, redistributing weight and adding horsepower and air volume in the process.
While these devices can be expensive, they represent a huge improvement over small, handheld units. If you're looking to add tools to your lawncare arsenal, backpack leaf blowers are available for great prices and can reshape how you clean up your lawn.
Features to Consider in a Backpack Leaf Blower
Thankfully for shoppers, backpack leaf blowers are quite easy to quantify with a few standard statistics that can be applied to just about any leaf-blowing product on the market. You'll also have to make a decision with regards to the method of power, picking either a gas engine or a battery-powered version.
Cubic Feet per Minute
Cubic feet per minute is a relatively simple metric: it's the raw amount, measured by volume, of air that comes through a leaf blower. It's a relatively good analog for power, but without air speed, cubic feet per minute is meaningless. A ceiling fan might put out a high amount of cubic feet per minute but won't make a blade of grass wiggle. Look for something with high cubic feet per minute paired with a reasonable air speed.
Air Speed
Air speeds on backpack leaf blowers range between about 100 and 250 miles per hour. Generally speaking, we prefer a leaf blower that blows a high amount of cubic feet per minute over one that's got a high air speed, although without a minimum amount of air speed, cubic feet per minute is worthless. If everything else is equal, we'll take the blower with the higher air speed. Also, consider the fact that air speed and cubic feet per minute (CFM) are directly related: a high air speed directly leads to more CFM.
Backpack Weight
Backpack leaf blowers are made for one reason: to add power capability to conventional handheld leaf blowers. And although a light weight is a good thing and will help with maneuverability, prevent fatigue, and increase user comfort, the fact that the backpack leaf blowers are heavy is really a feature, not a bug. More weight means a bigger engine and a bigger airflow in terms of cubic feet per minute. That being said, though, you won't want something above 30 pounds or the operator will tire out quickly.
Electric/Gas
There are two ways of powering a backpack style leaf blower: gas, which uses an internal combustion engine to blow air and electric, which uses an electric motor for power. For fuel, one uses common, low octane gas for the blower. Gas blowers can use two-cycle engines, that are compact, cheap, and powerful but highly polluting, or four-stroke engines that are more complex and more expensive but have fewer emissions.
Electric blowers use rechargeable, lithium-ion electric batteries. Both types can produce adequate power, both types have their advantages and disadvantages. A quick note on comparing the two: gas blowers have their maximum power capacity measured in terms of engine displacement: cubic centimeters.
Whether you're looking for something small and efficient for cleaning up your yard or you're looking for a commercial blower for your landscaping business, our list below of the top ten best backpack leaf blowers is sure to have something on it that will work for you.
Top 10 Best Backpack Leaf Blowers 2022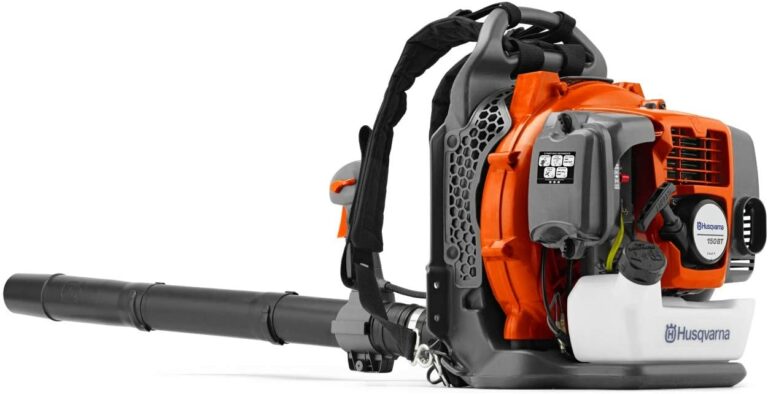 Why we like it:
This leaf blower from Husqvarna has all the quick power and simplicity of a two-stroke engine but eliminates most of the issues with fuel efficiency and pollution.
Editor's Rating:
At a Glance
Cubic Feet per minute: 434 CFM
Air Speed: 251 MPH
Weight: 22.5 lbs
This leaf blower isn't cheap, but there's no industry in the world where you can get the best tech on the cheap. And this blower does have the best tech in the space, utilizing one of our favorite two-stroke engines which is based on Husqvarna's X-Torq technology. It's as close as you can get to a 4-stroke engine with a 2-stroke format, and Husqvarna claims that these engines produce 60% fewer pollutants via exhaust and 20% increased fuel efficiency over standard two strokes.
Husqvarna loads their equipment with incredible features that make them more user friendly, in this case incorporating a technology meant to reduce vibration and thus helping decrease fatigue while operating the device. The trigger is equipped with a cruise control system that automates the process, which means you no longer have to constantly be modulating the trigger to get the airflow you want. Still, though, it is a two-stroke engine, and requires the same 25 to 1 fuel/oil mixture as other two-cycle engines.
Pros
Power and simplicity of a two-stroke engine

X-Torq technology reduces pollutants and increases fuel economy

User-friendly features like trigger cruise control and vibration-reduction tech

Decreases fatigue while operation
Cons
Still is more polluting and less efficient than a four-stroke motor

Quite expensive compared to competitors
---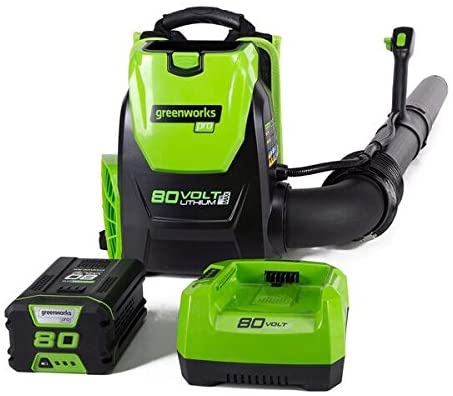 Why we like it:
This backpack blower from environmentally-conscious manufacturer Greenworks uses electric motor technology to create a fantastic, quiet, and ecologically-friendly product.
Editor's Rating:
At a Glance
Cubic Feet per minute: 580 CFM
Air Speed: 145 MPH
Weight: 14.54 lbs
This electric backpack leaf blower is impressively lightweight, coming in at just a hair under 15 pounds. That's just about the size of a Chihuahua, and it's light enough to carry on your back all day long. While older electric-powered backpack leaf blowers were quite heavy, advancements in motor technology and battery capacity have made them equally as effective as gas leaf blowers while being more efficient.
The real innovation with this product is its brushless motor, allowing it to produce similar power to a gas-powered backpack blower but in a smaller footprint and a much lighter weight. That power comes adjustable by a variable speed trigger: more trigger, more power. It's even got a turbo button that gives an instantaneous (but limited) boost to cubic feet per minute. Don't overdo it, though: too much turbo mode and you could overheat. Greenworks does back up their product with a four-year tool warranty and a two-year warranty for the lithium-ion 2.5 Amp-hour battery.
Pros
Brushless electric motor produces power similar to a gas engine with less energy

Variable speed trigger produces a sliding scale of power

Backed up with a four-year tool warranty and a two-year battery warranty

More efficient than gas motors

Lightweight construction
Cons
Turbo mode can cause the unit to overheat
---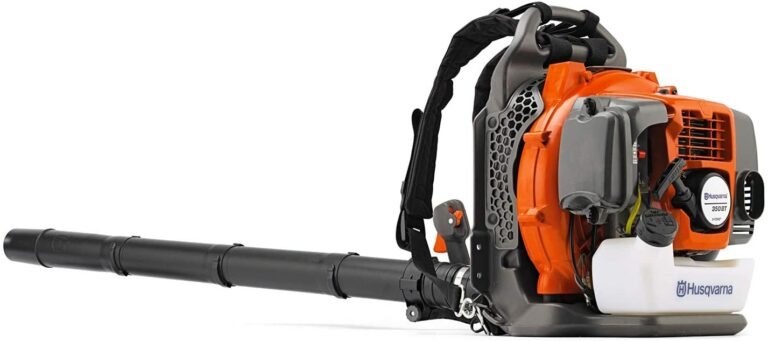 Why we like it:
This large-capacity version of our number one pick cranks out big power and air speed with a technologically advanced two-cycle engine.
Editor's Rating:
At a Glance
Cubic Feet per minute: 690 CFM
Air Speed: 180 MPH
Weight: 22.5 lbs
This backpack leaf blower is the big brother of our top pick, the Husqvarna 150BT, with twice the motor displacement and about 1.5 times the cubic feet per minute. Surprisingly, though, it's actually got a lower speed, mostly due to the fact that this model doesn't use the most up-to-date version of Husqvarna's X-Torq technology which comes on all of their latest leaf blowers.
One thing to watch out for, and perhaps our least favorite aspect, though, is the fact that this blower uses a 2-cycle motor to derive its power. That makes it a bit lighter and a bit more simple to maintain, but brings a number of disadvantages.
First of all, it can be quite polluting, as the exhaust cycle outputs more unburned fuels. It's not only bad for the environment, but can be bad for your health as well. While it does have a variable use trigger that helps adjust airflow, there's also a cruise control button that keeps the fan on full blast at all times.
Pros
Twice the motor displacement of similar models

Above-average 690 cubic feet per minute of displacement

Lighter and easier to maintain than four-stroke models

Cruise control air flow system improves user-friendliness
Cons
Doesn't use the most up-to-date version of Husqvarna's X-Torq technology

Two-cycle motor technology isn't our favorite
---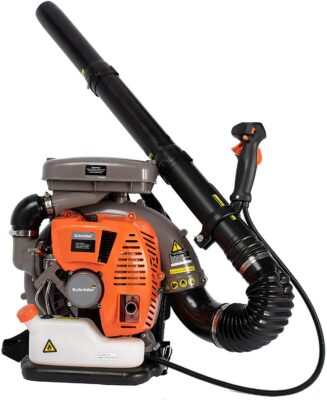 Why we like it:
This powerful blower simultaneously spits out high air volume and quick air speeds, making it strong and effective for commercial use.
Editor's Rating:
At a Glance
Cubic Feet per minute: 920 CFM
Air Speed: 230 MPH
Weight: 19.5 lbs
While most homeowners don't need an incredibly powerful backpack leaf blower, this model from Schröder isn't necessarily targeted at homeowners. Instead, the large-capacity blower is meant for commercial users with its high-capacity gas tank and high price tag. It's designed to be used all day with ergonomic, adjustable straps conforming to the user's shoulders.
For a blower with a weight that sneaks in just under 20 pounds, we're quite impressed with the power and air speed available on the model. Power comes via a parabolic trigger, which means air speed is adjustable based on the amount of pressure you apply. 63.3 cubic centimeters of capacity in the 3.7-horsepower motor can turn about 920 cubic feet per minute with a top speed of 230 miles per hour, great for commercial use but not something you'll want to give to a young or inexperienced user. And while the stats put this blower a class above consumer models, it really breaks away from the pack when you take a look at its durability: Schröder backs up their model with a 5-year comprehensive commercial warranty and toll-free phone support seven days a week.
Pros
Lightweight but powerful blower weighs in at under 20 pounds

920 cubic feet of air pushed out per minute

Backed up by a 5-year comprehensive warranty

Toll-free phone support seven days a week
Cons
Not a good fit for homeowners or anyone with less frequent use habits

Can be dangerous for younger or less-experienced users
---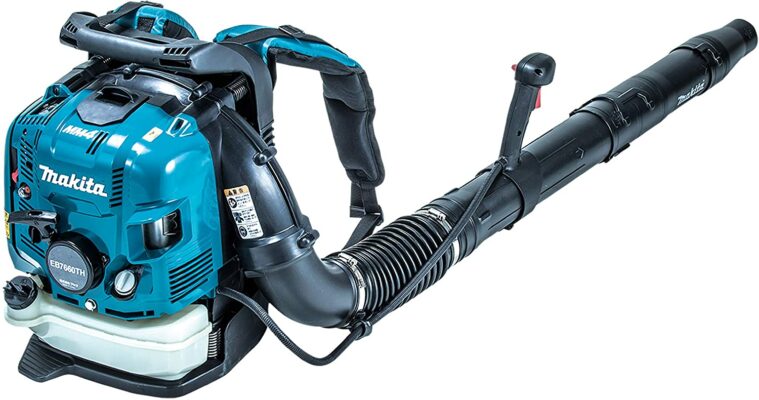 Why we like it:
This pricey backpack leaf blower uses four-stroke technology to make a quieter, more fuel-efficient engine that doesn't produce as much toxic exhaust.
Editor's Rating:
At a Glance
Cubic Feet per minute: 706 CFM
Air Speed: 206 MPH
Weight: 24.1 lbs
This expensive blower comes in the classic teal color of tool manufacturer Makita, a famous producer of high-quality equipment that represents a midway point between commercial-spec tools and high-grade consumer tools. It's a four-stroke motor, which is incredibly powerful and easier to start up than two-stroke tech. It also uses standard gas to run, much more convenient than blending or buying your own 25 to 1 gas motor. It's got a high capacity with a 75 cubic centimeter engine, as large as some mopeds.
While four-stroke technology increases the weight of the motor, it's not by much, with the device weighing in dry at about 24 pounds. The engine does require frequent air filter replacement, but that's pretty much the only maintenance you'll have to do on this blower besides infrequent oil changes. It's got some of the most comfortable shoulder straps of all of its competitors, which is to be expected for it's $500-plus price tag. They're adjustable, along with the ventilated back, which helps the operator stay cool on even the hottest days.
Pros
Four-stroke motor is lightweight and easy to start up

Doesn't require blending gas and oil

High capacity 75 cubic centimeter engine

Comfortable shoulder straps and good ventilation
Cons
Above-$500 price tag is double the price of comparable models

Four-stroke technology increases overall weight
---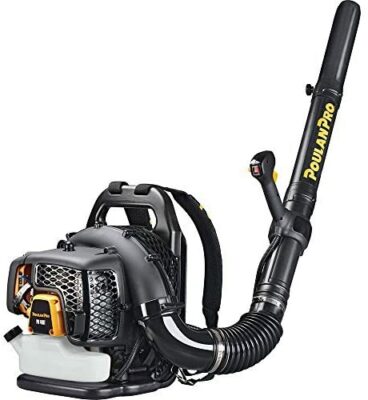 Why we like it:
This two-cycle leaf blower is both powerful and inexpensive, a combination that can often be tricky to find.
Editor's Rating:
At a Glance
Cubic Feet per minute: 475 CFM
Air Speed: 200 MPH
Weight: 22 lbs
While manufacturer Poulan isn't a well-known name in the space, a 22-pound, 2-cycle, 500 CFM blower available for just a bargain is bound to make an impression on consumers and lawn and garden dealers alike. As a two-cycle blower, it's a bit louder and more polluting than four-stroke options like the Makita 75cc MM4 Engine Tube Throttle Blower. Be aware that, as a two-stroke engine, you'll need to purchase oil to mix with your gas; fortunately Poulan makes and sells a version that includes the additive.
While the blower has an impressive air speed of about 200 miles per hour, there's a bit of an issue with the device: it only puts out 475 cubic feet per minute. That means that the flow of air is quite concentrated, meaning it might be a little tougher to do wide, 'rough' passes over your lawn. That same, thin column of air has advantages as well: a powerful air stream can blow bigger, heavier particles like sticks and rocks out of your lawn; so it doesn't need to be used only on leaves.
Pros
Inexpensive product comes from a cheap, direct-to-consumer brand

Impressive air speed

Tight, quick, powerful air stream isn't just for leaves

Poulan sells a version that includes oil for the gas mixture
Cons
High air speed with mid-range air volume means it has a more concentrated air stream

Tough to do wide, rough passes over your lawn

Two-stroke engine is loud and polluting
---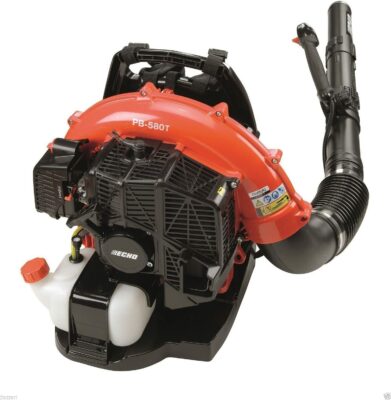 Why we like it:
This midrange backpack blower is a jack of all trades but a master of none, although its throttle control is simpler and easier-to-use than any other leaf blower.
Editor's Rating:
At a Glance
Cubic Feet per minute: 510 CFM
Air Speed: 215 MPH
Weight: 22.6 lbs
While this is a solid backpack blower, there's really nothing too impressive about the product: for a comparable price, you can get something with a higher air speed (the Husqvarna 150BTH), a higher air volume (the Husqvarna 350BT 2-Cycle Gas Backpack Blower), or a lighter weight (the Greenworks 80V 145 MPH). While it's got respectable stats in all of these categories, it's outstanding in none of them.
There is something truly unique about this backpack blower, fortunately: it's ergonomic tube mounted throttle is more intuitive to use and more comfortable than any other model. It's got the variable control and cruise control of other models, but the grip is adjustable, simultaneously making it more maneuverable and causing less strain on the hands, an incredibly convenient combo. While it still uses two-stroke technology that requires a 50-1 gas-oil mixture, a vented backpad in combination with the ergonomic controls we touched on earlier make it one of the most comfortable blowers on our list.
Pros
One of the most comfortable backpack blowers on the market

Impressive air speed, air volume, and weight

Adjustable grip is comfortable to use

Vented backpad keeps the user cool in the heat
Cons
Not particularly impressive in any singular category

Two-stroke tech requires gas mixture
---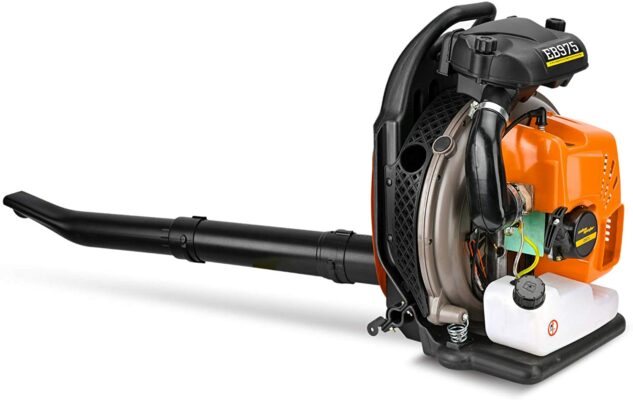 Why we like it:
Producing an impressive 850 cubic feet per minute, this leaf blower still manages to stay quite impressively priced compared to alternatives from name-brand manufacturers.
Editor's Rating:
At a Glance
Cubic Feet per minute: 850 CFM
Air Speed: Not listed
Weight: 27.5 lbs
Salem Master is a direct-to-consumer brand, producing products that are often practically identical to brand name lawn tools but available at a much lower price. Well under $300, this leaf blower is about half the price of competitor devices but produces a similar air volume, even a larger one in many cases. Unfortunately, the company doesn't measure air speed, which means the behavior of the air volume blown through the tube can be somewhat hard to determine. Before purchasing, it's hard to know if you'll be getting a hyper-concentrated air stream or a glorified high-volume fan.
As a two-cycle leaf blower, however, it spits out smelly exhaust fumes and requires a 25 to 1 fuel oil mixture, which you can mix yourself or throw in pre-purchased. That's an inconvenient step that isn't required if you're using a four-stroke motor like this Makita 75cc Blower. The Makita blower is quite a bit more durable than this model as well; this version has a largely plastic construction and lacks a warranty entirely.
Pros
High cubic feet per minute available at a low price

Price is well under $300

Fuel-oil mixture is available for pre-purchase
Cons
Requires a 25 to 1 fuel to oil mixture

Less durable than other backpack blowers

Lacks a warranty
---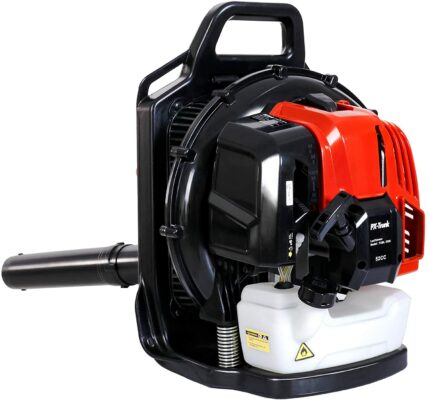 Why we like it:
With a high air volume and a low price, this 52 cc leaf blower is great if you're on a budget.
Editor's Rating:
At a Glance
Cubic Feet per minute: 600 CFM
Air Speed: 150 MPH
Weight: 24 lbs
If you're looking for a leaf blower with high air volume and a low ticket price, you might have to go with a no-name brand device to get the stats you want. With 150 miles per hour of air speed and 600 cubic feet per minute, this should more than take care of anyone with residential-style lawn care needs, although commercial users might be better off with a blower like the Makita 75cc MM4 Engine Tube Throttle Blower.
Watch out for the high noise level of this device, though: unfortunately, it's one of the louder leaf blowers on the market. 110 decibels is toward the top of the spectrum so don't even consider popping this on without some quality hearing protection. And buying an inexpensive leaf blower isn't just louder than normal: with a plastic construction, you lose not only some durability, but also expose your blower to gradual plastic decay via UV exposure. Unlike other leaf blowers, there's no warranty either in case you run into a problem.
Pros
Produces high air volume at a low price

Great for anyone with residential needs

150 MPH air speed and 600 CFM power plant
Cons
Commercial users will be better off with something a bit more capable

Susceptible to gradual plastic decay via UV light

No warranty available in case of any issues
---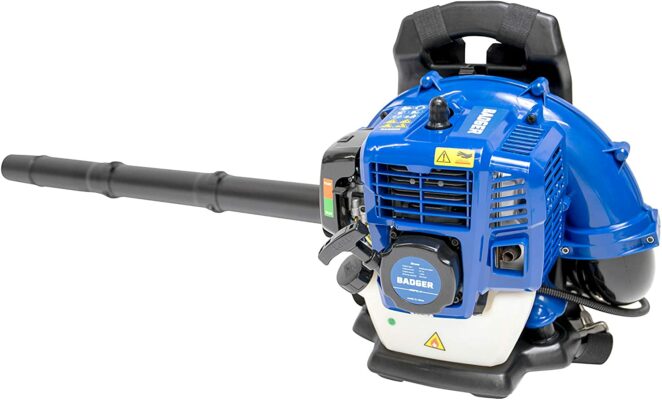 Why we like it:
This lightweight backpack blower is reasonably powerful with 550 CFM produced by a two-stroke engine, although it spits out quite a bit of pollution.
Editor's Rating:
At a Glance
Cubic Feet per minute: 550 CFM
Air Speed: 190 MPH
Weight: 19 lbs
With a weight under 20 pounds and a 43 cubic centimeter engine that produces 550 cubic feet per minute of power this leaf blower beats expectations for both weight and displacement. With a variable throttle to control how much power you're putting out, it's easy to operate and adjust airflow. We also like the backpack straps and the rear suspension system that helps adjust the retention system and evenly distribute weight across your shoulders.
But to produce an engine this powerful at this price point requires some compromises, and in this case, it comes in the form of a two-stroke engine. Put against four-stroke engines, it produces a much higher amount of pollution and is quite a bit noisier. And instead of running on the same gas you get on the pump, it runs on a fuel-oil mixture that you have to purchase or mix yourself. These are all significant disadvantages, but for occasional users that won't be using the leaf blower regularly, the compromises can be offset by the below-average price.
Pros
550 cubic feet per minute of power cranked out

Backpack straps and rear suspension system comfortably redistribute weight

Good for occasional users

Two-stroke engine compromises set off by low price point
Cons
High noise and pollution level compared with four-stroke blowers

Requires fuel-oil mixture that needs to be purchased separately
---
Guide to Buying the Best Backpack Leaf Blowers for 2021
If you value a lush, green lawn, you'll understand how much effort and equipment can go into it. And when debris, leaves, or other unsightly detritus falls into your grass, it can seriously mess up the look. A backpack leaf blower takes on these challenges, helping clean up your lawn more quickly and more effectively than a rake or even a handheld blower.
Check out some of the differences and features of backpack leaf blowers below.
Should I Use a Backpack Leaf Blower or a Handheld Leaf Blower?
We'll compare backpack leaf blowers and handheld leaf blowers using a metaphor: would you rather have a cordless drill or a screwdriver? The cordless drill is objectively more powerful and better performing, but a screwdriver has its uses as well. In a lot of cases, though, both are needed. It's the same way with backpack leaf blowers.
A backpack leaf blower is both more effective and more comfortable to use than a hand leaf blower, but they're more expensive and can simply be overkill for those with a smaller yard to take care of. If you've got a bigger area and you'll be using the tool regularly, pick up a backpack leaf blower. If you're a commercial user, a backpack blower is necessary.
Safety With Backpack Leaf Blowers
Safety considerations with backpack leaf blowers are divided into two distinct types: precautions taken by the user to protect themselves, and precautions taken by the user to protect those nearby. Both are equally important.
Protecting Yourself
Every time you get ready to use a backpack leaf blower, remember that you're literally strapping into a live engine that heats up to high temperatures and produces power humans couldn't dream of producing without machine help. This is a big responsibility, and it must be taken seriously by users. While a backpack leaf blower isn't as dangerous as a ride-on lawnmower or most other power tools, it still has the potential to do harm.
Respiratory Safety: Exhaust and Particulate Matter
The dangers of fine particulates and exhaust have become more recognized by researchers and governments alike over the past several decades. Inhaling organic particles isn't great for you and can be irritating to your lungs, while inhaling internal combustion engine exhaust can be, in extreme cases, carcinogenic. The best thing you can do is limit your exposure outright, but if you've got to frequently use your leaf blower, use a fine-particulate respirator.
Weather Safety
Whether it's during the hot heat of midsummer or during the cold, dark days of fall make sure to dress for the weather. In the heat, wear loose, lightweight, light-colored fabrics. In the cold, layer up. Also make sure to stay hydrated and use sunscreen, as heat and sunstroke can be fatal. As with all other lawn work, never use your leaf blower in an electrical storm. A human in a grass field represents an easy target for a lightning strike.
Hearing Protection
The threat a leaf blower poses to your hearing is important (and sinister) enough to deserve its own section. A typical leaf blower produces 95 to 115 decibels, more than enough to cause hearing damage even after short time periods of under five minutes. Use hearing protection: earplugs, or even better, earplugs paired with over-the-ear earmuffs. You can see some of our favorite options for hearing protection here. If you're an employer with employers using noisy machinery, you're actually required by law to provide hearing protection (check out the OSHA regulations here).
Storing a Backpack Leaf Blower
With an unwieldy shape that can be hard to store upright and loaded with environmentally destructive fluids (gas, oils, and coolants) that can spill out, some extra care should be taken when storing a backpack leaf blower.
Backpack leaf blowers are ideally stored on some kind of hook so that their tank hangs directly down without the risk of a spill of gas or any other fluids. Other systems that potentially work are wall shelving or ceiling shortage. Many leaf blowers have strap and ventilation systems that should be periodically washed, and must be hung out to dry.
Maintaining a Backpack Leaf Blower
Backpack leaf blowers can be a bit more involved than most expect: after all, you are taking care of an internal combustion engine, which requires gas (maybe even gas additives) and oil to stay in good conditions. Protect your investment with these steps:
Winterize Your Gas: When gas sits, it evaporates, causing additives to build up over time. Once you've used your leaf blower for the last time in a season, consider buying a gas stabilizer that will protect your blower and preserve fuel quality over a long winter.
Don't Forget About Oil: Any internal combustion engine needs oil to stay going. Check your user manual for oil change intervals, but a good guideline is once every 50 hours, or once a season if you use your leaf blower minimally.
Watch for Salt: In hot weather, leaf blower operators can work up a sweat, something not compatible with metal engine components. Give your machine a wipe down with a wet towel after it's cooled down to minimize the likelihood of corrosion.
Considerations for Commercial Users
Almost all leaf blowers used in commercial situations are backpack models, although it's not necessarily the case that all residential and consumer buyers use non-backpack leaf blowers. Still, though, it's important to consider the unique performance demands that commercial users need and create. Users need higher air speeds and larger cubic feet per minute for maximum efficiency,
A Note on Gas Versus Electric
In recent years, there's been an electric tool revolution: while the tools of yesteryear run on gas, compressed air, or plug directly into the wall, today's cordless, battery-powered tools are now more than capable of competing against more traditional tools. This phenomenon has reached the lawn and garden space, and models like the Greenworks 80V 145 MPH prove that electric tools are only getting better.
Each type of tool has their own advantages, but we'll weigh some of the most compelling points below. Gas leaf blowers are typically less expensive and more powerful for the price. You can also get an inexpensive gas blower, period, while it's really difficult to find a cheap electric blower. Electric blowers are a bit safer, though, as they don't heat up as hot nor do they require gasoline.
There's also an environmental component to the equation. Many users are willing to sacrifice a bit of convenience and power for a product that's more environmentally friendly. And while it's easier to ignore the cost of electricity than the cost of gas, it's important to note that electric blowers represent a fraction of the cost to use and operate as gas versions.
Other Lawn Care Tools
Lawn Care isn't just a hobby, but a part time job for many, and that requires equipment. If you're looking for the basics, you don't need the best lawn on the block, and you're just trying to keep your grass well maintained, you can get by with a simple push mower.
But if you really want to invest in the looks and beauty of your lawn, it's more than worth it to invest in the products that will help you keep your lawn looking great year round. Consider some other lawn care items we've taken a look at below:
Push Mower: A push-behind mower is a way for homeowners to cut their lawns in an environmentally friendly manner. Powered only by the user, these mowers are inexpensive, green, and don't produce pollutants.
Ride-on Lawn Mowers: A ride on mower is a small lawn tractor that can mow larger areas efficiently. While they're expensive, they make up their cost over time.
Fertilizer Spreaders: Fertilizer spreaders are used to spread dirt, organic material, chemical fertilizers, or grass seed in a uniform pattern over your lawn. They come in a few different form factors, from handheld to tow-behind.
Lawn Aerators: Lawn aeration is often overlooked by homeowners when taking care of their lawn. Many people struggle with an unhealthy lawn and try fertilizers, reseeding, and even sod to reset their grass, but they never address the real problem: a lack of air and drainage in their soil.
Use Tips for Backpack Leaf Blowers
While many don't put too much thought into using a leaf blower, it's not necessarily just 'point and pray' if you're looking to get the best results possible. Understanding how a backpack leaf blower works (and how it works best) can pay enormous dividends by improving the quality of your work and the efficiency of your time. Follow the tips below:
Think About Wind: When you use a leaf blower, you're creating your own flow of air, so another moving air component (the natural wind) can either help or hinder you. It's easiest to be effective with no wind, although if you've got to, move with the wind, not against it.
Think About Time of Day: Don't be the person that's constantly waking up everybody early in the morning on the weekends: if you've got power tools (this goes for construction and other lawn implements as well), wait until midmorning to get your work done. Even better, do your yardwork in the early evening/dusk to beat the heat and keep your neighbors happy.
Make Sure Your Leaves Are Dry: Wait for a dry day to get the chore of leaf blowing done. When it's wet, leaves are heavier and will stick to grass and each other. Make life easier on yourself and wait until it dries out a bit.
Have a Plan: As with many things in life, things go best when you've got a plan. Before you begin, think about the angles and the way you can minimize movement and distance walked. Think about your final point where you'll collect leaves and set up a collection method, whether that's a tarp or a compost pile.
Follow up With a Rake: A leaf blower is an effective tool, but it won't get every last bit. Raking after leaf blowing can help get the stragglers as well as provide an aeration effect for your lawn.
Save Leaves: When you're leaf blowing, you're aggregating a ton of organic material together, material that can later decompose and be used to fertilize your lawn or garden. Save your leaves, pile them up, and compost them instead of bagging them and paying to have them hauled off.
Frequently Asked Questions on Leaf Blowers
Are Leaf Blowers Illegal?
In some places, leaf blowers are, in fact, illegal. Due to their loud volumes and high particulate emissions, some municipalities have banned these devices. You'll have to look up your own city to find an accurate answer, but those in California, Illinois, and Washington, D.C. should check their city websites to make sure
Is Leaf Dust Harmful?
Various scientific studies have shown that small particulate matter can be irritating and even carcinogenic to humans. Leaf dust is composed of these small particles, so is it harmful in the same way as drywall dust, sawdust, and other particulates?
Typically, no: leaves and other organic particles are not destructive or carcinogenic in the same way as particles that come from man made materials. It's still not a bad idea to use a face covering or respirator, as the particles (while not harmful long-term) can cause respiratory distress, allergies, and asthma symptoms.
Can Blowing Leaves Make You Sick?
Blowing leaves, unfortunately, can lead to some unfortunate side effects. Dust and pollen are two common allergens, and when you blow leaves, you kick up these particles. Mitigate the effects with a facemask or even a respirator. Fortunately, there is no evidence of long-term damage from organic leaf particles, although you'll want to avoid inhaling the exhaust fumes of the gas engine. The lack of these exhaust fumes is another advantage of electric leaf-blower products like the Greenworks 80V 145 MPH.
How Polluting Are Leaf Blowers?
Different leaf blowers pollute at different levels. The worst category of leaf blowers are two-cycle machines, which spit out a significant amount of unburnt gas. This is really bad for the environment. After those come large capacity four-stroke engines, then smaller-capacity four-stroke engines. Best overall are electric, battery-powered blowers, but if you really want to save the environment, the best thing you can use is an old fashioned, human-powered rake.
How Many CFM Do I Need for a Leaf Blower?
How many horsepower do you need in a car? How many kids should you have? How many angels can dance on the head of a pin? There's no one correct answer to this question, but many. Evaluate your needs personally, but we'd recommend at least 300 CFM for residential use. Ultra-compact electric versions start out at about 150 CFM, while the highest-capacity backpack leaf blowers kick out about 1000 CFM.
Wrapping Up
Anyone looking to maximize their time and efficiency when doing yard work should consider a backpack leaf blower, especially if you're using it commercially or have a large area to cover. While less powerful tools like handheld leaf blowers and rakes have their place, there's simply nothing on the market as convenient and effective as a backpack blower.
Whether you need something for your landscaping company with maximal power, or you're looking for something environmentally friendly, there's sure to be something on our list for you.