Ensuring that everything is safe and sound, electrical tape is a toolbox essential for professionals and DIYers alike. Although not suitable for major repairs, this type of tape is ideal for everyday applications, such as binding electrical wires together to ensure safety. Made from a nonconductive material that will inhibit the flow of electricity, you can use electrical tape to insulate cables, wires, and to secure any other material that conducts electricity. Whether you are looking for tape for your home, work, auto, or marine projects, in this guide we will review the market leaders. Buying the right electrical tape for the job does not need to be a challenge and if you are looking for one that will ensure consistent performance for longer, read on for our in-depth review of the best in the business. As well as a breakdown of the multiple factors you may need to consider before making your purchase.
Features to consider in Good Electrical Tape
The type of electrical tape that you choose will depend on the task that you are doing, but with our extensive guide and review, you are sure to pick up the perfect insulator in no time at all.
Types of Electric Tape
There are various types of electrical tape available, each of which is well suited to specific uses, applications and environments. The most popular types of tape used include:
Vinyl/PVC
Polychloride Vinyl, better known as PVC, is probably the most popular electrical tape material, due to its pliable and flexible nature, as well as it's cost efficiency and availability. Whilst it has increased stretch, it is also sturdy and able to withstand a wide range of temperatures, adverse weather conditions, moisture ingress and possibly chemical corrosion. With a wide variety of uses and available in a range of colours for code compliance, PVC electrical tape is considered to be the go-to choice for a variety of tasks.
Rubber
Rubber repels electricity, providing an excellent grip, a durable connection and top-class thermal stability. This temperature-controlled sealant has a much wide temperature range, and tapes made from rubber are suitable for both indoor and outdoor use. As a result, if you are shopping for a specialist electrical tape for a specific job, there is a wide variety of different rubber options available.
Mastic
Mastic electrical tape refers to that which is made from mastic pads, sandwiched together to provide an extra layer of insulation. This type of tape tends to be wider than other options, and it is able to withstand currents as high as 600 volts. There are various types of backing that are applied to mastic tapes including, including rubber and vinyl or you can opt for the plain option.
Varnished Cambric
This type of electrical tape is made from woven cotton fabric, it is a suitable option for high-pressure environments and it is able to cope with high standing temperatures. It is particularly tough, durable and difficult to penetrate. Although it does not necessarily provide the best insulation, particularly when compared with PVC or rubber, varnished cambric tape is flexible and a handy thing to have for everyday tasks.
Specialist
There is also a comprehensive collection of specialist electrical tapers available, such as tapes that offer UV resistance, increased voltage, or are completely waterproof. For example, liquid electrical tape is particularly well suited for use on irregular surfaces or in tight spaces. Providing proper insulation as well as significantly increased flexibility, liquid tape is easy to apply and is often used in conjunction with another type of electrical tape.
Top 10 Best Electrical Tapes 2022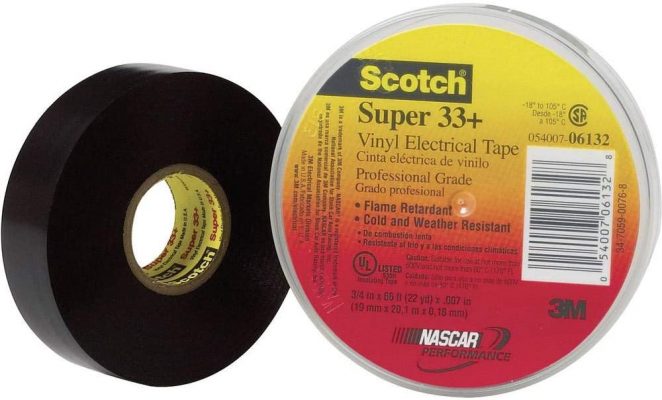 Why we like it:
The professionals love Scotch Super 33+ for a reason! This 7 mil thickness tape offers superior quality, is responsive to pressure and features excellent resilience and long term performance. It is widely accepted as being one of the best electrical tapes on the market, and its gold standard ranking is a direct result of this tape's excellent stability and conformity. Allowing for a smoother, tighter connection, this 3M Super Scotch 33+ is created from a robust polyvinyl chloride and mastic, making it compatible with solid dialectic insulation. This premium tape from Scotch will deliver top-notch performance, every time.
Editor's Rating:
This is an all-weather tape that is strong enough to stand up to the elements. Plus, it has the ability to withstand a wide range of temperatures, 0ºF (-18ºC) to 220ºF (105ºC). The premium insulation ensures excellent performance for a wide variety of uses, and it is compatible with both rubber and synthetic splicing compounds. Particularly well suited to light-duty small applications, it is also flame retardant, making it suitable for wire bonding. Moreover, the 3m 33+ Tape is an excellent choice for any applications that need an electrical tape with a rating of up to 600V.
This electrical tape will not leave behind a residue on your hands or material, and it offers stable adhesion. Easy to cut or even tear, it is so easy to get the perfect cover with the Scotch 3M. Featuring an element of stretch, the 3M Super Scotch 33+ will return to its original shape after 5-10 minutes to provide slight compression and an excellent fit.
Overall, this is a super strong option that offers some of the highest performance ratings. When it comes to our number one choice, you are bound to be impressed with the lightweight yet optimum quality that Scotch has to offer.
Pros
Top Quality

Durable

Excellent conformability

Indoor and Outdoor use

Lead-free

Stable adhesion
---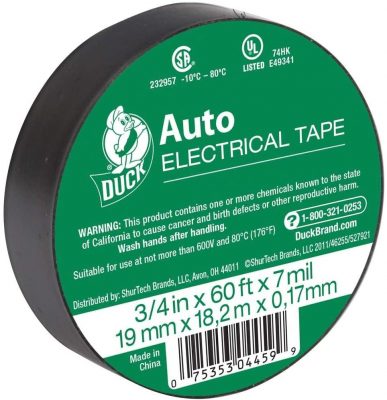 Why we like it:
Coming in at a close second on the list has to be the Duck Brand Vinyl Electrical Tape, in particular, 299006. This is a great all-round tape that offers excellent protection, and as a result, it has to be considered as being one of the best when it comes to long-term performance.
Editor's Rating:
Made from a super durable vinyl, this is the go-to tape for many an electrician. The Duck Vinyl has a flexible backing and is suitable for wiring, splicing, or whatever your electrical tape needs. With such versatility, it will always come in handy. Furthermore, this top quality tape also has some stretch. Conforming to tight spaces and offering a smooth connection, the tape will return to its original form after just a few minutes.
Ensuring excellent insulation every time, the Duck Vinyl is a great all-round tape that is suitable for both indoor and outdoor use. It has the ability to withstand adverse weather, including extreme heat and water spillage. User experience is excellent, the tape peels off the roll nicely and it can easily be torn, even without scissors. Furthermore, this is a relatively thick tape, which may mean that less will be required- saving you money in the long run.
There have been some suggestions that the Duck Brand Vinyl Electrical Tape the adhesive is not always effective and that success may depend on the material that you are sticking it too. Some online reviews have even indicated that this pressure-sensitive tape may curl after time. Moreover, whilst the Duck Brand Vinyl is overall an excellent tape, it does not provide a completely airtight connection, and so it is not waterproof, only water-resistant.
Pros
Durable

Flexible

Large range of temperatures

Excellent stretch

Bonds quickly

Ease of Use
Cons
Some issues with irregular materials

Not completely air tight
---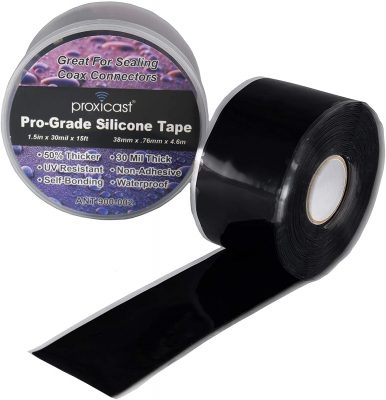 Why we like it:
Easy to apply and easy to remove, the Proxicast Pro-Grade Electrical tape is a highly conformable tape that offers a lasting bond. Ideal for sealing outdoor cables and wires, this is a particularly strong tape that offers optimum performance and protection. At 30 mil. thick, it is a high-grade tape, and you will easily be able to ensure excellent insulation and protection in just one layer. Particularly when you consider that Proxicast's heavy-duty tape is up to 50% thicker than comparable silicone options, and almost 50% wider.
Editor's Rating:
With its significantly increased abrasion resistance, the Proxicast Pro-Grade is pretty much impervious to its environment. Providing a seal that will not be penetrated by air, dust or water, as well as being chemical, acid, alkali, moisture, dust and corrosion-resistant, this is a tape that will stick no matter what. Plus, it is also salt-water resistant, making it the ideal choice for marine projects.
Whether you are repairing a garden hose, sealing an antenna connector, or want to provide insulation for an electrical cable repair, this is one of the strongest self-fusing silicone tapes on the market. P It has a significantly high tensile strength at 1140 PSI minimum; with the ability to stretch up to 3 time its original length during application. Plus, it is available in black, red, blue and yellow, to allow code compliance and phase identification.
If you are in the market for an electrical tape for a particularly heavy-duty task, the Proxicast Pro-Grade would be an ideal choice.
Pros
Super tough

Resistant to temperatures up to 500 degrees Fahrenheit

Suitable for indoor and outdoor use

125 psi tear resistant
Cons
Not suitable for light applications
---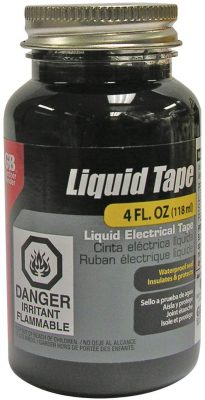 Why we like it:
With favourable characteristics and excellent adhesion, the Gardener Bender is one of our favourite liquid versions of electrical tape. Rubber-based to inhibit all flow of electricity, this liquid tape from Gardner is ideal for insulating electrical splices and connections and getting into the tight spaces that normal tape cannot quite manage. A liquid electrical tape works differently to the previous tapes discussed, and unlike traditional tapes, a liquid version will not peel or deteriorate over time. It is a suitable option for indoor and outdoor use, as well as automotive, marine and electrical applications.
Editor's Rating:
This Gardner Bender liquid tape will not harden or become brittle over time, and it will stay put even in the most extreme of weather conditions. Suitable for a wide variety of applications, liquid electrical tape is super easy to apply, with many users stating that it takes just a couple of minutes. If you are using a liquid electrical tape, it is important to ensure that the surface is clean before you brush on the tape. It is important that you follow the manufacturer's instructions carefully, and always remember to wear gloves. However, your task may require a few coats to ensure an even and strong coverage.
For excellent resistance, you may also wish to combine the ideal waterproof nature of this liquid tape with a high quality traditional electric tape. Various users online have suggested that the combination of the two ensures an excellent finish to your electrical or wiring projects, with durability that means it will last for years to come.
Pros
Super durable

Ideal for irregular surfaces

UV resistant

Indoor and Outdoor Use
Cons
May require several coats
---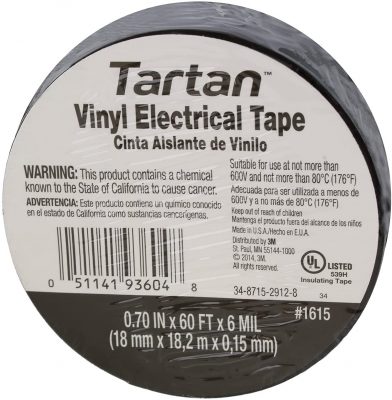 Why we like it:
Providing superb mechanical protection, the Tartan is also a solid and affordable choice. At 7 millimetres thick, and three-quarters of an inch wide, it provides minimum bulk, without compromising on protection or performance. The rubber resin adhesive paired with a PVC backing an adhesion strength of 18oz/ in and a tensile strength of 17lb/ in, allowing for premium electrical and mechanical protection.
Editor's Rating:
If you are looking for an electrical tape that will stand up in the face of environmental pressures, this lead- free tape is water-resistant, fire retardant and UV resistant, in that it has been specially treated to prevent deterioration due to the sun's UV rays. Moreover, it is alkali and acid resistant and features high resistance to varying weather conditions. The Tartan Vinyl Plastic Electrical Tape is compatible with a variety of cable and wiring tasks, including sold dielectric cable institutions, and it is perfect for the harnessing of wires and cables.
Review online have also praised the Tartan Vinyl due to the manner in which it leaves little residue behind, and several have pointed out its particularly high resistance to abrasion and corrosion. However, there have been some suggestions that the adhesive does not remain in place after a long period of time, with several users suggesting that this would be a better suited to temporary applications, cable pulling and small bundles.
Although it may not have quite the capabilities of other tapes discussed, it is a great option round utility tape that offers great value for money. The 3M Tartan vinyl is this is one of the, most affordable options on the market at the moment, with a great value price without compromising on quality. Moreover, it is UL listed and complies with the necessary safety standards, making it suitable for home, work, or anywhere else.
Pros
Affordable

Good all-rounder

Minimum bulk

No residue left behind

High resistance
Cons
Not as versatile

Some limitations
---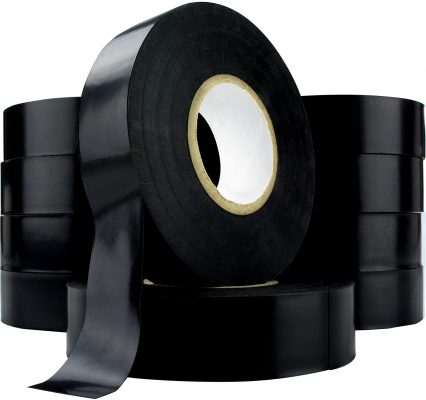 Why we like it:
With the ability to insulate up to 800 electrical volts, this heavy-duty industrial-strength electrical tape is ideal for projects at both home and work. This high-quality vinyl tape measure at 2/4 inch wide and 60 ft. in length, and it is 67 mil thick. Regardless of your task or angle of execution, the Nova Supply Pro Grade tape is easy to use and is suitable for a wide range of tasks.
Editor's Rating:
Providing tight grip and excellent conformability, this heavy-duty tape from Nova promises a reliable performance every time. The vast majority of reviews have suggested that the adhesive on the Nova Supply pro-grade is sturdy and durable; with most indicating that this is a reliable tape that offers excellent versatility. Reports regarding user experience are positive, with most suggesting that you will be able to complete your electrical project quickly and easily with this tape. Plus, you will easily be able to tear off the tape required, with no scissors required. Furthermore, at 60 foot long, this is an affordable cost-effective option that provides excellent insulation for just about any wiring jobs.
The Nova Supply Pro Grade is an electrician- approved tape for that all-important peace of mind and this heat-safe tape is a Suitable choice up to 176 degrees Fahrenheit. This is an ultra-weather resistant tape and it will not deteriorate or corrode over time. This weather-resistant tape is however not classed as waterproof and it does not offer an airtight connection. If you are not satisfied with your purchase, Nova does offer a money-back guarantee.
Pros
Professional Grade

Electrician Approved

Easy to tear

Super tough

Resistant to temperature, weather, acid, alkalis and chemicals
Cons
Not completely waterproof

Limited stretch
---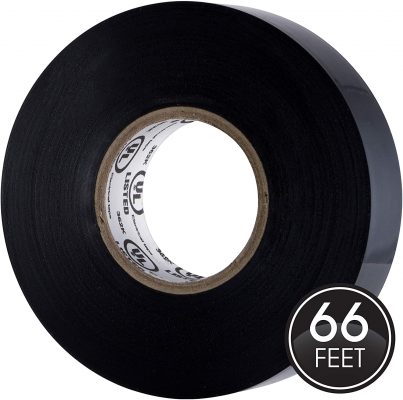 Why we like it:
Suitable for all your cable and wiring needs, this multipurpose electrical tape from Power Gear is versatile and can be used in varied environments.
Editor's Rating:
Protecting users from the risk of electrical shock, this UL Listed electrical tape is flame-retardant and features high thermal stability. It has the ability to withstand temperature up to 176 degrees Fahrenheit and Electrical currents up to 600V. Excellent for both indoor and outdoor usage, this versatile tape from Power Gear will isolate moisture and humidity providing water resistance and protection from the outdoor elements. It has a high adhesion level and it is resistant to oil and some chemicals. This tape is thin and flexible, so it can easily conform to tight corners. Providing a perfect fit, it is easy to use and whilst this tape is sold as a single option, there are various colours available for different uses and colour coding compliance.
Reviews online are mainly positive, with the vast majority of users referring to the excellent quality and versatility of the Power Gear 18164. However, there have been some suggestions that the adhesive on the Power Gear Multi-Purpose tape is not quite as strong as the other electrical tapes discussed. Some reviews online have indicated that this wire may peel after some time and that it should only be used for light applications. Furthermore, it has also been noted that this tape is one of the more expensive options on the market, particularly when you compare it to our top favourites.
Pros
Durable insulation

600v maximum

Multi-purpose

Flexible
Cons
A little bit expensive

Some reports of curling after time
---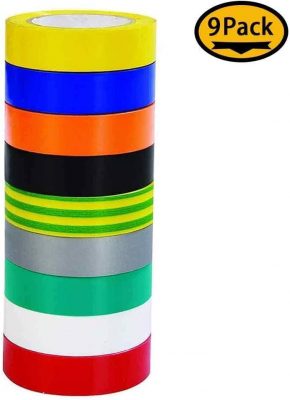 Why we like it:
Offering excellent connection and durability, these all-time favourites are suitable for a diverse range of jobs and are particularly perfect for colour coding. You will always have the right choice for the job, with each multipack containing, yellow, blue, orange, black, yellow-green bicolour, silver, green, white and red.
Editor's Rating:
Whatever your taping needs, the Maveek Multi colour electrical tape set could be an excellent choice. This multi-pack deal would be particularly well suited to professionals or anyone who regularly needs to use different colours or would prefer to match their tape and wire to keep the connection hidden. Colours will stay vibrant and bright, allowing for easy identification for years to come. With many reviews online highlighting that their tapes have maintained their viscosity even after long-term exposure to varying weather conditions.
Whether you are rewiring in the home, splicing at work, or anything else, the safe nonconductive PVC flame retardant PVC material ensures that these electrical insulation tapes are strong, durable and able to withstand a wide range of temperatures. The sturdy polyethene coating and strong adhesive backing also ensure that the Maveek Multicolour tapes are also resistant to the cold, and will not erode due to wind or rain. Plus, the shiny compression surface is also acid and alkali resistant, offering high-grade protection.
These glossy tapes are tear-resistant yet easy to cut, and the strong adhesive backing makes them an ideal choice for instant repairs. It has also been suggested across the online reviews that this 9 pack of electrical tapes are easy to stick and will not leave behind any residue.
Pros
Excellent adhesion

Indoor and outdoor

Various uses

Variety of colours in the bundle
---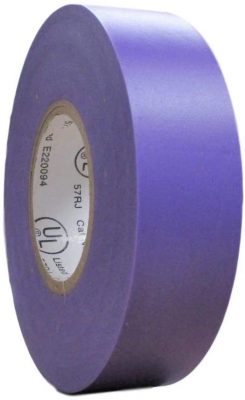 Why we like it:
Next on the list is this black single electrical tape from TradeGear. Made from quality polyvinyl chloride, the TradeGear Single ROLL electrical tape is a decent choice that will not let you down. Resistant to UV rays, oils, acids and alkalis, as well as being water and weather-resistant, this tape is suitable for a variety of wiring, casing and electrical jobs, including wire bundling and cable insulation. This is a single roll option but if you prefer, this tape from TradeGear is also available in multi-packs, with eleven different colours available, such as Blue, Orange, Yellow, Black, Red and more.
Editor's Rating:
This tape is reported as having a high tensile nature, meaning it has an exceptional level of flexibility and stretch but it will easily return to its original shape in no time at all. Each roll is 60ft. long, and reviews online have been positive about the TradeGear single roll, with several indicating that this could be considered as a toolbox essential that rivals some of the bigger brands. With a smooth feeling and excellent user experience this tape will seamless come off the roll and tear with no issues. However, it has been reported that this tape does have some issues with regard to shrinking in the heat. It does not have the same level of UV resistant properties as others discussed, and there have been some suggestions that it will deteriorate over time.
Finally, the 30-day money-back guarantee means that you can try out the Trade Gear tape with full peace of mind. If you are not satisfied that this tape is able to meet your taping needs, Trade Gear will refund or replace, with no hassle or fuss.
Pros
Tight grip

Reliable performance

Cost- efficient

Wide range of uses

High temperature range
---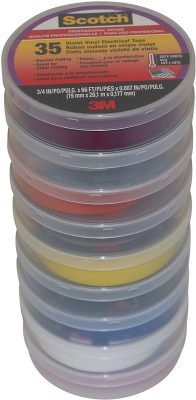 Why we like it:
When it comes to electrical tape, it is important that you choose a brand that you can trust, and Scotch has been a tape-making leader for over a hundred years.
Editor's Rating:
In a multi-pack of 6, 9 or 12, 2M Super 35 Electrical Tape are particularly well suited for phase identification and to colour code. With a combination of sticky resign adhesive and a polyvinyl chloride backing, our third choice on the list will stay stuck for a long time. Reviews online have suggested that there is very little risk of the tape curling and that this handy bundle will keep everything intact, in place, and correctly identified. Suitable for a range of temperatures from 32- 221 Degrees F, this 0.178m thick tape utilises pressure-sensitive adhesion to ensure excellent conformity, even on irregular surfaces. Moreover, it is an all-weather tape which is also resistant to the elements and the colours used in the bundle are fade-resistant, ensuring that your tape applications stay brighter for longer; even when left out in the sun.
This is one of the more popular multi-colour bundles on the market and the fact that you get multiple options in one handy storage container makes this is the ideal choice for the regular DIYer. Whilst the price for this bundle of tapes may be slightly more in comparison with other types discussed, this is due to the fact that you are getting five tapes in the pack. It would be the perfect option for someone who needs to comply with colour codes and would appreciate the ease of use provided here.
The 2M Super 35 Electrical Tapes are relatively narrow as well as being thin and lightweight, but do not be fooled by their size. With super-tight adhesion and excellent resilience, the 2M Super 25 Electrical Tapes from Scotch will consistently provide protection and insulation for light everyday use. Undoubtedly handy to have and certainly worthy of a place in your toolbox!
Pros
Colour bundle

Excellent adhesion

All weather

Excellent resilience

Versatile
---
Guide to Buying the Best Electrical Tape
Colour Coding
It is essential that you always use the proper colour tape for your wiring project. Code compliance will help to ensure safety, by signifying the type of electrical connection, and the possible dangers. In that adhering to the colour code enables phase identification for the next person working on the job.
Grade
It is critical to ensure that you pick the right electrical tape for the job as different tapes have different capabilities. Matching the right grade to your task will ensure improved safety and ease of use. Furthermore, using the wrong tape could ultimately be dangerous and could even be a fire hazard. If you are looking for tape for a heavy-duty application, it should be a high-grade option that is flame-retardant and able to withstand high temperatures and an appropriate voltage. On the other hand, a lower grade tape is better suited for more every day and light-duty tasks.
An electrical tape's grade takes the following into consideration:
Backing Construction: Electrical tapes have glue on one side, and backing on the other. The term backing construction is used to refer to the material that is used for this purpose, as discussed above. PVC is the most common type and rubber, specifically silicone, the toughest.
Thickness: The vast majority of electrical tapes on the market are available in a selection of thickness and choosing the correct option will depend on the task in hand. Typically, most tapes are around 7 mil thick, but an increased thickness is better suited for tasks which require a tougher approach.
Dielectric Strength: This is a key indicator of a tape's insulating properties, and it ultimately refers to the ability of the tape to withstand high voltages without breaking down. Up to 600 volts is the most common, but you can purchase tape which will inhibit the flow of up to 3000.
Monomeric vs. polymeric?
Electrical tapes can be either monomeric or polymeric. The former refers to a lighter duty tape with short-chain plasticisers. This type of tape is often used for general and everyday purposes but may degrade over time. On the other hand, polymeric features long-chain plasticisers and offers improved durability, a tighter seal, and increased resilience against the elements.
What else do I need to think about?
Safety
As always safety should be your number one priority and it is always essential to be fully aware of the potential limitations of using electrical tape. Working with electricity is always dangerous and making mistakes could ultimately be an accident waiting to happen. Before switching the current back on, make sure that you double-check the connection and insulation and always practice appropriate health and safety procedures. If you are unsure, seek professional help or advice. Finally, always check to see whether the tape meets appropriate safety standards. If the tape is reported as being UL listed this is usually a good indicator, as it means that it complies with standards as testing by the UL 510: Standard for Polyvinyl Chloride, Polyethylene and Rubber Insulating Tapes.
Cost
When it comes to electrical tape, it does not necessarily mean that the most expensive option is the best. However, bargain bucket tapes that do not meet safety standards are a definite no-no. Check out reviews online to make sure that you are getting the best possible deal.
Width
Again, the right width will depend on the project that you are doing. Narrower tapes are particularly well suited to tight spaces but may require more than one layer.
Tensile Strength
Tensile strength refers to the resistance of a material to break under tension and it can indicate how much stretch is in the tape. An electrical tape with increased stretch is reported as having improved adhesion and extra durability. The best tapes will return to their original form shortly after being stretched, and this is critical to ensure long term adhesion as well as elongation.
Environment
If you are utilising electrical tape in your outdoor tasks, you will need to pick one that offers weather resistance. Without this, the tape can deteriorate over time, or begin to curl at the edges, potentially leading to failures. Standing up in even the most extreme weather conditions, the strongest electrical tapes on the market today are highly versatile.
Temperature tolerance
Temperature tolerance indicates the minimum and maximum temperature that tape is able to withstand and it is important to use a tape that has been made for the temperature that it is likely to face. The vast majority of electrical tapes for everyday application tend to have a temperature range up to 176 Degrees Fahrenheit. However, you may require specially made heat resistant electrical tape, with up to 3000 degrees available.
Flame retardant
Although the risk of combustion is low, it does exist, and the tape that chose should be flame retardants. However, it is important to remember that if a tape is used inappropriately, in that it is not able to withstand the temperature, the vast majority are flammable if it gets hot enough.
Electrical Tape Top Tips
Wrap the tape uphill to prevent moisture and water from seeping through.
Stretch the tape as you wrap to encourage strong adhesion.
Spray with a dielectric spray for increased insulation and improved protection.
Always ensure that your electrical tape safety standards. If you do plan on using electrical tape at work, it is important that you pick an industrial strength heavy duty option that complies with the company's policy and local laws.
Avoid covering the tape with a flammable material.
So not use wire tape as a permanent connection insulator. Although twisting wires and covering with tape may work, it can be dangerous. Typically electricians utilise a wire nut for splicing and cover with tape afterwards.
Bottom Line
Electrical Tape is an essential tool that is in most of our toolboxes, and there is the right electrical tape for just about every job. This highly versatile medium provides a quick and easy cable management solution and is ideal for light everyday wiring and electric tasks. This in-depth review has highlighted all of our top ten favourite tapes to insulate and protect wires, as well as providing you with a breakdown of everything that you need to consider.