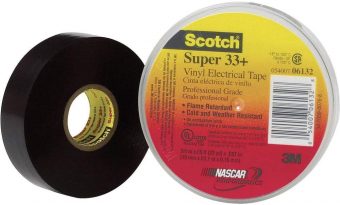 3M Super Scotch 33+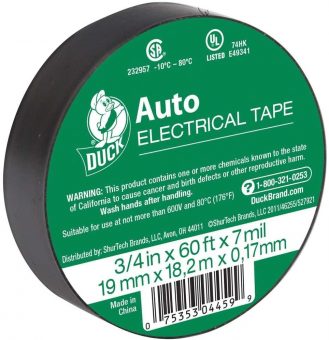 Duck Brand Vinyl Electrical Tape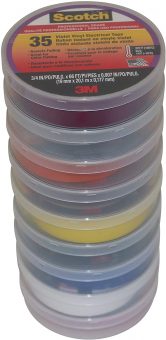 2M Super 35 Electrical Tape
Previous
Next
Ensuring that everything is safe and sound, electrical tape is a toolbox essential for professionals and DIYers alike. Although not suitable for major repairs, this type of tape is ideal for everyday applications, such as binding electrical wires together to ensure safety. Made from a nonconductive material that will inhibit the flow of electricity, you can use electrical tape to insulate cables, wires, and to secure any other material that conducts electricity. Whether you are looking for tape for your home, work, auto, or marine projects, in this guide we will review the market leaders. Buying the right electrical tape for the job does not need to be a challenge and if you are looking for one that will ensure consistent performance for longer, read on for our in-depth review of the best in the business. As well as a breakdown of the multiple factors you may need to consider before making your purchase.
Features to consider in Good Electrical Tape
The type of electrical tape that you choose will depend on the task that you are doing, but with our extensive guide and review, you are sure to pick up the perfect insulator in no time at all.
Types of Electric Tape
There are various types of electrical tape available, each of which is well suited to specific uses, applications and environments. The most popular types of tape used include:
Vinyl/PVC
Polychloride Vinyl, better known as PVC, is probably the most popular electrical tape material, due to its pliable and flexible nature, as well as it's cost efficiency and availability. Whilst it has increased stretch, it is also sturdy and able to withstand a wide range of temperatures, adverse weather conditions, moisture ingress and possibly chemical corrosion. With a wide variety of uses and available in a range of colours for code compliance, PVC electrical tape is considered to be the go-to choice for a variety of tasks.
Rubber
Rubber repels electricity, providing an excellent grip, a durable connection and top-class thermal stability. This temperature-controlled sealant has a much wide temperature range, and tapes made from rubber are suitable for both indoor and outdoor use. As a result, if you are shopping for a specialist electrical tape for a specific job, there is a wide variety of different rubber options available.
Mastic
Mastic electrical tape refers to that which is made from mastic pads, sandwiched together to provide an extra layer of insulation. This type of tape tends to be wider than other options, and it is able to withstand currents as high as 600 volts. There are various types of backing that are applied to mastic tapes including, including rubber and vinyl or you can opt for the plain option.
Varnished Cambric
This type of electrical tape is made from woven cotton fabric, it is a suitable option for high-pressure environments and it is able to cope with high standing temperatures. It is particularly tough, durable and difficult to penetrate. Although it does not necessarily provide the best insulation, particularly when compared with PVC or rubber, varnished cambric tape is flexible and a handy thing to have for everyday tasks.
Specialist
There is also a comprehensive collection of specialist electrical tapers available, such as tapes that offer UV resistance, increased voltage, or are completely waterproof. For example, liquid electrical tape is particularly well suited for use on irregular surfaces or in tight spaces. Providing proper insulation as well as significantly increased flexibility, liquid tape is easy to apply and is often used in conjunction with another type of electrical tape.
The 10 Best Electrical Tapes 2020
Guide to Buying the Best Electrical Tape
Colour Coding
It is essential that you always use the proper colour tape for your wiring project. Code compliance will help to ensure safety, by signifying the type of electrical connection, and the possible dangers. In that adhering to the colour code enables phase identification for the next person working on the job.
Grade
It is critical to ensure that you pick the right electrical tape for the job as different tapes have different capabilities. Matching the right grade to your task will ensure improved safety and ease of use. Furthermore, using the wrong tape could ultimately be dangerous and could even be a fire hazard. If you are looking for tape for a heavy-duty application, it should be a high-grade option that is flame-retardant and able to withstand high temperatures and an appropriate voltage. On the other hand, a lower grade tape is better suited for more every day and light-duty tasks.
An electrical tape's grade takes the following into consideration:
Backing Construction: Electrical tapes have glue on one side, and backing on the other. The term backing construction is used to refer to the material that is used for this purpose, as discussed above. PVC is the most common type and rubber, specifically silicone, the toughest.
Thickness: The vast majority of electrical tapes on the market are available in a selection of thickness and choosing the correct option will depend on the task in hand. Typically, most tapes are around 7 mil thick, but an increased thickness is better suited for tasks which require a tougher approach.
Dielectric Strength: This is a key indicator of a tape's insulating properties, and it ultimately refers to the ability of the tape to withstand high voltages without breaking down. Up to 600 volts is the most common, but you can purchase tape which will inhibit the flow of up to 3000.
Monomeric vs. polymeric?
Electrical tapes can be either monomeric or polymeric. The former refers to a lighter duty tape with short-chain plasticisers. This type of tape is often used for general and everyday purposes but may degrade over time. On the other hand, polymeric features long-chain plasticisers and offers improved durability, a tighter seal, and increased resilience against the elements.
What else do I need to think about?
Safety
As always safety should be your number one priority and it is always essential to be fully aware of the potential limitations of using electrical tape. Working with electricity is always dangerous and making mistakes could ultimately be an accident waiting to happen. Before switching the current back on, make sure that you double-check the connection and insulation and always practice appropriate health and safety procedures. If you are unsure, seek professional help or advice. Finally, always check to see whether the tape meets appropriate safety standards. If the tape is reported as being UL listed this is usually a good indicator, as it means that it complies with standards as testing by the UL 510: Standard for Polyvinyl Chloride, Polyethylene and Rubber Insulating Tapes.
Cost
When it comes to electrical tape, it does not necessarily mean that the most expensive option is the best. However, bargain bucket tapes that do not meet safety standards are a definite no-no. Check out reviews online to make sure that you are getting the best possible deal.
Width
Again, the right width will depend on the project that you are doing. Narrower tapes are particularly well suited to tight spaces but may require more than one layer.
Tensile Strength
Tensile strength refers to the resistance of a material to break under tension and it can indicate how much stretch is in the tape. An electrical tape with increased stretch is reported as having improved adhesion and extra durability. The best tapes will return to their original form shortly after being stretched, and this is critical to ensure long term adhesion as well as elongation.
Environment
If you are utilising electrical tape in your outdoor tasks, you will need to pick one that offers weather resistance. Without this, the tape can deteriorate over time, or begin to curl at the edges, potentially leading to failures. Standing up in even the most extreme weather conditions, the strongest electrical tapes on the market today are highly versatile.
Temperature tolerance
Temperature tolerance indicates the minimum and maximum temperature that tape is able to withstand and it is important to use a tape that has been made for the temperature that it is likely to face. The vast majority of electrical tapes for everyday application tend to have a temperature range up to 176 Degrees Fahrenheit. However, you may require specially made heat resistant electrical tape, with up to 3000 degrees available.
Flame retardant
Although the risk of combustion is low, it does exist, and the tape that chose should be flame retardants. However, it is important to remember that if a tape is used inappropriately, in that it is not able to withstand the temperature, the vast majority are flammable if it gets hot enough.
Electrical Tape Top Tips
Wrap the tape uphill to prevent moisture and water from seeping through.
Stretch the tape as you wrap to encourage strong adhesion.
Spray with a dielectric spray for increased insulation and improved protection.
Always ensure that your electrical tape safety standards. If you do plan on using electrical tape at work, it is important that you pick an industrial strength heavy duty option that complies with the company's policy and local laws.
Avoid covering the tape with a flammable material.
So not use wire tape as a permanent connection insulator. Although twisting wires and covering with tape may work, it can be dangerous. Typically electricians utilise a wire nut for splicing and cover with tape afterwards.
Bottom Line
Electrical Tape is an essential tool that is in most of our toolboxes, and there is the right electrical tape for just about every job. This highly versatile medium provides a quick and easy cable management solution and is ideal for light everyday wiring and electric tasks. This in-depth review has highlighted all of our top ten favourite tapes to insulate and protect wires, as well as providing you with a breakdown of everything that you need to consider.