From fine woodworking to heavy-duty construction, cordless drills make almost any job easier. Thanks to their countless bits, these versatile tools easily adapt to the task at hand. Recent advances in technology have made cordless drills more efficient and powerful than ever. There are a wide variety of cordless drills on the market, so a firm understanding is needed to choose the best one for your need.
Features to consider in Good Cordless Drills
Corded vs Cordless
Cordless drills are more comfortable to use because they are mobile and you don't have to search for the nearest power outlets to have them working. Most times, the charging time of their batteries are also relatively faster. The biggest advantage of using a corded drill is that you get a higher torque and bigger drill bits, especially when drilling through concrete, cement, and bricks. It is true that the most powerful drills are corded but when it comes to the ease of working around your garage or house, a cordless drill is more efficient.
Not that cordless drills are not also powerful as a lot of 20V and 18V drills can drill through any material with no problem. The choice between a corded and a cordless drill depends on the amount of power you need and the price. If you need a lot of power to drill on hard materials and create large holes, a corded drill is a right choice. However, if you will be doing drilling works every day and want to enjoy the mobility a cordless drill offers, then a cordless drill is the best choice for you.
Comfort
What may seem great on paper may not be as good in real life. Some people may be happy with a certain cordless drill model but others may not because of personal preferences. For instance, a drill may be powerful but it is also very bulky and heavy, making it uncomfortable for a long time use. Unless the project requires much power, perhaps a smaller tool with an ergonomic handle would be a better option. So when shopping for the best cordless drill, you should always consider your comfort.
Price
It is important to consider the cost of the cordless drill. Many of the high-end models are designed for heavy users. So before buying anyone, ask yourself what you need the drill for. If you want to hang photos and other few DIY jobs around the house, it makes little sense to go for the most expensive model. The entry-level cordless drill might lack lots of features but it is good enough for most simple tasks. On the flip side, heavy users will want to spend a little more. When you are spending several hours using a high-end tool, you will quickly appreciate its premium features. It will allow you to drill through tough materials easily and quickly.
Top 10 Best Cordless Drills 2023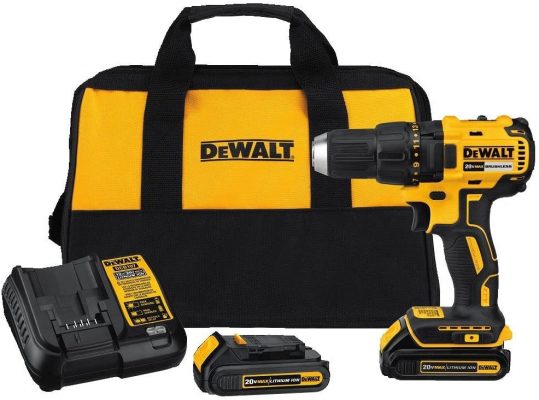 Why we like it:
The DEWALT DCD 777C2 20V Max Brushless Drill is the best overall cordless drill. It has a nice lightweight, compact design for increased portability which makes every task a little easier. There is also the powerful brushless motor which offers a longer runtime for increased efficiency. This drill has a very comfortable grip which is important when you are working on longer projects that take a while to complete.
Editor's Rating:
Design
As a company, Dewalt is known for producing quality products that makes them worthy of having. As a proof, the DEWALT DCD 777C2 is a great option because this cordless drill looks as good as it performs. The DEWALT DCD 777C2 features a heavy built yet it has a lightweight construction. It is made of a yellow plastic surrounded by black rubber, so you wouldn't feel strains even if you have been working for a prolonged time. Just above the foot is an LED light which is slightly angled forward so you can work in dark places as it gives you a higher level of visibility. The trigger control is positioned where the finger should be, making accessibility easier. This unit comes with a long lasting battery which will ensure you can work for a longer period.
Performance
The DEWALT DCD 777C2 uses a brushless motor that will help to dramatically improve the drill's performance by up to 50%. It features a ½ inch ratcheting chuck that helps to deliver striking performance because it offers great retention. This drill has a maximum torque power of 360 RPM. The DEWALT DCD 777C2 packs 2-speed settings and 15 clutch settings that can distribute rotations per minute for your ultimate user experience. The DEWALT DCD 777C2 gives you real value for your money because it offers endless drilling possibilities without having to spend too much money.
Pros
With a total weight of just 2.5 pounds, this drill is easy to handle for any task

The built-in LED lights make it easy to see what you are doing when visibility is low
Cons
The plastic chuck that this drill uses isn't very durable
---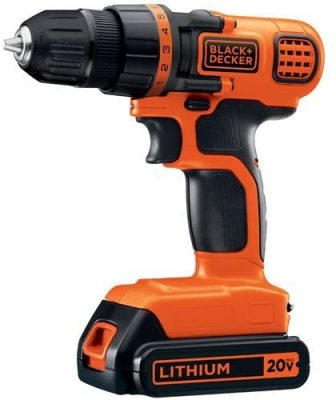 Why we like it:
The BLACK+DECKER LDX 120C Lithium-Ion Drill is the best cordless drill under $50. It has a lot to offer for a very low price including a powerful motor, long-lasting battery, and precision performance. This drill's compact design makes it easy to use in even the tightest most awkward spaces. If you are looking for a solid drill at a low price, this is an excellent choice.
Editor's Rating:
Design
The BLACK+DECKER LDX 120C Lithium-Ion Drill measures 10.6 by 3.7 by 8.5 inches with a total weight of 3.4 pounds, making it fairly compact. The LED lights will help you see in dark spaces. The textured non-slip grip on this drill will make it easier for you to get the job quickly and without having to keep stopping. This drill works on a 20-volt lithium-ion battery that only needs to be charged for one to two hours. It can store a charge up to 18 months which is pretty impressive.
Performance
The 115 Newton meters of torque that you get with this drill means that you can reach a maximum speed of 650 rpm. This drill is specifically designed to work well in tight spaces making it more versatile than many of its competitors. You can easily use this drill for going through wood plastic and even metal. It works with a wide range of screws making it incredibly versatile. This is more than adequate for most household tasks and projects. This drill's 11 position chuck system reduces stripping of screws. The 20 volt motor in this drill gives you enough power to get any job done in a minimal amount of time.
Pros
The small dimensions and lightweight design of this drill makes it easy to use in tight spaces

This battery holds a charge for over one year and takes just a couple of hours to juice up
Cons
The body is made of somewhat cheap plastic so they may not last as long as sturdier models
---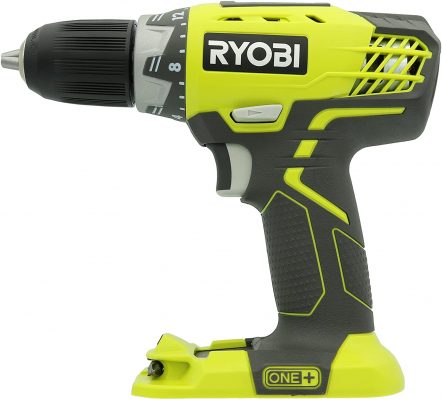 Why we like it:
The Ryobi P208 One+ provides a versatile mix of torquing power and motor speeds to a driver tool/cordless drill. It is an excellent choice that will save you money and time and will help you finish your driving or drilling projects more efficiently.
Editor's Rating:
Design
The Ryobi P208 One+ measures 12 x 3 x 9 inches and has a weight of about 3 pounds. With its lightweight design and smaller size, it takes little effort to maneuver around and avoid your arm or hand getting easily tired when doing deep driving or drilling jobs. This tool is considered one of the best portable cordless drills on the market because of its fantastic feel when it is in your hand. Its smaller size makes it easy to reach inaccessible and tight areas fast. The Ryobi P208 One+ comes with a comfortable grip which improves the convenience and handling of your drill. The heavy-duty casing materials of this unit ensure it is robust enough to withstand frequent driving/drilling use. The built-in LED light illuminates your workspace, allowing you to do your work accurately and efficiently.
Performance
The Ryobi P208 One+ features a variable speed control which enables drilling in a wide range of surfaces or materials. The high-performance motor can produce a maximum speed of about 1,600 RPM at full charge. It features 350 in. lbs of torque which is enough for everyday tasks. The Ryobi P208 One+ sports a two-speed gearbox and a 24 position clutch which gives you access to a wide variety of applications. Another thing we love about this drill is the ½ inch single sleeve, a keyless clutch that features an automatic spindle lock which makes replacing the bits easier. It comes with a magnetic holder that makes it convenient to keep the drill bits.
Pros
Has a fitted, comfortable grip

Delivers 350 in. lbs. of max torque

Versatile in terms of torque and motor speed
Cons
The battery takes a long time to fully charge
---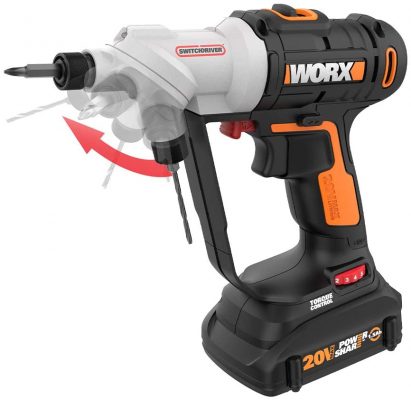 Why we like it:
The WORX WX 176L 20V Cordless Drill is one of the best cordless drill options available for the price. It has a nice compact design and built-in LED light to make all of your jobs easier. This drill also features a two-speed gearing that is perfect for those who want a device for many applications.
Editor's Rating:
Design
The WORX WX 176L 20V Cordless Drill is a dual head cordless drill that is perfect for small jobs around the house. One of the best things about this drill is its quick head changing – you can always switch between drilling a pilot hole and driving the screw within seconds. It's a great choice for projects that requires two different sized bits as well. The LED light on this drill automatically comes on when you're working in a dark space. It also serves as a battery health indicator, so you'll always know when it's running low.
Performance
The WORX WX 176L 20V Cordless Drill two-speed gear control allows you to choose from 0 to 4200 RPM and 0 to 1500 rpm. The variable speed trigger will allow you to control the speed of rotation with absolute precision. It's an excellent choice for those who need a tool for fast and accurate drilling. You can get a maximum torque of 265 pounds with this drill which isn't bad when compared to many other expensive models on the market. All the 12 torque control settings this drill offers make it easier to get the work done without collateral damage. The dual chucks are ideal for hex-shaped shanks one quarter in diameter.
Pros
This drill allows you to switch from drilling to driving very quickly for maximum efficiency

The compact design of this drill makes it very easy to use
Cons
The compact design of this drill makes it very easy to use
---
Why we like it:
The Makita XDT111 is an 18-volt cordless drill that would be a great option if you want to enrich your tool arsenal with a drill that performs incredibly well. We strongly recommend the Makita XDT 111 because of its durable and strong design as well as a spectacular performance that justifies its price tag.
Editor's Rating:
Design
The Makita XDT111 features an ergonomic rubberized handle that will feel and look great even if you have using been using it for years. It comes with an easy to reach trigger button that has the same color as the grip itself. This makes this unit a great choice in terms of aesthetics and functionality. It features dual LED lights that will help to effectively illuminate your working area. The 18 volts lithium ion battery of this unit will last pretty long and won't take much time to charge fully.
Performance
The Makita XDT111 is powered by a Makita build 4 pole motor which delivers a variable speed that ranges from 0 to 1900 RPM and 0 to 3,500 RPM with a max torque output of 1460 inch pounds. These specs are stunning because you can absolutely anything with this tool in your hands. Also, this drill uses the Makita start protection technology which ensures the drill won't suffer from overloading, overheating, or over discharging. These benefits are superb because this tool could be a one-time investment as they can last for a long time. The Makita XDT111 is engineered with extreme protection technology which means the drill is dust and water resistant. This gives you endless working possibilities.
Pros
Very powerful with a 1460 inch pounds torque

Long lasting battery capacity

It can withstand corrosive threat
Cons
Comes with only one battery
---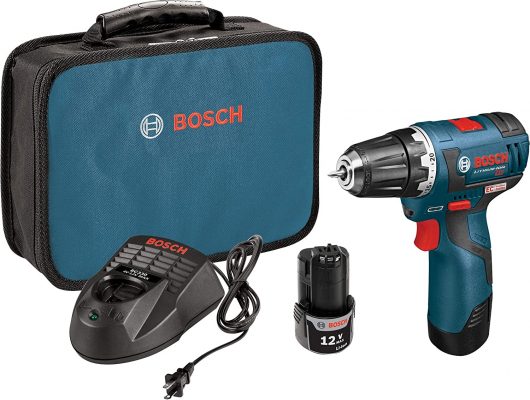 Why we like it:
The Bosch 12 Volt Max Brushless Cordless Drill is the best mini cordless drill in the market right now. It features a nice compact design that makes it very easy to handle. The two-speed transmission gives you a wide range of torque and power settings to get just about any job done in your home. While it's not designed for heavy duty use, it's still an incredibly useful tool to have.
Editor's Rating:
Design
The Bosch 12 Volt Max Brushless Cordless Drill is an 18-volt brushless drill that combines extremely durable construction with a powerful performance. This drill has a three colored body that is protected by a dura shield housing which can withstand multiple drops without affecting the performance. It has an ergonomic design, and it comes with a soft grip housing which will help to improve your comfort and your overall user experience. The built-in LED light will help you see even in the darkest places. The lithium ion battery of this unit will never disappoint you in terms of longevity.
Performance
The Bosch 12 Volt Max Brushless Cordless Drill has 18 plus 1 clutch settings which is great because you won't be limited to a single drilling application. So you can use this drill for a wide range of projects. For instance, you can drill, drive, screw, and finish several works within a short time. The brushless motor is highly beneficial because it has proven to dramatically improve the drill's performance. The Bosch 12 Volt Max Brushless Cordless Drill can output 442 pounds of force and 1,700 rotations per minute, so you can work with wood and metal with no trouble.
The Bosch 12 Volt Max Brushless Cordless Drill is a top option because it operates quietly and is comfortable to use, assure yourself of how quality it is by giving it a chance.
Pros
The two-pound weight of this drill makes it exceptionally easy to handle

The dura shield housing that this drill uses makes it very stable and flexible

The carrying case that comes with this drill makes it easy to take with you wherever you need it
Cons
Removing the battery can be a bit tricky at first
---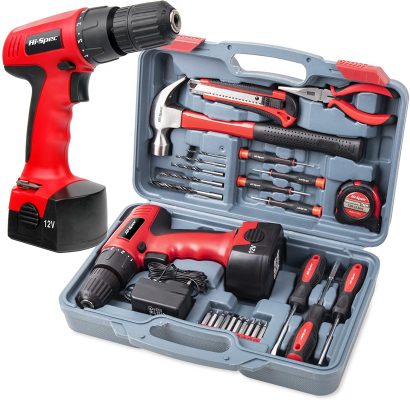 Why we like it:
The Hi- Spec Cordless Wood & Plastics Drill is a great choice for those who want serious drilling power without spending a lot of money. This drill has a solid motor and several useful features that will make your DIY projects a lot easier. It also comes with a ton of drill bits so you'll always have what you need for the job at hand.
Editor's Rating:
Design
The Hi- Spec Cordless Wood & Plastics Drill offers you comprehensive coverage as it comes with all the tools you need to get great results redecorating, hanging a picture, or assembling furniture. The drill itself is very stable and won't move around very much even when you are going through tough material. It has a large 1,200 milliamp-hour battery that lasts a long time and only takes three to five hours to charge. The case that comes with this unit is extremely durable and will keep everything perfectly organized. You also get an additional 26 piece drill driver accessory set including drill bits that are perfect for going through metal and wood.
Performance
The Hi- Spec Cordless Wood & Plastics Drill offers 16 plus 1 torque positions, so you always get the job done no matter what. You will have up to 8 Newton meters of torque to complete the more challenging tasks such as drilling into wood and even steel. This drill's twin sleeve 10-millimeter keyless chuck lets you change it in a bit with one hand. The variable speed trigger ensures accurate control for up to 550 rotations per minute, making pilot drilling as smooth as possible. The 12 volt motor of this drill will give you all the power you need to do most light household tasks.
Pros
Versatile design as you can use this drill on a wide range of tough materials

The one-handed bit changing and variable speed trigger make it easy to adjust your speed as needed

Sturdy storage case
Cons
The overall quality of the drill bits that come with this drill could be a bit better
---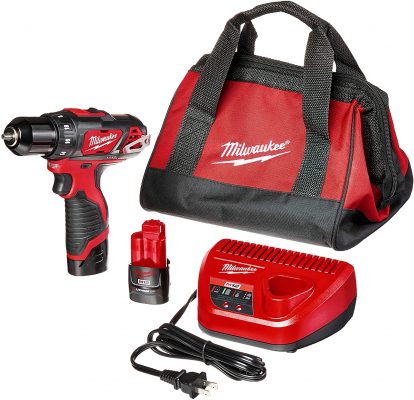 Why we like it:
The Milwaukee 2407-22 M12 is a lighter-duty drill that is great for regular maintenance and fixes. It is incredibly lightweight and super compact, which makes it a comfortable addition to your tool arsenal.
Editor's Rating:
Design
If your choice in a cordless drill depends on its reliability, simplicity, and all-around functionality, then you should look into the Milwaukee 2407-22 M12. It features an ergonomically designed grip, so even if you spend hours holding this tool you will not feel much strain. This unit is comparatively light as it weighs only 2.1 lbs. The built-in LED light helps to enhance its functionality as you don't have to worry about poorly lit spaces anymore. This unit runs on lithium-ion battery technology and recharging takes only 30 minutes.
Performance
The Milwaukee 2407-22 M12 has a no-load RPM that makes it easy to fasten and drill objects without interruption or hassle. This tool is 35% faster than most drills in its price and class range. The Metal Ratcheting Chuck helps to improve its overall durability. Its 275 inches per pound of torque is enough for light duty projects and fixes. The Milwaukee 2407-22 M12 also features a maximum of 1,500 RPM with 2speed settings that range from 0 to 400 and 0 to 1500. This gives you 2 options to choose from depending on the nature of your project. It packs convenience, power, ease of use, and affordability into a single tool.
Pros
Ergonomically designed handle

Built-in LED light

Comes with an onboard battery fuel gauge
Cons
Not ideal for heavy-duty projects
---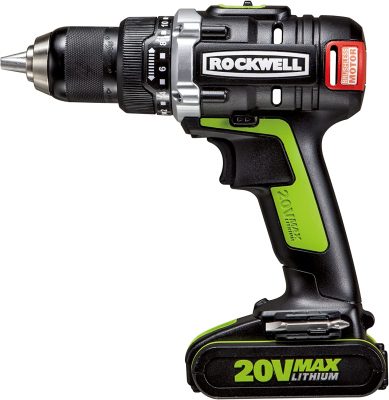 Why we like it:
The Rockwell RK 2852 K2 Cordless Drill is widely known for its efficiency, long battery life, and compactness. So if you are looking for a cordless drill that can improve the effectiveness of your drilling, the Rockwell RK 2852 K2 Cordless Drill is an excellent choice.
Editor's Rating:
Design
The Rockwell RK 2852 K2 Cordless Drill features a sleek black metal construction that is accompanied by red and green accents throughout its body. This drill comes with built-in LED lights that will allow you to do your work properly. The Rockwell RK 2852 K2 Cordless Drill is pretty lightweight and compact, so you can have a good grip always without feeling any strains even if you have been working for a prolonged time.
Performance
The Rockwell RK 2852 K2 Cordless Drill uses a brushless motor which is not only highly effective but also offers up to 50% more power when compared with standard drills. However, its ½ inch ratcheting chuck is the most recognizable thing about this drill. It helps to maintain the original functionality and allow you to have a superior grip and retention, so you can finish your work faster. Additionally, this drill has 18 plus 1 torque settings as well as a no-load speed of about 2,000 rotations per minute. The torque strength of 531 pounds makes this drill an amazing choice for its price.
No matter how tough your work would be, the drill's ratcheting chuck will perform well and sit right in place, so it is a very versatile drill in terms of performance. The durable lithium-ion battery is another good thing about this drill as it can last up to two hours of continuous usage. However, the usage time may vary but most of those who have purchased this drill claim that they have reached those two hours many times.
Pros
Increased battery power

Compact and lightweight design offers easier access and control to tighter work spaces

Built-in LED light improves visibility
Cons
It can take up to an hour for the batteries to completely charge
---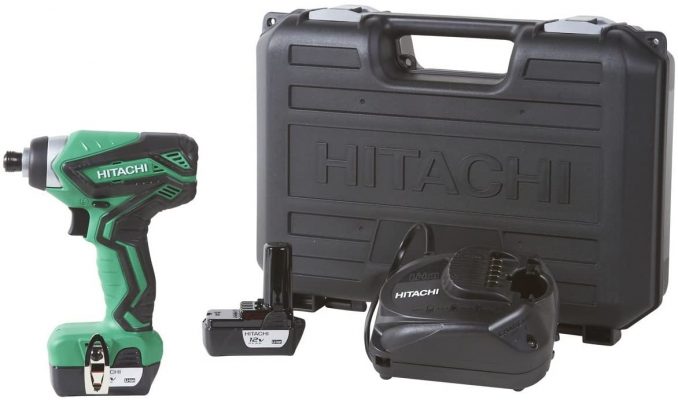 Why we like it:
If you are looking for a cordless drill that comes at an affordable price but performs like a premium one, the Hitachi WH10DFL2 12-V0lt Cordless Drill is a good option. This drill is a must-have if you want to buy a cordless drill that offers you great value for its price tag.
Editor's Rating:
Design
The Hitachi WH10DFL2 12-Volt Cordless Drill comes in a black and green color scheme and the green is mostly present around its grip. The grip is made of a rubber which offers users many benefits. The rubber will you have a good grip so the drill won't slip off your hands during heavy work. It also helps to secure the drill's construction from everyday wear and tear, so you can use it for many years without many changes in the overall aesthetics. The controls and the triggers are located strategically close to the fingers with the intention to improve your access. This helps to elevate your maneuverability to a whole new level. This unit also comes with a built-in LED light that is positioned at the lower part of its body and it turns on the moment the drill starts spinning. This is great because it allows you to have a clearer view in dark spaces.
Performance
The Hitachi WH10DFL2 12-V0lt Cordless Drill features a ¼ inch hex chuck that will allow you to replace it quickly without putting an effort, so you won't lose your time on replacing. This drill's driving torque of 955 inches/pounds, the impact rate of 3200 RPM, and the no-load speed of about 2,700 rotations guarantee you can do both heavy and light duty work with no problem.
Pros
Impressively lightweight and compact

Optimized handle for ergonomic comfort and secure grip

Responsive variable speed trigger for precise control
Cons
Loud noise upon operation
---
Guide to Buying the Best Cordless Drills
Chuck Size
The inner jaw of the cordless drill is known as the chuck. Most models on the market have a 3/8 inch chuck size. It is a very common drill bit size that is also used by a variety of hole saws and screwdrivers. However, many high power cordless drills have a ½ inch chuck size. This allows for drilling of larger holes and it gives you access to a wide variety of heavy usage bits. The drawback with larger bits is that more torque is required to turn. If you find a large chuck on a cheap model, it is smart not to buy it because the motor may not be powerful enough to use the bits.
Keying
Old-fashioned drills usually have a keyed chuck that includes a special wrench which looks like a planetary gear. Keyed chuck is beneficial because it allows you to get the chuck very tight around the bit, however, it is cumbersome to change the bits. On the other hand, most cordless drills on the market have keyless chucks. It is usually in the form of a large gear that can be turned by hand to tighten the chuck. The keyless chuck is great because it allows you to change the bits easily and there is no key to lose. However, it is important to watch for those inexpensive models with poor gearing as you will often run into a chuck that does not want to stay tight.
Clutch Settings
Just like the clutch in a manual drive car lets you change gears, the clutch on a cordless drill allows you to change the speed. Nowadays, almost all the drills on the market come with a clutch. The number of speed settings is the only thing that varies between them. The more the speeds the tools have the more technical you can get with the projects. Fewer speeds are less likely to wear out over time and they are also simpler and cheaper but they may not be able to handle hard to drill material.
An adjustable clutch is an important feature to consider especially when using a powerful drill. Drilling holes require a higher RPM than when driving fasteners and driving a screw too quickly can split your material or sink it too deeply. That is why many cordless drills in the market include 2-speed settings that are designed specifically for switching between driving and drilling tasks. There are some cordless drills that come with an adjustable clutch with 20 or more speed settings. This allows for fine control over the torque. This style is useful for driving delicate or small fasteners into thin materials. Buying a cordless drill with a good clutch mean you can do a wide range of tasks with just a single tool.
Motor
Ensure you check the max rotations per minute (RPM) of a cordless drill before buying. The average maximum for a drill should run at is 1,500 RPM. Anything less than this will not be good for big jobs. Many high-end models feature a brushless motor which can achieve a high RPM with less power. This makes them more energy efficient, durable, and powerful.
Lighting
Most cordless drills have built-in LED lights that which help to illuminate the working area. They typically remain on for up to 30 seconds after you let go of the trigger. This is a simple feature that is great especially when you are working in hard to reach places.
Weight
This is a feature that is sometimes overlooked but can be very important in certain situations. Some of the most robust and powerful cordless drills weigh quite a bit. So if you will be spending hours with one of these drills in your hand, the extra pounds of these tools can be very fatiguing. It is important to consider how much time you will be using the drill and try to get the most lightweight model that best suits your needs.
The Importance of Voltage
Voltage is a specification that is heavily advertised in the drill industry. This is mostly because it is an easy sell. At first glance, it may seem obvious that 20 volts would be better than 18 and 18 volts must be better than 12. But the truth is this is not always the case as the voltage is a drill feature is often misunderstood. It is sometimes incorrectly assumed that the voltage of a drill affects battery life. However, this is not entirely true as it is possible an 18V battery has a shorter life span than a 12V model.
Voltage is the difference in the electrical charge from one battery terminal to the other. This basically means more current can flow at a greater speed. The end result is that the voltage is directly related to torque. So a 12V cordless drill is great for punching holes in the wood while 18 volts works better with denser materials. 20 volts is always recommended if you are working with steel. However, you should not always opt for the highest drill voltage you can find. This is because 20V drills are very torque and you can easily strain your hand or arm if you bind the drill up or snag the bit on steel. They have heavy duty motors so they are best suited for your everyday DIY projects.
Battery Types
There are three major types of batteries on the market: Nickel Cadmium, Nickel-metal-hydride, and Lithium-ion.
Nickel Cadmium or Nicad is at the bottom of this list. It is an older technology that was commonly used on most drills on the market until the last decade. Nicad batteries are long lasting and very durable. However, you need to treat them properly or they can easily get ruined. They easily develop a memory, so it is smart to discharge them fully before putting them back on the charger. This isn't always an option most time. So it is common to see the batteries slowly losing their capacity over time. Nicad can't be thrown in the trash because they are toxic for the environment. On the other hand, they are very inexpensive to make so it allows you to save money.
Nickel-metal-hydride or NiMH is the most common battery type you will find. They are more compact than Nicad, so they can help to drastically reduce the weight of the drill. They have large voltage battery packs and a much higher capacity. They charge faster than Nicad but they have a shorter life span. Heavy users can get up to 2 years out of them while it may last light users for 3 to 4 years.
Lithium-ion batteries are the best you can get on the market. They are very long lasting and heavy users can get up to 5 years out of them. They don't have memory, so you can store them full or empty and you can charge them when you like. They are very lightweight and you can refurbish them once they are exhausted. The only drawback with lithium-ion batteries is the charge time and they don't usually charge evenly. The first 80% of their capacity is faster but as the battery approaches full, the charge slows down. So heavy users will have to wait a bit longer or get use to not getting the maximum capacity the battery offers. Lithium-ion batteries are mostly found on the highest end cordless drills and are more expensive.
The Verdict
Regardless of the project, there is a cordless drill that is best suited for it. Make sure you pay particular attention to the motor type, RPM, and voltage. Consider what the drill will be used for and go for a variable speed model if you are looking for versatility. Finally, consider any unique challenge you may encounter on the job and the materials you will be working with.