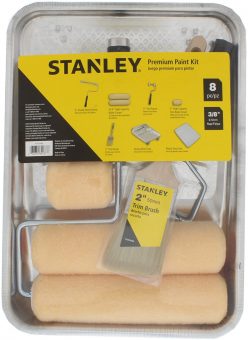 STANLEY Home Paint Kit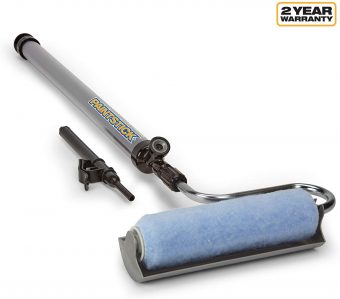 HomeRight PaintStick EZ-Twist C800952.M Paint Roller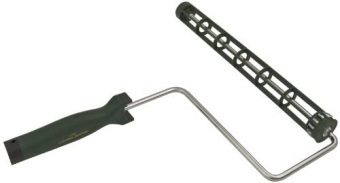 Wooster Brush R017-14 Sherlock Roller Frame
Previous
Next
Are you looking to give the walls of your home a new look? If you want a great paint job every time, you need the right tools. For any painting projects and tasks, a superior paint roller will prove an asset. Although paint brushes are essential for more detailed work, the workhorse of painting is the roller.
Purchasing the best paint roller is easy if you know what you're looking for. In this article, we'll go through a buying guide as well as some of the best products available out there now. By the end, we hope that you will have a better idea of what you need and what paint roller will best suit your needs.
Features to consider in Good paint rollers
Fabric
When choosing a paint roller, make sure the fabric doesn't hang over either end. The best paint rollers are usually beveled, and there shouldn't be any overhanging fabric. Look for the roller's seam. If there isn't one, then it's probably a good item. If the roller has any loose backing or gaps, then it's probably an inferior product.
The fabric of the paint roller is very important because, without it, you won't be able to use the roller. That's why you need to make sure that this feature will deliver when you utilize it for various applications.
Construction
The next thing to look for is the construction. The roller shouldn't shed any lint otherwise it will mess up your painting jobs. The product's construction and the way it's manufactured has an impact on its quality. In fact, this is true for all products. Ultimately, well-constructed paint rollers will do a better job.
Thickness
Also, check the thickness of the roller cover. The applications you plan to use the paint roller for will help you determine the thickness you need. Keep in mind that thicker covers will hold more paint which, in turn, will allow you to paint even the crevices of rough surfaces.
Frame
Finally, the roller frame is also something to consider. There are two main types of roller frames available. The larger frames are usually 9-inches in size while the smaller ones are 4-inches in size. Of course, the former is ideal for bigger surfaces such as ceilings and walls.
On the other hand, the latter is more suitable for smaller painting applications such as cabinets, furniture, doors, and more. Some paint roller frames also come with threaded handles so you can attach them to extension poles for painting high surfaces.
What you're going to paint
You should also think about what you're going to paint. Purchasing a paint roller seems simple, but when you don't know what you want to paint, things may become tricky. For instance, if you plan to paint interior walls, choose a set of paint rollers which have different sizes. This will provide you with better versatility and ensure a smooth finish even in the tight corners.
Or if you want to paint furniture, then go for the smaller-sized rollers. These will allow you to paint nooks and crannies while still maintaining a smooth finish. Also, most products come with trays, but some don't. Think about whether you need a tray or not for your painting applications.
The Best Paint Rollers 2020
Guide to Buying the Best Paint Rollers
In movies and television, they make it look like a painting is a simple and easy task. With the best paint roller, this can be true for you. Paint rollers are essential and effective tools when it comes to painting. That is if you find the best paint roller for your own needs.
Paint rollers are simple products which are also easy to use. But that doesn't mean you should choose the first one you find. Before you make a purchase, consider these important factors.
What important factors should you consider when buying paint rollers?
Nap length
The nap refers to the fur or fuzz on a paint roller, and the length is usually measured in inches. Choose the nap length that will suit your painting needs. To determine what you need, check the texture of the surface you plan to paint. Smooth and flat surfaces need a fine or flat roller.
On the other hand, rough and textured surfaces need a longer nap so you can reach the surfaces crevices and peaks. The appropriate nap length will allow full coverage as well as a smooth, full surface.
Nap composition
The composition is another factor to look out for. This time, the type of nap you would choose would depend on the type of paint you plan to use. Rollers are typically designed for specific paint types. However, there are products compatible with different types of paint too.
Quality of the paint roller
For any jobs and applications, high-quality tools and equipment are essential. Painting is no exception. So, when you're choosing a paint roller, go for the ones with superior quality. This is because the paint roller's quality will affect the outcome of your paint job. Low-quality rollers won't be of much use to you.
Cheap, low-quality paint rollers tend to lose hair or fuzz at a faster rate. This would affect the finish of your paint job. Also, such rollers may have naps with a poor release which will leave the surface with an uneven finish. So, if you want professional results, go for the products which will provide you with it.
What are some tips for using and caring for your paint roller
Just because you want one of the best paint rollers available, that doesn't mean that you have to break the bank. There are many affordable products which are durable and will give you excellent results. Once you've found "the one," you should also know how to use and care for it.
Choosing and using your paint roller
As long as you can afford it, make sure to purchase the best paint rollers for your painting needs. High-quality paint rollers are more durable which means that they'll last longer and give you superior results each time you use them. On the other hand, bargain paint rollers may save you a couple of bucks, but they have the tendency to fall apart quickly or leave lint on the surfaces you paint.
If you can, try the different brands of paint rollers and paint roller frames so you can determine which one feels comfortable in your hand. If you plan to use the paint roller frequently, then a comfortable grip is essential. When purchasing products online, find one which promises comfort even when you use it for longer periods of time.
Caring for your paint roller
Use light pressure when applying the paint.
Remove the cover from the frame after you're done painting.
Clean the cover and the roller after painting to ensure its longevity.
When you use your paint roller with latex paint, clean it with water and soap. Hold your roller cover under some running water than squeeze it gently to remove all the paint. Keep on doing this until you've removed all the paint then let it dry.
Never soak the roller cover in water and leave it for a long period of time.
Conclusion
Although paint rollers look like simple items, there's more to it when purchasing one. From the purpose to the actual product, there's a lot to consider when looking for the best paint rollers. By now you've learned a lot more about paint rollers. We've also reviewed some of the best products which you can choose from.
Once you've found the product for you, you should also know how to use it and maintain it. This is important so you can keep on using your paint roller for years to come. Paint rollers are very useful items, and it's worth owning one especially if you do a lot of painting jobs.