Electric lawn mowers are an eco-friendly alternative to gas-powered lawn mowers. They're great for small to medium yards, require less maintenance, and can often be much easier to use. Choosing the right one comes down to how much power you need, how big your yard is, and what kind of features you're looking for.
In this guide, we'll give you a quick overview of what factors you should consider and then show you our top 9 picks for the best electric lawn mowers.
What to Look for in an Electric Lawn Mower?
The key factors to look at when shopping for an electric lawn mower include the battery, charge time, and cord length, if the mower has a cord. However, you'll also want to consider deck size and the number of height options. In this section, we'll look at how those factors might influence your decision:
Cord vs. Cordless
When you go electric, you still need a power source. This can either be a battery installed directly in the motor or an electric cord that plugs into an outlet in your home. Both options come with their own pros and cons.
Corded Electric Mowers
The key advantage of a corded electric motor is that you don't have to worry about charging time. It can run as long as it's plugged in. But when you have a corded mower, you are restricted to the length of the cord.
For small lawns, this may not be an issue. But for larger lawns, you may need an extension cord or portable generator to make sure you can reach all of your lawn.
Cordless Electric Mower
With a cordless mower, your movement is unrestricted. You can mow much larger yards without worrying about reaching the end of your cord or lugging around a portable generator. However, as you might guess, you are now dependent on the battery.
If the battery isn't powerful enough, it might not hold a charge long enough to complete the job. This is especially true if your yard is particularly challenging to mow as that can eat up battery power even faster.
The decision comes down to whether you prioritize the freedom of movement you get with a cordless or the consistent power you get with a corded mower.
Battery
If you're getting a cordless design, the battery is an important factor to consider. You need something strong enough to handle any challenges your lawn presents and capable of running long enough for you to mow the entire area.
Most battery-powered lawn mowers can run continuously for 30-60 minutes. The more challenging your lawn is, the shorter its run time will be. For example, a design that offers 60 minutes of run time might actually run out of charge at 45-50 minutes if your grass blades are taller or thicker.
So, consider both lawn size and difficulty when you compare battery life across brands.
Charging Time
Most battery-powered mowers recharge in 1-2 hours. This is fast enough that you don't have to worry about recharging after each use. The day you decide to mow your lawn, put the battery on the charger and do some other chores for 1-2 hours.
However, if you have a larger lawn that can't be mowed within your battery's normal run time, it might be inconvenient to have to stop part way through and wait 2 hours for it to recharge before you can finish the job.
So, if you know your lawn will take more time than you can get out of a single, full-charged battery, consider something with a shorter charge time, like this Sun Joe 48V mower which can fully charge the battery in just 70 minutes.
Deck Size
Deck size refers to the size of the base, where the blades are. The wider the deck, the more ground you cover in a single pass. So larger decks are better for larger lawns. Most electric lawn mowers come with deck sizes between 12 inches and 21 inches.
Height Adjustments
Most lawn mowers allow you to raise and lower the blades according to the length you want to cut your grass. The more height settings you have available, the better you can customize the precise lawn height you want to achieve.
Now that you know more about the key specs that you need to look at while shopping, read through our top nine electric lawn mowers for 2021.
Top 9 Best Electric Lawn Mowers 2023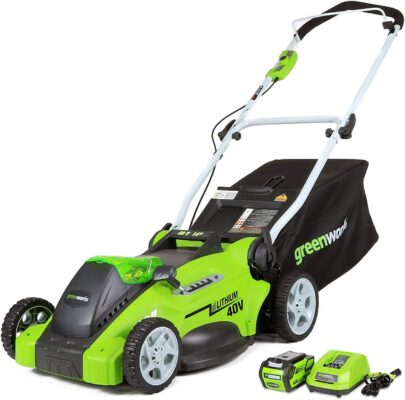 Why we like it:
The generous run time, light weight, and mid-size deck make this a versatile option that balances power with maneuverability.
Editor's Rating:
Quick Facts:
Cordless
40 Volts
Deck Size: 16"
5 lbs.
Charge Time: 120 mins
Run Time: 45 mins
This Greenworks cordless design is a great example of all the perks you can expect to enjoy when you make the switch to an electric lawn mower. It's lightweight, quiet, and ideally suited to small and medium yards under a ¼ acre.
Features
The maximum efficiency motor will increase and decrease power automatically based on the resistance the blade encounters when mowing. So, if you have an uneven lawn with a mix of easier and tougher patches, it automatically adjusts power output to most efficiently handle those different patches.
While this can decrease the run time if you have a lot of tough areas that require more power output, it improves the evenness and quality of the results. This makes it one of the best options for electric mower skeptics who aren't yet sure a battery-powered machine can produce comparable results to a gas-powered one.
Another convenient feature is the G-Max battery. It's compatible with all Greenworks tools, not just their lawn mowers. So, if you like this brand, you can use the batteries from your other Greenworks tools in this lawn mower.
That's a convenient option to have in the event that you forget to charge the battery or run out of charge midway through mowing!
One of the biggest perks of an electric mower is how quiet they are, and this model is a great example of that. It's quiet enough to use in the mornings without disturbing anyone so you can get the yardwork done before the day gets too hot.
Maintenance
One inconvenient part of the automatic adjustment of power output is that the battery can get hot. This won't be a problem while mowing but when you're finished, you need to wait for the battery to cool down before you put it on the charger.
If you don't let it cool down, it won't hold the charge as well. You can work around this easily by just removing the battery after use but waiting to put it on the charger until the next time you want to mow. Then, that morning, put the battery on the charger a couple hours before you plan to mow and you're good to go.
Pros
Quiet operation

Run time sufficient for most small to medium yards

Automatic power adjustment

Battery is compatible with other Greenworks products
Cons
Batteries don't charge well when still hot
---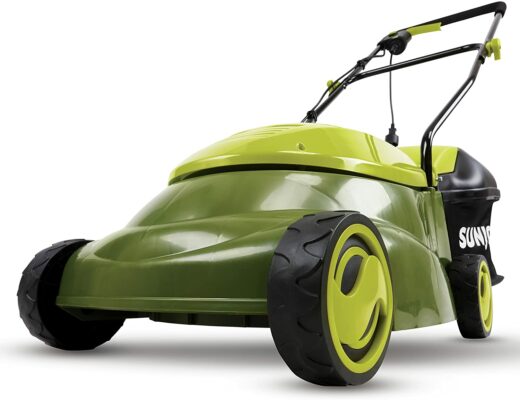 Why we like it:
This is a lightweight, high-powered option that will do well on any small to medium lawn.
Editor's Rating:
Quick Facts:
Corded
13 Amps
Deck Size: 14"
22 lbs.
Charge Time: N/A
Run Time: N/A
It's tough to beat this combination of lightweight design and efficient motor. It's ready to handle tougher jobs on small to medium lawns and comes with one of the largest bags you'll find so you won't have to interrupt your work to empty out clippings as often.
Features
The 13-amp motor is one of the strongest you'll find in the electric mower market so it's a great option for more difficult yards. While the 14" deck is on the narrow side, that extra power in the motor means you likely won't have to do multiple passes so it's still an efficient machine.
What stands out most, though, is the bag. It's easy to attach and detach. It features a mesh design that allows you to see how full it is. It offers a generous 10.6-gallon capacity, so you won't have to stop every few minutes to empty it.
One of the biggest limitations on this option is the cord. At 14 inches, it's hardly long enough for even small yards so you will need an extension cord. Moreover, the fact that it's corded means that it won't be safe to use on a wet lawn. If you live in a rainy or damp climate, this might seriously limit when you can safely mow your lawn.
However, by going for a corded option, you don't have to worry about run time, forgetting to recharge batteries or buying back up batteries. So, that extension cord may end up being less of a hassle in the end.
If you do live in a wet climate or would just rather not be tethered to an outlet, check out a battery-powered mower that offers a longer run time, like the Greenworks Twin Force Mower, which boasts a 70 minute run time.
Maintenance
Another perk of the mesh bag design is the breathability. If the grass clippings are too damp to easily remove from the bag, scoop out what you can and just let the rest dry in the sun until they're ready to fall right out.
Pros
Efficient 13 Amp motor

Large 10.6-gallon bag

Lightweight 22 lbs. design
Cons
14" cord is too short to use without an extension cord

Not safe to use on wet grass
---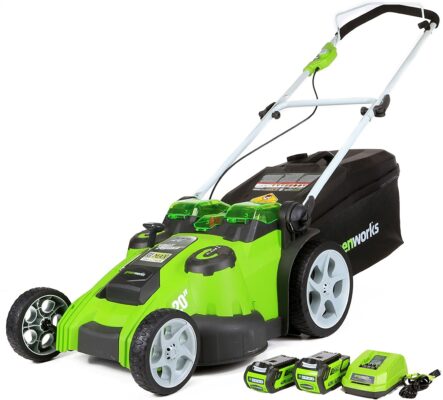 Why we like it:
This Greenworks cordless boasts one of the longest run times of any electric mower, making it a great pick for larger yards.
Editor's Rating:
Quick Facts:
Cordless
40 Volts
Deck Size: 20"
5 lbs.
Charge Time: 90 mins
Run Time: 70 mins
This cordless lawn mower is efficient and whisper-quiet by lawn mower standards. With a wide deck size and a long run time, this is great for larger yards but still agile enough to handle smaller ones.
Features
This lawn mower boasts dual blades to improve cut quality and provide mulching capabilities. You also get a large, breathable mesh bag for the clippings. Because this can mulch, you also have the option to skip the bag entirely.
One of the most convenient features of this option is the backup battery that comes with it. You get both a 4Ah and 2Ah battery so you can finish your larger yard without having to wait for the battery to recharge halfway through.
You don't even have to stop to change batteries because the motor can automatically switch to the backup battery when the main battery runs out of charge.
Note that the 70-minute run time estimate is based on the time provided by both the main and back up batteries. The main battery on its own offers about 45 mins of run time.
Maintenance
While the ability to use your Greenworks batteries with any Greenworks tools you have is convenient, the actual installation is not. You have to push the release button and pull on the battery at the same time. This requires considerable grip and can be frustrating.
This is something you can get used to after a handful of uses but if you'd rather have something with a less finicky battery, try the Powerworks Mower.
Pros
Wider deck size

Long run time

Mulching capabilities

Large, mesh bag
Cons
Battery is difficult to remove from the mower and the charger
---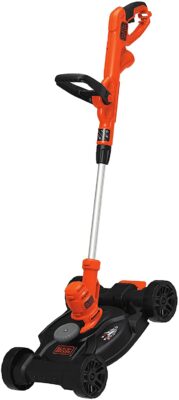 Why we like it:
This multi-purpose design from Black+Decker mows your lawns, hacks away weeds, and trims overgrowth all with one lightweight tool.
Editor's Rating:
Quick Facts:
Corded
5 Amps
Deck Size: 12"
13 lbs.
Charge Time: N/A
Run Time: N/A
For a compact, easy-to-use mower that doubles as an edger and triples as a trimmer, you need this handy machine from Black+Decker. It's our favorite option for smaller yards where it's hard to justify buying three separate pieces of equipment to care for one lawn.
Features
The 13-pound machine is so easy to maneuver and glides effortlessly across your lawn. The adjustable handle height and angle allows you even more control and better customizability to make this machine comfortable to use.
There may only be two deck height options, but that's all you really need for a small yard.
What stands out most about this design is how much it can do. You can mow the lawn, clean up the edges, and trim overgrowth and bushes. If you have a small yard with limited storage space, the ability to have three different tools in one compact design is a serious space-saver.
Its main advantage might also be its biggest flaw. With a modest 12" deck, this is not the mower you want if you have a medium or large yard. It would simply take too long to get the job done. We'd recommend this for yards under 3,000 square feet.
If you're patient and really value that versatility, you could reasonably maintain up to 5,000 square feet of lawn with this.
However, it will take more time, and anything above 5,000 warrants investing in separate, full capacity tools, including a lawn mower like the Greenworks G Max, which offers a wider deck size.
Maintenance
There's no special maintenance required with this mower. Just make sure to clean the clippings out to prevent clogs inside the mechanisms.
Pros
Mow, edge, and trim with one machine

Lightweight design

Adjustable handle for extra comfort while working
Cons
Only suitable for small yards
---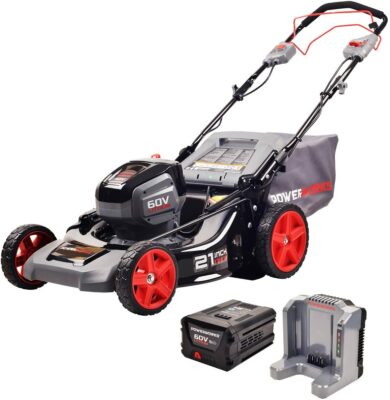 Why we like it:
With seven height settings, you can achieve the exact blade you're looking for and handle taller grasses with ease.
Editor's Rating:
Quick Facts:
Cordless
60 Volt
Deck Size: 21"
84 lbs.
Charge Time: 150 mins.
Run Time: 45 mins.
For lawns with tough patches or grass that grows too fast to manage with more compact designs, you need a heavy-duty lawn mower that's ready to hack through weeds and thick grass. This design is ready for that job.
Features
One of the most impressive features on this Powerworks mower is the ability to adjust between seven height settings. This gives you incredible precision control over lawn height.
It also makes it a lot easier to cut through taller grass, something electric mowers usually aren't as good at doing. You can gradually lower the deck with each pass to make easy work of tall, unruly grass.
You also get a broad 21" deck size which can hold its own against any gas-powered lawn mower. The 60-volt battery also provides serious power so you can get your entire small or medium yard done on a single charge.
As much as we love the size and the power, especially for a cordless design, this lawn mower is heavy. At 84 pounds, it's one of the heaviest electric mowers you could get. It is a self-propel design but that's still bulkier than most other models.
If you have to mow more than once week or for more than 8-9 months out of the year, you might not want to push that much weight that often. It's a great arm workout but if you'd prefer convenience and comfort over building your biceps, try this lightweight Black+Decker mower.
Another drawback of its size is that it's less maneuverable. If you've got an odd-shaped yard or lots of edgework to do, you would need to go back over the edges with a trimmer.
If you, instead, had a narrower, more maneuverable mower like the Greenworks G-Max, you'd be able to mow the lawn, right up to the edges, without a problem.
Maintenance
There is no special maintenance required for this machine beyond the normal cleaning and battery charging that you need to do for any electric mower.
Pros
Large 21" deck

Powerful 60V battery

7 height settings for precision mowing

Powerful enough to handle tougher lawns
Cons
Very heavy

Difficult to maneuver on edges
---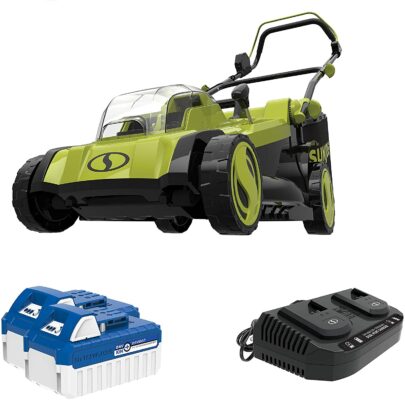 Why we like it:
For a quiet and reliable mulching lawn mower, the Sun Joe 48V is the way to go. It's easy to use and has tons of convenient features.
Editor's Rating:
Quick Facts:
Cordless
48 Volts
Deck Size: 17"
8 lbs.
Charge Time: 70 mins.
Run Time: 30 mins.
This cordless mower comes with two batteries to offer 48 volts of power and 30 minutes of run time. It's the perfect machine for lawns under a ¼ acre.
Features
Our favorite features on this mower are the quick charge time, the quiet operation, and the mulching capabilities. You have a great bag for collecting the clippings, but we recommend mulching instead of improving the health of your lawn.
The key drawback to take into consideration if you're considering this model. At almost 43 pounds, it's one of the heavier electric lawn mowers on the market.
This is even more of a drawback when you consider that this is a much smaller deck size than other mowers in this weight range. The Greenworks Twin Force, for example, is about the same weight but boasts a 20" deck.
This is a great option for small yards with low maintenance grass. It's an equally low maintenance lawn mower, and it offers just enough power to get the job done in a single pass.
However, if your yard has tougher patches or is larger than 5,000 square feet, you'll need something that's a little more efficient. The Powerworks mower might be a better alternative.
Maintenance
This is a very low maintenance machine. Just wipe down the blades and deck after you're done and empty out the bag if you used it.
Pros
Quick charge time

Quiet operation

Low maintenance

Mulching capabilities
Cons
Heavy

Only suitable for smaller yards
---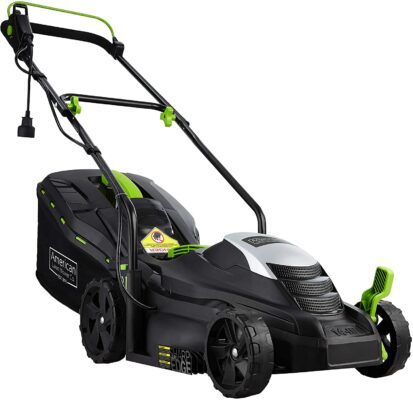 Why we like it:
Homeowners will love the balance of lightweight design and high power in this corded electric lawn mower.
Editor's Rating:
Quick Facts:
Corded
11 Amp
Deck Size: 14"
5 lbs.
Charge Time: N/A
Run Time: N/A
For reliable power at a reasonable price, American Lawn Mower Co. offers a great product. It's easy to use and you don't have to worry about run time or charge.
Features
The 26-pound corded mower packs a surprising 11 amps which is enough to handle most small to medium lawns, even if you've got a couple of rough patches. It also comes with a bag and has mulching capabilities, so you have some versatility with this machine.
One thing we would have liked to see is a better bag design. This one is on the smaller side and the handle pops off easily. These are minor inconveniences that you can learn to live with but if you're willing to spend more, you can get something like the Sun Joe Pro, which has a higher quality bag design.
At 14", the deck is only really suitable for small to medium lawns. We wouldn't recommend it for anything more than 7,000 square feet. If you have a larger yard, consider the Powerworks mower with its 21" deck.
However, at this price point and the fact that it's corded so you don't have to worry about run time or charge time, it may be worth taking an extra 15-20 minutes to mow your medium to large yard with this smaller lawn mower.
Maintenance
There are no special maintenance requirements here. Just care for it as you would any electric lawn mower.
Pros
Reliable motor

Mulching capabilities

Great for small lawns
Cons
Poor bag design

Not suitable for medium or large lawns
---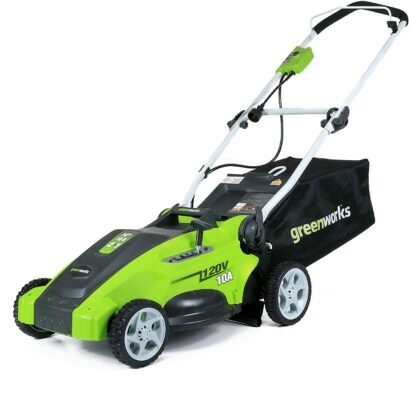 Why we like it:
This corded design from Greenworks boasts a lot of great features like adjustable handles, five height settings, and quiet operation.
Editor's Rating:
Quick Facts:
Corded
10 Amp
Deck Size: 16"
5 lbs.
Charge Time: N/A
Run Time: N/A
With no batteries to charge or limited run times to worry about, this corded Greenworks mower offers all the convenience and functionality of their popular cordless designs but pairs it with the unlimited run time of a corded mower.
Features
While corded mowers usually tether you to an outlet, limiting how far you can mow, this one is compatible with extension cords up to 150 feet. You do have to buy that separately, but many corded designs will only work on shorter extension cords so that extra length gives you more range.
The bag on this mower is on the smaller side so you'll have to stop to empty it often if you use it. However, you can skip this problem altogether if you just use the rear discharge since this is a mulching lawn mower.
For a corded mower at this size, we would have appreciated a more powerful motor. This 10 amp will work on more straightforward projects without bumps or tough patches but if you have a more challenging lawn, you'll probably do better with the Sun Joe Pro.
Maintenance
Another perk of the quiet and smooth operation is that it's easier to recognize issues. If you're mowing tougher patches or damp grass, you'll notice right away if it gets a little noisier or slow. In which case, you can unplug it and check the blades for clogs or raise the deck height to help it gradually cut down taller grasses.
Pros
Quiet and smooth operation

Mulching capabilities

Adjustable handle

5 deck height settings
Cons
Small bag

Not ideal for tougher lawns
---
Why we like it:
This is such a lightweight and compact mower that even kids can use it, making it a great pick for families.
Editor's Rating:
Quick Facts:
Corded
10 Amp
Deck Size: 15"
7 lbs.
Charge Time: N/A
Run Time: N/A
This Black+Decker electric lawn mower was designed to be easy to push and maneuver across your yard. It is easy to use and agile enough to handle edges and unusual yard shapes without destroying your flowers or garden.
Features
At just 7 pounds, it's tough to beat how lightweight and maneuverable this lawn mower is. You can easily navigate along the edges of your yard with grace and without worrying about accidentally hacking at the flower bed!
The 15" deck is on the smaller side but still large enough to handle small to medium lawns.
While the 10 Amp motor is on the light side, the 3" maximum deck height and six height settings allows you to pass over tougher patches easily so you can trim them down to size with a couple smooth passes rather than trying to hack through it all on your first pass.
We recommend this option for younger kids who are just learning to mow the lawn or older adults who need something that's easier on their joints. It's not the most powerful mower on the market, but it can get the job done and it can do it without requiring you to over-exert yourself in the process.
Unfortunately, the cord is too short to be used without an extension cord, so there is an added expense there, but this is affordable enough that you're still spending less even if you have to buy an extension cord.
Another drawback is the small bag. Combine this with the fact that it doesn't offer a mulching function and you end up having to stop to empty the bag often.
For something that can mulch, try the model from the American Lawn Mower Company.
Maintenance
The corded design means there's no battery to charge. All you have to do is the normal cleaning that comes with any electric mower.
Pros
Six height settings

Incredibly lightweight design

Great for smaller yards or delicate edgework
Cons
Short power cord

Small bag
---
Electric Lawn Mower Buying Guide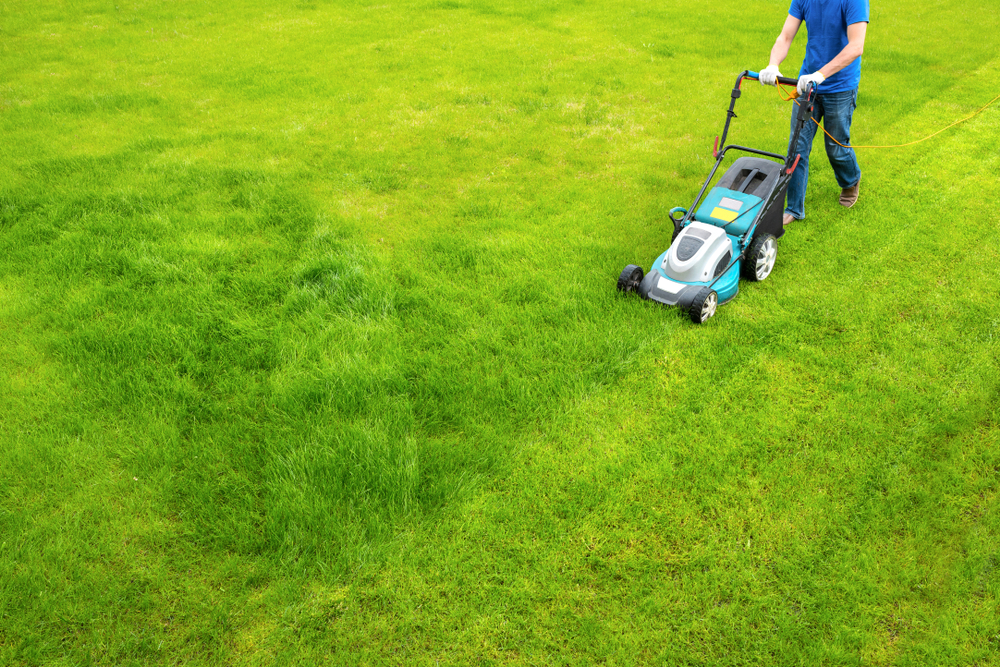 After reading those options, you might still have some questions about how to choose between them. Here are answers to some of the most common questions people ask when shopping for an electric lawn mower.
Are Electric Lawn Mowers Worth It?
For lawns up to about 10,000 square feet, electric lawn mowers are a great option. They don't require fuel and are much lower maintenance than a gas-powered mower. They also tend to be more affordable than heavy-duty gas mowers or riding mowers.
If you have a lawn larger than 10,000 square feet and still want to use an electric mower, pay close attention to deck size and charge time.
Something with an extra-large deck, like this Powerworks mower or exceptional battery life, like this Greenworks Twin Force mower are your best bets.
We also highly recommend buying an extra battery so that you can finish your lawn without stopping to recharge the battery part of the way through.
Cleaning Your Battery-Operated Lawn Mower
The good news is that maintaining an electric lawn mower requires much less work than a gas-powered mower. There are no time-consuming oil changes, no messy fuel refills, and no worry about fuel contamination.
However, there is still some maintenance required. Here's how to clean your battery-operated lawn mower:
Make sure the mower is powered off and unplugged.
Remove the battery.
Use a clean rag or brush to wipe out the vents.
Wipe down the blades and check for clumps of grass or soil that may be trapped in nooks and crannies.
Spray the deck with cooking oil and wipe it down to remove dirt and grass.
If the lawn mower got wet, dry it completely.
This should be your routine every time you mow your lawn. Keeping the equipment clean is the best way to prevent damage in the long run.
In addition to cleaning, here are some other important maintenance steps you'll want to take to increase the longevity and effectiveness of your lawn mower:
Check nuts, bolts, and fasteners once or twice a month, more if you use it more than once a week.
Sharpen the blades at least once a year, more if you use it more than once a week.
Oil the wheels and axis once per season.
Store in a cool, dark area. The garage is better than a shed as it's a little more insulated.
Keep watch of the space just in front of the mower to make sure you don't go over any rocks or other objects that could damage the blades.
Keep an eye on the battery life and stop when it reaches "low." Don't wait for it to die completely. Doing so will shorten the battery life.
Remove the battery and keep it separate from the lawn mower when storing.
Don't leave the battery on the charger after it's fully charged.
During the off-season when you don't mow regularly, cover your lawn mower with a heavy blanket or tarp to prevent dust from accumulating in the vents and motor.
Picking the Right Electric Mower for Your Lawn Size?
In general, electric mowers are best for small to medium lawns. 8,000 square feet is about as large as you'd want to go before considering a more heavy-duty gas-powered lawn mower.
However, keep in mind that the actual area a mower can handle varies based on other factors in addition to size. Those factors include climate, yard shape, and grass density. These things factors can change how much battery power is required to get the job done.
Climate
Climate and season matter because wet grass takes significantly more power to mow through than dry grass.
If you live in a damp climate, opt for higher voltage electric mowers. Avoid corded mowers as the risk of electric shock when mowing a wet lawn is higher.
You'll also want something with a shorter charge time, like the Sun Joe 48V mower because there's a higher chance that you'll need to recharge part way through. Damp lawns take more power to cut so the battery drains faster.
Shape
While it might not seem like a big deal, the shape of your yard can be a factor in which lawn mower you get. Lawns that have a large even shape like a square or rectangle are easier to mow with large mowers that can cover more land with a single Passover.
Meanwhile, smaller or irregularly shaped lawns can be difficult to mow with a large mower. This is especially true if you've got flower beds or bushes along the edge that you don't want to accidentally hack to pieces with a bulky lawn mower.
In this case, smaller mowers like the Black+Decker offer the maneuverability you need to mow along those irregular edges and bends in your lawn.
Density
Thick, tough lawns are harder to cut than finer, softer lawns. If you don't mow your lawn regularly, the taller blades will be harder for your mower to cut than they would be if you did mow regularly, keeping the blades at mid-length.
A dense, tough yard will decrease the run time on your battery because it takes more power to cut through the thick blades. So, make sure to get something with a long-running battery like the Greenworks G Max to account for that.
Tips for Mowing Larger Lawns With an Electric Lawn Mower
If your lawn is larger than the recommended lawn size but you like all the other features of the lawn mower, you'll need to make some adjustments to accommodate it. For a corded lawn mower, that means getting a suitable extension cord, as mentioned earlier.
For cordless lawn mowers, you have two options. First, you can mow the lawn in multiple sessions. In this case, you should opt for a model that charges fast.
Your other option is to get a second battery so that you can switch it out mid-process to keep mowing. This option requires some extra diligence to make sure both batteries are fully charged before the next time you mow.
Another trick you can use is adjusting the deck height. The higher it is, the faster you can complete each pass over the lawn and the less energy the motor has to expend on cutting the grass.
Once you've finished the first pass, adjust the height down a notch and pass over it again. This gradual trimming of the lawn to the correct height will take a couple passes but it uses less energy and makes the work easier on you.
Cutting Wet Grass With an Electric Mower
While some recommend using a gas-powered lawn mower for wet grass, the truth is both types come with risks. As long as your lawn mower is not plugged into a power source, it doesn't really matter whether it's electric or gas-powered.
There are many safety hazards, no matter what type of mower you use. It's also just a lot harder to get the job done. Here's a brief overview of why you shouldn't mow wet grass:
Safety Hazards
Here are some of the greatest risks associated with mowing wet grass:
Increased risk of slips and falls
Risk of electric shock if using a corded lawn mower
Damage to the motor, blades, and other components of the equipment
Switching to a gas-powered mower won't solve these problems. Just as the wet blades can damage the battery of an electric mower, it can contaminate the fuel supply in a gas mower.
Added Challenges
Even if you are using a cordless lawn mower, it's still going to be a harder job. Here are a few of the challenges posed by wet grass:
Wet blades are harder for your mower to cut through.
Lawn will require multiple passes to cut the grass and results will be uneven and ragged.
Blockages of wet clippings can cause the machine to shut off, requiring you to stop and clean out the machine multiple times while mowing.
The mower must be thoroughly cleaned and dried after to prevent corrosion and permanent damage.
Wet grass clippings cling to surfaces and will take more work to fully clear from your lawn or from the bag.
Wet grass will stain shoes, clothing, and concrete so everything needs to be cleaned right away to prevent permanent staining.
So, unless it's somehow absolutely necessary, wait until your lawn has dried.
How to Cut Wet Grass Safely
If there's ever a time where you can't avoid mowing a wet lawn, here are some safety precautions and other steps you can take to make the work safer and as efficient as possible:
Use a cordless mower to minimize the risk of electric shock.
Set the deck to a higher setting to decrease the amount of strain you're putting on your motor.
If possible, remove the bag and set it to side-discharge mode to avoid the tedious task of cleaning out a soggy bag full of wet clippings. Rake the clippings off the lawn when they dry.
Thoroughly clean and dry your mower immediately after mowing to remove every last blade and drop of moisture. This will prevent rust.
Other Helpful Tools for Yard Maintenance
Electric lawn mowers are great for small to medium projects and regular yard maintenance during the warmer seasons. For more convenient tools that can keep your yard looking perfectly manicured all year round, check out these other options:
Riding Lawn Mowers: For large yards or professional landscapers, riding lawnmowers allow you to cover much more area with much less effort.
Pressure Washers: When the lawn is done, tidy up the walkways and driveway with a pressure washer for a fully manicured look.
Snow Blowers: When mowing season ends, snow blowing season begins. Use a snow blower to keep your driveway and walkways cleared without having to shovel it each morning.
Final Word
Electric lawn mowers are the best choice for small to medium yards or anyone looking for a practical alternative to gas-powered or manual lawn mowers. They're reliable, powerful, and require less maintenance than other types of lawn mowers. When comparing your options, make sure to choose the one that will work best for your climate and yard size.