Is there anything more satisfying than using a pressure washer on a blackened patio seemingly ruined by dirt, age, and grime? Blasting that jet over each brick and seeing the black river flowing into the nearest drain is a joy. Then, finally, you're left with something unseen for many years: a flawlessly clean patio.
A good pressure washer can completely refresh an outdoor area, removing stains, dirt, grime, and gum, leaving you with an outdoor space that's as good as new. They're not only fantastic for cleaning drives and patios, but they're also (at lower power levels) perfect for cleaning cars, windows, garden furniture, and much more besides.
Features to Consider in Good Pressure Washers
How Do Pressure Washers Work?
At their most basic, they fire out a stream of water that's powerful enough to break dirt up and blast it up off the ground. Pressure washers usually take their water supply directly from a faucet; their pumps then pressurize the water so it can be sprayed out at high speeds. The most powerful pressure washers usually run on gas, but these models are often more expensive than electric pressure washers and often unnecessary for residential usage.
Why Buy a Pressure Washer?
They're incredibly satisfying to use! Okay, we know we've covered this and it isn't the main reason for you to make your purchase, but seriously, videos of dirt being blasted away by pressure washers have become internet mainstays. Many people find them highly relaxing and satisfying to use.
That aside, a pressure washer is going to save you a lot of time cleaning and it will do a much better job than you otherwise could. There's no quicker or more thorough way to clean vehicles, fences, walls, outdoor furniture, and outdoor areas than with a pressure washer. Just aim and spray and the dirt is gone. The alternatives, such as a garden hose and getting on your knees, literally scrubbing the ground, can easily take you ten times the amount of time to cover the same exact area — and you'll still not get as much dirt up.
There are chemical solutions that can do a reasonable job of removing certain substances, such as mildew or moss, but not only are many of these chemicals unsafe for animals and the environment but they're also slower acting and won't target all dirt and grime effectively.
Most pressure washers work without the use of any harsh chemicals, leaving the area or object immediately safe after completion.
Choosing the Right Pressure Washer for You
If you're only planning on using a pressure washer a handful of times a year, primarily on your drive and patio, then you're not going to need a hulking thousand-dollar gas-powered machine intended for industrial use. You're more likely going to want a low-cost easy to maneuver model that can be tucked neatly away in the garage over winter.
It's important to take note of the PSI (Pounds per Square Inch) each model offers, as the higher that number, the higher the pressure of the jet of water and the better your results will be. For personal usage, it's unlikely you'd require anything above 2000 PSI for great results.
Depending on what you want to clean and the size of the area, you'll also want to look at the accessories that come bundled with each washer or that are additionally available. These vary from attachments explicitly meant for cars and windows to the popular patio cleaner attachments that turn pressure washers from jets of water into something more akin to a mop or vacuum that can be pushed over the ground.
Now that we've covered the basics of pressure washers, let's show you ten pressure washers that we think are the best available right now.
Top 10 Best Pressure Washers 2022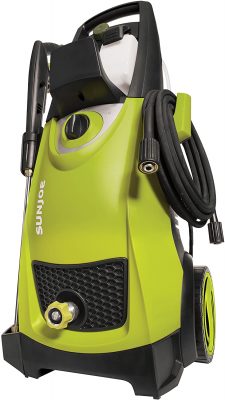 Why we like it:
Brilliantly priced pressure washer that packs a powerful punch. Perfect for yards and patios.
Editor's Rating:
Power: 2030 PSI
Features and accessories
Sun Joe is a highly respected manufacturer of pressure washers and this is their bestselling machine for good reason. It's the perfect unit for casual usage and comes with everything you need to get started, including a 20-foot hose to connect to your faucet, a hose adapter, and a 34-inch extension wand for the spray. Not all machines come with these seemingly basic accessories so getting them thrown in for the price is a great deal.
It also comes with dual detergent tanks, which is both a great feature and a little unusual. This allows you to have two different types of detergents on the go and swap between them depending on what you're cleaning. One for patios and one for cars, for example. It also boasts an energy-saving pump that automatically switches off when you let go of the trigger.
There are a host of separate accessories available such as the patio cleaning attachment, but these are not necessary and you can get equally good results without them, even if it takes a little longer.
Now, the important question: Does it clean well? Yes. Brilliantly. It's not the highest-powered machine on the list, but for personal usage, this is the ideal pressure washer.
Ease of Use
It's simple to set up. A lightweight model on sturdy wheels allowing you to maneuver it however you need. Choose the power level for the job you need doing, aim, and spray. Simple.
Value for Money
This Sun Joe SPX 3000 provides fantastic value. It's a low priced unit that performs better than many of the more expensive brands, and that's why, year after year, it's the best selling pressure washer — and also why it's top of our list.
Pros
Best value for money pressure washer

Includes everything you need to get cleaning, such as a generous length of hose

Powerful PSI

Energy-saving pump

Versatile — perfect for fences, patios, cars, boats, etc.

Trusted brand
Cons
It lacks the power of other units.
---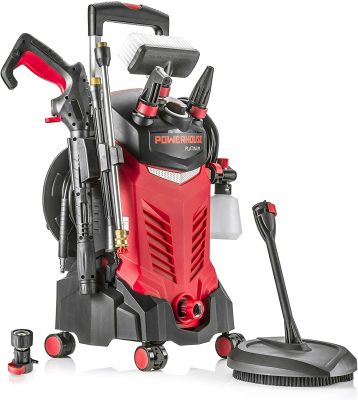 Why we like it:
Best all in one option. A high-powered unit that comes with a variety of accessories meaning no need for additional purchases.
Editor's Rating:
Power: 3000 PSI
Features and accessories
This pressure washer comes bundled with the most accessories out of any machine on this list, including the coveted patio cleaner, multiple nozzles, multiple tips (some angled specifically for cleaning gutters and other hard to reach places), and two lances. It also comes with a bristle brush and a separate soap/foam sprayer — perfect for windows and cars.
The Powerhouse International is a high-end product and the price reflects that, but you're getting a powerful machine with a high PSI level and the included accessories more than make up for the cost.
Ease of Use
This is an extremely well-made pressure washer and it's clear to see a lot of work has gone into the design. It has a useful telescopic handle for those out-of-reach areas. The hose is extremely flexible (more so than other washers) which means it can be coiled up neatly. Extremely easy to click attachments into place. It comes with a removable cart so that you can wheel your detergents, cloths, and even drinks around with you as you work.
The included patio cleaner attachment can cut cleaning time in half, as well as substantially reducing the mess made.
Value for Money
This is a more expensive model than our number one choice, but it makes up for the higher price-tag with its increased power, well thought out design, and its myriad of included accessories. Overall, great value for money.
Pros
Powerful 3000 PSI

Impressive array of accessories

Best machine for cleaning gutters

High-quality design

Good looking unit
Cons
Might not need extra accessories

More expensive
---
3.

Best Budget Pick

PAXCESS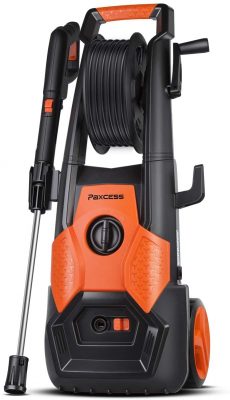 Why we like it:
High quality, low price pressure washer. Simple and straightforward to set up and doesn't require a faucet — a bucket of water will do.
Editor's Rating:
Power: 2150 PSI
Features and accessories
This is a relatively no-frills pressure washer, but that isn't a bad thing because what it does, it does very well. It has an easily adjustable spray wand so that you can quickly change the power and size of the jet, depending on the job.
Ease of Use
Very easy to set up and get going. One good thing about having fewer accessories included is that there are fewer options to possibly confuse you. If you're simply looking for a well-priced power spray that is just that — a jet of water from a wand — then look no further.
Value for Money
This is a slightly more powerful washer than our number one choice and is in a similar price bracket, but it does have fewer accessories.
Pros
Great price

Easy to use

Can use water from a bucket or well instead of a faucet

26-foot hose with reel
Cons
Plastic feels a little cheap

Doesn't include many accessories
---
Why we like it:
Unique wide stance design that's easy to move and stays steady in windy conditions. Flat design also makes it possible to wall mount.
Editor's Rating:
Power: You can choose between 1450 PSI and 2030 PSI depending on the job.
Features and accessories
Unique to this pressure washer is the ability to choose between two different PSI levels — lower for everyday dirt and higher for stubborn marks and stains. It also comes with five differently angled spray tips for hard to reach areas.
There's not a huge difference between this machine and the Sun Joe SPX 3000, the obvious change being the design. The SPX 3000 takes up less room with its fully upright design, but the SPX 4000 is more practical and a little lighter. If you're into DIY and are looking to wall mount a power washer so that you don't need to worry about getting it out/putting it away ever again, then this a good option. However, the manufacturer does not sell its own wall mounting set.
Ease of Use
A very sturdy model that's less likely to fall over in high winds than fully upright designs. Takes five minutes to set up, then simply choose your power setting and get spraying.
Value for Money
Sun Joe is well known for its great value for money pressure washers, and the SPX 4000 is no different from the rest of the line: it's excellent value for money.
Pros
Can be wall-mounted with a little work

Sturdy model

Large hose reel

PSI choices
Cons
Slightly larger than the SPX 3000

Design isn't as attractive as other models
---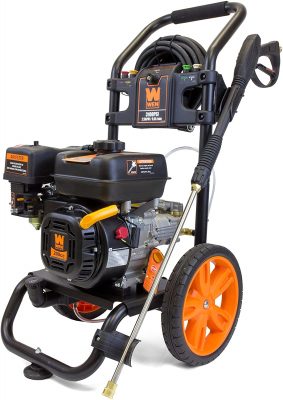 Why we like it:
Competitively priced gas-powered pressure washer that gives near-industrial level cleaning at a residential price-point.
Editor's Rating:
Power: 3100 PSI
Features and accessories
The main difference between the Wen and other models on the list is that the WEN is gas-powered. Its motor can pump 2.5 gallons of water per minute which, along with its 3100 PSI (the two work in conjunction for effective cleaning) makes it an incredible cleaning machine. If you're after something very powerful and well-priced, then this is it.
Gas also means no possible concerns for you about water and electricity mingling, as well as giving you the ability to take the WEN to wherever you need it without needing an outlet to power the motor.
Aside from that, it comes with 12-inch-wheels making it one of the easiest to maneuver machines on our list, as well as an onboard soap tank, and convenient quick-change nozzles.
Ease of Use
Twenty minutes for one person to put together. The increased power you'll get from the WEN's engine means you'll be spending less time cleaning than with some cheaper electric models (except, arguably, those with the patio cleaner accessory).
Value for Money
It's a little more expensive than some of the electrics, and it doesn't come with all the bells and whistles — but it makes up for this lack of accessories with its raw power and high build-quality. This is the best value gas-powered model you'll find.
Pros
High PSI and high rate of water flow provide incredible cleaning

Gas-powered means no reliance on power outlets

Impressive build

High maneuverability
Cons
Higher cost than some electrics

Fuel tank will only last an hour or so

Requires regular oiling
---
6.

Best Commercial Gas-Powered Washer

Champion 3200-PSI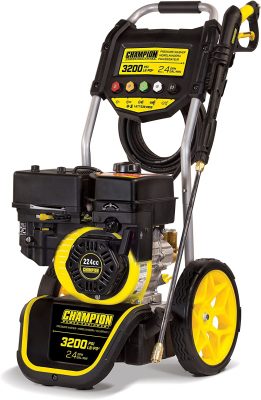 Why we like it:
Gas-powered washer with high PSI and water flow. Comes with a good selection of accessories.
Editor's Rating:
Power: 3200 PSI
Features and accessories
This model comes with five nozzles at varying angles (0˚, 15˚, 25˚, 40˚) plus two onboard detergent tanks. It pumps 2.4 gallons of water per minute.
Ease of Use
Very high build quality and has a great set of wheels, but it's still heavy enough to be occasionally cumbersome. And it can be a little difficult to pull-start, especially for older people. That said, if you don't mind something a little heavier than the smaller electric pressure washers, and you're okay with getting your hands a bit dirty changing the oil and gas, then this is a fantastic machine. You'll find yourself needing to go over the same spots less frequently than with many electric pressure washers.
Value for Money
Higher price-point that most electrics but has a more powerful motor. It's comparable to the WEN but loses out slightly when it comes to value for money.
Pros
Powerful washer that will clean any surface

Good selection of accessories

Well packaged and easy to put together

Gas-powered
Cons
Stiff hose

Reliant on fuel tank

Expensive, especially if you're only planning on using it occasionally
---
7.

Best High-Powered Electric Washer

WHOLESUN 3000PSI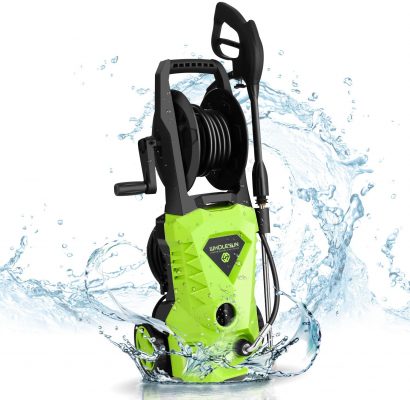 Why we like it:
Very high PSI for an electric pressure washer.
Editor's Rating:
Power: 3000PSI
Features and accessories
An electric pressure washer with 3000 PSI and 2.4 gallons of water per minute. That's serious power, especially for such a well-priced machine. However, its working PSI (as opposed to potential PSI) is around 2200 PSI, meaning if you're after raw power you're likely better off with one of the gas-powered options. Still, if you're specifically after an electric with a higher PSI than our number one pick, this is a great choice.
When it comes to pressure washers, WHOLESUN do not have the same reputation as Sun Joe, who are far better established and have been around much longer, so buying from WHOLESUN might seem more of a risk. But it's a similar price to Sun Joe's top seller, it's more powerful, and still comes with a range of accessories. So if you're after a neat little electric pressure washer and you're willing to take more of a risk with a brand name, then this might be the perfect machine for you.
Ease of Use
Comes semi-ready built; it only requires you slotting in a couple of plastic segments, the hose, and the power. Very easy to maneuver thanks to its slim build. Other than that: aim, spray, and clean.
Value for Money
If you're after an electric-powered washer with a high PSI, and you're not concerned about being able to buy additional accessories such as patio cleaning tools (spin cleaners), then this is a great choice.
Pros
Highest PSI for an electric washer on the list

Competitively priced

Easy to set up

Various settings are perfect for delicate jobs as well as serious cleaning
Cons
Less known brand

Fewer accessories available separately than brands such as Sun Joe
---
Why we like it:
It's removable from its cart making this the perfect pressure washer for wall-mounting
Editor's Rating:
Power: 2050 PSI
Features and accessories
This is the smartest design out of any pressure washer we looked at. It can be pushed around easily like a buggy, as you'd expect from any pressure washer, but you can also remove the actual unit from the frame and wheels. It's been designed this way so that if you choose to, you can purchase the optional wall-mounting kit and put it up somewhere out of the way.
Having it mounted, always in one place, makes it much easier to use — there's no need to get it out and put it away each time you use it. It comes with a 25-foot hose, but if you've got a large yard or garden and want to use the unit mounted, then you will want a longer hose.
Ease of Use
Unlike most other models the actual pressure washer unit lays flat on the buggy, as opposed to upright. This makes it easier to wheel around as the weight is spread out. The flat design also makes it incredibly sturdy, even in the windiest of conditions.
Value for Money
A little more expensive than some other electric pressure washers, and if you want to purchase it as a wall-mounted solution then you'll have to splash out extra.
Pros
Best option for a wall-mounted solution

Clever space-saving design

Competitive price
Cons
Stiff pressure hose that can be difficult to wind/unwind

Holder for the plastic wand is too shallow

Have to pay extra if you want to wall-mount it
---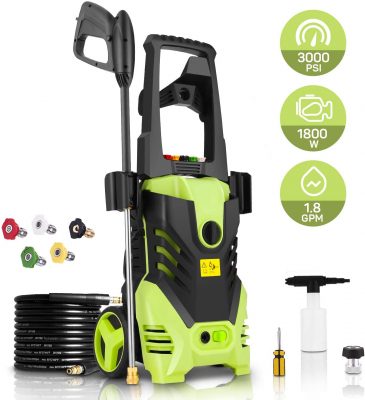 Why we like it:
This pressure washer is excellent for cleaning cars and garden furniture.
Editor's Rating:
Power: 3000 PSI (electric)
Features and accessories
The design is sleek and ergonomic. Holding down the power trigger for more than ten minutes at a time isn't as tiring or painful as it can be with other machines. Comes with a set of nozzles that are easy to change including one for liquid soap and another for paint, making this an ideal candidate for bringing out once every couple of weeks to give your car an amazing shine.
Ease of Use
Click together and go. Includes a universal threaded hose connector and a decent sized hose. It's a 3000 PSI machine but the working PSI — the PSI you'll get out of it while cleaning — is considerably lower at 2200.
While the design is sleek, it's not convenient for storing the accessories it comes with, leaving you with nowhere to put half of them while working.
Value for Money
Good value for money for a high powered electric washer, but you can get a little more for your money with other higher-rated models.
Pros
High powered electric pressure washer

Good looking design

Perfect for cars and fences
Cons
Little storage space provided for its accessories and its alternative nozzles

Cheaper alternatives available that are equally effective
---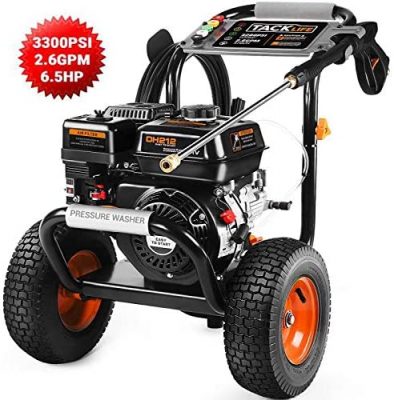 Why we like it:
Highest PSI on our list, plus a great lightweight design with anti-slip wheels.
Editor's Rating:
Power: 3300 PSI
Features and accessories
The design is arguably this unit's most unique feature. With its lightweight body and huge (removable) wheels, the TACKLIFE is especially easy to maneuver. Being gas powered helps with that too, allowing you to take it wherever you need to, as long as there is a source of water available.
This pressure washer has 3300 PSI and pumps up to 2.6 gallons of water per minute, making it the most powerful model on this list. It's extremely unlikely you'll ever need anything more powerful than this unless you're cleaning up industrial sites.
Ease of Use
Putting it together is not that intuitive and even following instructions it'll take some time. Once done, however, it can be maneuvered to where it's needed with ease. Simple to use and makes cleaning surfaces a quick task as you don't need to keep going over the same area.
Value for Money
This is well priced for a gas pressure washer — especially for the PSI level it offers. It doesn't come with a huge amount of accessories, but it does come with a long hose and enough nozzles to allow you water vegetables at low pressures or blast away paint at higher pressures.
Pros
Unique design makes it easy to use

Extremely high-powered machine

Great looking

Good value for a gas pressure washer
Cons
As with all gas pressure washers, it'll need regular refilling with gas and oil

More expensive than most electrics

Difficult to put together
---
Guide to Buying the Best Pressure Washer
There are two types of pressure washer available: electric and gas. Electric pressure washers are usually smaller and cheaper options, but they're ideal for first-time buyers to experience the usefulness of a pressure washer without going all-in. They're also the better choice for cleaning more delicate surfaces, such as windows or fences, as these surfaces don't require extremely high pressure.
Gas-powered washers are generally able to provide higher levels of water pressure and that makes them the better choice for large areas that will need cleaning regularly, or for someone looking to use a machine for their job (a patio cleaner, for example).
Before you go ahead and make your purchase, consider exactly why you want a pressure washer and what you're expecting to get out of it. If you're simply looking to clean your car every other week, or maybe to refresh a small patio once a year, then there's no real need for you to purchase an expensive ($300+) model. A decent electric pressure washer like the Sun Joe SPX 3000 is easily going to meet your needs.
On the other hand, if you'll mostly be using it on one small area such as your driveway, then you might be best off with a wall-mounted pressure washer, as it will save you from having to get it out and put it away each time.
If you have a very large patio or decking area that's always getting caked in mud, or you require the ability to use a pressure washer far away from your house, then you might be better off with a gas-powered machine. These will generally provide you with a more powerful jet of water to blast away dirt and stains than the electric pressure washers offer. And the better the machine is at washing, the less time you'll spend going back and forth over the same areas.
We have organized the list of pressure washers above by awarding what we believe provides you with the best value for money as our top choice. But that doesn't mean it's the best product for your particular circumstances; think about how, where, and when you'll be using your pressure washer, before making your purchase.
Useful Tips
So, you've chosen the washer you like the best and are ready to get cleaning your area. Here are some tips to help you get the most out of your new purchase:
Read the instructions. The last thing you want to do is set up your new pressure washer, turn it on, and then blast the paint right off your car. Or your neighbor's new car. Pressure washer wands (and other attachments) can decrease the power of the spray and increase the radius/width of it. Certain levels and attachments are meant for specific tasks, such as cleaning cars — so make sure you know which is which before you begin blasting away at anything valuable.
Most models come with an adjustable spray wand; this is the long piece of metal or plastic that water shoots out of and that allows you to control the pressure/power levels. We recommend metal spray wands over plastic as they're far more durable and crack-resistant.
Look at the attachments that come with each pressure washer and figure out if they'll be of use to you. Patio cleaning attachments, for example, aren't as powerful as direct sprays but they still do a great job and will generally save you a lot of time. However, if you're not buying a pressure washer to clean a patio, then you probably don't need that attachment at all and you can buy an alternative product that doesn't include it as standard and save yourself some money.
If you're going to be using it on cars and windows you'll likely want an inbuilt detergent tank (or two) that feeds the liquid into the spray and froths up the surface nicely. Otherwise, you'll need to spray detergent separately before you start cleaning.
If you're cleaning up a patio, especially a block-pathed patio, you're going to end up blasting away a lot of the sand that sits in the gaps between the blocks. Wait for the area to dry (a day or two, if the weather is reasonable) and replace the lost sand — it keeps weeds from growing inside the gaps. Finish off with a good sealer.
If noise pollution is a concern for you (or for your neighbors), then choose a model with a less powerful engine. Higher powered pressure washers can be deafening, especially if you're standing near to the machine. It's always best to wear ear protection while using any pressure washer, and if you have young children in the nearby proximity, we'd advise providing ear protection for them too.
Make sure the pressure washer comes with a decent length of hose (ideally four-meter minimum), or else you'll be lugging the actual unit around with you whenever you move
PSI is a solid measurement for how powerful the jet of water from a pressure washer is, but it's not the only important measurement. Take a look at each model's water flow: the higher the water flow, the quicker it will be to carry out the cleaning. Think of PSI as how hard the unit punches, and the water flow as how quick it is to throw the next punch. The two tend to work in tandem.
Pressure washers should be stored somewhere dry and ideally somewhere well insulated. If you've not fully emptied your pressure washer of all water prior to winter's arrival, and the machine itself is not stored somewhere dry, then there is a risk the water inside of it will freeze and expand. This can cause many problems and might even lead to engine failure. A garage would be the ideal space, but a shed can work as long as it's insulated and in a good state of repair.
Safety Tips When Using Your Pressure Washer
Pressure washers are surprisingly fun to use, but if you're new to them then you need to be aware of some of the issues you can face. Keep yourself safe when cleaning by following these safety measures:
Always wear goggles to protect your eyes from dirt and pebbles that might jump up into your eyes.
Test new purchases on their lowest settings initially, especially if you're using them on a semi-delicate surface like wood. It's easy to ruin decking or fences on the wrong power setting.
Never aim the spray at a person or animal — the jets are easily powerful enough to cut skin.
Expect to have dirt spray back at you no matter how careful you are, so wear clothes and shoes you don't mind getting filthy.
Although pressure washers are well insulated and accidents are extremely rare, it's always worth being careful when water is around electricity. Keep the spray away from any wires.
Final Thoughts
Pressure washes are an incredibly useful device that can keep any area, car or furniture looking as clean as the day it was purchased. They're also fun and oddly therapeutic to use which is a great bonus. The pressure washers here will all serve your purposes perfectly, but be sure to use our guide to figure out if a high-powered gas one is really necessary for you, as most homeowners will be satisfied with an electric model that will give their area the deep-clean it craves.