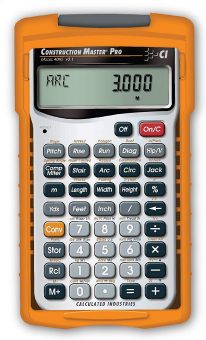 Calculated Industries 4065 Construction Master Pro Advanced Construction Calculator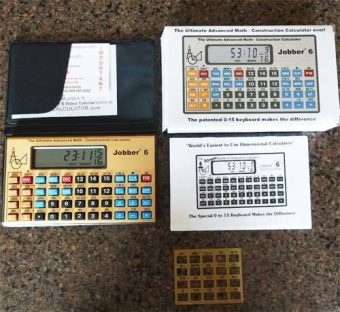 Jobber 6 Construction Calculator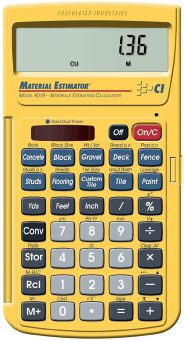 Calculated Industries 4019 Material Estimator Calculator
Previous
Next
When you get into the construction business, chances are you were passionate about building stuff, not math. Yet, there aren't many industries as numbers-heavy as construction. As a construction manager, you just have to deal with that. That's why you need a good construction calculator. They're portable and unlike regular calculators, they're built specifically to solve construction math problems.
There are a variety of options out there, doing a range of tasks from measurements to materials estimates. It's tough finding the right tools to run your construction business, and construction calculators are no exception. Whether you want to choose multiple calculators or go for one will depend on what you want to get done. Here is a review of some of the best construction calculators in the market right now.
Features to Consider in Good Construction Calculators
A construction calculator is a handy tool that you would need if you're dealing with mathematical problems on site or in your office. This tool will be useful for estimators, quantity surveyors, architects, contractors and various trades such as carpentry, metalwork, and plumbing.
Estimators
To come up with project quantities and cost estimates, an estimator also known as a quantity surveying technician has to take off quantities from architectural drawings. A calculator will be required to determine a lot of dimensions which are not indicated on the plan. For example, the length of the truss members, hipped roof rafters, diagonal bracing, staircase members, as well as areas of sloped roofs, ceilings, bulkheads, gable walls, eaves, and fascia boards. Complex calculations are also required for volumetric quantities such as bulk excavations on sloping land and filling to make up levels. With a construction calculator, you'll be able to do these calculations much faster.
Architects
Specifications on the site have to comply with specifications on the plan. An architect will need a specialized tool to make and confirm calculations on site. A lot of mathematical problems will also arise during the course of designing and revisions.
Contractor & Tradesmen
Builders and trade specialists make a lot of calculations on site when setting out work, laying down, fixing and cutting materials. A construction mathematical calculator is a tool that will allow you to get the right dimensions, angles, and shape to put the pieces together. Precise cuts and fixing details will save the contractor a lot of money that goes to wasted materials caused by guess-estimating and out of range measurements.
With a construction calculator, you'll get a correct estimate. Plumbers, tile installers, glass installers, metalworkers, roofers, ceiling installers, drywall installers, and carpenters will need this tool to calculate correct fixing details on site.t
That being said, if you're looking for a professional construction calculator, you have to take a look at the 10 best construction calculators on the market. Some have more features than others. You have to get a calculator that fits your needs, for example, there are specialized calculators for plumbers, carpenters, concrete installers, and some which have multiple functions for all trades.
The 10 Best Construction Calculators 2020
Guide to Buying the Best Construction Calculator
You have been provided with a rundown of the 10 best construction calculators that are available on the market in 2020. This can help you narrow down your options so choosing the best product becomes easier. Before choosing the best construction calculator, there are some factors that you need to consider.
Features To Look For
Portability
The best construction calculator should be light enough to be carried around on site. Construction managers, masons, or plumbers don't want to carry around something bulky that will likely be inconvenient to them when working. That's why most of these construction calculators can be conveniently held in hand.
Built-In Functionalities
Construction calculators come with built-in functionalities including calculations for risers, treads, stringer length, and incline angles. Such calculators can be used on site to know how many 4 by 8, 4 by 9, or 4 by 12 sheets are needed to cover an area. They also make it possible to calculate jack rafter results for regular and irregular pitch roof; and right angles.
Versatility
A versatile construction calculator can also be used as a standard math calculator. Besides this, such calculators have different functionalities that enable them to convert between imperial and metric. They can be used to get linear measurements, volume, and area. Furthermore, there are calculators that have built-in scales to enable you to read blueprints accurately.
The Verdict
Construction calculators will come in handy if you're a construction manager. The best construction calculator is portable and is specifically built to solve construction math problems. These calculators come with a range of different features that will suit each individual differently. That's why it may be difficult to choose the right one.
The best construction calculator is the Construction Master Pro. This top-rated calculator is easy to use and comes with multiple storage options. It can work as a 'paperless' tape to make it easy for you to access previous calculations. The runner up is the Jobber 6 construction calculator, which has an easy to read LCD and is light and easy to carry. However, the rest of the calculators will cover most of anything you require while doing construction math.