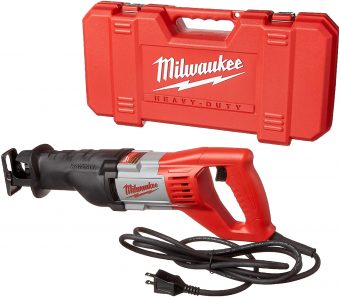 Milwaukee 6519-31 Corded reciprocating saw

Bosch RS7 Reciprocating Saw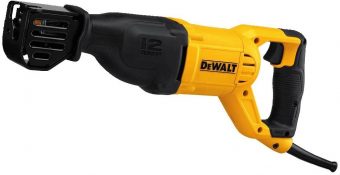 DEWALT DWE305 Corded Reciprocating Saw
Previous
Next
The capability to cut in practically anything short of wood is what makes reciprocating saws the model popular saws for DIY homes jobs. They have many uses, whether its construction, plumping, or demolition jobs, reciprocating saws are the go-to tool for those looking to cut through lumber, steel, copper, cast iron, and aluminum.
Therefore before rushing to purchase a new reciprocating saw a lot of considerations are necessary to ensure the correct decision is made. All the factors we explore in this post will help determine the type of saw that best fits your project and budget.
Features to Consider in Good Reciprocating Saws
Power supply
When talking of power supply with reciprocating saws, it's choosing between saws that are cordless or corded. The question, therefore, is whether you go to work or bring the work to you. A corded reciprocating saw model is best when you are always in distance of a power outlet. On the other hand, while cordless reciprocating saws might seem fancy and all, they can end up becoming quite expensive especially with the need for extra batteries. Worse of all, they often don't even come close to the performance of their corded model counterparts.
Amperage
The amperage or volt of the battery sets remains paramount to picking the right tool for the job. In most cases the higher the amperage or volt of the battery, the stronger the saw. However, with more amps comes extra weight. Some situations would necessitate picking a 10 amp model over even a 16 amp saw due to the weight, especially if you expect to use it for the whole day. Additionally, looking at the tool's amperage may have you considering the battery type. Lithium-Ion and NiMH battery models are the most popular since they tend to be stronger and last longer.
Type of saw action
In here there are two primary choices: straight cut and orbital cut. The straight cut is a term referring for blades cutting in a single plane motion: back and forth. On the other hand, orbital cut blades move in an oval or elliptical shape. Their movement offers a faster action for aggressive cutting jobs. There are also models that are adjustable enough to accommodate both these blade features. These reciprocating saws allow users to switch between straight or orbital cuts, depending on their project needs.
Essential features
First, the adjustable shore-metal part surrounding the blade- is among the vital elements to consider. It provides essential control, stability, visibility and ability to cut in different positions.
The stroke length and speed is another item on the list of essential features. For the stroke length, reciprocating saws often average about 1-1/8 inches, with other designs having a range of 1- ¼. The stroke speeds also vary with reciprocating saws having around 2,500 to 3,300 strokes per minute as their cutting speeds. Lastly among the features to consider is the presence of a tool-free blade change. Such a feature ensures you can easily replace the saw's blade quickly during the process of cutting.
All the factors in mention remain the essentials to check for before actually making that purchasing decision. Below we explore the best reciprocating saws that are loaded with great features and at affordable prices.
The 10 Best Reciprocating Saws 2020
Guide to Buying the Best Reciprocating Saws
Extras
There are not a lot of features with reciprocating saws. However, considering the extra feature present in some models fits the bill. The dust blowers in some unit represent the extra mile the respective companies have underwent to achieve their qualifications. Scrapers, brushes and clamp design are also other types of extras to search for and consider before making the purchasing decision.
Supplies
Supplies also make a massive difference in the type of reciprocating saw you choose. For example, we are already aware that most saws don't come with extra blades or batteries at all. Additionally, different demolition work requires one to choose different blades. Hence such scenarios call for purchasing more blades that can work for cutting wood, or metal surfaces respectively.
Accessories
Accessories make the sawing process a much safer and efficient operation. Therefore, it is only wise to consider reciprocating saw packages with items such as eye protection. Additionally, a pair of work gloves that can withstand impact, abrasion, and wear and tear could come in handy for the different sawing situations. Finally, you may also want to have a face mask when using the saws, especially for construction or masonry work.
Bottom Line
It is always a wise decision to first understand the capabilities behind any reciprocating saw you plan to buy. Hopefully, our article post has given you the necessary in-depth knowledge to identify the reciprocating saw with the best features for you to leverage. As a rule of thumb, be sure to work under a budget to ensure you purchase a product that is most appropriate for your work needs and always be extra careful when using a reciprocating saw to avoid accidents.