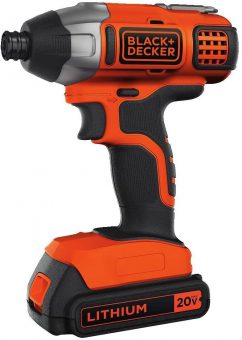 BLACK+DECKER BDCI20C 20V MAX Lithium Impact Driver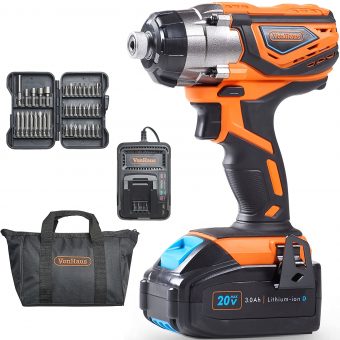 VonHaus 20V Cordless 1/4" Impact Driver Set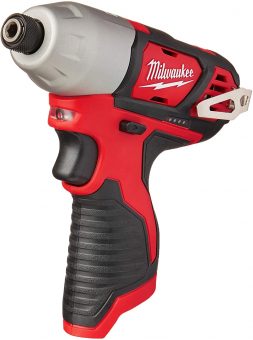 Milwaukee 2462-20 M12 Cordless Impact Driver
Previous
Next
A cordless impact driver is a handheld power tool that is primarily used for driving screws and setting nuts. This tool is preferred by professionals and homeowners because it's lighter and smaller than drill drivers and has a higher torque speed. The cordless impact driver is meant to be a handy tool, useful when you need to, for example, drive large fasteners like lag bolts through porches and other thick materials.
It's important that you consider important factors and features which are decisive for the overall quality of the cordless impact driver. A right impression of the relevant traits that affect cordless impact driver's performance will help you buy a quality product which can stand up to any challenge. Now, we will point out some relevant factors you need to consider before buying a cordless impact driver.
Features to consider in Good Cordless Impact Drivers
Torque speed
This is the crucial feature you should pay attention to. The higher the torque speed is, the more efficient the cordless impact driver is. High torque speed makes it easier for you to finish screw driving, or nut setting operations faster and effortless. High-quality cordless impact drivers feature high torque speed and, therefore, provide you with optimum performance.
Along with torque speed, you should check the quality of the cordless impact driver's motor as it's directly responsible for the torque speed and torque strength. Quality motors offer high torque speed and strength, but also come with quality construction and design which ensure the stable and reliable performance of the impact driver.
Weight
It's important that a cordless impact driver is lightweight as it allows for easier control of the tool. If the tool is too heavy, no matter how high its torque speed is, your performance may deteriorate because it's hard to control. The best cordless impact drivers feature a good balance between the weight and other features that improve the driver's overall performance and functionality.
A small weight is one of the most important impact driver's advantages with regards to drill drivers. Despite that, some cordless impact driver tools may be easier to carry than drill drivers, but they can still be too heavy for comfortable use.
Noise
Cordless impact drivers feature high efficiency and outstanding hammer action which, on the other hand, produces a great noise that can present a problem for users who are sensitive to this. So, before buying a cordless impact driver it's important that you check if you can stand its noise when active and see if you have to buy additional ear protection gear.
User reviews
If you want to buy your new cordless impact driver using the internet, then it's important that you check other users' experiences as it can give you a useful insight into the product's key features. For example, if you have a problem with noisy tools, but you can't test the product online, you can see if other people described the tool as noisy in the comments, or send a question to the manufacturer.
The 10 Best Cordless Impact Drivers 2020
Guide to Buying the Best Cordless Impact Drivers
After a thorough review of the best quality products online, we can emphasize on a set of decisive factors which must be considered before purchasing any of the cordless impact driver products. All of the products tend to provide you with the standard advantages of impact drivers, there's a variety of engineering factors that affect the overall functionality of the product.
What you need to consider while buying cordless impact drivers
Battery and motor quality
The quality of these two components is decisive when it comes to the overall performance quality that impact driver provides you with. Some cordless impact driver models may provide you with satisfying torque speed and strength, but the overall quality is determined by engineering solutions which ensure the tool's reliable performance and durability.
Some of the reviewed models feature battery and motor protection features which ensure that these components can withstand frequent heavy-duty tasks and prove as durable and reliable. So, if you want to avoid unexpected malfunctions, carefully check the product description and see if it has any of the motor and battery protection systems featured.
Ease of use
Convenient use is one of the cordless impact driver's key traits which means that you should keep an eye on features that make it easier for you to use the driver. The things that ultimately affect the convenient use of the impact driver are the driver's size and weight. It's recommended that you look for impact driver models that offer high torque speed and strength, but have a compact design that features small weight and size.
Also, the drivers that feature compact design allow for versatile use and enable you to do delicate operations with the tool. All in all, if you can use the driver with ease, your overall performance will be notably enhanced.
Control options
Aside from the standard controls that enable you to control driver's basic functions like driving the screw inside or out of the object, it's important that you check if the impact driver has some advanced control options which can prove to be beneficial both for professional users and people who are new to this kind of power tools.
Some of the advanced control options may enhance the secure use of the tool which reduces the risk of tool and surface damage. Such options can be useful for people who are yet to learn the basics of using the impact driver tool. Therefore, check what each impact driver has to offer when it comes to controlling features as some control options can significantly increase the set of things you can do with the tool.
Additional features
It's recommended that you check if the cordless driver products feature some additional options which can add up to the overall efficacy of the tool. For example, most of the cordless impact drivers feature LED lighting systems which serve to illuminate the workspace and improve your performance as they allow you to focus on important details in any room light conditions.
What types of cordless impact drivers are available?
Cordless impact driver models can be generally divided according to maximum voltage their battery type features. Maximum voltage determines if the cordless impact driver is designed for heavy-duty tasks, or it's more useful for minor screw driving challenges.
12V cordless impact drivers
This type of cordless impact drivers is best used for standard screw driving tasks which are not too challenging. Although this type of cordless impact drivers can't generally stand up to heavy-duty tasks, there are certain models out there which can provide you with great torque speed and strength that can match the performance of more powerful products.
18V cordless drivers
This cordless impact driver models are suitable for challenging tasks and provide impact driver's motor with enough strength to deliver high-speed torque, strong enough to finish any screw driving task.
20V cordless impact drivers
If you work with the densest and thickest materials you should check this type of cordless impact drivers as they feature enough torque speed and strength to penetrate any surface and finish virtually any task you give to them. These cordless impact driver models are usually heavier than the other impact driver types, but they provide you with outstanding performance.
The Verdict
If you consider all the mentioned factors and get to know the nature of the work you need to get done with the cordless impact driver, you will make a good investment and a superior addition to your toolbox. A cordless impact driver is a powerful tool that features unique functionality traits which make it irreplaceable for all kinds of screw driving tasks.
Quality cordless impact driver products offer you an impeccable performance when it comes to driving all types of fasteners as they have greater torque strength and higher torque speed than drill drivers. The goal of the cordless impact driver is to help you deal with any sort of screw driving task in no time and with no effort. It's important that you know which sort of work you need to finish using the cordless impact driver and also which sort of materials and surfaces you are working with.