Top 10 Best Wireless Home Security Systems 2023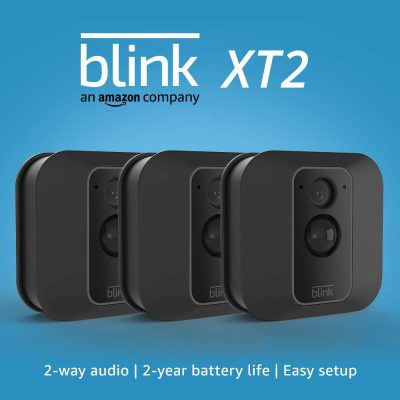 Power Source: True wireless (2 AA batteries)
Subscription: Free for one year. $3/month or $30/year after the first year
Installation
The package comes with easy to follow 3-step setup instructions. The box includes the Blink XT2 camera set (three by default, but you can purchase more), a user guide that helps you set up the cameras across your property at specific vantage points, a sync module, 1.5V batteries (2 for each camera), a power adapter, and a USB cable. Ensure that you place the sync module at the proper location as it is crucial for relaying commands and WiFi information from the Blink app to the cameras. An optimal distance would be within 10 m from the router.
Power
This camera typically lasts for about one year on a single pair of AA batteries. The longevity of the non-rechargeable lithium-ion batteries depends on the frequency and purpose of your usage. If you require constant monitoring or lengthy audio recordings, you're going to struggle with battery life. Setting the cameras to record a maximum of 60 seconds can take a toll on battery life.
Performance
The Blink XT2 comes with both motion detection and a night vision mode, which makes it quite handy. All cameras in the set come with infrared HD night vision. The black and white footage obtained from night HD recordings are clear, detailed, and concise, just like their daylight counterparts. It also has live view motion detection attached to an alert system that helps you combat unwanted visitors.
Content Storage
Blink offers customers free cloud storage for their video clips for up to a year. They also offer free cloud-based video clip storage of about 200 minutes at the time of purchase. That is equivalent to 200 60-second video clips. This is a great deal when compared to models like Ring, who like to charge for cloud storage off the bat.
---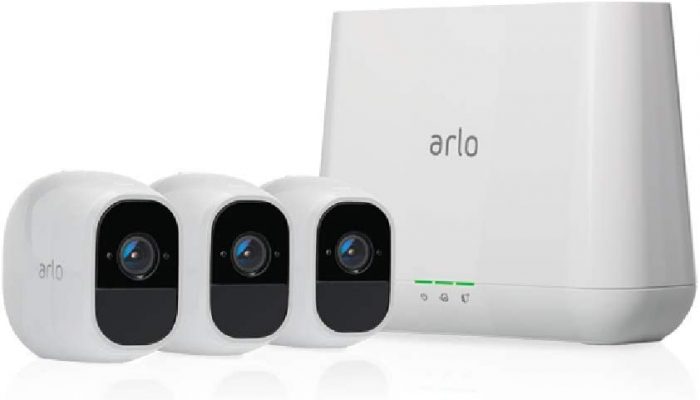 Power Source: True wireless (internal rechargeable battery)
Subscription: Not required, can upgrade resolution and storage starting at $2.99 per month.
Installation
The installation process of the Arlo Pro 2 home security camera is simple and seamless. All you have to do is plug in the base, put in the rechargeable batteries, install the app, place the cameras at strategic locations around your property, and you're good to view a clear HD feed on your phone or laptop. The base and cameras self-update to the latest firmware version when switched on. The mounting hardware is lightweight and keeps the cameras discrete. If you've done this before, you can have the complete Arlo security system up and running within 30 minutes.
Power
Battery life lasts anywhere between 5 days to a full month, depending on your usage. The Arlo Pro 2 Security Camera package comes with a set of rechargeable batteries (2440 mAh). The battery life is quite decent, considering the batteries can be recharged with AC power.
Performance
The Arlo Pro 2 has 1080p HD night vision recording, which works just perfectly. Motion detection is wired to a smart 100 dB siren that can be controlled through the app. If you're using the cam set outdoors, you can configure settings to allow motion notifications in particular pre-set zones. You can opt-in for separate advanced object detection plans. These plans are comparatively affordable, making the Arlo Pro 2 even more enticing. The 3-second lookback feature lets you examine the footage in detail before the trigger event, to help you better understand the security concern at hand.
Content Storage
If you're worried about past recordings vanishing, the Arlo Pro 2 offers users video and audio-triggered recordings for free on the cloud. The resolution and quantity is a bit lacking here, though, so you may want to upgrade to one of their paid plans. It even comes with a local storage option, enabling you to back up important clips on USB for later use.
---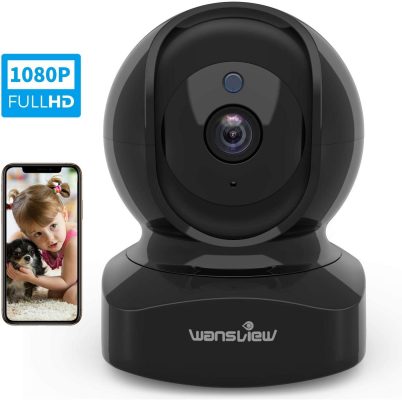 Power Source: Plug-in
Subscription: Not required for local storage, cloud storage starts at $6.99/month
Installation
As opposed to lengthy installation processes that come with certain security systems, the Wansview security camera lets you set up both the hardware and software in about 5 minutes. The package contains a leaflet of easy-to-follow instructions that help get your home security system up and running in no time. You will need to install the Wansview Cloud App on your smartphone and ensure WiFi is paired for installation, as plugged-in LAN and 5G are not supported. Both the Wansview Android and iOS applications are easy to download, setup, and configure, even if you don't have an IT background.
Power
This model needs to be plugged in to function. Wansview cameras require micro USB connectors from a DC power supply, as opposed to the older 3.5mm plug-in varieties.
Performance
Along with crystal clear night vision recording, Wansview cameras offer a range of features like smart pan, zoom, infrared LEDs, and tilt. These allow you to get a 360 degree viewing angle. Black and white pictures can be clicked easily in complete darkness (accuracy range of up to 5 m). Real-time motion detection and alerts can be set up to automatically send snapshots, popup notifications, and a 10 second video clip of the event straight to your phone. Wansview cameras sometimes tend to pause on pan view, for about half a second to a full second. If you're using these cameras as stationary pieces, this won't trouble you after the first setup.
Content Storage
These cams come with a 1 month free trial for cloud storage. After 30 days, you can opt-in for the monthly cloud storage plans offered by Wansview. It also offers a micro SD card slot. You can easily record and transfer videos of up to 128 GB in size. The basic paid plan lets you record 7 days' worth of rolling footage across 3 cameras.
---
4.

Best Budget Home Security System

YI Home Camera
Power Source: Plug-in
Subscription: Not required, expanded cloud storage starts at $9.99/month
Installation
This cost-efficient camera set is quite simple to install and use. The box comes with the necessary USB cables and a setup guide to walk you through the installation process. The mobile app has detailed instructions on how to wire and set up the cameras according to your needs, as well as sync up with the WiFi. The cameras come with detachable bottom bases that can be replaced with wall mounts. You can also opt to place the cameras as they are. They come with round rubber grips at the bottom that prevent unnecessary movement and toppling.
Power
The YI home camera security system requires to be plugged in for power. The USB cords in the package are about 10 feet long each, allowing you sufficient coverage. There's also the added option of operating the cameras on 3000 mAh lithium-ion batteries in case your power goes out.
Performance
These cameras come with enhanced night vision due to the 940nm infrared LEDs. Each camera has a night vision range of about 70 feet. The sensors automatically turn on LEDs in dim and murky light conditions, allowing them to easily record footage at night. The in-built motion sensors are wired to every movement and immediately send alerts to your devices. Although these cameras quite cheap compared to option like Arlo and Blink, they do not compromise on the quality of video and images. However, there is an issue of slight audio lag and delay while using the 2-way audio feature. This is understandable considering the price tag, but those in need of perfectly real-time 2-way audio should consider upgrading to the Aro Pro 2.
Content Storage
YI offers free 7-day activity alert storage for all users. The model also supports micro SD cards of up to 64 GB.
---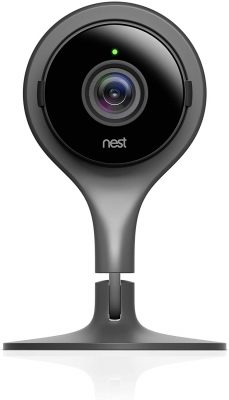 Power Source: Plug-in
Subscription: Required ($6/month for event history, $12/month for 24/7 video history)
Installation
You can customize the number of cameras you want to purchase, just like other entries on this list. The set is easy to install and gets running when compared to other more complex systems, making this the perfect pick for users with limited technology exposure. The process is as simple as scanning the bar code on the unwrapped cameras, plug them in, install and log into the Nest mobile application, and locate and connect the cameras to your home or office WiFi – and you're good to go. The app isn't as user friendly when compared to top entrants like Blink or Arlo.
Performance
Cameras come with 1080p HD night vision, which works perfectly in most conditions (given adequate lighting). However, it's important to keep in mind that these cameras are primarily designed for indoor use. If you're in the market for extensive outdoor night surveillance, this model might not be a good choice. Like most standard security cameras on the market currently, Nest comes with motion detection as well.
Content Storage
Nest offers customers a paid monthly subscription for cloud storage options. The free plans allow you to store video playback of up to just 3 hours. Once the 3-hour mark is crossed, the video is auto-deleted. You can only access the 24*7 live feed. If you want clips from even 3 days before any event, you're out of luck. When compared to Arlo's 7-day free storage option, this feature pales in comparison.
Subscription
Unfortunately, many of the features of this camera are locked behind the high-end subscription plan. If you choose to pay six dollars a month you'll only get to review alerted activities, while paying twice that amount will unlock the ability to go back and review any footage recorded in the last ten days.
---
6.

Best Solar-Powered Wireless Home Security System

Ring Stick-Up Cam Solar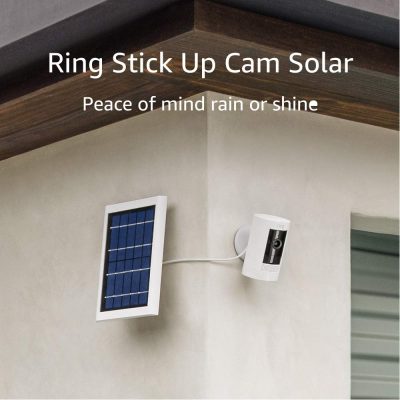 Power Source: True wireless
Subscription: Required after 30 day trial, $3/month or $30/year
Installation
The Ring Stick-Ip cam is quite easy to install. Simply follow the instructions, install the mobile app, scan the QR code, and connect the cameras to your WiFi.
Power
The Ring Stick-Up Cam Solar connects to an included solar panel, but can also be hooked up to a standard USB power source if you aren't getting any sun. The battery lasts for about an entire day on a full charge, which makes this model ideal for short-term surveillance of exterior spots that might be tricky to wire.
Performance
Both pictures and videos are of average quality. The Ring stick-up cam is best used in environments with great lighting. However, it will give you a decent-quality night vision in a pinch. Motion detection is simple to use – you pick a zone you want to be monitored within the app, and the camera sends notifications to your mobile device when there is a trigger event.
Content Storage
Ring offers free live viewing through the mobile app, but you'll have to shell out a few bucks and subscribe to their monthly plan if you want anything more. This plan lets you record all the video content you need, store up to 60 days' worth of video, and even a convenient 'share' option.
---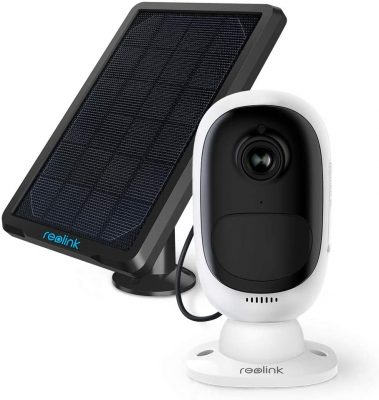 Power Source: True wireless
Subscription: Not required, additional cameras and storage length for $40/month
Installation
Like most standard models available on the market, the Reolink Argus 2 is simple to set up. The installation process is pretty much similar – install the mobile application, charge the cameras, and get them connected to the WiFi and find strategic spots around your property to put the cameras up.
Power
This model runs on a solar-powered rechargeable battery, making it comparatively unique. Other models like the Ring stick-up camera also provide this feature, but you'll have to pick a variant while buying. The Reolink camera offers this feature as the default. The cameras do not require an external power outlet to function. The solar panel keeps the batteries fully charged – you don't have to worry about unpredictable battery spans. The batteries can also be charged through USB, on particularly cloudy or stormy days.
Performance
This model comes packed with infrared LED bulbs for 1080p nighttime recording. The quality of videos and images are quite decent (keeping the price point in mind). Like the Wyze Cam, this model offers a 130-degree viewing angle. The motion detection works fine too and has a 30-second backtrack feature. However, this model has trouble connecting to a strong WiFi signal, even from proximity, limiting its abilities.
Content Storage
Reolink offers customers both cloud subscription plans and SD storage. The basic free plans let you monitor a single camera and store 7 days' worth of footage. This is quite good if you're reluctant to pay extra for storage, but the upgrade to store up to 30 days for 5 cameras costs a whopping $40 each month.
---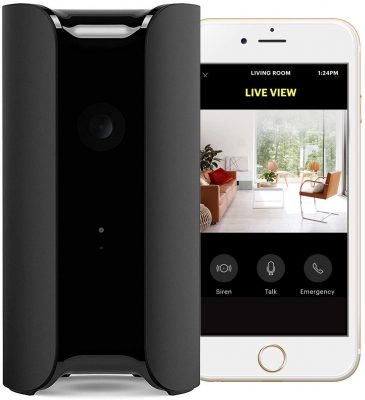 Power Source: Plug-in
Subscription: Not required for viewing, but saving videos and other advanced features require a $9.99/month subscription
Installation
While the installation is simple (provided you follow instructions to the dot), it's possible to run into some minor problems. Interference from already connected Bluetooth devices is a big issue during installation – and it can derail your process fast if you aren't paying attention to the instructions. The mobile app is simple to navigate.
Power
This model by Canary needs to be plugged in continuously to function. Any USB cable can be used, and one longer than the included 6-foot cable might be needed by most purchasers.
Performance
The wide-angle feature of this model coupled with the high-quality infrared LED bulbs means the night vision footage is crystal clear. Both video and image qualities are superb, and this model can produce accurate footage of distances up to 50 to 70 feet. The motion detection feature isn't always accurate and can even miss triggers sometimes. This might be a deal-breaker for some, as cameras priced much cheaper, like the Wyze Camera do a better job of detecting motion. However, this camera is easy to use and prepopulated with emergency contact numbers, making it perfect for anyone who doesn't want to mess around with their camera.
Content Storage
This camera is best used for live viewing purposes as the storage is dependent on Canary's private servers. The free cloud service lets you store recordings from the previous 24 hours only. This is another drawback, as much cheaper cameras like Wyze and even Arlo offer better cloud features. Since there is no local recording happening onto a storage option of your choice, all your footage is under the control of Canary servers.
---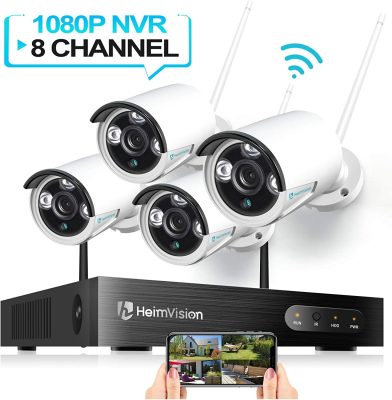 Power Source: Plug-in
Subscription: None
Installation
The HeimVision wireless security camera system is a set of 4 outdoor IP (internet protocol) cameras paired with an NVR (network video recording) system. This model is designed for long-term surveillance usage across comparatively larger areas. This camera set comes close to a proverbial 'plug and play' security system. The package comes with the required equipment a user manual to help you get the system up and running as conveniently as possible. After mounting the cameras according to your specific needs, simply connect the NVR to a PC/TV monitor with a VGI/HDMI cable. You can expand the set to hold 8 cameras, allowing to extend your coverage area across large spaces.
Power
These cameras require a power supply to record video, but this model supports both wireless and wired network transmission of data straight to your HDD. The NVR system enables you to power your camera set through a single source using an Ethernet cable. You do not require multiple connectors or wires.
Performance
This camera set isn't just well built, but it also sports 3.6 mm LEDs with a 50-foot range. Night-time video playback is crystal clear, with great audio recording quality too. You can plan out the specific geographical areas that require motion detection – prompt with mobile alerts too! The digital processing of videos and images using the NVR system means much better resolution when compared to Blink or Wansview, and even premium picks like the Aro Pro 2.
Content Storage
You have the option to use Eseecloud software on your mobile devices or PC, or attach a hard drive. You can download full-length footage onto your disk and transfer it according to your needs.
---
10.

Best No-Fee Wireless Home Security System

Wyze Indoor Cam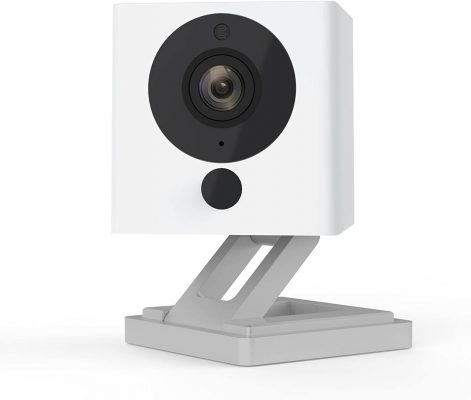 Power Source: Plug-in
Subscription: Not required
Installation
After installing and comparing several home security systems, it can be easily stated that Wyze is the best pick when it comes to ease of installation for indoor use. Just like Nest, Blink, or Arlo, the installation is straightforward. Install the Wyze mobile app, plug the cameras in, and scan the QR code on your phone. Connect the camera to your WiFi and you're almost there. The camera speakers also have voice prompts that make the installation process a breeze. The package also contains a metal mounting plate and adhesive tape.
Power
Like many wireless security systems, the Wyze camera needs to be plugged in to function, even if the footage is transmitted wirelessly. The package comes with a USB cord and an adapter that lets you put up the camera almost anywhere you want.
Performance
Although the Wyze cam does have a night vision feature, it is nowhere comparable to the likes of Blink and Arlo. These cameras come with a single infrared LED bulb, which manages to get the job done. Wyze cameras can cover a distance of up to 20 feet at night – they're best used for monitoring small to medium-sized rooms. They also have a motion detection feature which works quite decently for the price range. You can set up motion alerts to send notifications directly to your phone.
Content Storage
Wyze offers free 14-day video storage via Amazon Cloud, which is tempting when compared to monthly subscription offers or free-trials from other brands on this list.
---