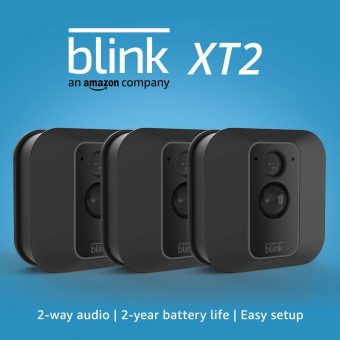 Blink XT2 Smart Security Camera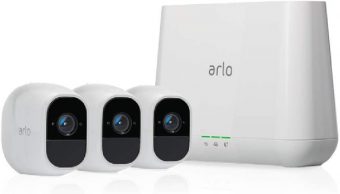 Arlo Pro 2 Home Security Camera System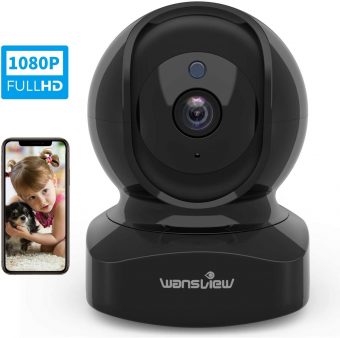 Wansview Wireless Security Camera
Previous
Next
With over 3 million home burglaries annually, the United States can sometimes be an unsafe place to live in. Illegal breaking and entering, larcenies, and armed robberies/assaults are quite common (depending on where you live). In these troubled times, it's imperative to focus on proper home security. Well-balanced home security doesn't just protect you and your loved ones, you also get peace of mind. Being assured about the safety of your spouse, kids, and property can ease the burden on your daily life.
With the advent of superior filming technology and the Internet of Things (IoT), home security systems have enjoyed a bump in quality. If you're shopping around for a great wireless home security system, it's natural to feel overwhelmed, given the choices.
Features to Consider in Wireless Home Security Systems
Power Source
The word "Wireless" in "Wireless home security systems means that footage will be transmitted from your camera to your storage without wires, not necessarily that the entire system has no wires. Rather, wirless home security systems can be split into two categories. Truly wireless security typically use replaceable or rechargeable lithium-ion batteries. These batteries can either be replaced periodically or can be recharged using micro USB cables and solar panels. Other models, however, depend on an external power cord to function normally. Regardless of whether the system is meant for live viewing or extended recording, a power cord does all the work. Battery-powered cameras are usually best for short-term recording of suspicious activity, while corded systems with a permanent external power source are best for long-term surveillance.
Video and Image Resolution
If you can't see what you're looking for, is it worth buying cameras in the first place? Most manufacturers today are up to the current tech standards, and provide 1080p recording both during day and night. But the resolution refers to just the pixel density and does not ensure the clarity of your image or video. Sometimes cameras with lesser resolutions take record higher quality videos, owing to other factors like lens quality, lighting, and rendering technology.
Content Storage
Content storage is a huge factor when it comes to buying a wireless home security system. Your security system records and stores a bunch of images, videos (primarily), and sounds. This media can be stored in several ways. The most common modes of footage storage are local recording and cloud storage. Almost every home security system on the market today offers some version of cloud storage. They can range anywhere from 3 hours of video playback to a whole week's worth of footage storage. Most systems also have the option of upgrading to paid subscription-based monthly plans that give you added value-features and more storage space. Some models also support SD card recording, which gives you more flexibility regarding the use of your video clips. Choosing the right wireless home security system gives you the chance of storing and reviewing important footage (which can especially come in handy in times of a security threat) before it's lost forever.
Upfront and Subscription Cost
The amount of money you're going to have to shell out at the beginning depends on several factors. The cost of the hardware, the subscription rate, sign-up costs, extra equipment, installation charges, additional charges, contract fees, and other hidden costs have to be taken into account.
Top 10 Best Wireless Home Security Systems 2020
Guide to Buying the Best Wireless Home Security System
Benefits of Wireless Home Security Systems
Wireless home security systems typically have a central hub or control panel that can be used to manipulate sensors, cameras, doorbells, alarms, lights, and other devices remotely using cellular signals. While low-quality systems are prone to security breaches and unwanted interference, safe, secure, reputable wireless home security systems like those discussed above provide a range of benefits.
Ease of Setup
Most wireless systems come with easy-to-follow instructions that you can use to set up the system yourself. This will save you a lot of money. You'll also pick up valuable DIY skills along the way. The mobile apps and PC software are sufficiently advanced enough to guide even non-IT novices through the process. You can always reach out to customer support if you run into snafus during the installation. This 'plug and play' type of system can be easily customized and moved around too. When you're ready to move out, all you have to do is unplug and box up the equipment, and you're good to go.
These wireless systems can be also be expanded and customized as required. You can connect extra cameras, sensors, lights, and other wireless security hardware at will. You don't need to pay extra for drilling or rewiring.
Remote Connectivity
These smart-systems have a range of functionalities when it comes to home automation. You can use the hub or control panel to manipulate, arm, and disarm cameras, lights, and sensors. You can also use them to connect to third-party home automation devices for extra customizability. You can control your entire home's electronics using Bluetooth or WiFi, your phone, and the security system.
Choosing the Right Wireless Home Security System
What 'Wireless' Entails
The word 'wireless' can be misleading sometimes. What it means in this context is that the security systems can be controlled and monitored remotely, without wires. Some cameras are truly wireless, while others require an external power supply (power cords and USB cables) to keep recording—but transmit those recordings wirelessly. Wired systems receive signals through radio frequencies, while wireless systems rely on the cellular network to receive and transmit signals.
If you want a discreet home security camera or don't have an outlet next to your ideal security camera location, a reliable true wireless home security system such as the Arlo Pro 2 Home Security Camera System would be a perfect fit. If, on the other hand, you're more considered with not having to install the vast array of cords that a traditional security system but can deal with a single cord to an outlet, something like the HeimVision Wireless Security Camera System is perfect.

Usage
One of the most important factors to keep in mind while purchasing a new wireless home security system is how you intend to use it. The wireless home security system best suited for you depends on why you need a security system in the first place. For example, a simple camera set with motion detection and cloud recording like the YI Home Camera is enough to keep an anxious homeowner feeling secure. On the other hand, a property owner with large sprawling spaces, several pets, or constantly moving staff requires a more elaborate security system like the HeimVision Wireless Security Camera System, with advanced night vision, 24/7 monitoring, and unlimited cloud access.

Personal Information/Data Security
While most camera manufacturers and security system companies offer cloud and local storage options, an important factor that is forgotten is your privacy. These cameras record the most intimate portions of your life – the insides of your nursery, bedrooms, studies, and dens. Make sure you find out about what security measures the companies have in place before making a purchase. Some cloud services are owned by Chinese firms and are susceptible to hackers. It's important to encrypted networks and secure control panels to safeguard your passcodes, footage, images, and other personal data.
For example, the HeimVision system relies on an external software developer for its cloud services. Safe and secure as they might be, this poses several security threats and your data could theoretically be exposed. Something that offers local storage like the Arlo Pro 2 Home Security Camera System would be a better bet if you're worried about security.
Indoor Cameras versus Outdoor Cameras
Almost every entry on this list can be used either indoors or outdoors, but some models are more apt for specific usages. In general, models with rechargeable batteries or permanent external power sources are best used outdoors. For example, the Reolink Argus 2 comes with an external solar panel, which makes this camera one of the best outdoor cameras on the list.
Contracts and Additional Costs
A lot of wireless security providers have additional features, equipment, and services that you can add on. Be very clear about what services you are availing and for the exact period, to avoid paying extra at the end of your subscription. Some products, like the Wyze Indoor Cam include all their features for no recurring subscription fee, while cameras such as the Ring Stick-Up Cam Solar are no more than a paperweight without added costs, so be sure to keep this in mind.
Where should I place my home security camera?
For the most part, the exact placement of your security cameras will depend on what matters the most to you. If you're protecting your vehicle or some valuable equipment, a garage camera might make sense. Others might want to guard their door from intruders, a large window from unwanted attention, or all three. In any case, be sure to follow these tips when deciding where to put your security camera.
Consider access to outlets. If your camera will be near one, any camera on this list will work, but harder-to-reach places might be better served by a truly wireless security camera.
If your camera will be outdoors, make sure that it's either protected from the elements or waterproof like the Wansview Wireless Security Camera.
At the bare minimum, consider surveilling the front and back doors. Studies show a majority of home intruders enter through these areas, and many of our picks (including our top overall choice) include multiple cameras.
Place each camera high enough that somebody won't be able to touch it easily—we recommend about nine feet above the ground.
Check the results before you need them: after setting your security system up, have a friend stand in front of it. Make sure that everything is framed and focused properly, so that you don't realize you couldn't see things clearly when you really need to.
If you're looking for peace of mind and a safe, happy, family, a wireless home security system is a fantastic investment. Without having to spend time and money of installing a traditional massive security system, you can watch and protect your home by selecting whichever camera system on this list meets your needs.