Top 10 Best Window Cleaners 2022

Quick Facts:
Type: Liquid spray
Size: 23 fl oz
Potentially harmful ingredients: None
If you want your windows looking crystal-clear, then you simply need a Windex cleaner. It stood the test of time and has proven its effectiveness, being the number one window and glass cleaner for generations. This budget-friendly liquid window cleaner comes in a 23 oz spray bottle with a super easy-to-grip handle.
Windex Ammonia-Free magically removes smudges, dirt, grime, and even fingerprints, and since it's ammonia-free, it doesn't leave any unpleasant odors. Instead, it sports that fresh, after-rain smell, and it is probably one of the best smelling window cleaners on our list.
Over the years, Windex cleaning products have become the most favored and reliable window cleaners. It is a perfect cleaning solution for many glass surfaces, including almost all types of windows, mirrors, and even glass furniture. And, since it doesn't contain ammonia, it's perfect for car windows. Unless you need to clean glass that's caked with filth, it should meet the needs of most people. If you like the original Windex formula's effectiveness but want to avoid as many harmful ingredients.
---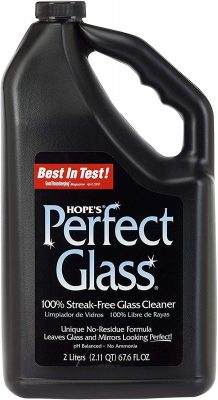 Quick Facts:
Type: Liquid
Size: 67.6 oz
Potentially harmful ingredients: None
Whenever you are tasked with choosing a cleaner for windows and glass surfaces, the deal-breaker usually comes down to whether the product leaves streaks. Perfect Glass has a powerful formula that effectively dissolves grease, fingerprints, and grime, leaving the surface crystal clear. Perfect Glass is so powerful that it would be an ideal product for heavy-duty cleaning.
Hope's Perfect Glass is also ideal for cleaning smartphone and tablet screens, and even photo lenses. So if you were looking for a professional glass cleaner for your devices, this cleaner would be a neat solution! Over the past few years, this window cleaner has been highly rated by both homeowners and professional house cleaners alike. It also doesn't contain ammonia, so there'll be no worries about harsh smells and harmful chemicals that can affect your health. While the formula itself is effective, the bottle can easily spill, sometimes even during shipping.
Tip: Hope's Perfect Glass Cleaner comes in a large bottle meant to be used to fill your own bottles, so you won't get a spray bottle with your purchase—you'll need to buy one seperately.
---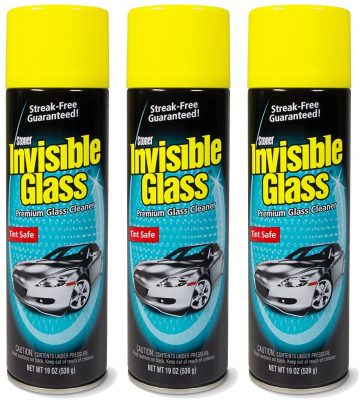 Quick Facts:
Type: Foam
Size: 19 oz each, 3 cans
Potentially harmful ingredients: None
This Invisible Glass Premium Glass Cleaner is a multi-purpose window cleaner that cleans house windows, glass, mirrors, and car windows. The product comes in a 19-oz aerosol can, and the formula is a no-drip fine-mist foam spray. Like Windex Ammonia-Free, it's formulated without ammonia, meaning there is no harsh odor. So even though it's fragrance-free, it has only a light chemical smell which evaporates pretty quickly. It also doesn't contain any soap or dye, making it safe to use on multiple surfaces, including tinted windows.
Overall, the Invisible Glass Premium Glass Cleaner is a particularly effective and powerful cleaning product. It easily removes smudges, grease, oils, and fingerprints – without dripping! This makes it fantastic for cleaning the inside of your car's windows without getting the cleaner on the interior.
While this cleanser is a bit expensive, it leaves you with crystal-clear glass with no haze, streaks, or residue. This is particularly important for car windows, since visibility is a safety issue. The lack of mess and its overall effectiveness truly makes your cleaning experience much more enjoyable, but be though that the canister can be hard to grip, making it easy to drop it during use.
---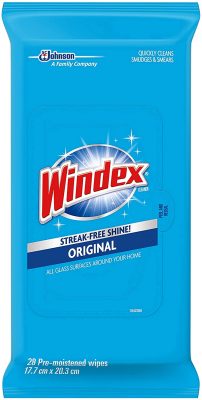 Quick Facts:
Type: Wipes
Size: 28 wipes each, 3 packages
Potentially harmful ingredients: Ammonia
Windex Glass and Multi-Surface Cleaning Wipes are a bit of a different product than the ones we have discussed earlier. These wipes are not a cleaning solution, so they are not designed to be used for cleaning all the windows in your house. Instead, they should be utilized for removing smaller stains or fingerprints on windows, or simply whenever you need a quick touch up-and-toss on a window or glass surface.
These Multi-Surface Cleaning Wipes come in a pack of three with 28 pre-moistened wipes in each and are great for cleaning on-the-go since the flat-pack of these wipes can easily fit in a backpack or purse. The formula used for these wipes is precisely the same as any other the original Windex, so you can trust their effectiveness.
Windex wipes are really a pleasure to use because all you have to do is to peel back the plastic cover, pull out a wipe, and start cleaning. Make sure you reseal the package; otherwise, the wipes may dry out. While Windex wipes are truly exceptional and very convenient, one major downfall is that they contain ammonia. It might not be a big deal for most of us, but we wouldn't market this product as kid-friendly, and you can't use these wipes on electronics, car windows, or other sensitive surfaces.
---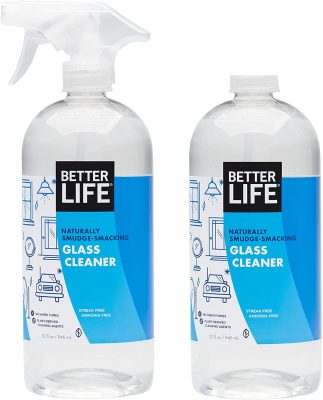 Quick Facts:
Type: Liquid spray
Size: 32 oz
Potentially harmful ingredients: None
Better Life Natural Glass Cleaner is a unique brand that was created by two dads with a mission. They longed to develop a cleaner that would be safe for kids, pets, and the planet overall. Are you're sensitive to chemicals, have pets, or just want to have the safest possible and plant-based window cleaner? Then you'll love their result: Better Life's Natural Glass Cleaner.
This window cleaner not only does an excellent job of cutting through messes, but like Aunt Fannie's glass cleaner, it's non-toxic! It's made with plant-derived agents like coconut and palm kernel, which also means there's no harsh scent. And it doesn't contain any harmful chemicals like ammonia, alcohol, or added fragrances. Plus, it was never tested on animals, which is a pretty nice addition that keeps your animal-loving conscience clear.
Overall, Better Life's Natural Glass Cleaner is a great product that you can feel good using around pets. However, there are a few drawbacks. The nozzle doesn't consistently spray the formula well, and the cleaner can leave a film behind on surfaces. Still, if animals are your passion, it may be worth a little extra effort to clean!
---

Quick Facts:
Type: Foam
Size: 19 oz each, 12 cans
Potentially harmful ingredients: Alcohol
The Sprayway Glass Cleaner is a foaming cleanser that's safe for windows, windshields, mirrors, and other glass surfaces. While this window cleaner is a bit more expensive, especially if you purchase just one can, it's worth the cost. The ammonia-free spray foam sticks well to a vertical window surface, so you don't have to worry about any dripping. In fact, the foam stays in place about as well as Invisible Glass Premium Glass Cleaner's foam. And even though it doesn't contain ammonia, this product is still a very powerful window and glass cleaning solution. However, it can leave streaks or a haze, so make sure to wipe it off completely. It does contain alcohol, so you'll want to be careful with this product, but it's not the low-grade alcohol that most low-quality window cleaners contain so you shouldn't have much to worry about as long as you use it as directed.
Another nice feature of this particular cleaner is that Sprayway cans are made of recycled steel. So, unlike with many modern cleaning solutions, you can clean your windows and save the environment at the same time! The initial purchase price is admittedly high, but you get twelve cans per purchase, so when you break it out over time the cost is about average.
Tip: Be extra careful not to use this product on tinted glass or anything that's a part of sensitive electronics, as alcohol can harm these types of glass.
---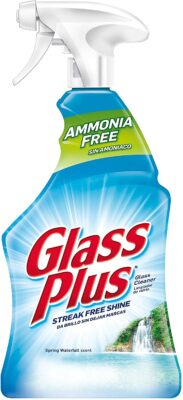 Quick Facts:
Type: Liquid spray
Size: 32 oz
Potentially harmful ingredients: None
Glass Plus Glass Cleaner is a multi-purpose and very affordable option that actually works. While it works well on windows and glass, it can handle way more than that around your house. Its formula can clean stainless steel, stovetop surfaces, plexiglass, and clear plastic. And, like our premium pick, Hope's Perfect Glass Cleaner, it can clean computer screens!
If you want a budget glass cleaner that's for the whole house, then Glass Plus would be the right choice. However, while this product is ammonia-free, the smell can still be problematic. The added fragrance is a bit cloying and can seem overwhelming.
The other drawback is that it's not meant for harsh cleaning, so Glass Plus doesn't cut through stubborn grease and stains. Instead, Glass Plus Glass Cleaner works best for light, everyday cleaning or quickly wiping up recent fingerprint smudges. Overall, it's a product that would work for any home and won't break your cleaning budget.
---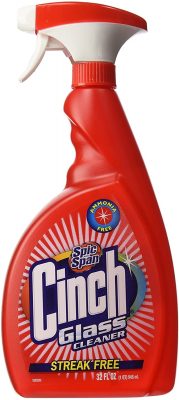 Quick Facts:
Type: Liquid spray
Size: 32 oz
Potentially harmful ingredients: Butyl glycol
Cleaning heavily-soiled windows and glass surfaces were never as easy as with Cinch by Spic and Span. Thanks to its impressively tough formula, it takes very little effort to remove the most stubborn stains, grease, and dirt. Simply spray a small amount of product, then wipe with a rag or cloth. For the best results, you will want to change the cloth frequently – more than with a standard cleaner. But the pay-off is worth it; you'll be left with a streak-free shine and no hazy film!
The best part is Cinch Window Cleaner works on multiple surfaces, including granite, so it's a great option for countertops. It can't be used on aluminium, though. The Cinch Window Cleaner is as powerful as Windex Ammonia-Free, and has a clean, enjoyable smell. One downfall of this product is that it is not as cheap as its competitors. However, if you regularly have tough messes to contend with, it's certainly worth it.
Unfortunately, it does contain butyl glycol. While this solvent does allow the product to provide a streak-free clean to giant messes, you should extra take care to only use Cinch in a well-ventilated area.
---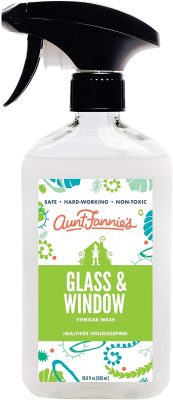 Quick Facts:
Type: Liquid spray
Size: 16.9 oz
Potentially harmful ingredients: None
Many window cleaners are dangerous to use around children. But Aunt Fannie's Vinegar Glass Cleaner is an option parents can feel safe with. Like Better Life Natural Glass Cleaner, it is free from chemicals that you can't pronounce and contains only natural ingredients.
Thanks to only using organic ingredients – including vinegar, sugar surfactant, and rosemary, peppermint, and eucalyptus oils, this cleaner's incredibly wholesome. And these natural ingredients smell wonderful! If you have ever made your own window cleaner at home, Aunt Fannie's cleaner is the closest thing to it.
But unlike most homemade cleaners, it very effectively cuts through smudges, dirt, and smears. However, it can still leave some streaks behind, especially on heavily-soiled windows. You might need to use a bit more of Aunt Fannie's Vinegar Glass Cleaner than you would a less-natural product like Cinch. But it performs just fine when sprayed on with a thick layer, and many parents would agree the extra cleaner is worth their peace of mind.
---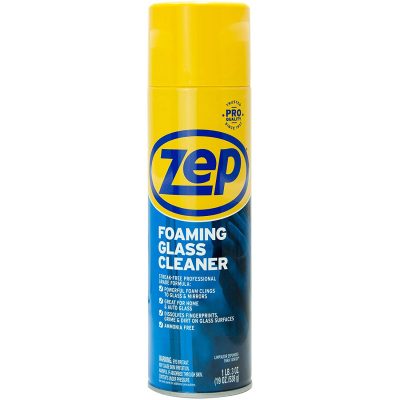 Quick Facts:
Type: Foam
Size: 19 oz
Potentially harmful ingredients: Butyl glycol
ZEP is a trusted brand that produces one of the best professional-strength, ammonia-free window cleaners. It's powerful enough that just a small amount can get the job done, so one bottle can really last. Since it is a somewhat pricey option, this helps make the cost more reasonable. Even when dealing with the harshest grease, just one quick spray is enough to clean a whole window. Plus, ZEP Foaming Glass Cleaner provides a crystal clear, streak-free finish, even with minimal product applied.
The no-drip foam formula is safe for many types of windows and glass surfaces, including tinted windows, mirrors, and plexiglass. However, it may leave streaks on some surfaces. And if you're particularly health-conscious or have little children in the house, be aware ZEP Foaming Glass Cleaner contains butyl glycol. While effective, it's one of the most harmful chemicals found in household cleaners. If you want to avoid that concern, Better Life Natural Glass Cleaner may be the better pick for your home.
---