Buying yourself a new helmet is a significant decision, especially if it's something you rely on to do your job correctly. For a lot of tradesmen, their selection of hood might be one of the most difficult choices they have to make.
That's why we've put together this buyers guide, giving you the lowdown on the 10 best welding helmets in 2021, to make the job of choosing between them that much easier.
Features to Consider in Good Welding Helmets
When examining the helmets we reviewed for this guide, there were several key things we looked at, which included:
Protection
We examined how well these helmets fit their primary purpose, which is protecting your eyes. Our reviews took into account the shades covered by the helmet and how fast the helmet's auto darkening system reacted, if it had one. Also covered is whether a helmet can serve multiple functions, including multiple welding types or a mode for when you're grinding.
We also looked at what protection each helmet offered outside of eye protection, including head coverage, ear protection and general all-round toughness.
Comfort
Our helmet reviews take into account multiple factors that could affect your comfort, including;
The general size of the helmet.
Weight
How bulky the helmet is
How easy it is to move around with, put on and remove
Ventilation
Other comfort options
Viewing Screen and Options
A larger viewing area is more comfortable and makes it much easier to see the work area, so our reviews all take into account viewing area size.
For auto darkening helmets, sensor placement and number of sensors can have a huge effect on performance, so that should also be taken into account.
Top 10 Best Welding Helmets 2023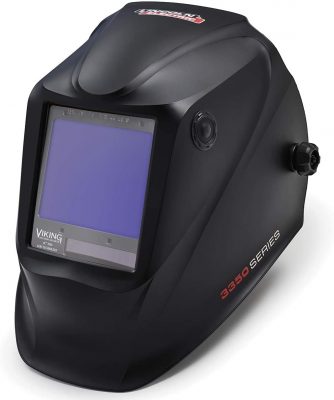 Why we like it:
Fantastic optical clarity and a huge list of features, paired with a great safety rating, makes the Lincoln Electric Viking 3350 a superb helmet. Reliable and effective, there's nothing it really does badly, except being a little pricey.
Editor's Rating:
Protection
Lincoln make some of the best welding helmets on the market, and this hood really shows their expertise. You're buying a helmet like this primarily to protect your eyes and face, and in terms of protection, there's absolutely nothing to criticize here.
The lens runs from a 5 to 13 shade range, which is the full standard range of shades, although doesn't encompass every shade you can get. That means this helmet is suitable for every type of welding and at all levels of amperage. Whatever you're facing, the Lincoln Viking will take it.
The built-in 4th generation technology means that, when an arc is detected, this helmet switches shades at an astoundingly fast 1/25,000th of a second, which is basically the fastest on the market. Whilst a lower switching speed is generally fine, if you spend a lot of time striking arcs or moving between jobs, you'll know as well as we do that you can end up with eye strain even wearing a hood. This helps to minimise that issue.
It has a full suite of controls, including customisable shade, sensitivity and delay. One smart feature we love was the fact that the grind mode has an internal alert light, reminding you that it's not going to activate if you strike an arc.
Comfort
Lincoln's professionalism extends to fit and comfort. Their X6 headgear system spreads the weight across 6 points on your head and contours to your head shape. This gives you a completely personalised fit with lots of flexibility, no matter how big your head is.
In use, it's intuitive and simple. The large external grind button is incredibly easy to use even with gloves, and the rest of the controls make sense in placement and use.
The only real issue is that rigging it to hard hats can take a little bit of work.
Viewing screen
Again, there's nothing to complain about. Lincoln's 4C lens technology offers 1/1 optical clarity, with no blurriness or distortion, no matter the working angle. The working area is huge, with a 12.5 sq. in. lens, almost twice the size of some standard lenses.
Whilst this means replacement lenses aren't the cheapest, it comes with 5 external and 2 internal lenses, and when you buy Lincoln, you're paying for quality.
Pros
Massive, crystal clear viewing lens

Incredibly fast shade switching

Very comfortable

3 year warranty
Cons
Takes a little work to fit around hard hats

Replacement lens aren't cheap

Expensive
---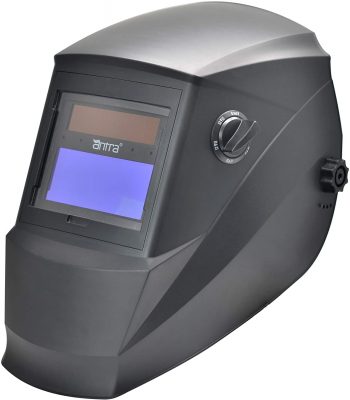 Why we like it:
A great range of features at a superb price makes this a solid competitor for the best all-round helmet in our list, especially considering the price point.
Editor's Rating:
Protection
For such a budget helmet, the Antra AH6 has a great suite of features. The lens has the full list of shades, running from 4-9, and 9-13. The auto darkening system is powered by Antra's Interference Suppression Technology, which is far better at differentiating an arc from natural light, cutting down on false triggers.
The lens itself has a double layer LCD shutter and passive UV/IR filter. The whole system is also incredibly easy to adjust, with an intuitive control system. The helmet itself is well-built, with good coverage of your face and neck, protecting you from both spatter as well as radiant heat and glare.
Comfort
Once it's on, the hood is excellent. Light and well-spaced, it weighs a breezy 1 lb. The external switch for grinding mode is incredibly easy to reach and placed in a natural position.
In terms of fit, the headgear is comfortable and has several points of adjustment, but our favorite design choice is the adjustable lower limit, meaning that the helmet will drop into the same place every single time.
If necessary, the Antra AH6 can be adapted to fit hard hats, meaning this can match industrial standards, but you do have to buy the hard hat kit separately.
Viewing screen
The AH6 only has an average sized screen of 6 sq. in. but the lens itself is good clarity, offering an unimpeded view of your workspace.
The lens switches are powered by 4 premium grade arc sensors, which are both solar powered and can run on replaceable batteries for when it's uncharged. One thing that's impressive, especially on a hood this cheap, is the auto shut off, which powers the hood down after 10 minutes of inactivity, saving battery life.
Lastly, it comes with 6 external and 1 internal spare lens, saving money in the long run and giving you enough lenses to last for a decent amount of time.
Pros
Great list of technology for the price

Comfortable and lightweight

Intuitive and easy to use

Can be built on with Antra's range of supplementary gear
Cons
Relatively small viewing area

Solar cell can't be replaced
---
Why we like it:
The Sentinel A50's full head design offers massive levels of protection, with a lot of tech built into a good looking chassis.
Editor's Rating:
Protection
Off the bat, it's obvious why you would choose the Sentinel A50. Protection. The rounded, almost bike helmet design offers excellent full face and head coverage, and the high impact, damage and temperature resistant nylon is incredibly resistant to damage.
The lens has options for shades 5 through 13, with very high clarity throughout. Everything is simple to control through the built-in color touchscreen. There's also a memory setting, allowing you to switch instantly between 8 different pre-saved work settings, which saves a huge amount of time on site.
As a hat built with protection in mind, the A50 is also compatible with the vast majority of hard hats straight out of the box.
Comfort
For a full-coverage hood, the Sentinel A50 is incredibly comfortable. Sentinel's 5-point headgear adjusts to all head sizes and shapes. Despite the size and relative bulkiness, it also sits at a deceptively light 1.4lbs.
The helmet doesn't park up when pushed, but that's only a minor issue, especially considering it has a shade 4 grind option. The only real issue in terms of comfort is how hot the helmet can get, especially if you're working in cramped conditions, so this might not be suitable for people expecting to use it throughout the day.
Viewing screen
Looking at this hood, it's hard to see the size of the viewing area behind the safety lens. It's a large 9.2 sq. in. which is a good mid-level size.
What does impress is the clarity. Sentinel's lenses are excellent, with a very clear visibility across all shades. What's doubly impressive is how natural the color balance is. Unlike a lot of hoods, when looking through the A50's lens the arc is a very visible and natural blue rather than green, and the puddle is very visible throughout.
Pros
Incredibly safe and tough

Easy to use, with a touch screen control panel

Big viewing area
Cons
Can get warm after long use

Replacement lenses are expensive
---
Why we like it:
While nothing is particularly standout, taken as a whole this helmet is a workhorse that delivers again and again for a reasonable price.
Editor's Rating:
Protection
In terms of protection. YesWelder's hoods meet every standard you need them to. The solid polypropylene and nylon build and wide coverage will keep your head and neck safe whilst working, no matter the angle you find yourself at.
The auto-darkening system runs from shades 5 to 9, and 9 to 13, which is every standard shade, as well as having a grind option. Reaction times are on the lower end, at only 1/10,000th of a second response time, but this is still more than good enough.
However, the lenses themselves are high quality, with near perfect clarity and True Color technology, reducing the green tint you find from cheaper lenses, giving you a much more true-to-life view of your puddle and work area.
Comfort
YesWelder's helmets run a little on the bulkier side, with this model sitting at a reasonably weighty 2.2lbs. However, once it's on, it's hard to notice the extra weight, considering the pivot style headgear and oversized comfort cushion that spread the weight across your entire head. The headgear itself is heavily padded, and is also easy to adjust, ensuring you'll be able to find a comfortable fit.
One minor downside is YesWelder's headgear has a slightly higher than standard failure rate, but if that happens it's simple to fix and/or replace. The control suite is simple and easy to access, even when in bulky gloves.
Viewing screen
If there's one thing that YesWelder's hoods stand out on, it's their lens. This hood has a massive 14 sq. in. viewing screen that, despite the size, sits at 1/1/1/2 optical clarity, which is almost as good as you can get.
The lens is also backed up by a True Color system, giving you much better visibility when you're looking at your workspace, and a more accurate arc color and puddle.
4 sensors surround the screen, giving the helmet a high arc detection rate. This is all powered by the replaceable battery and a solar system, contributing to a long battery life of 3000 hours.
Pros
Ridiculously good value

Massive viewing area

Great visual clarity
Cons
A little heavy

Accompanying headgear doesn't fit a hard hat
---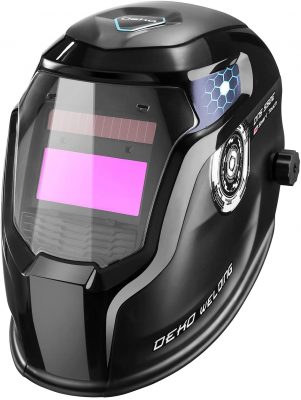 Why we like it:
For a budget option, the Dekopro is packed with features and offers excellent performance across the board. If you're comfortable working with an average viewing screen size, it's a fantastic all round helmet.
Editor's Rating:
Protection
Despite the budget price tag, this Dekopro hood's auto darkening systems and visual performance are surprisingly good.
The shade range only runs from 9 to 13, but that's exactly what a good welding helmet needs and covers all types of welding, from TIG to flux core. Switching speed is a fast 1/15,000th of a second, and there's a built in safety circuit that defaults to an ultra-dark shade 16 if power systems fail. It also goes from dark to light in as little as 0.1 seconds, saving time waiting for your helmet to readjust or having to lift it back up.
Battery powered, the solar charger gives it around 5000 hours battery life. Finally, the shade 4 grinding mode rounds out a solid feature list.
Comfort
Looking at the Dekopro and comparing directly with a more expensive brand name, you can see the slight variations in build and comfort, but once it's on and you're working, there's actually very little difference.
Sitting at a lightweight 1 lb with multiple fit options. Like the rest of the helmet, the headgear is basic in terms of features, and nothing particularly stands out in terms of comfort, but it does the job you need it to do.
The controls are intuitive, with large, easy to understand and simply labelled buttons. Externally, there is a large control knob that's easy to use with gloves.
Viewing screen
The Dekopro has an average sized 6 sq. in. viewing screen. However, despite running on the smaller size, it's very high clarity, meeting DIN4 standards. It might not be as clear or sharp as a more expensive helmet, but you're also paying less than one quarter the price of a top-level hood.
Pros
Very budget friendly

Exceptional performance for the price

Great visual clarity
Cons
Relatively low number of shades
---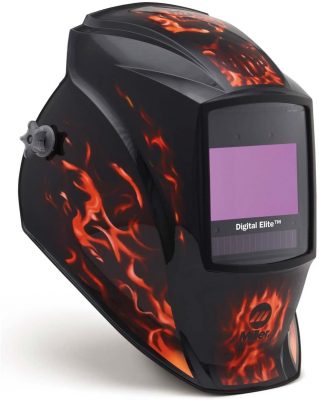 Why we like it:
Titans in the welding helmet sector, Miller's Digital Elite series delivers everything you'd expect a professional welding helmet to need, with a few smart tweaks thrown into the bargain.
Editor's Rating:
Protection
Miller know what they're doing when it comes to protection, and the Digital Elite is no exception.
The helmet has the full range of shades, running from shade 5 for cutting, all the way to shade 13 for high amp MIG welds. The reaction time is high, at 1/20,000th of a second, which is better than most other brands.
Obviously, there's a grind mode. But unlike a lot of other helmets, Miller set their grind at a slightly lighter than standard shade 3.5, which makes it a little easier to see your working area.
One thing you might not see elsewhere is Miller's X mode. This sets the helmet to adjust to natural light without triggering the lens, making welding outdoors or in bright sunlight so much simpler.
Comfort
Miller helmets tend to all be generally comfortable, which is what you would expect from a high quality brand, and the Digital Elite follows the pattern.
The headgear has extensive settings, and is easy to set up. Miller's headgear also tends to remain in place a little better than cheaper brands, saving you time spent readjusting for comfort or visibility.
Unfortunately, the Digital Elite isn't the lightest helmet. It's not heavy enough to be an issue, but it is noticeable, especially if you're used to anything under 1lb.
Viewing screen
Like everything else with the Digital Elite, the screen is high quality. It sits at a 9.2 sq. in viewing area, which is slightly larger than average.
The lenses themselves are also good quality. Miller's Clearlight Lenses are designed to let through more natural light, reducing eye strain and giving you a much better view of your work area and puddle.
Another thing that stands out are the sensor systems. Like most good helmets, the Digital Elite has 4 arc sensors. But Miller sensors have fantastic sensitivity, detecting arcs down to 5A or lower.
Finally, there's an auto on-off, which triggers the lens when it detects an arc, even if it's powered down, and switches back off after a few minutes of non-usage, saving you loads of battery life in the long run.
Pros
X mode make this a great helmet for outdoor use

Excellent sensors

Solid all round performance

Stylish, with multiple color options
---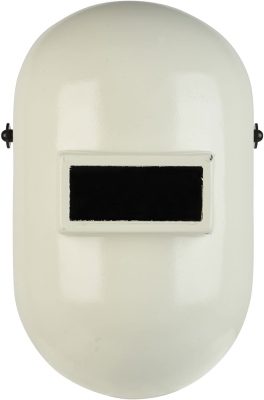 Why we like it:
Designed specifically for pipe welding, the Fibre-Metal pipeline is an incredibly resilient workhorse that won't fail even when tested to the extreme.
Editor's Rating:
Protection
Firstly, unlike every other helmet in this list, the Fibre-Metal Pipeline isn't auto darkening, doesn't have a wide range of shades, and doesn't have any technology built in.
It's far more old school than that, and resembles an old-time welding helmet, built out of new materials.
So what does it offer? Simple. Absolute protection. The Pipeline is designed specifically for pipe welders and others who work in extreme situations. It's made from Superglas Plus, which is resistant to almost everything.
For starters, it's impervious to moisture, meaning you can work in the elements, or, probably more specifically, under damaged pipes without worrying about liquid damage to your helmet.
Second, it's impact resistant, and the simple, curved shape and lack of built in tech means there's almost nothing that can go wrong, no matter how hard you hit this.
Lastly, the smooth surface is self-extinguishing, which means that no matter how much kickback you're facing, or how many sparks are falling, your helmet will shrug it all off.
As for the eye protection, the lens is shade 10, a mid-range shade which is sufficient protection from all arcs. Non-adjustable, the lens also filters out 100% of UV and IR radiation, eliminating eye strain at the end of the day.
Comfort
One major advantage of a basic helmet like this is comfort. Despite the fact it's almost impenetrable, the helmet weighs just over 1 lb. The provided headband is also excellent, with multiple points of adjustment that contour to your head, and free floating arms that reduces individual pressure points. Both of these things mean that, even after long days of wear, you're going to be comfortable.
Designed for use in tough environments, this helmet has also been created to work specifically with hard hats. Unlike a lot of helmets, you don't need anything extra to fit this mask to a hard hat, and it snaps on and off in seconds.
Viewing screen
The screen is like the rest of helmet. Simple but effective. A 2" x 4" screen gives you ample viewing size of your work area. If necessary, the shade 10 lens can be removed and replaced with a lens of your choice, which takes a few minutes work.
Lastly, there's an option for after-market cheater lenses, just in case that's something you need.
Pros
Fantastic level of protection

Simple and easy to use

Robust and simple, nothing can go wrong

Comfortable
Cons
Fixed 10 shade

Basic helmet with no features
---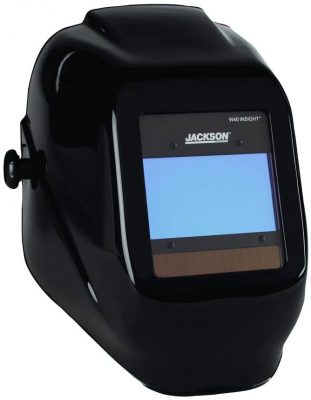 Why we like it:
Another established name, Jackson make consistently excellent welding helmets. Whilst it might not have the flair of some models, every single thing this helmet does it does very well.
Editor's Rating:
Protection
Safety's in the name, and the Jackson Safety Insight certainly delivers. The first thing to point out is how this meets all industry standards. That means no matter what worksite you're on or the regulations you have to meet, you can trust that this helmet is suited.
In terms of shades, the lens can adjust from 9 to 13, which is a relatively low number of shades, but covers everything you might face in a standard working day. There's also the option of a grind mode at shade 4, saving time on swapping covers. In terms of speed, it switches in 1/15,000th of a second, which is a good mid-range speed, far faster than entry level helmets.
The helmet has a built in Auto Darkening Filter, which lets you adjust to outside situations. This changes the arc sensitivity based on ambient light and outside conditions, which can cut down on false arc readings and save you time struggling with a visor that's dark for no reason.
Comfort
One thing that Jackson do very well is comfort. The Jackson 370 headgear system is widely recognised as one of the best on the market. With a wide range of adjustable options, it will fit any head shape comfortably. The weight of the helmet is well balanced so you don't end up with pressure marks or headaches after a long day's work.
The 370 system is also designed to be widely compatible with Jackson's range of covers. This means if you decide in the future to pick up a second helmet, or something more specialised, you can switch your headgear between the pair without having to change any settings.
In operation, Jackson's digital controls are easy to understand and simple to use, making switching settings easy. The helmet itself is incredibly easy to adjust, even when gloved up. With the full range of movement settings, you can find a fit that's perfect. Ratchet the helmet up and down, adjust chin depth for respirators or easy breathing, and even change the angle the whole hood sits at, so you can get a better view of your work area.
Viewing screen
Jackson make good hoods, and this helmet doesn't disappoint. The screen is a large 9.2 sq. in. with good visibility throughout.
The layout is also nice, with a large solar bar set up beneath the helmet, and the 4 arc sensors around it. One nice touch is that all 4 sensors are completely independent of each other, which gives the hood good coverage and a high arc sensitivity overall.
Pros
Large, high clarity viewing area

Tough and safe, meeting all compliance standards

Simple controls and easy to adjust
Cons
Small amount of total shade options
---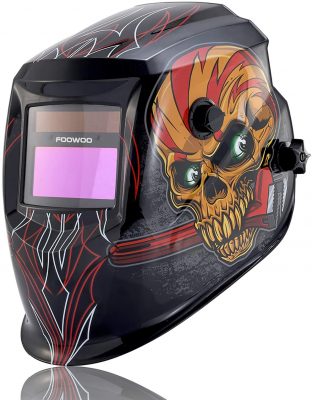 Why we like it:
An entry level hood, the FooWoo nonetheless has a decent selection of features, especially when you consider how good value it is. For a hobbyist or someone needing a starter helmet, this is an excellent option.
Editor's Rating:
Protection
For an entry-level helmet, the specs on this hood are impressive. Polypropylene construction keeps the helmet tough, whilst keeping it light and flexible.
The screen itself has options for shades from 9-13, as well as a low shade grind function. There's a secondary layer of UV and IR protection built in that's switched on even when the rest of the hood is powered down, giving you shade 16 protection against light spectrum hazards. This helps to save your eyes from strain and glare, cutting down on end of day aches.
Switch time is also good, at less than 1/10,000th of a second, with an admirable 1s switchback time from dark to normal operation.
Comfort
Despite the budget price tag, the FooWoo has a lot of options that make it comfortable, especially over long periods of wear.
First off, it's reasonably light, at just over 1.7lbs. The weight is balanced across the full head gear, standard in adjustable helmets of this type. What isn't standard is the huge amount of cushioning spread across the harness, which spreads the load very well, especially once you've set the balance correctly.
Viewing screen
The only real downside to this helmet is the screen. The clarity is good, it is incredibly high for the price, almost matching the biggest brand names.
The issue is the size. At just over 6 sq. in. the screen is what's considered industry standard, but compared to other options it's noticeably small. But don't let this deter you. A 6 sq. in. screen is perfectly serviceable, especially if you're only using it for short amounts of time or if you need a helmet as a hobbyist.
Pros
Excellent optical clarity

Good visual protection across a lot of shades

Fast switching

Very budget friendly
Cons
Relatively small screen

Doesn't have the most sensitive sensors
---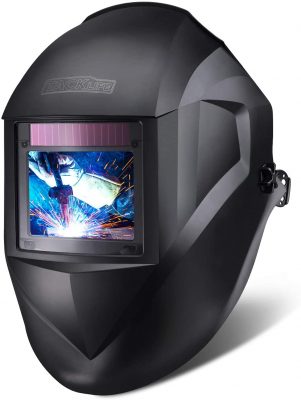 Why we like it:
Comfortable and designed with safety in mind, this Tacklife hood is a good generalist option.
Editor's Rating:
Protection
This helmet excels when it comes to its protective systems.
For starters, it has a huge shade range, from 3 to 13, which is a full shade range, unlike a lot of other helmets. The lens is of the highest level optical clarity: 1/1/1/1, giving you the best view possible of your work area. Even when it's not switched on, the passive filter with permanent shade 13 keeps your eyes safe. There's also a built in UV/IR shield, reducing eye strain from environmental light bleed.
Most impressive is the speed. This helmet switches shades at an absurdly fast 1/25,000th of a second, matching or beating any other helmet we've looked at.
The build itself is also great. The polyamide construction is tougher and more resistant than standard polypropylene helmets, and it's smart moulding design extends downwards, protecting the face and neck from spatter and glare.
There's also a grind mode, which is standard for all quality helmets.
Comfort
Tacklife's smart design choices extend to the construction of the helmet. As already mentioned, the mould shape is great, offering excellent coverage and good protection, but it's also deceptively light at just over a pound.
However, the headgear is legitimately fantastic. The headband has multiple points of adjustment rather than the standard one or two, multiple points of padding and clings in areas that other helmets don't touch. The helmet itself is also designed to sit lower on the head when flipped up, lowering the centre of gravity of the helmet and reducing strain on your neck. For a long helmet, it also has surprisingly good ventilation, helping you stay cool when you're working in tougher conditions.
The controls are as good as you might expect, with all the standard options. Delay, sensitivity and shade are all controlled via easy to use dials, and the grind mode is accessed through an external, simple to find switch.
Viewing screen
Like the rest of the features on this hood, the screen is also high quality. It's big, with a generous 11 sq. in. screen surrounded by 4 premium sensors.
Unlike a lot of brands, Tacklife's helmets use a DIN3 light state, which lets through 14% of the light rather than the industry standard of just 5%. This, paired with the a built in color filter that cuts off blue light, works to reduce eye strain and gives you a clear and uninhibited view of the puddle.
Pros
Exceptional optical performance

Fits a wide range of replacement lenses

Comfortable and light

Excellent protection
Cons
Occasionally requires adjustments to stop the screen strobing

No auto off feature
---
Guide to Buying the Best Welding Helmet
Unlike a lot of safety gear, choosing a welding helmet can be more of a technical decision, rather than one based around aesthetics or protection. This is because, unlike something like boots, the technical aspects of two helmets can significantly differ, even between models from the same manufacturer.
Here's what you should be considering when looking to purchase a welding helmet.
Budget
Obviously, the more you can afford to spend on a helmet, the better the performance tends to be. But there are other considerations when it comes to budget. For most hobbyists, as well as tradesmen who only weld as a part of their job rather than the focus, a budget helmet might have the necessary options and comfort to be a good choice.
Weigh up how often you are going to be using your welding helmet when you consider your budget, and if you're going to be using it a lot, definitely consider spending more.
Protection
If you've not used a welding helmet before, you might not realise the intricacies of how they protect your eyes.
Firstly, consider eye shading. This refers to how dark the protective visor is, and what it protects against.
Fixed shade lenses tend to sit at around shade 10, which is a good balance between protection and visibility.
Variable shade lenses may instead run anywhere from shade 8 to shade 14, with higher numbers denoting a darker lens.
It's also important to note that different types of welding require different levels of protection. For example, TIG and stick welding can safely be protected against at shades as low as 9, whereas MIG or flux core welding could require a shade as high as 13 to be sufficiently protected from the more intense arc.
It's also worth noting that the higher the amperage you are using, the higher you should adjust your shade, as a higher amperage leads to a more intense arc.
The second thing to consider, if you've decided to use an auto darkening lens, is how quickly the lens can adjust. Not all lens systems are created equal, and higher quality lens systems tend to have significantly higher reaction times.
Auto darkening lenses can react in anywhere from 1/3500th of a second at a basic level, to upwards of 1/25,000th of a second. If you spend the majority of your time welding, especially if you regularly have to reignite your arc, you will appreciate the increased protection and lesser eye strain that results from a faster reaction speed.
Durability
Durability is very different from protection. It's important that your helmet keeps you safe from the rigors of the workday, but if it starts to fail the moment it takes an accidental impact, it's not a worthwhile purchase.
Good welding helmets will be made with high impact materials, and should be able to take most common accidents, including banging your head and short drops, without serious damage.
Consumables
If you have never owned a welding helmet before, you might not realise that the protective plates that shield your eyes from the spark don't last forever.
More expensive helmets tend to have more expensive consumables, but the difference is generally minor. It's worth double checking before you make your purchase.
Multiple Functions
Do you simply MIG weld, or are you also regularly TIG welding, plasma cutting, or grinding?
High quality helmets tend to have multiple sensitivity functions built in, including darkness filter options and a clear grind visor. Make sure the helmet you buy has the settings you need.
Viewing Area
Not all helmets are created equal. Basic helmets can have a viewing area as small as 6 sq. in. Larger, more expensive helmets can be equipped with viewing areas that can be 50% larger or more, as well as having side viewing ports for peripheral vision.
In general, a small viewing area will be completely sufficient if you're a hobby welder or only using the helmet in short bursts. For heavy duty or industrial use, a larger viewing port makes it much easier to see your working area, and can help reduce eye strain and other issues.
Comfort
If you're only going to be wearing your helmet for a short time, comfort might not be at the top of your list of considerations, and rightly so. But if you're going to wear a helmet for most of the day, then comfort quickly becomes high priority.
A comfortable helmet tends to have two components. First is how it wears, which encompasses the fit, whether that fit is adjustable, how easy it is to adjust, and how heavy it is. This might not seem like a major factor, but after an hour or two of wearing it you'll be glad for a more comfortable helmet.
Second is heat diffusion, or airflow. Until you've spent half an hour curled under a heavy joist with zero fresh air, you don't realise how hot a welding helmet can get. Higher priced helmets can have built in airflow units, generally battery powered, that work like tiny air conditioning systems.
Lower priced helmets might instead have air flow cut outs, literally sections of the helmet that have holes cut in to let more air flow through it.
Automatic Parking
Useful if you commonly have to closely examine your work area, automatic park is the industry term for a helmet that stays raised if you push it up.
Auto Darkening Lenses
Possibly the most significant consideration when choosing a welding helmet. If you have the budget, choosing auto-darkening lenses makes the welding process significantly simpler.
Auto-darkening lenses do precisely what the name suggests; darken automatically in response to a arc flash in their viewing area.
This means that, when not welding, your viewing area will be a lighter shade, making it much simpler to see through. But still dark enough to provide protection from ambient glare and accidental strikes.
All auto darkening helmets have a number of built-in sensors, from two on lower level models to upwards of six on the highest quality helmets. When these sensors detect an arc, an electrical signal is sent to the viewing area, shifting it several shades darker.
More sensors are more reliable, because they give you wider coverage and more likelihood of detecting an arc, especially when you're welding in awkward or cramped positions. Important for keeping your eyes safe.
It's also worth checking how the auto-darkening system is powered. Most common are solar powered, which charges as you use it and is sufficient for lower numbers of sensors, and battery, which is more common on higher end helmets.
Warranty
Whilst a helmet shouldn't really go wrong unless severely mistreated, more complicated helmets can have a deceptive amount of technology built into them. Like all tech, things can go wrong, and there's nothing worse than spending a significant amount of money on a helmet and having it go wrong in the first few months of use.
If you're investing in a helmet, a longer warranty is obviously better. Some manufacturers warranties can go for as long as 3 years.
Also, check what your warranty covers. Not all warranties are created equal, and some manufacturers don't cover things that you might think were standard.
Final Thoughts
Choosing a welding helmet can be complicated, but a fast response time and clear lens are things that will pay for themselves over and over, both in how your eyes feel at the end of the day, and how easy it will be to work when you are wearing the helmet. Enjoy this list of excellent welding helmets and get the tool you need to get your job done.
If in doubt, always go with eye protection over anything else.