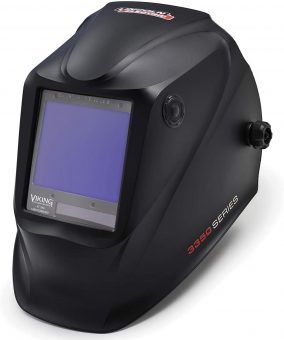 Lincoln Electric Viking 3350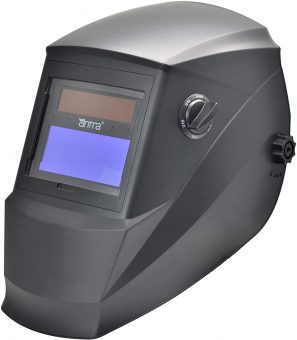 Antra AH6 Auto Darkening Helmet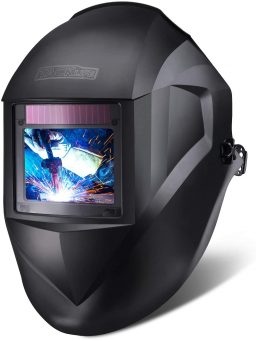 Tacklife Welding Helmet
Previous
Next
Buying yourself a new helmet is a significant decision, especially if it's something you rely on to do your job correctly. For a lot of tradesmen, their selection of hood might be one of the most difficult choices they have to make.
That's why we've put together this buyers guide, giving you the lowdown on the 10 best welding helmets in 2020, to make the job of choosing between them that much easier.
Features to Consider in Good Welding Helmets
When examining the helmets we reviewed for this guide, there were several key things we looked at, which included:
Protection
We examined how well these helmets fit their primary purpose, which is protecting your eyes. Our reviews took into account the shades covered by the helmet and how fast the helmet's auto darkening system reacted, if it had one. Also covered is whether a helmet can serve multiple functions, including multiple welding types or a mode for when you're grinding.
We also looked at what protection each helmet offered outside of eye protection, including head coverage, ear protection and general all-round toughness.
Comfort
Our helmet reviews take into account multiple factors that could affect your comfort, including;
The general size of the helmet.
Weight
How bulky the helmet is
How easy it is to move around with, put on and remove
Ventilation
Other comfort options
Viewing Screen and Options
A larger viewing area is more comfortable and makes it much easier to see the work area, so our reviews all take into account viewing area size.
For auto darkening helmets, sensor placement and number of sensors can have a huge effect on performance, so that should also be taken into account.
The 10 Best Welding Helmets 2020
Guide to Buying the Best Welding Helmet
Unlike a lot of safety gear, choosing a welding helmet can be more of a technical decision, rather than one based around aesthetics or protection. This is because, unlike something like boots, the technical aspects of two helmets can significantly differ, even between models from the same manufacturer.
Here's what you should be considering when looking to purchase a welding helmet.
Budget
Obviously, the more you can afford to spend on a helmet, the better the performance tends to be. But there are other considerations when it comes to budget. For most hobbyists, as well as tradesmen who only weld as a part of their job rather than the focus, a budget helmet might have the necessary options and comfort to be a good choice.
Weigh up how often you are going to be using your welding helmet when you consider your budget, and if you're going to be using it a lot, definitely consider spending more.
Protection
If you've not used a welding helmet before, you might not realise the intricacies of how they protect your eyes.
Firstly, consider eye shading. This refers to how dark the protective visor is, and what it protects against.
Fixed shade lenses tend to sit at around shade 10, which is a good balance between protection and visibility.
Variable shade lenses may instead run anywhere from shade 8 to shade 14, with higher numbers denoting a darker lens.
It's also important to note that different types of welding require different levels of protection. For example, TIG and stick welding can safely be protected against at shades as low as 9, whereas MIG or flux core welding could require a shade as high as 13 to be sufficiently protected from the more intense arc.
It's also worth noting that the higher the amperage you are using, the higher you should adjust your shade, as a higher amperage leads to a more intense arc.
The second thing to consider, if you've decided to use an auto darkening lens, is how quickly the lens can adjust. Not all lens systems are created equal, and higher quality lens systems tend to have significantly higher reaction times.
Auto darkening lenses can react in anywhere from 1/3500th of a second at a basic level, to upwards of 1/25,000th of a second. If you spend the majority of your time welding, especially if you regularly have to reignite your arc, you will appreciate the increased protection and lesser eye strain that results from a faster reaction speed.
Durability
Durability is very different from protection. It's important that your helmet keeps you safe from the rigors of the workday, but if it starts to fail the moment it takes an accidental impact, it's not a worthwhile purchase.
Good welding helmets will be made with high impact materials, and should be able to take most common accidents, including banging your head and short drops, without serious damage.
Consumables
If you have never owned a welding helmet before, you might not realise that the protective plates that shield your eyes from the spark don't last forever.
More expensive helmets tend to have more expensive consumables, but the difference is generally minor. It's worth double checking before you make your purchase.
Multiple Functions
Do you simply MIG weld, or are you also regularly TIG welding, plasma cutting, or grinding?
High quality helmets tend to have multiple sensitivity functions built in, including darkness filter options and a clear grind visor. Make sure the helmet you buy has the settings you need.
Viewing Area
Not all helmets are created equal. Basic helmets can have a viewing area as small as 6 sq. in. Larger, more expensive helmets can be equipped with viewing areas that can be 50% larger or more, as well as having side viewing ports for peripheral vision.
In general, a small viewing area will be completely sufficient if you're a hobby welder or only using the helmet in short bursts. For heavy duty or industrial use, a larger viewing port makes it much easier to see your working area, and can help reduce eye strain and other issues.
Comfort
If you're only going to be wearing your helmet for a short time, comfort might not be at the top of your list of considerations, and rightly so. But if you're going to wear a helmet for most of the day, then comfort quickly becomes high priority.
A comfortable helmet tends to have two components. First is how it wears, which encompasses the fit, whether that fit is adjustable, how easy it is to adjust, and how heavy it is. This might not seem like a major factor, but after an hour or two of wearing it you'll be glad for a more comfortable helmet.
Second is heat diffusion, or airflow. Until you've spent half an hour curled under a heavy joist with zero fresh air, you don't realise how hot a welding helmet can get. Higher priced helmets can have built in airflow units, generally battery powered, that work like tiny air conditioning systems.
Lower priced helmets might instead have air flow cut outs, literally sections of the helmet that have holes cut in to let more air flow through it.
Automatic Parking
Useful if you commonly have to closely examine your work area, automatic park is the industry term for a helmet that stays raised if you push it up.
Auto Darkening Lenses
Possibly the most significant consideration when choosing a welding helmet. If you have the budget, choosing auto-darkening lenses makes the welding process significantly simpler.
Auto-darkening lenses do precisely what the name suggests; darken automatically in response to a arc flash in their viewing area.
This means that, when not welding, your viewing area will be a lighter shade, making it much simpler to see through. But still dark enough to provide protection from ambient glare and accidental strikes.
All auto darkening helmets have a number of built-in sensors, from two on lower level models to upwards of six on the highest quality helmets. When these sensors detect an arc, an electrical signal is sent to the viewing area, shifting it several shades darker.
More sensors are more reliable, because they give you wider coverage and more likelihood of detecting an arc, especially when you're welding in awkward or cramped positions. Important for keeping your eyes safe.
It's also worth checking how the auto-darkening system is powered. Most common are solar powered, which charges as you use it and is sufficient for lower numbers of sensors, and battery, which is more common on higher end helmets.
Warranty
Whilst a helmet shouldn't really go wrong unless severely mistreated, more complicated helmets can have a deceptive amount of technology built into them. Like all tech, things can go wrong, and there's nothing worse than spending a significant amount of money on a helmet and having it go wrong in the first few months of use.
If you're investing in a helmet, a longer warranty is obviously better. Some manufacturers warranties can go for as long as 3 years.
Also, check what your warranty covers. Not all warranties are created equal, and some manufacturers don't cover things that you might think were standard.
Final Thoughts
Choosing a welding helmet can be complicated, but a fast response time and clear lens are things that will pay for themselves over and over, both in how your eyes feel at the end of the day, and how easy it will be to work when you are wearing the helmet. Enjoy this list of excellent welding helmets and get the tool you need to get your job done.
If in doubt, always go with eye protection over anything else.