Air compressors are the most versatile equipment in a workshop. They are your go-to equipment for powering pneumatic tools from paint sprayers, nail guns, jackhammers, etc. They are also used to inflate vehicle tires and power water pumps and cleaning equipment.
It is undeniable the efficiency you can get from an air compressor whether at home or for professional maintenance. Finding the best air compressor is a mix of knowing the type, size, and purpose for that particular air compressor. It can be a tricky start when you have no idea what you are looking for.
In this article, we go through a detailed overview of some of the best air compressors on the market.
Features to consider in Good Air Compressor
PSI
Known as pounds per square inch, PSI is the force or pressure of air being delivered from the air compressor. The higher the PSI, the more, the more work you will get done since the tank will not need constant refilling.
For example, if you are using the air compressor to fill large trailer tires, you will need the air compressor to meet or exceed the PSI requirements for all the tires on the trailer. This way, you will not need to refill the tank in the middle of the job.
Tank Size
The tank size goes along with the PSI. If you have a small tank with high PSI, you have an advantage in that you can carry them around the workstation and still get power for most of your tools. They can handle medium-sized jobs, but you don't to be caught with one when you are managing a big job. As such, a big tank with high PSI is always desirable. Besides, large tanks can have dual outlets thus allowing multiple users to use it at once.
CFM (Cubic Feet per Minute)
Most people put more emphasis on the CFM than on the PSI which we can all agree on. This is because it tells you the speed at which air is going to be supplied from the air compressor. If you are using a tool that sucks up air faster than the air compressor can give, you will have to stall as you wait for the compressor to match up the speed of that particular tool.
dB Rating
You will need to have a machine that is pleasant to operate. An air compressor with 80dBA is four times as loud as that with a 60d rating. This feature makes a whole lot of difference when working in a station where you may need to listen to a supervisor's instructions or when you want the best customer satisfaction when working in a home with the family still in the house.
Portability
The weight of the compressor determines how easy it is to carry, up a flight of stairs. But that is not the only thing. When looking to own a portable air compressor, it is also vital to look at the shape of the compressor. Some use upright tanks with a handle while others are horizontally oriented with transport wheels. They also include a handle where you can push or pull the tank.
Top 10 Best Air Compressor 2023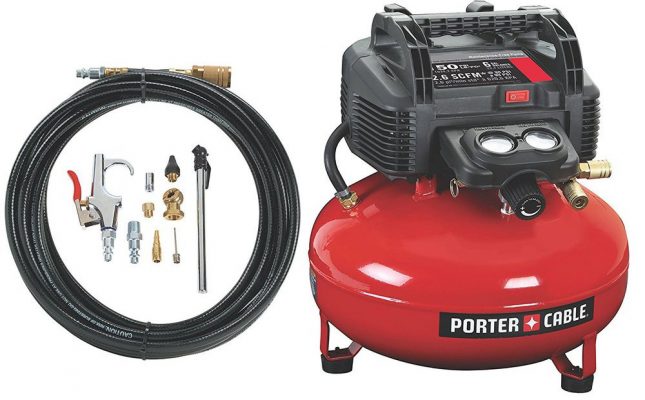 Why we like it:
This pancake air compressor packs a punch in a mid-sized design to power small tools like nail guns. It exhibits real performance in a simplified machine for daily use.
Editor's Rating:
Design Features
The Porter-Cable C-2002 air compressor comes in a stable pancake design. It is a model designed by industry leaders. No wonder it manages to pick our interest and even emerge as the best air compressor in today's list.
This air compressor features a 6-gallon tank with 150 max PSI. It boasts lots of functionality if you are looking to perform many maintenance tasks. It gives you longer running times when you need it to fill high-pressure tires and also run more tools. At 90 PSI, this unit operates at 2.6SCFM. This indicates it has a quick recovery time which means you can recharge it as many times as you need it without damaging the components of the compressor.
Convenient Features
This model operates using a low voltage, 120V motor. The motor can run even through adverse conditions making it useful when the temperatures plummet since it will always start with ease. The plug and coupler are factory installed which makes it effortless for anyone to use it.
We can agree that the simplified design is one of the reasons Porter-Cable C2002 is a top seller. You will love that it is crafted with an oil-free pump that keeps it in good condition for a very long time.
What's more, you get an accessory toolkit to get you started on a project if you don't already have the tools necessary for your first job. You will get a blow gun, 25ft hose, tire gauge, quick coupler, configurable attachments, Teflon tape, and a tire chuck.
Verdict
Porter-Cable is a durable model that boasts all the necessary features you need in a small air compressor. With the replaceable brushes in the motor, you get a unit that is long-lasting and useful through the toughest conditions.
Pros
It includes a quality water valve

It has a remarkable toolkit with 13 useful accessories

120V motor works in all weather conditions

It has rubber feet and a handle

It can run on standard household power
Cons
It is noisy; you will need to use ear protection
---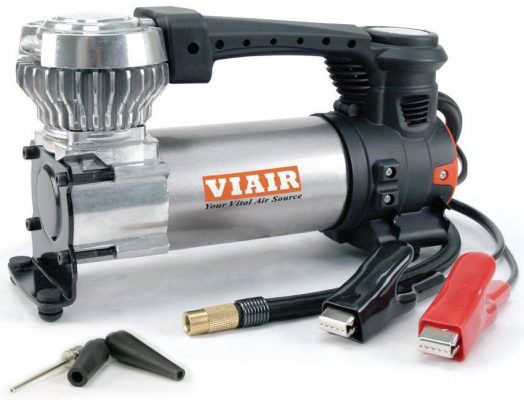 Why we like it:
This is a compact air compressor designed to go anywhere with you. It can inflate tires and will not be overpowered by the toughest jobs.
Editor's Rating:
Design Features
Turn to this lightweight and portable air compressor for jobs on the go. It is your best companion when you want to inflate tires anywhere as it has high pressure without making any compromises. You are welcome to use it on bicycle tires, ATV tires, car tires, and even motorbike tires.
With a max 120PSI, it is apparent that it is quite a capable model. If your commute is usually long, this is the air compressor for you. It works fast and easy using alligator clamps directly to your car's battery. It is a good option for emergencies and if you love performing quick maintenance tasks on your car.
This air compressor is powerful, operating at 1.47CFM. It can run up to 33% faster than other air compressors that feature a 1.06 CFM. You will not be taking rests or stops when you need to fill all the four tires in one standing.
Convenient Features
With a metal chassis and a heavy plastic handle, this model is designed to last. You will appreciate the rubber feet as they isolate vibrations that make it a pleasant unit to operate. Not to mention, it has a braided air hose and brass chuck to ensure it keeps its performance features working in the most ideal condition.
We like that Viair has incorporated a fuse in the power cord. If it works too hard, the fuse will trip the unit thus protecting your car from a blown fuse. You will be able to replace the fuse in the power cord fast and comfortable which is unlike what we can say for a vehicle's fuse.
Overall
This portable air compressor brings convenience of transport. You don't have to call in for a tow truck when you experience a flat tire, just get out your small beast and get to work. It is a functional unit that can work on all other types of tires as long as they are up to 33inches wide.
Pros
Comes with a 3-piece inflation kit and a 16ft. hose

Alligator clamps are simple to use with your car's battery

Pumps out air 33% faster at 1.47CFM

Robust metal chassis with a sturdy plastic handle

Power cord has an inbuilt fuse

Uses rubber to dampen the noise and vibrations
Cons
It does not include a carry bag for it or the accessories
---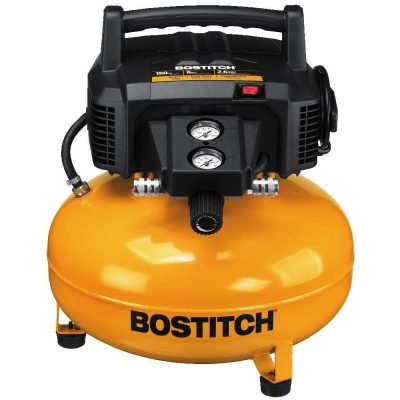 Why we like it:
It is a light duty machine that is also electric requiring absolutely no maintenance. It provides convenient use as it is portable and it employs vibration-damping effects.
Editor's Rating:
Design Features
The Bostitch air compressor is neat and functional. At only 14 inches wide, this mode is practical when you are squeezed on space. You will like that it weighs only 33 pounds which means you will not have problems moving it from one location to the other.
Bostitch comes with a 6-gallon tank and it operates at 2.6SCFM at 90 PSI. You can use it on all your nail guns and jackhammers as well as filling up tires. But it is not friendly with commercial paint sprayers.
The 110V motor operates much like in the Porter-Cable C2002. It allows quick startup, and you can also use it in inclement weather. Condensation is let out via a water valve at the bottom of the tank. You can see the operation on the gauges that make it easy to monitor what you are doing and manage any particular project.
Convenient Features
This air compressor allows connection with up to two fittings. This takes away the need to buy a splitter when you are operating a machine that needs two tools at once. It is also not a very noisy model as it has only 78dBA operational noise. You will not have a problem using it around homes. It also carries a Bostitch regulator to maximize air tool performance.
Overall
This air compressor packs enough power for most small jobs around the home. It can power nail guns, but you can't trust with a grinder. That said, Bostitch BTFP02012 refills quickly, and it is pretty easy to operate.
Pros
It has a maintenance-free pump

Equipped with Bostitch couplers and regulator

The motor is operational in cold weather

Operates at only 78dBA

Weighs 29lbs for quick transport
Cons
Some users are not impressed by the packaging; we bet Bostitch can do a better job
---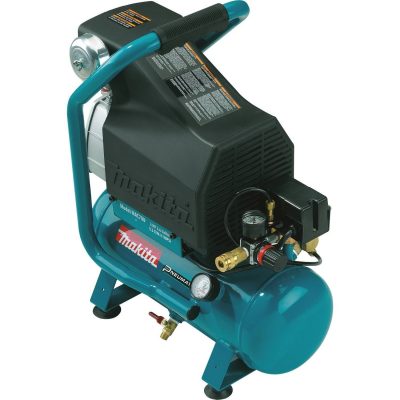 Why we like it:
This air compressor is a good fit for DIY enthusiasts. It meets the needs for moderate air requirements. It is an oil-lubricated compressor without the problems associated with many compressors in its class.
Editor's Rating:
Design Features
Makita MAC700 is not your average oil-lubricated air compressor. With a big bore cylinder and a cast iron pump plus heavy-duty pistons, this unit is about to give you the most impressive long-term performance.
The 1720RPM pump can deliver high volumes of air pressure to tackle most demanding jobs at your workshop. It has a 2.0HP pump which ensures fast recovery and increased compression and less noise. With it, you are free of voltage drop and tripped breakers because of its small power draw.
With a 2.6gallon capacity, this air compressor can provide up to 130PSI. You will get air pumped at 3.3CFM at 90 PSI and 2.3CFM at 40PSI. This gives you use in a wide array of applications without stopping midway to recharge the unit. It is probably the most reliable oil-lubricated air compressor since it runs cooler resulting in a longer life.
Convenient Features
If you have always dismissed oil-lubricated air compressors because of the constant maintenance, it is time you take a look at the Makita MAC700. It comes with an automotive style air filter that increases the air pressure to great levels. You also get an oil level window plus an oil drain that is well-positioned for quick access.
Verdict
Makita MAC700 is quite a useful machine in most medium-duty applications. It draws low amps which means it's not going to dim the lights in your home when it is in use. It runs quieter than most air compressors since the oil allows it to run cool which minimizes friction and vibrations from moving parts. It is a must-have for every DIY enthusiast.
Pros
It has a durable cast iron construction

Oil-lubricated pump allows cooler and quieter running

Low amp draw minimizes instances of voltage drop and tripped breakers

Includes a tank drain valve, oil drain, and oil sight window

It has a roll bar handle to facilitate portability
Cons
It is quite heavy such that the handle may not be of much help when transporting it if you can't lift it
---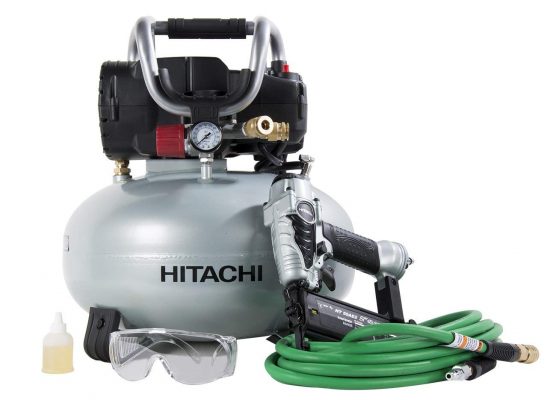 Why we like it:
It is a great deal to have two tools at such an affordable price. With a Brad Nailer included, you can get to work right away.
Editor's Rating:
Design Features
Hitachi KNT50AB compressor is an oil-free model. You could expect that it is noisy, but the opposite is true seeing that is scores the lowest in background noise so far in our list.
The tank has a steel construction which makes it revered for its durability, but this comes with a little extra weight. You will have to manage 38.5 pounds. However, it comes with two couplers that allow you to use it with two nail guns at the same time.
The compressor is a 6-gallon tank that delivers up to 150PSI. It is dependable when you want a model that can help to complete projects and meet deadlines without any extra expenses. It gives you plug-play convenience with the 120V motor that works efficiently even on cold winter mornings.
This compressor is supplied with a 2-inch 18 Gauge Hitachi Brad Nailer. It is lightweight and fully rubberized which means it will not feel like it is crumbling in your hands. It has a ¼ inch air inlet, and air enters at an angle while export of air is multidirectional. It operates at a pressure of 70-120PSI which is standard for most nail guns and nailing jobs.
Convenient Features
With the industrial regulator and gauge, you will get convenient pressure readings and PSI adjustments. Draining the tank is also a breeze since it comes with a simple ball valve drain. It has rubber pads that keep surface damage at bay, and the steel roll cage includes rubber grips that not only protect the inner components but also give you comfort during transport.
Verdict
If maintenance jobs around your home plague your weekends, this kit presents a useful tool at an affordable price. It is functional for both professionals and hobbyists. With an accompanying nailer, it is just the right pick when starting small projects.
Pros
The oil-less design is simple to maintain

Pancake compressor gives it more stability

Comes with the safety glasses and pneumatic oil for the nailer

Steel construction provides rugged use in job sites

It has two universal couplers

Large air supply reserve in 6-gallon tank
Cons
The nailer needs consistent care and maintenance as it has to be oiled
---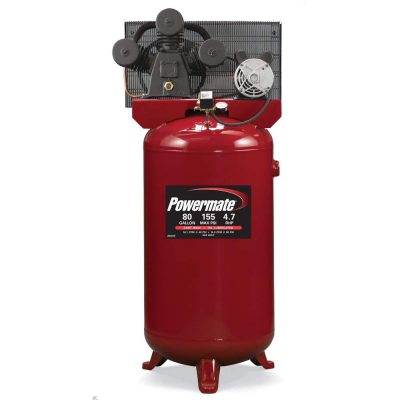 Why we like it:
It is an industrial-grade compressor with enough power for tough sandblasting jobs. It combines considerable CFM and high PSI to handle intensive tasks.
Editor's Rating:
Design Features
The Powermate Vx PLA4708065 is sure to get the job done for in sandblasting jobs. With 4.7HP and 155max PSI pressure, you will not be going twice over jobs just to make sure it did the job right the first time.
The tank has a durable construction from cast iron. It offers dependable longevity as it can withstand abuse from sandblasting job sites. You will want to find some real estate for it since the 80-gallon tank is large and stationary.
You will get air pumped at 14CFM at 90 PSI. It can take on demanding equipment and provide you with smooth and continuous jobs. The oil-lubricated pump is complemented by a one-piece crankcase also made from cast iron. It features a valve head and aluminum head that increase heat dissipation and improve cooling in the process.
The dual voltage induction motor takes performance to the extreme as it ensures smooth performance at all times. With a wired formed belt guard, this air compressor runs even cooler while the metal belt guard protects the moving parts.
Convenient Features
Powermate Vx gives you an easy-to-operate unit. The On/Off switch and the pressure gauge are conveniently located at the top which allows you to check the PSI in an upright position rather than bending. You will also be supplied with the air compressor oil so that you can start operation right out of its package.
Overall
This air compressor is definitely up to the task when it comes to handling sandblasting jobs. It has a large capacity which is a must-have since sandblasting takes a considerable time for a fine job. It has the specialized features including a high CFM rating to complete tasks with ease.
Pros
Quick and easy to operate with the help of a well-position On/Off switch and tank pressure gauge

Durable construction from cast iron alongside metal belt guard to protect the inner components

It uses a heavy-duty motor

It has a large 80-gallon capacity
Cons
It cannot be run using standard household power
---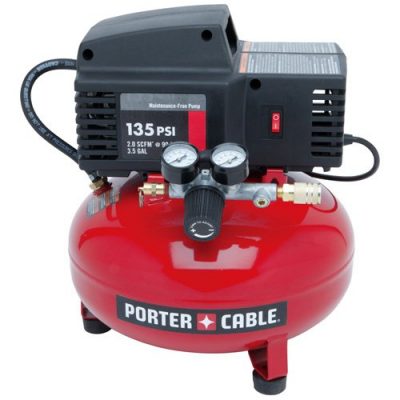 Why we like it:
It keeps up with the demands of the avid DIYers while being tailored at a very reasonable price. It combines remarkable PSI to run simple household tools like air wrenches, nail guns, etc.
Editor's Rating:
Design Features
Porter-Cable PCFP02003 Pancake Compressor is a decent model for the price. Apart from the obvious pancake design, this compressor exhibits durability thanks to the oil-free pump that demands no maintenance. You can perform lots of household tasks like installing a rim or inflating bicycle and car tires.
Because it is lightweight, you can easily transport it to different locations and store it conveniently. It delivers air at 2.0SCFM at 90PSI which is pretty incredible considering that it has a 3.5-gallon capacity. You will have enough time to complete jobs before it calls for time to recover.
This model features a factory-installed coupler to give you quick access to the regulated air. It will not overtax your circuit breaker since it draws only 10amps. As such, you have an air compressor that is reliable when using it at home.
Convenient Features
This air compressor comes with an automatic switch that kicks in when the unit reaches its cut-out setting. It saves the motor and keeps it operating in excellent condition. What's more, it also has a safety valve that releases the extra air. It comes in handy if the switch does not kick in to switch off the motor at the cut-out setting.
Overall
This air compressor has been built to meet high standards. It fills the gap where you need a compressor that can run lots of tools and is still portable enough. You will require to furnish it with the accessories, but so far the complaints are only about the high noise level.
Pros
It is equipped with regulator knob to control pressure

It has a thermal protector

It automatically restarts when pressure is below 105PSI

Comes with an automatic switch

The motor can start in cold weather
Cons
It is very noisy at 82dBA noise level
---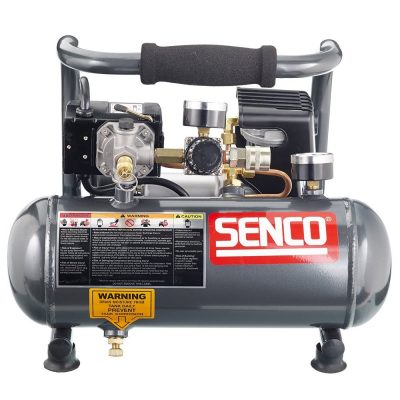 Why we like it:
It is an oil-less compressor that works in areas where spills and contamination are a no-no.
Editor's Rating:
Design Features
Senco PC1010 air compressor is an excellent option if you are going to be operating simple household tools. It has a reasonable CFM rating that can support the needs of everyday jobs like casing and billboard installation. It matches functionality and value in a small package. What you get is a model that gives you continuous flow of air to drive nails and rims into the surface you intend.
At only 20 pounds, this compressor is a classic portable design. It takes little room which makes it a good pick for small work areas. We like that it has a carry handle that allows comfortable carriage. It has a 1-gallon capacity which gives you 128 seconds to pump up the air and only 35 seconds to recover.
Convenient Features
You get a unit that has rubber-covered feet that will protect hardwood floors. It also runs more quietly than pancake compressor so you will find it a good candidate if you will be using it for in-house jobs like near napping babies. You wouldn't like fingers pointed at you by angry neighbors.
Verdict
Senco PC 1010 wins in indoor use. It is a sturdy and lightweight air compressor. You get to use it with most tools that require high pressure up to 120PSI. It scores well thanks to its oil-free design. With it, you get worry-free operation. What more could you want in a highly functional air compressor?
Pros
Ultralight and super quiet

Lubeless pump is maintenance-free

Motor starts the compressor even in adverse conditions

It has rubber feet to absorb vibrations and protect floors
Cons
The drain valve is not centered at the bottom of the tank
---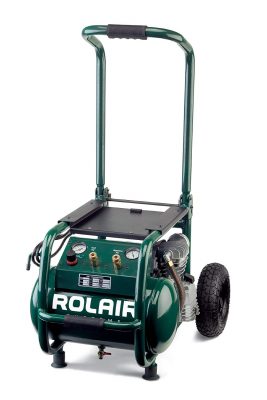 Why we like it:
This compressor has a high CFM rating which is just right for both impact wrenches and paint sprayers.
Editor's Rating:
Design Features
Most spray guns can run at a small Psi, but you will need a high CFM if you need to use your spray gun continuously. The Rolair VT25BIG comes in handy to work with impact wrenches and spray guns the same. This is a single-stage direct drive compressor that puts out a punch in CFM managing a good 6.5 at 90Psi.
It jumps right in where we want it in offering more power for tools that require consistent running. It comes with a steel roll cage complemented by a handle to get things moving fast and easy. The pneumatic tires are robust and made for tough all types of terrain both indoors and outdoors.
You have an oil-lubricated compressor that is pretty easy to oil prior to using it for the first time. You also get two quick-disconnect couplings that sit right next to the regulator. With the 5.3 gallons of compressed air, you can run your tools for longer and complete jobs faster.
Convenient Features
Apart from the pneumatic wheels, you will fall for the intuitive handle as it folds across the carriage for compact storage. It can run two air hoses, and two gauges plus you can lock the pressure regulator by a quick twist of the red plastic nut. It also comes with a ball valve and a safety valve that are both important in releasing any excess air.
Overall
This air compressor is designed to handle jobs that are not typically achieved by regular air compressors. It can run a wide variety of tools so you are not restricted to the kind of job you can tackle with it. Whatever it is you want to accomplish with a powerful air compressor, Rolair VT25BIG has your back.
Pros
The visual gauge helps to check the oil level

It has a cold start valve

Comes with an onboard reset switch

It can run at 3400 RPM

It has wheels for improved portability since it is a heavy compressor
Cons
It is very noisy at around 86dBA
---
Why we like it:
It features a wheeled design so that it is easy to work with less effort. Talk of convenience at its best and you have a model that you can use with nail finishers, blowguns, staplers, and dental grills.
Editor's Rating:
Design Features
California Air Tools is best known for their well-built air compressors. The 5510SE is an ideal model for small applications as it delivers powerful 1.0HP to get you working with all household tools around your workshop.
This unit is created as one of the quietest models in its class. At only 60dBA background noise, you can maintain a conversation and even work quietly while someone else is in the next room. It operates at only 1680RPM creating less wear in the machine thus increasing its durability in the process.
The 5.5gallon tank provides 2.2CFM at 90 PSI and 3.10 CFM at 40 PSI. It takes only 400 seconds for the compressor to recover from 90 to 120 PSI. With an oil-free dual system pump, it guarantees you high performance and efficiency for a long time.
Convenient Features
This air compressor comes with a wheel kit. It gives you the convenience to work without lifting heavy equipment from one location to the next. The dual piston pump bears a construction from abrasion resistant materials. It can withstand high pressure, and it can operate for up to 3000 hours of service.
Verdict
The California Air Tools 5510SE is a reliable aluminum tank compressor that is incredibly easy to move. It is engineered for longer life giving you a reliable performance from its construction to the pressure and capacity. You can't go wrong with such a well-thought air compressor.
Pros
Quiet operation at only 60dBA

It uses an oil-free dual pump system

it has a wheel kit for easy movement

Quick air delivery at 2.20CFM at 90PSI

It provides 3000 running life
Cons
It does not come with the accessories
---
Guide to Buying the Best Air Compressor
If you are looking to complete most domestic tasks, a professional contractor or a DIY enthusiast, you will need pressure to run most of your tools.
Essential Factors that Lead up to the Best Pick in an Air Compressor
Purpose of the Air Compressor
Since you are acquiring an air compressor to power tools, you will need to first and foremost consider the tools you are going to bring on board to be used with the air compressor. These tools range from nail guns, car tires, bicycle tires, impact wrenches, paint sprayers, air hammers, rotary grinders, etc.
You will want to identify the pressure and air volume requirements of these specific tools. This way, you can easily match these requirements with the ideal air compressor. The easiest way to do this is by buying an air compressor that has 50% more Psi and air volume than the tool with the highest needs.
Type of Air Compressor
You will encounter different kinds of air compressors from pancake, hot dog, twin stack, and wheelbarrow compressors, but they are in either the stationary or portable category. Stationary air compressors come with massive tanks that are stored in one location at the workshop. These are usually used for tough jobs that require running for longer periods.
Portable air compressors, on the other hand, have small storage tanks with wheels and handles. They are movable from place to place, and the wheels improve maneuverability according to the location.
Power Supply
Gasoline powered air compressors are not common because they need lots of maintenance and are designed for industrial use. That's why electric compressors are common as they are easy to maintain and readily use household power. They are preferred because they are quieter than gas-powered air compressors. This way, they can be used indoors with no fuss.
Thermal Overload Protection
If you will be operating the unit continuously, it is going to heat up because of the friction in the components. The last thing you want is your air compressor damaged from an overload. With overload protection, the power to the motor will automatically be cut which will protect the unit in case it overheats.
Reliable Drain Valve
Air contains moisture. The moisture can collect in the tank which can corrode the internal components especially if they are made of cast iron. As such, it is important that your air compressor includes a drain valve that you can depend on to remove the excess moisture.
Conclusion
Buying the Best Air Compressor should now be an easy process with these top brands in the market. We have listed top sought models that are popular for their performance, convenience, and durability. You can pick one of these air compressors if you need a unit for home use, car tires, nails guns, and many other tools.
Go on and give them their best applications in both professional and personal use.