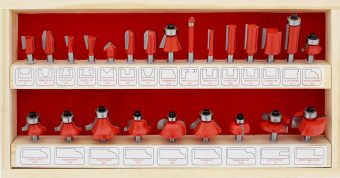 ABN Tungsten Carbide Router Bit Set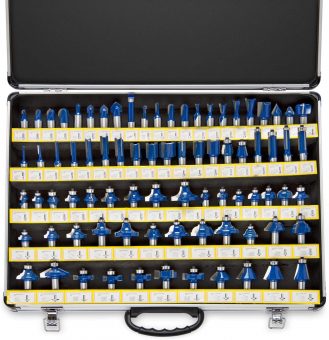 Neiko 80 Piece Premium Set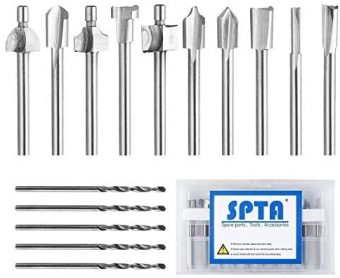 SPTA 10 Piece Router Bit Set
Previous
Next
A router is an excellent tool for any craftsman that and can really help you fine-tune a woodworking project. If you need to decorate an edge, make a joint flush, or even make a nice hole, a good router bit is a necessity. Most good rotary tools include a few adequate bits, but as you use your tool more often you'll want to upgrade and expand your arsenal. Though many router bits will handle a variety of job types, your results really come down to the specifc router bit that you're using. This is due to the fact that each router bit will give you different results, and since not every project can be done with the same set of bits. Edging bits are designed for trimming, bevel bits for angle cuts, and straight bits work well for basic channel cuts. Therefore, if you really want to get the job done right, you'll need to make sure that you have all the bits you need readily available.
If this sounds a bit overwhelming, don't panic, because you're in the right place. We know how hard it can be to find the best router bits, which is why we'll be showing you the 10 best router bits on the market. If you're unsure about what types of bits that you need in a set, we'll have some great pointers for you on that topic as well.
Features to Consider in Good Router Bits
Before we jump right into the best router bits, it's important to know what you're looking at. Therefore, if you're not familiar with the different types of router bits that you'll find, take a look at each type. If you'll be using a router to make precise cuts and holes for your project, you need to know what specific specs are required before you make your purchase.
Router bit types
Straight router bits
Straight router bits are among the most common router bits. This is due to the fact that these bits are used to make simple holes within wood or metal, and they can cut straight into a material in order to make a groove. These grooves are called dados, and are common in many types of projects. Straight router bits come in all different shapes and sizes, which makes them great for any router that you may have.
Rabbeting router bits
Rabbeting router bits are a bit different than straight bits, due to the fact that rabbeting router bits are designed to make cuts more commonly known as shoulders, which are used to create joints. These bits also come in a wide array of sizes, and in most sets you'll usually find a rabbeting router bit.
Flush-trim router bits
If you need to make trim flush, this is obviously what a flush-trim router bit is for. This is a router bit that is designed to make sure all of the edges on a project are smooth. This works by removing excess material through a bit guided by a special bearing called a pilot bearing. Also, depending on the bit, these bearings can either be at the top or bottom to work on either side of the material. Many flush-trim router bits can be purchased in either configuration, so it's probably wise to get both.
Chamfer router bits
Chamfer bits are designed for bevel cuts, which use a particular angle to make a more decorative edge. These bits can help create a wide array of creative projects. If you need to make a joint appear more smooth or stylized, a chamfer router bit can definitely come in handy.
Edge-forming bits
Edge-forming router bits do exactly as the name suggests: they create precise edges. These bits can be square, rounded, or cut in a way that resembles a half circle. Edge-forming bits tend to be used to put the finishing touches and details on a project.
Other specialized router bits
The bits that we just went over are the most common standard router bits, but there are many others. You'll find very specialized bits like cove bits, raised-panel bits, and many more. Some other specialty bits to keep an eye out for are finger-joint bits, dovetail bits, drawer lock bits, and even miter bits. There are a lot of bits beyond the basic ones out there to fit the needs of specialized projects. If you're interested in learning even more about specialized bits, check out this informative guide.
Shanks and shank size
The shank of your router bit is the portion of the bit that connects to the actual router tool itself (or any other rotary drill). This is important to know, because having the wrong shank size can completely put your project on hold. The good news is that there are two common sizes: ¼ inch and ½ inch, though many others are available. On top of that, most routers or rotary drills are actually able to change between the two.
Also, if you want to utilize router bits with a dremel, you'll always want to go with a smaller shank. Small shanks will keep vibration down and allow you to have more control over the bit. This is especially necessary for dremels because they have a very small rotary tip. It's always safe to go with ¼ inch or ⅛ inch shanks if you'll be using router bits for a dremel drill.
When considering the right shank size, take some time to consider how deep you'll be needing to drill. If you need to drill pretty deep, a ½ inch shank will be much easier to work with. The extra size provides you with more control, more precision, and a very simple cutting experience. If you're curious about what shank will fit your router, this guide goes into a bit more depth about shank size.
The 10 Best Router Bits 2020
Guide to Buying the Best Router Bits
Now that we've gone over the 10 best router bits, it's time to take a look at why routers and router bits are important. We'll be breaking down some key uses and concepts around router bits, and we'll also have a Q&A for you as well. If you're more of a visual learner, we also have some links to some great tutorials. If you're new to routing, make sure you learn the basics before you get to work.
How to choose the right router bits
Router bits work by spinning in a circular motion at a high RPM to deliver a precise cut. Each bit works in a different way, but the main goal of using a router bit is to make sure that you can shape materials appropriately for your project. This applies to trimming edges, making projects flush, and even by making joints run smooth between two pieces of wood. Let's take a look at some common applications for router bits. Different bits will make different cuts, so it's important to know what each does before you use it.
For angled cuts
Choosing the right bit for the job really depends on what you're looking to do. If you need to create a smooth edge on a project, you'll definitely want to consider a roundover bit, while decorative angles are best dealt with by a beading bit. These bits make this type of job simple, and if done right, will provide you with clean-cut edges. If you're looking to make a 45° angle, you might want to consider using a chamfer bit to start. Here is an example of what these angles cuts will look like:
For joints or channels
If you need to cut straight into a piece of wood, or possibly smooth out something like a joint, you'll want to start with a straight bit or rabbeting bit. A straight bit will be your best bet for making a channel cut, which will resemble something similar to a square. For joints, a rabbeting bit will do an excellent job smoothing the edges.
Trim work
Finally, we have trim work. If you want to make your wood appear smooth, or even add some decoration to it, you'll want to utilize a bit like a flush-trim bit. These are not the only router bits that you can use for a job like this, and there are other edge-forming bits that you can use as well. If you want to take a look at some tips and tricks to learn on molding, take a look at this video.
Understanding Coating Options
We spoke a lot about titanium, carbide, and even powdered coating within our list. This is due to the fact that coating is key when it comes to considering the best router bits on the market. Think about it this way: the better the coating, the longer the bit will last and the more precise its cuts will be. So, when you need to consider a router bit, take some time to look at what each bit is actually coated with. For the most part, titanium and carbide coatings increase durability, while powder-coated bits tend to work a little bit more smoothly.
Understanding router bit blades
Router bits often advertise that they're made with high-quality carbide, so understanding what this material does is very important. To begin, we need to take a look at both types of carbide used in router bits. While they may be very similar, they do actually have some key differences that set themselves apart from one another.
C2 carbide
C2 carbide is not a bad carbide by any means, but you need to be careful with this coating if you'll be using your router bits for a long time. This is due to the fact that C2 carbide does not hold up as well against high heat usage. If you'll be drilling into wood for more than a few minutes at a time, these bits will end up wearing down very quickly. If you're looking into router bits that are rated with C2 carbide, make sure that you don't use them too heavily.
C3 carbide
C3 carbide is the carbide you want for your most commonly used router bits. This carbide holds up well to heat, and allows you to get prolonged usage out of them. So, if you want a router bit to end up lasting you a long time, go with C3. This is the best grade of carbide for commercial usage, and works well on both metal and wood.
Other Types of Carbide
Though these are the most common types of carbide used in router bits, there are actually several other grades. Each one is suitable for different projects, and while knowledge of the most common types should be sufficient for most, you can find more information about these lesser-known types by checking out this chart.
Bearings
Something you also need to consider when looking at router bits are bearings. Bearings may sound simple, but they can actually make or break a project. A bearing on a router bit the part that acts as a stop for your bit. If used properly, a bearing will make sure that you stop drilling at the perfect measurement. For this reason, it's important not only to pick a kit that contains router bits made with good materials, but high-quality bearings, too.
Q&A
What types of router bits should I look for in a set?
When buying a router bit set, you'll want to make sure that you have a straight bit, chamfer bit, cove bit, flush-trim bit, and a rabbeting bit at the minimum. These are the 5 basic router bits that you need for most projects. With these 5 router bits, you can edge, make round cuts, and even make bevel cuts. Beyond that, you'll need to think about what types of projects you'll be undertaking, and make sure that your kit includes those more specialized bits, too.
How many router bits do I need?
The answer to this question depends on the type of project that you're working on. If you're working on something a bit more basic, a 10- or 15-piece set will work just fine. If you're going to need to make a lot of precise angles and bevels, then it's definitely a good idea to consider getting a bigger set.
You should also consider whether or not you'll be using these bits for work or home use. If you need router bits for your job, then we would definitely recommend getting one of the larger router bit sets. This will make it easier to get the exact cuts that you will need. If you'll only be using router bits for a few DIY projects, it might be a good idea to utilize one of the smaller sets.
Are router bits one size fits all?
The shank size of router bits is always something to take into consideration. This is due to the fact that most shanks will fit into most rotary based tools, but there are exceptions. For example, a router bit with a larger shank may not fit in a smaller rotary tool. On the other hand, a ¼ inch shank size might work well with a dremel over a different rotary drill or router. Match your tool's compatibility with the shank size in each kit and you won't have any fit problems.
Final thoughts
If you want to get a job done right, you need the best router bits. Not only will the right router bits make your life easier, but they'll make sure that your project comes out the way you want it to. While you may be tempted to go with a less expensive option, the better the router bit set you have, the better the outcome of any project you're working on will be. Cheap router bits won't last as long, either, so buying the right product in the first place will save money in the long run.
We know that we went over a lot, but this is due to the fact that no two router bits are the same. Owning more bits will open up more possibilites, so we always recommend going with a router bit set instead of buying single bits. We hope that this guide helps you build a collection of router bits that will allow you to easily gear up for your next project, whatever it might be.