Oscillating tools come with versatility valuable for home or professional use. Over the years, the way these best oscillating tools are made has changed. Battery-powered brushless motors are now seen more often. The accessories which can be used with the tools have increased and improved as well. Its no wonder they have such wide applicability.
Features to consider in Good Oscillating Tools
The oscillating tools attachments allow them to be used for various purposes. From sanding to caulk removal, this small tool is used both in construction and renovation work. Specifically, it can also be used in the following instances at home, with general renovation work.
Plunge cuts
An oscillating tool can be used for plunge cuts. To make this possible, users need to attach a plunge cut blade to the oscillating tool. Plasterboard can easily be tackled and cutouts made with the right plunge cut blade.
Undercutting door jams
Replacing old floors might come with door jams trimming. Since the new floor can be higher than the old floor, this is a task which can easily be handled with an oscillating tool with a segment-type blade.
Slicing through fasteners
General renovation work can require removing trim decoration. In some cases, various nails or screws might actually prevent trim removal. A metal cutting blade needs to slide behind the trim to cut through fasteners.
Remove grout
A carbide blade can be attached to an oscillating tool to remove grout between tiles. This automated action is considerably faster than removing grout by hand.
Scraping adhesive
Scraping away adhesive comes with its own challenges. Luckily, there are many affordable scraper attachments which can be mounted on oscillating tools to make the job easier. Silicone sealing used in bathrooms can also be removed with the help of a scraper attachment. The following tools can be used for these and multiple other purposes.
Top 10 Best Oscillating Tools 2023

Why we like it:
With the battery-powered performance, the oscillating multi-tool is a top choice for both home and professional use.
Editor's Rating:
Design features
Dewalt is one of the pioneers of cordless power tools. The oscillating multi-tool is among those leading products from the manufacturer. Of course, since the manufacturer has over 180 power tools, it might be a struggle to gain popularity even within the brand. But the oscillating multi-tool has the main advantage of offering more power freedom with its cordless 20V design.
Apart from the advantage of power, the power tool is also easy to use. Unlike many other oscillating tools, it actually requires no wrenches to change the blades. Even professionals can find this time-saving design characteristic very important.
There is a dual grip design as well. Made with a rubberized finish, it stays fixed in the hands, even with sweaty palms. Of course, this also has large applicability in the quality of the results as well. The better the grip, the more precision the user has for depth and height adjustments.
Another interesting design characteristic comes with the built-in LED light. Even during the day, the light can provide better visibility in places where it's needed the most. It can also be considered for added precision such as with various cuts.
Convenient features
The oscillating tool has multiple uses. From the start, it ships with a universal blade adapter to make the most out of its versatility. Users also receive two wood cutting blades which are perfect for general tasks around the house.
Most importantly, the performance of the oscillating tool is appreciated. Based on a brushless motor, it manages to offer up to 57% more runtime. This is important as it is powered by batteries. The good news is that it even works with other 20V batteries. So those who already own a hammer drill or an impact drill with 20V batteries can easily interchange the power-giving system. Otherwise, the batteries for the oscillating tool need to be purchased separately.
Verdict
There are not too many cordless oscillating tools which work with this type of precision and motor reliability.
Pros
Truly versatile design

Double grip for extra control

Based on a top brushless motor

Ships with cutting blades and a blade adapter

Requires to wrenches to change blades
Cons
Batteries sold separately
---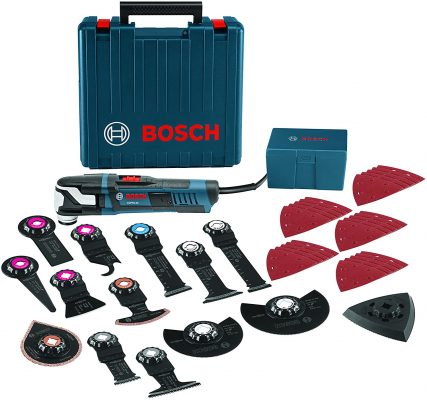 Why we like it:
With one of the best-in-class torque transmission designs, the Bosch oscillating multi-tool is a top choice for precision work.
Editor's Rating:
Design features
The compact Bosch StarlockMax is among the very few tools which are made with sharp engineering. Based on a powerful motor and a nearly perfect torque transmission, it's no wonder the tool is seen in so many hands today.
One of the best characteristics of its user-friendly design comes with the no-touch accessory change. Those switching from wood cutting to removing trim can quickly change the blades without actually touching the attachment point.
This functionality is based on a pull and release lever. So there is no need for extra tools with blade changes. The Starlock accessories can be locked in any of the 12 positions the tool comes with.
Many power tools are hard to grip for those with small hands. This is not the case with Bosch's release. The oscillating tool actually comes with a narrow grip which makes for one of the best grips for top precision on any job. Within the grip, there are even multiple softer materials in key points which make holding the oscillating tool as easy as possible.
The product ships with a wide range of accessories. They include StarlockPlus, StarlockMax, and Starlock releases. Their role is mainly in the flush-cutting, plunge cutting, sanding, and grinding departments.
Convenient features
A 5.5 amp motor powers the tool. This results in up to 20.000 oscillations per minute. Of course, this is highly dependent on the type of work. Variable speed dial is perfect for the ultimate control in the hands of the user.
For practicality purposes, the speed can be adjusted according to the task and blade at hand. The Bosch kit also includes a few blades which can test out this variable speed. These blades include a sealant knife, a scraper, a plunge blade, a segment-blade, a grout blade, etc. Together with a sanding pad, users can start their jobs with confidence.
All of these accessories can be used for maximum torque transmission based on sharp motor performance. Flush cutting, plunge cutting, sand, and grinding are easier and faster as a result. Like all products, the oscillating tool has its drawbacks as well. Luckily, the tool itself is world class. It's the accessories which can fall short for a number of professionals. For example, painters might need better quality sandpaper than those which ship with Bosch's oscillating tool.
Verdict
With one of the most impressive motors, the oscillating tool is recommended for those who love kits and all the 40 accessories which can be used around the house.
Pros
Powerful 5amp motor

Best-in-class grip design

A large set of accessories

Fits all Starlock accessories

Recognized torque transmission
Cons
Sanding accessories could be improved
---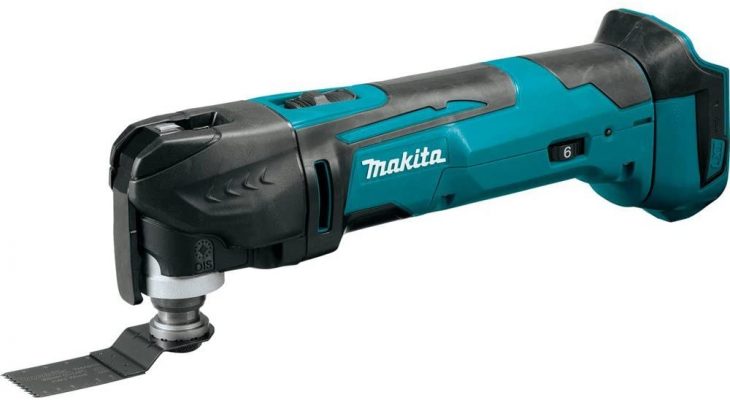 Why we like it:
Based on a cordless design and fast charging, the oscillating tool incorporates some of the proven technologies Makita has to offer.
Editor's Rating:
Design features
Without a doubt, the cordless multi-tool from Makita is a mature product. It comes with reliable results based on impressive user experience. Of course, the ultimate control is what users need. But the ergonomics of the power tool can take it head to head with class leaders at any time. The oscillating tool comes with a barrel grip of just 2-3/8" which offers it's handling perfectly even for those not known for their strength.
But the most important design characteristic comes with its cordless design. It is one of the most practical multi-tool releases in the past few years as a result. There is battery compatibility with other Makita power tools. At 18V, the Lithium-Ion batteries provide up to 20 minutes of continuous runtime. Makita is also famous for its fast charging batteries. With the help of the LXT Rapid Optimum Charger, batteries can be charged 3 times faster. Of course, the run time is also improved compared to what most other manufacturers have to offer.
Those still unsure about battery-powered multi-tools need to know Makita takes their batteries seriously. For this reason, all batteries come with overload protection. Over-discharge programming is also added. This works by cutting off the tool when the batteries are insufficiently charged. Overheating is another common batteries problem and Makita has an automatic protection system for it as well.
Convenient features
The motor is made to a high standard similar to the multi tool's design. It comes with oscillation between 6.000 and 20.000 per minute. For more information about the right oscillation, new users can consult the owner's manual. It is here that users find tips such as using the tool at a 3.2 oscillation angle for more aggressive sanding. But the oscillating tool works with top results on wood flooring, tile, plaster, sheetrock, PVC, etc.
Among all other convenient features, the multi-tool also comes with a good degree of practicality. As most modern multi-tools, it offers the ability of inter-changing the accessories without the help of wrenches. However, it lacks an LED light to be as high as it could potentially go for Makita fans.
Verdict
With precise construction and one of the best battery systems on offer, it is among the quality cordless options to consider.
Pros
Works constantly up to 20 minutes per charge

Offers a minimum of 6.000 and a maximum of 20.000 oscillations

Designed with a tool-less clamp system

Powered by 18V Lithium-Ion batteries
Cons
Doesn't come with an LED light
---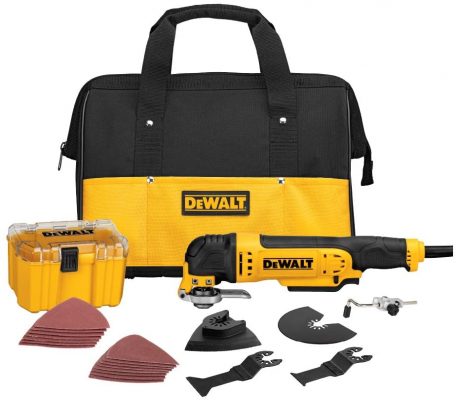 Why we like it:
With adaptability for popular attachments, the corded oscillating tool is a fair price option with Dewalt reliability.
Editor's Rating:
Design features
The kit is perfect to offer a quick start for those looking to own personal oscillating tools. At the same time, it comes with the same technologies which made Dewalt a top name in this category. One of these technologies is the quick accessory change system. There are no tools needed in this process to offer a more user-friendly operation.
At the same time, just above the accessory change system, users can benefit from a built-in LED light. Used across the Dewalt range, the light is useful for extra precision. Behind the motor, there is a dual grip variable speed trigger. It allows all users to select their desired speed, which mainly depends on the task which needs to be accomplished.
Apart from the oscillating tool itself, users also get a range of accessories to cover the most basic jobs around the house. This includes cutting and sanding accessories. But there are other unique design characteristics to consider further. One of them is the oscillating tool guide system. This system allows users to customize depth and height with exact precision.
Convenient features
There is a 3amp motor inside the oscillating tool. While it is not the most powerful solution in the range, it has a very constant performance which makes it reliable for long-term use and for most tasks. The variable trigger is also made to a high standard which allows users to work on various repairs around the house with ease as there's a short learning curve to these speed adjustments.
Most users find the motor to be perfectly balanced. Moreover, they find the motor works very well with the design of the multi-tool. In some ways, it is among the top tools for the right balance of design practicality and power. Even the accessories it comes with offer quality results. As far as drawbacks go, there are not too many of them. But since the tool comes with a power cord which sticks out the handle, some user feels discomfort as there is no flexibility in the immediate power cord protection attached to the handle.
Verdict
With a fair balance of power and design practicality, the oscillating multi-tool is reliable as are the accessories it ships with.
Pros
Offers one of the best designs in its class

Made with a durable 3 amp motor

Includes top-quality accessories

Designed with a quick-change accessory system
Cons
A stiff power cord protector
---
Why we like it:
With a cordless design, the tool is part of an inspired started kit with included woodcutting blades and sanding pad with sheets.
Editor's Rating:
Design features
The tool might be less expensive than its alternatives. It may even come with a lower highest oscillation per minute. But it impresses with its results and durability nonetheless. Part of the impact of the design is based on the all-metal construction. This means that the tool might make its way from home use to construction sites where common impacts are seen daily. This is why it may even be recommended for those who use such oscillation tools on a regular basis.
There are 12-speed settings to control by the user as well. These are easy to adjust depending on the cuts, sanding or other jobs at hand. Similarly to some of the best releases in its class, the multi-tool also offers LED lighting for those low visibility areas.
But by far, its main design attraction point comes with its cordless construction. Powered by 18V batteries, the oscillating tool can be used on all regular tasks a corded alternative is used for. It also comes with battery protection measures such as a lower power output when the batteries are about to be drained.
Convenient features
In terms of actual results, even with various speed settings, the tool offers plenty of power control. This is actually done through oscillations per minute control. The multi tools work with a maximum of 18.000 oscillations per minute. This is enough to make the most of its included blades such as the scraping blade.
With the help of a rubber grip and an LED light, the tool can be used on multiple other jobs from cutting to sanding. The great part of any task is that all of this can be accomplished with a cordless design. Even working on remote sites where there is no electricity is fully possible.
Verdict
As one of the most affordable oscillating tool with accessories, the kit is a recommended first purchase for those seeking cordless designs.
Pros
Runs on batteries

Comes with included accessories

Offers 12 speed for various tasks

Includes LED lighting
Cons
Not the fastest blade changing
---

Why we like it:
The cordless tool is recommended for its tighter blade fit which offers an increased contact area.
Editor's Rating:
Design features
Made with cordless compact design, the oscillating tool is Bosch offering for better versatility. Part of this improved versatility comes with the actual blade fit design. It is here that the manufacturer placed extra attention. With a tighter fit, there is more blade area to work with which can be helpful in hard to reach areas.
Using the Starlock interface, the oscillating tool comes with impressive blade compatibility. Of course, installing a new blade is easy. For this purpose, the multi-tool comes with a snap blade installation. Not parts can be lost during the process and no tools are needed. As already expected, all connected tools can be set into any of the 12 positions Bosch comes with.
Another main characteristic to consider for its benefits is its cordless design. Bosch has done a great job at keeping the size of the oscillating tool compact, given it comes with a battery-based design. This is seen in its weight as well. Without the battery, the oscillating tool only measures 2.7lbs.
Convenient features
If some users are concerned about performance on batteries, the oscillating tool is actually very capable. There are up to 20.000 oscillations per minute which can come based on fully charged batteries. These oscillations can also be lowered for softer materials down to 8.000 opm.
Having a compact nature, the oscillating tool is also considered in tight spaces. Working in apartments is no problem. With added blade orientation freedom at every 30 degrees, the tools can be taken into corners, ceilings, cabinets, etc.
Verdict
The cordless 18V brushless oscillating tool is a recommended option for tight spaces and low light locations such as space under a bathtub.
Pros
Relies on long battery life

Includes an LED light

Made with no-touch accessory changing system

Fine-tuned blade fit for an increased contact area
Cons
The standard kit blade needs to be replaced
---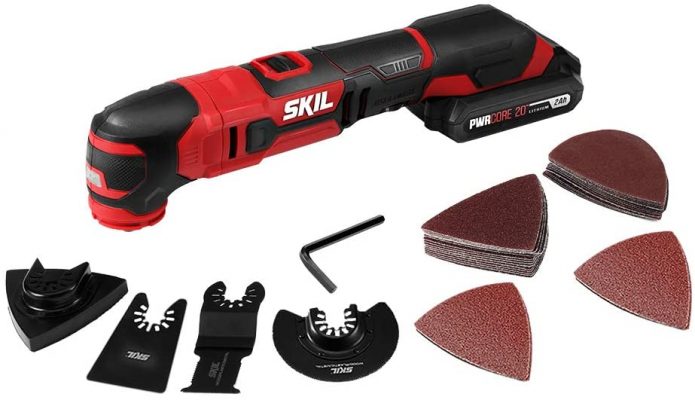 Why we like it:
SKIL is one of the underrated manufacturers for oscillating tools with a cordless design and a 3.6 cutting angle.
Editor's Rating:
Design features
Based on a cordless design, the 20V oscillating multi-tool is a durable choice for most types of users. It comes with a slim design which makes it easy to hold. In fact, it is one of the slimmest tools in its class for added practicality.
The tool even comes with a variable speed dial which allows it to tackle every situation with the right speed. This speed depends on the material to tackle which can be wood, PVC, plaster, copper or other types of materials.
With a cordless design, the oscillating tool can be considered for any type of job. There is even an overheating protection system in place to protect the battery in the long term. Users can also be happy to know that it comes with an included LED light which can take it underneath sinks or bathtubs.
Convenient features
Cutting, sanding, and scrapping is easier with the tool. In fact, it ships with a sanding pad, 28 pieces of sanding paper and two cutting blades. Of course, they are not enough for most users but they can allow some people to go through the short learning curve as soon as possible.
New users might also consider the SKIL oscillating tool. They are welcomed with a soft start function. It ensures they can adjust to the tool and to all of its blades smoothly without any problems. However, they will need to spend more time replacing the blades than with most other oscillating tools.
Verdict
With a slim profile, the oscillating tool does its job even if it's not based on the latest no-tool blade interchangeability.
Pros
Based on 20V battery power

Engineered with a wide oscillating angle

Made with included LED lights

Recommended for its soft start programming
---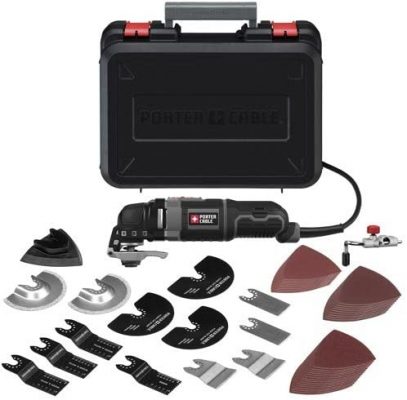 Why we like it:
With a 10-foot power cord, the oscillating tool comes with extra freedom of movement outside cordless designs.
Editor's Rating:
Design features
Corded designs are not out of the market yet. They are here to stay as they provide constant power without having to worry about battery life. But one of the problems with such designs comes with the actual cord length. Extension cords might be needed. Working on commercial sites or even on small homes might need longer power cords. It is why Porter-Cable added a 10-foot power cord to the oscillating tool.
Otherwise, its design is as modern as possible. There is a no-tool blade change mechanism in place. For its affordable price, this is quite tempting, especially for those using the tool on rare occasions. It is also this group of users who would also benefit from its impressive range of 52 accessories. With complete application across wood, PVC, non-metal and metal, the multi-tool can be a capable design in the right hands.
Convenient features
There is a 3 amp motor inside the tool. It works smoothly on most types of materials. From scrapping hardened glue off the floor to cutting nails at the back of the cupboards, the multi-tool is reliable.
The depth cutting guide system helps as well. Users can consider it not to go through materials such as trim and to actually cut the plaster behind it. However, the oscillating tool has its faults as well. One of the concerns users have is with how easy it is to accidentally trigger the speed adjuster. But with patience, most users can learn how to use the oscillating tool without unwanted surprises.
Verdict
Packed in a tempting starter kit, the oscillating tool can be a great learner solution for the home user.
Pros
Changes blades with no tools

Offers a 10-foot power cord

Includes 52 accessories

Designed with a depth guide
Cons
Speed adjusted can be easily triggered
---

Why we like it:
With a wide range of variable speeds, the Dremel oscillating tool is recommended for various cutting and sanding tasks.
Editor's Rating:
Design features
With an ergonomic design, Dremel's oscillating tool is easy to hold. It can be used both inside and outside the home. From cutting wood for a new deck to peeling old paint away before redecorating furniture, the multi-tool can be useful around the house. There are 12 accessories included in the pack. Mainly recommended for its ease of use, these accessories live-up to their name. They are easy to interchange as there are no tools such as Allen wrenches needed.
Since there is a soft grip on the oscillating tool, holding it is very easy even compared to some popular alternatives. Precise cuts are easier as a result. Even so, the tool is based on a 3.2-degree wide angle oscillation for precise cuts in every situation.
Convenient features
There is a 3.5amp rather rare motor inside the oscillating tool. It has one of the largest oscillation speed ranges as a result. From 10.000 to 21.000 opm, the power tool is versatile for most types of materials. With the 12 included accessories, this can mean scrapping or sanding. But users can purchase new accessories when needed.
With a corded design, the oscillating tool is mainly dependent on a power source. The good news is that this power source will also keep it going as long as needed. Complex projects around the home and light commercial use are possible as a result.
Verdict
With a 3.5amp motor and plenty of speed adjustability settings, the tool is recommended for home use and for occasional commercial use.
Pros
Fitted with a 3.5 amp motor

Corded constant performance

Includes 12 accessories

Designed with an ergonomic soft grip
Cons
Not the best kit accessories
---

Why we like it:
Engineered for battery power, the oscillating tool comes with 3 attachments heads for cutting, sawing and sanding.
Editor's Rating:
Design features
With a cordless design, the oscillating tool is as good as Ryobi fans hoped for. In fact, it uses a battery system which is compatible with other products from the company. This is why it makes senses for those who already own a cordless Ryobi power tool to consider the product as well.
Apart from having the power freedom of the battery and the compatibility with other tools, its design is modern as well. Many users love its small rubberized handle which leads to a stable grip. In fact, it can be easily operated with one hand. Since the blades are also interchanged with no extra wrenches, the tool can have users working as long as needed with as little interference as possible.
Convenient features
The cutting performance of the oscillating tool is on par with current user demands. Its sanding is efficient as well. The good news is that many accessories are compatible with the tool as well. It can be considered for various tasks with either residential or commercial purposes.
There are not too many drawbacks to tie to the design or engineering of the oscillating tool. Possible drawbacks can rather be tied to how it is sold and marketed. First of all, its batteries are not included even if its lower price would have allowed this. At the same time, there is no storage bag for users to consider neither. But apart from these small inconveniences, it still remains one of the reliable and affordable oscillating tools to consider.
Verdict
With an interesting compact design, the oscillating tool has its main benefits in one-hand operation.
Pros
Designed by modern standards

Cross-compatible with other Ryobi tools

Based on 18V performance

Comes with 3 attachments
Cons
Batteries are sold separately
---
FAQ
Do I need an oscillating tool at home?
An oscillating tool can actually replace multiple manual and power tools. Using it at home can mean saving money and time with general tasks such as cutting wood or PVC pipes.
How long do batteries last on oscillating tools?
Some of the best batteries last up to 20 minutes. The best products are able to offer constant performance during this time interval.
Are cordless oscillating tools reliable?
The best cordless oscillating tools are as reliable as their corded alternatives. Part of this performance is based on the product's optimization and part of it is actually based on battery power.
Can I use the batteries on other power tools?
Some brands offer a battery system which can work on other power tools. This means that users can change batteries without actually having to purchase separate sets for each power tool.
How can I protect the batteries in the oscillating tool?
Most oscillating tools already have battery protection systems in place. They protect against overheating, for example. Lower quality oscillating tools might come without such automatic safety measures.
Is higher amperage better in an oscillating tool?
The power of the motor is directly responsible for the power output of the oscillating tool. For commercial purposes, it is always recommended to choose higher power motors even if they are not always used at their highest capacity.
Do I need the training to handle an oscillating tool?
All oscillating tools come with safety instructions. No training is needed to use them. However, it is always recommended to use caution asides from reading the user's guide before first using any type of power tool.
Guide to Buying the Best Oscillating Tools
Since there are so many oscillating tools to choose from, the right choice might not be as clear as many users would hope for. Luckily, most tools which are good on paper are good in reality as well. Some brands have separated from the pack as they offer better reliability. But regardless of the brand, there are a few characteristics to base the decision on.
Motor performance
Motor performance is arguably the most important characteristic to consider. For many users, it means having the possibility of actually working closely with a durable oscillating tool for tasks such as caulk removal. There is no reason for a good motor to last years. This is why motors are worth having a first look at when it comes to oscillating tools.
Design ergonomics
Even the best motor can do little for those who feel uncomfortable using an oscillating tool. For many people, it is simply not possible to find the best results without a comfortable and stable grip. Having the ability to use the tool with one hand or with both hands is a must.
Quality of accessories
The accessories often come in a kit with the power tool. In most cases, they need to be purchased separately. It is always worth to invest in quality accessories such as good blades for the best results. One thing to consider with kit accessories is that they can sometimes be underwhelming. It is why working with quality products is a must and this can even mean replacing the kit accessories with quality alternatives.
Cordless vs. corded performance
The endless debate between corded and cordless power tools has valid reasoning on both sides of the argument as well as many myths tied to their history. However, it should not actually be a determining factor for the average user. Of course, those who want the ultimate freedom will only consider battery power while those who want to work for hours will ultimately choose a corded design.
Battery compatibility
Having a battery system with an added charger which can be used across multiple power tools is a must for professionals and even for most home users. It is simply not worth purchasing multiple sets of batteries for all tools as they are not in use together. Of course, having battery backup is always important. But since manufacturer such as Dewalt or Makita can have multiple power tools to consider, they can also offer interchangeable battery systems to make the user's life easier.
Conclusion
With so many great oscillating tools to choose from, users might need to look at the way they work to make the right purchase. For general tasks around the house, having a versatile and compact tool is recommended. For professionals, power is always of importance. This is why construction or renovation work on a commercial scale can always benefit from the highest power output.
Furthermore, smaller features such as an added LED can make a difference. Just imagine having to work with one hand under the bathtub while holding a flashlight with the other. These small features combined can make a difference.
One of the features which were initially undervalued has now become a top consideration. The ability to change blades without actually having to use any wrenches is now the ultimate standard. It is offered by all leading brands on their oscillating tools. Simply put, this feature saves time for all users. Professionals love this and since blades and batteries are often replaced on an oscillating tool, some of the best manufacturers have made both processes as simple as possible. The good news is that the result of all of these updates is an oscillating tool which comes with one of the shortest learning curves users can hope for.