Dewalt DCS355B 20V XR Oscillating Multi-Tool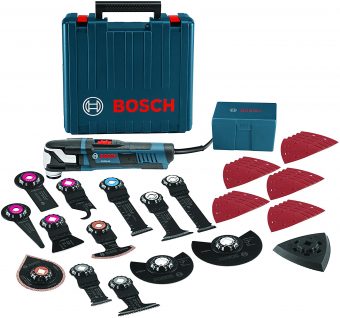 Bosch GOP55-36C2 StarlockMax Oscillating Multi-Tool Kit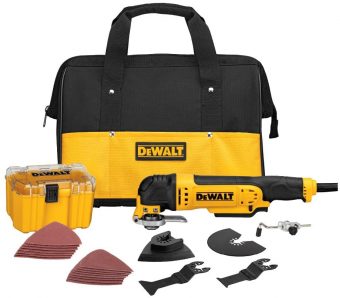 Dewalt DWE315K Multi-Material Corded Oscillating Tool Kit
Previous
Next
Oscillating tools come with versatility valuable for home or professional use. Over the years, the way these best oscillating tools are made has changed. Battery-powered brushless motors are now seen more often. The accessories which can be used with the tools have increased and improved as well. Its no wonder they have such wide applicability.
Features to consider in Good Oscillating Tools
The oscillating tools attachments allow them to be used for various purposes. From sanding to caulk removal, this small tool is used both in construction and renovation work. Specifically, it can also be used in the following instances at home, with general renovation work.
Plunge cuts
An oscillating tool can be used for plunge cuts. To make this possible, users need to attach a plunge cut blade to the oscillating tool. Plasterboard can easily be tackled and cutouts made with the right plunge cut blade.
Undercutting door jams
Replacing old floors might come with door jams trimming. Since the new floor can be higher than the old floor, this is a task which can easily be handled with an oscillating tool with a segment-type blade.
Slicing through fasteners
General renovation work can require removing trim decoration. In some cases, various nails or screws might actually prevent trim removal. A metal cutting blade needs to slide behind the trim to cut through fasteners.
Remove grout
A carbide blade can be attached to an oscillating tool to remove grout between tiles. This automated action is considerably faster than removing grout by hand.
Scraping adhesive
Scraping away adhesive comes with its own challenges. Luckily, there are many affordable scraper attachments which can be mounted on oscillating tools to make the job easier. Silicone sealing used in bathrooms can also be removed with the help of a scraper attachment. The following tools can be used for these and multiple other purposes.
The 10 Best Oscillating Tools 2020
FAQ
Do I need an oscillating tool at home?
An oscillating tool can actually replace multiple manual and power tools. Using it at home can mean saving money and time with general tasks such as cutting wood or PVC pipes.
How long do batteries last on oscillating tools?
Some of the best batteries last up to 20 minutes. The best products are able to offer constant performance during this time interval.
Are cordless oscillating tools reliable?
The best cordless oscillating tools are as reliable as their corded alternatives. Part of this performance is based on the product's optimization and part of it is actually based on battery power.
Can I use the batteries on other power tools?
Some brands offer a battery system which can work on other power tools. This means that users can change batteries without actually having to purchase separate sets for each power tool.
How can I protect the batteries in the oscillating tool?
Most oscillating tools already have battery protection systems in place. They protect against overheating, for example. Lower quality oscillating tools might come without such automatic safety measures.
Is higher amperage better in an oscillating tool?
The power of the motor is directly responsible for the power output of the oscillating tool. For commercial purposes, it is always recommended to choose higher power motors even if they are not always used at their highest capacity.
Do I need the training to handle an oscillating tool?
All oscillating tools come with safety instructions. No training is needed to use them. However, it is always recommended to use caution asides from reading the user's guide before first using any type of power tool.
Guide to Buying the Best Oscillating Tools
Since there are so many oscillating tools to choose from, the right choice might not be as clear as many users would hope for. Luckily, most tools which are good on paper are good in reality as well. Some brands have separated from the pack as they offer better reliability. But regardless of the brand, there are a few characteristics to base the decision on.
Motor performance
Motor performance is arguably the most important characteristic to consider. For many users, it means having the possibility of actually working closely with a durable oscillating tool for tasks such as caulk removal. There is no reason for a good motor to last years. This is why motors are worth having a first look at when it comes to oscillating tools.
Design ergonomics
Even the best motor can do little for those who feel uncomfortable using an oscillating tool. For many people, it is simply not possible to find the best results without a comfortable and stable grip. Having the ability to use the tool with one hand or with both hands is a must.
Quality of accessories
The accessories often come in a kit with the power tool. In most cases, they need to be purchased separately. It is always worth to invest in quality accessories such as good blades for the best results. One thing to consider with kit accessories is that they can sometimes be underwhelming. It is why working with quality products is a must and this can even mean replacing the kit accessories with quality alternatives.
Cordless vs. corded performance
The endless debate between corded and cordless power tools has valid reasoning on both sides of the argument as well as many myths tied to their history. However, it should not actually be a determining factor for the average user. Of course, those who want the ultimate freedom will only consider battery power while those who want to work for hours will ultimately choose a corded design.
Battery compatibility
Having a battery system with an added charger which can be used across multiple power tools is a must for professionals and even for most home users. It is simply not worth purchasing multiple sets of batteries for all tools as they are not in use together. Of course, having battery backup is always important. But since manufacturer such as Dewalt or Makita can have multiple power tools to consider, they can also offer interchangeable battery systems to make the user's life easier.
Conclusion
With so many great oscillating tools to choose from, users might need to look at the way they work to make the right purchase. For general tasks around the house, having a versatile and compact tool is recommended. For professionals, power is always of importance. This is why construction or renovation work on a commercial scale can always benefit from the highest power output.
Furthermore, smaller features such as an added LED can make a difference. Just imagine having to work with one hand under the bathtub while holding a flashlight with the other. These small features combined can make a difference.
One of the features which were initially undervalued has now become a top consideration. The ability to change blades without actually having to use any wrenches is now the ultimate standard. It is offered by all leading brands on their oscillating tools. Simply put, this feature saves time for all users. Professionals love this and since blades and batteries are often replaced on an oscillating tool, some of the best manufacturers have made both processes as simple as possible. The good news is that the result of all of these updates is an oscillating tool which comes with one of the shortest learning curves users can hope for.