Whether you're a green-thumbed enthusiast or a professional landscaper, keeping your lawn consistently watered is the first step to a more productive and fulfilling gardening experience.
Oftentimes, amateur gardeners overlook the importance of consistently watering their lawn or garden, leaving it up to the whims of rainfall to keep their flora looking healthy. Unfortunately, this often results in a garden that's dry, stunted, or brown. If you want to breathe some life into your garden, the very least you should do is invest in a good-quality watering can. Alternatively, if you want to take your gardening to the next level and keep your lawn looking lush all year round, upgrading your watering can to a lawn sprinkler is a no brainer.
Before you rush to purchase your own lawn sprinkler, it's worth considering the different factors that may affect lawn sprinkler performance and thus the quality of your lawn. In this guide, we'll be exploring several different varieties of lawn sprinklers, discussing the benefits of using a lawn sprinkler, and, most importantly, taking a detailed look at the best lawn sprinklers available on the market in 2021.
Factors to Consider in a Good Lawn Sprinkler
Before we dive into the best lawn sprinklers on today's market, we must first consider the factors that contribute to a high-quality lawn sprinkling system. Knowing what features to look out for will make the experience of shopping for a lawn sprinkler both more efficient and more affordable.
If you're new to the world of lawn sprinklers and need an introduction to gardening jargon, we've included a handy terminology guide further down in this very guide.
Different Types of Lawn Sprinklers
A custom sprinkler can make a huge difference in the appearance and overall health of your lawn. Gone are the days when a lawn sprinkler was simply a metal sprinkler head attached to a hose. Whether you have a small courtyard lawn to maintain or you live on a large property, there is a type of sprinkler to suit almost every type of lawn and garden. Some of the most common lawn sprinklers variants are:
Oscillating sprinklers
Stationary/fixed sprinklers
Rotary sprinklers
Impact sprinklers
Sprinkler hose
Travelling sprinklers
Water Pressure
Most sprinklers will only operate effectively if they're used with moderate to high water pressure. To measure household water pressure, we use pounds per square inch (psi), an imperial unit which measures force per unit area. In the United States, typical household water pressure usually sits between 40 psi and 50 psi.
If you're interested in learning more about how water pressure can affect the performance of your lawn sprinkler, we've put together a brief guide to understanding water pressure further down this page.
Soil Classification
The composition and quality of your soil can make all the difference when it comes to calibrating the settings and maximizing the efficiency of your lawn sprinkler. A major factor in water absorption, soil type tends to play a big role in setting sprinkler frequency and timing.
When it comes to soil composition, your lawn can range from very sandy to mostly clay. A professional gardening service can test the composition of your lawn soil for you. Alternatively, you can test the soil yourself using a DIY home testing kit like the HighLandy 3-in-1 Soil Test Kit.
Now that you have a better idea of what to look out for in a good quality lawn sprinkler, let's have a look at the best lawn sprinklers on the market in 2021.
Top 10 Best Lawn Sprinklers 2022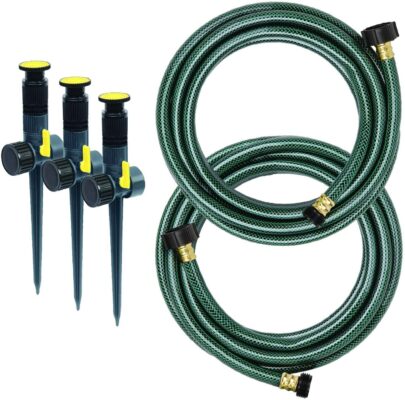 Why we like it:
Overflowing with equal parts value and functionality, this all-rounder sprinkler from Melnor stands out amidst a crowded field.
Editor's Rating:
Quick Facts:
Sprinkler type: Stationary
Coverage: 1,800-square feet
Minimum Pressure: 40 psi
It's no exaggeration to say that this multi-adjustable set from Melnor has everything you need to keep your lawn looking healthy and lush. Featuring three fully adjustable sprinkler heads and two 15-inch hoses, this set can deliver even water coverage to up to 1,800-square feet of lawn. In addition to a sturdy flow rate gauge, each stationary sprinkler can also be calibrated for different spray distances, angles, and directions (0 to 360-degree rotation).
You can even adjust the height of individual sprinklers, meaning you can maximise coverage for those pesky raised garden beds. The only real downside to this stationary sprinkler set is the fact that it produces a misted water pattern rather than traditional water jets. While this spray profile is more water-efficient, it's watering effect can be undermined by windy conditions.
Each sprinkler head is manufactured from a durable PVC plastic to ensure longevity and rust-resistance. If you're worried about holes or splits in your hose, you'll be happy to hear that each of the set's 15-inch hoses are made from a hard-wearing combination of durable rubber and flexible plastic.
Pros
Highly adjustable

Multiple heads and hoses

Hard-wearing design
Cons
Not suitable during windy conditions
---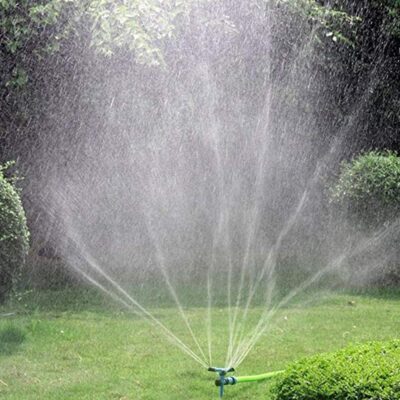 Why we like it:
Keep your lawn healthy without spending a fortune thanks to this high coverage rotary sprinkler from Kadaon.
Editor's Rating:
Quick Facts:
Sprinkler type: Rotary
Coverage: 3,000-square feet
Minimum Pressure: 30 psi
This functional yet affordable rotary sprinkler is a fantastic option for gardeners who want to maintain a large lawn without breaking the bank. Featuring three fully adjustable rotating arms with multi-angle nozzles, this sprinkler delivers complete and even coverage for up to 3,000-square feet of lawn. The sprinkler head is finished with a universal water joint compatible in series with most garden hoses and water fixtures. The set itself also comes with a sturdy PVC lawn spike to keep the sprinkler firmly in place during watering. Unfortunately, while the ground spike does a good job securing your sprinkler, long-term use can cause damage to your lawn.
Despite its low price point, this sprinkler is ultra-quiet — a welcome respite from most other budget rotary sprinklers. This means you can use this sprinkler in the early morning or early evening (i.e. the ideal watering times) without worrying about disturbing your neighbors.
If you'd rather avoid the use of ground spikes in your lawn, the Gardena 1975 AquaZoom Sprinkler is a top-quality product which has replaced the lawn spike with a stable standing base.
Pros
Affordable

Sizeable lawn coverage

Inobtrusive operation
Cons
Requires use of a ground spike
---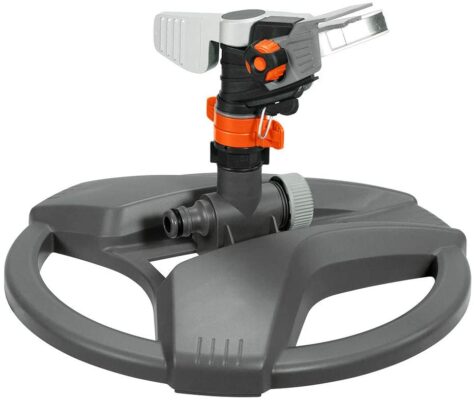 Why we like it:
Compatible with in-series plumbing and covering an area of approximately 5,274-square feet, no garden is too large for this sprinkler.
Editor's Rating:
Quick Facts:
Sprinkler type: Impact
Coverage: 5,274-square feet
Minimum Pressure: 25 psi
If you're looking for a lawn sprinkler that can withstand the elements and function for years to come, look no further than the Gardena Pulse Circular Sprinkler. Manufactured from a combination of PVC and corrosion-resistant metals like aluminum, this sprinkler is built to resist rust, cracks, or leaks. Instead of a lawn spike, the Gardena Pulse features an ingeniously designed plastic sled, a design choice which helps keep the sprinkler stable even when placed on uneven terrain.
One downfall for this sprinkler is its water pressure limitations. Although it has a stated minimum water pressure of 25 psi, consumer reports indicate that this sprinkler requires at least 35 psi to achieve its advertised application rate.
If you're shopping on a budget and want something that can handle lower water pressure, take another look at the Kadoan Rotary Lawn Sprinkler.
Pros
Sizeable lawn coverage

Plastic sled for stability

Hard-wearing design
Cons
Potential water pressure limitations
---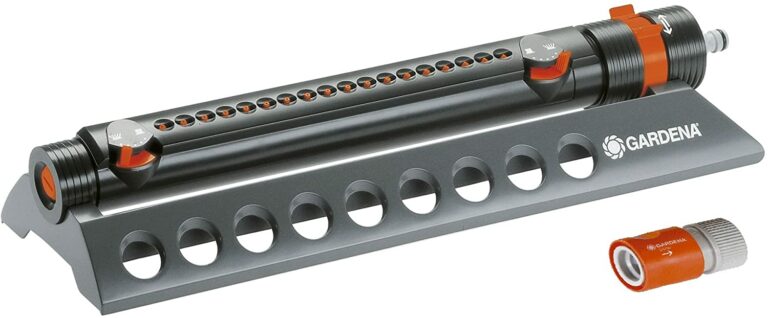 Why we like it:
With its innovative oscillating design, the Gardena AquaZoom will keep your garden looking lush without ever over-saturating your lawn.
Editor's Rating:
Quick Facts:
Sprinkler type: Oscillating
Coverage: 3,767-square feet
Minimum Pressure: 40 psi
It can be challenging to find a sprinkler that can adequately water a small lawn without saturating it or wasting water. If this is a problem you face, the Gardena 1975 AquaZoom is the ideal solution. A long-lasting, patented turbo drive motor spins the sprinkler to a full 180-degrees, offering maximum even coverage across your lawn without focusing on one area for too long.
Covering areas from 300-square feet up to 3767-square feet, this sprinkler can be fully adjusted to suit lawns of all sizes. Thanks to AquaZoom's unique oscillating mechanism, you can also adjust the barrel on this sprinkler to easily increase and decrease spray width.
Given that this sprinkler is powered by water pressure, it is sensitive to abnormal water pressure levels. If your water pressure is above or below average, something like the  WOVUU Lawn Sprinkler will likely be a better option.
Pros
Suitable for small lawns

Highly adjustable

Prioritizes Even coverage
Cons
Potential water pressure limitations
---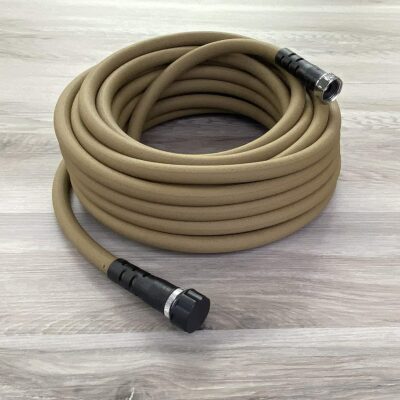 Why we like it:
A convenient and eco-friendly alternative to the wider sprinkler market.
Editor's Rating:
Quick Facts:
Sprinkler type: Sprinkler hose
Coverage: 1,000-square feet
Minimum Pressure: 30 psi
If you're interested in an eco-friendly alternative to traditional sprinkler designs, this sprinkler hose from Water Right could be a great option. Available in lengths of 25-feet to 100-feet, this sprinkler hose is suitable for use in both small and large lawns.
Featuring specially engineered strain reliefs on each end of the hose, you can rest easy knowing that your sprinkler can be used in all weather conditions without fear of kinks or excess wear and tear. The polyurethane piping and chrome plated fittings will further reduce the chance of tarnishing or impact cracking.
While this product is available in multiple lengths, it has less overall coverage when compared against other sprinklers on this list. If you need a sprinkler that covers a larger lawn, check out Orbit's H20 Drive Sprinkler.
Pros
Eco-friendly

Anti-kink strain reliefs

Hard-wearing design
Cons
Relatively small lawn coverage
---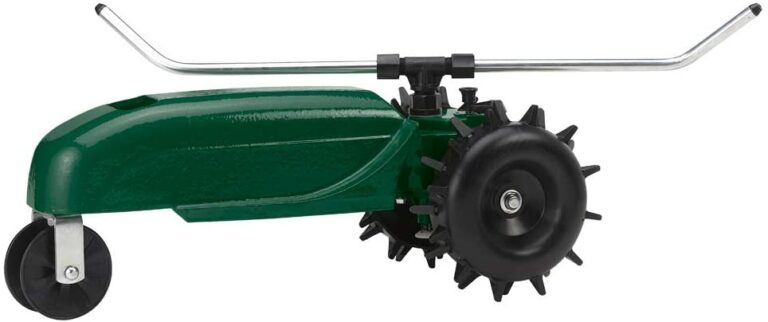 Why we like it:
No time to water your lawn? Set and forget with this fully customizable travelling lawn sprinkler.
Editor's Rating:
Quick Facts:
Sprinkler type: Travelling
Coverage: 13,500-square feet (along a 200-feet custom path)
Minimum Pressure: 30 psi
If you live a busy lifestyle or travel often for work, finding time to water your lawn is probably the last thing you want to do. An easy solution to this dilemma is Orbit's traveling sprinkler. With a coverage track of up to 13,500-square feet, all you need to do is set-up the sprinkler's route using the included path hose. This sprinkler also includes an automatic shut-off ramp, meaning you don't have to worry about excess water wastage or constantly remember to turn your sprinkler on or off.
As a fully customizable lawn sprinkler, you can opt for fast, slow, or neutral speeds. If you're concerned about longevity, you'll be happy to know that this sprinkler is built to last with a full cast-iron body and chip-resistant topcoat.
Given that traveling sprinklers need to track a custom path, these sprinklers work best on flat garden displays and rectangular lawn areas. If your lawn is too small or bumpy for a travelling sprinkler, check out the Gardena 1975 AquaZoom.
Pros
Expansive coverage

Highly adjustable

Automated shut-off
Cons
Can only be used with flat lawns and gardens
---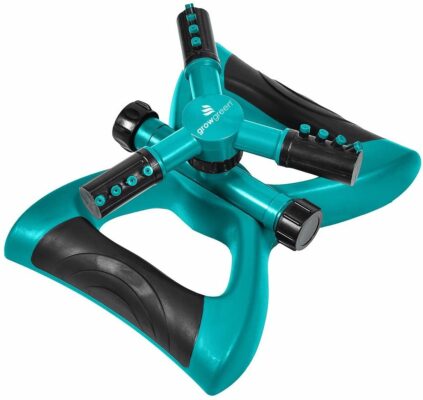 Why we like it:
Powerful and versatile, this sprinkler features a rust proof polymer to ensure perfect rotation and a lifetime of use.
Editor's Rating:
Quick Facts:
Sprinkler type: Rotary
Coverage: 1,090-square feet
Minimum Pressure: 80 psi
Unlike many basic rotary sprinklers, the GrowGreen Rotating Sprinkler is highly adjustable, with multi-angle nozzles and nozzle rotation to adjust spray in any direction you choose. With maximum coverage of up to 1,090-square feet and a complete 360-degree spray arc, this sprinkler has enough power and coverage to provide water for most average-sized lawns and gardens.
Billed as an easy-to-assemble design, this lawn sprinkler includes a weighted base for added stability and a rust-proof ABS plastic frame. As with most rotary sprinklers, the spray on the GrowGreen can be misty, a potentially problematic feature if you live in a windy area.
If you'd prefer to see heavy water jets from your sprinkler all year round, your best bet is a top-quality stationary sprinkler like the Melnor Multi-Adjustable Sprinkler.
Pros
Weighted base

Highly customizable (especially for a rotary sprinkler)

Rust-proof frame
Cons
Not suitable during windy conditions
---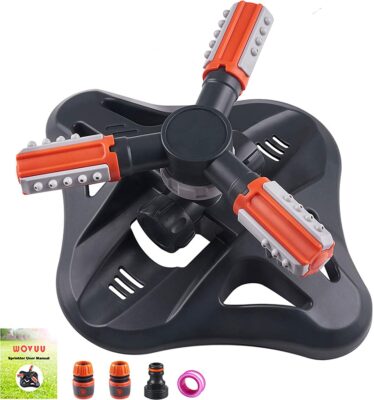 Why we like it:
With the WOVUU lawn sprinkler, low water pressure can finally stop hindering your lawn's potential.
Editor's Rating:
Quick Facts:
Sprinkler type: Rotary
Coverage: 2,500-square feet
Minimum Pressure: 28 psi
Having low water pressure can often result in uneven or inadequate watering, particularly when used with a traditional impact sprinkler. Fortunately, this lawn sprinkler from WOVUU is designed to function at a working pressure of 28.4 psi, making it an excellent choice for households with below average water pressure.
What's more, if you're lucky enough to have average or even high water pressure, the WOVUU sprinkler head can be adjusted to redirect the extra pressure into extending spray range. With up to 3 different spray patterns and multi-angle nozzles, you can tweak this sprinkler to reach the furthest corners of your lawn. If the initial spray radius isn't quite enough, included hose connectors allow for this sprinkler to be used with in-series plumbing. Please note, if you use this hose in series, it may decrease water pressure along the line.
Given the relatively large coverage of this sprinkler, it can lead to oversaturation if used on a small lawn. If you'd rather a sprinkler with a more refined coverage profile, check out the Water Right 25-foot soaker.
Pros
Low minimum water pressure requirement

Highly adjustable
Cons
Coverage may not be suitable for small lawns
---

Why we like it:
Covering a huge 5,026-square feet, maintaining acreage or a large garden has never been easier with the Orbit Drive Sprinkler.
Editor's Rating:
Quick Facts:
Sprinkler type: Impact sprinkler
Coverage: 5,026-square feet
Minimum Pressure: 25 psi
Functionality meets convenience in the Orbit H2O 6-gear Impact Sprinkler. Reaching up to 5,026-square feet in coverage, this lawn sprinkler is ideal for extra-large lawns or acreage. Not only can you choose between 6 different spray patterns (small, medium, large, shower, vertical, or flat), an adjustable collar tab means you can also alternate between a full 360-degree arc or a partial circle. Finally, a flow rate adjustment gauge means you can customize individual sprinklers to accommodate for sensitive plants or vegetation in your garden.
While most impact sprinklers are accompanied by a distracting clicking sound, the Orbit H2O 6-gear has a unique gear design that ensures quiet operation. The Orbit comes ready to use straight from the box, however, it does require the implantation of a spike base into your lawn soil or turf. Another potential downside to the Orbit H20 is its limited capacity to handle high water pressure — specifically, anything above 65 psi will drastically reduce the effectiveness of this sprinkler.
If you need to accommodate for a small garden, consider the AquaZoom Oscillating Sprinkler.
Pros
Ready to use

Highly adjustable

Sizeable lawn coverage

Quiet operation
Cons
Requires use of ground spike

Water pressure limitations above 65 psi
---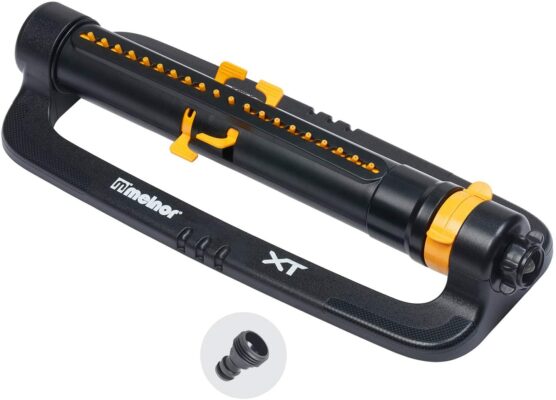 Why we like it:
An adjustable high coverage barrel makes the Melnor Turbo Oscillating Sprinkler a great choice for households with large rectangular lawns.
Editor's Rating:
Quick Facts:
Sprinkler type: Oscillating
Coverage: 4,500-square feet
Minimum Pressure: 25 psi
While it may not be as flashy as the other Melnor product on this list, the Melnor Turbo oscillating sprinkler is perfectly capable of keeping your lawn lush and healthy. Operating at 25 psi or above, this sprinkler will suit the water pressure of most homes. More importantly, the Melnor Turbo uses an adjustable barrel with 20 nozzles. As long as water pressure remains stable, this behemoth can evenly cover up to 4,500-square feet. Furthermore, thanks to Melnor's turbo drive mechanism, you can alter the length, width, and size of the water coverage to perfectly suit your lawn, all without interrupting the functionality of the spray.
Finally, Melnor's quick connect system makes assembling and disassembling your lawn sprinkler fast and simple. You can even use their quick connect adapter with your regular garden hose.
Unfortunately, as an oscillating system, this sprinkler will not fare well when confronted with non-rectangular lawns and backyards. If you're looking for a more versatile sprinkler, check out the Water Right 25-foot Soaker Hose.
Pros
Oscillating barrel ensures even coverage

Fast assembly

Includes quick connect adapters.
Cons
Not suitable for irregularly shaped lawns
---
Guide to Buying the Best Lawn Sprinkler
Whether you're a full-time groundskeeper or a hobbyist gardener, picking a lawn sprinkler can quickly become a more complicated process than first thought. To ensure you pick the best device for your lawn, we've put together a comprehensive guide to lawn sprinklers, covering everything from key terminology to frequently asked questions.

Why Use a Lawn Sprinkler?
Maintaining your lawn and garden with a lawn sprinkler has a host of benefits, for both you and your property. Not only does using a lawn sprinkler improve the overall quality and appearance of your lawn, but it also has a number of environmental benefits. For starters, a more consistent watering regime will limit water waste due to evaporation and reduce water run-off, particularly if you water your lawn at the correct time of day.
Another benefit of using a lawn sprinkler is the inherent value it can add to your property. If you're thinking of selling, your home will be much more appealing to potential buyers if your lawn is lush, bright, and well-maintained. Better yet, a well-watered lawn and garden can also encourage the migration of wildlife and birds, restoring the relaxing sounds of nature and improving the health of your local ecosystem.
Finally, say goodbye to hand watering! A good quality lawn sprinkler can save you a lot of time, with many sprinklers offering a set and forget system that can turn on and off automatically.

A Brief Guide to Lawn Sprinkler Terminology
If you're new to the world of gardening or you're an old-timer looking to upgrade your sprinkler system, understanding the technical jargon associated with lawn sprinklers can be overwhelming. That's why we've created this brief guide to the most commonly used lawn sprinkler terminology — hopefully, it will help make shopping for your lawn sprinkler a little easier.
Application Rate: The application rate is the measurement of the amount of water applied to a landscape in a given time frame. You'll usually hear this expressed in inches per week on an industrial scale, but this will vary for domestic gardens.
Coverage: A sprinkler's coverage is the amount of space or the maximum area that it can water. If you are using multiple sprinklers, you can maximize your coverage using head-to-head sprinkler spacing.
Sprinkler Head: The sprinkler head is the primary component in a lawn sprinkler. Water is discharged through the sprinkler head via one or more nozzles. If you have an underground sprinkler system, multiple sprinkler heads will be situated around your lawn to provide full water coverage — more expensive sprinkler heads may retract into the ground when not in use. For retail customers, lawn sprinklers usually only have one sprinkler head in the middle of the sprinkler.
Water Pressure: Water pressure simply refers to the force at which water is expelled from your sprinkler head.
Run-off: Run-off is any water that is not absorbed into your lawn that travels and drains to another location such as street drains. Run-off occurs if your lawn is watered too frequently or if too much water is applied to your lawn in one watering period.
Soil Type: The composition of your soil will determine its soil type (i.e. loamy vs chalky). The type of soil you have will affect the efficiency of your lawn sprinkler.
Nozzle: This is the part of the sprinkler head where the water passes through. The shape and size of the nozzle will depend on the type of sprinkler system you use.
Sprinkler Construction and Types of Lawn Sprinklers

Lawn sprinklers are usually made from some form of plastic. Plastic variants like PVC are highly durable and rust-resistant, making them ideal for the moist and muddy environment that your water sprinkler will likely be used in. When shopping for a lawn sprinkler, look for a body made from PVC and joints or screws composed of a rust-resistant material like aluminium.
There is a wide variety of lawn sprinklers on today's market, far beyond the simple hose-end sprinkler you or your parents may have used. The sprinkler you choose will depend on the size of your lawn and any garden beds or other foliage you may have in your backyard. To give you a better idea of your options, we've listed some of the most common types of lawn sprinklers on the market in 2021.
Oscillating Sprinklers
An oscillating sprinkler consists of a long barrel with multiple nozzles along the length. These nozzles spray water while the barrel rotates back and forth. An oscillating lawn sprinkler provides a rectangular, waterfall-like water pattern which offers wide, even coverage.
If you're considering an oscillating sprinkler, look for one with easy-to-adjust controls with multiple length and width options – this way, you can customize the sprinkler to suit different areas of your garden. One of the best oscillating sprinklers on the market is Melnor's Turbo Oscillating Sprinkler.
Impact Sprinklers
Impact sprinklers have a singular, yet much more powerful, water stream that is moved in a circular motion around your lawn. Impact sprinklers, such as Gardena's Pulse Circular Impact Sprinkler, are actually responsible for the characteristic clicking sound that we all implicitly associate with sprinklers. Because water jets out of an impact sprinkler in one solid stream, this device is usually more wind-resistant than other sprinkler options.
While a great option for lawns or gardens with low hanging trees, impact sprinklers tend to be a bit too strong for delicate flower beds or landscape plants.
Stationary/Fixed Sprinklers
As the name suggests, a stationary sprinkler remains fixed in position and is probably the type of sprinkler you used to have in your backyard as a kid. Stationary sprinklers are typically available in a wide range of different sizes, shapes, and configurations, allowing for complete customization when it comes to finding the best spray pattern for your lawn.
Fixed sprinklers are not an ideal choice for larger lawns and backyards as they often require repositioning during seasonal use. If you're looking for a top-quality stationary sprinkler, it's hard to look past the best overall sprinkler on our 2021 list, the Melnor Multi-adjustable Above-Ground Sprinkler.
Rotary Sprinklers
A rotary sprinkler has multiple arms that disperse water in a complete circle. Each arm has a sprinkler head built into the tip, with the water pressure from each water stream powering the rotation gears. Thanks to their circular spray profile, rotary sprinklers provide very even coverage, making them a great option for large lawns.
One potential downside to rotary sprinklers is a deficit in adjustment options. You can rarely adjust the rotary sprinkler to target only one area of your garden. If you're not concerned by adjustability, Growgreen's Rotating Lawn Sprinkler is one of the best rotary sprinklers currently available.

Sprinkler Hose
As the name suggests, a sprinkler hose essentially functions as a regular garden hose with small holes that expel water sprays. Please note, a sprinkler hose doesn't necessarily spray water outwards like a regular sprinkler. Often, they act similar to an irrigation system, with the water dripping directly into the soil. Because the water drips directly onto the lawn, sprinkler hoses tend to have less water run-off and waste, making them a great option for individuals living in drought-prone areas.
If you're interesting in setting up your own sprinkler hose, we recommend Water Right's 25-foot Soaker Hose.
Traveling Sprinkler
A traveling sprinkler will provide coverage along a pre-determined route laid out by your garden hose. In addition to minimizing overwatering, a traveling sprinkler like Orbit's Tractor Sprinkler will keep your lawn looking lush if you need to leave home for a brief holiday or business trip.
Unfortunately, traveling sprinklers are only suitable for large, flat areas. If you have a bumpy lawn, a traveling sprinkler may stall or tip, potentially oversaturating an area of your lawn.

Why Is Water Pressure Important?
You may have never considered what type of water pressure you have in your home, but water pressure plays an important role in dictating what type of sprinkler will work best for your lawn and ensuring your lawn sprinkler works efficiently.
High Water Pressure
Having high water pressure in your home often results in a sprinkler head that produces a mist or fog rather than a steady stream of water. This means that less water is being delivered to your lawn, as misty water is more likely to evaporate or be blown away by wind. High water pressure can also place more stress on your lawn sprinkler, resulting in faster wear and tear. If you notice that your lawn sprinkler components are degrading quicker than expected, you may have high water pressure.
In the meantime, an above ground sprinkler like the Melnor Multi-adjustable Sprinkler is probably the most durable option if you have high water pressure.
Low Water Pressure
Much like high water pressure, low water pressure will result in inefficient watering. Low water pressure means the water will not reach maximum coverage, resulting in dead zones that won't receive any water. This will ultimately result in a dry, patchy, or withered lawn. Please note, building a house on a large hill or using especially bendy plumbing can also lead to a decrease in water pressure.
If you have low water pressure, the WOVUU Lawn Sprinkler is a reliable low water pressure sprinkler.
Measuring Pressure
When shopping for a lawn sprinkler, you're probably going to come across pound per square inch (psi) measurements. As a water pressure metric, the psi reading describes how fast water is flowing through your hose or sprinkler fitting. The average water pressure for most homes is typically around 30 to 50 psi. Keep an eye out for how much pressure a lawn sprinkler can handle when shopping around. If you want to find out what the water pressure is in your home, you can attach a flow meter to the outdoor tap you intend to use with your lawn sprinkler.
Why Is Soil Type Important?
Different types of soil absorb water at different rates, so customizing your lawn sprinkler and watering times to suit your soil is important to maximize water absorption and water conservation. Some common soil types include:
Sand
Clay
Sandy loam
Silt loam
Loam
Clay loam
Clay
There are a number of gardening services that can perform soil testing on your lawn. Alternatively, you can conduct a DIY soil test with a test kit from your local nursery. Please note, a DIY kit will not be as detailed as a professional soil study.
Once you've established your soil type, check out this handy chart for soak in and watering times.
Best Lawn Sprinklers 2021: Top 5 Frequently Asked Questions
1. What Kind of Sprinkler Covers the Most Area?
If you have a large lawn or garden and need a sprinkler that can cover a large area, opt for a pulsating or impact sprinkler. A pulsating sprinkler can reach much further than a classic sprinkler and usually emits heavier droplets. This ensures your water isn't carried away by the wind. If you're looking for extensive coverage, the The Orbit 6-Gear Drive Sprinkler is ideal for large lawns.
2. How Often Should You Replace the Head of a Lawn Sprinkler?
Investing in a high-quality lawn sprinkler means your sprinkler, and all its added components, can last many years. Generally, a good quality sprinkler head can last anywhere between 10 to 15 years depending on frequency of use, water quality, and maintenance of the sprinkler. Given proper maintenance, even a budget sprinkler head can still last 2-3 years of regular use.
3. How Do I Increase Water Pressure in My Sprinkler System?
Installing a booster pump is a simple yet effective way to increase water pressure in your lawn sprinkler. A booster pump is a centrifugal pump that will recover lost pressure along a water line.
4. How Long Should I Sprinkle My Lawn?
How long you need to water your lawn or garden will depend on how large the area is. Generally, a basic stretch of lawn needs about 1-inch of water per week to remain lush and green. If you're unsure how long it would take to get 1-inch of water into your lawn, place a small container in your garden during watering and record how long it takes for the container to reach the 1-inch level. Once you have a rough time frame, you can split your watering schedule into smaller 20-minute sessions throughout the week.
5. What Time of Day Is Best for Watering?
The best time of day to water your lawn or garden will usually be early in the morning or late in the afternoon/evening. Watering at these times will allow for maximum water absorption, minimizing the amount of water lost due to evaporation. For the same reason, you should avoid watering your garden at midday when the sun is at its highest and hottest.
Key Takeaways
With an effective lawn sprinkler, maintaining a beautiful lawn won't take hours of effort. If you're in the market for a new lawn sprinkler, it is important that you consider the different types of lawn sprinkler available and how they will work in conjunction with your soil and water pressure.
Even if you're looking for a lawn sprinkler on a budget, there are a number of reasonable options that will deliver good results. If you have a small lawn or you're not willing to spend big, investing in a mid-range lawn sprinkler will be most beneficial. However, if your lawn and garden are your pride and joy, consider investing in an underground sprinkler system or a high-quality lawn sprinkler to ensure the best possible results.