If you have discovered mold in your home, you will undoubtedly want to get it removed as quickly as possible. Not only does mold look horrible, but it can also cause serious health problems and even damage your home if it is ignored.
Simply wiping the mold away, or even using common household cleaners, will not fully get rid of it. This is because the microscopic mold spores are difficult to kill and will keep growing back. Finding a product that is designed to not only clean but also to kill the mold itself is the best way to ensure your home is safe and mold-free once again.
Factors to Consider When Shopping for Mold Remover
If you just buy the first product you find that has 'mold remover' written on the packaging, you're setting yourself up for failure. Here's what you need to consider.
Where Is the Mold?
When shopping for a mold remover, one of the most important things you need to think about is where the mold is located. This is necessary because some mold removers can cause stains or damage to certain types of materials.
In addition, mold on porous surfaces often requires a stronger chemical to be effective. You can learn more about how the location of mold will influence how you get rid of it in our full buyer's guide below.
Type of Mold
Another thing that is going to influence the way you remove mold from your home is the type of mold that is growing. With thousands of different species of mold, it can be hard to identify which one you have. In the full buyer's guide below, we describe several of the most common types of mold that form in households and how to safely clean them.
Active Ingredients
The various products use a variety of different chemicals and other ingredients in order to kill mold and remove the stains that are left behind. For many people, the ingredients used will be a major factor in determining which product to purchase. We have a full breakdown of common active ingredients in a later section.
Safety First
Cleaning mold is not like cleaning up other things in your home. Depending on the type of mold you have, and the product you choose to remove it, you could expose yourself to very dangerous spores, fumes, or other issues. At a minimum, you will want to make sure you have cleaning gloves and a breathing mask to avoid irritation or illness.
No matter what type of mold you have in your home, or where it is located, you need to act quickly to get rid of it. If ignored, mold will quickly grow and spread, compounding your issue, and causing additional problems. To get started on the right foot, read through our top 10 list for the best mold removers in 2021.
Top 10 Best Mold Removers 2023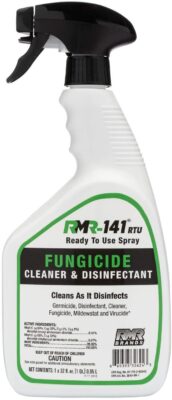 Why we like it:
It can be used on any surface and does not require diluting. Just spray it on and let it go to work.
Editor's Rating:
Quick Facts:
Types of Surfaces: All Surfaces
Active Ingredients: Dimethyl Benzyl Ammonium Chloride, Dimethyl Ethylbenzyl Ammonium Chloride
The RMR-141 cleaner is designed specifically to kill all different types of mold as well as bacteria, viruses, most types of fungus, and more. It comes in a convenient spray bottle so you can quickly apply it to the impacted area without having to first put it on a rag or cloth. It is intended to be used at full strength as well, so you will not have to dilute it with water before use. Once this has sat on the mold for 15+ minutes, you simply wipe it down to remove the excess liquid and the mold itself.
Heavily contaminated areas may require a second treatment. It is important that you fully treat the impacted area, and the surrounding areas, to ensure that all the mold is killed. Otherwise, it could grow back over time.
While this cleaner has a pleasant citrus scent to it, you should make sure that the area you are using it in is well-ventilated, as it can cause skin, eyes, throat, and lung irritation. If you are using it in an unventilated area, you should wear a mask that can filter chemicals if you will be in the area for an extended period of time. You should also wear gloves in order to avoid skin irritation. The effectiveness of this cleaner makes it a great option for many people, but if you prefer something less harsh, consider the Green Gobbler cleaner, which we consider to be the best eco-friendly mold cleaner.
Pros
Effective on Any Surface

No Diluting Necessary

Kills Mold, Mildew, and Over 120 Other Microorganisms
Cons
Harsh on Skin and Lungs

Does Not Remove Stains
---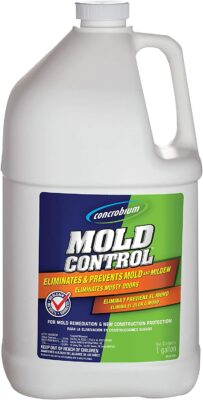 Why we like it:
In addition to removing existing mold, this product is specially designed to prevent it from forming in the first place.
Editor's Rating:
Quick Facts:
Types of Surfaces: All Surfaces
Active Ingredients: Sodium Carbonate
If you have an area in your home or business that is especially susceptible to mold, this is the best option for you. Even if you have never seen mold growing, it is a great way to prevent it. This is because this product forms an invisible barrier on surfaces that will kill any existing mold and prevent new spores from being able to take hold.
You can remove existing mold from an area by applying this product using a cloth or a brush. Once applied, you just let it dry. The drying process actually crushes and kills the microscopic mold spores. After it is completely dry, you can wipe the area clean. You can also apply this product using a cold fogger or spray bottle, or even paint it on using a brush. This is the ideal option when using it for preventing mold since you simply apply it, and you are done.
While the fumes from this cleaner are not especially strong, they can be dangerous if inhaled for too long. This is especially true when you are applying the solution using a fogger or spray bottle since more of it will be in the air. With this in mind, make sure you have a good mask when using this cleaner if you are not in an area with great ventilation.
One last thing to note is that while this product is safe for use on any surface, it is not ideal for carpets and fabrics. It will work to remove the mold, but it can leave a film on it that should be cleaned off. If you need to remove mold from carpets, you may be better off with a product like Carpet Cleaning Mold Remover, which is especially effective for that type of material.
Pros
Best for Preventing Mold from Forming

No Scrubbing Necessary

Multiple Application Options
Cons
Personal Protection Equipment Recommended

More Expensive than Many Other Options
---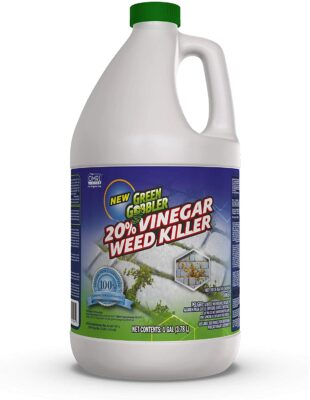 Why we like it:
Effectively kills mold and mildew using the natural cleaning and disinfecting power of vinegar.
Editor's Rating:
Quick Facts:
Types of Surfaces: All Surfaces
Active Ingredients: 20% Vinegar Concentrate
If you are looking for a mold remover that is effective but will not harm the environment, this is a great option to consider. It uses vinegar to naturally kill and remove mold, mildew, and many other unwanted contaminants from any surface. Please note that this is much more concentrated than the vinegar you purchase for cooking and will cause severe irritation if it gets in your eyes or is swallowed, so be careful or wear safety glasses and a mask.
Another thing that we loved about this product is that it can be used for much more than just removing mold. In fact, it has hundreds of uses, including general cleaning, cleaning laundry, and even killing weeds in your garden.
One complaint you may have about this option is the odor. While it is not toxic and safe for use, it does have a strong vinegar odor, which you will notice as soon as you open the bottle. You will want to make sure to use it in a well-ventilated area. Even just having a fan blowing out of the area will help to make the scent more tolerable. Thankfully, the odor does fade quickly once you wipe the area clean. If you prefer a mold remover that is odor-free, consider using Pure Baking Soda for an effective option without the smell.
Pros
Cleans Using Natural Vinegar

Environmentally Friendly

Lots of Great Uses
Cons
Strong Vinegar Smell

Exposure Will Irritate Eyes and Mouth
---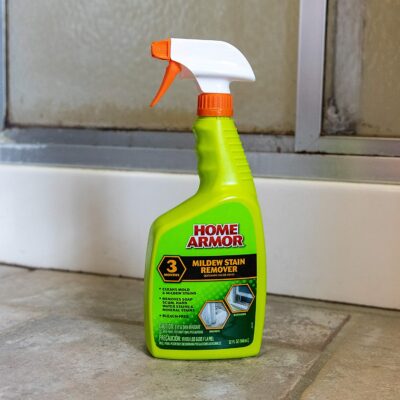 Why we like it:
This cleaner is very affordable while still being easy to use and quite effective.
Editor's Rating:
Quick Facts:
Types of Surfaces: Tub, Tile, Countertops (Not Marble), Siding, Wood
Active Ingredients: Sodium Hypochlorite
If you have an area that has some mold or mildew starting to grow and you want to get rid of it before it spreads, this product is great. It is not nearly as strong as some of the other products on the list, but it is still quite effective for getting rid of small amounts of mold. You can also use this product to prevent mold or mildew from forming if you have an area that is susceptible to this type of growth.
This product is really easy to use. All you have to do is spray it on the area you want to clean and let it sit for about 15 minutes. You then wipe it off with a damp cloth and you are done. If the area already has established mold or mildew, you will want to repeat this process several times, making sure to apply a liberal amount of the cleaner to get the desired results.
Despite the fact that the cleaning ingredients in this solution can be irritating to your skin or throat, the odor is not very harsh at all. Since you will not be spending time scrubbing the surface with this product, however, it is generally not necessary to use protective masks or gloves.
Pros
Very Inexpensive

Easy to Use

Mild Odor
Cons
Will Likely Require Multiple Applications

Can Irritate Your Skin or Throat with Exposure
---

Why we like it:
It is safe for use on surfaces that will come into contact with kids, pets, and others due to its non-toxic and chemical-free formula.
Editor's Rating:
Quick Facts:
Types of Surfaces: Carpets, Upholstery, Clothing, Walls, Cribs, Hard Surfaces
Active Ingredients: Proprietary Natural Botanical Blend of Citrus Seed Extracts
If you want to remove mold and keep it gone while doing your routine cleaning, this is a great product to consider. It is designed to be completely safe for use around kids, pets, and the whole family. This is because of its unique blend of citrus seed extracts, which have been shown to effectively kill mold spores.
When you order this product, you get a very concentrated solution that should not be used as it is. Instead, you will need to mix the product with water to dilute it. Positively, one bottle can be mixed with one gallon of water, which will last for a long time.
Unlike most mold removers that are supposed to kill and remove the mold itself, this one is meant to keep mold from forming again. You can use it to kill an initial mold infestation, and then just spray the product in the area that is susceptible to mold each week to keep it from coming back. If you have a particularly bad mold situation, however, you may want a stronger chemical-based product, such as RMR-141 Instant Mold Remover.
Pros
All-Natural Formula is Safe Around Kids & Pets

Satisfaction Guaranteed

Helps Prevent Mold from Forming
Cons
Requires Frequent Use

You Have to Mix it with Water
---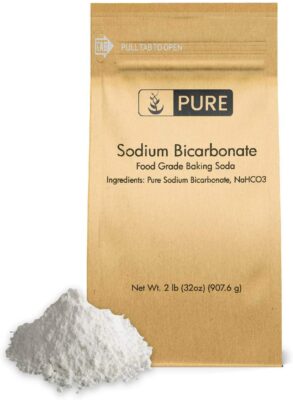 Why we like it:
It is not only odor-free, but it actively absorbs the odors from mold and mildew, so the area smells fresh when you are done cleaning. Baking soda is also very inexpensive.
Editor's Rating:
Quick Facts:
Types of Surfaces: Any Surface but Best on Hard Surfaces
Active Ingredients: Baking Soda (Sodium Bicarbonate)
Baking soda is one of those household items that seems to have an endless number of uses. Many people do not realize that in addition to cooking with it, baking soda can be used to kill mold and clean off the stains. This particular brand of baking soda is not mixed with anything else, so it will be as effective as possible. In addition to killing the mold, baking soda is also great for eliminating any odors caused by the mold itself. Baking soda is odor-free as well, making it a great option for those with sensitive noses.
In order to use baking soda to kill and remove mold, you will need to mix it up with water until it becomes a paste. When ready, apply the mixture to the mold and scrub hard for several minutes across the entire surface. After scrubbing, take a bowl of clean water and a clean rag to wipe the area down and remove the excess baking soda, as well as the mold. You may have to repeat this process several times to completely remove the mold and keep it from growing back.
While banking soda can technically be used on carpets and similar surfaces, it is harder to work into the fibers for cleaning, and harder to clean up when done. With this in mind, you may want to consider a different mold remover for carpets, such as ZymeAway Mold Cleaner.
Pros
Odor-Free

All Natural

Very Affordable
Cons
Requires Strong Scrubbing

Must Mix it Yourself

Needs to be Washed Off with Water
---

Why we like it:
This product is specially formulated to penetrate into porous materials to kill the mold under the surface, so it does not come back.
Editor's Rating:
Quick Facts:
Types of Surfaces: Drywall, Concrete, Wood, Siding, Grout, Tile, and More
Active Ingredients: Sodium Carbonate
This is an easy-to-use product that comes in an aerosol bottle so that it can be quickly sprayed onto any surface where there is mold or mildew. It is designed specifically to kill the mold and prevent it from coming back. This product is effective because you spray it on the entire area where the mold is present, and then leave it alone so it can fully kill the mold.
Rather than just cleaning off the surface like many other products, this one actually penetrates into porous areas to get to the mold hiding within. This is especially important for drywall, which can become saturated with mold and is very hard to fully get rid of.
The active ingredient is sodium carbonate, which is safe for use around kids and pets. It also does not have any unpleasant or dangerous odors, which makes it easier to use. One thing to note about this product is that it is only designed to kill the mold. Once treatment is done, you may be left with the mold stains that will need to be either washed or painted to get everything looking like new again.
Pros
Penetrates Deep into Surfaces

No Scrubbing Needed

No Dangerous Fumes
---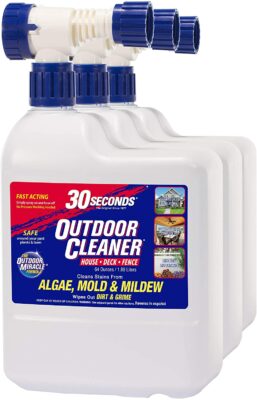 Why we like it:
Works great on concrete and only requires you to spray it on and then hose it off to remove mold, mildew, and algae.
Editor's Rating:
Quick Facts:
Types of Surfaces: Concrete, Wood Desks, Asphalt, Vinyl Siding, Other Outdoor Surfaces
Active Ingredients: Undisclosed
If you have mold outside on your driveway, your deck, or your vinyl siding, this is a great product to consider. To use this product, you simply hook up your hose to the bottle and spray down the area where the mold is present. It will also remove any mildew and algae that has built up over time. Hooking up the hose can be a little more challenging than it should be, but once it is securely in place, it will automatically mix the water and cleaning product while spraying.
The spray works by using the pressure from the hose as well as the solution to kill the mold. This company does not disclose exactly what active ingredients are used to kill the mold, but it is safe for use around your plants and pets. They suggest that you just spray the moldy areas outside your home or business, wait about 10 minutes, and rinse the area off with clean water.
This is one of the easiest to use mold removers out there, especially for concrete, asphalt, and other rough surface areas, since you will not have to do any scrubbing. One bottle of this can clean about 600 square feet, depending on how much mold is actually present, which makes it a very efficient option.
Pros
Just Spray On and Hose Off

Great for Any Outdoor Surface

One Bottle Cleans Up To 600 Square Feet
Cons
Not for Indoor Use

Some Challenges Hooking Up to Hose

Active Ingredients Undisclosed
---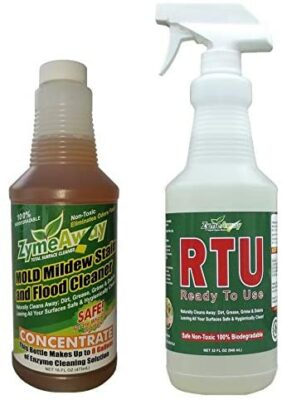 Why we like it:
This cleaner is safe for use in any environment and will not stain your carpets. It is also 100% biodegradable.
Editor's Rating:
Quick Facts:
Types of Surfaces: All Surfaces Including Fabrics and Carpets
Active Ingredients: Plant-Based Enzymes, Surfactants
When mold starts growing in carpets, it is important to act quickly so that it does not spread and ruin the entire floor. Many mold removers use bleach, ammonia, or other chemicals that will stain or discolor the carpets, which makes them unusable. ZymeAway is made using a natural formula that is safe for use in any area, including on carpets. It is also completely biodegradable, so you can dispose of the used solution down any drain.
The natural formula is made with multiple plant-based enzymes as well as surfactants, which will kill the mold and clean away other stains. The use of these enzymes is not as fast-acting as harsher chemicals though, so make sure you really saturate the area with this product and let it sit for several minutes. You can scrub the area with a cloth or brush to ensure it is effective. When done, clean the carpet using water or a normal carpet cleaner.
This product comes concentrated, so you will need to mix it with water before use in most cases. They list a number of different mixture levels based on where you will be using it. When using it to kill and remove mold, make sure you use one of the stronger mixtures to get the best results.
Pros
Will Not Stain Carpets

100% Biodegradable

One Bottle Can Make 30+ Gallons
Cons
Need to Saturate and Scrub for Mold Removal
---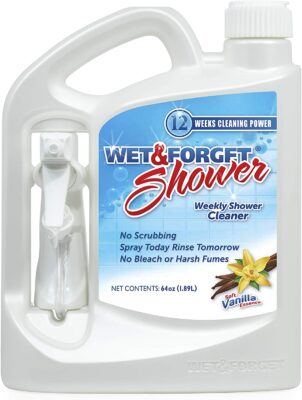 Why we like it:
This really makes it easy to keep your bathroom mold and mildew free without any scrubbing.
Editor's Rating:
Quick Facts:
Types of Surfaces: Tile, Shower Curtain, Sinks, Fabric, Counters
Active Ingredients: Non-Ionic Cationic Surfactants
Bathrooms are often a perfect breeding ground for mold and mildew. Since they are constantly getting exposed to moisture and warm temperatures, if even a small number of mold spores are introduced to the area, they will breed very quickly. This is why it is difficult to eliminate the mold.
Rather than trying for a one time kill of all the mold, this product is used to kill it initially and then keep it gone with regular use. This product will sit in your bathroom and is intended to be used about once a week. After you get out of the shower, you simply spray down the tile in the tub, the shower curtain, and any other exposed areas. You do not need to scrub or even wipe it down. The next time someone showers, the product will go down the drain and carry any dead mold spores with it.
Since you use this product more frequently than the others, it is not nearly as strong. This means there are no dangerous fumes or other issues. In fact, it has a pleasant vanilla scent to it that most people will like. The only real downside to this product is that it is not designed to work on a severe mold infestation, and it is marketed only for bathrooms. If you find a lot of mold in a bathroom, it may be best to clean it something like RMR-141 Mold Remover, and then use this one to keep it away going forward.
Pros
No Scrubbing Needed

Takes Just Seconds to Apply

Pleasant Scent
Cons
Focused Only on Bathroom Surfaces

Not for Serious Mold Infestations

Requires Weekly Application
---
Which Mold Remover Is Best for You?

When it comes to mold removal, there is not just one product that will work best in every situation. Learning more about different types of mold, the places they grow, and the different types of chemicals that can remove them will help ensure you choose the right product the first time.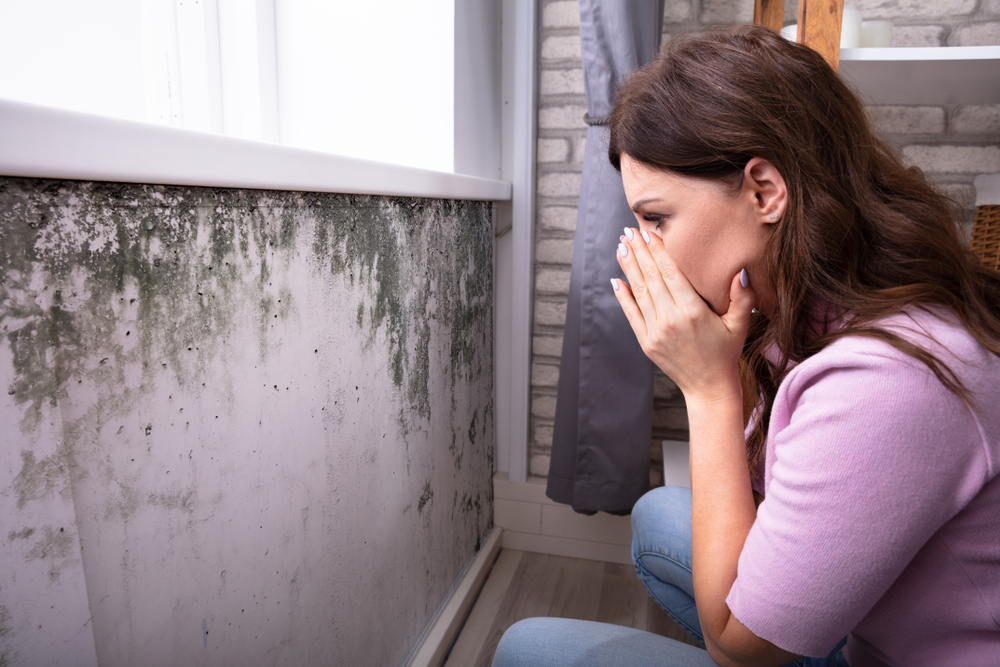 What Type of Mold Do You Have?

There are more than 100,000 different types of mold in the world. Fortunately, most of them will not grow indoors. Learning about the various types of mold that are most commonly found in your home will help you to decide how to clean it up.
Stachybotrys (Black Mold)
Most people have heard of black mold because it is so dangerous. This mold can grow on most surfaces and has a black or dark-green appearance. It can cause allergies, pulmonary diseases, asthma, and other serious medical problems. Because of this, it is generally recommended that you hire a professional to remove this type of mold. If you are going to try to tackle it on your own, make sure you wear a respirator to avoid getting sick.
Alternaria
This is a very common household mold and can be identified by its velvet texture and dark green or brown 'hairs.' While not as dangerous as black mold, it can cause asthma, allergies, and some pulmonary diseases. Wearing breathing protection to clean this option up is recommended. You will also want to make sure to choose a cleaner like RMR-141 Instant Mold and Mildew Stain Remover to get rid of it fast.
Penicillium
Penicillium is another common type of mold. It is either blue or green and has a velvet-like texture, which makes it relatively easy to identify. It can cause lung inflammation and allergic reactions, but they are generally minor. Since this is not as dangerous, many people will use an eco-friendly cleaner such as Green Gobbler Ultimate Vinegar Cleaner, which may take a little longer to kill the mold, but it is safer for people, pets, and the environment.
Aspergillus
Aspergillus is a dangerous mold that can be difficult to identify because there are actually well over 175 different specific species of it. This means it can have a variety of different appearances. The mold will most commonly cause allergic reactions and lung irritation.
Some of the species, however, can produce a carcinogenic compound. Because of this, you will want to make sure you have a good respirator before removing it. Due to this danger, choosing a strong product such as Concrobium Mold Control that will kill it and keep it from coming back is a good idea.
Chaetomium
Chaetomium is common, especially in areas that have had flooding, broken pipes, or other water damage. It looks like cotton. The color of this mold usually starts out white but will transition to brown or black if it is not removed quickly.
This is another potentially dangerous mold that may be able to cause certain types of cancer. It has also been linked to birth defects, so those who are pregnant should avoid all exposure to this mold. For this type of mold, consider something like Concrobium 27400 Mold Control Aerosol to kill it completely.
Other Types of Mold
The specific types of mold that will be most common in your home will depend on many factors, including climate, the temperature in your home, moisture levels, and more. The molds listed above are just a few examples that can be found in most parts of the country. Learning about other types of mold that can grow indoors is a good idea so you can clean it up safely.
Location of Mold Growth Is Important for Removal
When dealing with mold, the location where it is growing is one of the most important factors to consider. While mold can grow on just about any surface that has any organic compounds, the most effective way to kill it and remove it will vary drastically based on the surface type and its location.
The following are the most significant things to consider when deciding what mold remover to purchase.
Type of Surface
While mold can grow on almost any surface, the method you use to remove it will depend on where it is. Some surfaces are porous, such as wood and drywall, which allows the mold to grow below the surface, making it much more difficult to remove. For porous surfaces, you will want a product like Concrobium 27400 that can penetrate deep under the surface.
Mold that is growing on a hard surface such as vinyl siding, tile, and glass is going to be only on the surface. It is much easier to remove in these situations, so you can use a product that is easier to work with, such as baking soda, with great results.
Specifically, if you see mold appears around your windows, your first move should be to purchase an appropriate window cleaner—regular use will limit excessive condensation and dirt build-up, aiding with future mold prevention.
Ventilation
Another thing that you will need to think about is the ventilation in the area where the mold is growing. This is important for two reasons. The first is that many types of mold have dangerous spores that you could breathe in. These spores are going to be much more concentrated in a confined area, making them more dangerous.
The second reason is that the mold remover you use may give off dangerous or irritating fumes. If you have mold in a confined area, make sure you either wear a respirator or choose a non-toxic mold remover such as Micro Balance EC3 Mold Solution.

Understanding the Active Ingredients
The following are the most commonly used substances for killing and removing mold.
Sodium Hypochlorite (Bleach)
Bleach is a very common cleaning chemical, and it is very effective at killing mold and removing stains. Keep in mind that many types of bleach will cause discoloration, so read the bottle to see if staining will be a problem. If you want a bleach-based mold remover, Home Armor mildew stain remover is a great option.
Surfactants
Surfactants come in a variety of different types, but they all kill the mold using the same mechanism. The surfactant molecules will bond with each other and cling to the mold spores, preventing them from getting the hydration they require. Mold removers that use surfactants, such as ZymeAway, typically need to be sprayed on the mold and left for a while to be effective.
Dimethyl Benzyl Ammonium Chloride
This chemical is very popular in many types of cleaning products, including mold removers. It will kill not only mold, but also viruses and bacteria. It will often have a harsh smell to it unless it is masked with fragrances, though. A good mold remover that uses this is RMR-141 Instant Mold Remover.
Sodium Carbonate
Sodium carbonate is a type of salt that is used in many cleaning products. It is often called washing soda or soda crystals. This product may come in a pre-mixed solution, such as with Concrobium Mold Control, or just as a white powder that you will have to mix with water before using.
Sodium Bicarbonate (Baking Soda)
Baking soda is a safe, odor-free, and inexpensive option for killing mold. You simply mix it with water to form a paste, and completely cover the mold with it. You will have to leave the baking soda paste on the mold for a while to give it time to work.
Vinegar
Vinegar is very acidic, which allows it to kill the mold spores effectively. To be effective, you will want to use vinegar that is far less diluted than what you would use in cooking. While vinegar is very safe, it does have a strong odor that can be overwhelming, so make sure to use ventilation. A vinegar-based mold remover that is very effective is Green Gobbler Ultimate Vinegar Cleaner.
Keeping an Area Mold Free
Once you have killed the mold and cleaned it up, you will undoubtedly want to avoid having to go through this hassle again. This is where mold prevention is critical. Preventing mold is can be a big undertaking depending on your situation. To get started, however, you should know that mold requires two main things to grow.
First, moisture is necessary, so take steps to ensure the area where you had mold is kept as dry as possible. This can be done with a mechanical dehumidifier, if that is practical, or a chemical moisture absorber for smaller areas. Your goal should be to keep the overall humidity below 70% at all times, though 25-60% is better.
Next, mold grows much better in warmer environments. With this in mind, see what you can do to keep any areas that are susceptible to mold cooler. Mold usually will not grow in temperatures below 70 degrees Fahrenheit (21 C).
Taking the time to not only remove mold, but also prevent it from growing back in the future, will help you keep any environment clean and healthy for years to come.
Final Thoughts
Mold is more than just an eyesore; it can be seriously detrimental to your health over the long term. And while prevention is a key part of creating a permanent mold-free home or workspace, you need to start by getting rid of the mold you already have. That's where our carefully curated list of the top 10 product picks comes in—each best suited to a specific user or situation.
With this list of products and our handy buyer's guide firmly lodged in your brain, you'll have all the knowledge you need to banish mold from your life, for good!