As important as it is to keep your home interior at its peak, a fresh-cut lawn is where it begins. One of the first things you see of a home is its yard, so you'll want to keep it in good shape. While it's obviously important to choose a high-quality mower, your lawn just won't look its best unless you also get a high-quality weed eater.
Electric weed eaters offer homeowners an easy way to keep the weeds and grass on their lawns in check. With the right maintenance and the perfect trimmer, your lawn will become the envy of your neighbors in no time!
Finding the Best Weed Eater for Your Lawn
Regardless of which type suits your needs, you can rest assured that your options will be anything but limited. Within each category, there remains a great degree of variety among trimmers, so make sure the features are to your liking. Make sure to keep in the mind the following features as you consider the best match for your lawn-care needs.
Corded vs. Cordless
Electric weed eaters come in a large array of styles and sizes, so you'll be sure to find one that is just right for you. The first thing to consider is whether to go cordless or not, as each offers its own advantages. For a detailed description on each of their advantages, look here, but these are the basics.

Cordless
Battery-powered weed wackers offer greater mobility. You'll be free to reach every corner of your yard with the cordless types but keep in mind the battery capacity. If you have a big lawn, you'll need to make sure that the available battery will be able to suit your needs, whether it be through a bigger battery or by keeping a second battery in stock. Home-owners who don't want to deal with the added hassle of pulling an extension cable should strongly consider going cordless.
Corded
These electric string trimmers run on your home electricity, so be aware of the places where you have outlets and you'll be able to trim every part of your lawn with these. You'll need to look into buying an extension cord that is compatible with the amperage of the trimmer. If you already have a suitable cable, then this is the way to go for you, so you can save your wallet the extra cost of a battery and charger. Corded trimmers work best for small lawns with few obstructions, giving you everything you might need to trim your lawn.
Power
The power that a trimmer has to offer can be one of the most important features. You need to confirm that your electric weed eater has at least enough power to deal with the grass and any weeds that are regularly on your lawn. Otherwise, your trimmer won't be able to cut through these quite as easily. Identifying the kind of grass you have will help you make an informed decision. If you're still unsure, we recommend airing on the side of caution and going for a more powerful model because a stronger model can get the same job done while a weaker model may not be able to handle a tougher lawn.
Ease of Use
Just like you want your trimmer to be just right for your lawn, you need to find one that is right for you. Trimming can be a lengthy and exhausting activity depending on how big your lawn is, so obviously you would want to be as comfortable as possible during the process. Just like a pair of shoes, you can find a trimmer that fits your physical needs.
Trimmer Head
Any good trimmer comes with a protective guard that keeps you safe from debris flung by the trimmer. If you opt for a more powerful trimmer, the quality of the guard will be even more important because the stronger models are more likely to send debris flying. Many electric weed eaters come equipped with a retractable spacer/flower guard, which is a wire guard that protects your flowers and other lawn items from unwanted damage.
Cutting Path
You may want a large cutting path if you want to efficiently trim your lawn. However, if you have narrow areas, you should look for a trimmer with a smaller cutting path, which offers you greater precision at the cost of efficiency. Most electric weed eaters have a 10 to 14 inch cutting diameter, but wider paths are available.
Now that you know the most important features to consider when buying an electric weed eater, here are our top picks.
Top 10 Best Electric Weed Eaters 2023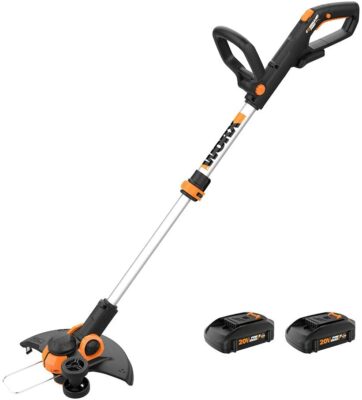 Why we like it:
The WG163 offers the right comfort for anyone with its lightweight design and various adjustable parts: the handle, trimmer head, and spacer guard.
Editor's Rating:
Specifications:
Power Source: Battery (20V)
Cutting Path: 12 in
Weight: 5.3 lbs
Warranty: 3-year (1-year battery)
Trimmer Head
The WORX WG163 comes equipped with a 12-inch cutting path, providing you with a happy medium between precision and efficiency. The trimmer head has a wide safety guard as well as an adjustable spacer guard. The spacer guard lets you trim as closely to your plants and lawn decorations as you wish.
The weed eater doubles as an edger with rubberized wheels so you can get a clean finish with minimal effort on your part. Its locking mechanism will keep the trimmer from accidentally readjusting during trimming. However, the head lock is stiff, so you'll need to apply a bit of extra force to switch between edger and trimmer.
Once the WG163 runs out of line, you don't have to worry one bit. The Command Feed system lets you feed more line with the push of a button. It also has an automatic line-feed system, which only activates when you first turn on the trimmer. The single-line system makes it easy to reinstall the new line or spools. WORX even offers buyers of the GT 3.0 free spools for life, and you only need to pay shipping and handling.
Power
The WG163 includes two 20V 2.0Ah lithium-ion batteries, making it best for those with small to medium-sized lawns. You can expect each battery to supply enough power to cut a quarter-acre of an average lawn. If your lawn exceeds half an acre, you should consider buying the Makita XRU15Z with up to a 1.5-hour runtime.
Make sure to charge ahead of time as each battery takes five hours to fully charge. Luckily, the GT 3.0 is compatible with other 20 and 40V WORX PowerShare batteries, so you can always use them as a backup if you own other WORX PowerShare equipment.
Ease of Use
The GT 3.0 is lightweight and portable, weighing only 5.3 lbs with the battery. Its telescopic shaft gives you the freedom to adjust the shaft length to your liking. Coupled with its adjustable auxiliary handle with seven positions, comfort is sure to never be an issue. Furthermore, the head-to-shaft angle can be rotated 90-degrees, making it easier to trim any hard-to-reach places.
Pros
Free spools for life

Lightweight and ergonomic design

Easily refeed line with Command Feed
Cons
Difficult to switch between edger and trimmer
---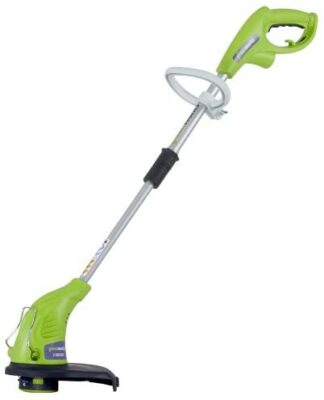 Why we like it:
The Greenworks 21212 delivers the power you need for small lawns at a fraction of the price.
Editor's Rating:
Specifications:
Power Source: Corded (120V, 4-amp)
Cutting Path: 13 in
Weight: 7 lbs
Warranty: 4-year
Trimmer Head
The Greenworks 21212 has a retractable spacer guard attached to the trimmer head, which makes sure you won't be making a mess of any floral and lawn decorations. It has a wide debris guard but runs on the short side. As a result, some debris will get by the guard or you'll have to make sure to run the trimmer close to the ground.
The corded 21212 can also be used as an edger simply by twisting the rotating shaft. The space guard serves the additional purpose of helping to guide your cut while you edge, or you can choose to lift it to get a closer cut.
The dual-line 13-inch system will power through weeds quickly at the cost of some added hassle when respooling. The additional efficiency that a dual-line offers makes it well worth it for those who can respool the trimmer themselves. The Greenworks 21212 uses an auto-feed line system, which feeds it additional line on start-up.
Power
The 21212 offers 120V and 4-amps, making it powerful enough to deal with most weeds. Being a corded trimmer makes it less maneuverable, but it'll get the job done if you have a small yard or outdoor outlets. Greenworks advises against extension cables longer than 50 ft, recommending a 16-gauge 50-ft cord as being sufficient for most buyers. Choosing the right cable will keep the motor from overheating quickly and makes sure it gets all the power it needs.
Ease of Use
The telescoping shaft makes it easy to find a size that's just right for you. The cord lock just below the trigger ensures you won't have the extension cable disconnect while trimming.
The auxiliary handle can be easily repositioned along the upper shaft so you can find the best spot to balance the 21212. You even have the option of completely removing the auxiliary handle if you find the trigger handle to be sufficient, but we recommend leaving it attached to reduce the overall strain. However, not being able to adjust the angle makes it less comfortable to use, especially for those who are taller.
The 21212 won't be able to trim along your hard-to-reach areas, since it lacks the angle adjustment to get under tough spots. You'll want to look at the Makita XRU02Z if you need a trimmer that can get to every crevice on your lawn.
Pros
Easily switch from trimmer to edger

Well-balanced and lightweight

Affordable cost
Cons
Lacks handle and head angle adjustability
---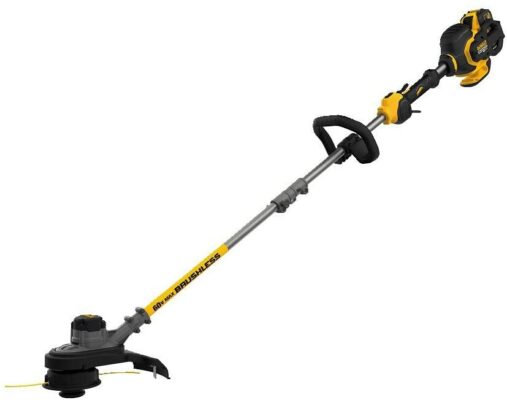 Why we like it:
If you're looking for the most power in a cordless trimmer model, the DEWALT FLEXVOLT is for you!
Editor's Rating:
Specifications:
Power Source: Battery (60V)
Cutting Path: 15 in
Weight: 12 lbs
Warranty: 90-day money-back guarantee, 1-year free servicing, 3-year warranty
Trimmer Head
The DEWALT FLEXVOLT weed eater is designed with efficiency at the forefront. Its large cutting diameter sits at 15 inches, which makes it ideal for large-sized lawns. The head is fixed, so it won't be as effective for those who have narrow or other hard-to-reach areas.
The bump feed system lets you feed new line with a tap on the ground. You'll need to be comfortable with the trimmer's weight to avoid additional wear-and-tear of the bump. The FLEXVOLT sports a dual-line trimmer, so it will be able to easily deal with tougher patches on your lawn.
Unfortunately, it has a narrow protective guard, making it a necessity to wear good protective equipment. If your lawn tends to have a lot of debris or you are particularly concerned with safety, consider buying a trimmer with a wider guard like the WORX WG163 or wear extra protective gear, such as a face shield.
Power
The power capacity of the FLEXVOLT leaves little to be desired. Its special FLEXVOLT battery can operate either at 9Ah/20V or 3Ah/60V. Combined with DEWALT's gear drive design, it'll deal with even the toughest weeds in your yard. Its variable Hi/Lo speed trigger lets you choose between high power and long runtime, making it ideal for those with both light and tough weeds or large lawns. Whatever the case, you can expect the DEWALT FLEXVOLT to get the job done.
The brushless motor provides the FLEXVOLT with a longer motor life, so you'll have fewer issues over time. The cost of their unique FLEXVOLT battery is definitely high, but it is backwards-compatible, making it hold even more value if you own other 20V DEWALT tools.
Ease of Use
Though the FLEXVOLT excels in power, DEWALT leaves comfort to be desired in this model. Weighing in at 12 lbs, it is one of the heavier models on our list. If you are less physically capable, consider buying a lighter trimmer or a shoulder strap to reduce the strain on your arms. The weight is well-balanced given the motor placement on the bottom, while the heavy battery lies on top.
The shaft length is also fixed, making it difficult to use for anyone significantly shorter or taller than average. The FLEXVOLT has a split-shaft, making it easier to store. The auxiliary handle has a fixed angle, but you can adjust as desired along the upper shaft.
Pros
Powerful motor to deal with tough weeds

FLEXVOLT Battery (20/60V)

Split-shaft for easy storage
---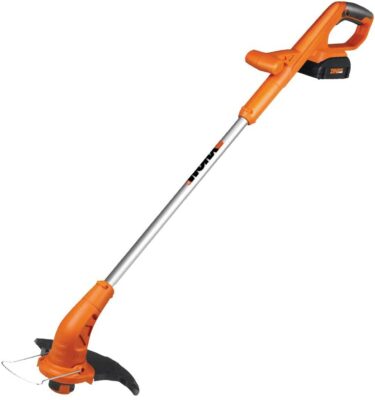 Why we like it:
The WG154 is very easy to operate given its lightweight design. Its start-up trigger is easy on your fingers and you can quickly switch between trimming and edging.
Editor's Rating:
Specifications:
Power Source: Battery (20V)
Cutting Path: 10 in
Weight: 4.2 lbs
Warranty: 30-day money-back guarantee, 3-year warranty
Trimmer Head
The WORX WG154 offers a precise cut with its 10-inch single-line cutting path. It comes with a wide-debris guard and retractable flower guard to protect both you and your plants. You can easily switch from trimmer to edger just by rotating the trimmer head. The spacer guard serves an additional purpose of being an edge guide as you trim up the sides of your lawn.
The WG154 has both an automatic-feed and command system. This means it'll automatically feed new line on start-up, but you have the additional option of feeding new line with just the push of a button. However, this combination may lead to some waste in string line since it operates using both systems.
The head has a fixed angle making the WG154 less effective on sloped or hard-to-reach areas. If this is important for you, their other model, the WORX WG163, offers an adjustable head angle.
Power
The battery of the WG154 isn't quite as powerful as some of the other models on our list. If you really need to handle tougher weeds, it is compatible with other WORX PowerShare batteries. This makes it easy to attach a larger 40V model if the 20V doesn't cut it for you. At the same time, the 20V/2.0Ah battery that comes with the WG154 can be used to power other 20 or 40V WORX tools.
Ease of Use
The WORX WG154 is lightweight and portable, weighing only 4.2 lbs. That's with the battery attached! Coupled with an appropriate distribution, you won't be experiencing any issues toting the WG154 around your lawn. Its lightweight design is ideal for those who don't require the additional power of heavier models.
Its auxiliary handle provides added support but is less comfortable to grip than models with round handles. The WG154 has a fixed shaft which reduces the comfort if you're tall.
Pros
Extremely lightweight

Easy-to-press trigger

WORX PowerShare tool compatibility
Cons
Auto-feeds conflicts with Command-feed
---

Why we like it:
If you have both thin and dense weeds on your lawn, the LST136 has the best speed-control with six power settings. The powerful motor and battery make it ideal for those with larger lawns.
Editor's Rating:
Specifications:
Power Source: Battery (40V)
Cutting Path: 13 in
Weight: 7.8 lbs
Warranty: 3-year
Trimmer Head
The BLACK+DECKER LST136 works as both a weed eater and an edger. You can easily switch between the two by unlocking and rotating the shaft. The single-line and auto-feed system make it easy to refeed additional line. The 13-inch cutting path of the LST136 is wide enough to efficiently trim your lawn, but it won't be as precise as smaller models. It has a wide protective guard and a retractable wire guard.
Power
The LST136 is equipped with a power-drive transmission to maximize the power of the motor. Along with the 40V battery that is included, you'll be sure to get the job done quickly, even on tougher weeds.
Its PowerCommand Dial gives you greater freedom to choose the best power setting for your lawn. With six settings to choose from, you can adjust as you go to make sure you can deal with any tough spots on your lawn. Overall, you get to decide whether more power or a longer runtime best suits your needs, making it ideal for those with large lawns or with thick grass and weeds.
Ease of Use
With the LST136, you won't have to worry about finding the right size. Just adjust as necessary with its telescoping shaft, which can be adjusted to have up to a 56-inch shaft. It comes with a wire edge guide to make it easier to touch up your lawn. It is lightweight at only 7.8 lbs. and is well-balanced.
The auxiliary handle has a fixed position, so make sure the height is just right so your wrists aren't under too much strain. You can, however, adjust its position along the shaft of the trimmer to best accommodate your needs. The stiff trigger and odd placement will strain your fingers more, so a trimmer like the BLACK+DECKER BESTA510 might be better if you've got weak hands (or just want an easier-to-use trimmer).
Pros
PowerCommand Dial

Power drive transmission optimizes power use

Powerful cordless model
Cons
Uncomfortable trigger design
---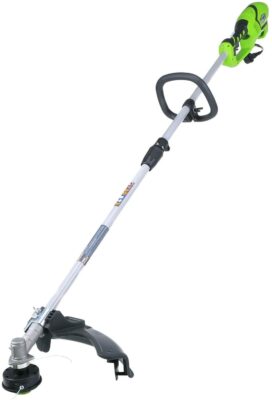 Why we like it:
The corded Greenworks 21142's high power makes it especially useful against thicker weeds and grass, and the wide path makes it great for large lawns.
Editor's Rating:
Specifications:
Power Source: Corded (120V, 10-amp)
Cutting Path: 18 in
Weight:9 lbs
Warranty: 4-year
Trimmer Head
With a large 18-inch dual-line cutting path, the Greenworks 21142 will easily mow down all the tough weeds across your lawn. You'll be able to trim your lawn extremely efficiently. On the other hand, you may want to wear additional protective gear. The guard is not as efficient at protecting the user against upwards flying debris, though, so be careful while using it.
The split-shaft design makes the 21142 attachment-capable, meaning you can save on buying several different lawn-care tools. The Greenworks 21142 is compatible with Greenworks' attachments like the hedge trimmer and disk blower. It is even capable of accepting many gas attachments from other brands.
The bump-feed system requires more effort than command-feed models to feed new line. You'll want to make sure you're comfortable with the length of the trimmer to make sure you can quickly feed more line.
Power
The Greenworks 21142 is a very powerful corded electric weed eater, boasting an impressive 10-amp motor at 120V. The Greenworks 21142 is comparable in strength to some gas trimmers. It has a variable trigger speed to make the trimmer easier to handle with lighter weeds while offering the power you need for tougher ones. The high-power motor may be more difficult to handle for some users, so we recommend the Greenworks 21212, which is a lower amperage corded trimmer that can still tackle tough weeds.
Given the strength of the 21142, you need to make sure you have a quality extension cable on hand. One that isn't capable of handling the trimmer's output capacity can cause the motor to overheat or a weaker output. If you do decide on the 21142, don't be afraid to spend a little extra money here as it'll be sure to shine with the right cord. Generally, you'll want a lower gauge cable that can handle its amperage.
Ease of Use
The adjustable auxiliary handle of the 21142 lets you position the handle anywhere along the upper shaft as best suits you. Keep in mind, however, it has a fixed 53-inch shaft. The design works best for those of average height. The split shaft makes it easier to store the 21142 compactly.
Be sure to use the cord lock to prevent the extension cable from coming loose. The extended plug on the 21142 gives you some leeway so the cord can move around a bit more freely as you trim.
Pros
Extremely powerful

18-in cutting diameter

Dual-line system
Cons
Requires a quality extension cord

Fixed shaft
---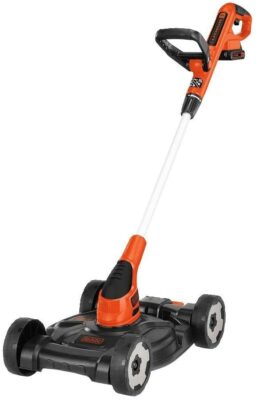 Why we like it:
The MTC200 3-in-1 offer uses a compact tool that can fulfill most of your lawn-care needs.
Editor's Rating:
Specifications:
Power Source: Battery (20V)
Cutting Path: 12 in
Weight: 14.4 lbs
Warranty: 2-year
Trimmer Head
The BLACK+DECKER MTC220 3-in-1 is capable of serving as a mower, edger, and trimmer, offering versatility in a compact design. You can easily switch from mower to trimmer by pressing and removing the mower attachment. To use the edger, all you need is to unlock and rotate the shaft into position.
The auto-feed system lets you feed line while continuing to work. Its versatility and 12-inch make it easy to trim your lawn precisely. The single-line system makes it most effective for light to moderately thick weeds.
The mower attachment does not have any system to deal with the grass clippings, so you'll need to remove them yourself with a leaf blower. The trimmer has a wide protective guard which is very effective. The wire guard is a bit small, so it is a bit difficult to follow while edging.
Power
The 3-in-1 MTC220 comes with two 20V/2.0Ah batteries, making it best for small to medium lawns. The 2.0 Ah limits its versatility. The two batteries have to provide power for what is effectively three tools. As such, keeping both batteries fully charged is important.
The 20V battery is capable of dealing with most weeds and grass, but struggles with tougher weeds. You'll have trouble with thicker patches or non-ideal conditions. If this your lawn has denser patches, we recommend the BLACK+DECKER LST136.
The MTC220's power drive transmission helps provide additional strength for a more powerful cut.
Ease of Use
Given that the MTC220 is a 3-in-1 tool, the weight is relatively light, despite being listed as 14.4 lbs. The adjustable handle lets you fix the angle of the auxiliary handle to best adjust to your size. The trimmer has a fixed shaft and is better for those of average or shorter stature.
The mower attachment lets you adjust the cutting height between 1.6 and 2.4 inches, giving you the cleanest cut for your lawn.
Pros
3-in-1 mower/edger/trimmer

Power drive transmission

Automatic-feed
Cons
Limited by battery capacity

Auto-feed system jams with thick or wet lawn
---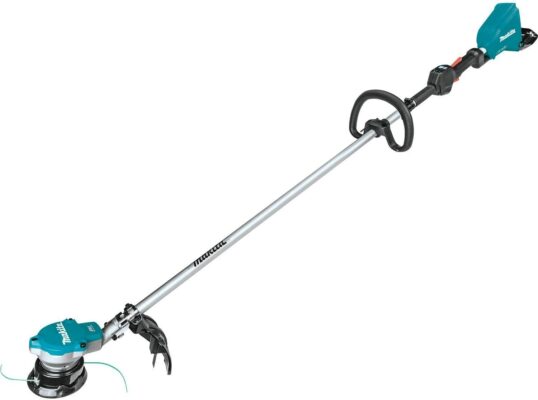 Why we like it:
The advanced tech available on the Makita XRU15Z makes it the perfect tool for professional or heavy at-home use. It can deal with tough weeds even under non-ideal conditions.
Editor's Rating:
Specifications:
Power Source: Battery (18V)
Cutting Path: 15 in
Weight: 11 lbs
Warranty: 3-year
Trimmer Head
The Makita XRU15Z has a large 15-inch dual-line cutting path designed for getting through tougher weeds efficiently. You feed more line via the bump feed feature, which is easy to use as long as the size suits you well. The narrow debris guard will not protect you from some of the flying debris. We recommend you wear additional protective gear when operating the XRU15Z.
Power
The XRU15Z uses two 18V batteries at once, delivering longer runtime and more power, despite the small battery size. Its Outer Rotor BL Brushless motor will maximize the power output of your motor. The trimmer can be set to three different speed options, allowing you to prioritize runtime or power. You can always adjust as you go if you have thicker patches in some areas.
Ease of Use
The XRU15Z is a bit heavy at 11 lbs. but it comes with a shoulder strap to help distribute the weight evenly. The shaft length and auxiliary handle position are both fixed. With about a 69-inch length, taller users are most likely to feel comfortable with the size. Since the XRU15Z is likely to be too large for most users, you should consider the WORX WG163 which is equipped with a telescopic shaft.
Compensating for the non-adjustable parts, Makita offers several advanced systems on the XRU15Z. The Extreme Protection Technology (XPT) makes the trimmer more resistant against water and dust. Though we wouldn't advise you to trim your lawn in wet conditions, the XRU15Z is more than capable. The STAR Protection Computer Controls further protects it against over-heating, -discharging, and -loading. This is accomplished via data sharing between the battery and trimmer to ensure optimal health.
Although the XRU15Z comes with a three-stage speed control, the Automatic Torque Drive Technology (ADT) detects changes in resistance and automatically adjusts the speed. If you'd rather have complete manual control, ADT can be deactivated with the click of a button.
Pros
Automatic Torque Drive Technology

STAR Protection Computer Controls

Shoulder strap
Cons
Fixed shaft length and handle position

Narrow protective guard
---

Why we like it:
If you have a small to medium-sized lawn and weight is your priority, the BLACK+DECKER BESTA510 Corded Trimmer can get the job done for you. It'll provide you with what you need as a trimmer and edger combo tool.
Editor's Rating:
Specifications:
Weight:3 lbs
Cutting Path: 14 in
Power Source: Corded (120V)
Warranty: 30-day money-back guarantee, 2-year warranty
Trimmer Head
The BLACK+DECKER BESTA510 functions as either a weed eater or an edger. With its rotating shaft, you can easily adjust from one to the other. The 14-inch cutting path allows for precision where necessary while being large enough to efficiently trim large areas. It comes with a wide debris guard and wheel for easy walk-behind edging.
The single-line feed makes it a bit weaker compared to dual-line models. However, respooling or manually feeding new line will be significantly easier. The BESTA510 has an automatic-feed system for quick and easy feeding, but it is prone to breaking. You may want to rely on manual feeding to avoid injury.
Power
Despite how light it is, the BESTA510 can deliver the power you need to mow down those tough weeds. At 6.5-amp and 120V, it delivers the power you'll need. Make sure to have the appropriate gauge and length extension cord to avoid overheating your device. The wrong extension cable reduces the overall quality of the trimmer. Refer to the user manual for the appropriate pairs of length and gauge for your extension cord.
Ease of Use
The lightweight design and balanced weight distribution make the BESTA510 easy to handle, especially for anyone who suffers from chronic pain. The cord lock feature will keep the extension cable in place to help prevent any accidental disconnections.
Its telescopic shaft allows you to adjust the length of the trimmer as needed, so no need to concern yourself with its size if you're slightly tall or shorter. Paired along with its adjustable auxiliary handle, you'll be able to achieve the ideal settings to maximize your comfort.
Pros
Lightweight

Highly adjustable

Easy to assemble
Cons
Thin 0.065-inch string prone to breaking

Fragile auto-feed system
---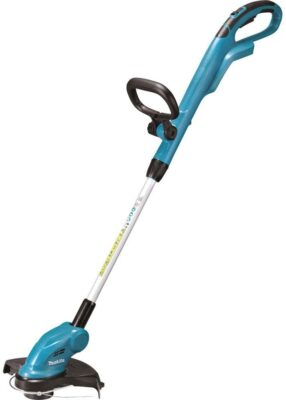 Why we like it:
The Makita XRU02Z offers the best in precision-trimming with its compact cutting path and adjustable parts. Perfect for those with narrow and hard-to-reach areas.
Editor's Rating:
Specifications:
Power Source: Battery (18V)
Cutting Path: 10.25 in
Weight: 6.9 lbs
Warranty: 30-day money-back guarantee, 1-year warranty
Trimmer Head
The XRU02Z is a 2-in-1 edger and trimmer. The single-line 10.25-inch cutting path is ideal for getting the perfect trim, especially in any narrow areas on your lawn. Of course, the single-line system comes with some cost at cutting power.
You can easily switch between the two by simply rotating the shaft. The bump feed system on the Makita makes it easy to feed more line but will wear down over time. The XRU02Z has a wide debris guard and a wire guard that protects the trimmer head from damage.
Power
The battery is not included, but the Makita XRU02Z is compatible with their 18V LXT 3.0Ah battery. This battery offers you a longer runtime with a slightly lower power output. The battery has a very quick charge time of 30 minutes.
The XRU02Z is not very effective against thicker grass types, such as crab grass. It can get the job done as long as you have thin to moderately-sized grass. Otherwise, we recommend stronger models such as the DEWALT FLEXVOLT.
Ease of Use
The lightweight design and telescoping shaft let you adjust the shaft length to whatever feels right for you. The angle of the auxiliary handle can be adjusted for a more comfortable grip. Likewise, the head's angle can be adjusted between any of the five positions, making it much easier to reach hard-to-reach areas, like under lawn decorations.
Pros
Quick 30-minute charge time

Precise cutting swath

Highly adjustable design
Cons
Struggles to deal with thicker grass

Lacks edging guide

Bump-feed particularly susceptible to wear-and-tear
---
Guide to Buying the Best Electric Weed Eater
The most important decision you need to make when purchasing an electric weed eater is whether you want a cordless one (with superior convenience and portability) or a corded one (more powerful and better for larger lawns). But beyond that, there are quite a lot of additional considerations to keep in mind.
Power
For battery-powered trimmers, you want to pay close attention to the amp-hours (Ah) as well as the voltage (V). The higher the amp-hours, the longer the battery will last you. A higher voltage indicates a trimmer with greater output capacity. If you don't mind the added weight that comes with high Ah batteries, then go for it. Otherwise, choosing a lower Ah but having backup batteries will keep you from having to lug around the extra weight. Many cordless weed eaters range from 18 to 40V, but you can find some that offer even 60V battery compatibility. The DEWALT FLEXVOLT provides the most power among our cordless string trimmers.
Most corded electric weed eaters offer 120V capability. Like with the battery-powered units, the voltage helps to indicate the strength of the trimmer. However, with corded models, the amperage is also very important, as it measures the drawing power of the motor. The higher this value is, the better you can expect your trimmer to do on those tough weeds. Keep in mind though that finding the right extension cable for your corded trimmer is very important! By doing so, you will make sure to maximize the potential of a more powerful trimmer.
Ease of Use
The first thing you'll want to look at is the length of the trimmer shaft. Choosing one that is too short for you will have you hunched over the weed eater. At the same time, one that's too long will make it hard to balance the trimmer over your lawn and leave you feeling tired. If you've used a weed eater before, then you make sure to look for an appropriate length but don't worry if you don't know what length is best. Many models come equipped with a telescopic shaft, letting you adjust the length of the trimmer until it's just right!
Of equal importance, the weight and balance of the trimmer will greatly affect how comfortable your trimming experience is. Obviously lighter models will be much easier on your arms and wrist, so opt for a lightweight trimmer, like the WORX WG154, if you're of a smaller physique. You'll want this weight to be well-balanced to reduce the strain placed on your wrist. This is especially important for those who suffer from arthritis or other chronic pain. Similarly, the trigger should be easy to press to keep your fingers from tiring.
Line Type
Weed eater lines are available in several sizes with most ranging from 0.065 to 0.095-inch string. The thinner string is more susceptible to breaking but will require less power to spin. Stronger trimmers are usually compatible with thicker lines, offering greater trimming power and a more durable line.
Furthermore, lines can be sold in various shapes, each being effective for different types of lawns. Most standard spools are either round or edged. The former is more durable while the latter offers better cutting power.
To choose the right width, refer to your user manual to know what line-width your trimmer can accept. To help you choose the best line shape for your lawn, follow this guide.
Types of Line-Feed
Various line-feed options are available so you can choose the right balance between difficulty with respooling and feeding line.
Single-Line: The line is fed through a single-exit. Single-line is easier to manually feed additional line as well as replacing the spool. It won't be as effective at trimming since only one line is doing all the trimming.
Dual-Line: Line is fed through two exits. It'll be hard to respool and feed more line manually. The two lines, however, work in tandem to give you a more powerful and efficient cut.
Fixed: You'll have to manually feed the line, which comes in single pieces of string. Since a spool is not needed, fixed lines use stronger string, making them more resistant to breaking.
Bump: This system relies on tapping the head of the trimmer against the ground. By doing so, the spool will dispense more new line. The bump-feed system faces issues with regular wear-and-tear over time to the bump.
Automatic: Upon start-up or from a resting position, the line will automatically feed. The line cutter that can be found on the edge guard will trim the line to the tool's standard length.
Command: Trimmers with command-feed have a button on the handle close to the trigger. By pressing the button, you will release more line. Be careful to only hold until you first hear the line hitting against the line cutter to avoid waste.
Safety Precautions
You should always practice the following safety habits when using an electric weed eater.
Wear pants and close-toed shoes, boots if at all possible
Wear protective eye-wear
Remove any large obstacles on your lawn, including branches and rocks
Position the trimmer head low to the ground, away from your feet
Ensure that your trimmer and extension cord or batteries are in good shape
Make sure to keep any people and pets away while the trimmer is being used
Maintenance
Store your trimmer in a cool, dry area away from the ground. You can consult your trimmer's user manual for specific ranges that your device can tolerate. Although many top-end trimmers come with safety systems in place, avoid placing too much strain on your equipment. This can be avoided by using the proper equipment based on the manufacturer's recommendations. This includes, but is not limited to, using the appropriate size and length extension cable, only compatible batteries, and the recommended line-widths.
If any serious issues arise with the operation of the weed eater, do not attempt to fix it yourself. You could cause injury to yourself or permanently damage your device. Contact your trimmer's manufacturer for additional information. They will generally offer you different options as long as your issue is covered by the warranty.
Final Words
We hope you now understand the importance of finding an electric weed eater that suits your specific lawn-care needs. You should be able to find a suitable model on our list, which offers a wide array of models made for different lawn-types and your physical needs. As long as you keep in mind our advice, we are confident that you will be keeping your lawn well-groomed with minimal effort.