Top 10 Best Drywall Sanders 2020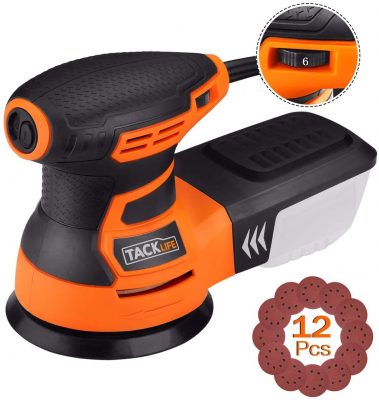 Quick Facts:
Motor: 3.0 Amps
Grit: 80-180
Weight: 3.4 lbs.
This six-speed hand sander is a great little helper for just about any home renovation project. Whether big or small, you can shave hours off your project and get the job done with much less effort compared to manual sanding.
Power and Versatility
The sander comes with six speed settings that you can easily adjust using the dial. The maximum speed is 13,000 RPM which is more than enough for most projects. However, at 3.0 amps, this is not the most powerful hand sander out there.
For bigger projects or for professional use, it might not pack the punch you need to handle the variety of work you have to do. For something a little more heavy-duty, check out this pole sander with a 6.7 Amp motor.
If you are just looking for home use or light use, though, this compact sander is a great choice. The built-in vacuum and dust collector make it an all-in-one machine. There's no need to connect it to a shop vac or deal with dust flying everywhere.
Holes in the sanding discs allow the vacuum located inside the machine to pull in dust and deposit it into the small compartment that attaches to the back. When it's full, just detach it and dump it in the trash.
Weight and Balance
At less than four pounds, this hand sander is great for DIYers who need something lightweight and easy to maneuver. The rubber grip handle also helps to provide a secure and comfortable grip.
The placement of the handle directly over the sanding plate and motor means that you can press down and maneuver all in one action. This gives you greater control over the movements and pressure applied. It also creates a more even weight distribution, instead of a lopsided or top-heavy distribution like some other designs.
---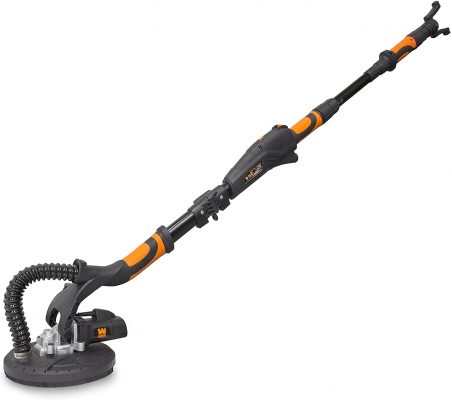 Quick Facts:
Motor: 5.0 Amp
Grit: 60-240
Weight: 9.2 lbs
The lightweight design and the built-in hose for dust collection make this a solid choice to be your next go-to pole sander. It's powerful enough and versatile enough to handle a wide variety of jobs and it's lightweight so you can easily take it with you.
Power and Versatility
The 5.0 Amp motor offers a range of speeds from 600 to 1500 RPM. It also has a precision dial rather than a fixed set of preprogrammed speed settings so you can get the precise RPMs you think will be best for the job. With this range, you can tackle just about any job from polishing down mud or joint compound to sanding off popcorn ceilings.
The range of sanding discs in different grit sizes adds even more to that versatility. The six sanding discs range in grit size from 60 to 240. For drywall, you'll likely stick to using the 120, 150, and 180 discs. But the remaining grit sizes will be good for other surfaces, including wood and metal.
The built-in hose is a generous 15 feet long and it's compatible with just about any shop vac. It's optional to use, as the sander still works when not hooked up to a vacuum. However, it will significantly cut down on cleaning time by capturing most of the dust. With the long hose length, it won't significantly cut down your range of motion, either.
Weight and Balance
At just over nine pounds, this is one of the most lightweight pole sanders out there. This makes it a great pick for home users, but the power and versatility still make it a solid choice for professional use as well.
The swivel head that allows you to get into corners and those hard-to-reach places improves the maneuverability but also makes the balance a little weird. We recommend getting comfortable with handling it without the motor on at first before turning it up to the full 1500 RPM.
It takes some getting used to and some fine-tuning to find the settings and angles that decrease the wobbling sensation, but this is true with any pole sander. If you're worried about the handling and balance, consider this pole sander – which comes with a guard attachment for the edge of the disc to help minimize any damage from flipping or bumping into corners and ceilings.
---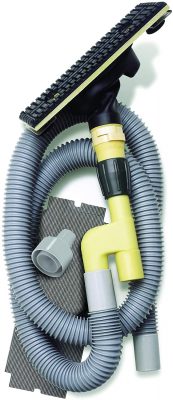 Quick Facts:
Motor: N/A
Grit: 120
Weight: 1.8 lbs.
The Hyde pole sander kit comes with a hose and sanding screen attachment that fits all shop vacuums. It uses a unique sanding screen that is more durable than sandpaper or sanding discs and better allows dust to pace through into the vacuum hose.
Power and Versatility
There's no real power behind this drywall sander since it's more or less a special sanding attachment for your shop vac. It's more like an upgraded manual sander. With that in mind, the sanding screen is a unique detail that sets it apart from other manual sanders.
The screen offers a 120 grit but is more durable and long-lasting than typical sandpaper or sponges. The metal screen will hold its coarse texture much longer than these other materials.
The screen design also allows it to collect dust through the small holes in between the metal grating. It's large enough for dust particles to fall through but small enough to provide plenty of coarse surface area for sanding.
So you'll still have to put some muscle into it, as you would with any manual sander, but you get better dust collection than you would with others in this category and you don't have to replace your screen as often as you have to replace paper and sponges.
There's also a place for attaching a pole extension so you can use this as both a hand sander or a pole sander, although you do have to buy the pole attachment separately.
Weight and Balance
The sanding attachment and hose weigh just under two pounds so handling it won't be a problem. There's also a comfortable grip near the base of the sanding head and it swivels to give you a range of angles without having to move around as much.
Overall, it's easy to handle and light enough to use for hours at a time. However, if you're doing more than one room, your probably want something with some power behind it, like this one so you can get the job done faster and with less manual effort.
---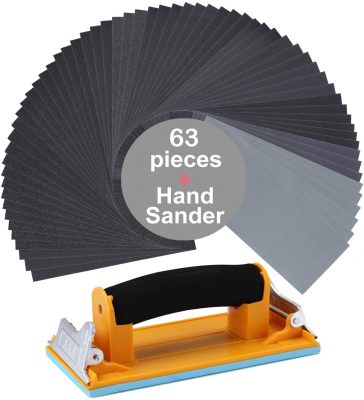 Quick Facts:
Motor: N/A
Grit: 60-3000
Weight: <1 lb.
This little hand sander comes in a complete kit with enough sandpaper in a wide enough variety of grit sizes to handle any kind of sanding you need, drywall or otherwise. It's both affordable and versatile, making it perfect for home DIY projects.
Power and Versatility
The handle design makes it easier to sand with than either using a piece of sandpaper alone or having it wrapped around a piece of scrap wood. It helps to distribute pressure evenly across the paper so you don't have the issue of wearing down one side while leaving the other side almost untouched.
That also helps to speed up the job a little since you're covering more surface area with each pass. It's still not going to be nearly as fast as an electric sander. But the waterproof design makes it suitable for both wet and dry sanding so you can make the work a little easier on yourself by opting to do wet sanding.
What really sets it apart from other manual sanders, though, is the set of 63 pieces of sandpaper. That includes three pieces of 21 different grit sizes. So, there's really no surface this tool can't sand.
However, if you're solely using this for drywall, most of those pieces are going to be useless to you since you really only need grit between 100-220. So for something that includes a variety more targeted to drywall sanding only, consider this orbit sander with sanding plates ranging from 80-180 grit.
Weight and Balance
The less-than-one-pound design and the handlebar feature make this easy to handle and light enough to use for extended periods of time. The plate and handle design help to distribute pressure across the sandpaper but also allow you to use your entire palm rather than just your fingers to apply pressure. The result is that your hand won't tire out nearly as quickly and you'll be able to apply more pressure with less effort.
---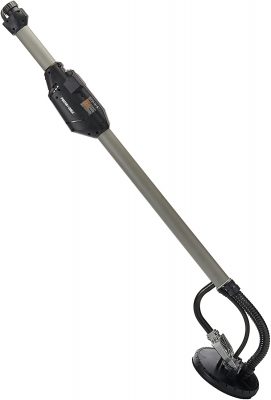 Quick Facts:
Motor: 4.7 Amp
Grit: N/A
Weight: 8.5 lbs.
Porter Cable is a well-known brand in the drywall sanding space. If you've ever rented a sander, there's a good chance this is the brand you got. That's because it offers a powerful motor without all the bulk that usually comes with it so they're easier to handle but still capable of handling tougher jobs.
Power and Versatility
The 4.7 amp motor offers variable speeds ranging from 1,400 to 2,000 RPMs. That's fast enough for even the toughest jobs. The plate also comes with a brush skirt around the edge which prevents you from gouging the walls and joints.
That's a useful feature to have considering how powerful this is. And it has the added benefit of helping with dust collection so more gets funneled into the vacuum hose and less escapes out of the sides.
The 13' hose attaches to any shop vac for easy dust collection. Between the hose and the brush skirt, this is one of the most dustless set-ups you'll find.
Weight and Balance
The entire pole sander weighs just 8.5 pounds, despite reaching speeds of up to 2,000 RPM. This is the main reason professionals rely on this brand so much. It's easier to handle, less likely to flip or spin out of control, but still powerful enough to get the job done quickly and efficiently.
One design feature that helps improve the handling is the location of the motor. Rather than being positioned up at the head like most pole sanders, the motor is lower down on the handle. This moves the center of gravity and makes it much less top-heavy.
For everything it has to offer, this Porter Cable sander does not come cheap. Home users who just need it for their own DIY projects might not want to pay such a steep price. Instead, consider an alternative like this one which offers a comparable weight and speed range at a fraction of the price.
---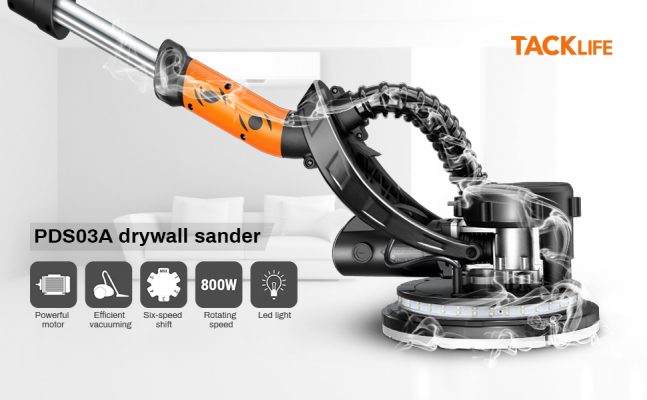 Quick Facts:
Motor: 6.7 Amp
Grit: 120-320
Weight: 16.7 lbs.
This pole sander offers variable speeds between 500-1800 RPM and a built-in vacuum system that frees you from your shop vac while still cutting your post-sanding clean-up time in half. It's powerful, efficient, and comes with everything you need to start sanding right away.
Power and Versatility
With the 6.7 Amp motor, you can reach speeds of up to 1800 RPM which is enough to take on just about any drywall sanding project. It also comes with 12 sanding discs, six of 120 grit and six of 320 grit. Use the 120 grit to start and get the biggest bumps and imperfections sanded down. Then use the 320 grit to polish the wall to perfection.
What really sets it apart, though, is the built-in vacuum system. It's not just a hose that attaches to your shop vac. It has its own vacuum system that attaches to a bag that you can carry on your back. This means you don't have to drag a shop vac around the room with you.
Weight and Balance
As with any pole sander, there's a learning curve to get the handling and balancing right. But the 16.7 pound weight also makes this a little more challenging than some of the lighter weight pole sanders available. However, when you need the kind of motor power this offers, you just have to accept the added weight that comes with it.
One of the standout features of this pole sander is the optional chassis that guards the edges of the sanding disc. This easy-to-assemble plastic blocks those sharp edges so that if you do accidentally hit an adjoining wall or flip the sander, it won't cause as much damage.
This feature makes it very beginner-friendly and takes some of the stress out of the adjustment process when you're still figuring out the right settings and angles for handling your new pole sander.
If you would still rather just go with a lighter, easier to handle pole sander, though, this one might be a better choice.
---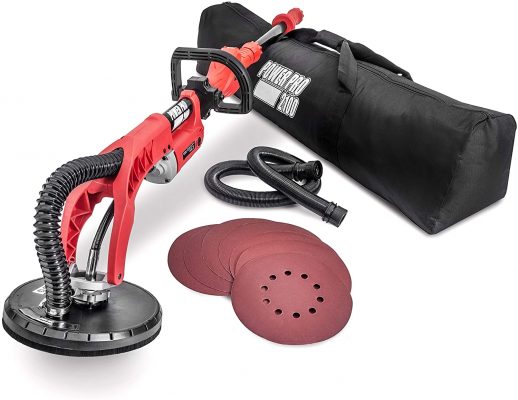 Quick Facts:
Motor: 5.9 Amps
Grit: 80-240
Weight: 15 lbs.
With an extendable handle, adjustable angles, and 12 sanding discs in six different grit sizes, you can't beat the versatility offered by this pole sander from Power-Pro. It can handle a wide variety of tasks even though it's primarily designed for drywall.
Power and Versatility
This professional design is built to handle all your drywall sanding needs. The 5.9 Amp motor offers a range of high-powered speeds from 1,000 all the way up to 2,100 RPMs. This will scour away popcorn ceilings, remove stubborn mud or joint compound, and sand rough patches smooth with ease.
With all that power, you do have to be careful, though. Even at it's lowest setting of 1,000 RPMs, you need to make sure you don't apply too much pressure to your wall. Otherwise, you risk gouging it or creating valleys that will be difficult and time-consuming to repair.
For something a little gentler, you might try the WEN pole sander which goes as low as 600 RPMs but still offers high power when you need it.
In addition to the variable speeds, you also get variety in grit size and pole length. The 12 sanding discs that come with your equipment come in six different grit sizes including 80, 100, 120, 150, 180, and 240. You'll be able to start with a coarser grit and adjust to increasingly finer sizes as you near the finish line on the job.
The pole can adjust your sander from four feet up to six feet so you can cover high walls and even reach the ceiling.
Weight and Balance
At 15 pounds, it's not the lightest pole sander available but it's also not too bulky. The added handle attached to the pole helps to improve your handling so it's much easier to wield than other pole sanders with similar motors.
The pivoting head makes it easier to sand wide areas of wall and ceiling without having to change your position. So, as far as high-powered pole sanders go, this is one of the easier ones to use. But it is still a heavy-duty pole sander so beginners will need to take a little time to practice maneuvering it.
---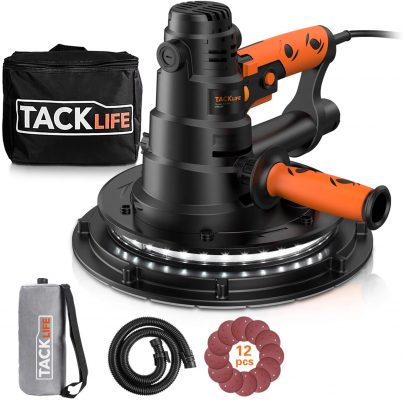 Quick Facts:
Motor: 6.7 Amps
Grit: 120-320
Weight: 9.3 lbs.
With a 6.7 amp motor, a built-in vacuum system, and a well-built handle design, this is one of the best hand sanders you could get. It's fast, efficient, and produces a professional quality finish on all your drywall.
Power and Versatility
The powerful motor offers speeds ranging from 770 to 2100 RPMs so this is ready for drywall sanding jobs of all sizes. It can also handle plaster, popcorn ceilings, and exterior walls. The wide 9" sanding pad also allows you to cover a lot of space in a single pass.
One of the most convenient features included is the built-in vacuum system. With a flip of the switch, you can turn on the vacuum mechanism inside the base of the sander. This will suck the dust through the holes on the sanding disc and into the bag that is included in this set.
You can carry the bag over your shoulder so that you can sand and vacuum at the same time without having to drag a shop vac behind you.
Weight and Balance
The dual handle design makes this one of the easiest to handle sanders on the market. Use the top handle to apply as much or as little pressure as you need to. Then, put your other hand on the side handle to guide the sander where you want it to go.
Both handles are padded with a soft-grip material that helps minimize vibrations. This makes it easier to operate the sander for long periods without fatigue. To make it even more convenient, the side handle can be installed on either side of the sander so even left-handers can comfortably use this equipment.
While it is heavy for a hand sander, the dual handle design makes that extra weight hardly noticeable and it's a worthy tradeoff for the powerful motor you get with this tool. However, if you're looking for something more lightweight, check out the 3.4 pound sander from this same brand which uses a smaller motor so you can have a sander at a fraction of the weight.
---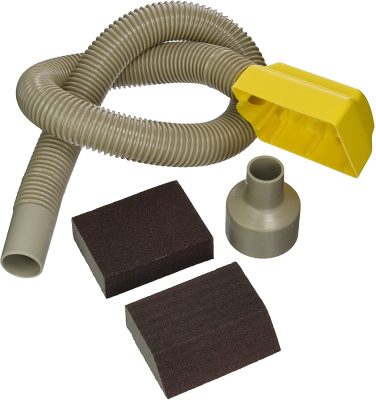 Quick Facts:
Motor: N/A
Grit: Medium
Weight: 1 lb.
This lightweight yet durable hose comes with a compartment designed to fit a sanding sponge. This allows you to sand while vacuuming up the dust all in one smooth action. It's an affordable way to meet your drywall sanding needs if you're only doing a small space or a weekend craft project.
Power and Versatility
This is a very versatile option for this price point and it has a lot of reusability potential. The hose can attach to any standard shop vac. When you buy the hose, it comes with two medium grit sanding sponges already.
The size of sponge it works with is standardized so you can easily buy replacements as needed when the two it comes with are worn out. However, because they are sanding sponges, they do wear out quickly compared to sanding plates or even sandpaper. If you'd prefer a dustless manual sanding option that doesn't wear out as quickly, check out this other vacuum attachment from Hyde which features a sanding screen instead of a sponge.
By using the sponge inside the vacuum attachment instead of on its own, you're able to remove about 90% of the dust created by sanding before it has a chance to escape and create a huge mess on the floor.
Weight and Balance
This is a very lightweight and easy to maneuver option because it's just a plastic hose that attaches to your existing shop vac. So, there's no risk of gouging or injuries. This makes it a great option for corners, edges, and all that detail work that you just can't get at with an electric sander.
---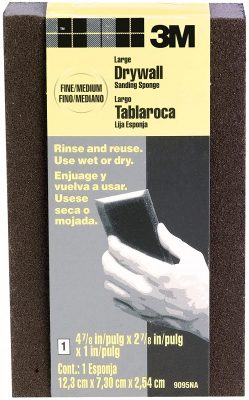 Quick Facts:
Motor: N/A
Grit: Fine/Medium
Weight: < 1 lb.
The dual grit and durable foam construction make this a reliable sanding sponge for both wet and dry sanding. You can use it for those final spot touch-ups after the bulk of the sanding is done or for the entirety of a smaller project.
Power and Versatility
While it might not seem like it, this little sanding sponge is quite versatile. The dual-sided design gives you a coarse medium grit as well as a finer grit. You can tackle those stubborn spots using the medium grit and then flip it over to polish it off with the fine grit side.
It's also safe to use in either wet or dry sanding. The durable and absorbent foam can soak up enough water to soften the uneven section of drywall. And the grit on either side of the sponge remains coarse and functional, even when wet. Then, just let it dry while your wall dries and use it for some final dry sanding to finish the job.
Rinse and reuse it multiple times, until the grit on either side wears down. It's also compatible with shop vac sanding hose attachments like this one.
Weight and Balance
This lightweight foam couldn't be easier to hold and maneuver. Being a sponge, it's not heavy at all. And the dimensions are perfectly suited to fit comfortably in your hand. Since there's no motor involved though, balance is not an issue.
The key drawback is that it's not really up to the task of larger jobs. Not only would it take forever to sand an entire wall with this sponge but the grit size is not really suitable for the larger bumps and creases.
---