Garages are more than just places to park your car. They are workshops, weekend getaways, places to blow off some steam, places for learning and bonding, and much more. To make your garage a place worth spending time in takes some effort, though. A nice coat of high-quality garage floor paint could be the key to taking your garage from a tired storage shed to a rejuvenated workshop.
What's the point of garage floor paint, you might ask? Lots of garage floors have years upon years of abuse with numerous cracks and indents that can not only ruin the overall look of the floor but also potentially contribute to injuries due to the unevenness of the floor. A garage floor paint is more than just a way to add color, though: high-grade garage floor paints incorporate epoxies and synthetics that fill in cracks, add a non-slip coating, and seal concrete floors.
Not all garage floor paints are designed the same, however. That's where this buyer's guide comes into play. Here, we are going to focus on the best garage floor paint options out on the digital market today. First, we'll give you the 411 on what you should know about garage floor paint before making a purchase. Right afterward, we're going to dive right into the our favorite garage floor paints, and to wrap up, we'll provide you with an extended buyer's guide that will hopefully hammer in some of the ultimate reasons why you should consider buying a high-grade garage floor paint today.

Features to Consider for Garage Floor Paint
Below are a couple of quick and easy points to consider before purchasing some floor paint for your garage. If you want more information on how to get the most value out of a garage floor paint, take a look at our extended buyer's guide at the very end of the product review section for a closer look on the complexities of these kinds of products.
Overall Aesthetics
Looks matter, even with potentially dirty places such as garages. The way your garage is going to look after applying one or two coats of floor paint is a prime factor in the decision-making process. Epoxy-based products give a nice glossy sheen to your garage floor, while other selections might provide a more muted or less reflective surface to keep glare at a minimum. Color is also another big factor to keep in mind as well. Express yourself!
Project Scope
Be extra sure that before you start painting your entire garage floor that you know how much paint to purchase in the first place. Each product is going to differ when it comes to how many square feet it can cover per liter, especially if you put on more than just one coat of paint. Take some time to make proper estimates prior to going and making a purchase.
Application
You could have the best, most high-grade garage floor paint money can buy, but if it doesn't mesh well with your floor type, you're out of luck. Be sure the kind of floor paint you purchase can go on your garage floor in the first place. Some floor types need extra preparation and special care before applying any sort of floor paint to them, so be vigilant when it comes to knowing the details of your garage.
Something else to be aware of is drying/curing time. Some of these products go on pretty thick; the complexity of the product generally means a longer time to set, so plan accordingly: you might not have your garage in a useable condition for upwards of a week.
Protection Factor
Garage floors are exposed to a lot of different things that can cause wear over a long period of time. This can be anything from the harsh elements to household chemicals that can strip paint when spilled. A quality garage floor paint will provide added protection and even make spills easier to clean up.
Make sure that the paint you purchase doesn't crack easily, is resilient against chemical degradation, and can tolerate weather and temperature fluctuations. With some exceptions, we tend to think a good epoxy-based floor paint is your best bet when it comes to increasing the durability of your garage floor.
Top 8 Best Garage Floor Paints 2023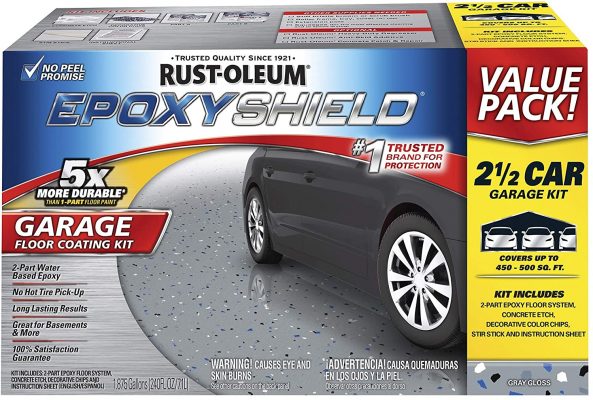 Why we like it:
This paint is almost everything you need to apply a high-quality epoxy surface to your desperately in-need garage floor. Get that classic garage floor look fast with this epoxy
Editor's Rating:
Review
The Rust-Oleum EpoxyShield Garage Floor Paint kit has practically everything you need to effectively cover your garage floor with a solid and aesthetically pleasing coat of epoxy. It's easily one of the best starter kits out there, combining a phenomenal product with a complete kit for application.
This product is well-known for its top-of-the-line adhesive properties due to the specialized epoxy polymers included in the formula. These types of polymers are designed to make the floor dry and ready to be used in around 12 hours, though some garage floor types will require a little bit longer than that. Overall, this product will have your garage floor usable after application in under 24 hours.
Included in your purchase is a complete garage floor paint kit. It comes with concrete etch and concrete cleaner as well as the epoxy formula itself. Only missing are additional items like paint rollers and brushes. For this reason, it's great for DIYers and first-time painters. And while there are a lot of epoxy floor paints that can be a pain to mix up properly, this one is quite user friendly. The Rust-Oleum EpoxyShield has a unique system called "burst pouch" that allows the paint to be mixed up quickly and effectively.
The finish of this product is semi-glossy, so it will leave your floors with a fantastic sheen no matter what sort of ambient lighting conditions you have within your garage.
Verdict
The biggest downside to this product is its price tag. This alone makes it imperfect for someone who is mulling over painting their garage floor for the first time. If you're considering purchasing this product, have a solid idea of just what you are looking to accomplish for your garage in the long run, otherwise you might up with buyer's remorse.
However, on the same token, due to the sheer completeness of the kit itself, this may be a great starter set for someone looking for the best bang for the buck. It's a matter of perception here, but either way, we consider it quite a solid product.
Pros
An (almost) complete starter kit

Neutral grey finish

Dries in under 24 hours after application

Strong two-part epoxy formula
---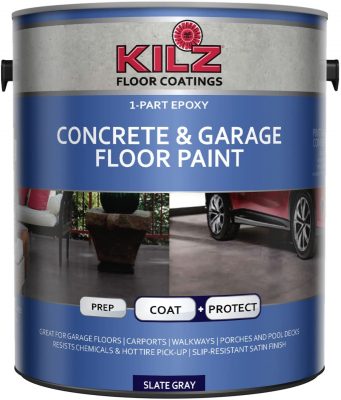 Why we like it:
This water-based garage floor paint dries completely in just a few hours.
Editor's Rating:
Review
If you're looking for a no-frills garage floor paint that won't break the bank, then you really won't be able to go wrong with this offering from KILZ.
Application of this product is simple and requires nothing in terms of difficult and time-consuming preparation like other garage floor paints might require. Just make sure you've got a clean garage floor that's been scrubbed free of oil, dirt, grime, and grease.
Due to its simple slate gray color, this might very well be what the doctor ordered for a garage floor in need of a simple flooring fix. Another great feature of this paint is its non-slip formula. While the smooth, slightly-glossy surface can look deceptively slick, the texture it forms is intentionally non-slip, one of its best features.
As far as drying time goes, since it's a water-based garage floor paint, the time it takes to completely dry off is minimal, another solid plus of this product. After around 2 hours, you should have a fully serviceable garage floor that's ready to take a beating. This is the product to buy if you're looking for a fast fix without breaking the bank.
Verdict
The real downside to the KILZ floor paint is that you generally need to apply two coats of the paint for a more effective floor covering, so it's crucial that you know how much to purchase prior to painting your garage floor. It's worth noting, however, that just one gallon of this paint can cover up to 400 square feet of surface, so unless you have a super-large garage, you won't go too far over budget.
Pros
Non-slip properties

Neutral coloring makes it versatile for many garages

Simple to apply

Water-based paint so it dries fast
Cons
Needs two coats for effective thickness
---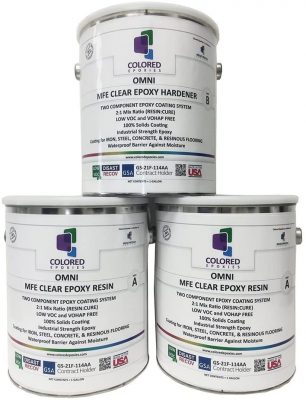 Why we like it:
If you want the maximum amount of color options for your garage floor, then you really can't go wrong with this pick from Colored Epoxies.
Editor's Rating:
Review
For some of us, our garages are extensions of our inner selves. Yeah, it seems a bit cliché, but our workshops can say a lot about us. Additionally, especially if you're a professional or a consistent hobbyist, you're going to be spending quite a bit of time in your garage. Why not get it looking the way you want it in the first place? For the best color variety on this list, you really can't go wrong with Colored Epoxies Resin floor paint.
This Colored Epoxies brand comes complete with 12 whopping different color options to choose from, giving you a wider range of floor color options than any other product on this list. Another awesome thing is the utter versatility of the product: this isn't just specifically for garage floors, but can also coat basement and warehouse flooring. Any surface is ideal for this product.
Another thing we like about this product is the price per unit. If you buy the 3-gallon kit, you get three cans of the product. Each gallon can cover up to 170 square feet of floor, so you can reliably paint the entire floor of a one-car garage with one of these 3-gallon sets of paint. Just be aware it's a bit of a price sink compared to some of the other products on this list, but there's no other option if you're looking for a color that's not a simple gray
There's more when it comes to the positive qualities of this floor paint, however. It's odor-free and has a very low level of VOC, which means it's safe to apply with little safety equipment (although a respirator is never a bad idea). Additionally, once applied, this paint dries in under 24 hours, making it a fast fix for a desperate garage floor.
Verdict
Probably one of the biggest issues with epoxy-based paint with bright colors is that it can be a bit difficult to hide mess-ups due to the contrast between standard floor colors. So, if you purchase this product, make sure that you paint thoroughly and accurately, otherwise you're going to get pretty uneven patches of coloration on your floor which can affect the look of the garage as a whole.
Pros
12 different color choices

Low VOC content

Dries in under 24 hours

Multi-surface capabilities
Cons
Difficult to get a nice even color
---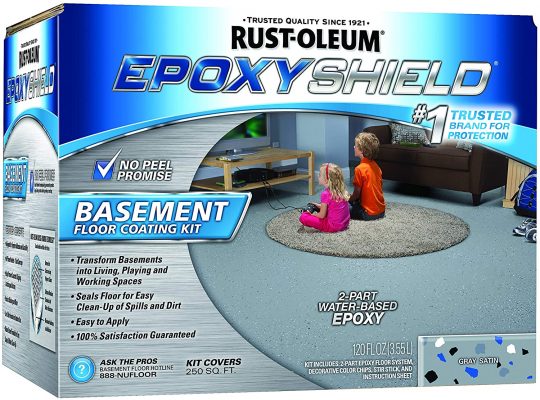 Why we like it:
The Rust-Oleum Basement Floor Kit is the perfect budget option for the cost-conscious individual wanting to take their garage floor to the next level.
Editor's Rating:
Review
Maybe you're new to garage floor painting and you're just looking for a good intro option that won't blow your budget too badly? Well, we have just the product for you right here.
This is a bit different from the the earlier Rust-Oleum products we covered on this list. It's designed for basement floors, however it can work in a pinch on any hard concrete surface( garage floors as well) and at far less of a cost to you.
This kit comes complete with almost everything you need, including the floor paint, a stirring device, and a packet of rubber chips used to decorate the floor and add grip to the floor. The only other thing you need to purchase is a paint roller or two, but that's about it.
After cleaning the area appropriately, just apply the Rust-Oleum to the floor. It's as simple as that. One gallon of this product can cover up to 250 square feet of a garage floor, and that's the reason why this makes it our top budget pick for the list.
Once applied to a garage floor and properly dried and cured, this coating cleans up easily. A standard soap and water mix will nullify pretty much any dirt or grease that can potentially get on your garage floor.
Verdict
The only real downside we found with this product is the number of decorative chips provided with the product might not be enough for the quantity of paint given, however it's easy enough to purchase more chips if you want the desired aesthetic and traction effects. Additionally, the product dries very fast, so take special care with the setup of your floor area before application.
Overall, this is a great, budget-friendly option for preparing a garage floor. While it's not going to be nearly as tough as a 2-part epoxy garage floor paint, it can do in a pinch.
Pros
Can cover up to 250 square feet with one kit

Comes with almost everything you need to start

Comes in grey or tan colors

No primer needed

Cleans easily
Cons
Not many decorative paint chips provided with the kit
---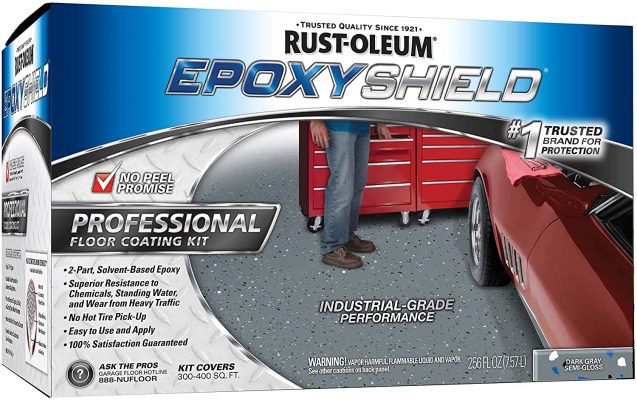 Why we like it:
This garage floor paint has a hardness level of 85%, making it close to industrial-grade garage floor paints.
Editor's Rating:
Review
This epoxy-based garage floor paint is the perfect option for the more discerning individual that wants professional-grade toughness and quality at a DIY-level price.
The fact of the matter is, this is probably one of the strongest, if not the strongest, garage floor paints on the market. Professional garages will generally use professional-grade epoxy floor paints, and this is about as close as you can get in a non-professional setting. Needless to say, Rust-Oleum has made a quality product that can get us DIYers closer to the professional level with this product.
Another awesome aspect of this product that only adds to the toughness it can provide for your garage floor is that since it's not water-based it will ultimately keep your garage floor from absorbing water over time. So, if you live in an area where high levels of moisture due to humidity or heavy rainfall are a concern, this is the floor paint for you.
Like many of the other Rust-Oleum products on this list, it comes as an almost complete kit. Floor paint, a stirring device, and rubber chips to add floor grip are included with this set. All you need to provide? Paint rollers and some elbow grease.
Verdict
This is a little more pricey than other alternatives on this list, however, its toughness level is without question. This is easily the best product we could ultimately recommend if you're looking for something closer to what a professional garage might use for their floor paint needs. On top of that, one set of paint will cover up to 400 square feet depending on how many coats you want to use, so it's good for large garage projects as well. You will get your money's worth with this choice.
Pros
Paints up to 200 square feet of garage floor space

85% solid for maximum toughness

Semi-glossy finish for a professional sheen

Can withstand foot and vehicle traffic equally well
Cons
Takes around 4 days to be vehicle-ready
---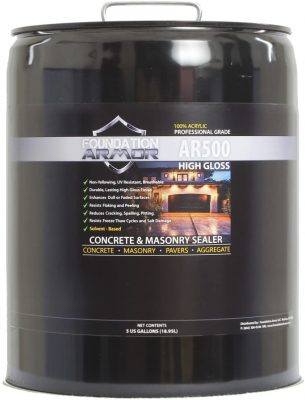 Why we like it:
While this product is technically a sealant and not an epoxy 'paint,' it has a versatility unlike any other.
Editor's Rating:
Review
Here's yet another product that really can't be qualified as a paint, however it's too good of a coating for the purposes of sealing up garage floors to omit from our list. Interested?
First things first, this is a transparent covering for floors that comes fully prepared for use right out of the container. Like many other garage floor paint products, it's still probably a good idea to completely scour your floor's surface of any dirt, oils, and greases prior to application, however. Also, the transparency of this product means you're going to have to paint your garage floor the color you want prior to applying the AR500's clear layer, otherwise your floor will just be the same color you started with prior to its application.
The acrylic essence of this sealer means it will easily fall into any kind of cracks or crevices that your garage floor happens to have, effectively sealing it up as if it were never there in the first place. Another added benefit of this is it keeps the concrete free from potential damage from water as well as protecting from oil, grease, and dirt.
Another advantage the Armor AR500 has over most of the other products on this list is that it can be used for more than just garage floor projects. Any sort of concrete surface is a potential candidate for this acrylic sealer and its protective shielding. It gives off quite an aesthetic sort of "wet concrete" look while having a high level of gloss at the same time, which can make outdoor areas such as patios look incredibly smooth and vivid all at the same time. We think the results are nothing short of eye-popping.
Verdict
It's important to note that this is not what we would call a beginner's product. The Armor AR500 creates hazardous fumes in its application and it is strongly recommended it only be used in areas with a high level of airflow (on top of each individual taking part in the process wearing a respirator as well just to be safe). With all this being said, we can only truly recommend this product for individuals that have experience in these sorts of acrylic-based materials.
Another thing we noticed is that the acrylic sealant doesn't have any anti-slip properties in its formula at all, so it's a good idea to mix in some form of additives that have abrasive qualities (like rubber chips) in order to get a decent grip for your garage floor. It won't make your floor slippery, but it won't make your floor much better either.
Pros
Can work on inside and outside surfaces

Will last for 2-5 years per application

Resists UV rays, temperature fluctuations and abrasion

Can be used on all types of concrete
Cons
Fumes can be hazardous

Not naturally a non-slip sealant
---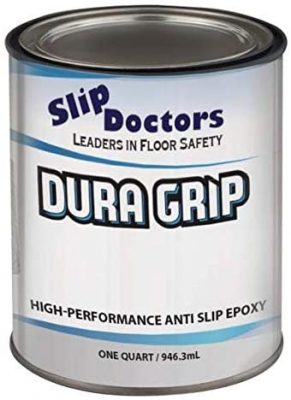 Why we like it:
This versatile product isn't just meant for garage floors, but any other surface that needs non-slip protection.
Editor's Rating:
Review
Much like the Armor AR500 product on this list, the Slip Doctors DuraGrip paint isn't specifically designed for garage floor usage, however, it can easily be a great substitute for one. It comes with many interesting features that might make it well worth someone's time (and dollars) over more niche product types.
First up, the DuraGrip paint provides a weather-resilient surface on top of its non-slip properties. This is a huge boon to someone that lives in areas where unpredictable weather is the rule rather than the exception. It doesn't matter if you live on the Gulf Coast where tropical storms are consistent in the summer, or in the midwest where troublesome snowstorms rule the winter, the DuraGrip coating will remain 100% active and ready no matter what, giving your shoes a fantastic grip on whatever surface it happens to coat at the time.
Another key thing about this product is the number of color options it has. There are ten different choices, including clear, which means you should be able to choose a color choice for your garage floor that fits your aesthetic desires.
Another fabulous addition to this product that helped it to make our list is the generous quality guarantee that comes with it. Not only do you get a 30-day money-back guarantee if you're not completely satisfied with the product, but the Slip Doctors also provide you a two-year warranty in case you notice any kind of marring, chipping, or other instances of deterioration where you applied the non-slip coating.
Verdict
One thing that keeps this product lower on our list is just how expensive it can be. A quart of this non-slip paint isn't going to set you back too far as price goes, but when you start getting in the gallon and especially the 5-gallon ranges, which you'll need for larger garages, you're going to be shelling out a lot of hard-earned money. However, if you've got the cash and want a fantastic and utterly abrasive floor paint for your garage (and other key locations), this is a great option.
Pros
Can be used on many different surfaces, not just concrete

2-year warranty

30-day money-back guarantee

Comes in many different colors

Comes in quart, gallon and 5-gallon pails
Cons
Expensive in higher volumes
---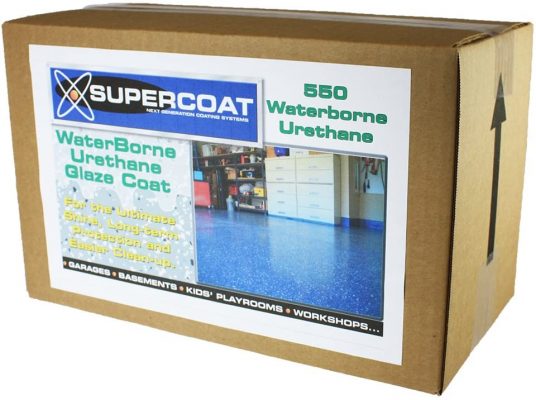 Why we like it:
If you're searching for a heat-resistant look that is akin to a clear, laminated surface, this is the product for you.
Editor's Rating:
Review
One of the biggest advantages of a urethane-based garage floor paint is heat resistance. If you have a garage that has constant in and out traffic complete with hot tires that have been rolling around in blistering heat, this is ideally a good buy when it comes to keeping your garage floor safe. Aesthetically speaking, it provides a clear and lustrous surface that is akin to a laminated object. Be sure to apply a specific color of paint underneath it only to enhance the look!
Another positive factor with this product is its absolute lack of smell, even after application. That's one of the bigger downsides to a lot of garage floor paints, but this product ultimately has almost no smell, which can be great for enhancing a professional environment where clients go in and out on the regular.
Verdict
One of the biggest issues with water-based garage floor paints, like this one, is that you need to apply multiple coats to get a really solid and durable surface. This product is no exception, and you ideally need more paint coating, which ultimately means you're going to spend more money buying more products just to satisfy the multiple coating process.
Also, the product can go on a bit uneven in different places, some spots even being tackier than others despite having gone through the drying/curing process. This significantly lowers its overall score. However, if you're looking for an affordable urethane option that deals with high temperatures efficiently, this is well worth a shot.
Pros
Odorless application process

One kit can cover up to 500 square feet of floor

Can dry within ten hours
Cons
Requires several coats of paint for optimal thickness

Can be uneven
---
Guide to Buying the Best Garage Floor Paint

Here are some more in-depth points that expand a bit more on what we originally covered in our brief buyer's guide earlier in the article. If you're still looking for more information on garage floor paints, read on.
Benefits of Painting a Garage Floor
Besides the obvious aesthetic aspect of a nice, shiny coat of floor paint, there are more practical benefits as well. Here are a couple of key ones:
Reduces Damage From Hard Use
We've all done it before. Something in the garage was too heavy to lift, and we ended up dragging it, causing indentations and scratches on the garage floor. A high-grade garage floor paint keeps your floor tough and always resistant against random abrasions like this and much more.
Protects the Floor
Garage floors, while initially very hardy, can wear down quite a bit when you add time, dirt, and improper maintenance into the equation. All kinds of dust, dirt, greases, chemicals, and lubes can be terrible on the structural stability of your garage floor in the long run, especially if there's no protective covering keeping your floor safe. Garage floor paints are the frontline solution to keeping your floor's structural stability top of the line for years to come.
It Keeps Repairs at Bay
A good garage floor paint can fill and seal up pre-existing cracks on your floor. It will provide a layer of environmental protection to your garage floor as well, keeping any further cracking from inclement weather, humidity, and other factors from ever being an issue again. This not only keeps you from having to constantly provide some sort of upkeep for your garage floor, but it will lower the costs for such maintenance as well. Not only are these garage floor paints a time-saver, but they are a money-saver as well!
It Keeps Floors Looking Spiffy
Floor paint for garages has a unique effect that has to be seen to be believed, especially when it comes to some of the glossier products. Another aspect that can't be overlooked is all of the various color choices of floor paint on the market as well. This can provide a significant change in the overall atmosphere of the garage, especially if it had a rather drab color scheme previously.
So, it should go without saying at this point that garage floor paint can tremendously increase the value of one's garage in the long run.
Types of Garage Floor Paint
Garage floor paints come in numerous different kinds. Here's a quick survey of some of the more commonly available and most used types.
Epoxy
Epoxy floor paints are the prized variety when it comes to garages. They are extremely durable and have a longer lifespan than most other garage floor paint varieties. They're also a mostly no-maintenance sort of endeavor. Be aware, though, that epoxy-based floor paints are challenging to apply by just one persona and require certain level of preparation before application. Additionally, they have a fairly lengthy curing duration, so they are not a fast fix for floor stability.
There are two main varieties of epoxy floor paint.
Two-Component/Solid: Two-component epoxies are made from both resin and hardening ingredients like rubber chips. These floor paints are extremely pungent in their scent and they need proper ventilation in the garage area. These paints provide a thick, durable layer of protection for your garage floor that will last for long periods of time.
Two-Component/Water-Based: These are good starter epoxy paints that utilize water as a solvent. Their downside is that the coating they end up creating is thinner than a solid two-component floor paint and will require upkeep after a certain amount of time.
Latex
Latex floor paint is extremely similar to the kind of paint you would apply to one's household walls. They come in a wide variety of color choices and are probably one of the best choices if you care more about looks over durability. They'll also require frequent upkeep to maintain a bright color.
Concrete Stain
These are good if you are looking for the budget option, though it comes with the price of a lack of color option. So, if you're not an aesthetically-focused person and don't have a lot of cash to spare, this is a powerful option at your disposal. The only real downside is that you are required to wash your floors with an acid solution prior to application.
Urethane Paint
These aren't very effective at melding down to concrete floors all too well, but they do have a considerably shorter drying time than other paints on this list. They are pricey, however, and generally require some sort of professional application due to their hazardous chemical makeup.
Removing Floor Paints and Prepping Garage Floors
If for some reason, you make a mistake or want to strip your garage floor to put on another variety of paint, follow this process:
First and foremost, don some form of protective coveralls and a face mask, as this process involves caustic chemicals that can cause issues on exposed skin.
Remove all topical stains such as grease, dirt stains, paint, and oil using a pressure washer (find our favorites here)
Lay a coat of a chemical deglossing agent, which will ultimately break down the top layer of floor paint. Be sure to do this in a properly ventilated garage, as these fumes are extremely strong and can potentially be irritating.
Once the top layer of paint is properly de-glossed, administer a paint stripping solution to your garage floor, always being aware of having proper ventilation in the garage.
Once the paint is stripped, it's a good idea to clean and/or polish your floor once more prior to putting on a different kind of garage floor paint.
If you're more of a visual learner, then please reference this helpful YouTube video from Chase On Two Wheels in order to see how best to prep a garage floor prior to applying any kind of floor paint.
FAQ
What Sort of Tools Do I Need to Apply Floor Paint Inside of My Garage?
If you're going to apply floor paint by your lonesome, be sure to consider these tools:
Protective Clothing: Coveralls, respirator, and safety goggles are an absolute minimum with some of the more caustic/chemical paints.
Leveler: Used to spread the paint on an even level across the floor.
Polishing/Cleaning Tools: If the floor is really tarnished and old, electric polishing tools are a must in order to apply paint evenly. It's also a good idea to vacuum the floor prior to application to keep the layers as smooth as possible.
Is Garage Floor Paint Worth It?
Anything that increases the durability of your garage floor is valuable in the long run. Not only will it make your garage a safer place by creating a level, non-slip surface, but it will also increase the aesthetics of the garage itself drastically. Anyone that has ever tried selling a home knows that looks mean everything when it comes to sealing a deal with a potential buyer.
Are Garage Floor Paints Expensive?
Quality garage floor paints, especially epoxies, can be quite costly. This is especially true if they need to be purchased in large amounts due to bigger-than-usual garage setups. But, when you consider the benefits of garage floor paint over their many-year lifespans, we tend to think the cost is ultimately justified and will pay dividends towards the longevity of your garage floors in the long run.
What Is the Toughest Garage Floor Paint?
We think that the best kind of garage floor paint for maximum toughness and overall value is going to have to be a two-part epoxy paint. While it's true they require a lot of prep work and can take quite a while to dry, the ultimate end result is one that is solid and will last one practically forever without any real need for consistent upkeep.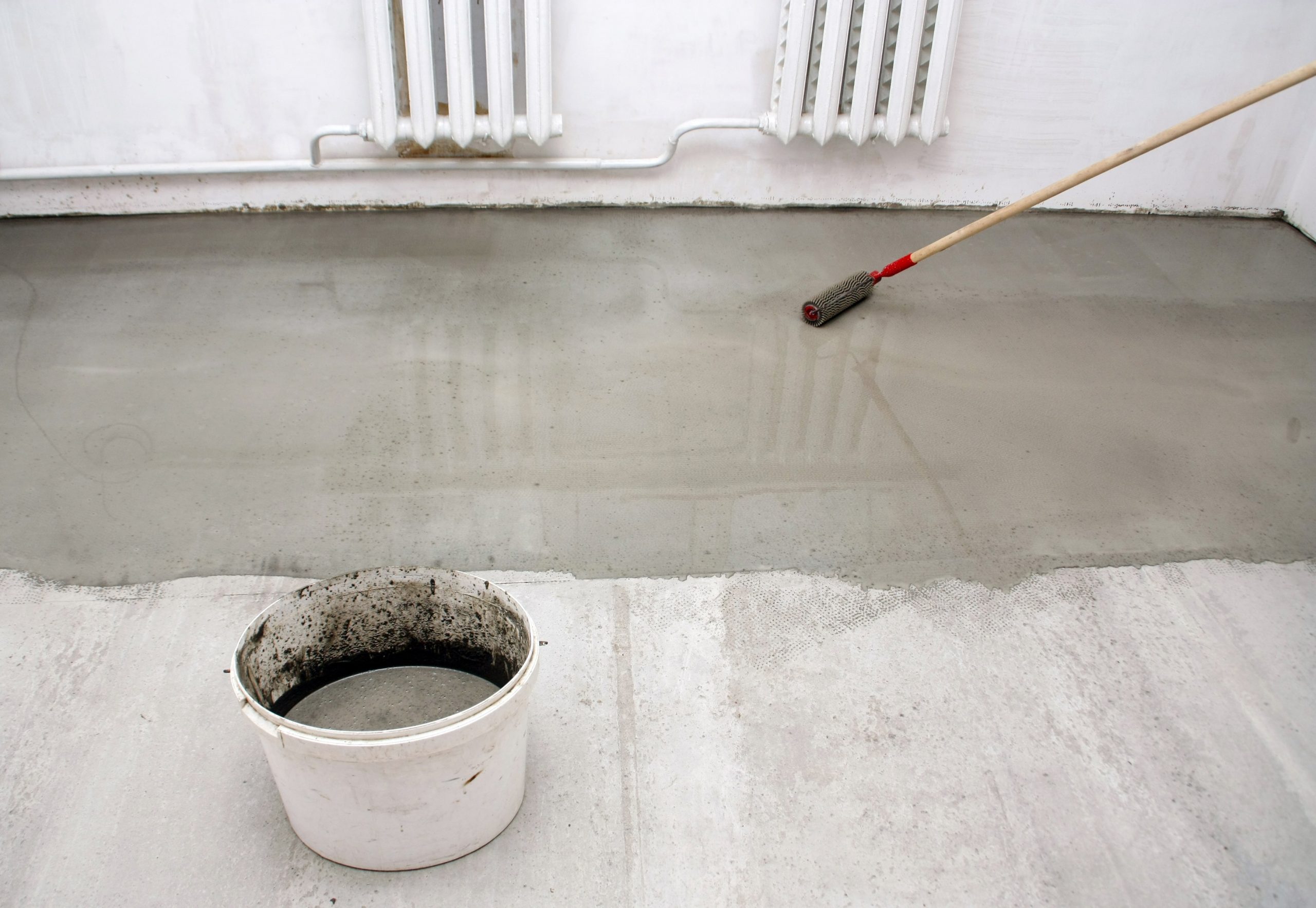 Final Considerations
While garage floor paint isn't a necessity, it sure can lead to a more aesthetically pleasing place of work in the long run. If you didn't see a product on our list that really stood out for you, or if you're still a bit on the edge about the exact kind of purchase you need to make, please take another look at our short buyer's guide as well as our more in-depth extended buyer's guide for a closer look at all the details you'll need to make a purchase when it comes to garage floor paints.
Until next time, make sure to keep those garage floors squeaky clean!