There's a really pleasant sense of harmony that comes from seeing a flourishing home-garden, a well-maintained lawn, or any green space. However, behind such charming sights, there's also a lot of hard work – and probably a very dedicated person with a backpack sprayer strapped in.
That's because when it comes to applying many different kinds of gardening products, like fertilizers, pesticides, and weed-killers, nothing beats the efficiency and versatility of a high-quality backpack sprayer.
Like with any other product, backpack sprayers come in all kinds of shapes, sizes, and different types. So, whether you're a pro looking for a new upgrade or a beginner just starting, it's vital to take an in-depth look at these tools before you decide to pull the trigger on one of them.
Why Do I Need a Backpack Sprayer?
In a general sense, they are some of the best available tools to carry out home cleaning and garden maintenance tasks. They are more effective than a hose or watering can for handling heavy-duty agricultural products safely.
The perks backpack sprayers offer are not just limited to garden maintenance. They're also beneficial to large-scale farming operations, pest control companies, and even professional cleaning services, where precision and evenness is critical. The different types of nozzles at the tips of the backpack sprayers provide that accuracy.
Backpack sprayers allow you to get to hard-to-reach places and spray chemicals without wasting too much or a lot of water. They also put some degree of separation between you and the product you're working with. Safety plays a significant role when it comes to handling dangerous chemicals.
Backpack Sprayer Factors to Consider
PSI
Pounds Per Square Inch, or PSI, is the measurement unit used to classify the amount of pressure a backpack sprayer can generate. The higher the pressure, the more divided the liquid droplets will be after passing through the nozzle. Various types of products and brands demand different PSI based on the droplet size. Most commercial backpack sprayers range between 30 PSI on the lower end and 150 on the higher end.
Capacity
Most models on the market come equipped with four-gallon tanks, which is more than enough space for home garden and yard products. If the need arises, some models offer up to 7 gallons of capacity. Keep in mind that the more liquid you carry, the faster you'll get fatigued. You can also manually calibrate your backpack before any task so you know precisely how much product and water you'll be mixing.
Material
The type of material directly influences the type of products your backpack sprayer can use. The best models use polyethylene tanks. This material is UV resistant and can easily hold most of the chemicals needed for agricultural use.
Some models advertise polyethylene tanks but cheap out on the other components. The durability of most products depends on their materials. Always keep an eye on the type of material used for other parts, like the wands and pumps.
Nozzles
One of the most important aspects of any backpack sprayer is the nozzle type. We're not looking for quantity here. The nozzles it comes with have to match the kind of work you are doing. Some backpack sprayers come with adjustable nozzles, which are versatile but potentially restrictive for professional use.
Beginners should go for flat fan nozzles, which are the most common type for yard and lawn use. Don't underestimate the importance of these little pieces. They could be the determining factor between a good product application and a wrong one.

Types of Backpack Sprayers
While browsing backpack sprayers, you may come across different labels such as "diaphragm" or "piston operated." These names mainly refer to the many types of pumps the sprayer uses. These mostly apply to manual models and could be considered sub-categories. Generally speaking, there are three main types of backpack sprayers you need to keep an eye out for: electric, manual, and gas-operated models.
Electric
Electric backpack sprayers generally use batteries to generate pressure, effectively
eliminating the need to create pressure with a pump handle while you move. These devices have a constant PSI that you can adjust. While they allow you to work faster, the battery adds to the weight, which means you'll get tired more quickly. It's important to be mindful about water or other products getting into the battery compartment. Any liquid that touches the internal components could compromise their integrity. Plus, repairs for electric sprayers tend to be way more costly than manual models.
Manual
These are probably the most widespread and common type of backpack sprayer available on the market. They are straightforward and easy to operate. Just move the handle to generate pressure and spray away. Because of the simplicity behind their design, repairing these sprayers is generally easy. Manual backpack sprayers are an excellent choice for those still getting the hang of it and the pros that have mastered a consistent pace with an impeccable spray pattern.
Gas
These are the most powerful backpack sprayers available and can effectively cover larger areas in mere minutes with unparalleled reach. However, operating them costs way more than any other model because of their need for gas. Aside from their operation cost, they are usually the most expensive type of sprayers in the market. These tools are better suited to work on large-scale projects and usually more effective for big landscaping companies or farming operations. Finally, they're better suited for contact-based products and not liquids that require heavy droplets because of their high PSI output.
Keeping this in mind; we're going to take you through the best backpack sprayers around.
Top 9 Best Backpack Sprayers 2023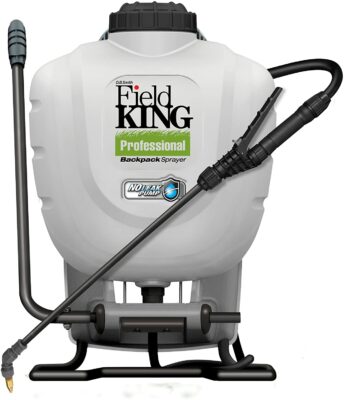 Why we like it:
It's a great all-around product that easily adjusts to different situations, from home gardening to professional tasks.
Editor's Rating:
Quick Facts:
Type: Manual Pump
Capacity: 4 gallons
PSI: Up to 150
Material: Polyethylene
Nozzles: 4
Sometimes, originality doesn't come from trying to be different, but just from getting it right. This backpack sprayer has impeccably walked that line, thanks to its top-notch design. It has a no-leak pump that works like both a diaphragm and piston pump. This feature enables you to use many products, including powders, without worrying about damaging the internal parts.
This model features an extraordinary spraying capability of up to 150 PSI, rivaling even some gas-powered and electric models. The design helps prevent leaks, a necessary aspect that, sadly, many of these products struggle to get right. While most home models are generally safe to use, it's better to leave nothing to luck and avoid direct contact with any chemical you use.
When it comes to capacity, it includes a four-gallon tank, which is more than enough to get the job done – in both commercial and home settings. It comes with four different nozzles, including two flat fans, perfect for the precise application of weed-killers and fertilizers in lawns and yards. This sprayer does accept third-party nozzles, so you're not limited to those four options.
You can easily repair the sprayer, and the company claims that 60% of the components don't require tools to be repaired. Despite this simplicity, it's still relatively heavy, so you may experience fatigue with prolonged use. However, this is still one of the most effective and versatile products, checking all the marks for the best overall backpack sprayer.
Pros
Designed to prevent leaks

High PSI output

Easy maintenance and repairs

Durable metal parts and nozzle
Cons
One of the heaviest manual models available
---
2.

Best Electric Backpack Sprayer:

PetraTools HD4000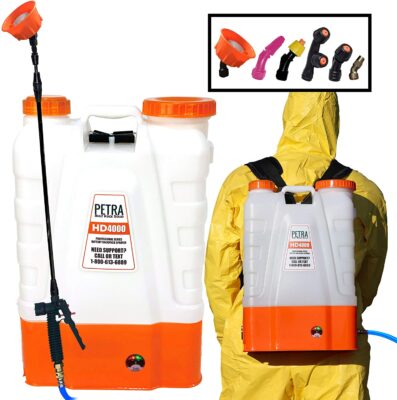 Why we like it:
This backpack sprayer goes beyond most electric options with an extremely long-lasting battery, great reach, and a large selection of nozzles.
Editor's Rating:
Quick Facts:
Type: Electric
Capacity: 4 gallons
PSI: Adjustable 70
Material: Polyethylene
Nozzles: 6
Electric backpack sprayers are generally advertised as superior options to their manual counterparts. In reality, they have a completely different set of benefits and drawbacks. Their perceived downsides are mostly related to their operational use, in categories such as battery life, fatigue, reliability, and durability. However, PetraTools is challenging this notion with this backpack sprayer that outclasses other electrics in every aspect.
It has a rechargeable battery that can last up to eight hours, making this model perfect for professional use. There's a meter on the back that lets you know how much battery is left. You can easily plan ahead, depending on how much energy is left before any task. The battery lid cover is located in the back, making it harder for any liquid to accidentally get to it. However, the lid is not waterproof, which could compromise the integrity of the device with accidents.
The backpack sprayer comes with six different types of nozzles that are perfect for different forms of applications. It has an adjustable 70 PSI pump, allowing you to control the type of spray and the size of it, something that is important to keep in mind for certain products that require smaller droplets. It produces mist up to 15 feet, which is perfect for trees or places that are hard to reach—roofs, for example.
Finally, like most models, it has a four-gallon polyethylene tank that is translucent, which makes it easy to monitor how much liquid is left inside. Because of the battery, this model is heavier than other backpack sprayers on the market. Working with a full tank will make you tired very quickly.
Pros
Long-lasting battery

Great for professional use

Translucent tank

It comes with various nozzles
Cons
On the heavier side

The battery lid is not waterproof
---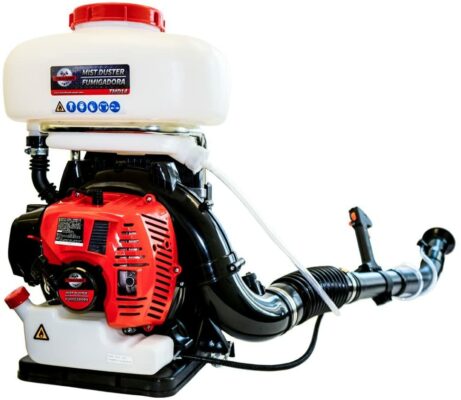 Why we like it:
Powerful and effective. Perfect for heavy-duty use thanks to it's engine.
Editor's Rating:
Quick Facts:
Type: Gas
Capacity: 3,7 gallons
PSI: 300
Material: Polyethene, brass
Nozzle: Turbo boosted fan
This backpack sprayer is the solution to any concern related to power, reach, and coverage. That's because gas-operated sprayers are the ultimate tool for contact-based products that require small droplets to work successfully.
The Tomahawk is especially good for products like disinfectants and pesticides, particularly contact-based ones for ticks and mosquitos. All in all, this is a great product for big farming operations or large states that have a lot of ground to cover. If you're looking for a Backpack Sprayer for home use, check the Roundup 190314. This gas model has a 3.7-gallon capacity tank, slightly reduced by the engine's size from the usual four-gallons that most models come with.
Its engine allows it to function ten times faster than manual sprayers and reach up to 40 feet, making it great for hard-to-reach places and trees. It has a 300 PSI, double the amount of some of the most powerful manual and electric models. It allows you to spray an acre of land in less than 30 minutes. You can adjust the droplet size between 50 and 100 microns. Remember that the larger the droplet, the less drift it has. It's not recommended for products that require heavier droplets because it's not suited for heavy droplet-based products.
The Tomahawk does have one non-operational disadvantage. It's the weight. This has a lot to do with the size of the powerful engine located in the back. The backpack sprayer weighs 36.7 pounds, and that is without product, water, or fuel, which are necessary for it to function. It's easy to see how the prolonged use of it would cause fatigue very quickly.
Pros
Powerful engine

Great for contact-based products

Excellent reach

High-end PSI
Cons
Pricier than other models

Weights a lot because of the engine
---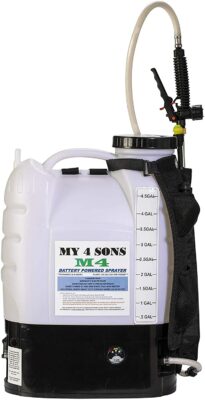 Why we like it:
It has great attention to detail in areas where other models are lackluster and is built with long-lasting, durable materials.
Editor's Rating:
Quick Facts:
Type: Electric
Capacity: Four gallons
PSI: 60
Material: Polyethylene, brass
Nozzles: 6
This model excels in durability. It feels like it's built to last while effectively eliminating leakage problems, thanks to the use of heavy-duty materials. It comes with two types of wands, a plastic one for bleach and chlorine, and a metal one for more abrasive products.
The wand tip is made out of metal and comes with nine nozzles for different situations. Other models come with 2-3 nozzles, and you may not even need to use all of them, but the versatility is always welcomed.
The battery is rechargeable and removable, meaning you can get an additional one for long tasks. It has a constant 60 PSI output thanks to its adjustable pump. This model allows it to reach 30 feet of distance horizontally. This backpack sprayer comes with a four-gallon translucent tank, featuring a large mouth for easy refilling. It also has a screen filter to prevent any debris or dirt from getting inside the tank.
In terms of comfortability, the straps are wider and thicker than those found in most models—including dense padding inside of them. This model has many pockets that allow you to carry different nozzles with you. There's a Velcro strap on the side of the tank that lets you carry the two wands with you. Finally, it's important to remark that this is a premium choice. You have to consider that it's pricier than its counterparts, which may be a barrier for some people looking for a more affordable option.
Pros
Large and thick straps for comfortability

Heavy-duty materials

Includes two different types of wands

Includes removable and rechargeable battery
Cons
It's pricey compared to other electric options
---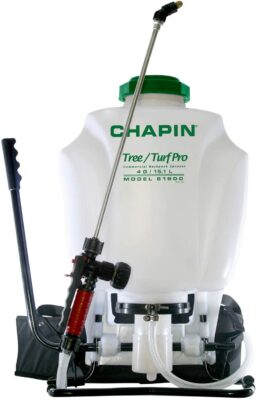 Why we like it:
Durable materials designed for long-term use and perfect for large operations.
Editor's Rating:
Quick Facts:
Type: Manual Pump
Capacity: 4 gallons
PSI: Between 40-60
Material: polyethylene, brass
Nozzles: 3
The combination of durability and comfortability this product offers makes it a perfect choice for people that spend a lot of time working through the day. That means it's a great sprayer for large agricultural operations workers or exterminators who typically carry the sprayer for prolonged periods.
The tank's inside features a three-way filtration system, so no dirt or debris gets past the wand or compromisesdurability. It has heavy-duty materials, starting with its stainless-steel extended wands for hard-to-reach places; while ensuring it handles abrasive compounds.
The backpack sprayer features a manual pump with Viton rings, which are resistant to toxic products. You can fill the four-gallon translucent tank with the most available pesticides, fertilizers, and weed-killers, without worrying about damage. However, remember not to mix it with water hotter than 120° F, as that's the point where polyethylene starts to warp.
While padded straps are common among different models, these are thicker and wider than most other sprayers. However, they're very rigid and feel uncomfortable. It has 40 – 60 PSI, which you can adjust with each pump. Something that shouldn't be a problem for someone familiar with manual backpack sprayers. It comes with three different plastic nozzles and a CF valve that you can attach to get a constant 21 PIS, should you need heavier droplets.
Pros
Very comfortable straps

It has very durable materials

Great for professional use
---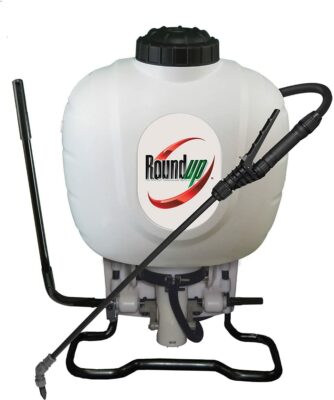 Why we like it:
It has a simple yet effective design that allows it to perform greatly at home. It comes almost ready to go.
Editor's Rating:
Quick Facts:
Type: Manual pump
Capacity: 4 gallons
PSI: Up to 90
Material: Polyethylene
Nozzles: 3
Roundup is a company known worldwide for its agricultural products, which are most usually associated with industrial agriculture. However, with this backpack sprayer, they managed to strike a chord with anyone in need of a versatile and straightforward product. It can be repaired easily and doesn't require any extra parts aside from the products you're spraying.
It has a tank fitted with four-gallons of capacity, as it's common with most backpack sprayers. Both the tank and the wand are made out of polyethylene, while the pump comes with Viton seals that offer extra resistance to toxic chemicals. These features allow the backpack sprayer to support most pesticides, weed-killers, and fertilizers without the worry of deterioration. However, it's important to point out that it's prone to leaks, which is a safety concern considering the type of compounds used for house maintenance.
It supports a PSI of 90 but it's also compatible with different third-party nozzles and constant flow valves that allow it to regulate pressure to your heart's contempt. It comes with three different nozzles, including an adjustable and two flat fans, which are perfect for lawns and yards.
It has a two-way filtration system, including an inline filter on the handle that makes sure the product comes out clear. It's perfect for catching anything that may get inside the tank and could damage the internal component. When it comes to comfortability, it has lumbar support and thick padded straps that are moderately comfortable to use for long amounts of time.
Finally, the sprayer comes almost fully assembled, so you won't have to spend much time setting things up before, and the pump handle is interchangeable between sides, meaning this is a great option for both left-handed and right-handed people.
Pros
Toxic resistance materials

Compatible with third-party nozzles

Easy to repair

Effective filtration system
---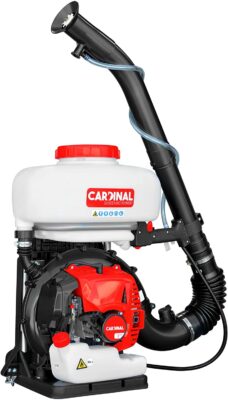 Why we like it:
Unmatched power and reach for contact-based products and disinfectants.
Editor's Rating:
Quick Facts:
Type: Gas
Capacity: 3.5 gallons
PSI: Between 200-300
Material: Polyethene, brass
Nozzle: Turbo boosted fan
This gas model features an engine seven times more powerful than that of any manual sprayer. It eliminates the need to manually create pressure and instead uses a 2 HP, two-strokeengine located on its back. With 30 feet of reach and a PSI between 200 and 400, this backpack sprayer is the nemesis of any pest posing a threat to your green spaces.
It's a very pricey model that is better suited for professional use, especially for mosquito and tick populations. These pests can transmit diseases like LYME or ZIKA and make their home in farms and large states. Because of its toxic resistant polyethylene tank, you can also use the sprayer with different liquid disinfectants to eliminate viruses and germs.
It also has a leaf blowing setting for general landscaping. However, it's not as powerful as a dedicated leaf blower. While this feature is welcomed, it doesn't add much to its arsenal. The straps are thick and comfortable, and despite the tank's heavy weight, it's quite comfortable to wear.
It does have limitations to the type of task it can overcome, as it's not suited for products that require heavy droplets. If you require something more versatile, the Field King is better suited for bigger droplets This is because of how the fan operates, not allowing the use of a wand or different nozzle types.
Pros
Very powerful engine with extensive reach

It's quite comfortable to wear despite its weight

Excellent for products that require small droplets
Cons
Limited to contact-based products

Very pricey
---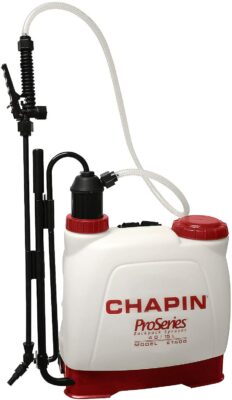 Why we like it:
A versatile design, perfect for home use or for those learning the ropes of backpack spraying.
Editor's Rating:
Quick Facts:
Type: Manual Pump
Capacity: Four gallon
PSI: 60
Material: Polyethylene
Nozzles: 2
In a market where everyone is trying to be the best at one specific thing, balance is much appreciated. This backpack sprayer it's designed to hold its own in most settings.
While some backpack sprayers are better at generating high amounts of pressure, others have been better for tasks that require a lot of time. This approach results in products that excel in some aspects but lack in others.
This is a perfect product for any type of garden, yard, orchard, or small farming operation. The piston pump manually generates a consistent 60 PSI in the hand of an experienced person, but it would also be a great fit for someone that is just starting out.
The spray distance is advertised as 25 feet. However, this really depends on the PSI you're generating and the angle of inclination, which are never consistent in manual models. It's not recommended to fully pump the handle to try to reach those 25 feet, as constantly doing so could compromise the durability of the product in the long run.
Its European style and design allow you to carry the sprayer by hand or back strapped, which is great for mobility. It has a four-gallon capacity and a translucent tank, so you can tell how much product is left inside. And it's quite easy to assemble, as there's not much complexity in its construction. This is also a plus because it cuts repair times by half.
It comes fitted with a filter to keep the tank clear of debris, but unlike other models, this is only a one-way filter, so you need to be careful when filling up the tank. This is especially important to keep in mind because the rest of the materials are not as high quality as the tank, like the hose that connects the tank and the wand.
Despite its few shortcomings, it's a great household item, especially for beginners. Because of its design, it's easy to store in any shed or garage. Make sure you're taking good care of it by paying attention to the filter, and it will take good care of your house.
Pros
Easy to store

Straightforward design

Can be repaired with ease
Cons
The materials could be of better quality
---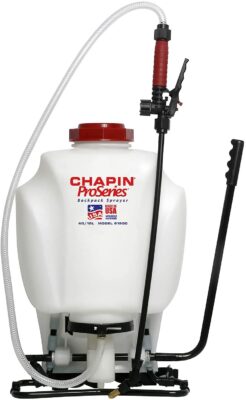 Why we like it:
It has all the necessary features an entry-level model needs, as well as a great price.
Editor's Rating:
Quick Facts:
Type: Manual Pump
Capacity: 4 Gallons
PSI: Between 40 and 60
Material: Polyethylene
Nozzle: 3
Entry-level options are sometimes thought of as lackluster or incomplete, but this couldn't be further from the truth. Non-professional and simple yard maintenance work doesn't have to be done with the most expensive backpack sprayer available, particularly when you're just starting.
This model's strong suit is its versatility. It supports many agricultural products and chemicals like fertilizers, weed-killers, and pesticides. It also works well as a tool for general house maintenance. It's internally fitted with Viton rings that are incredibly durable and toxic resistant. You can even fill the four-gallon tank with other non-toxic cleaning chemicals, detergents, and warm water up to 120° Fahrenheit.
The manufacturer does not specify the PSI, but the spray has an output and evenness similar to other models in the same category, meaning it sits between 40 and 60 PSI. This pressure range is more than enough to use with most commercial-grade home products. The polyethylene tank is UV light-resistant. You can rest assured that the tank's chemicals will be intact during use.
However, aside from the tank, the materials used in other parts don't come with the same quality—especially the shoulder straps, which pale in comparison to other models. If you're looking for a more comfortable model, check out the PetraTools HD4000.
It comes with three nozzles and the option to purchase a foaming one that allows you to see where you're spraying by creating foam. The foaming option is great for anyone learning about different application methods because the foam lets you know where the spray passes.
Among other benefits for beginners, the backpack sprayer has a three-stage filtration system. This feature prevents clogging from small debris or any other things that may get mixed in with the product. The filter is removable, so you can clean the interior easily.
Pros
Effective for general housework and home garden use

Wand lock reduces fatigue

It has an effective three-stage filtration system
Cons
Uncomfortable straps

The materials used in the components could be better
---
The Importance of Nozzles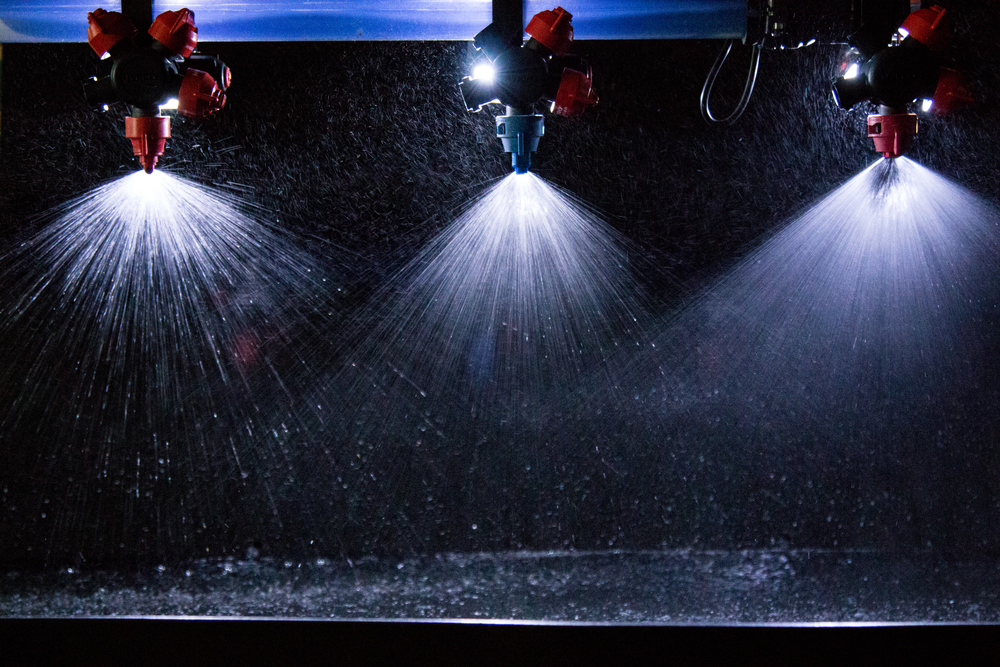 One of the most critical aspects of the backpack sprayer is the nozzle, which is essential to applying different products. The difference between nozzles boils down to the size of the orifice at the end of them. There are a lot of different types, each designed for various purposes. Most commercial products come with 3 to 10, and they tend to have a specific pattern or droplet size, depending on the backpack sprayer's PSI.
Generally speaking, most of the backpack sprayers advertised for home use come with one adjustable nozzle, which you can regulate to choose the spray pattern you like the most. However, this is limiting, especially in agricultural or professional settings; it is more beneficial to have an extensive array of nozzles for different situations. Improper use of these devices could result in an uneven or mediocre spray, reducing the effectiveness of pesticides, fertilizers, and weed-killers.

Which Products Can I Use With a Backpack Sprayer?
It depends on the type of pump and your sprayer you have, as some backpack sprayers can't handle every product. The quality of the parts plays a vital role because some could be toxic and abrasive. Here's a list of the most commonly available products for sprayers:
Weed-Killer
They are used to get rid of unwanted plants that may threaten your garden's growth. They're usually dilated with water. Depending on the type of compound, you need to be careful not to spray the plants you don't want to get rid of.
Pesticides
These are often confused with insecticides, which are not quite the same thing. Pests are essentially unwanted guests that you need to get rid of, whether they are insects or not. Pesticides are a general term that encapsulates many products. Fungicides, insecticides, and rodenticides are all pesticides with specific functions. However, with insects, you should first identify what is and what is not a pest.
Fertilizer
You can use different fertilizers with a backpack sprayer, but only liquid solutions. These products offer many benefits derived from the nutrients they provide to your plants, so your green spaces can flourish and thrive.
Water
Water is fine but make sure the temperature doesn't go over 120° F, as this is the point where most polyethylene starts to warp.
Detergent
Try not to use abrasive products with your backpack sprayer, as they could compromise its integrity and durability. If you're concerned about cleaning the tank, soap and water is more than enough to keep it in pristine condition.
Can the Weather Affect the Use of a Backpack Sprayer?
Yes. Dry and sunny days are the best for applying different products because wind or water could compromise the spray's integrity and how even it is, especially with smaller droplets.
Can I Mix Different Products Inside My Backpack Sprayer?
If you don't know how the different solutions you have will react to each other, it can be downright dangerous to mix them. Most products tend to be diluted in water and have the mixing information on their label. However, this is not a universal practice. Not all brands of products reach well with one another.
Sometimes you can mix two different products inside the sprayer. For example, two herbicides with entirely different effects are combined to kill active weeds and prevent new one's growth. However, you shouldn't go about mixing different types of products.
Always consult the label for mixing information. It's also recommended to have a premixing jug to combine different products. That way, you don't have to disassemble the sprayer should anything gowrong.

Piston Pump or Diaphragm Pump?
The two most widely available kinds of pumps are diaphragm and piston. They each work very differently, generating various amounts of pressure.
Piston
Piston pumps are the most common type. They get the job done and produce high amounts of pressure with a maximum of 90 PSI, meaning they produce smaller droplets for contact-based products. However, it's not recommended for powders or abrasive solutions as these could damage the pump.
Diaphragm
This type of pump is perfect for more heavy-duty products, as there's no contact with the cylinder wall, increasing the durability. However, they only reach a PSI of 60, which is not ideal for products that require higher pressure.
Both types of pumps offer a set of benefits and drawbacks related to their pressure and output. Lower pressures are not necessarily bad. Some product applications are better with larger droplets as they don't drift much.

How to Calibrate a Sprayer?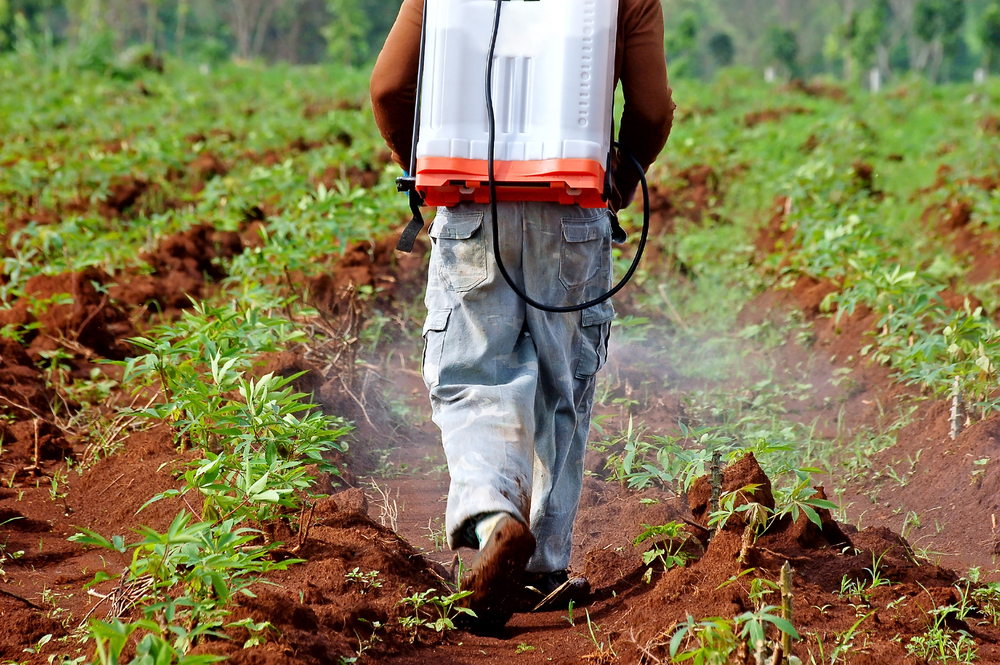 It's essential to calibrate the sprayer to apply different products with less water, using the right nozzle. On the label of most products, you will find the information needed to start calibrating. This is something you should do once before trying a new product or if it's your first time spraying a new area. This is something you only have to do once, so you know the correct amount of water and product you're going to need to spray a specific area.
You need to calibrate the backpack sprayer to the nozzle that you want to use, plus your walking pace. The idea behind this is that you have enough product to spray your spaces evenly without running out in the middle of a task.
First, you need to read the product label and your backpack sprayer and gather the calibration's relevant information:
Application rate or gallons per acre
Nozzle type
The nozzle's PSI pressure
Your whole garden or yard area in square feet
Next, fill your backpack sprayer with only water.
Spray the entirety of your yard or garden, but at a slow pace so you can get a feel for it.
Avoid overlapping or spraying areas you already have sprayed before, as the idea is to see how much time and water it takes to spray the whole area.
After you have entirely sprayed your garden, check how much liquid is left in your tank. The amount you used is how much you should fill your tank in the future, so you don't always have to carry four gallons of liquid on your back. It usually takes around 1.5 gallons or so to go around a 1000 sq foot area. Of course, not every garden or lawn is 1000 sq feet.
Read the label of the product you plan to use and check the dilution and area rates. Convert the dilation rates, so it matches the amount of water you used previously to spray your whole garden.
Dilute the corresponding amounts of water and product in a mixing jug or tank, and congratulations, you're ready to spray away!
Calibration Considerations
Before applying any new type of product, you need to calibrate your sprayer, so it matches your garden, field, or orchard with that product's dilation and area rates.
There are other methods to properly calibrate the sprayer for areas more extensive than a yard or lawn, specifically for farming operations.
Try to calibrate your sprayer on a day without much wind or rain.
Take into consideration that, for home use, the measurements don't have to be completely exact. There are benefits to having a little more water in the tank, depending on the product you're using. However, the less water you're carrying, the less the sprayer will weigh so that you won't get tired too quickly.
If you are a beginner or are just dealing with a small home garden and lawn, the product to water ratio is important because it helps you get used to the pace.
How Should I Clean My Backpack Sprayer?
In most situations, a toothbrush and some soap water will generally get the job done. Always refer to the product's label, which should have specific cleaning instructions. In the same vein, always be careful while cleaning electric and gas operated models to avoid damaging their batteries and motors. After cleaning a sprayer, leave it out to dry in the shade, as too much sun can degrade its parts.
Final Thoughts
When it comes to maintaining and making your garden, yard, or orchard thrive, the devil is not in the details but in the equipment you use. Bringing the best out of your green spaces is not just an aesthetic choice but also improves mental health. If you're looking for other ways to get the best out of your garden, check out our article about the best electric lawnmowers.
Finally, don't attempt to perform even and proper product applications in your green space without the necessary tools, like a good backpack sprayer, because you could end up doing more harm than good.