Top 10 Best Angle Grinders 2021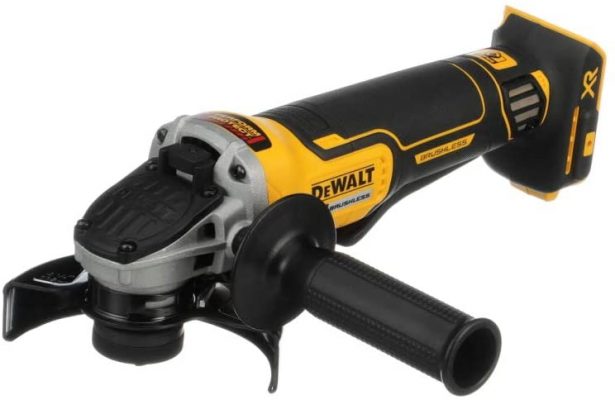 Quick Facts
Type: Cordless angle grinder
Intended Use: Professional and non-professional
Being a household name in construction equipment, it's no surprise that DeWalt's DCG413B tops our list. With its lightweight body, paddle switch and blade brake, this grinder successfully meets DeWalt's sky-high performance standards. Its brushless motor guarantees a significant lifespan for the product, and it's optimized to perform in a wide array of applications.
Being a cordless grinder, and with its modest 3.75-pound body, the DCG413B is easy to handle in tight corners. The design also provides a great amount of comfort even when used for long periods of time. This makes it a go-to solution for a number of trades. It's no slouch in the power department, either, with its 850 W output and 9,000 RPM max no-load speed. In cases where the grinder's function is challenged, its blade brake will engage immediately as the paddle switch is released, bringing the motion of the wheel to a full stop.
One small downside is that this is a baretool item, meaning that the battery and charger are sold separately. Still, even with the added cost, the overall quality on offer here is definitely worth the price. If you take good care of this grinder, it'll do the same for you through many years of high-quality work.
---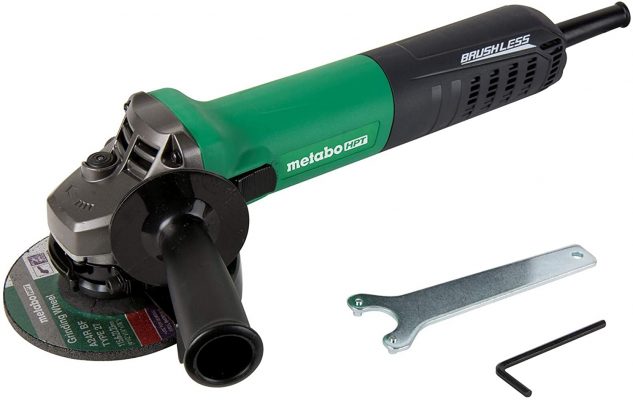 Quick Facts
Type: Corded angle grinder
Intended use: Professional and non-professional
For those seeking the Ferrari of angle grinders, look no further than the Metabo HPT AC. Formerly known as Hitachi Power tools, Metabo is re-establishing its reputation as a provider of powerful utility. If performance and function are your top priorities, and cost economy is less of a concern, this is definitely the grinder for you.
The HPT AC brushless grinder is powered by a 12-amp motor capable of producing 2,800-10,000 RPM based on variable speed adjustment. Thanks to the brushless motor, you're able to work using extra-long extension cords without experiencing much reduction in power. Even in tough applications like granite and metal modifications, the quality engineering of this machine allows you to work for hours without your tool's limitations getting in the way.
We're also impressed with the HPT AC grinder's design and overall safety. The brushless motor allows for some reduction in the circumference of the handle, resulting in a very comfortable grip diameter. This reduces fatigue when working on a given task for hours on end. Additional safety features include a soft-start that reduces the load experienced at start-up, and kickback reduction which works to shut the power off should its wheel become bound. All in all, this is a wholly safe, extremely powerful and versatile machine. The only downside is its high price point — however, those willing to make the investment will be happy to receive the best corded grinder money can buy.
---
3.

Most Ergonomic Angle Grinder

Bosch GWS18V-45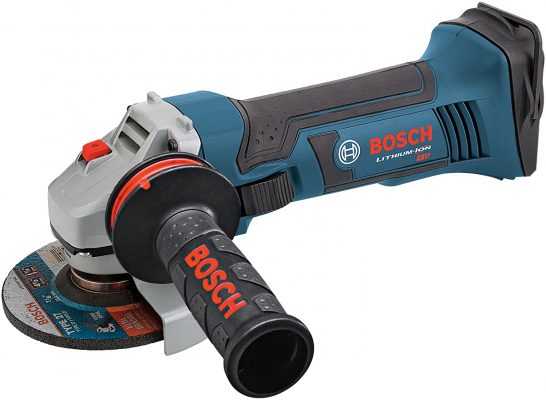 Quick Facts
Type: Cordless angle grinder
Intended use: Professional and non-professional
One standout feature of the GWS18V-45 is the great sense of control one feels when using it. This is accomplished in part by the two-position vibration control side handle and the cordless function of the grinder, resulting in a fluid workflow.
Along with its smooth handling, Bosch's machine grants access to 10,000 maximum no-load RPM, making it suitable for a variety of tough grinding and cutting jobs. It also offers optimal safety thanks to its tool-less quick-change, burst-resistant wheel guard and restart protection. If that isn't enough, Bosch also grants customers peace of mind with regards to longevity, with its signature Electronic Cell Protection and Electronic Motor Protection embedded in the machine's engineering.
This model is sold in 4-½" and 5" disc size options. You'll have to specify whether to include a battery with the purchase — if you do, expect the price to spike up significantly. Expensive batteries are a downside to all wireless power tools, including this one.
This is more significant to professional users, since regular battery replacement will result in a hefty annual expense. Its maximum output over time is also limited compared to corded models, though the same can be said of all cordless power tools. Ultimately, when powerful, portable use is a priority, Bosch's GWS18V-45 is definitely a solid pick.
---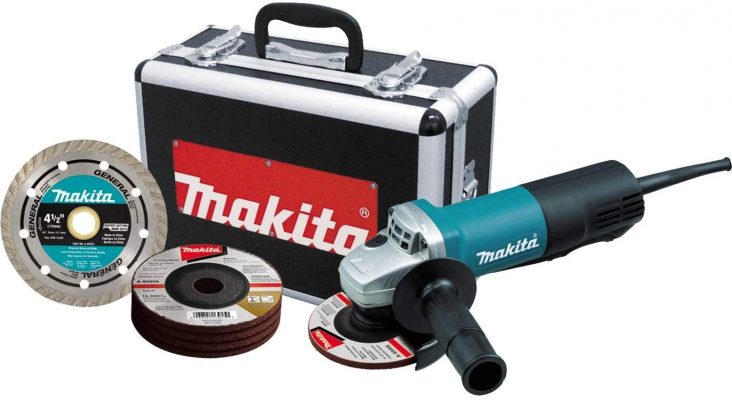 Quick Facts
Type: Corded angle grinder
Intended use: Professional and non-professional
Whether you're a first-time grinder user looking for a full starter kit, or a professional who can use a few bonus accessories, the Makita 9557PBX1 includes a variety of goodies along with the grinder itself.
This package comprises a metal tool case, 5 4 ½" grinding wheels, cut-off and grinding wheel guards, a quality diamond blade with turbo rim engineering and, last but not least, Makita's 9557PB angle grinder.
Those inclusions will set you up for a vast array of applications, providing you with a solid base kit that you can add to as needed. The grinder itself is quite powerful for the price, with 7.5 amps of power and 11,000 RPM delivery. It's also easy to use thanks to its extra-large paddle switch and easy lock-on/off feature.
This grinder can get quite hot when used on tough applications or for long periods of time, which is important to keep in mind. We can't find many downsides aside from that, especially at this price point.
Ultimately, there are more powerful grinders out there, like the Metabo 600380420 9-115 Quick. However, if all you need is a reliable, affordable grinder, this one is sure to do the trick. The extra inclusions don't hurt at all, either.
---
5.

Best Angle Grinder for Polishing

DeWalt DWE 43113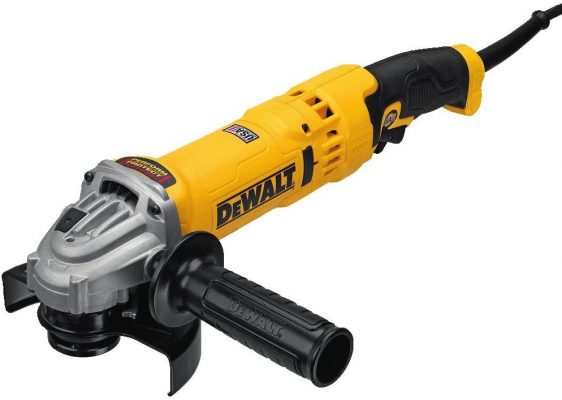 Quick Facts
Type: Corded angle grinder
Intended use: Professional
Polishers find themselves in an intricate line of work that demands extreme attention to detail. Technically, all grinders have the capacity to polish, but we feel that DeWalt's DWE 43113 has been built to give polishers everything they need to achieve a fluid workflow.
The DWE 43113 is well-balanced and easy to control, granting polishers mastery over any material they might encounter. It features an impressive dust ejection system that ensures good vision even when you're working without proper ventilation. Its 13 amp motor, 1700 max watt output and 9,000 max no-load RPM provides all the power needed to polish virtually any material. If ever the tool doesn't perform as expected, DeWalt provides a 3-year limited warranty, giving you plenty of time to troubleshoot should any issue arise.
You'll need a hex wrench to swap between accessories on this model, and it's unfortunately not included in the bundle. This grinder is also quite heavy, so even the most herculean polisher will need to take breaks in order to prevent fatigue. For polishers that don't mind either of those downsides, this is sure to be a key addition to the toolkit. Alternatively, if you're looking for a lighter tool to polish with, check out DeWalt's DWE402 angle grinder.
---
6.

Best Budget Angle Grinder

Makita GA4530
Quick Facts
Type: Corded angle grinder
Intended use: Professional and non-professional
If you're looking for the most bang for your buck, the Makita GA4530 is sold at a bargain rate considering the utility on offer. A major contributor to the construction industry, it's no surprise that Makita would include such a cost-effective model in their range of grinders.
Despite its low price tag, the Makita GA4530 produces a tremendous 11,000 RPM, making it suitable for a spectrum of tough jobs. Keep in mind, however, that the motor doesn't have the same sustain as other, higher-end models, so will begin building up heat and decelerating in RPM when used in demanding applications, such as grinding cement. It also lacks variable speed options, making it less than optimal for professional use.
All that said, this machine is still miles ahead of other angle grinders in its cost bracket. It's a convenient pick-up for contractors who need an affordable grinder on short notice, or hobbyists who don't require professional-level sustain. Its compact design also makes it quite comfortable to use.
We wouldn't recommend going any lower than this price point unless you plan on using your angle grinder for occasional, light jobs — otherwise, you'd likely be compromising key features like safety and longevity. Thankfully, Makita's GA4530 hits the sweet spot between quality and cost-efficiency. As an alternative option, the Makita 9557PBX1 angle grinder bundle is also extremely affordable and includes some valuable accessories with the purchase.
---
7.

Best Angle Grinder for Hobbyists

DeWalt DWE402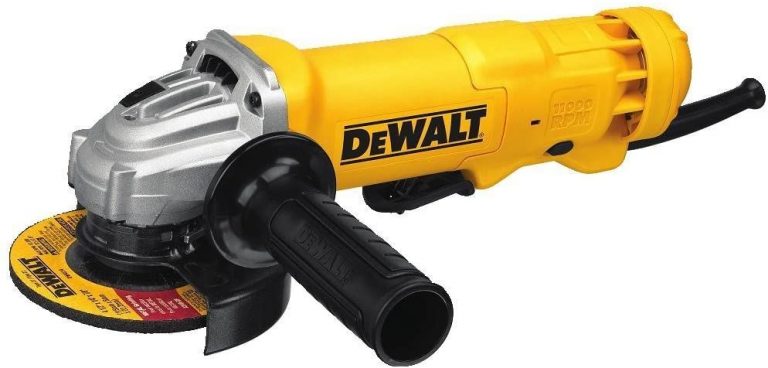 Quick Facts
Type: Corded angle grinder
Intended use: Professional and non-professional
One would assume that the DeWalt DWE 402's low price point would suggest low quality, but that's far from the case. Packed within its lightweight frame is enormous performance potential, and its bargain price really lowers this model's barrier to acquisition.
Despite weighing only 1 pound, the DeWalt DWE402 can run at 11,000 RPM. Such a high power to weight ratio is a marvel of engineering, and we highly commend the manufacturer for it.
DeWalt allows you to customize your purchase as you see fit, with bundle options that include Grounded, With Kit Box, With No Lock and Angle Grinder only. Included in all orders are a one-touch guard, two-position side handle and wrench.
Being so light, powerful and affordable, the DWE402 is a great choice for a spectrum of hobbyists — from homeowners looking to buff their steel staircase to stone carvers working on a marble statue. However, it isn't the most practical machine to work with. For instance, changing the position of the guard can be difficult at times, which tends to slow the momentum of the task you're working on.
The paddle is also uncomfortable to use, especially during long sessions. Still, such downsides can be expected at this price range. For a more fluid workflow, the DeWalt DCG413B 20V Max is definitely the way to go.
---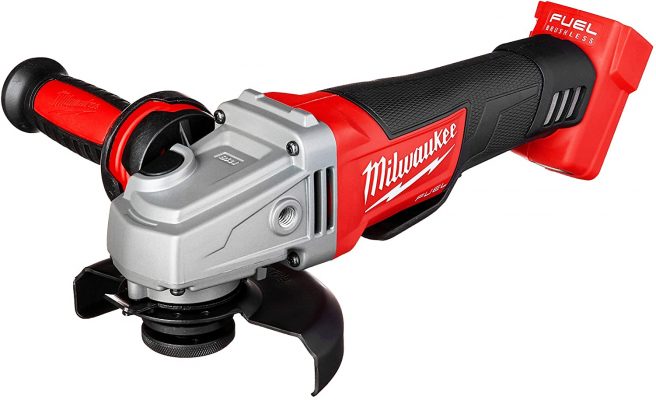 Quick Facts
Type: Cordless angle grinder
Intended use: Professional and non-professional
For those seeking an angle grinder that will serve them well in fast jobs, Milwaukee's 2780-20 M18 Fuel is a safe bet. It packs a surprising amount of power — more than enough to help you with quick grinding, sanding, cutting and finishing tasks.
The M18 Fuel has been engineered with the full force of Milwaukee's world-class team, with optimized performance, electronic clutch and overload protection, resulting in a significant reduction in vibration upon use. This provides a great sense of control, which is further amplified thanks to the model's comfortable grip. The brake feature is well-built, stopping all motion quickly and efficiently.
As an unfortunate downside, this option lacks some speed and power compared to some of the other cordless grinders on our list. It also has a relatively feeble battery life, so your work sessions will likely be short.
To buy some time, you can use large, high output batteries, though that would also increase the weight of the tool. Ultimately, if you're looking for a grinder that will help make short work of quick tasks, this Milwaukee's M18 Fuel is definitely worth considering. Alternatively, if you need a cordless angle grinder that can take on more demanding applications, check out the Bosch GWS18V-45 model.
---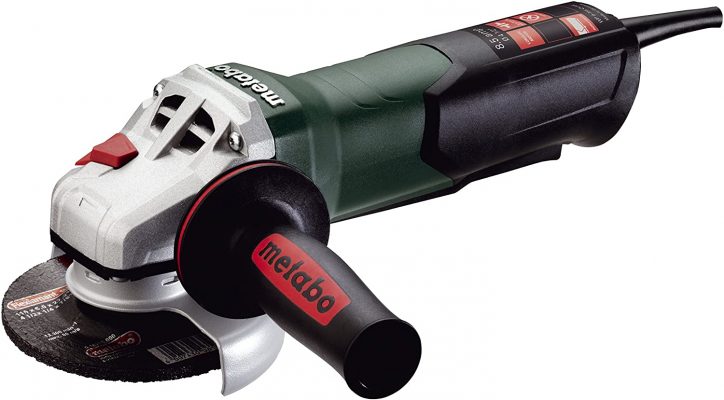 Quick Facts
Type: Corded angle grinder
Intended use: Professional
As its name might suggest, the Metabo 600380420 9-115 Quick is a machine, sent from the future to make quick work of even the toughest jobs. A brand that's known for pioneering professional tools, Metabo instills generations of German engineering and ingenuity into their products, and their Quick angle grinder is no exception.
Faced with the toughest of jobs, when other name brand angle grinders wear out, this one spins on. The immense power packed into its frame is enough to make smooth work of tough materials like concrete and steel.
Because the machine runs so well, even your wheels and bits will enjoy an extended lifespan. The workflow is also quite practical thanks to the machine's tool-free disc change, which allows you to quickly swap between accessories without losing any momentum.
As an unfortunate aside, this model's uncomfortable grip makes it quite difficult to use. The large caliber handle tends to cause fatigue in the hand quite quickly — obviously, that's quite dangerous during tough jobs. Its sub-par ergonomics is a huge downside with Metabo's machine — aside from its high price point — and it's enough to knock it down to near the bottom of our list.
---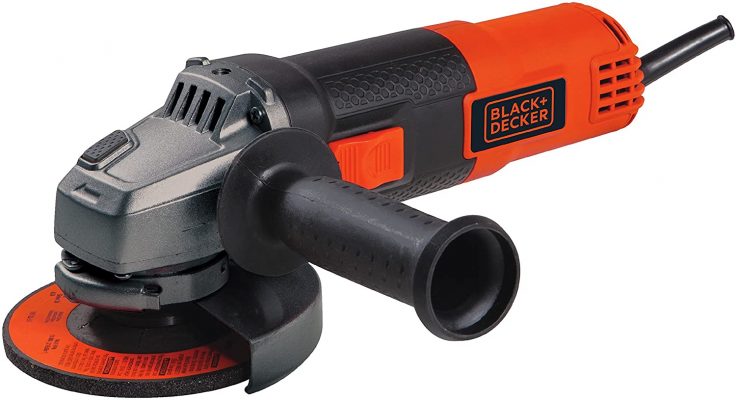 Quick Facts
Type: Corded angle grinder
Intended use: Non-professional
In terms of price, it's hard to find a high-quality, less expensive grinder than the BDEG400. Of course, the cost is only one consideration. While this machine works well on easy applications, its price tag is reflective of its overall build quality.
This grinder's spindle lock allows for easy swapping between accessories, and the metal gear case ensures easy transportation. In the bundle you'll find a metal grinding wheel, spanner wrench and wheel guard — inclusions that we definitely appreciate given the machine's cost bracket.
At this price point, it goes without saying that the grinder should not be used for demanding applications over long periods of time. You risk damaging the grinder, and you definitely do not want to toy around with a grinder's potential for causing injury should something go wrong.
We recommend this option if you're a first-time user seeking a cheap, convenient grinder for use on quick, easy jobs. For everyone else, we'd definitely advise investing a little more into the purchase. Makita's GA4530 model is a tad more expensive, but offers a considerable improvement in performance and safety in return.
---