String trimmers are a yard maintenance tool that every homeowner with a lawn should have. The problem is that buying the right string trimmer to tackle your grass and weeds isn't as easy as you think. With different power sources, lengths, prices, and ease of use, it can be a challenge to make sure that you buy the weed whacker that's right for you.
From heavy-duty models that run on gas to lightweight and easy-to-store battery-powered models, here's our guide to everything you need to know about buying the best string trimmer for your lawn.
String Trimmers: What You Need to Know
String trimmers are called a few different names, but they all mean the same thing. String trimmers, weed whackers, weed eaters, line trimmers, or just plain old 'trimmer' are all used to describe the handheld grass cutter.
Here are some basic things to consider when it comes to buying the string trimmer that will perfectly match your yard size and your workload. String trimmers come in a wide range of shapes and sizes and you need to make sure that you're getting the right tool for you and your yard.
The Importance of Cutting Width
The first term to understand is the cutting width. The cutting width will determine how much grass you can cut in a single sweep of the trimmer.
More powerful trimmers will tend to have a wider cutting width, which will make them a lot easier to use if you have a large area to cover. The Husqvarna Cutting Path is an excellent example of this.
Smaller cutting width means making more sweeps of the trimmer, but they can be a lot more precise. A trimmer like the Black+Decker MAX can be a lot more useful in smaller yards that need a more delicate touch.
A good rule of thumb for knowing which cutting width you need is:
7 inches to 11 inches: Best for a small to medium size lawn and light trimming.
12 inches to 15 inches: More suitable for thicker grass and lawns that are medium to large.
16 inches and higher: Ideal for big jobs including thick grass and undergrowth in a large lawn.
You can find out more about choosing the right trimmer to suit your yard size in our dedicated How to Choose the Right String Trimmer section.
What Powers Your String Trimmer?
There are three different types of power systems available for weed whackers. The best type of power system will depend on the size of your lawn and how convenient you need your yard maintenance to be. You will have to decide whether you need:
Cordless Trimmers: These are the most convenient option when it comes to ease of use. Using batteries means that you never have to worry about accidentally cutting through a cord.
They're also a lot lighter than heavy gas-powered trimmers. Some of the cordless trimmers on our list come with additional batteries so that you can always have one on charge while you get to work.
Corded Electric Trimmers: Generally, these will be more powerful than battery-powered trimmers, and will tend to be cheaper than gas trimmers. The only inconvenience here is that you will have to be aware of where the cord is at all times.
If you have a bigger yard, then you'll also need to make sure that you can reach the far edges (or always have an extension lead close to hand).
Gas Trimmers: These will be the most powerful trimmers you can buy and are usually the best choice if you have a bigger piece of land to maintain. They can be very noisy, heavy, and difficult to maneuver though. They're also not very environmentally friendly.
Take a good look at the lawn area that you need to look after. The size of it will play a big part in determining the best string trimmer for you.
Extra String Trimmer Features to Know About
There are some basics that you need to have some understanding of before you dig into our product reviews. Here's what you need to know.
Manual or Auto-Feed?
Trimmers cut grass by spinning a plastic wire, often referred to as the string. That string is kept the right length by the use of a line-and-spool mechanism combined with a shield that prevents you from cutting into your feet. To feed that line out when it starts to wear down, trimmers can have either a manual or auto-feed mechanism.
Manual Spool Feeding: These will usually require you to tap the base of the trimmer against the ground, which releases more line.
Auto-Feed Mechanisms: In most cases, these will be controlled by a trigger on the main handle and are the easiest option to use.
Alternatives: Some trimmers, like the Powersmart 2-in-1 will need you to buy the wire and wrap it around the spool yourself.
Edging Options
Some trimmers come with edging options. These make rotating the trimmer 90° to clean up the edges of your lawn or your flower beds much easier. Some even come with wheels or a guiding system like the Powersmart 2-in-1 to give you even more control.
While it's great to have this many options when buying your weed whacker, it can also make it very difficult to work out which make and model is best for you.
When you're thinking about investing in a string trimmer you must choose the make and model that most matches the type of work, you'll be doing and the size of your yard. Here's our selection of the best string trimmers on the market today.
Top 10 Best String Trimmers 2023
1.

Best Overall String Trimmer:

Worx WG163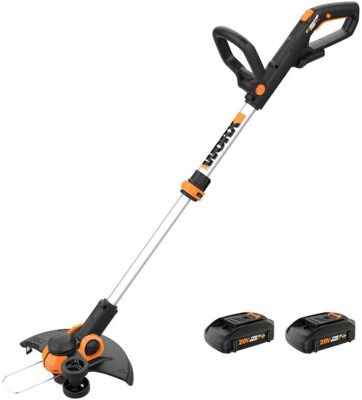 Why we like it:
A well-engineered and expertly designed yard tool that is a lot tougher than you'd expect at the price.
Editor's Rating:
Quick Facts
Power source: Battery
Cutting width: 12 inches
Power: 20-volts
Weight: 6 pounds
Shaft length: 36.30 inches
Perfect Weight for Easy Edging
It only takes a few seconds to turn this great all-round battery-powered trimmer into a precise and easy to use edger. It even comes with wheels to make edging work easier!
The trimmer itself comes with a fully maneuverable head so that you can get into the most awkward spaces and corners, and you can adjust the head until you find the most comfortable position for you. All battery-powered trimmers are lighter than gas models, but this Worx trimmer is just 6 lbs, so it's incredibly easy to even use for long days in the yard.
Power and Precision
Although this is only 20-volts and is certainly not the best option for full-time landscapers, that lack of heavy power makes it incredibly precise and manageable. It has very little in the way of vibrations, so comfort levels are always high.
The auto-feed feature for the wire is incredibly practical too, but you will need to remember to press it before the wire runs down completely as it can be a pain to unspool. It's often easier just to replace the spool completely when that happens. On the plus side, it's a lot easier than banging your trimmer head on the ground.
Battery Life
This string trimmer comes with two batteries included so that you can always have one on charge. The batteries themselves are very easy to swap over, and they can last up to two hours even on a high setting.
Cordless trimmers are often criticized for having less power than gas or wired trimmers but this model from Worx is proof that less power does not mean less efficiency. The long-lasting batteries are ideally suited to this lightweight and incredibly easy to use trimmer/edger.
Pros
Easy to swap from trimmer to edger

Very lightweight

Long battery life

Incredibly precise
Cons
Not ideal for major jobs or bigger lawns

Auto-feed needs to be checked often
---

Why we like it:
This battery-powered trimmer converts easily into an edger and is light enough to use for hours.
Editor's Rating:
Quick Facts
Power source: Battery
Cutting width: 13 inches
Power: 40-volts
Weight: 7.8 pounds
Shaft length: 52 inches
Practical and Lightweight
This Black+Decker trimmer and edger is a lightweight tool that is ideal for precision cuts around your trees and flowers. If you're worried about weight, don't be. Anyone can use this lightweight trimmer. It comes with a dial that adjusts the trimming intensity, which is an incredibly fun addition to see (and use).
This is the kind of trimmer that will make you want to have more grass to cut! It's practical for storage too because the shaft retracts, so it will take up much less space in your garage.
Battery Management
If you're using this trimmer on the highest power setting, then you'll only get around 10-15 minutes of work done. Choose a lower setting though and you get up to an hour of trimming done easily. You'll find that even on a lower setting this trimmer and edger is more than powerful enough to handle most standard trimming jobs.
There's a battery meter on it too, so you can always see how much life is left in the trimmer. Fortunately, the batteries are very quick to charge. They take about an hour to fully charge, so it's worth having two or three spare batteries that can be charged as you get to work.
Easy String Replacement
One of the reasons why this Black+Decker string trimmer is so easy to use is because it comes with pre-wound spools. Other string trimmers like the PowerSmart 2-in-1 require you to wind the string around the spool yourself, which can be a very hard task. Those pre-wound spools are a huge advantage and will help you get to work a lot more quickly.
Awkward Safety Button
However, the one negative that stands out is the safety button that has to be pressed in before the string trimmer will run. That button is awkwardly placed and quite uncomfortable to hold down. This minor complaint doesn't detract from the overall reliability and power of this excellent offering from Black+Decker.
Pros
Lightweight and precise

Easy string replacement

Battery life monitor

Easy storage
Cons
Heavy use burns through battery life

Frustrating safety button
---
3.

Best String Trimmer With Auto-Feeder:

Black+Decker 20V MAX

Why we like it:
Exceptional value for money with the added bonus of an auto-feed system for the wire and two lightweight batteries.
Editor's Rating:
Quick Facts
Power source: Battery
Cutting width: 10 inches
Power: 20-volts
Weight: 10.5 pounds
Shaft length: 42 inches
Low-Cost Power
The cost of this trimmer hides the fact that this is an excellent multi-purpose tool that comes with a matching blower. The addition of a blower combined with the low price might be off-putting, but the trimmer itself is easy to use and much more powerful than you might expect.
When you take this trimmer out of the box, you'll be very surprised by its weight. It's under 11 pounds, so it's very easy to use no matter how many hours of yard work you're putting in. The problem is that it feels a lot cheaper than it should, even though it packs a lot of power.
Blower Issues
The blower that comes with this trimmer combo isn't great. If you're planning to use the blower as much as the trimmer, then you might be better off with the Greenworks G Max.
This Black+Decker blower will clear your driveway or paths if the weather is perfect, but even a little rain or wind will result in you working a lot harder than you should be.
Wire and Auto-Feed
The wire spool is fed out by an auto-feeder, and it works a lot better than other auto-feeders on this list. It's a practical system that minimizes wire waste, so you don't have to change spools very often.
The wire might not be thick enough to tackle thick roots or a heavy cluster of weeds in one swipe, but it has a high rotation speed that makes it perfect for long grass. The wire is perfectly suited for edging work too, especially if you get used to using the edger-guide that helps you get your spacing perfect.
Pros
Quick charge batteries

Come with a blower

Extremely light

No waste auto-feeder
Cons
Feels too light

Blower isn't very strong
---

Why we like it:
The low price doesn't reflect the power and precision that you get with this corded electric trimmer that converts quickly to edging.
Editor's Rating:
Quick Facts:
Power source: Corded electric
Cutting width: 16 inches
Power: 120-volts
Weight: 3.19 pounds
Shaft length: 37.6 inches
Precision Edging and Trimming
If a gas trimmer is comparable to a hammer, then this plug-corded trimmer is more like a scalpel. It's much lighter than other trimmers on this list because it doesn't have to carry around batteries or fuel. You just plug it in and start trimming.
It's incredibly easy to assemble too, and although it's not quite good enough for a full-time lumberjack it's certainly enough of a beast to tackle even the most overgrown lawn. The wheels used for easier edging are easy to get used to, and the spool auto-feeder makes this a very practical trimmer even for beginners. The low cost is not reflected in the high quality of this trimmer.
Shaft Length
The shaft of the trimmer is a little short even when fully extended. It's less than 40-inches long, so anyone taller than 5ft 9" is going to find that they have to stand a little hunched over. That can get uncomfortable quickly.
The flipside of that is the fact that this is such a light machine, so even if you're over 6ft you're not going to be struggling to move it around. The edging wheels make it a lot easier to get down to precise work though, no matter how tall you are.
Trimmer Spool
If there's one feature of this trimmer that really stands out it's how easy it is to replace the wire spool. It's so easy on this Black+Decker that you have to wonder why other companies haven't followed suit.
You don't have to worry about having access to replacement spools directly from Black+Decker either. You can use even generic spools from Walmart which will fit this trimmer perfectly. It's a good idea to have spares close to hand though, as the wire that this trimmer comes with will get used up very quickly.
Pros
Inexpensive

Powerful

Easy spool replacement

Edging wheels make precision easy
Cons
Awkward length for taller users

Wire spool used up quickly
---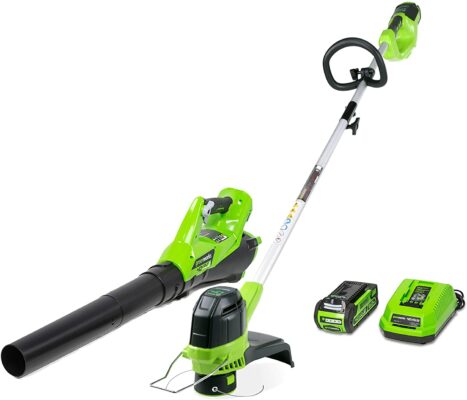 Why we like it:
The addition of a blower makes this great value for money, and without compromising on power or ease of use.
Editor's Rating:
Quick Facts
Power source: Battery
Cutting width: 12 inches
Power: 40-volts
Weight: 7.80 pounds
Shaft length: 64.5 inches
Running Time
The battery on this trimmer is exceptional and will last between 45 minutes to an hour depending on the work it has to do. As the power drains, you do get a loss of power though, and when it hits the 50% charge mark, you're going to notice that drop in power.
The battery itself takes around four hours to charge from empty to full, which is noticeably longer than the Black+Decker 40v Max. That makes sense when looking at the 40-volts that you get with this trimmer. You can buy replacement batteries when needed, but they can be expensive.
Gas Comparable
If you're more used to a powerful gas trimmer and you're wary of switching to a battery power model, don't panic. This is a powerful trimmer that combines the convenience of a battery without losing out on effectiveness.
If you usually cut your lawn with a gas trimmer, you'll be able to tackle the same patch of ground with this battery alternative. It will even cut through thin vines, and it's light enough to maneuver easily.
Half an Acre of Trimming
This trimmer is marketed as being perfect for yards of around ½ an acre, and that sums it up very well. For larger yards you'll need to replace the battery, and those long charging times will become frustrating. Battery trimmers are very convenient, and this is an excellent example where almost everything is just right.
The wire spool is exceptional and will last a long time without the need for replacement. Replacing the spool is also very easy though, and you won't have to fight the trimmer just to swap to a new spool.
Multi-Purpose but Flawed
Not only does this trimmer come with a good, quiet blower, it also switches to light edging very easily. The auto-feed is very efficient, but it can overfeed very quickly if you're not paying attention.
The speed-control function gives you even more control over your workload, but if you have it set too high then the flaws with the guard become apparent. Use too high a speed and the guard might as well not be there, and you're going to get grass and debris flying back at you.
One issue that we found was the excessive shaft length which makes it uncomfortable to use for shorter users.
Pros
Blower included in price

Fantastic battery life

Comparable to a gas trimmer

Wire is long-lasting
Cons
Guard isn't 100% effective

Extremely long shaft
---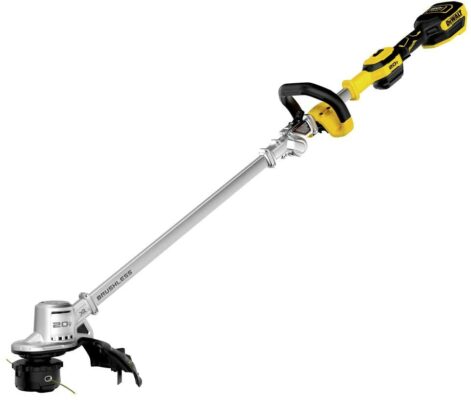 Why we like it:
Lightweight trimmer with exceptional precision thanks to speed control, and the spool loading system is fantastic.
Editor's Rating:
Quick Facts
Power source: Battery
Cutting width: 14 inches
Power: 20-volts
Weight: 10.53 pounds
Shaft length: 38.13 inches
Easy to Use
When it comes to ease of use, it's hard to beat this trimmer from Dewalt. Not only is it easy to store away or carry around thanks to the folding hinge on the shaft, it's also very easy to use.
That's down to the QuickLoad™ Spool that lets you replace the wire spool in seconds. Spool replacement can be tricky with many trimmers (the PowerSmart 2-in-1 is a prime example) but you won't have any problems here.
The wire itself is let down a little by a small turning circle caused by the short shaft. That can make it quite challenging to tackle areas around flower beds, ditches, or on embankments.
Precise Control
This battery-powered trimmer comes with a variable speed trigger which gives you a lot of control over its performance. You can use the Hi/Lo speed control to tackle different areas of your lawn, which saves you battery power, while the bump spool feed is very responsive without being too excessive with the amount of string that's being fed out.
For those days when you have to trim the grass that's built up around your property, that precision control makes the whole task a lot easier to get through.
Interchangeable Batteries
You can use the batteries from any Dewalt power tool in this trimmer. Likewise, you can use the battery you get when you buy this in any of your Dewalt products. That's very useful if you already have Dewalt yard tools. Of course, the low power level of this trimmer means that it's not going to be able to tackle very thick grass or deeply embedded weeds.
However, it will do most of the jobs you ask of it without much in the way of complaints, and the batteries have a long life too. They're also very quiet and cause very little vibration, so this trimmer is almost a pleasure to use.
Trimmer Guard
One big issue with this trimmer is that the guard is very ineffective. When you get to trimming, you're going to get hit with grass and dirt on your legs, so dress accordingly.
Dewalt does offer a larger guard that you can buy separately if you find that the existing guard is simply not fit for purpose.
Pros
Easy to use

Powerful yet quiet

Interchangeable batteries

Speed trigger gives total control
Cons
Tricky to do edge work

Trimmer guard is not effective
---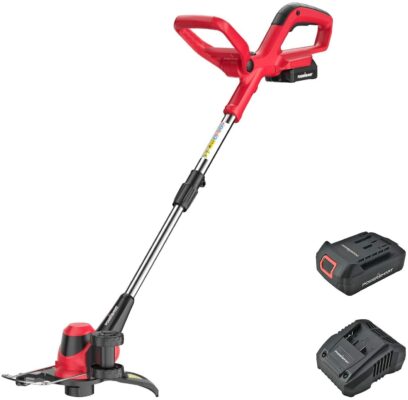 Why we like it:
You can quickly switch between trimming and edging with this extremely light and low-cost two-in-one yard tool.
Editor's Rating:
Quick Facts
Power source: Battery
Cutting width: 10 inches
Power: 20-volts
Weight: 7.5 pounds
Shaft length: 24 inches
Easy to Use for Light Work
This is one of the easiest to use trimmers you'll find. It's only 7.5 pounds in weight, so sweeping it across your lawn is not going to tire you out. The edger makes use of a guide that makes your edging work look better than it ever has, and switching between edger and trimmer takes only a few seconds.
Despite its low cost and its weight, this is the ideal trimmer for any light lawn tasks. There's nothing fancy about this trimmer and it won't be able to tackle big yards or overly thick grass, but at this price it's hard to beat.
Quick Charge Battery
This trimmer comes with a lithium battery included, which has an extremely quick charging time. If your yard is larger than an acre though, then you may need to have a replacement battery on standby. The battery is very easy to take out and put back in, and once in place you just have to pull the trigger and start working.
Spool Issues
You only get one spool of wire with this trimmer, and that's a bit of a problem. The spool that comes with the trimmer is short, and buying preloaded spools is an impossible task. That's because you have to manually reload your spool yourself. This can be a very challenging and frustrating task!
If you're using your trimmer more than once a week then you'll need to replace your wire after about a month and a half. So, make sure that you know where to get your replacement wire and that you know how to wrap it around the spool.
Straight Shaft
One obvious difference between this trimmer and most others is that it doesn't have a curve in the shaft. It's a minor complaint that just takes a little getting used to if you've been using a more curved trimmer for a while.
Excellent String Feed
The auto-feed is much better than you'd expect on a trimmer at this price. You'll find that it doesn't overcompensate so your wire isn't going to be wasted. That's good news when the spools are so difficult to replace.
Pros
Very light

Easy battery swaps

Fast switch from trimmer to edger

Very low price

Efficient auto-feeder
Cons
Replacing wire is a hassle

Straight shaft
---
8.

Most Powerful String Trimmer:

Husqvarna 128LD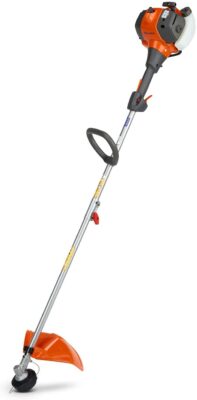 Why we like it:
An extremely powerful gas trimmer that's perfect for even the biggest jobs.
Editor's Rating:
Quick Facts
Power source: Gas
Cutting width: 17 inches
Power: 28cc
Weight: 11 pounds
Shaft length: 40 inches
Unparalleled Power
This is a very powerful trimmer that uses a combination of unleaded gas and 2-cycle oil. It comes with a very useful transparent fuel tank so you can monitor your gas levels too.
However, the main feature of this trimmer is its power. Even the thickest grass and densest clumps of weeds can be tackled and trimmed easily. If particularly thick grass starts to wrap around the head, it won't slow this beast down.
It might not cut down a tree, but it'll certainly terrify your grass! With that power comes a lot of weight though, and it's a good idea to invest in a strap to help take the load off.
Fuel and Power Management
The three-point choke gives you a lot of control over the power levels, but it's oddly placed, and the shaft length is a little awkward for taller people. Although this trimmer is very responsive to throttle position, its placement means that you might keep accidentally turning the trimmer off. That's a minor inconvenience on an otherwise fantastically powerful trimmer.
Of course, with that much power comes a lot of fuel use and this is one thirsty maintenance tool. The transparent fuel tank is very useful for monitoring your fuel use though, and the fuel is very easy to mix.
Tap 'N Go
Easy to assemble, this Husqvarna trimmer is ready to go within 10 minutes from opening the box. It doesn't come with an auto-feed for the wire, relying instead on a Tap 'N Go system. That means you have to bump the head of the trimmer on the ground to unspool more of the wire when you need it.
This is a very standard trimmer function and very easy to get used to even if you've only ever used auto-feed systems.
Interchangeable Parts and Add-Ons
There's also the fact that you can buy add-on parts from other manufacturers, including edgers and hedge trimmers. That alone makes this one of the best trimmers on the market.
Pros
Easy assembly

Incredibly powerful

Option to add accessories

Transparent fuel tank
Cons
Very heavy

Choke placement is inconvenient
---
9.

Most Powerful Battery String Trimmer:

EGO Power+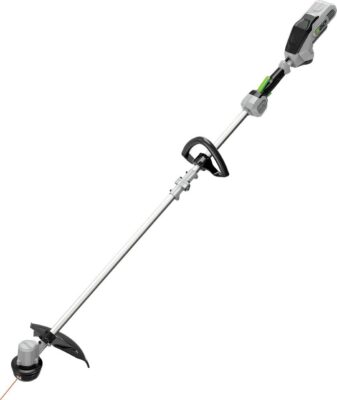 Why we like it:
The power of a gas trimmer with all of the convenience of a battery.
Editor's Rating:
Quick Facts
Power source: Battery
Cutting width: 15 inches
Power: 56-volts
Weight: 6.7 pounds
Shaft length – 59.65 inches
More Power Than You Expect
With levels of power that are easily compared to gas trimmers, this EGO POWER+ kit is very likely to impress those who are wary of using battery-powered yard tools. This trimmer is powerful but it's a lot heavier than other battery-powered trimmers.
That weight is understandable once you get to trimming your lawn though. Not only will it attack your grass and your weeds, but it will also even keep going if you get the angle wrong and start tilling the dirt! Light roots are like butter when it comes to this heavy-duty battery-powered trimmer.
Battery Life
Considering how much power this trimmer comes with, the battery is surprisingly long-lasting. You will need to buy the battery and the charger separately, which will bump the price up. Like all battery-powered trimmers, it's worth having a spare or two charged-up in case you get caught out at the start of the gardening.
If you've only ever used gas-powered trimmers before then this one could be your gateway to a practical alternative. The best thing about the battery in this trimmer is that it can be used with any EGO POWER+ tools.
Excellent All-Rounder
The long-lasting battery combined with the exceptional power levels means that your lawn will get the attention that it needs. The manual spool feed means bumping the trimmer head on the ground to unravel more, but the large spools make this very intuitive.
Don't forget that when it comes to running costs, recharging batteries is a lot more cost-effective than constantly buying fuel for a gas trimmer.
Pros
Incredibly powerful

Low running costs

Batteries can be used in other EGO tools
Cons
Battery and charger not included
---
10.

Most Comfortable Low-Cost Trimmer:

Remington RM25C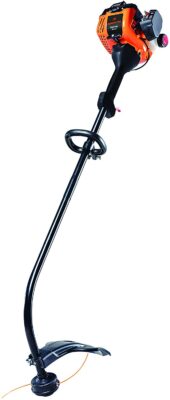 Why we like it:
One of the best low-cost gas trimmers on the market, with a price that doesn't reflect its power.
Editor's Rating:
Quick Facts
Power source: Gas
Cutting width: 16 inches
Power: 25cc
Weight: 16.12 pounds
Shaft length: 39 inches
A Gas Trimmer at a Low Price
When it comes to gas-powered trimmers you can almost always expect to pay more than corded or battery-powered versions. Not in this case. This is an extremely low-cost trimmer with an ergonomic design that makes it very comfortable to use, even for extended periods.
The curved shaft makes long days working in the yard much less strenuous. That curved shaft is a bit of a pain if you're tall though, and you will need to hunch over if you're over 5ft 8".
Incredible Engine
While the power of this trimmer will not quite cut through thick roots, the engine is much better than you might expect. It doesn't vibrate the tool much either, which makes it incredibly easy to use.
One minor issue is that the engine is a little too close to where your arm will be, so there is a risk of accidentally touching a hot engine part. It's got quite a small fuel tank, so you'll only get around 30 minutes of use per tank. It's also very noisy, especially if you're used to the much quieter battery variety.
Subpar String
There's no auto-feed on this trimmer so you'll have to bump it on the ground to unravel more wire. The string itself isn't ideal and will break more often than you want. The string can also get tangled very easily so you have to stop work and pull it out by hand.
For heavy brush you'll want something a bit more powerful like the Black+Decker String Trimmer or the Husqvarna Cutting Path but this is a good all-rounder that manages to be less expensive than many of its competitors while still getting the job done.
Not Great for Edging
Although Remington claims that this trimmer has been designed for edging as much as trimming, that's not really the case. It's a bit awkward to use when edging because of the odd placement of the trigger. You'll need a little practice before you find a position that works for you.
Pros
Very low cost

Ergonomic shaft

High power of gas
Cons
String prone to snapping

Engine close to skin

Not great for edging
---
How to Choose the Right String Trimmer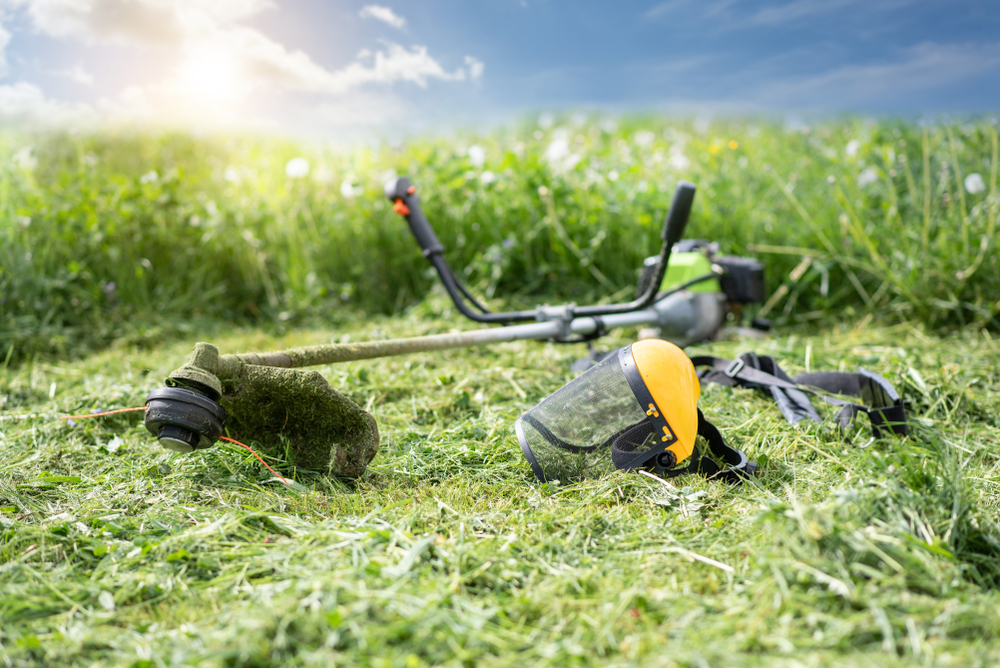 Investing in the right trimmer will make your yard work considerably easier to tackle. While there are lots of trimmer variations, choosing the right trimmer is simply a case of knowing which type will best suit the size of your yard and the condition of it.
Here, we'll cover everything you need to know to make your decision, as well as some extra trips to get the most out of your new string trimmer.
Consider Your Yard Size
The bigger your yard, the more powerful your trimmer will need to be.
Large Yards
As a general rule of thumb, yards that are considerably larger than an acre or two will tend to benefit more from a more powerful gas-powered trimmer.
If you really want to avoid gas-powered trimmers because of the weight or the environmental factor, the Black+Decker String Trimmer is a suitable alternative.
The reason why gas trimmers are better for larger spaces is because you won't have to worry about running out of battery or accidentally trimming over a power cable. Due to their power, gas-powered trimmers are also the option to choose if you're going to tackle a yard that hasn't been looked after.
Medium-Sized Yards
If your yard is between one and two acres, then a corded electric trimmer will be a good option. You won't have to worry about the length of the cord too much, although you may need an extension lead to get to the most distant parts of your property.
Lighter than gas models, corded electric trimmers will be much more comfortable to use than a gas trimmer but won't let you down when it comes to tackling thick grass or deeply embedded weeds.
You may be limited in terms of range, but if your yard isn't too large, then it's certainly a good choice.
Small Yards
For anything less than an acre, a battery-powered trimmer will do the job well. If you have let your yard get a little unruly, don't panic too much.
Although gas-powered trimmers are more powerful, a 20-volt or 40-volt battery-powered trimmer like the Greenworks G-MAX will be more than enough to tackle even the most overgrown of yards without too much hard work on your part.
They're a lot more maneuverable as well, but you will need to make sure that you have fully charged batteries and a spare one ready to go. You will be limited on range, but as long as you have a fully charged battery ready to replace empty ones that shouldn't be too much of an issue.
What Are You Cutting?
Have a look at the yard that you'll be working on. If it's been looked after and requires simple maintenance, then you won't have to worry too much about power. You'll be able to use even a 20-volt battery-powered trimmer without any problems.
For yards that have become overgrown or are full of weeds, then you may need a little more power than even the most powerful battery trimmers.
Flower Beds, Trees, and Yard Furniture
If your yard is nothing but grass then make sure that you get a trimmer with a large cutting width. This will make your yard work much less back-breaking because you'll have to make fewer sweeps.
If you have flowerbeds or vegetable patches that need the perfect edge, trees, lawn furniture, or ornaments to maneuver around then you should look at a trimmer with a smaller cutting width like the Black+Decker 20v Max.
For flower beds especially, a smaller head and cutting width will give you much more precision. The Powersmart 2-in-1 is a good choice to look at if you have to be more precise, and the edging capability will be a huge timesaver.
The Comfort Factor
Yard work can be a daunting prospect, so you don't want to make it harder than it needs to be. Gas trimmers are heavy and using them can be quite a workout. A corded electric trimmer will be lighter, but you'll lose out on distance unless you have a box full of extension leads in your garage.
But it's not all about the weight. A more curved shaft like the Powersmart 2-in-1 or Remington 25cc will give you more control than a straight shaft, although they can be tricky when it comes to precision.
You should also think about your height. If you get a trimmer that's too short, then you'll be bending your back throughout the job and that's never good. Always check the shaft length before buying a trimmer of any kind
How Much to Spend?
Your budget is usually the determining factor when it comes to choosing a trimmer. It's all well and good choosing the best trimmer available, but if it's out of your price range, that doesn't mean you're in trouble. Even the budget models of string trimmers like the Remington 25cc are powerful enough to tackle most issues.
Gas trimmers will always tend to be the more expensive option, but if your lawn is small and already well maintained then you won't need all of that power. Look at cheaper battery-powered models instead.
Storing a String Trimmer
Battery-powered and electric corded trimmers are easy to store away. All you have to do is wipe them down and put them where they need to go. Some models like the Black+Decker 40v Max are collapsible so that they take up less garage space.
For gas-powered trimmers, you will need to do a little more. Ideally, you don't want any fuel left in the trimmer as this will gum up the engine. That will make it very hard to start when you use it next. Either use a gas-powered trimmer until the fuel is spent, or empty whatever fuel is left into a suitable container.
Once empty, let the trimmer run for a while to burn off any last drops of gas. Give the fuel tank a good clean using a rag and a metal brush. Make sure that any clumps of dirt or grass are removed, and replace the fuel filter if needed.
Then, simply wipe down the main body of the trimmer so it's all clean and ready to be used when you need it next.
What Will You Be Using the Trimmer For?
The best way to make sure that you buy the right string trimmer is to ask yourself how you'll be using it and what for. If you have a lot of edge work to do then it's best to choose a trimmer with a good edging function like the Worx GT.
If you're more likely to stick to basic trimming, then you can ignore the edging features and should focus more on cutting width. That's going to play a large part in determining your workload and the effort that you'll have to put in.
The larger your yard, the more likely that you will be better off with a gas-powered trimmer. Battery-powered models like the Black+Decker 40v Max are great for power, but they can become frustrating if the size of your yard means multiple battery changes throughout the day.
The Right String Trimmer Makes Yard Work Easy
Choosing the right string trimmer is a lot easier once you start to think about how much power you need, how large your yard is, and how maneuverable you need it to be. The more that you think about factors like the weight and the length of the shaft, the easier it will be to ensure that you get the best trimmer for you and your workspace.
Invest in the right trimmer and it will do all the hard work for you, and your time spent making your yard look pristine will be much more enjoyable.