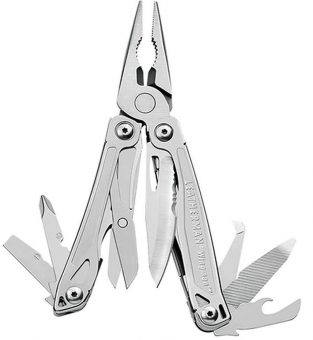 Leatherman - Wingman Multitool
Gerber Suspension Multi-Plier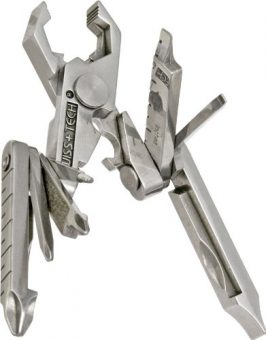 Swiss+Tech ST53100 Polished SS 19-in-1 Micro Pocket Multitool
Previous
Next
Every handyman wants to have a tool which will keep him prepared for different situations. Fortunately, there are multi-tools which serve this exact purpose. With such an item, you don't have to bring your entire toolbox wherever you go. You would have the convenience of all the tools you need in a handy little item.
When it comes to finding the best multi-tools for different tasks, there are a few things to consider. In this article, we'll provide you with the information you need to make a wise choice. Also, we'll review some of the best products available on the market now to help narrow down your choices. Read on!
Features to consider in Good Multi-Tools
Quality
Generally, multi-tools have a bunch of moving parts that you can use for different purposes. But if you want the tool to last for a long time, then choose one which is high-quality. All the integrated tools should be nice and tight while still being able to move smoothly without friction.
For safety, the sharp tools included in the product should lock firmly in place. If the multi-tool comes with a pair of pliers, the tips should come together evenly and in unison. A high-quality tool will also reduce the risk of corrosion greatly which is a huge benefit since most metal objects are typically prone to this issue.
Value for money
Of course, since you'll spend money on the multi-tool, you also have to make sure that you're getting what you've paid for. It's better to spend a bit more on a product which will last longer and perform well rather than a cheap one which will break after a month or so.
Value for money is a factor that a lot of people look out for. However, you don't have to break the bank just to find the best multi-tool. There are reasonably priced products which won't disappoint. The key is to know where to find these items.
Ergonomics
When it comes to tools and equipment, you would always hear the words "ergonomically designed." This is another cool feature to look out for because it means that the manufacturer put a lot of thought into the design and functionality of the product. A multi-tool with a clever design will allow you to maximize all its benefits. Also, it will feel comfortable while you use it which is a huge advantage.
The Best Multi-Tools for Different Tasks 2020
Guide to Buying the Best Multi-Tools
If you want to find the best multi-tools, you need to learn more about them. Sure, these seem like simple items, but there are certain factors which will help you determine which ones are superior compared to the others.
Let's take a look at the factors you should consider when choosing a multi-tool to make the process easier for you.
What important factors should you consider when buying multi-tools?
Design
First of all, it's important to consider the product's design. There are a lot of products now which are ergonomically designed, and you may benefit a lot from choosing these. The design is an important part so it won't have to include any unnecessary tools or features which will make it feel awkward and clunky while you use it.
Don't fret though, because there are a lot of models which have clever designs and are very comfortable to handle. Look for a product which is easy to use so you won't have to struggle when performing different tasks.
Portability
This is another feature to look out for. In fact, it's one of the most important features of multi-tools. You may have found a product which has a bunch of cool tools you can use. But it won't be of much use if you can't bring the tool around with you wherever you go.
There are some products which are small enough that they fit into your pocket while others are as small as keychains. Think about the size you need, and you can use that as one of the determining factors when making a choice. Remember, the multi-tool you need must suit your own needs and preferences.
Blade
Most multi-tools come with a blade because this is one of the handiest tools available. If you need the blade, then choose a product which has a high-quality. Usually, such tools come from well-known and trusted brands. These typically have reliable blades that don't break easily.
Aside from this, also check the accessibility and safety of the blade. Knives and blades are quite sharp, so you want them to be safely tucked away in your tool. Otherwise, you run the risk of getting injured while bringing the multi-tool with you wherever you go.
What are the different types of multi-tools?
If you hear the word "multi-tool," what image comes to your mind? For most people, it's a silver tool which has handles and different tools attached to it. This is the image of a multi-tool with a classic design. Of course, just like any other products, manufacturers have now come up with innovative products with different features.
In terms of practicality, any kind of tool which has various functions is a multi-tool. But when you talk about the actual "multi-tools," they generally come in three major types according to their size.
Full-sized
First of all, there are full-sized multi-tools. Such tools have full features, and they're designed for different projects, applications, and tasks. There are multi-tools which are toolbox-worthy, and they usually come with a holster. That way, you can attach the tool to your belt when you need to work.
Portable
Portable multi-tools are mini versions of the full-sized ones. These are handier because you can bring them anywhere while still being able to use all the integrated tools included in them. Portable multi-tools are so small that you won't even notice that they're there until you need them.
Keychain
Finally, there are the keychain multi-tools. These are the smallest, handiest versions. These are generally minimal and aren't designed for heavy-duty tasks. Still, they're convenient especially if they come with a lot of basic functions.
Conclusion
Multi-tools are truly convenient. With one such item, you don't have to panic when different situations arise where you need specific tools. The best multi-tools have specific features which will provide you with what you need for different tasks. By now you know much more about these amazing products.
Now all you have to do is find the best product to suit your needs. Once you have your own multi-tool, you'll discover how convenient they are and how beneficial it is to own one. Gone are the days when you have to run to your garage to find your toolkit whenever you need to repair something.