It's easy to understand how yardwork can be such a rewarding hobby. Nothing beats the smell of freshly cut grass on a sunny Sunday morning. If you think about it, lawn care is one of the cornerstones of American culture. Whether your yard is big or small, a well taken care of lawn is a source of pride and a sign of hard work.
However, without the proper lawnmower, taking care of a small yard can turn into a whole ordeal more akin to a job than a hobby. Maneuvering a large lawnmower in a small yard would be like parking a giant truck in a crowded parking lot.
There's much more to selecting the right mower for your small yard than you would think. For that reason, we've composed this helpful guide to assist you in narrowing your selection. Here's a guide on how to get the best lawnmower for a small yard.
Selecting a Lawnmower for a Small Yard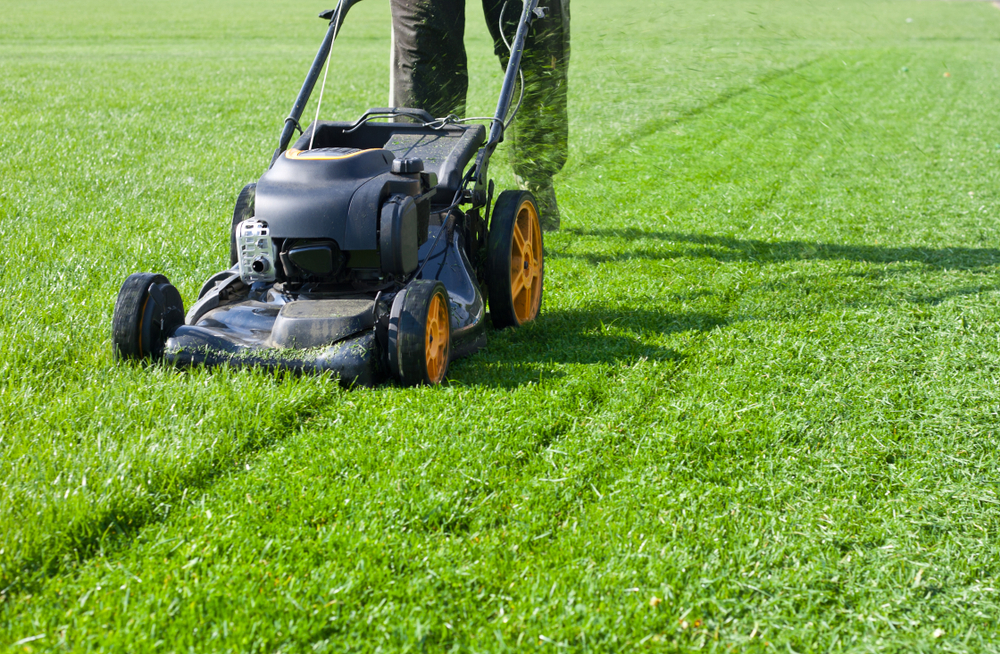 Sorting through lawnmowers sometimes feels like buying a car. From power output to the width of the blade, the technical details can be overwhelming. Newer models even resemble supercars more than actual grass-cutting tools. There are so many different features and characteristics that you would be surprised that all they do is mow the lawn. For that reason, here are the most important aspects you need to consider:
How It Moves
The easiest way to classify the numerous different types of lawnmowers is by how they move. Broadly speaking, lawnmowers fall into four categories: self-propelled mowers, push mowers, reel mowers, and hoover mowers. Each type has its own set of benefits that could fit your unique needs better than the others.
Self-Propelled
These lawnmowers have a transmission that helps move them forward when you push them. They're not autonomous, so you still need to push and steer them, but because of this assisted movement, you will get less tired when you use one. They also move across elevated terrain more easily, making quick work of hilly areas. Self-propelled models are ideal if your yard is on the small-to-medium size or if you want to prioritize comfort.
Push Mowers
No fancy technology here, these types of lawnmowers you need to push yourself. However, it's not all bad. They tend to be lightweight and easily maneuverable. You can get more of a feel of what you're doing, instead of checking the results after you go through an area. They're not the best for large areas, but do great in small yards around 5000 sq ft.
Reel Mower
These mowers use a cylinder type of blade that doesn't rip the grass apart, but instead swiftly cuts it. Their design is very straightforward, and they usually have very few extra features. However, they're the most environmentally friendly option out there and the gentlest to the grass itself. No fancy tricks here, because most of them are designed to cut grass and nothing else.
Hover Mower
Back in the day, these types of lawnmowers seemed straight out of a sci-fi movie. These tools push air from the deck to closely hover over the ground. They're perfect for difficult terrain and move with relative ease through most areas. However, they require extra work to get an exact cut, so they may not be the best choice for perfectionists. For this reason, we decided not to include any hover mowers on our list.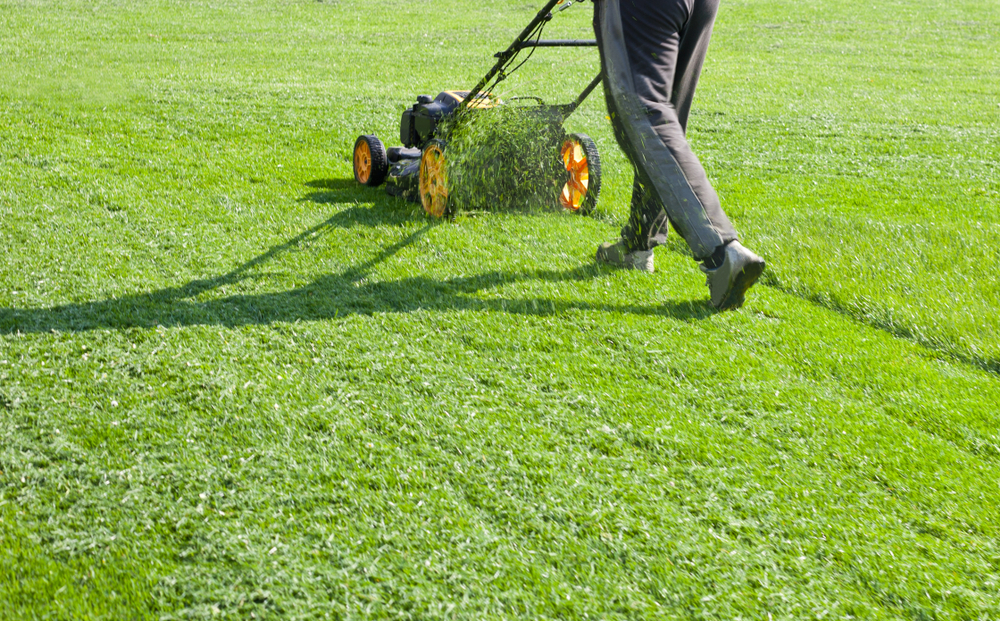 Energy Source
The way a lawnmower is powered will impact its cutting quality, efficiency, and even the environment. There are three ways in which most lawnmowers get their power: manually, by electricity, or with gas. Each type has a different set of benefits and drawbacks. For this reason, you should consider what is better for your situation, rather than what's advertised.
Electric Lawnmowers
As their name states, these models use electricity, either by cord or batteries. Whether one is better than the other depends on your personal preference. Corded models can function without any interruptions, as long as they're connected. Meanwhile, battery mowers enjoy more mobility as their range and movement is not restricted by a cord. They're not as powerful as gas-operated models but tend to make up for it with more features. These models are also considerably quieter than gas models.
Gas-Operated
These models are the most powerful. They are efficient but expensive to operate because of gas costs. They don't need cords and last longer than battery-powered electric models. Another downside is that they're very noisy. Yet, because of their power, they can make quick work of any type or length of grass. They also require the most maintenance, because you always need to be on top of maintaining the gas and oil.
Manual
With these lawnmowers, you are the energy source, meaning they go as far as you're able to push them. They're not the most efficient when it comes to large spaces or complicated terrain. However, they're the quietest and most environmentally friendly option. Surprisingly, lawnmower use has a huge impact on the environment. One hour of cutting grass with gas-operated models generates as much pollution as driving a car for 300 miles. Unless you had beans for breakfast, you won't be producing any harmful fumes with manual models.
Blade Width
Beyond the materials that it's made out of, the most important element of a lawnmower's blade is its width. You may think the larger, the better, but depending on the size of the yard, having something too wide could be a struggle. Pick a smaller one if you need to get into tighter spaces, but pick a larger one if you need to cover large open grounds. There's no perfect measurement here, because it all depends on the size of the area you're going to work on. However, for a small yard, something between 10 and 15 inches should be okay.
Material
The materials that the lawnmower is made out of will directly affect its durability. You want to find a sturdy product that lasts long but that doesn't fall apart every time it hits a rock or thick root. Lawnmowers are not made out of a single material, but you should pay attention to what is used for the deck, wheels, and handles in particular. Steel is usually your best bet. Lawnmowers are the type of tool you want to buy for life, so don't compromise on quality just for a lower price.
Power Output
Comparing power between different lawnmowers is confusing because of the inconsistency between brands. While the power of gas-operated tools is measured by horsepower, electric models are measured by amps or volts. In reality, it's all about marketing, because gas-operated models are the most powerful. However, this doesn't mean the others are not useful. It's all about your yard and the needs it has.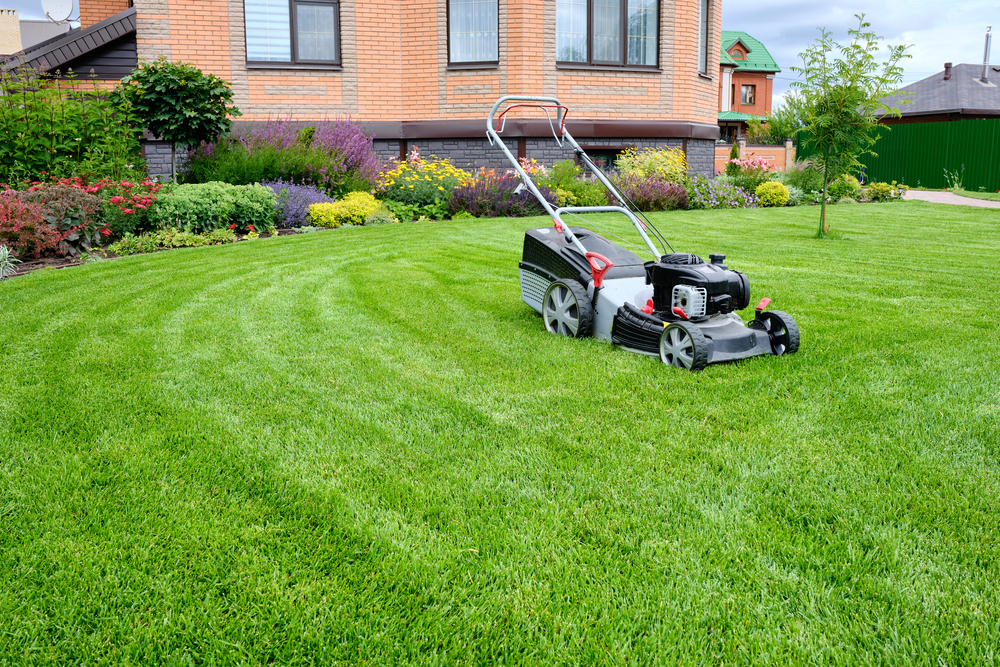 Top 9 Best Lawnmowers for Small Yards 2022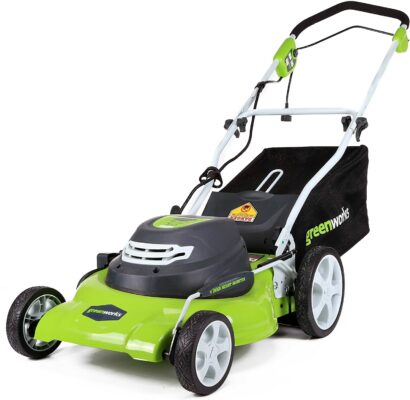 Why we like it:
Beyond being a great tool to cut grass, it has a variety of features—like adjustable height and cutting methods—that put it above the competition.
Editor's Rating:
Quick Facts:
Type: Push
Energy: Electric, Corded
Blades: 20 inches
Material: Steel Deck
Power output: 12 Amp
The Greenworks Electric Lawnmower checks all the boxes a product designed for a small yard should. It's great at cutting grass, but the sum of its features elevates it compared to other mowers. The impressive thing is that it sits at a comfortable price bracket while not compromising on quality. It's adjustable, easy to store, and quiet.
The mower allows you to choose which cutting method to use, between mulching, bagging, and side-discharge. Versatility is essential because different methods let you take care of your yard in different ways. It also gives you more options for taking care of the clippings and their clean-up.
When it comes to specific features, it has a wide 20-inch cutting path, which is larger than most of its counterparts. It's covered by a thick and durable steel deck. While moving around may be compromised by the size of the blade, the mower allows you to cover more ground in less time.
It has seven different levels of height adjustments, which is way above what most models offer — the Black and Decker Electric Lawnmower, with six blades, is also a good option in this regard. It's electric and requires a cord, which is not included. Moving a cable around can be annoying because it affects steering, and then there's the need for an outlet.
It's a push mower, meaning that it goes as far as you can move it. This could affect your endurance, but it shouldn't be a problem in a small yard. Nevertheless, this could be an issue if you're going to use it on very elevated or uneven terrain because you could get tired faster.
All in all, this is a great model for those looking for a mower to cover all their bases. It can adapt with ease to any situation. However, it's not self-propelled, and the cord can get in the way of things.
Pros
Offers three different ways to cut grass

It's made out of sturdy materials

Comes with 20-inch-wide blade

It has 7 different height settings
Cons
It's not self-propelled

Requires a cord
---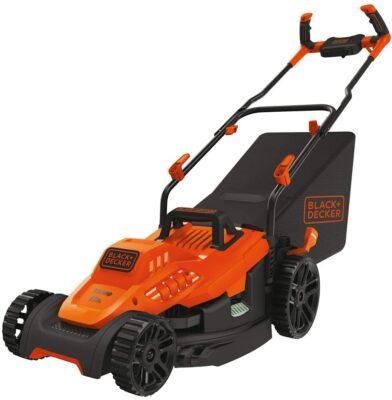 Why we like it:
Powerful and effective. Perfect for heavy-duty use thanks to its engine.
Editor's Rating:
Quick Facts:
Type: Push
Energy: Electric, Corded
Blades: 15 Inches
Material: Plastic Deck
Power output: 10 Amp
Have you ever woken up one morning and realized that your grass seems to have doubled in height overnight? Without a proper tool to deal with thick grass, the idea of mowing seems like a chore. This mower is here to fix that problem.
The Black and Decker Electric Lawnmower is designed to make quick work of those thick patches of grass. It's fitted with a 15-inch-long blade that can cover larger areas with precision. These blades have a winged design that produces 30% fewer clippings, which means less clean-up after you're done. This is especially important when dealing with tall grass.
This lawnmower comes with a safety shut-off in case you accidentally run into any problems, like a rock or a thick root that could damage the blade. The wheels have a rugged tread so they can move around without getting stuck too easily. This is a corded electric model, so you do need to keep in mind that it will require a longer cord and an outlet.
It comes with six adjustable heights, ranging from 1 to 3 inches, which is the sweet spot for most healthy grass. It's also foldable, which makes it easier to store in the garage. And finally, it's a very quiet model. You can't have extensive conversations next to it, but at least you won't be waking up the whole neighborhood.
Pros
Less clippings

Good for thick grass

Adjustable heights

Rugged treads
---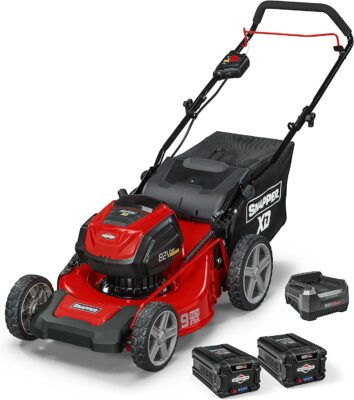 Why we like it:
This electric lawnmower is loaded with special features and comes with a rapid charger for the battery.
Editor's Rating:
Quick Facts:
Type: Self-propelled
Energy: Electric, Battery-powered
Blades: 19 Inches
Material: Plastic Deck
Power output: 28 Amp
For those that want to get the absolute most out of their lawnmowing experience, the Snapper XD excels in every area compared with other models.
When it comes to its performance specifications, the mower has a brushless motor that provides reliable power. It can do bagging, molding, and side-discharge just as well as other versatile models.
The mower has technology that allows it to adjust its power level depending on the type of terrain and the length of the grass that you're cutting. You'll notice how the blades move faster when the grass gets thicker. This feature provides very even cuts without the need to re-do different areas.
It's self-propelled, and it does a great job of keeping pace with you. Sometimes with different self-propelled options, it feels as if you're just a passenger with the mower taking you along for the ride.
You can adjust the height between seven different settings, starting from 1 3/8 inches to 3 3/4 inches. Instead of having to move every single wheel like with many models, you can adjust the height with just a single lever. It's easy to store and can be placed either sitting or standing. However this mower weighs 59.5 lbs., which makes it difficult to lift around.
It comes with two rechargeable batteries that provide around 60 minutes of run time. It's perfect for small gardens, but you could struggle with anything larger than 8000 sq ft.
The mower can operate with both batteries or just a single one if you need to use it while one is charging. It only takes 30 minutes to fully charge one battery with the rapid charger. However, take into consideration that it's very noisy.
Pros
Outshines every other model in terms of features

Has a wide deck that allows it to cover more ground

Very smooth self-propelling capabilities
Cons
The rapid charger is very noisy
---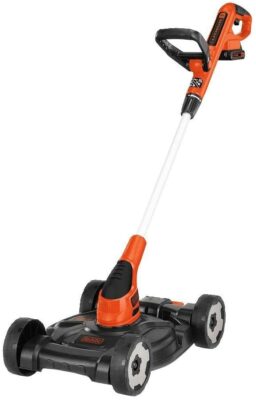 Why we like it:
It may not cover a lot of ground, but it's integration of two other essential gardening tools make it stand out.
Editor's Rating:
Quick Facts:
Type: Push
Energy: Electric, Battery-Powered
Blades: 12 Inches
Material: Plastic
Power output: 65 Amp
This product is specifically designed for people that don't have extensive amounts of grass to cut, but who still aim for precision. Aside from mowing lawns, this tool transforms into an edger and a trimmer.
This lawnmower uses mulching as a method to cut grass. This can be very beneficial for yards that need a little bit of fertilizing. Because of its small size and lack of a cord, it offers a lot of versatility and freedom of movement in small spaces. It's powered by a 20-volt Lithium battery that lasts for around 2.5 hours and comes with an extra one so you can easily change them and keep working.
It has a power output of 65 amp, which sounds high for an electric tool, but at 20 volts a battery, it's not that much horsepower. However, it's more than enough to deal with small yards and to use the edger and trimmer adjustments. It has a 12-inch blade, which compared to other models may not seem that big but it's enough to get the job done.
It has gear-driven transmission, which means that it's a self-propelled model, letting you handle it with extra ease for those long days. It's also easy to store and assemble. If your yard is small and you're more focused on versatility than in covering a lot of ground, then this is the lawnmower for you.
Pros
Small and easy to move

Three different tools in one

Doesn't require a cord and comes with an extra battery
Cons
Not suitable for anything larger than a very small lawn.
---
5.

Best Gas-Operated Lawnmower:

Craftsman M105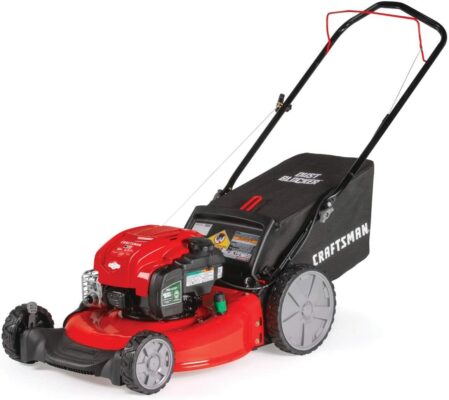 Why we like it:
Powerful gas-operated model that can cut through thick grass with ease.
Editor's Rating:
Quick Facts:
Type: Push
Energy: Gas-Operated
Blades: 21 inches
Material: Steel Deck
Power output: 140 cc Gas Engine
Sometimes power is all you need to complete a task. Gas-operated models are not the most environmentally friendly option, but they're still the most powerful. This particular mower has a 140cc engine powerful enough to deal with most situations with ease, which is more powerful than a large number of electric models.
When it comes to its blades, this tool is equipped with a 21-inches-wide option, making it the widest on the list. It's perfect to cover a large amount of ground fast. However, it may be difficult to use in places that need more precision or manageability.
It's also very versatile, as it has side, rear, and mulching capabilities, allowing you to choose which way you want to cut the grass. It has a minimum height of 1.25 inches and a maximum height of 3.75 inches, which you can select by adjusting the front and back wheels.
Gas-operated engines are powerful and allow you to finish tasks faster, but remember that they require extensive maintenance. You need to keep an eye on the engine and its oil. Aside from that, remember to keep a can of gas handy should you need to refill it.
Pros
Very powerful engine

Wide blade and deck to cover more ground

Includes many different grass-cutting methods
Cons
Requires a lot of maintenance
---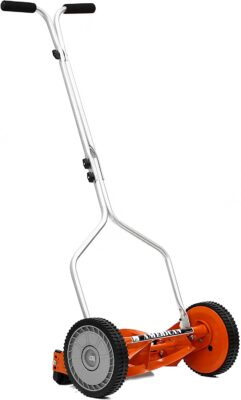 Why we like it:
Simple yet effective, it's designed to excel at cutting grass and nothing else.
Editor's Rating:
Quick Facts:
Type: Push
Energy: Manual
Blades: 14 inches
Material: Steel blades
Power output: Yourself
Simplicity does not mean lack of quality. With each passing year, lawnmowers look more and more like supercars instead of grass-cutting tools. They incorporate so many features that it feels like care is the last thing they were was designed for. Here's where the American Lawnmower comes into play. This option is a straightforward tool with a single purpose: to cut grass.
It may not look like much and it may resemble that old rusty lawnmower at your grandpa's house, but it's just as effective as any other model. This model uses four heat-treated steel blades 14 inches in length, meaning that it can cover significant ground without being too hard to steer.
Because this is a reel mower, the blades cut grass clean instead of pulling and twisting them, making the clean-up a lot easier than with any other method. It's a bit of a mix between a push lawnmower and a self-propelled lawnmower, because the wheels are mechanical. You still need to do the pushing, but it won't be as hard as with other heavier mowers.
It has an adjustable height of 0.5 to 1.75 inches and can cut grass as tall as 4 inches.  Nevertheless, considering modern options, it's a bit lacking in features. The design is nothing fancy. It may even give you flashbacks of being punished by mowing the lawn as a teenager, if you grew up in that type of household. However, this is a case of, "If it ain't broke, why fix it?" It's easy to maneuver, and you would be doing a favor to the environment by not using gas or electricity.
Pros
It has a simple, yet effective design

It's easy to move around

Very effective reel blades

Environmentally friendly option
Cons
Requires more endurance than other models
---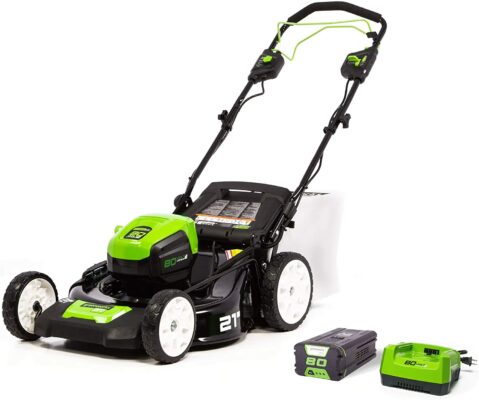 Why we like it:
Makes moving around difficult terrain an easy task, and includes many helpful features.
Editor's Rating:
Quick Facts:
Type: Self-propelled
Energy: Electric, Battery-Operated
Blades: 21 inches
Material: Steel Deck
Power output: 80V brushless motor
Even if lawnmowing is a hobby of yours, it can still be a test of one's endurance, especially in rough terrain. From going up and down hills to picking up the clippings, lawnmowing can be a tiring task. Self-propelled lawnmowers make the whole job easier, especially if they're fit for bagging, like this model is.
Self-propelled lawnmowers indeed help a lot, but that is just half the job. The other half is the clean-up. Not every yard would benefit from grass clippings staying on the ground, but raking them all up can be just as tedious. This model's rear bag completely eliminates that process. However, it also comes with side-discharge and mulching capabilities, so you're not limited to just one method
When it comes to its movement capabilities, it features a self-propelled rear wheel. It's better to have just a set of rear self-propelled wheels rather frontal because the mower can get stuck when you move backwards. This mower is simple to maneuver and goes where you want it too very easily.
The lawnmower features a wide 21-inch blade that can cover a considerable amount of ground. Its brushless motor provides a quieter running time but also extends its life. The mower automatically adjusts its power setting depending on the amount of grass you're walking on, so you get very even results. It has a steel deck and a single height adjustment level that lets you select from 7 different options.
It's straightforward to assemble and can be stored easily, either standing up or sideways, as it's considerably smaller than other electric models and has folding handles. Its shortcoming is its limited battery life. It only lasts 45 minutes, which is way less than most cordless options. Nonetheless, if your yard is not too big, then this is a good option to consider.
Pros
It has a wide deck to cover more ground

Includes seven different height options

Has a self-propelled transition
---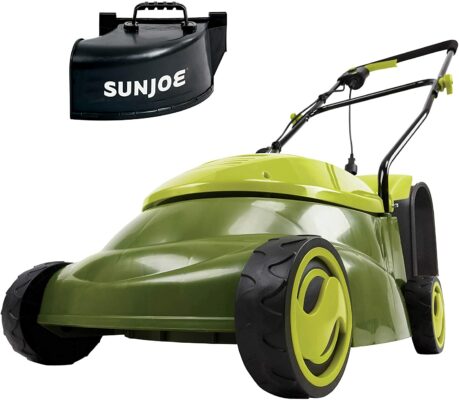 Why we like it:
A very practical lawnmower with all the basic functions and power at an affordable price.
Editor's Rating:
Quick Facts:
Type: Push
Energy: Electric, Corded
Blades: 14 inches
Material: Plastic Deck
Power output: 12 Amp
This lawnmower is not much of a looker in terms of style and the bright green doesn't help much. However, it's a very powerful electric lawnmower that delivers great results on par with other electric models—at a very comfortable price bracket.
It's a corded electric model that can easily cover around 100 sq ft with the right extension. It has 14-inch-wide blades powered by a 13-amp motor. It may not have the same amount of power as a gas-operated model, but it's more efficient than many other, pricier electric models.
It delivers good results, but it's not for enthusiasts or people whose hobby is mowing the lawn. It has a 10.6-gallon grass bag and a long extension cord that lets you mow a radius of up to 100 sq ft.
It has a plastic deck that doesn't look too durable; however, the blade is sturdy. This is a push model, but that shouldn't be much of an issue because of how lightweight it is.
It's very small, which makes it easy to maneuver and it doesn't weigh much so you can carry it. It requires some assembly but it's nothing major. It just requires a couple of screws for the handle and it's ready to go. Because of its size, it's easy to store.
It only has three different height levels, which may be too few for some users, and the adjustments have to be made wheel by wheel instead with a single lever.
Pros
Efficient electric model

Budget option that doesn't compromise on quality

Easy to assemble
Cons
Height adjustments have to be made wheel per wheel
---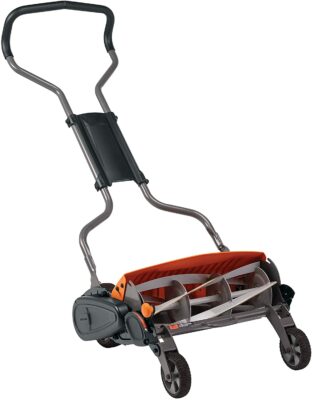 Why we like it:
A great twist on a traditional model with many modern features.
Editor's Rating:
Quick Facts:
Type: Push
Energy: Manual
Blades: 18 inches
Material: Plastic Cover, Steel Blades
Power output: Yourself
This mower gives a breath of fresh air to a traditional design. It's a reel mower that not only looks like the newer models but also works a bit different than your run-of-the-mill manual option. Cutting grass with it is very easy because the reel doesn't move with you. Instead, it's powered by a chain attached to the wheel. This design makes it easier to access corners and edges, which could be plentiful in a small yard.
Because of its operational design, the blades keep spinning even if you stop. You can handle it like an electric model, but it doesn't rely on batteries or a cord. The width of the blade is 18 inches, which is more than enough for a small yard. The mower's manual doesn't go into detail about how to adjust the blade, which can be quite tricky if you haven't previously used a reel mower. Unlike other reel models, the blade doesn't come directly in contact with any other part of the mower, but because it keeps moving, it doesn't get stuck easily.
It has an adjustable plastic cover that allows you to choose whether the grass falls behind the blade or is pushed forward. It also makes minimal noise, so you can use it very early in the morning or late afternoon and not feel like the neighborhood hates you.
This is great option if you want an environmentally friendly lawnmower with the feel of an electric model. It may be a test of endurance in larger yards, but you can always enjoy lawncare and cut the gym subscription.
Pros
Easy to cut grass with

Reel blade moves by itself

Has an adjustable plastic cover

Environmentally friendly option
Cons
Requires more endurance than other models
---
In-Depth Guide to Lawnmowers for Small Lawns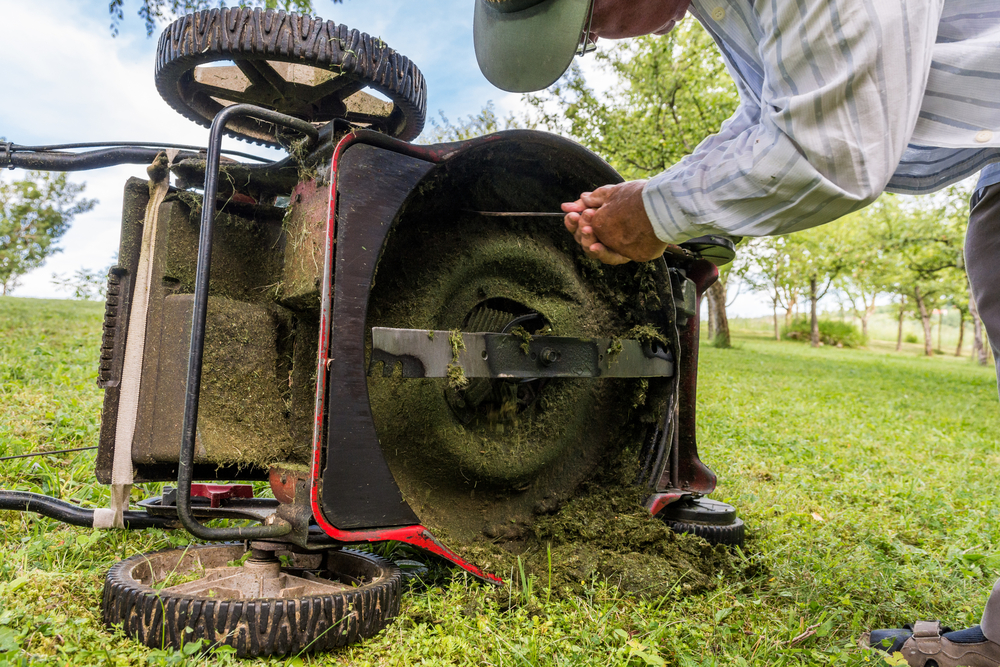 Picking the lawnmower that suits you best is the first step, but knowing how to take care of it and how to use it is just as important. From maintenance to the different rules of grass cutting, there are a few things that you need to consider so your yard looks the best.
How Big Is a Small Lawn?
The million-dollar question. There's no specific answer, but generally speaking, the lawnmowers in this guide will be the most effective for yards of up to 8000 sq ft. You need to factor in not only the size of the lawn, but how much effort and time it takes to mow it every week. If it takes too long or is too tiring, you're on your way to turning a hobby into a chore.
However, this is not a fixed rule. If your lawn is around 10,000 sq ft and you still want a small mower, go for a self-propelled model. That way, you avoid getting tired too quickly. If it takes you more than an hour and a half to mow your lawn with a top-of-the-line tool, then we're not talking about a small yard.
How to Maintain a Lawnmower
This process may vary quite significantly depending on the type of mower you have. By far gas-operated models the ones that require the most care, followed by electric models.
1) Clean It
Keeping your mower clean is not only a matter of style and tidiness, but also of performance. Over the course of the year, a lot of debris and grass will accumulate under the deck, sometimes even around the engine. You should clean the engine every four to five months, depending on how much heavy use it gets.
Here are the steps:
Use a rag or some paper towels to clean the outside and around the deck.
The accumulation of grass around the blade makes it rust faster. For this reason, turn the mower to the side and use a bristle brush to clean under the deck.
Read the mower's instructions to remove the engine cover, and make sure you put all of the pieces inside a bucket, so you don't lose anything. Use a bristle brush to clean any grass or debris around the engine, then put the cover back on.
2) Change the Oil
As noted before, some of these steps apply mostly to gas-operated models. This is one of them. Changing the oil at least once a year is important, so the engine doesn't wear at an accelerated rate. The darker and "muddier" the oil looks, the dirtier it is.
When you're changing the oil, make sure you store it or take it to a recycling facility. Dumping it on the ground could affect the soil, while pouring it in the drain could clog it.
3) Lubricate the Wheels
Lubricating the wheels will help avoid any grass build-up that could make them get stuck, as well as helping you with mobility.
4) Change the Spark Plug and Air Filters
If your lawnmower uses a two-step motor, you want to get a replacement spark plug every year. An old spark plug makes it harder for the engine to start. You could be there for a few minutes pulling away while the grass grows around you.

5) Sharpen the Blades
With heavy use, a mower's blade will start to lose efficiency. There's nothing more frustrating than going over and over the same area with no results. Sharpening your blade should be something that you do once a year. However, if you are an enthusiast and you mow your lawn more than once a week, then consider cutting this time in half.
You can have the blades sharpened at a hardware shop, but if you have the tools and knowledge, this is something you can also do yourself. You will need heavy-duty work gloves, a garden tool sharpener, a wrench, and something to hold the blade in place, like a vise. While using the sharpener, always follow the same pattern the blade was originally sharpened at.

How to Pick Between Mulching, Bagging, and Side-Discharge?
Each different situation benefits from a different type of grass cutting. That said, it would be better if you can acquire a lawnmower that has all three options. Mulching is what you want to be doing most of the time. The clippings that are left behind in your lawn will fertilize the ground, making it look healthier.
If you have gone on vacation or if your lawn is more overgrown than it should be, then side-discharge is your best bet. This way you also don't have to empty the holding bag as often. While leaving the clippings on the ground is a good thing, saturation is not. With thick grass, you want to set the clippings aside, so the sun hits your lawn.
If you have a diseased lawn, or if you have too many leaves on the ground, then you want to go with bagging. Removing diseased clippings will stop the spread of grass-killing disease.
As you can see, each one has its time and place. Versatility is always something you want to look for in a lawnmower.
How to Cut a Small Yard's Grass
The most common mistake people make while mowing their lawn is lowering the height too much. Grass is the healthiest and greenest when it's at least 3 inches long. That is because mowing it too short cuts the grass's water supply, making it dry faster. Using this method also eliminates the need to constantly water the lawn, making it a more sustainable process.
Another way to measure this is to follow the one-third rule. This rule essentially states that you should only cut the top one-third of your grass. However, you should always start with a lawn that is 3 inches tall. This allows the roots to grow deeper and the grass to look healthier.
Final Thoughts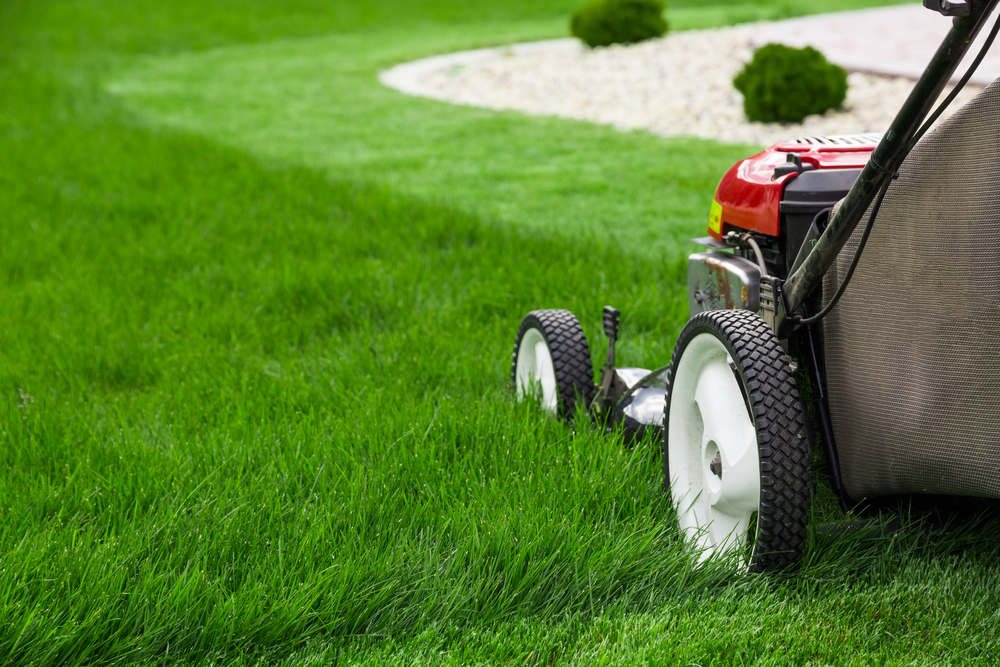 Maintaining your yard is as rewarding as it is relaxing, but without the right lawnmower, it can become a dreaded task—especially if you grew up or learned lawnmowing using low-quality options. Now that you have the prefect lawnmower for your small yard and the knowledge to make it look its best, there's nothing left other than to wait for the weekend and mow away.