One of the best ways to save on your electricity bill is surprisingly simple: weather stripping. If you're unfamiliar with the practice, weather stripping involves sealing up the gaps in anything that slides or opens in your home—namely, your windows and doors.
Not only will weather stripping make your home more energy-efficient, but it'll also keep you cooler in summer and warmer in winter too. A comfortable interior temperature and lower utility bills make this relatively easy exercise worth the effort and modest expense.
While it's not rocket science, there are a few things you should know before kickstarting your weather stripping regime. In this guide, we'll walk you through the benefits of a properly sealed home, how to work out which doors you need to fill in, and the four main weather stripping methods.
How Weather Stripping Helps Regulate Temperature
No matter how well-constructed your home may be, it's probably not completely sealed from the outside world. Older homes are especially poorly protected, with big gaps chronically present around the windows and doors.
Weather stripping works by sealing off the gaps around doors (and windows) to stop drafts blowing inside and temperature-controlled air from escaping.  In winter, weather stripping prevents cold gusts from blowing in and hot air from getting out. In summer, the same applies in reverse.
Although it might sound somewhat trivial, the long skinny gaps around your doors can have a massive impact on your home's energy efficiency. According to Energy Star, a program run by the Environmental Protection Agency, the average American household with an adequately insulated and sealed home saves 10% on their total annual energy bill.
Weather stripping also stops creepy crawlies from wandering inside. If you frequently find your home infested by nasties like cockroaches and ants, it could be the easiest and safest solution to your woes.
Which Doors Need Weather Stripping?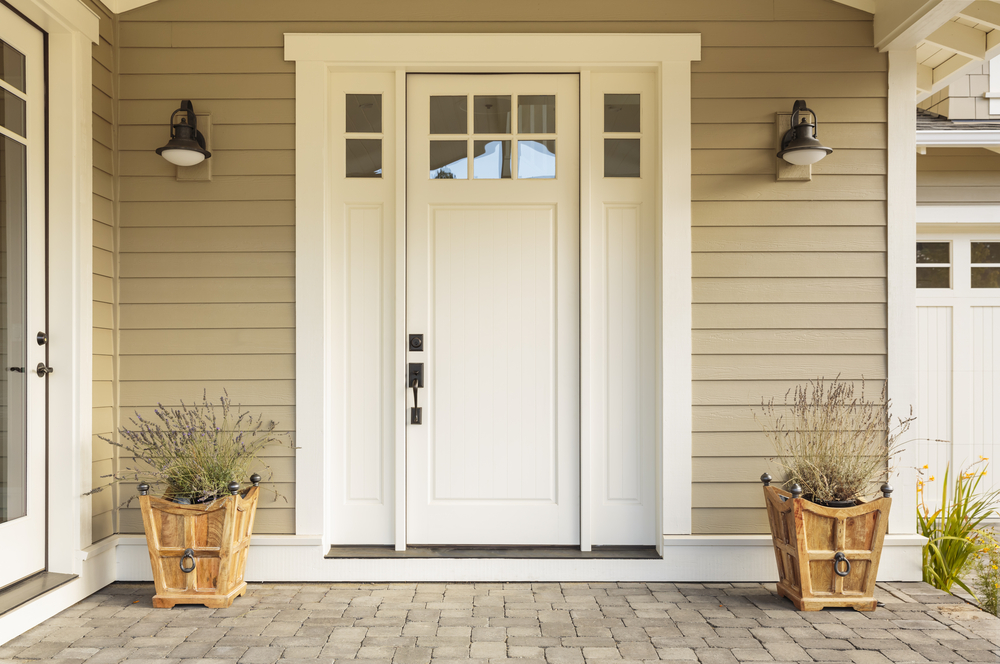 Every home is unique; thus, the precise weather stripping requirements vary from property to property. While a brand new abode likely won't need any weather stripping at all, an old vintage house is akin to a block of Swiss cheese: you'll find tiny holes everywhere you look.
Exterior doors are the most prominent air leak culprits; pay close attention to sliding patio and French doors. Interior doors aren't necessary to seal, bar one exception: those that lead to non-climate controlled parts of the home, such as the garage. While you're at it, assess and weather strip your garage door because two lines of defense are better than one.
Remember, doors aren't the only unsealed areas in your home. You'll also need to check your attic hatches and windows as well.
How to Assess Whether Weather Stripping Is Necessary
There are a couple of quick and easy ways to work out whether you should bother weather stripping a door.
On a blustery day, put your hand around the edges of a closed door to feel how much wind blows inside. If it's calm outside, look for daylight protruding through the cracks instead. The more wind or light you perceive, the more money you'll save by weather stripping the door.
Another big giveaway is noise. If your doors or windows rattle in the wind, you need to do something about that ASAP.
Weather Stripping a Door: Three Options to Consider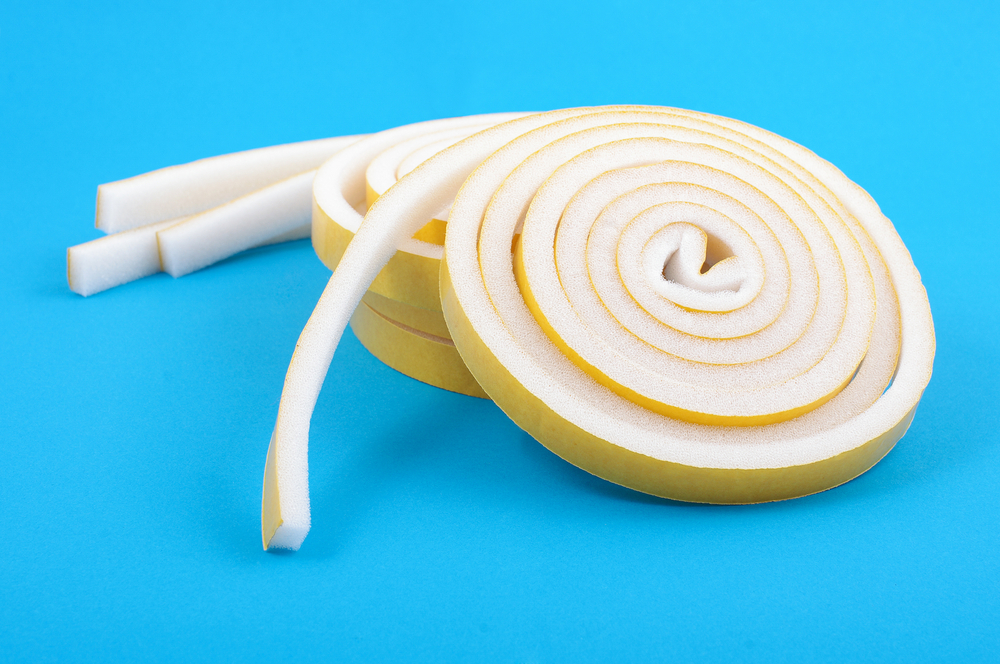 Now that we've worked out where the wind is seeping in (and the cool/hot air is escaping from), it's time to get down to business by sealing them off. There are three effective options for weather stripping a door, which we outline below.
Sweeps
Good For: Weather stripping the bottom of standard sweeping doors
Weather stripping sweeps are the most popular solution for sealing up a drafty door. Inexpensive and easy to install, these long strips of rubber, silicone or vinyl work wonders on the bottom of standard exterior doors.
The self-adhesive strips use extra-strong glue to hold the sweep in place. Most sweeps come in an array of different colors to match various decors.
Sweeps are a brilliant option for standard exterior doors—think the front door or back door—but they're not ideal for garages, which require something a bit more heavy-duty.
How to Install
Measure the door width.
Cut the sweep strip down to size.
Clean the bottom of the door thoroughly with isopropyl alcohol.
Stick the sweep onto the door at the appropriate height (ensure the bottom touches the ground gently).
Push down on the sweep to help stick it to the door.
Avoid using the door for 24 hours to let the sweep adhere to the surface.
Some sweeps stick inside the door, while others work better on the outside (check the instructions). A few options even come with screws to help hold the sweep in place long term. Of course, that'll require screwing into your door and leaving a visible hole, which is a big no-no when you're renting.
Our favorite door sweep is Holikme Door Draft. Made from flexible waterproof silicone, this high-quality solution does a fantastic job at blocking drafts at a low cost.
Bottom Gaskets
Good For: Weatherproofing the bottom of rolling garage doors
While sweeps are the go-to option when sealing off a normal exterior door, they're only suitable for doors that open and shut in a sweeping motion—hence the name. For rolling garage doors that operate vertically, you'll want to install a bottom gasket instead.
These contraptions consist of a flexible vinyl tube that's specially designed to seal a rolling garage door. A metal backing aligns with the bottom, which you fix using screws or an adhesive strip. The flexible vinyl tube then touches the floor opening closure to create an airtight seal.
How to Install
Measure the width of your rolling garage door.
Cut the bottom gasket down to size with a hacksaw.
Smooth down the newly cut edges of the aluminum with a file or sandpaper.
Clean the bottom surface of your rolling garage door (use isopropyl alcohol if it's an adhesive strip).
Stick the adhesive strip or drill screws to fasten the bottom gasket to the door.
If using an adhesive strip, hold it firmly in place and allow 24 hours to bond.
Our favorite option comes from M-D Building Products, who make an effective rubber bottom gasket with a durable aluminum backing. It stretches 18 feet, which is plenty big enough for most garage doors and comes with screws to hold the gasket firmly in place.
Tape
Best For: Weather stripping the sides and top of a standard sweeping
As the name suggests, it's a roll of adhesive tape that sticks onto the side or top surface of a door to create an airtight seal. A flexible, sponge-like neoprene composition ensures the tape doesn't lose its shape over time and will resist contaminants like oil, dust, and debris. The tape also helps block out sound waves, which is perfect for when you want to soundproof a noisy room.
It's great for weather stripping the sides or top of a sweeping door but not ideal down below as it creates resistance (choose a sweep instead).
How to Install
Measure the width of the gap and purchase the appropriate tape.
Measure the length of the area you wish to seal.
Cut the tape down to size.
Clean the area you wish to seal with isopropyl alcohol.
Allow the area to dry.
Apply the tape and hold it firmly in place.
Avoid using the door for 24 hours to allow the tape to fasten.
Our top pick for weather stripping tape is Yotache Adhesive Foam Tape, which comes in a multitude of different lengths. Crucially, you can also choose the width; ensure it's just big enough to fill the gap but not too wide that the door won't close.
Say Goodbye to Drafts (And High Energy Bills) by Weather Stripping Your Doors
We've shown you three easy options to weather strip your doors, whether it's a standard sweeping or a rolling garage. All these solutions are inexpensive and super easy for the home DIYer to apply—for the most part, you won't even need any fancy tools.
Rather than left drafts dictate the temperature of your home, work out which doors need weather stripping and start sealing them off today. With a modest financial outlay and a few minutes of your time, you'll enjoy a nicely sealed home for years to come.