From entire buildings to the simplest furniture, wood is one of the most versatile and popular building materials out there. Nothing improves a backyard more than a radiant redwood deck or a set of summery Adirondack chairs. However, without waterproofing, the durability of any wood structure will be washed away by the elements. That's because moisture and humidity are behind most of the structural issues that affect wood, like fungus and rot.
Taking the necessary measures to protect furniture or floors from water is the key to extending their lifespan. Whether you're thinking about elevating your backyard with a wood-based project or it's time to apply a new layer of sealant to that old patio chair, follow this detailed guide on how to waterproof wood.
Choose the Right Type of Wood
Even after waterproofing, the object's durability depends on the type of wood it's made out of. The material should always suit the structure's location.
It would be best for outdoor projects to choose naturally rot- and insect-resistant varieties like cedar, cypress, oak, redwood, and mahogany. For indoor structures, the style and look of the wood are usually the most important details. Nevertheless, you should still prioritize a strong material that doesn't soak up too much moisture, like birch, pine, maple, or walnut.
Picking a Method
There are various ways to waterproof wood. Each method has its own set of benefits and drawbacks that can impact both the durability and the aesthetic of your final project. With that in mind, here's a rundown of the three effective ways to waterproof wood.
1. Stain-Sealant Combination
As their name suggests, stain-sealants are products that combine the benefits of both stains and sealers for better color and stronger protection. They're widely available and an excellent choice for large outdoor projects because they come ready to go and are easy to apply.
Benefits
Saving time that would otherwise be spent mixing products and waiting for different layers of stains and sealers to dry.
There is a lot of product variety, so you can find a stain that highlights the natural color of the structure or enhances it.
It's ideal for outdoor floors, decks, and furniture.
What You'll Need
Rags or paper towels
200-Grit sandpaper
N95 mask
Protective eyewear
Brush
Sander (optional)
Pressure washer (optional)
How to Apply:
1. Clean the Wood
Make sure you give the timber a good wash. Clean water should be enough. Although it's optional, if you're dealing with a large project that involves a lot of lumber, using a power washer for this step will save you a lot of time. After washing the wood, leave it out to dry for a couple of hours but be careful about rain. A damp surface will cause the stain-sealer to peel after application.
2. Sand It
New wood is usually riddled with imperfections like cracks and uneven surfaces that are hard to spot with the naked eye. Sanding is one of the most critical steps in the whole process because it will affect the waterproofing quality.
However, the results will differ significantly depending on the type of sandpaper you use. Sandpaper is a coated abrasive that is classified by how coarse it is. For first-time waterproofing, a general rule of thumb is to use a very fine sandpaper that ranges between 180 and 200 in grit.
To preserve the wood's integrity, always sand in the direction of the visible dark, almost dotted lines called grains. If you sand in the opposite direction, you're more likely to cause scratches. Alternatively, for larger projects like hardwood floors, you could use a sander to save time and energy.
3. Apply the Wood Stain-Sealant
Use a dry brush to coat the wood evenly across all surfaces. Move along the grain of the wood and remove any excess product with a rag or paper towel. Once every side gets a nice coat of the solution, leave the wood to dry where no rain or dirt will get to it. Make sure the place where you let it dry is well-ventilated as these products generate dangerous fumes. It usually takes around 10 hours for most products to dry, but to avoid any mishaps, always check the sealer's label.
4. Add Another Layer
Adding another layer of stain-sealant will significantly increase the durability of your project. Give the wood another sanding to take care of any imperfections that may have appeared during the process. Apply the last layer and let it dry again. Remember to reapply every two years or when there are any visible cracks in the coating.
2. Tung Oil
If you're looking for a more eco-friendly and non-toxic method, then this method is for you. Tung oil, also known as China oil, is a tung tree extract that hardens when exposed to air, creating a transparent protective coat. It has historically been used on boat decks, furniture, and even guitars.
Benefits
Perfect for indoor projects, like furniture and children's toys, because it is not toxic.
Easy to repair and apply.
It's an environmentally friendly and easy-to-clean option with just soap and water.
What You'll Need:
Tung oil
Turpentine
200-Grit sandpaper
80-Grit sandpaper
Rags or paper towels
A bucket or bowl
How to Apply:
1. Clean the Surface
Like with the other methods, start by cleaning the surface to ensure no dirt or dust will compromise the sealant's waterproof quality. Let all the surfaces dry thoroughly.
2. Prepare the Oil Mixture 
It's necessary to thin the oil with a white spirit solvent or mineral spirit like turpentine for easier application. For the mix, combine both the oil and the thinner in a bowl or bucket with a one-to-one ratio. Some products come already thinned, so if you have one of those, you can skip this step.
3. Sand the Surfaces
Whether you're applying a new layer of oil or repairing an old one, you should always sand the wood's surface to ensure there are no imperfections, dirt, or dust. For new applications, use fine sandpaper with grit between 180 and 200, but opt for a medium grit option when repairing or reapplying.
4. Apply the Mixture
Grab a rag or paper towel and soak it in the oil mix. Spread the mixture liberally along the surface of the lumber. The first layer is supposed to saturate the surfaces, so don't worry about spreading the oil around. Wait 40 minutes to an hour to let the oil soak into the wood. Once the surfaces are dry and glossy, start adding a new layer.
5. Let It Cure
Store the wood in a dry place. Let it cure for a whole day, and don't allow water or any other substance to fall onto it. After the waiting period, use a clean rag or paper towel to clean up any excess oil that was not absorbed by the wood.
6. Reapply Oil
Repeat step number two, applying two new more layers of oil. Then, let it cure for 30 days. During this period, avoid putting heavy or dirty objects on top of the wood.
3. Varnish
Varnish is an all-encompassing term used to describe different synthetic sealants, including polyethylene, resins, and solvents. In its most basic form, it is a mixture of oil, resin, and a solvent. It's mostly transparent and glossy, which allows it to highlight the wood's natural colors. You can find many distinctive stains and personalize the color to your liking.
Benefits
It's excellent for both outdoor and indoor use.
Varnish enhances the wood's natural colors.
It has a quick drying time compared to other methods.
What You'll Need:
Varnish
Thinner (optional)
Rags or paper towels
200-Grit sandpaper
A bucket or bowl
Brush
N95 Mask
Protective eyewear
Sander (optional)
Pressure washer (optional)
How to Apply:
1. Clean the Wood
Use a damp cloth to clean the wood you're going to waterproof. If you're dealing with a large project, you could alternatively use a power washer to save some time. Let it dry for as long as it needs to, and make sure dust, debris, and rain don't fall on it, as these could compromise the sealant's quality.
2. Sand It
Use 200-Grit sandpaper to get rid of any imperfections or cracks in the wood. To get an even and smooth result, make sure you're sanding along the wood's dark grain.
3. Thin the Oil
If you're using oil-based varnish, you may want to thin it slightly with some mineral spirits like turpentine. Aim for an equal part varnish and turpentine solution, and remember that the more thinner you use, the more layers you need to apply
4. Apply the Mix
Apply varnish to the wood with either a brush or a rag. Work your way along the grain of the wood as if you were sanding it. Use a clean rag or paper towels to remove any excess and let the first layer dry for a couple of hours
5. Apply New Layers
Once it's dry, gently sand the first layer. Proceed to apply a new layer of varnish. It's recommended you do this process two or three times.
6. Let the Last Layer Dry
Apply the last layer of varnish, let it dry for a whole day. Make sure not to sand the last coat of sealant.
What's the Difference Between Staining and Sealing Wood?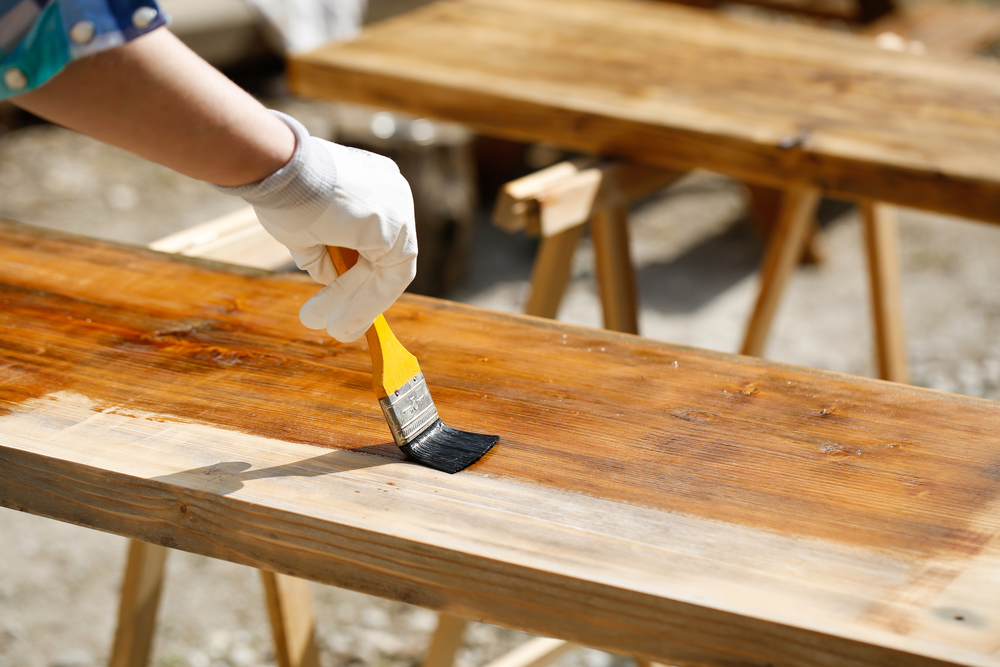 Stains
These are products used to enhance the color of the wood. They offer a bit of resistance, but they're mainly aesthetic choices. They are not permanent waterproofing solutions, so you need to reapply them every two years or so.
Sealants
Offers Along with water resistance, applying a sealant protects the wood from other problems, like termites and UV light radiation.
Final Thoughts
The large amount and variety of products and ways to waterproof wood may seem overwhelming at first. However, all roads lead to Rome. Just make sure to stick to a method, considering the final look you want your structure to have and where it will be. Your hard work will pay off, and your wood project will be ready to withstand the elements for years to come. Knock on wood.