After days of painstaking sanding and applying coat after coat of paint, your next question is naturally, "How long does paint last?" How long before you have to go through all this work again? The answer depends on so many different factors that its hard to give a straight answer.
It could be anywhere from two years to 15 years. What factors influence how long paint lasts and what can you do to keep your paint job looking fresh for as long as possible? We'll answer those questions below.
How Long Does Exterior Paint Last?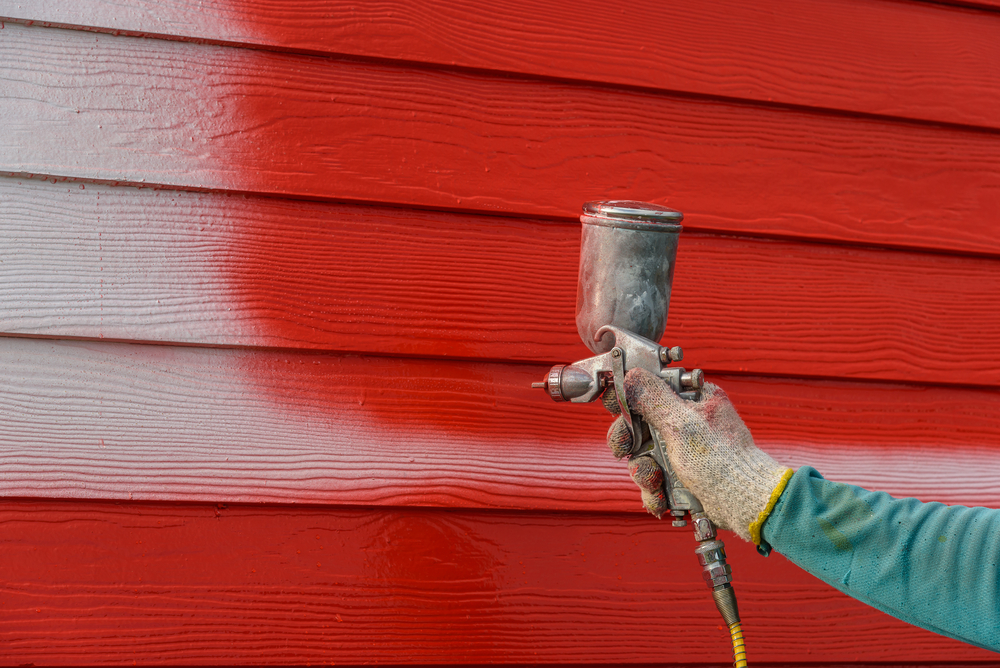 The paint on the outside of your home is exposed to all the elements so it will need to be redone more often. In the best of circumstances, you could go as long as 10 years between paint jobs. However, many factors could shorten that lifespan, including the following:
Humid and Arid Climates
Paint likes a mild 40% to 50% humidity level at all times. If you live in a more humid climate, your exterior will probably start to grey and fade within five to seven years. If you live in an arid climate, it may start to crack or fade within a similar time frame.
Temperature
If you get summer heat above 90° F or winter cold snaps below 50° F, these temperatures will breakdown the paint on your exterior faster. If you get extreme heat all summer or extreme cold all winter (or both), you'll probably start to notice fading and peeling within three to five years.
Sun
Direct sunlight will cause your paint job to fade or yellow over time. If your home doesn't have much shade protection, you might have to freshen up yellowing or dull paint every five to seven years.
Tips for Making Exterior Paint Last Longer
You might not have supernatural abilities to control the weather or sunlight but there are a couple practical steps you can take to protect the exterior paint on your home:
Use Latex Paint
While oil-based paint is usually considered more durable, this is only true if it doesn't have to deal with pesky things like temperature changes or stubborn building materials. For the wood , vinyl, metal, or masonry surfaces usually found on the exterior of a house, latex paint is a better choice. It adheres much better to these tricky surfaces than oil-based paints and stands up better to sun damage.
Use a Light Shade
Exterior paint is going to fade faster than paint inside your home. It's just a fact of life. If you choose a darker hue, it will fade even faster because darker colors attract more light. The difference is so dramatic that it can shave as much as five years off your paint job's life.
If your heart isn't absolutely set on that rich cherry color, going for a pastel or lighter variation will save you time and money down the line.
Don't Paint in Bad Weather
Depending on where you live, it might not be possible to find enough mild days in a row to complete an entire exterior paint job. Even so, try to avoid painting in the following conditions as much as you possibly can:
Extremely humid days when it's above 85% humidity.
Days hotter than 85° F. If you paint on hot days, the paint will dry before it has a chance to bond to the surface.
Below-freezing temperatures. Freezing temperatures will freeze the paint, making it difficult to spread properly.
Basically, if the weather is anything you don't want to be outside in, don't paint in it.
Take Extra Care When Painting Outside
Proper preparation and technique are key no matter where you're painting but there are some special steps involved in painting the exterior.
Pressure wash the surface before you paint. Do this right before you plan to paint. However, you only have to pressure wash the area you'll cover that day.
Repair all damages to the exterior before you paint. Do a meticulous inspection of the outside of your house for cracks, chips, crumbling brick, and other minor repairs. Fix these before any paint goes on.
Caulk the edges of doors and windows. Also caulk any other gaps that might lead into the house. If you skip this, paint won't adhere properly in these areas and it could crack or peel.
Use primer. Primer will hide any stains or discoloration and provide a better surface for the paint to cling to.
Use an airbrush to get an even coat while using as little paint as possible. Even for smaller houses, exteriors use up tons of paint. An airbrush disperses the paint in an ultra-fine, even layer so you don't apply a thicker coat than you actually need. This will also help it adhere better.
Let paint dry 12-24 hours between coats. If it's warm and dry out, you can stay closer to the 12-hour end. If it's cold and damp, go for 24 hours or more between coats. Applying a second coat before the first coat dries will lead to peeling and sagging.
How Long Does Interior Paint Last?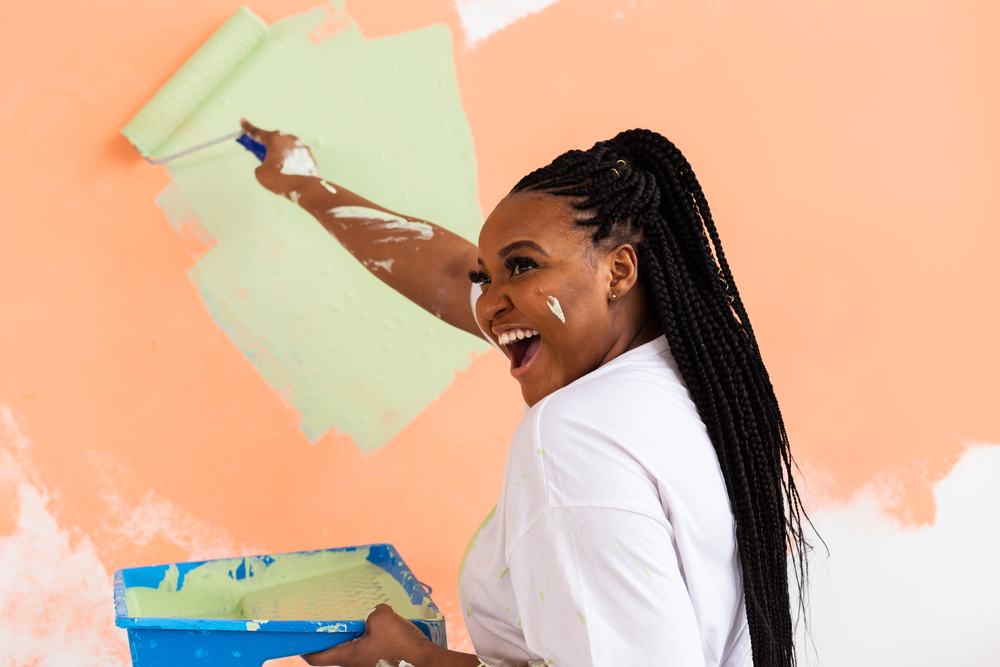 Interior paint can last a lot longer than exterior paint since it doesn't have to face the elements. It can last anywhere from five to 15 years, depending on the paint and the room it's in. Here are some of the main factors that affect the life of your paint job:
Paint Type
Oil-based paints can last up to 15 years while latex paint will need to be redone at least every 10 years. This doesn't mean you should always go with oil-based, though. Latex won't fade as quickly in direct sunlight. It's also more flexible after it dries than oil-based paint so it can handle expanding and contracting surfaces if humidity levels change drastically.
Room
High traffic areas like hallways, foyers, and family rooms will likely need refreshing every three to five years. Kitchens and bathrooms will also need more frequent painting because humidity, heat, and cooking fumes can all damage the paint. In contrast, low traffic areas like bedrooms or spare rooms can get by for 10 to 15 years.
Occupants
If you live alone or in an adult household that's well passed its wild house party phase, you can probably enjoy a pristine paint job for decades. If, on the other hand, you have kids or pets, it'll probably be time for a fresh coat after five to seven years.
Tips for Making Interior Paint Last Longer
While interior paint might not be as vulnerable to the elements as exterior paint, it could still benefit from a little TLC on your part.  Use these tips to get the full 10-15 years of life your paint is capable of:
Do an Impeccable Paint Job
As Benjamin Franklin used to say: "An ounce of prevention is worth a pound of cure." The best way to extend the life of your paint is to make sure you aren't cutting any corners while you put it up. Here are some of the most important steps you should not skip:
Sand off the old paint
Clean the walls thoroughly
Use the right kind of paint for the surface
Apply a primer
Let the paint dry completely between each coat
If you're hiring professionals, don't be afraid to be the annoying client that checks in on the process and asks questions. The painters may not appreciate it, but your walls will.
Manage Humidity Levels
High humidity can cause paint to bubble and peel. Low humidity can cause it to flake and chip. Get a humidifier if your air is dry or a dehumidifier if our air is too damp. If you live in a fluctuating climate, get both and let them duel it out.
Either way, try to keep the humidity in your home between 40% to 50%. Luckily, this is also the optimum humidity level for humans. You and your paint will both feel better.
Fix Ventilation Problems
A poorly ventilated room, especially in bathrooms or kitchens, can lead to a buildup of humidity and cooking fumes, causing mold growth, stains, and peeling paint. More importantly, it can keep volatile organic compounds (VOCs) in your home for longer.
VOCs are one of the main contributors to bad air quality indoors. Paint emits VOCs for anywhere from a couple of months to 3 ½ years, depending on the paint type and the ventilation in your home.
Dust Your Walls
The longer dust sits on your walls and ceilings, the more it will become embedded and difficult to clean. This can prematurely age your paint job. To avoid it, dust your home from ceiling to floor at least once every other month.
Do Regular Spot Touch-Ups
If you notice any chipping or peeling in a corner, don't wait for it to spread. Sand down the area and touch it up with some leftover paint. A few touch-ups here and there over the years will stretch out the time between full paint jobs.
Pro Tip: Check for underlying issues if you notice chipping or peeling paint. It might be an early warning sign of an urgent repair like a burst pipe or leaking roof.
What About Leftover Paint?
Speaking of regular touchups, how long will that can of leftover paint from your project last? You want to keep it on hand for minor fixes, but will it still be good for touchups in a decade? Here are some factors that affect the shelf life of your opened can of paint:
Paint Type
Oil-based paints can last up to 15 years if stored in the right conditions. Water-based or latex paints have a slightly shorter shelf-life of about 10 years. Keep in mind, these estimates are for optimal conditions. That means the can has an airtight seal and it's kept at room temperature (about 77° F) the entire time.
Temperature
If the can is in your garage, the shelf life will probably be closer two years. Extreme heat and cold, especially fluctuating between them, will cause chemical changes that ruin the mixture. For paint, extreme heat is anything above 90° F and extreme cold is anything below 50° F. Store leftover cans inside your home, if possible, to help it last longer.
Tightness of the Seal
If the storage container is not 100% airtight, your leftover paint will be exposed to air and microorganisms—both of which will damage your paint. For water-based or latex paint, it could dry out in a matter of months. Oil-based paints will take longer to dry out but contamination from microorganisms and dirt are still a risk. Even if it looks okay, it might be too dirty to put on your walls.
When closing the can for long-term storage, follow these tips:
Use a paint can opener instead of a screwdriver. It sounds like one of those absurdly niche tools, but a paint can opener is designed to open cans without denting the lip or bending the lid. If the lid or can are damaged in opening, it's impossible to get an airtight seal later.
Clean the lid and the lip of the can until they are as paint-free as possible. Make this step easier by covering the lip of the can with duct tape before you start using the paint. This will keep paint out of that groove.
Put a small dab of paint on the top of the lid or the side of the can so you can see what color it is without opening it. The less often you open the can, the better.
Use a rubber mallet or the rubber handle of a tool to tap the lid back into place. Use gentle taps all around the edges and continue going in circles until the lid is firmly in place. If you use metal tools or pound on the lid to hard, it will bend out of shape, breaking the seal.
Pro Tip: If you don't have a rubber mallet, put a plank of wood or other firm board on top of the lid. Then, use your hammer to tamp the lid down. The wood will cushion the blow and prevent denting.
Final Thoughts
Paint can last a long time or no time at all, depending on how you treat it. When you treat paint right, and don't expose it to harsh conditions it's not made for, paint can last several years. Unfortunately, if you expose paint to harsh weather or temperatures, you'll need a touch-up coat sooner rather than later.