Hardwood flooring as we know it today—or polished planks with a natural sheen in uniform dimensions—was popularized in the 19th century. Two hundred years later, such flooring is widely used in homes across America. It is also now highly coveted, as it's become somewhat of a status symbol.
Ask any realtor what kinds of features the average buyer looks for in a property, and hardwood floors will inevitably be near the top of the list. They're as sought after as granite countertops, walk-in closets, and covered patios.
In other words, if you're building a new home or remodeling an old one, including hardwood flooring can be a sound investment. What kind of composition should you choose, though? What kinds of species of hardwood are even available?
Read on for the answers to these and other questions about this timeless flooring material that adds a touch of elegance to every room.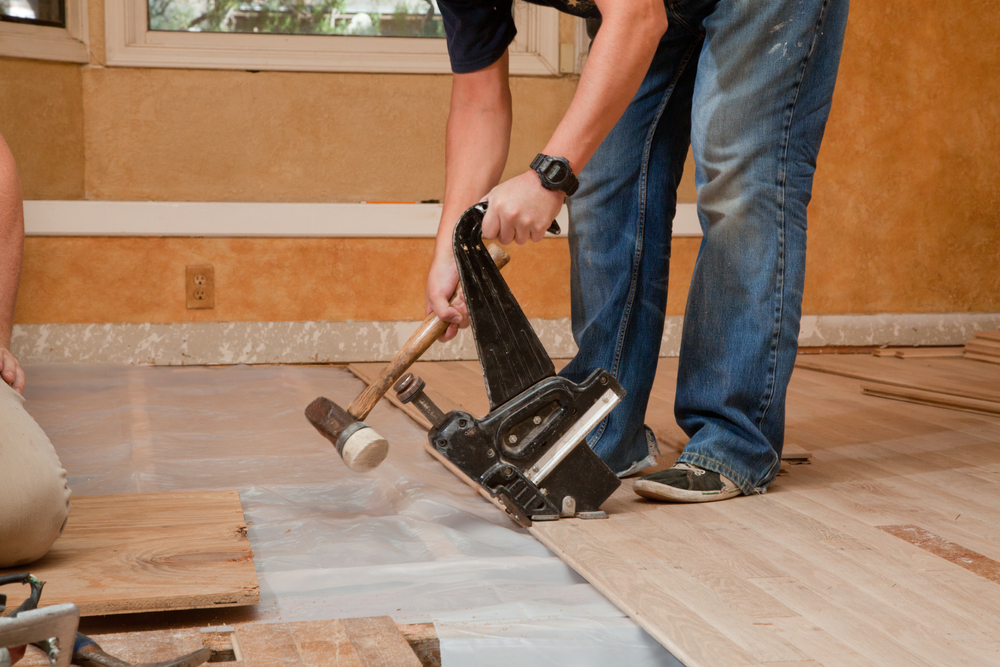 The Two Kinds of Hardwood Flooring
Hardwood flooring has come a long way over the past two centuries. Gone are the days of plain, rough-sawn planks underfoot, not to mention the wide gaps between them (Because the wood was left untreated and had simple, squared edges—in other words, there was no way to interlock the boards—the slightest change in temperature or humidity would cause the planks to separate).
Thankfully, hardwood flooring is considerably more sophisticated today. Advancements in the industry have yielded two kinds: solid and engineered. If you're trying to decide between the two, here's what you should know about each:
What Is Solid Hardwood Flooring?
Comprised entirely of hardwood, solid flooring planks are typically between 5/8 and 3/4 of an inch thick. Since they're made of only one material, they can be sanded and refinished over and over without fear of revealing an underlying layer that was never meant to see the light of day.
Homeowners love solid hardwood floors because of their durability. They can withstand years of abuse with nary a nick, and with proper care and periodic refinishing, they can last a lifetime. What's more, they can increase property value by 3 to 5%.
Like all flooring materials, though, solid hardwood has its drawbacks. It's incredibly vulnerable to fluctuations in temperature and humidity, for example, and therefore shouldn't be installed in rooms that can get damp, like bathrooms or basements. When exposed to excessive moisture, warping and "cupping" (planks turning concave in the center) can occur.
What Is Engineered Hardwood Flooring?
Engineered hardwood flooring is comprised of several compressed layers, which might include wood, polymer, and resin, topped by a hardwood veneer. This multi-material construction makes the planks far less susceptible to warping in changing environmental conditions. As such, they can be installed anywhere in the home, including in rooms that might have a high moisture content.
Unlike solid hardwood, engineered planks don't actually need to be nailed to the subfloor. Instead, they can merely be snapped together and secured in place. This allows for incredible flexibility since they can be installed in a "floating" fashion over all kinds of subfloors, including bare concrete.
A significant drawback of engineered hardwood, though, is that it won't last a lifetime. While some manufacturers produce a veneer thick enough to be refinished once or twice, the flooring generally needs replacing after 20 or 30 years.
The Different Species of Hardwood Flooring
After deciding between solid or engineered hardwood comes the fun part: choosing the species. When it comes to hardwood flooring, there are dozens of species to choose from, each with its own unique shade, hardness, and grain pattern.
To keep you from feeling overwhelmed, we'll discuss five of the most popular species of hardwood flooring. Spanning the color wheel from light to dark and warm to cool, there's something for every aesthetic on our list.
1. Oak
Oak is one of the most desirable species for flooring, because of its durability. With a rating of 1290 on the Janka Hardness Scale—the higher the rating, the harder the material—oak can last for generations, even in the busiest households. Available in both warm and cool hues, oak planks can accommodate any design scheme.
2. Hickory
With a rating of 1820 on the Janka scale, hickory is even harder than oak. Perfect for high-traffic areas, like hallways and staircases, hickory suits rustic, country-inspired décor. It can range in hue from creamy beige to warm mocha, but almost always has knots and streaks dappling the planks.
3. Maple
Coming in at 1450 on the Janka scale, maple falls on the lighter end of the spectrum. Available in cream, beige, and tan hues, it often has a reddish undertone. As such, it adds an air of warmth to the room. Though its fine grain is sometimes interrupted by specks or streaks, maple promises an understated, almost neutral, appeal, so it can accommodate all kinds of styles.
4. Cherry
On the softer end, with a Janka rating of 950, cherry should be reserved for areas that don't get too much foot traffic. With its brown hues and predictable patterns, cherry flooring is rarely the focal point of a room. It can, however, complement other architectural features magnificently —its grain leads the eyes where you want them to go. Keep in mind, however, that cherry can darken over time, especially when exposed to direct sunlight day after day.
5. Walnut
Like cherry, walnut's not too high on the Janka scale. With a rating of 1010, it can show wear in high-traffic areas after just a few years. Don't let that stop you from considering this species for your flooring, though. Walnut has rich, chocolate tones and smooth grain patterns, which can add visual interest to any room.
Other Species of Hardwood Flooring
If none of the species above speak to you, that doesn't mean you have to settle for carpeting, vinyl, or laminate flooring. While not nearly as popular, there are more than a dozen other species of hardwood to consider for your new flooring. Examples include:
Ash
Teak
Douglas Fir
Birch
Mahogany
Pine
Beech
Brazilian Tigerwood
Ebony
Alder
Poplar
Bamboo
Acacia
Cork
Eucalyptus
Cypress
Pecan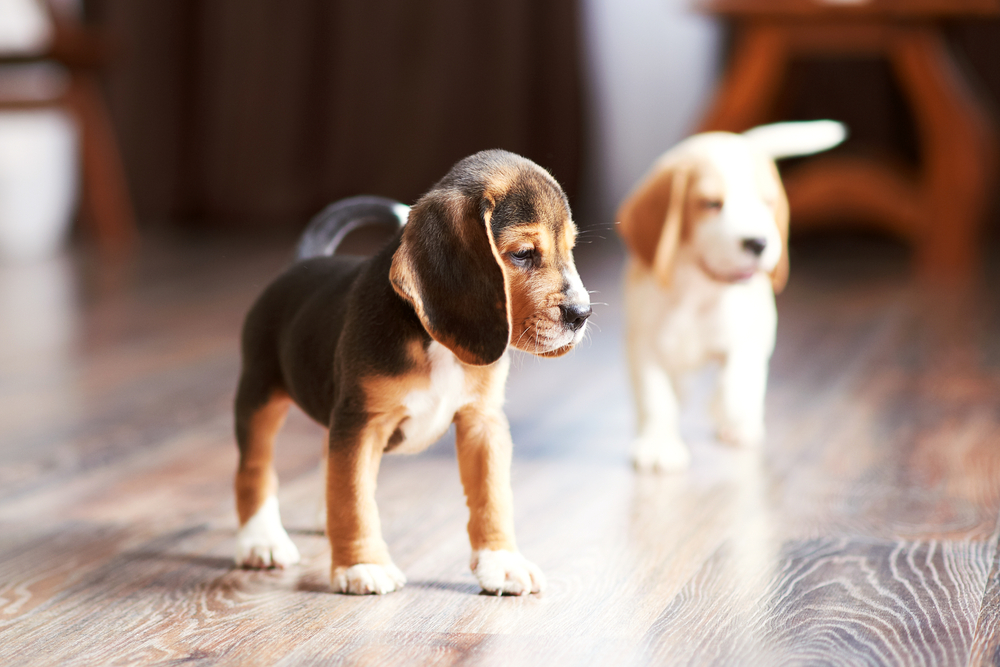 Prefinished vs. Unfinished
Once you've decided on the kind and species of hardwood flooring to install, you're probably ready to select a manufacturer and make your purchase. There's one more decision to make, however: should you install planks that are prefinished or unfinished?
What Is Prefinished Flooring?
Prefinished flooring is available in a limited selection of shades, because it comes from the factory already sanded, stained, and sealed. Once installed, the planks can be walked on immediately. Since they don't have to be finished on site, that's one less project you have to worry about.
What Is Unfinished Flooring?
If you want to match the stain of existing flooring—or you simply don't like any of the shades that are available—unfinished flooring will allow you to achieve a totally customized look. These planks are sanded and stained after installation. While they're cheaper than their prefinished counterparts, homeowners often end up paying more after all is said and done because of the additional labor. For those with an entirely unique aesthetic, though, unfinished hardwood can't be beat.
A Classy Finish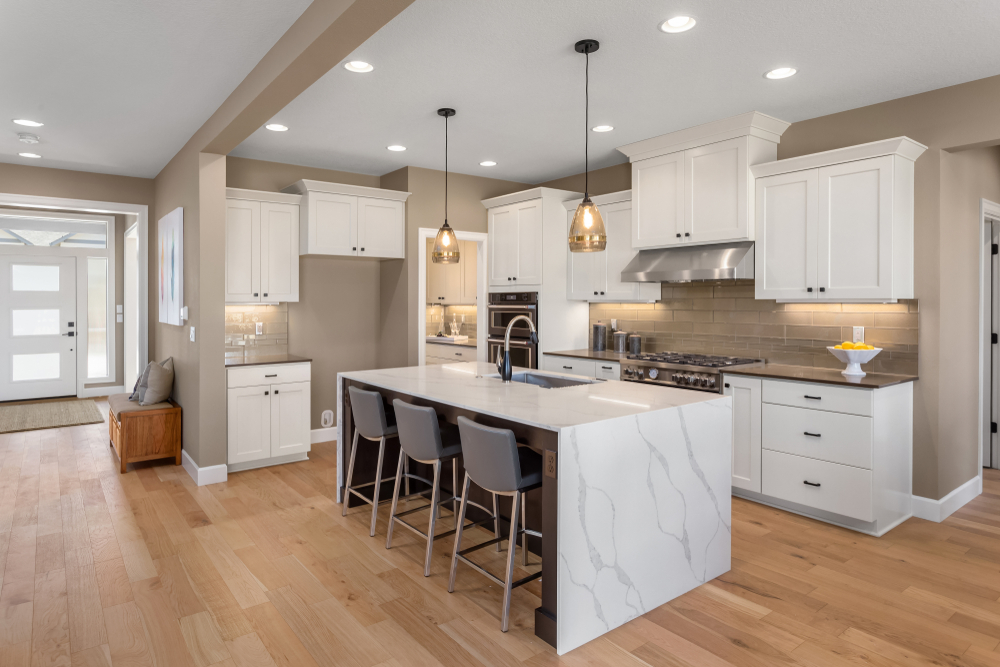 Installing hardwood flooring throughout your home is one of the easiest ways to change the aesthetic dramatically without taking on a major construction project. As long as you opt for the right type and species of flooring, you can be sure it will enhance your living space for decades to come.