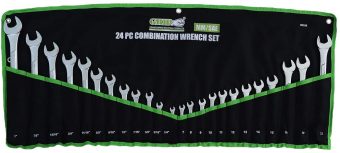 GRIP 89358 MM/SAE Combination Wrench Set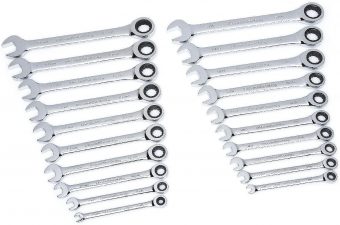 Gearwrench 20-Piece Ratcheting Wrench Set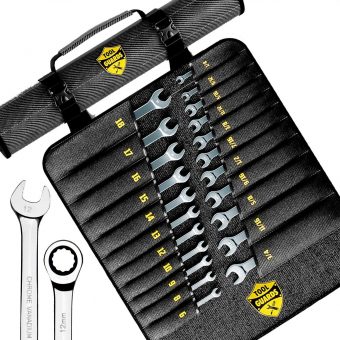 ToolGuards Ratcheting Wrench Set
Previous
Next
Look in any toolbox, and you'll find a wrench or two in it. But if you want to upgrade your tool belt, consider purchasing one of the best wrench sets on the market. Wrench sets contain several tools which come in varying sizes. With such a set, you'll have the tools you need on-hand while you work on anything that's mechanical.
Wrenches have various uses both inside and around the home or workplace. They're useful for DIYers and professionals alike. Investing in a high-quality wrench set will enable you to tackle the bolts and fasteners effectively, whether it's your car or your apartment. But choosing a set can be quite overwhelming especially if you don't know where to start or what to look for.
In this article, we'll provide you with the information you need so you can make a better choice. Also, we'll review some of the best wrench sets available now to help narrow down your options and give you excellent choices. Read on to learn more about wrench sets and how to choose the right one for you!
Features to consider in Good Wrench Sets
Shape
Although most wrenches share the same purpose, you have to make a choice because they come in varying shapes and sizes. For instance, if you want a versatile wrench that you can use for different tasks, then you should go for an adjustable wrench. Although this type isn't as strong as the fixed type, it will be the best one for you if you want a compact wrench to use for DIY projects.
This is an example of how you would make a choice. Usually, wrench sets carry the same types of wrenches but with different sizes. So, think about what you need so you can choose the right shape of the wrenches to purchase. That way, you'll be able to use your tools for all the jobs you plan to perform.
Size
This is another important feature to look out for when looking at wrench sets. Choose a set which offers a variety of sizes so you can use the tools for various tasks. If you want a set of durable and strong tools, you may opt for a fixed set. The wrenches in the set should match the frequency in which you'll use them. So if you perform a lot of tasks which require wrenches, then choose a set which contains a good number of tools.
Tasks
Also, think about the tasks you need the wrenches for. This way, you can also determine the measurements you'll need for the tools. For most people, wrenches with standard meter sockets are sufficient. But your work might require imperial measurements and tools with meter measurements won't be of much use to you.
For instance, if you do a lot of work on vintage cars or the older European models, you may need a set with imperial measurements. This is essential for those who work on old-school cars and similar mechanical tasks.
The Best Wrench Sets 2020
Guide to Buying the Best Wrench Sets
These are the best wrench sets available on the market now. Choose any one of these, and you're guaranteed a superior product. Now that you have a better idea of what's available, you should also know what to consider when choosing the right wrench set for your tool belt. By considering these factors, you'll be able to buy the best wrench set for yourself.
What important factors should you consider when buying wrench sets?
Standard or metric
Heads of wrenches either have standard or metric measurements. The standard wrenches make use of inches for measurements while metric wrenches make use of millimeters. Most people may use either standard or metric wrenches for their work. If you're one of these people, you can either purchase one set of each or a wrench set that contains tools with both measurements.
The key to choosing the appropriate wrench for a specific job is to understand what these measurements mean. Whether it's for automotive repair or mechanical jobs at home, you need to know the difference.
Wrenches come stamped with the measurements, and they indicate the kind of nut or bolt the wrench will fit.
A Society of Automotive or SAE or standard wrench has fraction inch measurements. The smaller wrenches measure around a quarter inch while the bigger ones measure an inch or more.
A metric wrench works with bolts and nuts which have metric measurements. Small-sized metric wrenches measure around 8mm while the bigger ones are about 20 mm in size.
Durability
Corrosion is one of the biggest problems when it comes to tools made of metal. If you want a set of wrenches which resists corrosion, then choose one which has wrenches made of high-quality chromium vanadium or chrome vanadium. The chrome plating adds the corrosion-resistance feature, and it will allow the tools to last for years.
Some wrenches are of wrought iron or cast iron, and these are even more superior in terms of durability. Since wrench sets cost more than the individual tools, think of it as an investment, so it's best to choose a set which contains highly durable tools.
Types of wrenches in the set
Nowadays, there are many types of wrenches available for purchase. Some are suitable for DIY tasks while others are ideal for auto repairs and other similar applications. Let's take a look at the different types of wrenches to give you a better idea of what you need.
Adjustable wrench
This type of wrench usually had one open end while you can adjust the other by closing and opening it. They're designed to fit different sizes of bolts and nuts, and they're not limited by a thread system. By far, these are the most versatile types of wrenches which is why they're very popular too.
Adjustable wrenches come in a lot of different designs. But when using one, you need to make sure that you don't over-extend of damage the jaws of the tool otherwise it won't work properly anymore. Most of the best wrench sets contain adjustable wrenches since these are the most sought-after types.
Box wrench
Also known as ring spanners, box wrenches are normally made from steel and are very convenient. You use them to loosen and tighten bolts and nuts. The heads of box wrenches come enclosed, and they're a lot stronger than open-end wrenches. Also, they're a bit more challenging to use while working as you have to align them from above.
Combination wrench
Here's another popular type of wrench used by DIYers, professionals, and other people who perform wrench-related tasks. As the name suggests, combination wrenches have a crescent on one end and a box on the other. It's a combination of the two most commonly used wrench ends, and they have the same size.
Most people use them in conjunction with one another. For instance, you can loosen a nut using the box end then finish unscrewing it using the open end. A lot of people appreciate combination wrenches since they come with both types. Therefore, you can use both for different tasks as needed making it extremely convenient.
Crescent wrench
This type of wrench is open-ended and is also known as C Spanners. Crescent wrenches come in a lot of different sizes, and they're considered as a very common and versatile type of wrench. The open end of the wrench has a C shape, hence the name. This end is a lot faster than a box end, but it's not as strong.
Generally, crescent wrenches are of wrought iron, cast iron or even alloy steel. These materials make the wrenches virtually indestructible. Not all crescent wrenches have the same features. Some of them come with a wrench opening on both of their ends and come in different sizes.
Offset wrench
This is one of the more uncommon types of wrenches. Offset wrenches have heads which extend about half an inch of the end, so your knuckles or fingers have room to work. This will prevent those parts from getting scratched or scraped while working.Afterall, safety is of prime importance.
Also, this type of wrench allows you to reach into tight spaces and other areas which you can't get to easily. You can use offset wrenches over obstructions too.
Pipe wrench
This type of wrench has a special design which will enable you to turn and grip objects such as pipes, hence the name. With a pipe wrench, you can tighten, repair or replace pipes as needed. It's not a good idea to use this type of wrench on any undamaged nuts since the jaws of this wrench may damage them.
When you use a pipe wrench, make sure to apply pressure towards the direction of the jaw's opening. Just like any other type of wrench, this one comes in varying sizes.
Verdict
No tool collection will be complete without a good set of wrenches. These tools are very handy and you can use them for different tasks. If you're planning to find the best wrench set for your needs, you should know that there's a lot to choose from. But this doesn't mean that all the choices are superior.
There are several things you need to consider first before you make a choice. We've provided you with information about wrench sets and a short buying guide to help you make your choice. Also, we've reviewed some of the best products available on the market now and choosing any one of them will ensure you an excellent buy. Now all you have to do is select the one which you think is right for you.