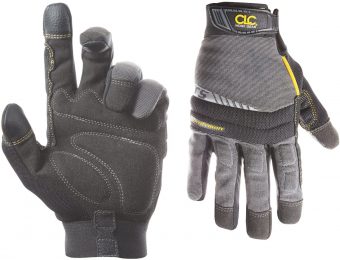 Custom Leathercraft CLC 125XL Handyman Flex Grip Work Gloves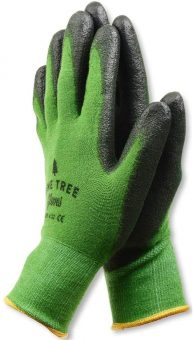 Pine Tree Tools Bamboo Working Gloves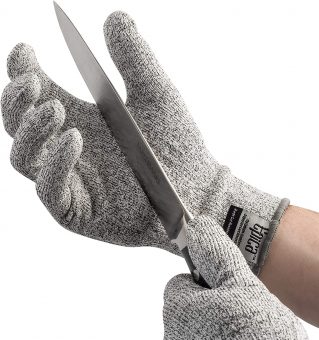 Epica Superior Quality Resistant Gloves
Previous
Next
Working can get a whole lot easier if you find the best work gloves to use. When we work, our hands play a huge role in performing different tasks. That's why it's only right to protect them by using work gloves. These products may seem simple, but there's a lot you have to consider when purchasing a pair.
The truth is that there's no precise formula one needs when choosing work gloves. It would mainly depend on the type of work you do and on your own preferences. In this article, we'll go through some of the best products available on the market now. We'll also go through a buying guide to help you out. Hopefully, all this information can guide you as you make your choice.
Features to consider in Good Work Gloves
Comfort and fit
The best work gloves should have sturdy palms, strong seams, and fingertips and all of these should cover your hands completely. But they should be comfortable too so that you can keep using them for your work. You should be able to use the gloves whether you're working in the kitchen, cutting glass, gardening, and more.
Aside from the comfort factor, the gloves should fit well too. They should follow the natural contour of your hands while also providing you with the grip you need for when you work with tools. Also, the gloves should allow you to move your hands freely and provide you with the dexterity you require.
Protection
One main purpose of work gloves is to protect your hands while working. Such gloves must prevent injuries such as splinters, burns, abrasions, puncture wounds, cuts, and more. The protection you need would depend on the type of work you're planning to do. So you need to know this first before anything else.
For instance, if you constantly deal with oily parts made of metal such as metal stampings or sheet metal, then you can choose string-knit work gloves. If you do a lot of small-part assembly work or you handle glass frequently, then you should choose coated gloves.
Durability
You won't find any article which will tell you the exact time when you should throw out your old work gloves and purchase a new pair. Gloves for working only last until the worker doesn't think they're suitable for working anymore. If you want a pair that will last for a long time, choose one which is of durable material.
Durable gloves perform better and will allow you to be more productive. These types of gloves are of high-quality material and won't succumb to wear and tear only after some use. Also, durable work gloves can protect your hands better.
Tasks
When you're looking for work gloves, it's important to think about the tasks you need them for. This way, you can choose the best pair of gloves to suit your needs. Some of the most common tasks which require work gloves include:
Chemical-related work –If you work with a lot of chemicals, you should find work gloves which can protect your skin. Such chemicals include commercial solvents, fertilizers, acids, corrosives, and more. These can stain or even burn the skin, or they can have long-term adverse effects on the health.Such work requires gloves designed for it. They should be of a special material that's chemical-resistant such as PVC rubber which is also tough. The material of the work gloves should protect your hands from coming into contact with any harsh chemicals. They should also protect your hands from any chemical-related injuries while still keeping your hands cool and comfortable.
Gardening work –A lot of people want to work in the garden. It's relaxing for some, fulfilling for others, while some need to do it to keep their gardens neat and tidy. Unfortunately, it's very difficult, even dangerous to perform gardening work without gloves. Work gloves will keep the hands clean and protected from thistles, thorns, and more.So if you do a lot of gardening work, choose a pair of gloves which will protect your hands but which will also allow you to perform the tasks properly. You need a flexible pair of work gloves which are both durable and tough.
Kitchen work –Just because the kitchen is a part of the home, that doesn't mean that working in it doesn't come with any hazards. When working in the kitchen, you'll handle sharp tools like knives which can cause injuries if you work barehanded. You also have to deal with kitchen-based machinery which is why you need a good pair of gloves to support you.You can wear a pair of ordinary gloves while working in the kitchen. Or you can purchase a pair of work gloves which are specifically-designed for kitchen tasks. Some are even cut-resistant which can help prevent injuries from working in the kitchen.
Electrical tasks –We all know that electricity poses a danger and if you work with electrical tasks, you need work gloves to keep you safe. It's especially dangerous if you work with "live wiring." With such tasks, you need work gloves to protect your hands and your health too.
Woodworking or mechanical tasks –If you're a DIYer, then work gloves are a must-have for you. If you perform tasks around the house such as making your own furniture, fixing your own car, and more, these projects and tasks come with hazards. Without work gloves, you run the risk of getting injuries which won't allow you to perform any other jobs at home.
Work which involves extreme temperatures –When you work in a place with extreme temperatures, you need a good pair of work gloves too. Otherwise, you might end up injuring your hands because of extreme heat and extreme cold. For instance, you may have to fix the snow blower in the freezing cold, or you might have to work with boiling oil or water.In both these situations and more, it's safer for you to perform the tasks while wearing work gloves. These will keep your hands safe and allow you to work more effectively and more productively.
The Best Work Gloves 2020
Guide to Buying the Best Work Gloves
There you have it, a list of the best work gloves available on the market now. You can choose any one of these work gloves and feel confident that you've purchased a superior product which will serve you well and keep you safe at work.
What important factors should you consider when buying work gloves?
Padding
First of all, check the padding of the work gloves especially in the finger, palm, and knuckle areas. The padding can provide added durability and protection especially while you perform tough tasks. Also, the padding can make the work gloves more comfortable to use.
Flexibility
Apart from protecting your hands, the work gloves should provide you with flexibility. If the gloves don't have this feature, then you won't be able to perform your tasks productively. No matter what type of work you're doing, you need your hands to move freely. This is especially important if you do detail work or you're handling woodworking or mechanical tools.
Check the level of flexibility the gloves will provide. Sure, they may protect your hands well, but if you can't move your fingers in them, they won't be very useful. Base your choice on your tasks and how much dexterity or flexibility you need for the work ahead.
Materials of work gloves
Finally, you should also consider the material of the work gloves. Different products are of different materials which are either manmade or natural. Also, most gloves come with a synthetic coating to provide added protection. Let's take a look at the most common materials manufacturers use to make work gloves:
Leather
There are different types of work gloves made of leather. This material provides durability and a superior range of motion even though it's thinner than other materials. Leather protects the hands well from abrasions, scrapes, and more. If you need a pair of leather gloves which will give you fine dexterity, then you can choose leather from sheepskin.
Cotton
Not a lot of people would choose cotton work gloves because they're not as durable as the other types of materials. But cotton gloves can keep the hands clean and prevent abrasions. Cotton gloves with a coating are very useful in laboratories to protect the hands against any harsh chemicals. If you think you can perform your tasks productively with gloves made of this material, then you can go for cotton work gloves.
Kevlar
For tasks which require protection from cuts or extreme heat, gloves made of this material would be the best. You can choose work gloves made purely of Kevlar or a pair made of this material combined with another like goatskin. Firefighters and similar professionals use these types of work gloves.
Chemical-resistant materials
Finally, there are also gloves available which are of chemical-resistant materials. These gloves can provide protection to those who work with chemical-related tasks. For one, work gloves made of butyl rubber can protect your hands from chemicals like peroxide, sulfuric acid, hydrochloric acid, and nitric acid.
Natural rubber or latex gloves are very useful when you work with salts, acids, ketones, alkalis, and water solutions. If you work with gasoline, organic acids, hydraulic fluids, and alcohols, then choose a pair of neoprene work gloves. But if you handle chlorinated solvents, then gloves made of nitrile rubber are the best for you.
The Verdict
There are a lot of things to consider when purchasing work gloves. Sure, we all want to have stylish gloves while working but if they fall apart after the first task, it's like you just wasted your money. The good news is that there are some excellent products on the market. If you want to get the best work gloves, then you need to know what you're looking for.
From the material of the gloves to all the other features, there's a lot you need to think about. Work gloves come in different shapes, sizes, materials, and colors. But if you want to find the best, you need to know what to look for. We've provided you with a lot of relevant information to guide you in making a wiser choice, We have reviewed the best products available on the market to help narrow down your choices.