JET 708457DXK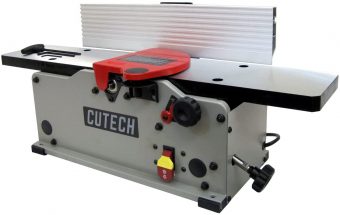 Cutech 40160H-CT
Previous
Next
Any serious woodworker would benefit a lot from purchasing a high-quality wood jointer. This is a must-have machine in any workshop whether it's for home use or commercial use. If you want to perform wood jointing functions and other applications, you should consider getting yourself one of the best Wood Jointers available on the market.
Such a machine would definitely prove to be a worthwhile investment. You may have to spend for such a machine, but in the long run, the benefits will outweigh the costs. When it comes to woodworking, a wood jointer is indispensable. In this article, we'll review some of the best products available now. We'll also go through a buying guide to help you determine which wood jointer would be the best one for you.
Features to consider in Good Wood Jointers for Woodworking
Table length
The table's length will determine how well the wood jointer will perform. When you work with a piece of lumber or wood that's too long for the table, it will decrease your productivity and accuracy. Therefore, you should think about what length you need especially if you're planning to work with longer pieces of wood.
It's also important to consider the spatial restrictions of your own workstation. This will help you determine the table length you need as well as the length which will fit into your space.
Table width
Of course, the table's width is also very important. This feature will restrict the width of the lumber or wood that you can joint with your machine. If you're planning to joint wide pieces of wood, then you will need a wood jointer with a wide table.
Cutting depth
Changing or adjusting the distance between the height of the outfeed and infeed tables will determine the depth of the machine's cutterhead. If the difference is significant, then the machine will have a deeper cutting depth. On the other hand, if the difference is small, then the machine will have a shallow cutting depth.
Performance
The number and the arrangement of the knives in the cutterhead will determine the machine's cuts per head as well as the speed at which the knives spin. If you want a smooth finish every time, then choose a wood jointer with more cuts per minute. Performance is key when it comes to wood jointers so choose one carefully.
The Best Wood Jointers for Woodworking 2020
Guide to Buying the Best Wood Jointers
The products on our list are the best wood jointers available on the market now. No matter which one you choose, you're guaranteed a superior product which will last for a long time. As you look through the different products, you should keep these important factors in mind.
What important factors should you consider when buying wood jointers?
Cutter head
There are two main types of cutterheads, straight and helical. Those with straight knives will provide better performance, but they are generally more expensive. On the other hand, wood jointers with helical cutterheads are more budget-friendly, and they're a lot quieter. When it comes to the cutterhead, think about what you need and what you're willing to spend on the machine.
Size
Next up, think about the size of the wood jointer, and you have three choices namely long bed, bench top, and the closed-stand jointers. The bench top wood jointers are small, portable, and convenient. Long bed ones are a bit bigger, and you can use them for the same tasks as the bench top jointer. Finally, the closed-stand ones are the biggest and will provide you with more stability.
Adjustment system
This is a very important factor to think about since it will determine how easy the wood jointer will be to use. Of course, you'd want one which has easy adjustments to improve your accuracy and your productivity as well. Choose a machine that's easy to calibrate, and which would keep its settings as you work with it.
Practical features to look out fo
You should also look out for some practical features of the wood jointers. These will guarantee that you're getting good value for the money you spend.
Build quality and warranty
First of all, the build quality would depend on the material used to construct the machine. The best wood jointers would have the tables, fence, housing, and adjustment system made from some type of metal.
Wood jointers are high-precision machines so if there is any problem, the product should also come with a warranty. This is important so that you can have the jointer replaced if needed.
Motor
Finally, check the motor of the jointer. If you want to be able to cut different types of wood with different thicknesses, then choose a machine with a powerful motor. The good news is that most manufacturers will include information about the product's motor in the description. Read this information so you know exactly what you're getting.
Conclusion
Wood jointers are highly efficient machines. You can use them for various applications while woodworking. You can think of a wood jointer as an investment whether you want to purchase one for home or commercial use. Either way, you need to find the best wood jointer available on the market so that you're sure that you'll get your money's worth.
In this article, we've provided you with a lot of information about wood jointers. As we've said, these are superb machines which are a must-have for any serious woodworker. When it comes to such products, there is a number of great options. Just keep the important factors in mind, and you're sure to get a superb product to suit your needs.